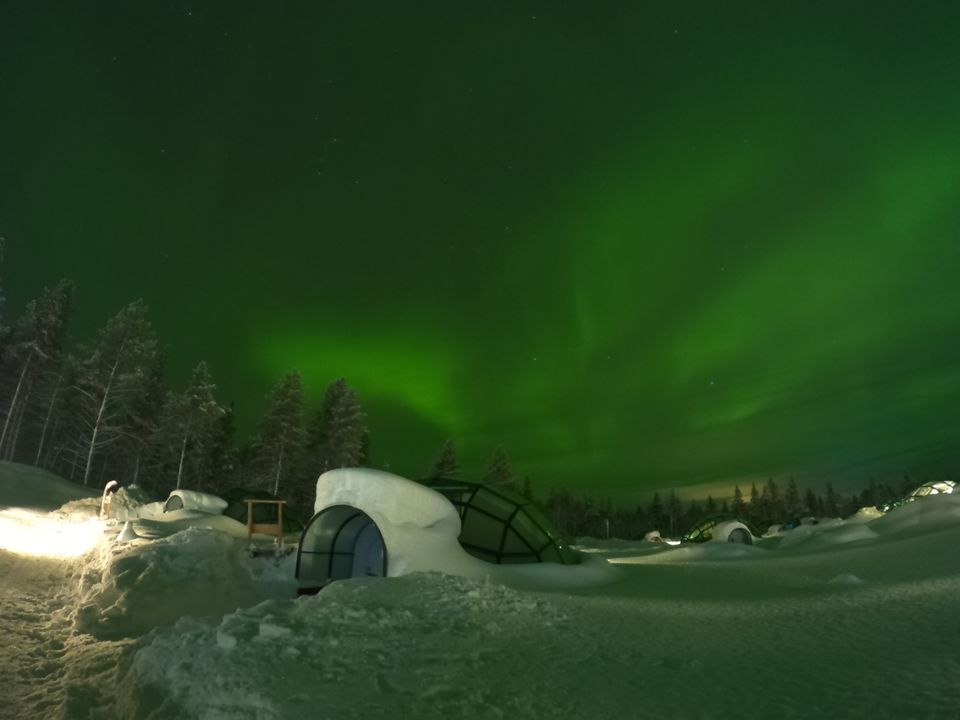 Lapland always sounds seducing enough to book your flights right away to live your Arctic dreams. But hey, let me make this clear! Lapland isn't for a budget pocket. The only part you could save up is your stay. Rest everything you choose has a heavy price tag- tours, safaris, local food, commute, entrance tickets, cruises.. everything is sky rocket. Every ride might cost you around 100 to 150 euros. You can't even think about flights and hotels especially in peak seasons which is mid winter. So, save up a lot over months or even an year, start planning one year ahead, book one thing at a time, may be one each month. If you are planning with your family and kids, the earlier the better when it comes to planning. Having said that, for the bundle of joy and experiences that it holds for each kind of traveler is precious and worth every penny you spend. It is packed with all the bucket list items you could possibly imagine and lots of once in a lifetime experiences you probably wouldn't find anywhere else in the world.
So, plan and space out each activity/tour to give enough time for actually enjoying while at it. Keep aside free time in between because there are some things you could do for free, like strolling around frozen river or lake, tobogganing, goofing up with snow balls to taking long walks in the forests/fells, also not to forget clicking pictures, there are infinite opportunities at every corner. You could even watch northern lights for free if you get lucky in case you are staying away from city lights in the wilderness far up north. Don't get over ambitious to add too many places to your itinerary. Add no more than two places to your entire trip with less than 3-4hrs travel from each other. This saves up a lot of commute time during your vacation giving you more time to explore further.

A week to 10 days is just about enough to cover atleast the most elusive things this country has to offer and freeze up countless memorable experiences to take back with you.
To make it all happen just the way you dreamt it or even better, you would surely look up all the blogs talking about offbeat things in Lapland. We all know how impossible it is to jot down the perfect itinerary after skimming through an ocean of info on the internet. If you ask me, I would say 'no one knows the place better than the locals'. So, for me, the first things to look up for the right info is an official tourism website of the country/place I plan to visit and then look for relevant blogs for specific reviews. On this one, I've gotta stress enough, official tourism website of Rovaniemi is one of the best tourism content I've encountered so far, even better than the Swiss tourism website. If you need a wide array of choices to pick, @visitrovaniemi is the first and last stop for planning your itinerary. You will know why, once you check it out.
Last but not the least, packing ur luggage is the most important task that decides how well you enjoy your whole trip during winters. There are umpteen blogs that suggest how to dress appropriately to keep yourself in comfortable mode for the extreme temperatures of this country especially mid-winter (Dec-Feb) when temperatures can hit up to -30°C. Going a bit over your budget may seem expensive when buying winter clothes but consider it to be an investment. And, to begin with, I cannot stress enough how important your base layer is to keep yourself warm. So go for the best brands that can last longer.
My top fave brands to consider:
Down jacket : Northface/Columbia/Patagonia
Fleece jacket: Columbia
Snow boots: Sorel caribou /Columbia
Base layers and glove /sock liners: Icebreaker
Woolen socks: Smart wool
Gloves: Burton/Northface
Overall snow suit: Arctic
Ski goggles: Outdoor master
Tip for choosing jackets: look for goose feather filled atleast by 70%, if it says GoreTex even better (look for trademark), it's windproof and waterproof.
Tip for choosing base layers and socks: mid to heavy weight minimum 80% Merino wool
Tip for boots: anything fur lined and that says up to -30°C.
For kids: Overall snow suit from Columbia and Dirdriksons which can be extendable as your kid grows. You don't have to buy one each year!
Tip for Ski goggles : minimal VLT 10-20 % for best use in bright light conditions. You are gonna need it to protect your eyes from Arctic UV sunrays. It's quite intense!
If you are planning on night rides and northern lights tour, don't forget to pack lots of hand, toes, and body warmer packs. Decathlon has the best and cheaper ones. They stay up to 9hrs and provides heat up to 50°C.
If you are low on budget to invest in your winter wear, don't worry! You could rent out the winter overall suits and gear for the entire duration of your stay in Finland. That works out the best if you are sure you wouldn't use them again. Otherwise, if you are a person to go on winter tours and treks a lot more frequently than other travelers, spending on the best winter wear is a good bet for investment.
Now that you are all set, get geared up for an adventure of a lifetime with countless first-time experiences you wouldn't have contemplated before. In no particular order and preference, this is what I suggest for a Lapland winter vacation.
1. Safaris... Husky safaris reindeer safaris snowmobile safaris..even Icekarting races. Do it alone or in a group, morning or evening, club it or not with Aurora hunting, it definitely spikes your adrenaline rush. These are a unique Finnish experiences you can't miss.
2. Finnish steam and snow sauna combined with outdoor jacuzzi. For hard core adventure hearts, you could even try ice swimming or even just short dips before the sauna. Again, what a great way to do it in the wilderness under the northern lights.
3. Visit a snow hotel/village/castle and dine in an ice restaurant with exclusive cutleries carved out from ice.
4. Visit Santa Claus village and step across the Arctic circle. You don't have to be a child I am sure, your heart's excitement is just enough to enjoy the spirit of Christmas all over again. Santa park even has snowmobiles for kids on short tracks. Your child is going to be proud of getting his/her certified driving license to drive snowmobiles once they finish the ride successfully.
5. Snow fat bikes ride onto an adventure in the Finnish fells to explore the forest trails or along the frozen rivers in polar side of the world. You just don't wanna miss out on the sunsets and sunrises on your trail during polar nights. If you don't wanna join a group, you could customise private tours or even just rent a bike to go around yourself.
6. Sleep in a glass igloo and gaze into the star studded sky or dancing northern lights throughout the blue hour if you get lucky. You will never forget these sleepless nights.
7. Polar icebreaker is in itself a package with an opportunity to cruise your way on the gulf of bothnia listening to the crackling of frozen ice and daring your heart out in floatation suits for a swim in the frozen water. Some of the northern lights tours have this option even if you won't be able cruise on this icebreaker.
8. Dine out in a Kota restaurant to experience the traditional Finnish dining way around an indoor fireplace. Don't be disappointed if you are vegan/vegetarian, because most of them serve vegan food options. Do not forget to taste Finnish hot lingoberry juice.
9. Visit a Sami village and listen to their folklores and nomadic life around a fireplace in a teepee
10. Visit Arctic animals zoo or go on a snowshoe hike to see the frozen waterfalls in one of the national parks.
11. Ice fishing is another exclusive thing to do around this corner if you are inclined to try your hand at it. And may be if you get lucky catching one, enjoy grilling your own fish. I must say you need a lot of patience and long hours sitting in the outdoors on frozen lakes
12. Like any other winter destination, this is also a great place to ski or sled your way over the fells and tracks. There are exclusive tracks go tobbaganing for both adults and kids.
Check out my Lapland stories in detail on my post
https://www.tripoto.com/trip/arctic-dreams-lapland-5e6122bf4383d.
If this isn't enough to inspire you, then I doubt your travel lust might be an exclusive beach bum for sure.