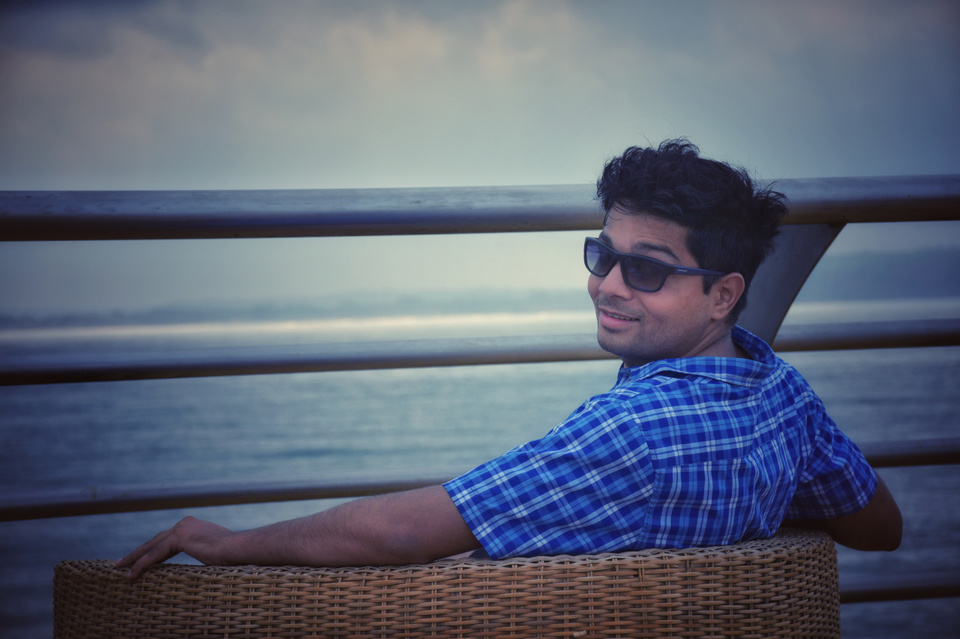 Angriya Cruise is named after the mighty maratha navy warrior Shri Kanhoji Angre. The cruise line has started its service as the very first domestic cruise service between Mumbai and Goa. It covers the journey between Mumbai to Goa in around 17hr.
The cruise starts at 4pm from Mumbai and reaches Goa next morning 9am.
Tickets and Bookings
Angriya Cruise provides a rich bouquet of options, travelers can select as per on their requirements. Family, Couple, Buddy twin sharing and many more such customized room options are available.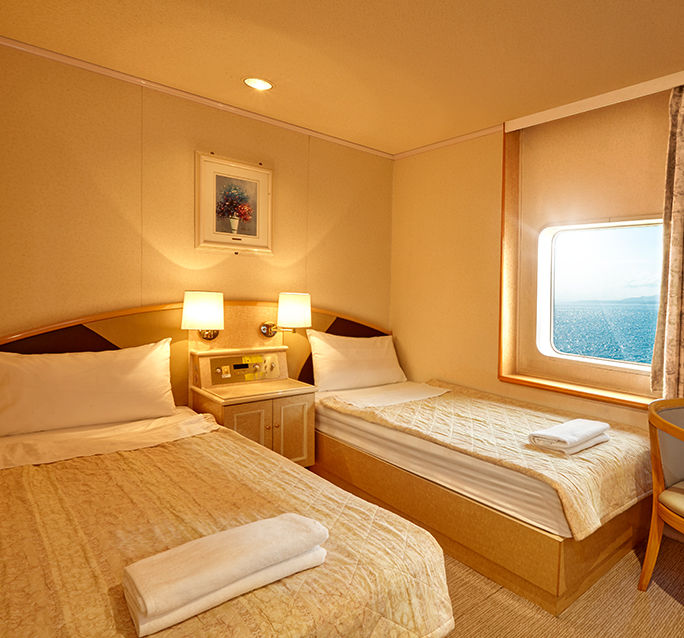 The ticket cost varies from Rs 4300/head to Rs 7650/head. An additional food charges of Rs 2000/head is levied along with the ticket. One can book the tickets online on Angriya's Website.
The Boarding Point and Boarding Process
The boarding Point in Mumbai is Purple Gate, Victoria Docks 15, Mazgaon, Mumbai. It is suggested to reach the boarding point at least 90 mins before the scheduled departure. This is because the boarding is done using small ferries which takes the boarders to the cruise ship.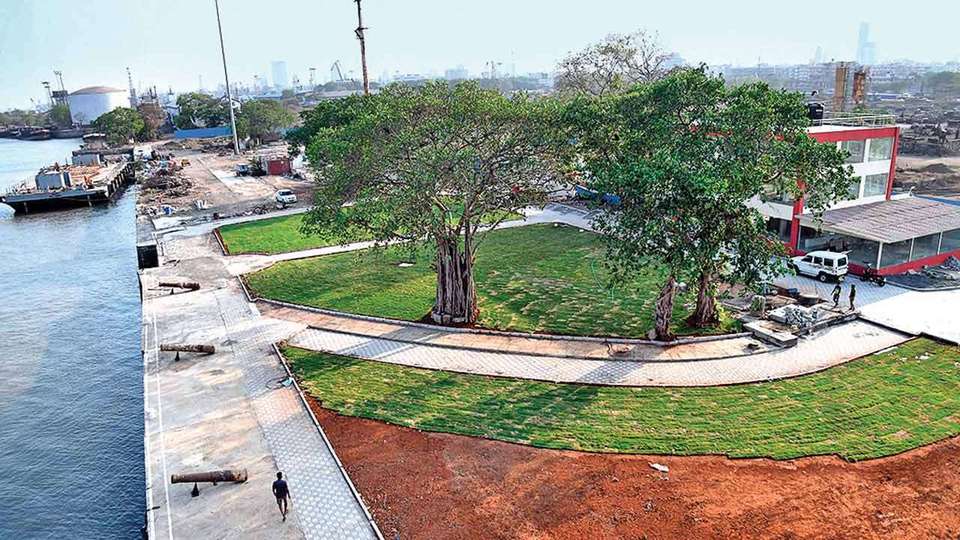 As this cruise service is still in its nascent phase the boarding point has very little amenities. Only a small food stall with limited cuisine and un-realistically high prizes is there. So, it is suggested to have your lunch before going to the boarding point.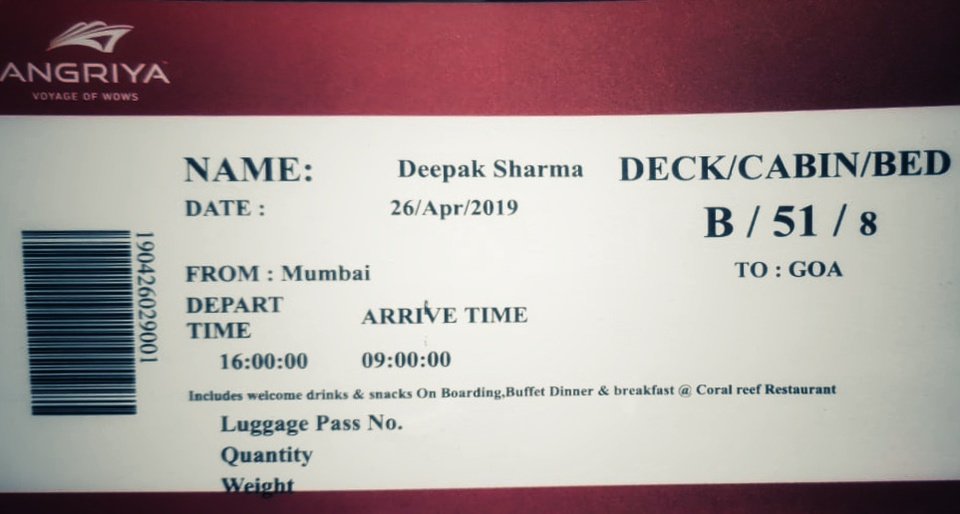 The boarding passes are provided after checking your E-tickets and IDs. The check in baggages are submitted at this point. Just like an air travel, the traveler will have access to the these check in luggages only after reaching the destination. A maximum of 25kg as check in baggage and 10kg of cabin baggage is allowed.
Welcome on Board
The boarders are greeted by the crew on the cruise ship followed by a welcome drink. The guests are then guided to the alloted rooms.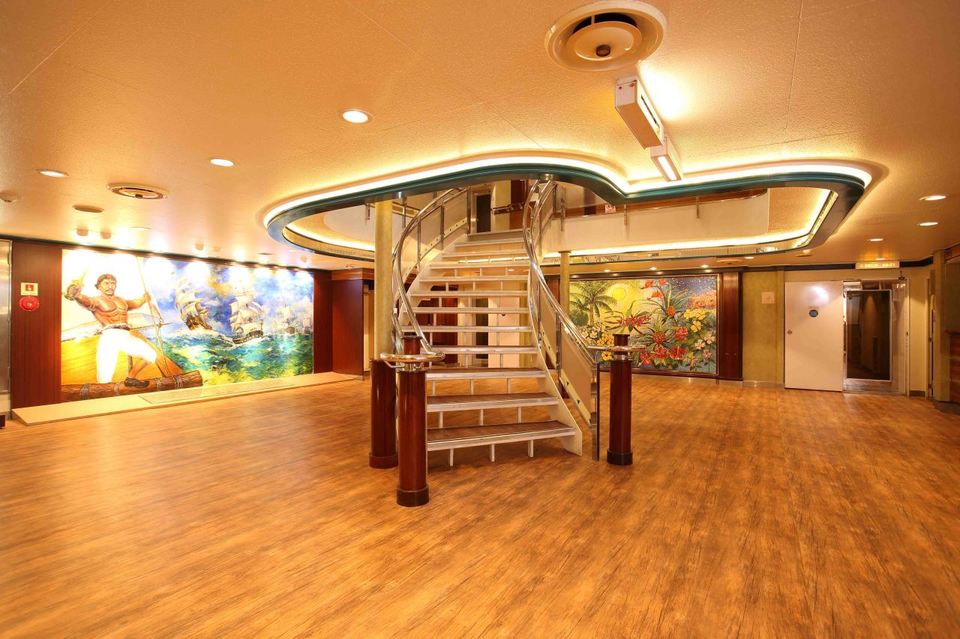 An official photographer is appointed at the ship who, with your permission, clicks your candid shots which you can collect from the photography desk. This costs a handsome Rs 383 per snap and approx Rs 900 for three.
Amenities
Angriya presents a versatile arena of locations for party lovers as well as the peace lovers. From feeling the calm sea breeze to enjoying the thump of music on a dance floor, Angriya has something for everyone.
Bars
There are six bars situated around all the walks of the cruise Sea Breeze, Gaaz, Goaf, Sea Horse, Soro Di, Aguad. The timings are 4pm-11pm for Gaaz and Goaf, 7pm to 11pm for Sea Breeze, 8pm to 4am for Sea horse and Soro di. Aguad serves beverages from 7pm onwards.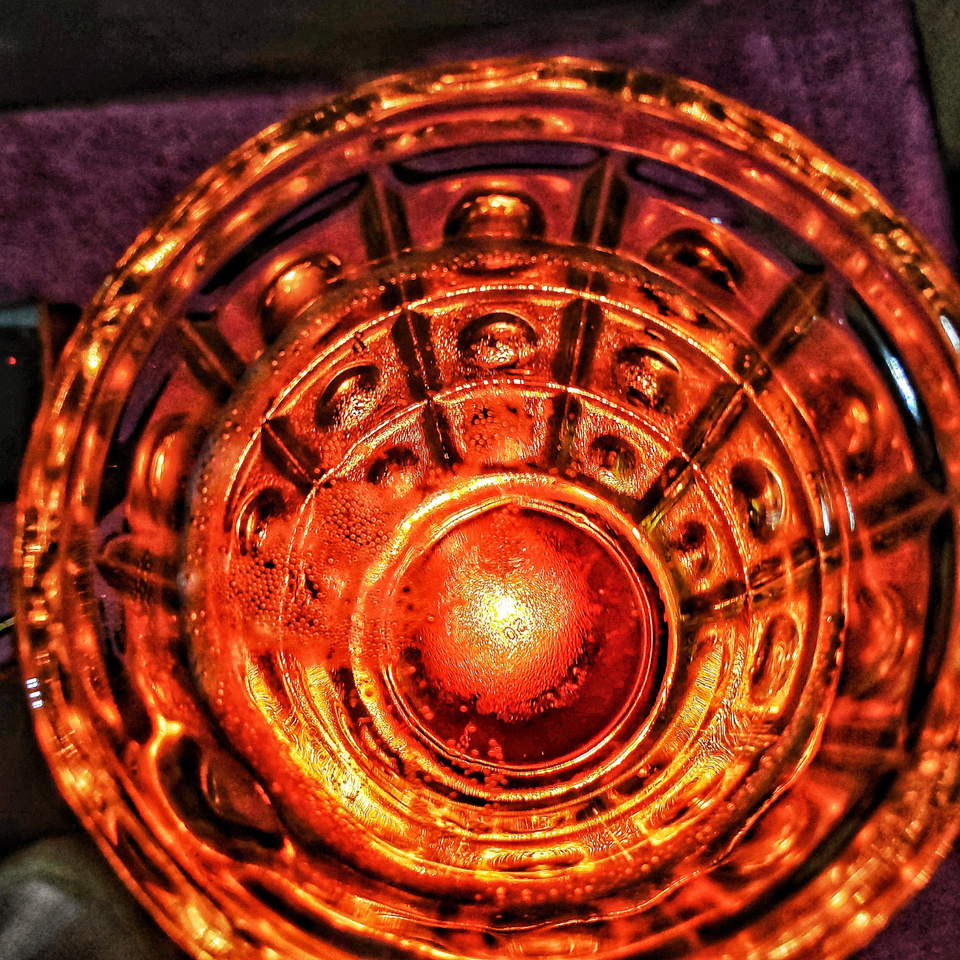 Restaurants

Ancora and Coral Reef are two major restaurants along with few small snack counters. The Welcome drinks and Dinner (8pm onwards) are served at Coral Reef, while Ankora serves alacarte food between 4pm-7pm and dinner from 8pm onwards.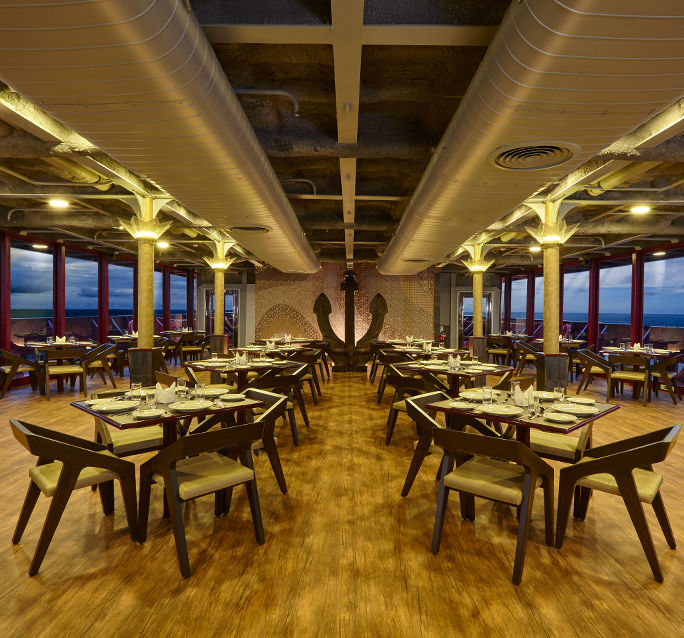 Infinity Pool
Situated at deck-B the infinity pool water waves everytime the ship shakes due to oceanic currents. It feels like swimming in ocean.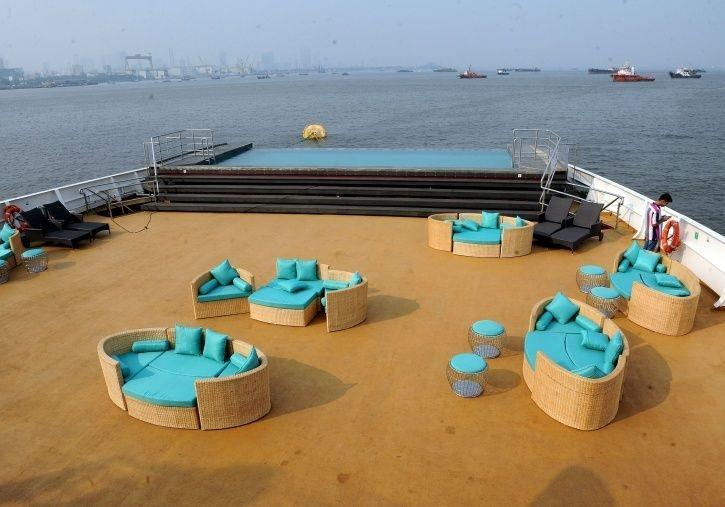 It is an unforgettable experience of lying half dipped in this pool, feeling the oceanic waves and looking at the setting sun in arabian sea. The pool timings are 3pm to 12pm and 6am to 9am.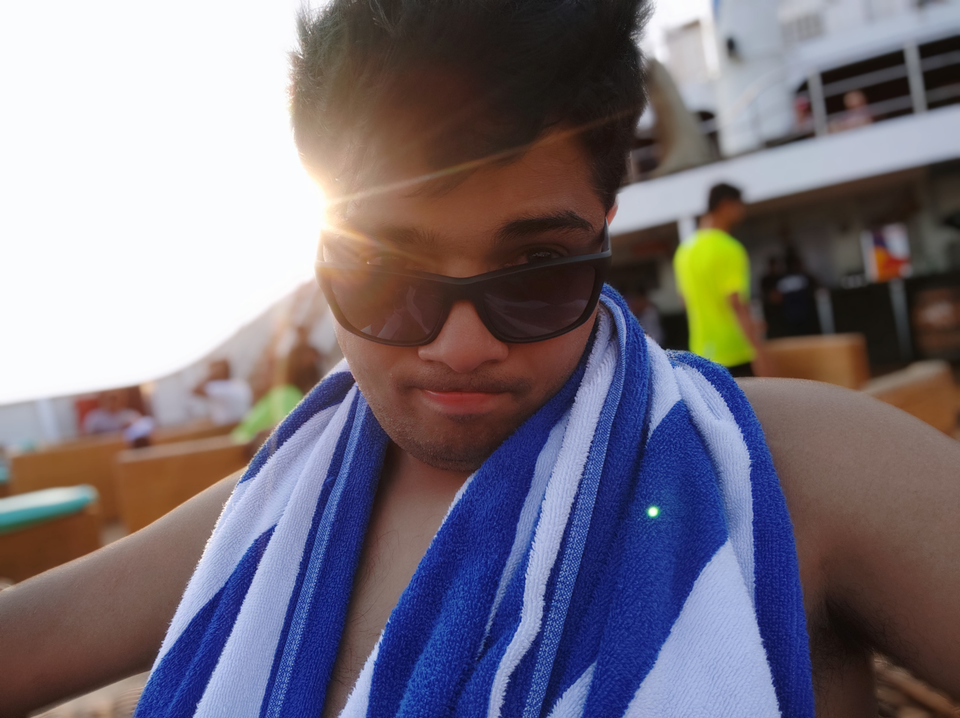 Disco If you are party lover, this is the place for you. Amazing beats with the shaking cruise ship. The DJ plays some amazing mashups to set the party on fire.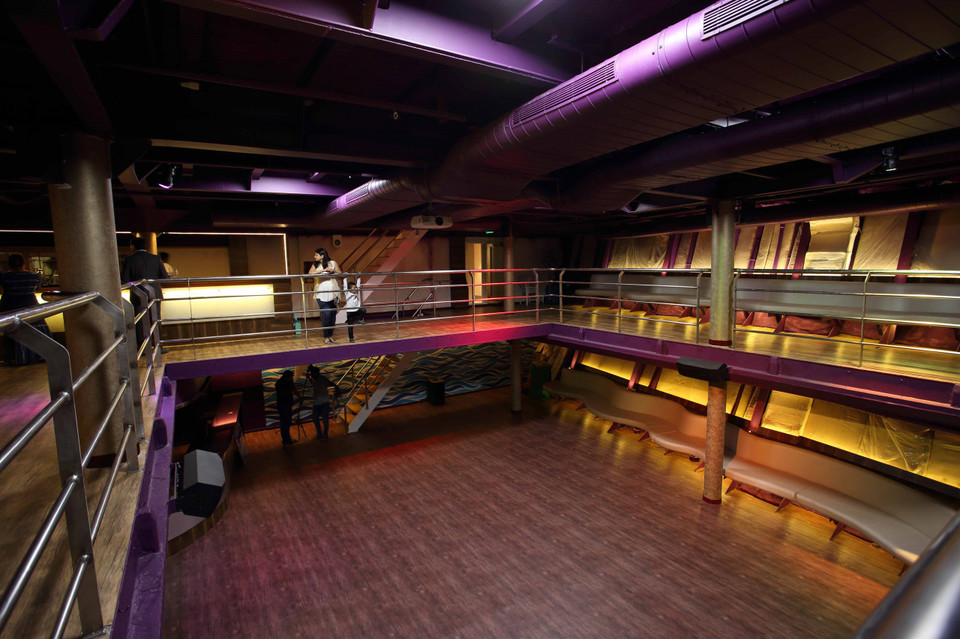 Live Music Band Being a music lover this was the best experience for me listening to a live band performing Hindi, English, Kannada, Tamil soulful symphonies. The band performs next to the infinity pool and this becomes a deadly combination. What else can you ask for. Immersed in a pool, feeling the sea breeze and listening to a live band performing some of your favorite songs. Mesmerizing.
Open Decks There are seven decks with three open decks. Nice seating arrangements have been done for guests to enjoy the calmness of the sea.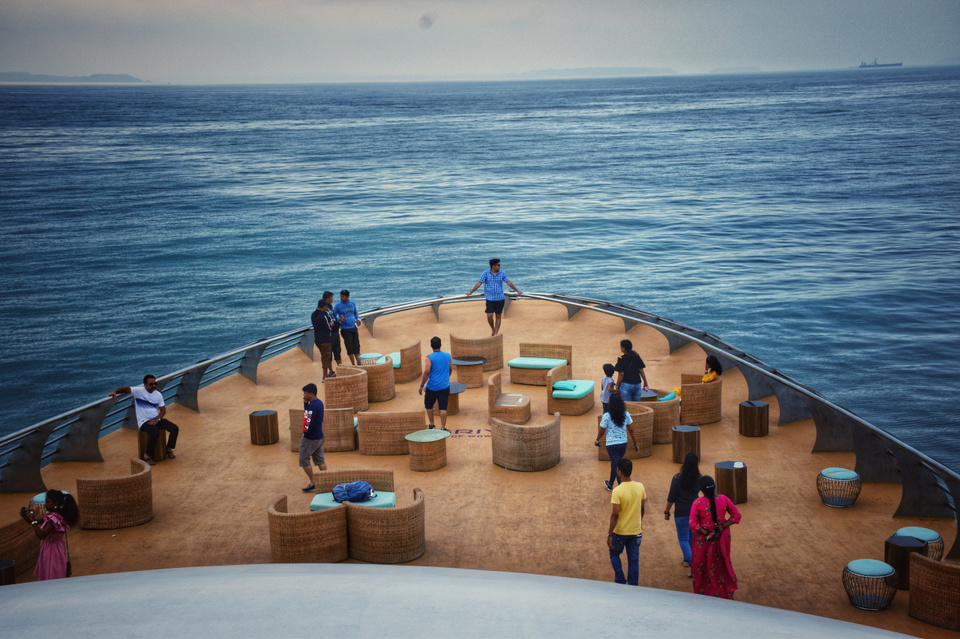 So, if you are a couple looking for your romantic corner in the cruise, here it is. Don't forget to take a titanic pose here and thank me later.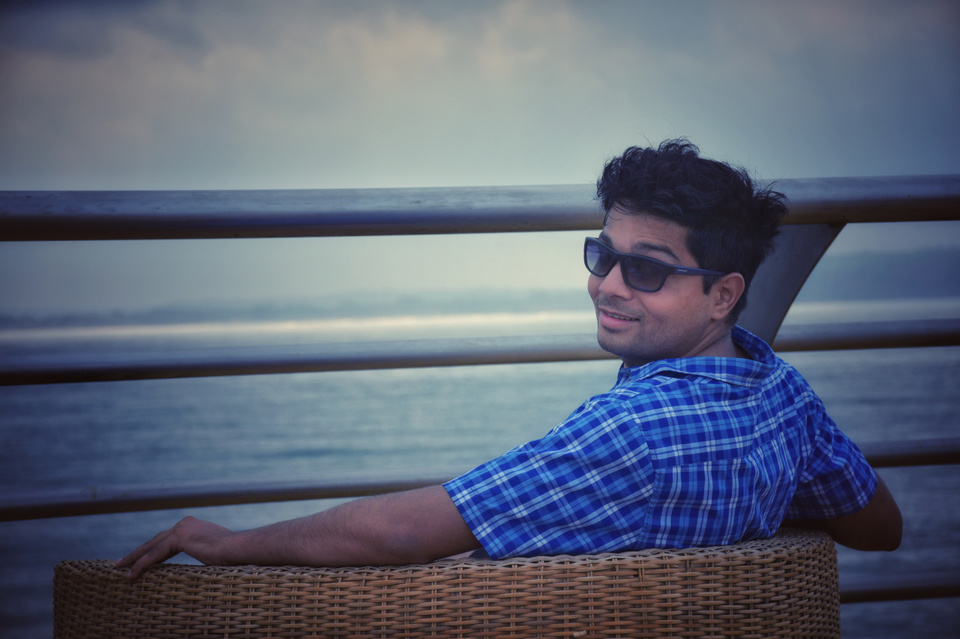 The Spectrum of Sun The sunset is the most soothing experience of any cruise in arabian sea. Angriya doesn't disappoint you on this. The open decks are the best point to witness the ravishing colors of sun during this time.
Other amenities like Spa and Gymnasium are also there.
The Angriya Card
In Angriya you need not to carry cash every time. All you need to do is to deposit a lumpsum at the reception counter and you will get an Angriya Card. Swipe this card any where in the entire cruise. You will not be served anything for cash payment.
The remaining amount will be refunded at the de-boarding point.
De-boarding
The cruise terminates at Murmagaon Port in Goa. The scheduled time for de-boarding is 9am though it may vary based on the port availability. My deboarding was delayed and started at 10am. So, if you have a connecting flight to catch, keep an additional window of 1hr of possible delay to it.
Honest Verdict
Angriya Cruise presents a bucket full of enjoyable moments with your friends, family and loved ones. Please be informed that it is a budget cruise, do not expect the gradeurs like Titanic from it. Still it will not disappoint you for the money you will spend for it.
Comfort- 4/5
Luxury- 2.5/5
Food- 3/5
Enjoyment-4.5/5
Value for Money- 5/5
Overall-3.5/5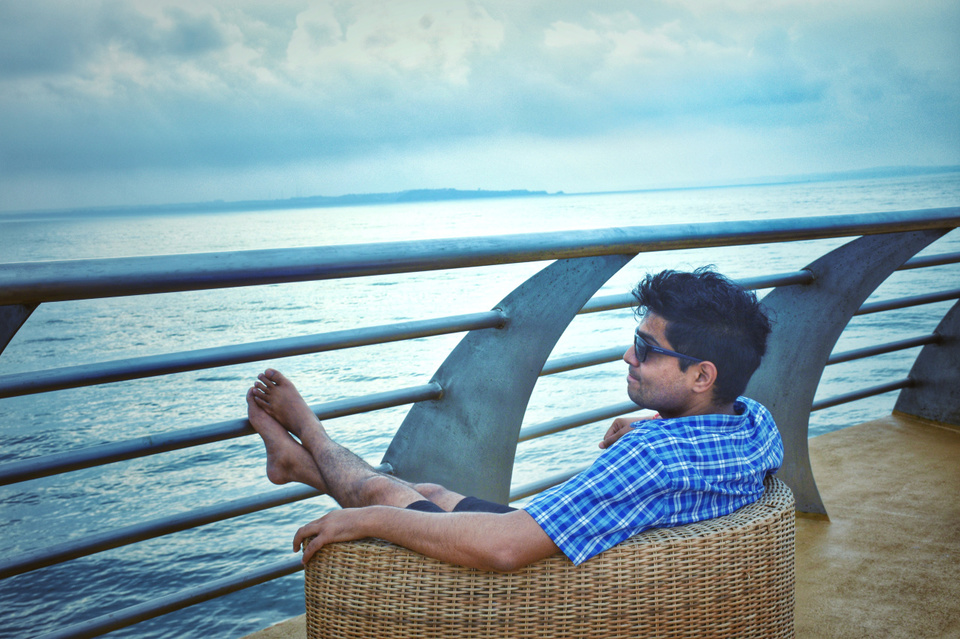 PC- Few Images used, are from Google Images