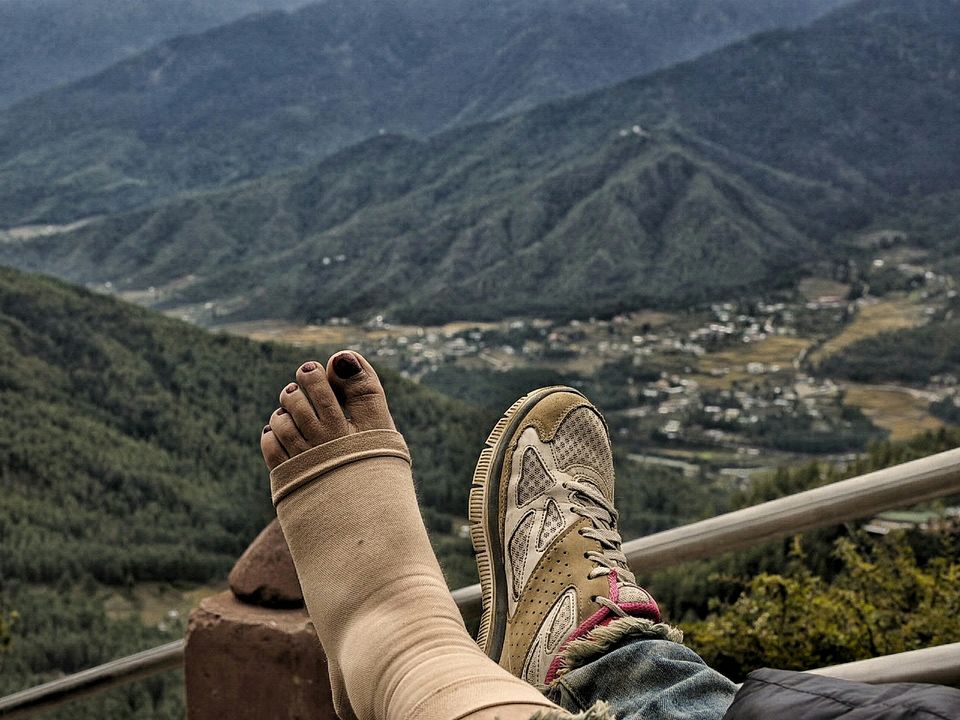 Many of us reading this article are either fresh travelers or travel enthusiasts. I am sure the lessons I learned from this trip will help many to plan a safe trek.
Ask me what's its like to be sitting in one corner with injured foot at 3000meters and that too on your dream trek.
Yes! This happened to me
It was our last day in Bhutan. We were to trek to the Tigers Nest. My excitement knew no bounds afterall The Tigers Nest is counted as one of the most fascinating sights in the world.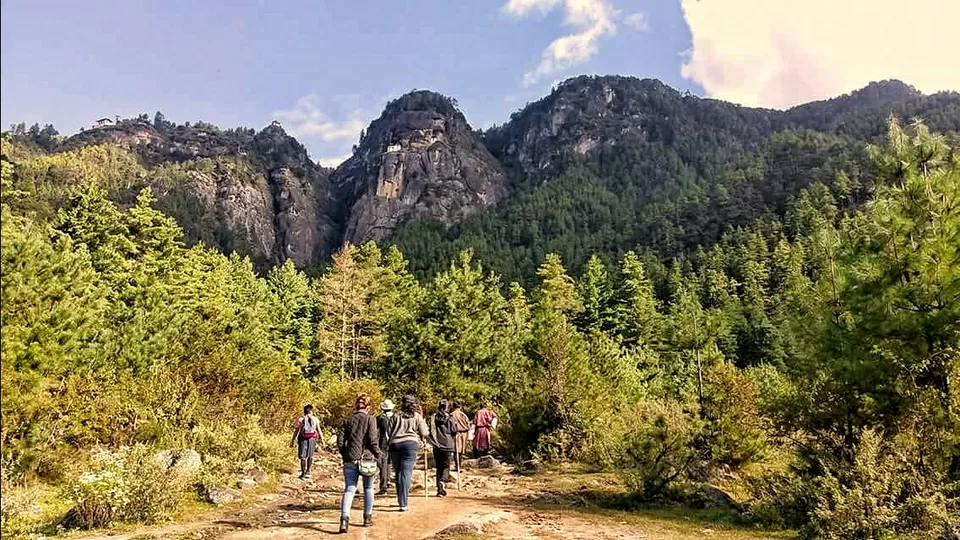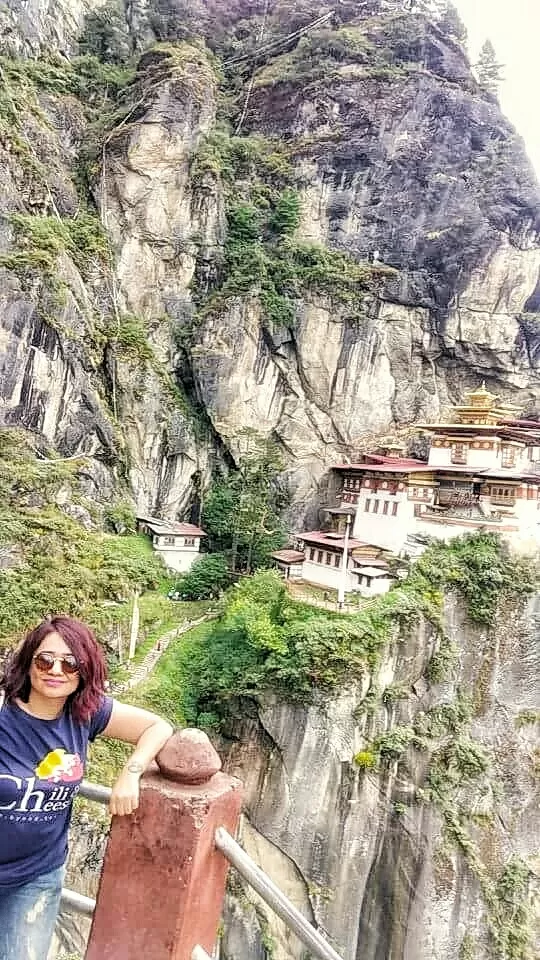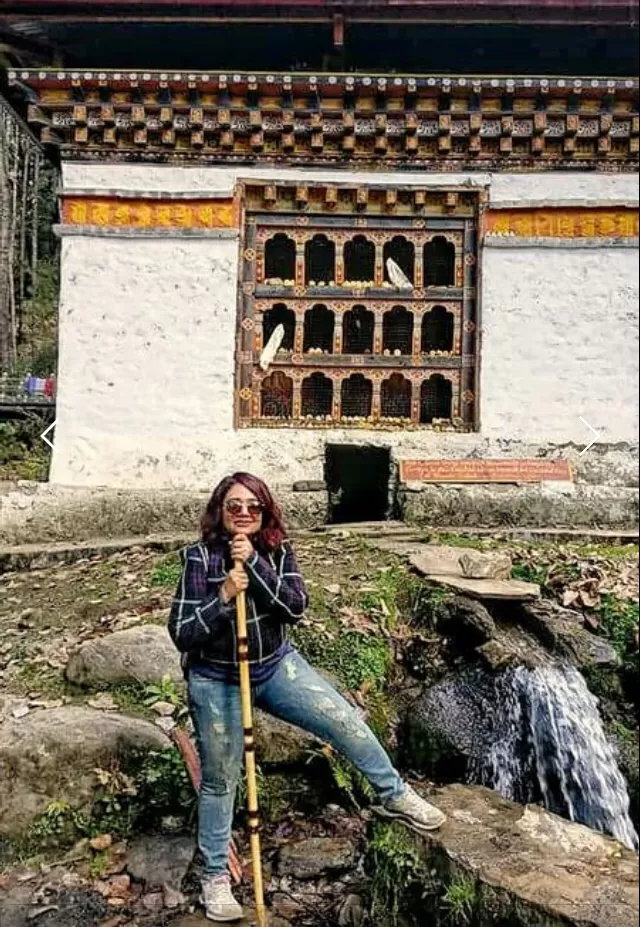 The Taktsang Monastery popularly known as The Tigers Nest is a temple devoted to Guru Padmasambhava. It is believed that Guru Padmasambhava flew to this location on the back of a tigress from Tibet. The Guru then performed meditation in one of the caves and emerged in eight incarnated forms.
Tigers nest clings to a cliff at around 3210 meters or 10240 feet which is 900 meters above the Paro valley. Its mesmerising beauty is a treat to the eyes and soul.
It's approximately 3.5 kms trek, one way, with rocky, dusty, uneven and sometimes slippery path.
The lush green deodar and Cyprus tress on one side and the smiling faces of the pilgrims which hale from various parts of the globe, made my climb a very pleasant experience
I was barely 30 mins away from the Monastery and something happened. I screamed and tears started to roll out of my eyes. My left feet swell and started to turn blue in a matter of seconds.
Before I could conclude ...I was sitting in one corner of the large uneven step, crying in pain.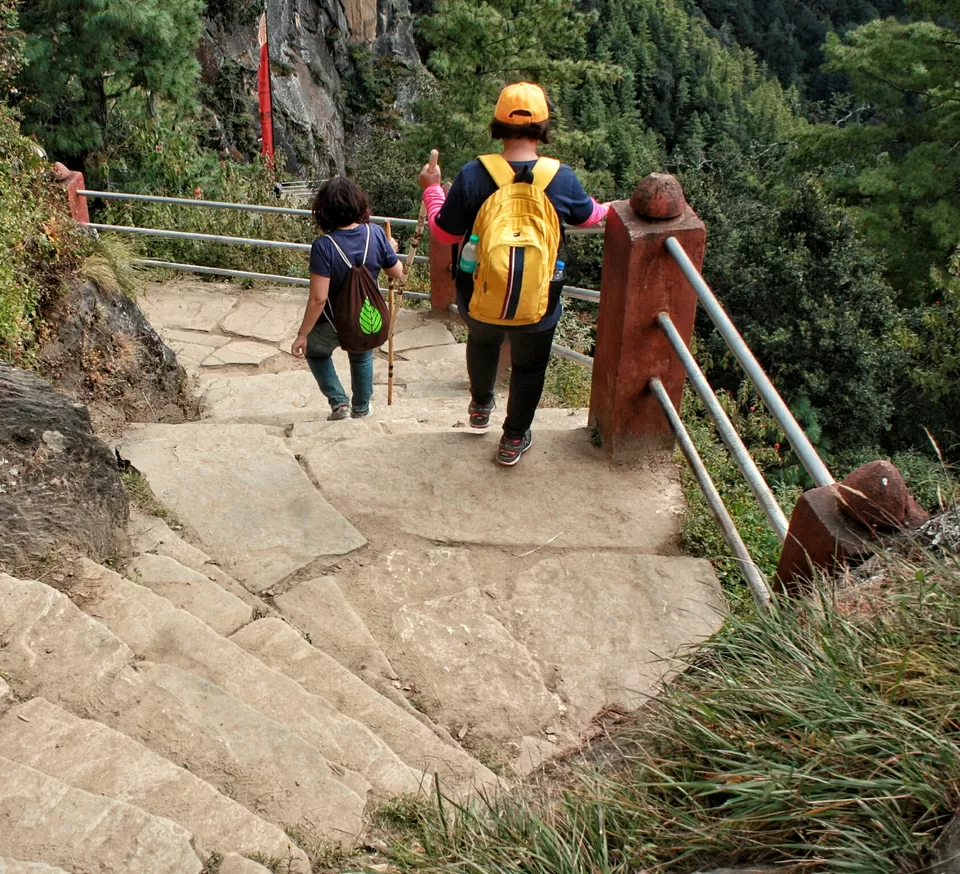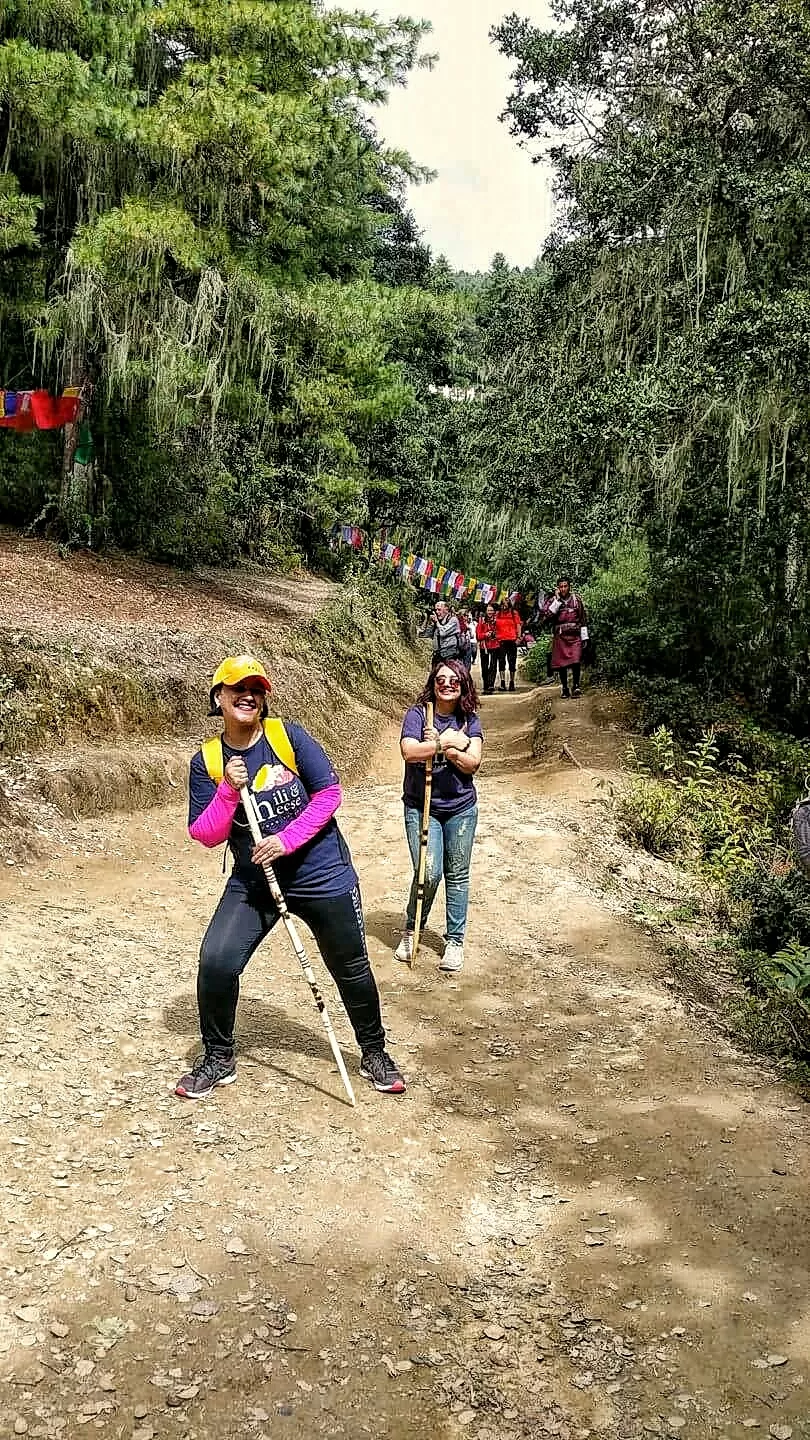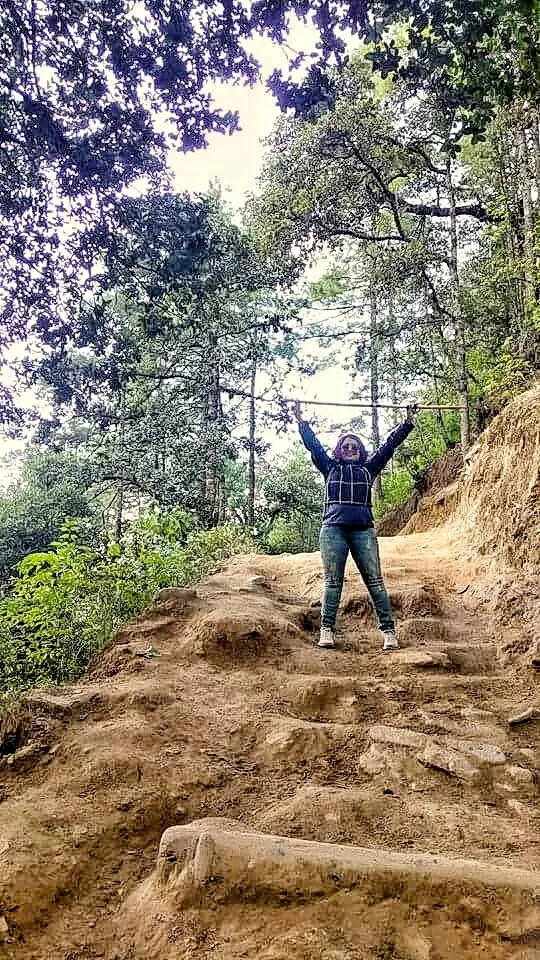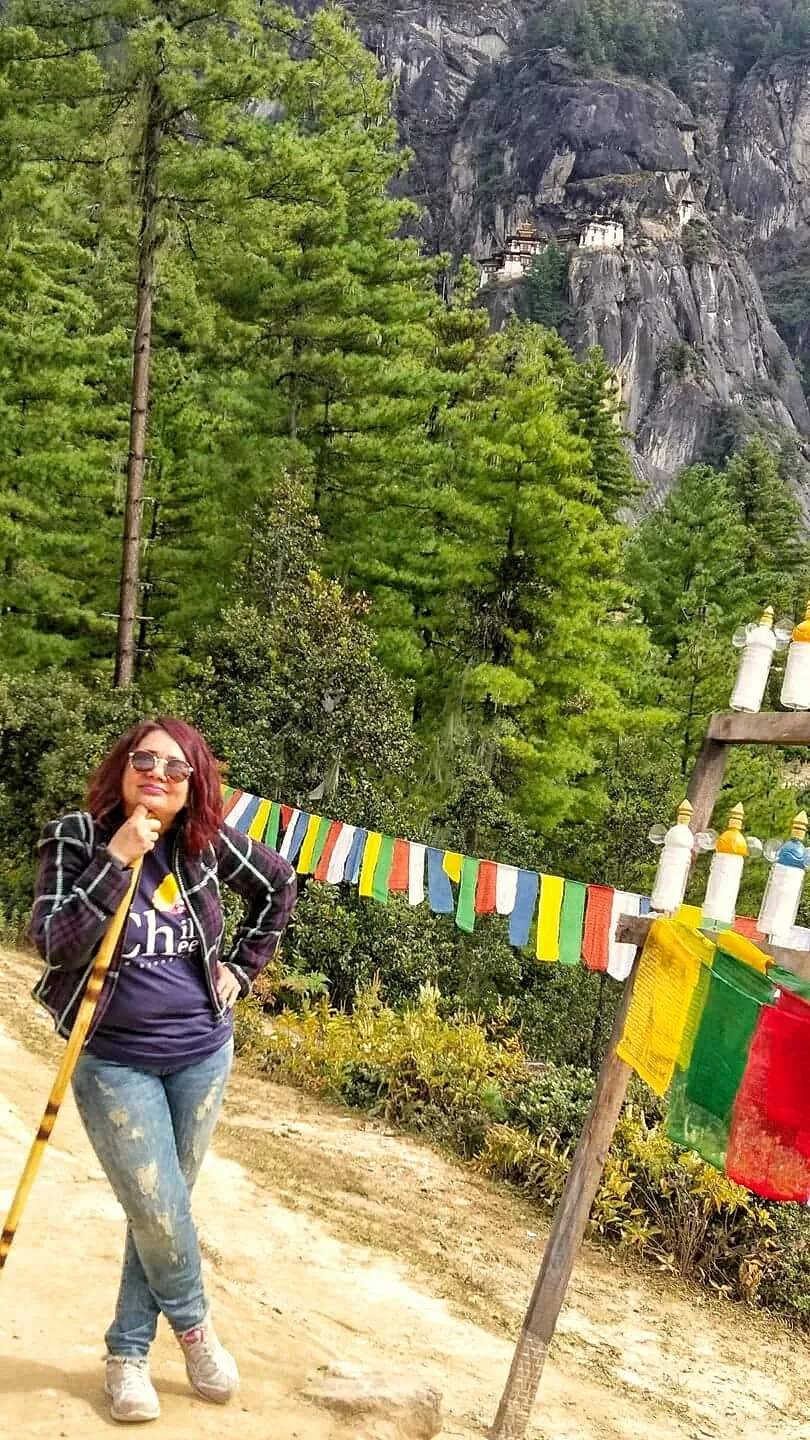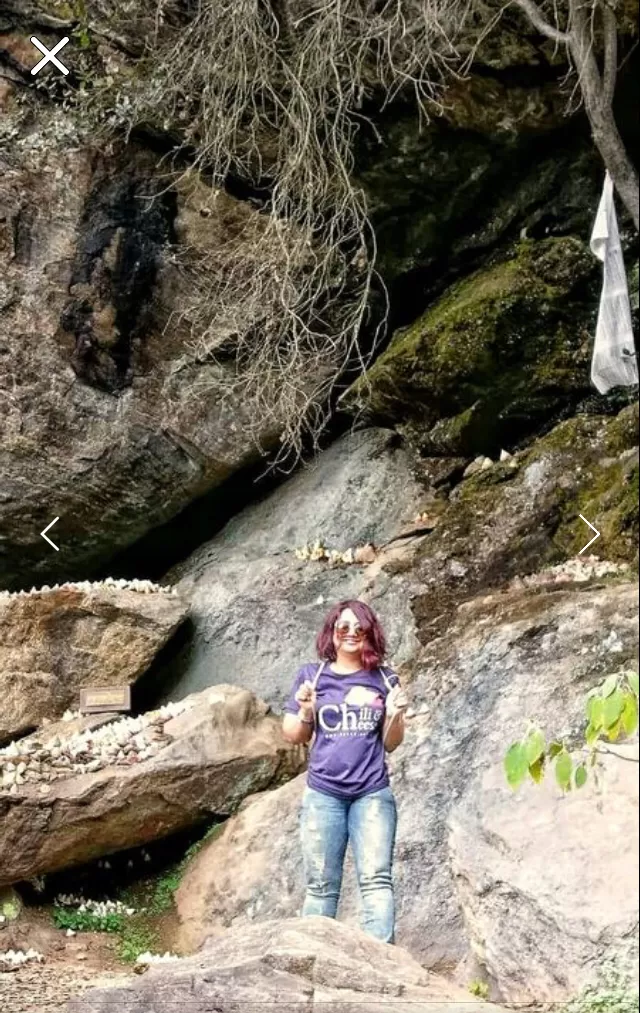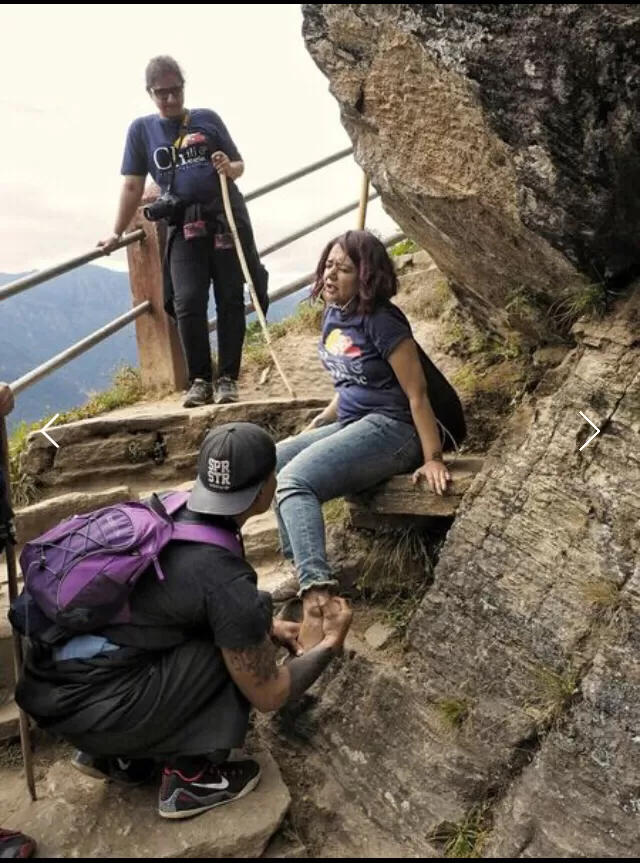 I was fortunate to have a senior Swiss Orthopedic Surgeon around (who was also on his way to the monastery). He was kind enough to diagnose the foot. "You are wearing the wrong kind of shoes my dear"." This is the cause of the injury. You cannot walk now till it heals"
A lot of locals came for help. A kind lady even offered me her ankle cap. Now the question was "How do I climb down"?
"I will call for a stretcher and two of us carry you down" or "You climb my shoulders" said Nonno, our Bhutanese guide. Nonno stood 6.3" tall, strong and handsome. I did not doubt his strength but it would a punishment for him to carry me on his shoulders. Also the thought of lying down on a stretcher and being carried on such a steep and uneven path was scary.
I decided to climb down myself. Every step felt as if I am carrying a mountain on my back but Nonno stood strong and helped take me every step carefully.
After a descent of about 3 and half hour and uncountable stops in between, I managed to reach our vehicle.
"You are a strong Woman" said Nonno. I just smiled. Words were not enough to thank him for the courtesy and support he had extended towards me.
I landed in Mumbai on a wheel chair and it took four months for my feet to recover and heal.
Conclusions!!
1. Always go prepared. It's very important to choose the right kind of shoes for a trek depending upon its difficult levels and the weather How to choose right kind of shoes for your trek?Keep these three things in mind1. Support - look out for the right soul - A stiff soul gives better support. Ankle support - so that your feet don't turn and twist.
2. Material used - breathable material if it's too warm. Water proof material for rains and protection from water or moisture
.3. Fit - is most important factor to keep in mind. There should be some room around the toes so that during descent the toe is not cramped and hurt
4. There are many brands and stores which offer professional guidance in choosing the right gears. Decathlon is one such store I highly recommend.
5. Always carry first aid. We know our body best and hence it's important to carry necessary first aid without depending on the guide or the tour leader.
6. One can carry the following - Pain killer. Stretch bandage. A pain relief spray or ointment. Basic medicines for fever, acidity, stomachache etc. Some fruits to keep you hydrated. Energy bar and dry fruits to give you energy. Enough water.
7. A knee cap and ankle cap for support. However young you are, problem can strike anyone at anytime irrespective of age.
8. A convenient lightweight backpack with back support. There are special backpack available with shoulder and back support.
9. A good Trekking pole.
Happy Trekking!!!!