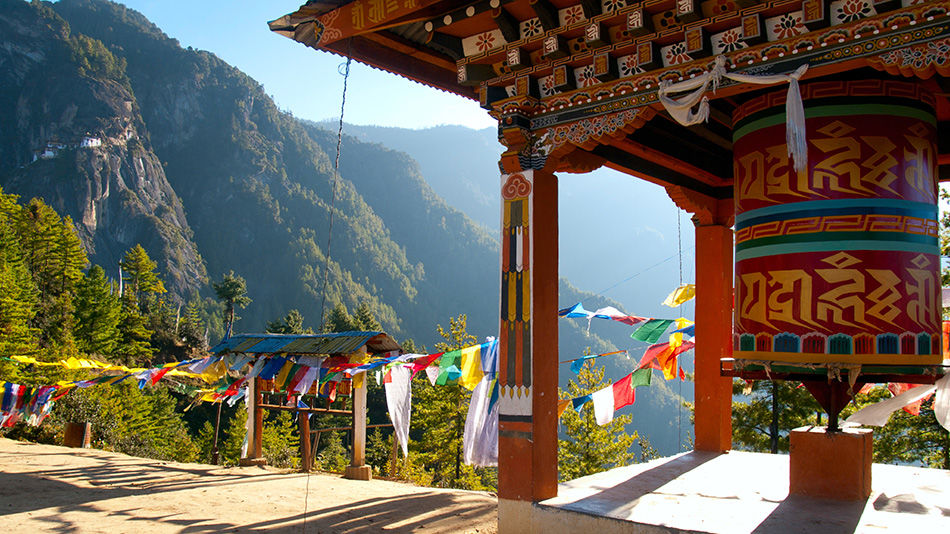 Tigers's Nest is also known as Paro Taktsang, it is a holy Buddhist temple located in Paro. The temple was built in 1692 around a cave where it is believed that Guru Padmasambhava flew to this location from Kurtoe Singye Dzong on the back of a tigress from Khenpajong. In one of the caves here, the Guru then performed meditation and emerged in eight incarnated forms (manifestations) and the place became holy. This place was consecrated to tame the Tiger demon. Therefore, it's called "Tiger's Nest"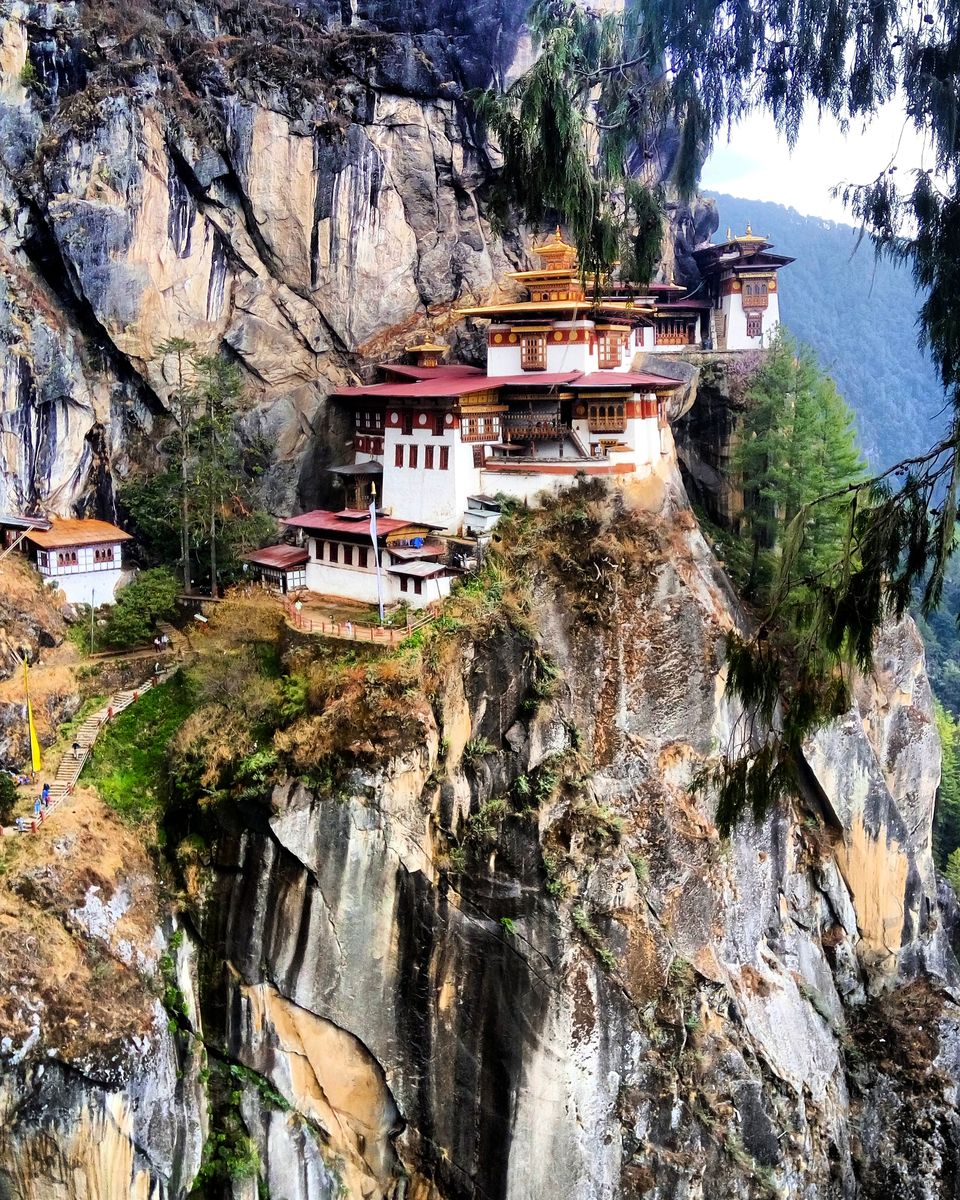 While hiking to the tiger's nest there are some important tips and information you need to know before climbing so I mention everything below in points.
Details of the trek:

Distance: 9 km (To and fro)
Time: 5-7 hrs
Elevation: 3000 ft
Difficulty Level: Moderate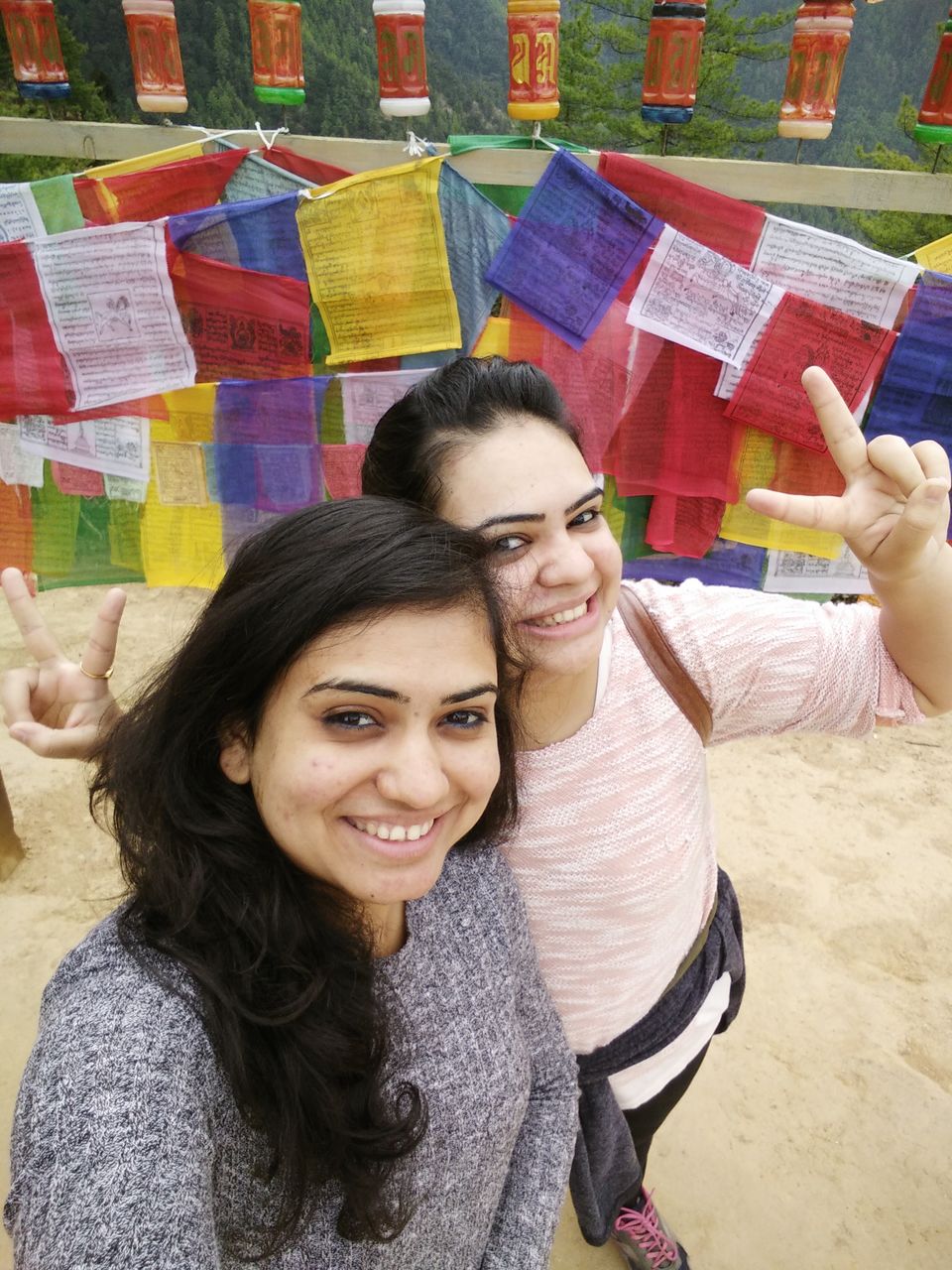 Helpful Information and Tips:
1. Get the hiking stick: At the base of the trek, you can buy wooden hiking sticks coast RS.50. It's extremely helpful during the hike, especially on the way back down. You can return the hiking pole to the shop when you finish your hiking or can also bring back that stick with you as a memory.
2. Carry your rain coat: Ya it may sound weird, but it rains sometime (mostly in the afternoons) so carry your raincoat with you for safer side. When we made our trek at that time it ran (not heavily though)
3. Don't stuff your bag: Carry a backpack with food like energy bars, chocolates, and enough amount of water as you will not find any place you can buy those items besides cafeteria.
4. Wear comfortable clothes: Wear something comfortable so you can walk freely and can breath simply like sportswear. If you are going in the summer, then avoid wearing too many jackets because as you walk up the hill you feel very hot and uncomfortable to walk in it (jackets)
5. Wear sport shoes: Good hiking shoes with good quality.

6. Important note: The Rule is that inside the monastery you're not allowed to carry anything like phone, camera, food, water. They asked you to leave your bags outside in the lockers. It's really safe, but for safer side avoid carrying any expensive things.
Pit-Points:
Taktsang Cafeteria - This point is at halfway through the trek. But it's super expensive; one tea or coffee costed us RS 150. If you think you cannot trek all the way up you have an option to take a horse ride up-to this point only. You can ride a horse or pony up to this point if you think you cannot trek all way up, but after midpoint you have no other option of transportation so you have to walk your way up.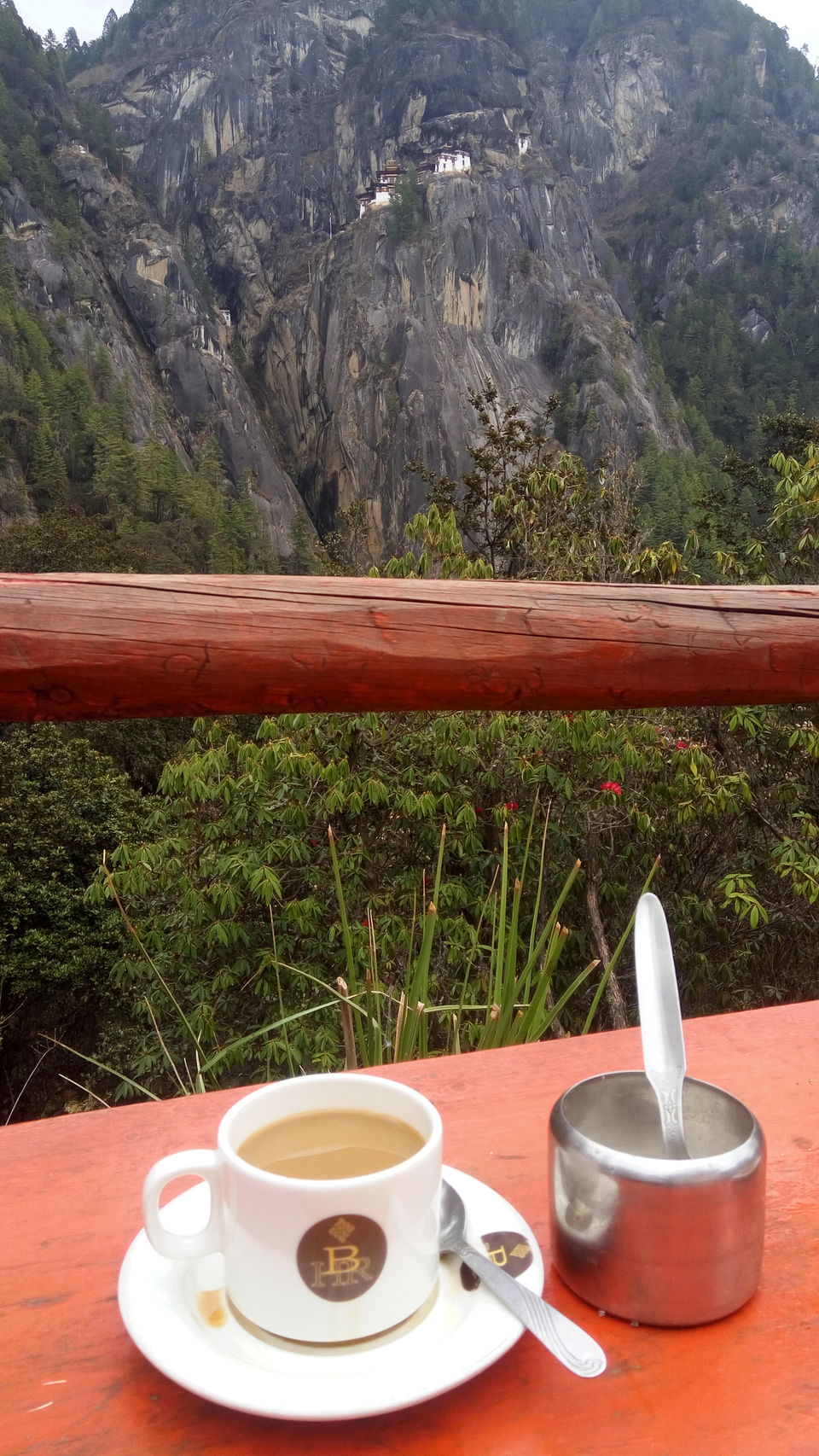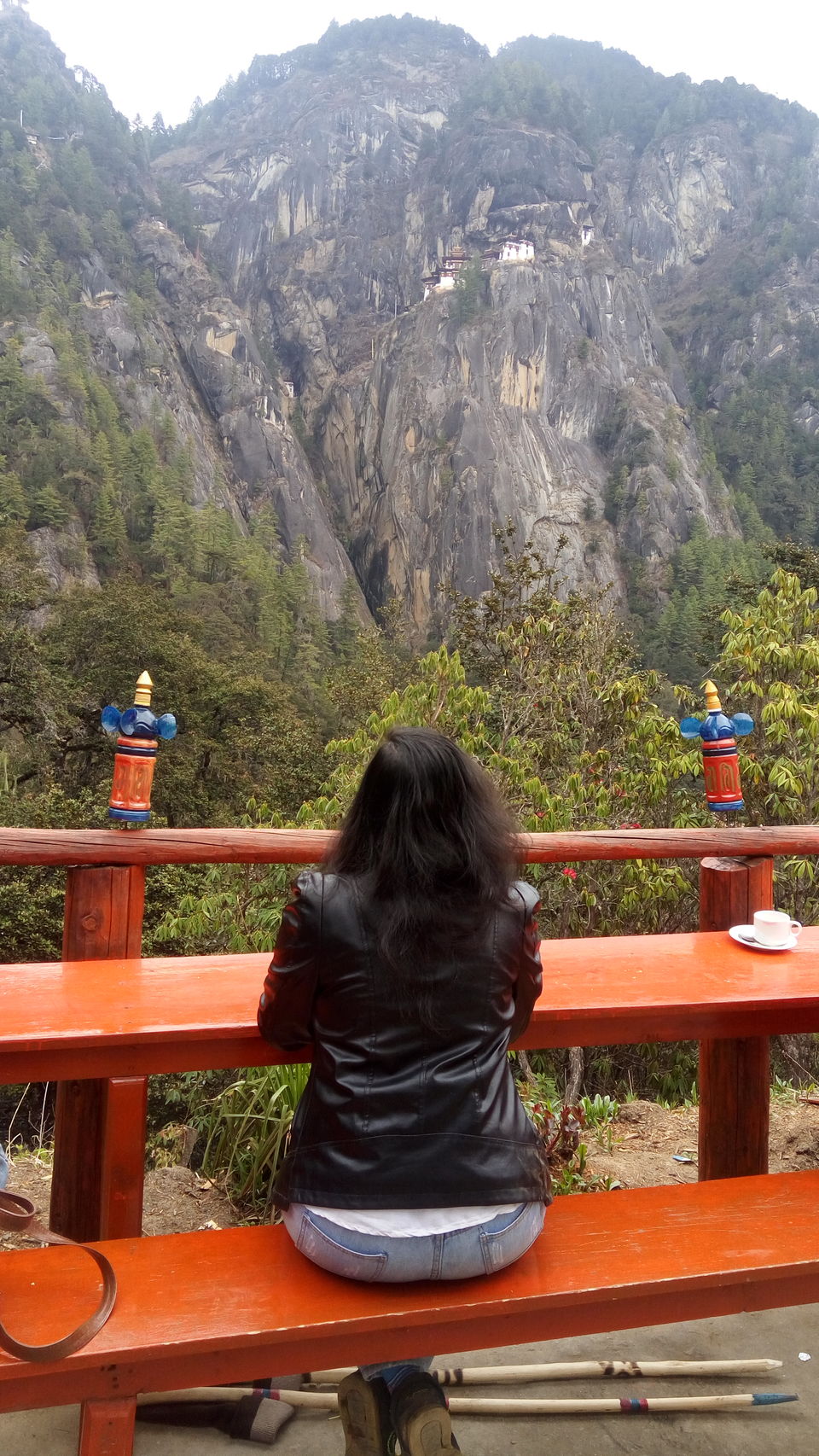 Taktsang Viewpoint - This is a compulsory pit stop as it offers a spectacular view of the Monastery and the Paro town.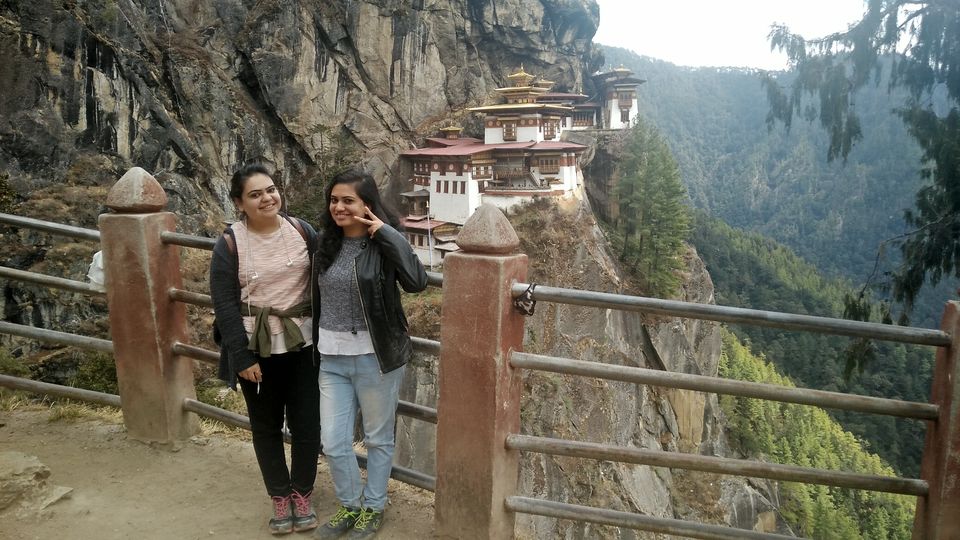 Many tourists hire a guide, he will help you understand the history and importance of the place. You can hire a guide in the town itself (ask at your hotel for such arrangement) as you won't able to find anyone at the base of the monastery. We didn't hire a guide, but in the halfway of the trek a guide who already had a set of tourists gave us the information about the history and importance of some of the places. He was really friendly and had a good conversation with him. I won't suggest to rely on destiny to find someone who will give you information so better hire a guide. He will encourage you to complete the hike as well and trust me, you need this motivation.
The people in Bhutan are really sweet, amicable and helpful. We almost gave up at one point, but the people over their encourage us a lot and keep saying that "go ahead, don't lose your hope it's totally worth it". It utterly boosts our energy and we completed our whole trek.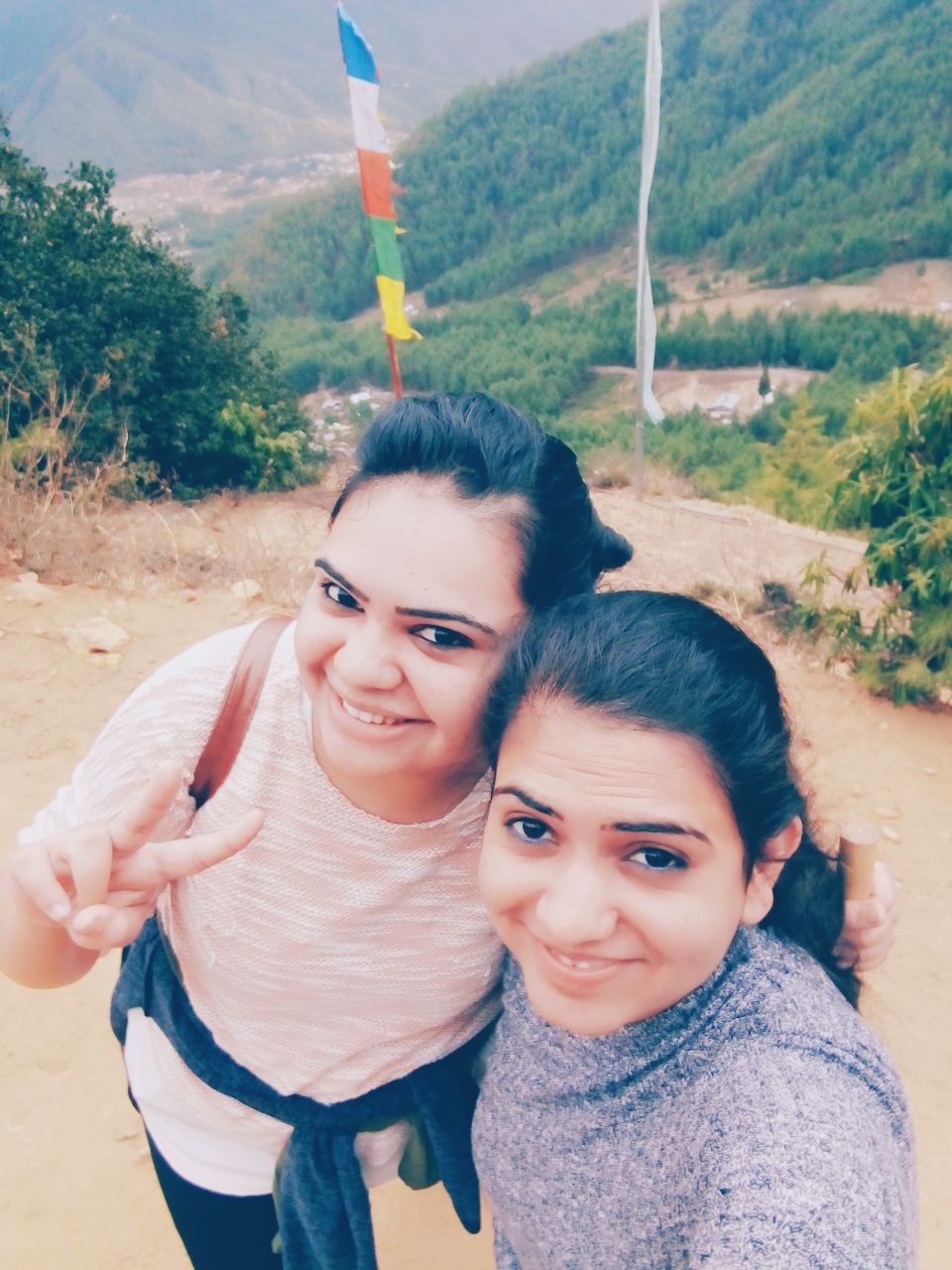 I hope this post will help you. So go ahead to this mystical place and have a great time pondering how this place was ever constructed!