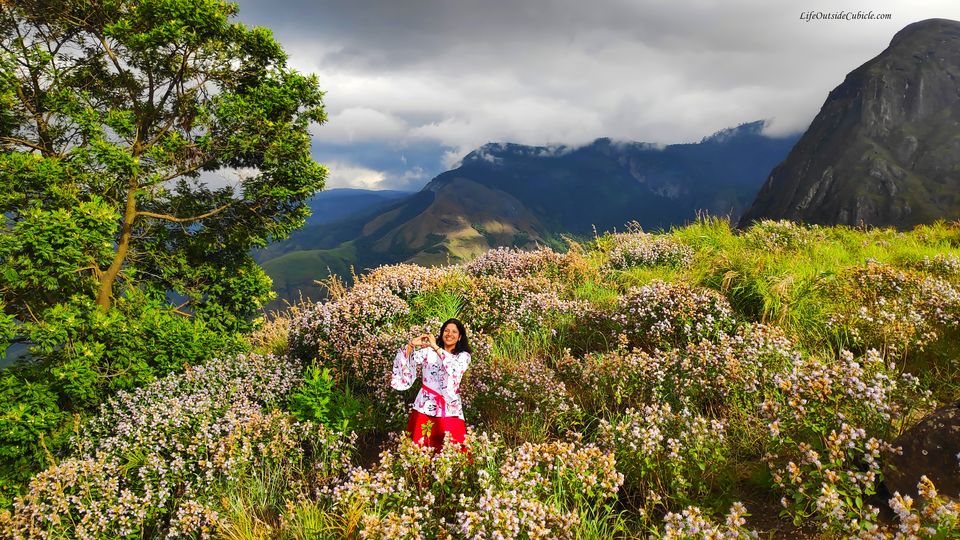 About this Blog: Since the beginning of 2018, I had read multiple posts about one of the rarest flowers that only bloom once every 12 years. The articles mentioned that the last documented mass blooming was in the year 2006 and these famed flowers will be blooming again in the hills of Nilgiris starting from July 2018. This blog is about my journey to witness this rare phenomenon of the Neelakurinji blooms.
About Neelakurinji
Plants that bloom at long intervals like The Neelakurinji, S trobilanthes kunthianus, are known as Plietesials - the plants that grow for a number of years, flower synchronously, set seed and then die. The length of this cycle can vary between 8 and 16 years.
The Neelakurinji is a blue-and-lilac beauty with a 12-year life cycle. It flowers only once in its lifetime, and once it does, the plant dies. The seeds from the dying plant go back into the ground and lay dormant for almost a dozen years. Eventually, they sprout, grow, bloom for a magical two-month period and die again, restarting the cycle.
In India, the Neelakurinji flowers bloom in the 'Nilgiri Hills', which literally means the 'blue mountains'. These hills got their name from the purplish-blue flowers of Neelakurinji. These flowers also bloom in the region of Palani Hills and the Anaimalai Hills. Eravikulam National Park (UNESCO World Heritage Site) and Kurinjimala Sanctuary in Munnar, Kerala have the largest area dedicated to conserve these shrubs.
Kurinji plants grow at an altitude of 1300 to 2400 metres. The plant is usually 30 to 60 cm high. One can view the shorter variation of about 2 feet at higher spots and longer variations of about 5 to 10 feet at lower spots. When the kurinji bush blooms, it has a profuse display of violet-blue flowers that cover the entire plant and these blossoms spread out as a blanket on the hill slopes making it look like a purple blanket over the green hills.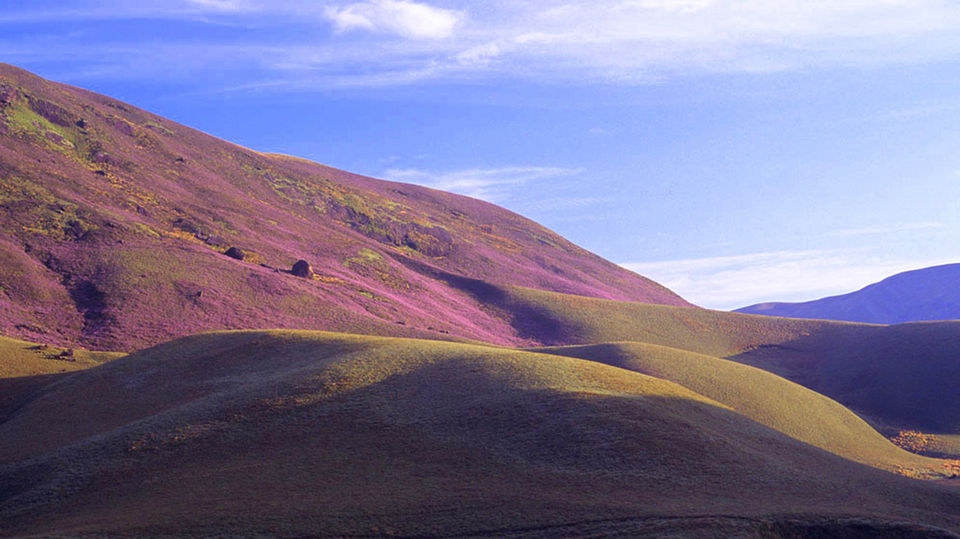 Significance of Neelakurinji
The flowers are fragile and do not have any medicinal values. And the nectar collected by honey bees from these flowers is very tasty and nutritious with high medicinal values.
The mythological significance considers the flowering of Neelakurinji as auspicious and there are taboos that prevent people from destroying the plant or its withered twigs until the seeds mature ten months after the flowering.
Where to Find the Neelakurinji
Eravikulam National Park (UNESCO World Heritage Site) – Munnar, Kerala
Tickets Link – Guidelines and How to Reach
Journey to the Mystic Hills of Neelakurinji
The mass blooming of Neelakurinji is a rarity and I had marked my calendar in anticipation of this event. Just the pictures from 2006 had transported me to a different world, and I couldn't wait to stand in the middle of this rarity.
Near Coonoor
My first sighting of these blue flowers did not cover acres and acres of hill slopes. Instead it was a small patch in the middle of tea plantations.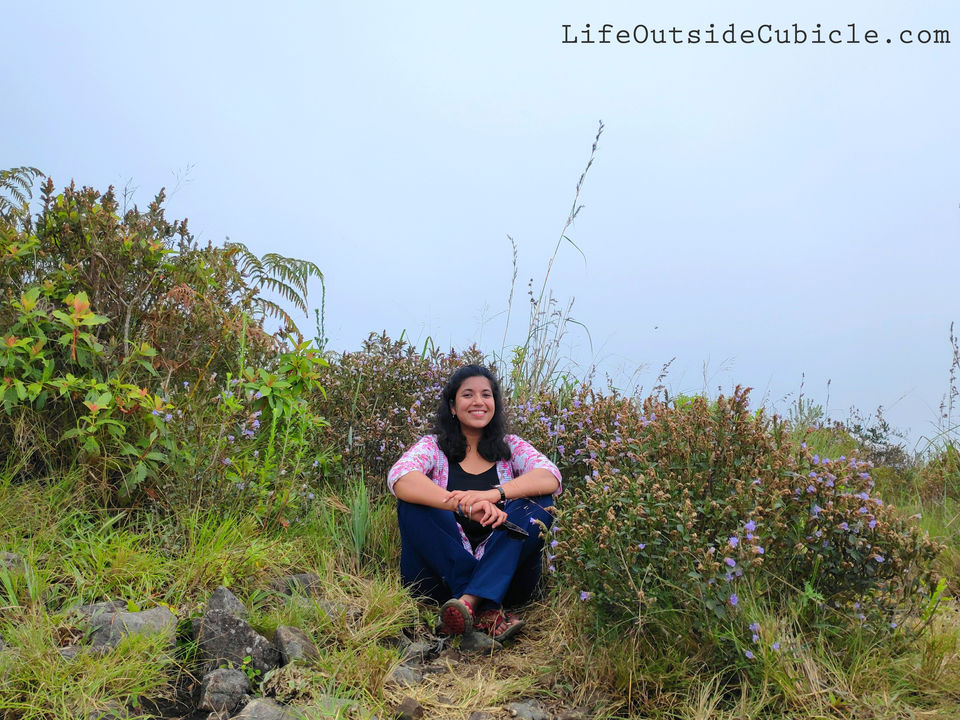 I was happy to have sighted these bell-shaped fragile little flowers, but it wasn't enough to satisfy my longing to witness the magic of these tiny flowers. I needed more.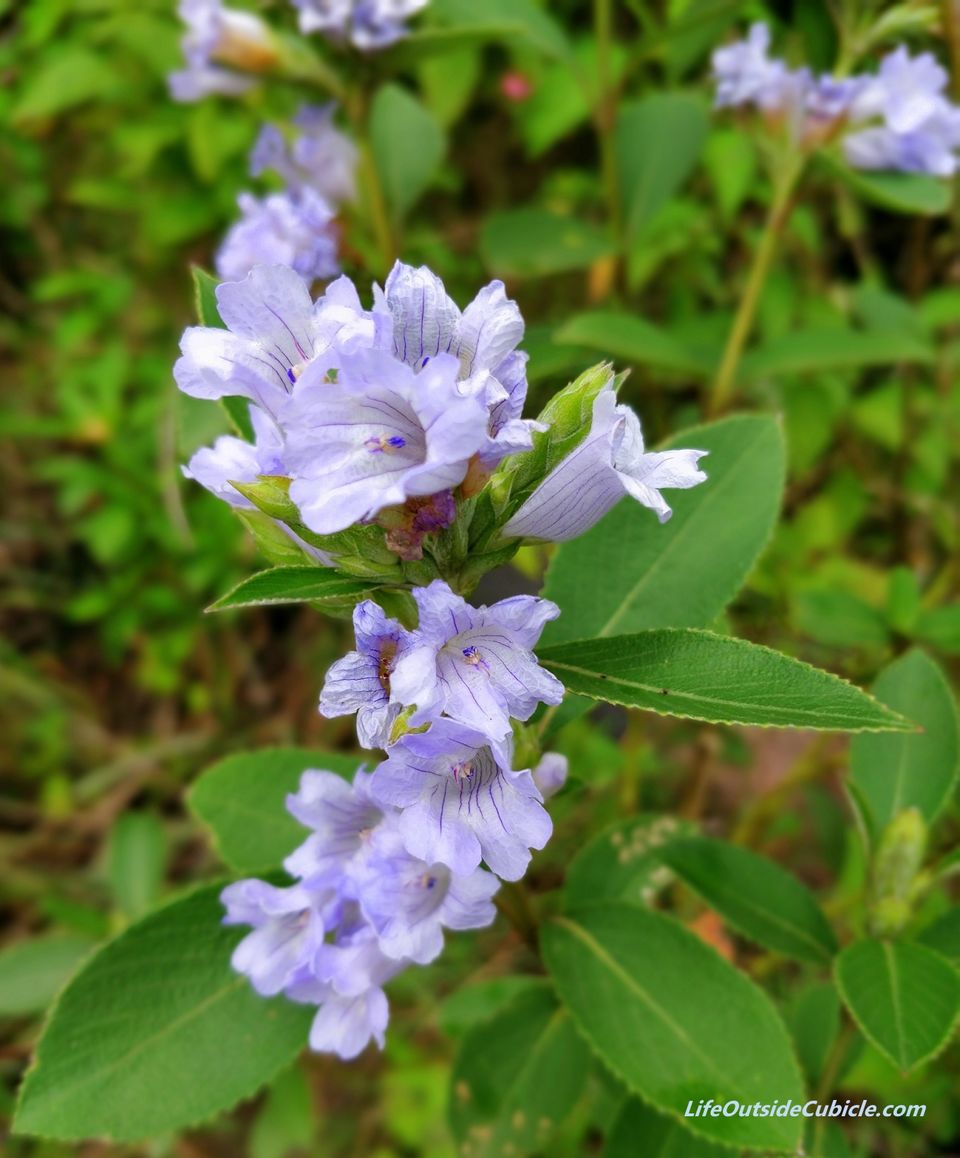 Near Munnar
I decided to visit Munnar in Kerala which has the majority of these plants in a protected area. Gathered a few friends, packed bags, and ventured on a journey in quest of these iconic flowers.
As we trekked for about 2 kilometers, we came across these little-wonders. The spectacular sight left us awestruck. There were millions of bell shaped, bright bluish-purplish flowers blooming in clusters on the slope of the hills. We watched the rolling hills as far as the eyes could see. Seemingly bathed in purplish blue with the mist around the hills adding to the mystery, it was a rare sight to behold.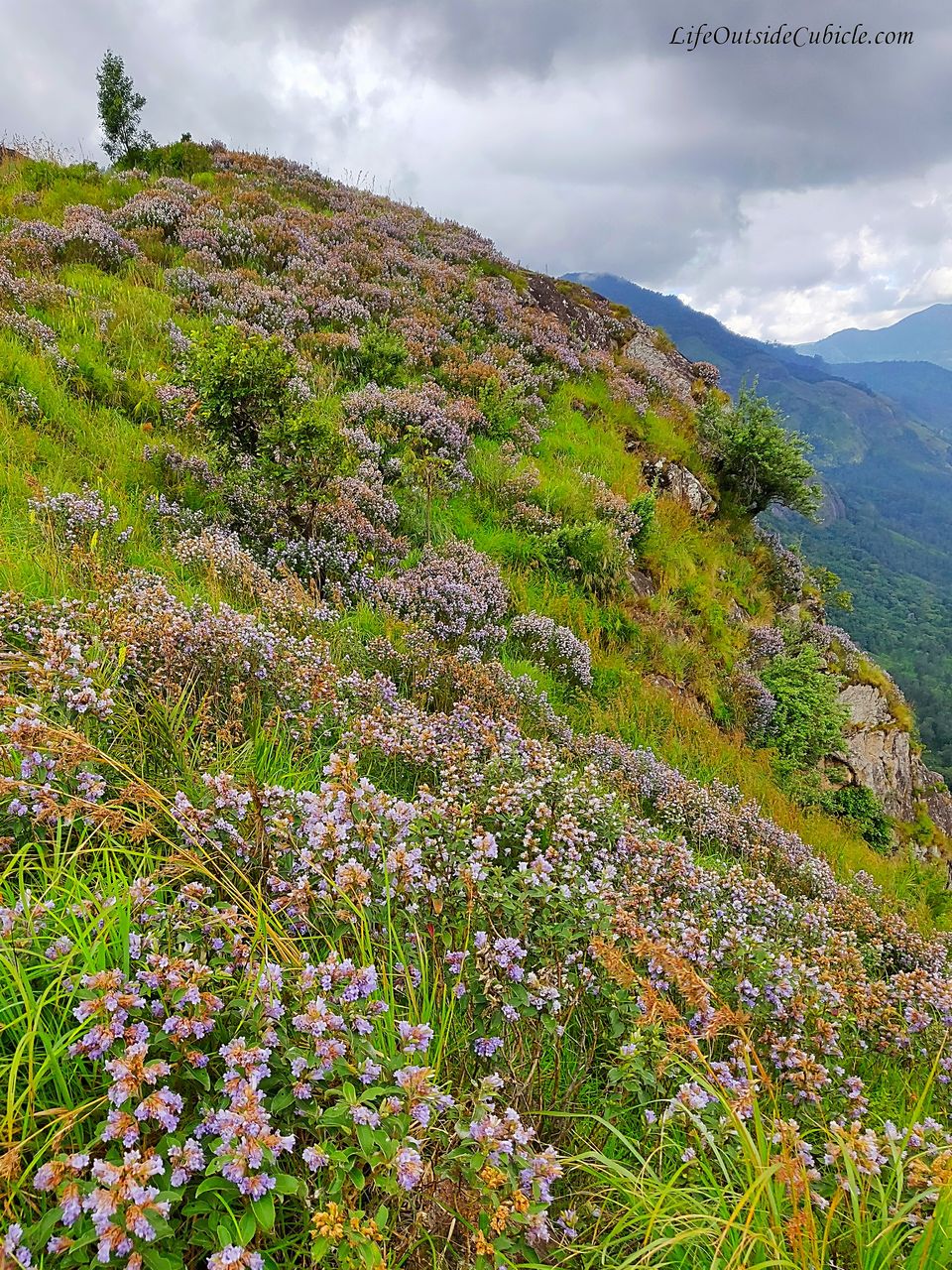 I felt like "Alice in Wonderland" waiting to wake up from a deep-slumber to realize that it was all merely a dream. But on the contrary, it was all a dream coming true. Those moments of scenic extravaganza, the mesmerizing purple-blue blanket of teeny-weeny Neelakurinji flowers, and the pure joy of standing in the middle of this exquisite ecological phenomenon was all real and simply remarkable.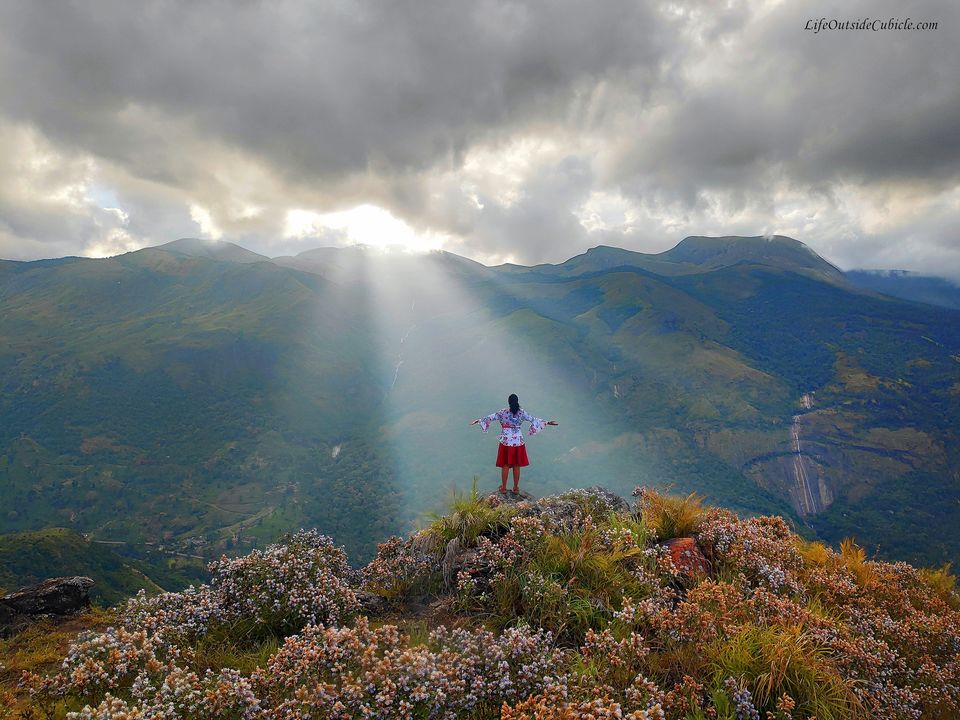 The play of light during the sunset made the landscape of rugged mountains and delicate flowers look like a transcendental beauty straight from heaven. We felt blessed and fortunate that we were able to spend hours in the middle of this masterpiece of nature.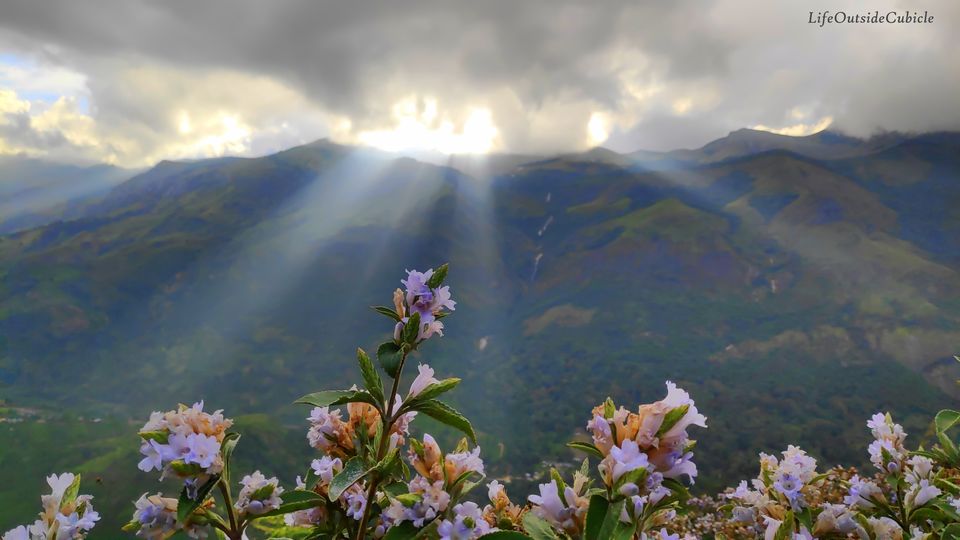 Endangered Nilgiri Tahr
If you are lucky, you might even spot a Nilgiri Tahr in the middle of Neelakurinji Blooms. Nilgiri Thar is an ungulate endemic to the Nilgiri Hills and only few hundreds of them are left in the wild. Eravikulam National Park in Munnar is home for its largest population.
Responsible Tourism and Conservation
It is noted that at each successive period, the area over which the blooming appears is becoming less and less. Every year more land in these hills is cleared for tea estates, or for fruit and vegetable culture, or for buildings. Most hillside that was once blue with flower blooms is now green with tea bushes. Sometimes the Neelakurinji shrub is ruthlessly exterminated as pest.
With such rare flora and fauna around, it is our collective responsibility not to cause harm to mother nature. Avoid littering, plucking of flowers/plants and any other activities that disturb the ecological balance. Conserve these rare plants. The next bloom is slated for the year 2030. If we do not put our best foot forward, the Neelakurinji blooming will only be a fairy-tale for the coming generations.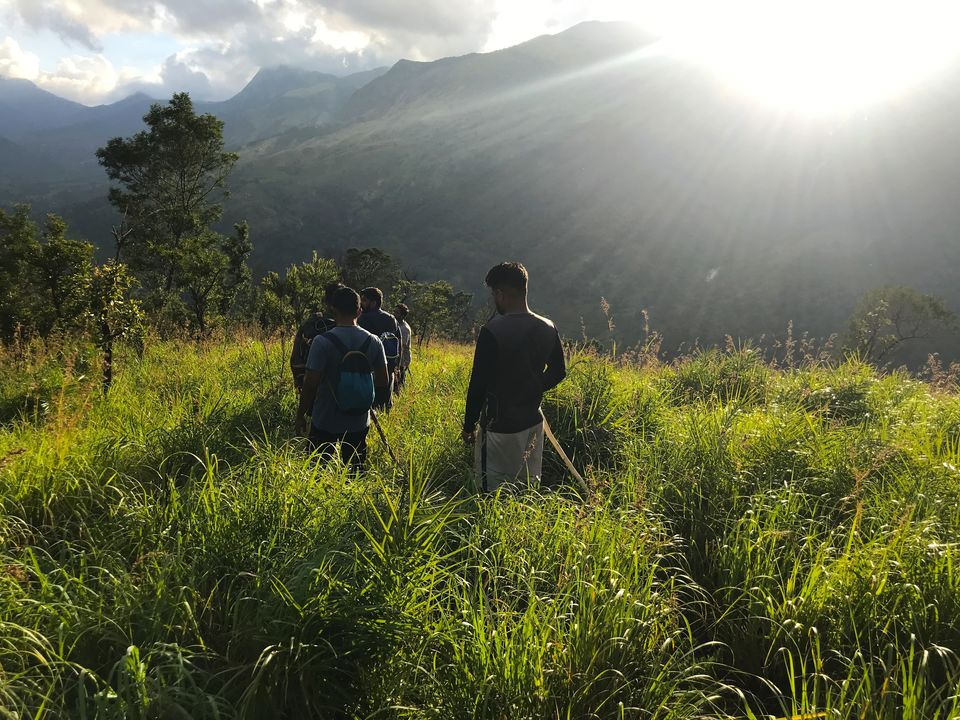 **************************************************************
Have you witnessed the Neelakurinji Blooms?
Share your experiences in the comment section.
Blog Link: lifeoutsidecubicle.com
**************************************************************
Connect with me on Instagram, Facebook, and Twitter to follow my journey outside office cubicle.