We love seeing and posting photo diaries. This is our Neelakurinji photo diary from a visit to Eravikulam National Park in Munnar, Kerala. When we heard that these delicate purple flowers were blooming in 2018, we knew we had to go and see them first hand. Of all the options we had, we chose Munnar to view the bloom. In hindsight, it wasn't the best idea, as the Kerala floods earlier this year played havoc with the flowering season and reduced the full bloom time to a single week in September, which we missed.
Expectations vs. Reality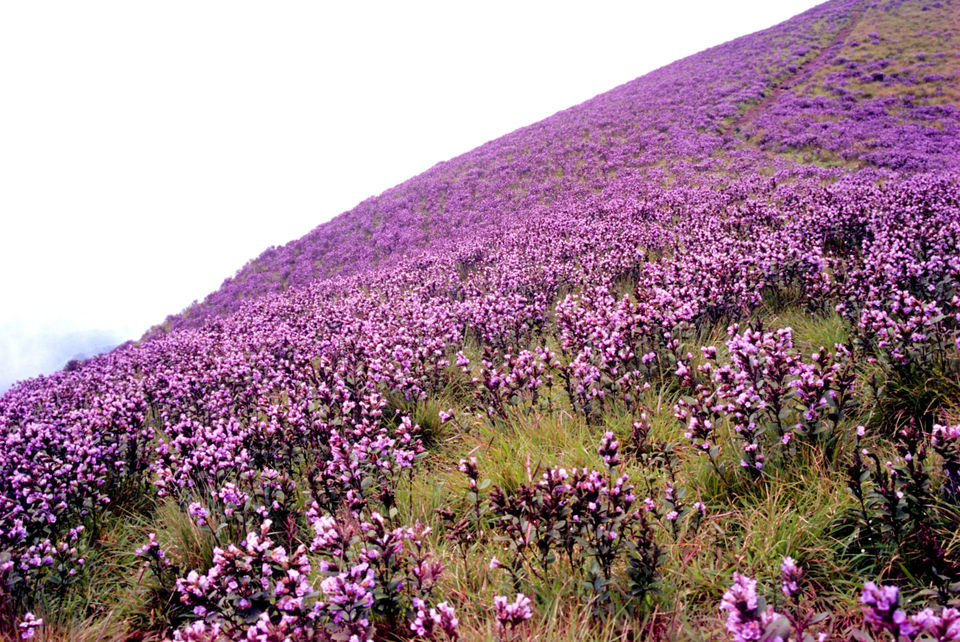 Expectations | Photo Credit: Kerala Tourism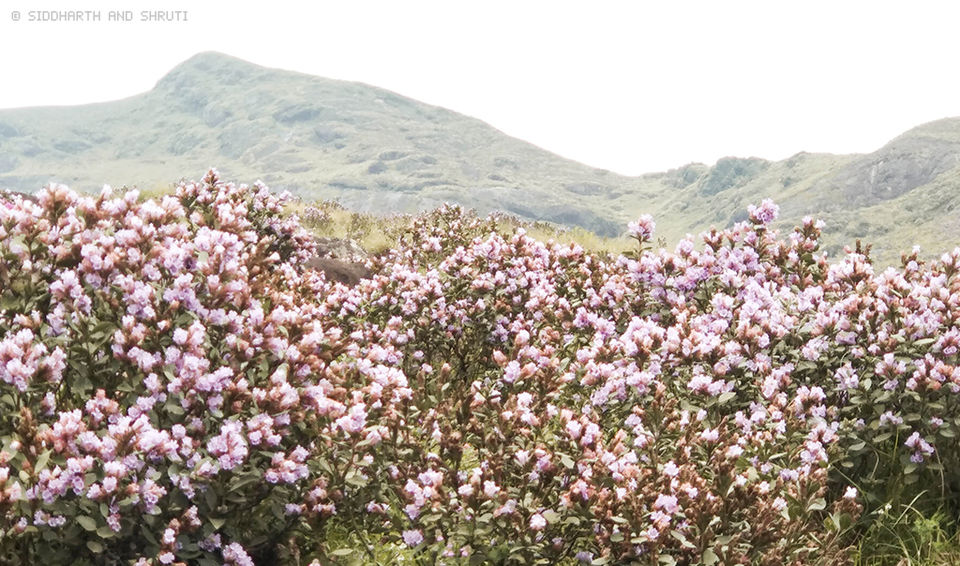 Once the rains ebbed, we started seeing a lot of hype on social media platforms especially WhatsApp. Neelakurinji has bloomed and how! The entire valley is bathed in purple flowers. This is the part where you need to be well informed. If you saw this picture circulated on WhatsApp, this was an image taken from the Kerala Tourism website which was shot in one of the previous blooming seasons. Going with this image in mind meant that lots of people were utterly disappointed.
Another thing you need to remember while assessing a photo on social media is filters. While Adobe Lightroom is a favourite amongst photographers for photo processing, some do take the colour saturation to a completely unnatural level. As a result, a regular non-blogger/photographer might see an image like this and believe it. Any image with such high saturation levels should be taken with a grain of salt.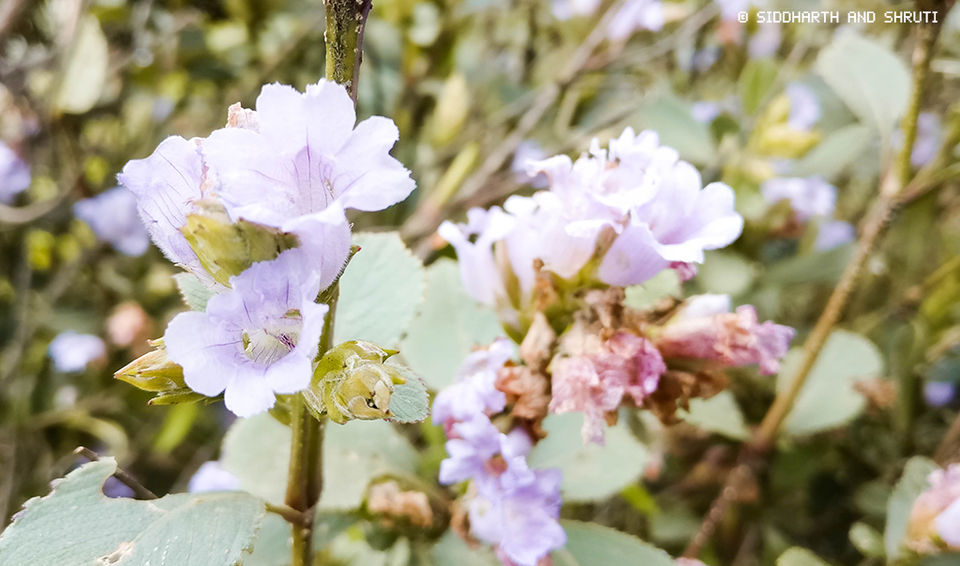 This is the real colour of the Neelakurinji flower. It has a whitish purple colour which fades over time due to sunlight.
Our Verdict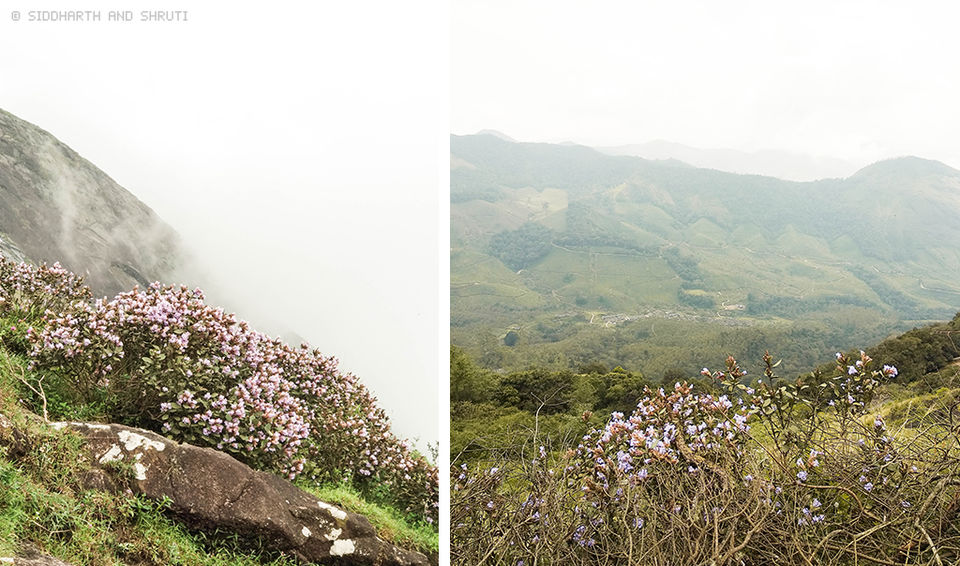 To be honest, we went with very low expectations. We assumed that the bloom was destroyed and that we might just catch a glimpse or two of this elusive flower. We were overjoyed to see that there were still plenty of patches of flowers intact and were also lucky enough to find the Nilgiri tahr.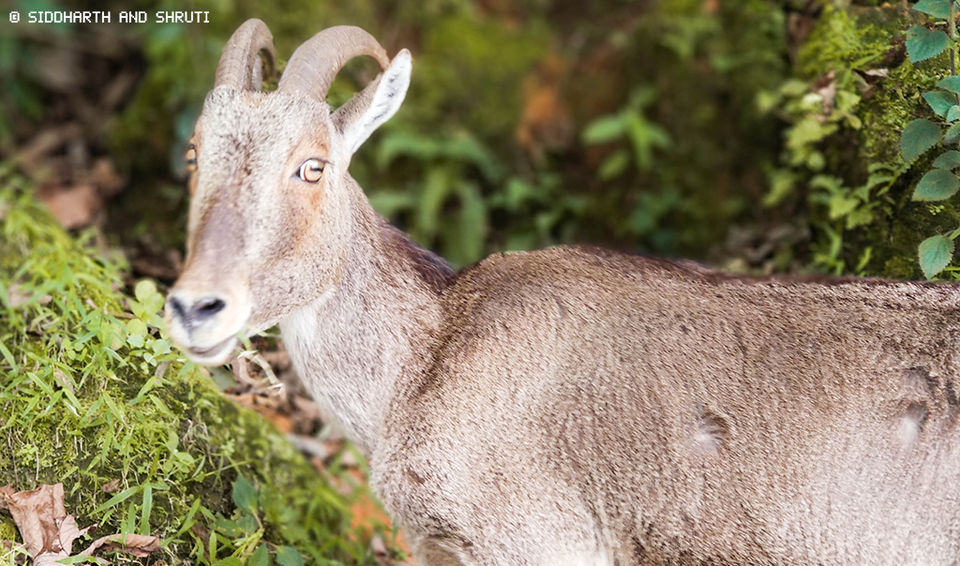 The Nilgiri tahr or ibex is closely related to the sheep of the genus Ovis and is a stocky mountain goat with curved horns. We spotted around 10 of these roaming freely in the national park. They seemed quite unperturbed by humans and continued to graze along the slopes. The park rangers did a fabulous job of not letting visitors touch the animal or go too close.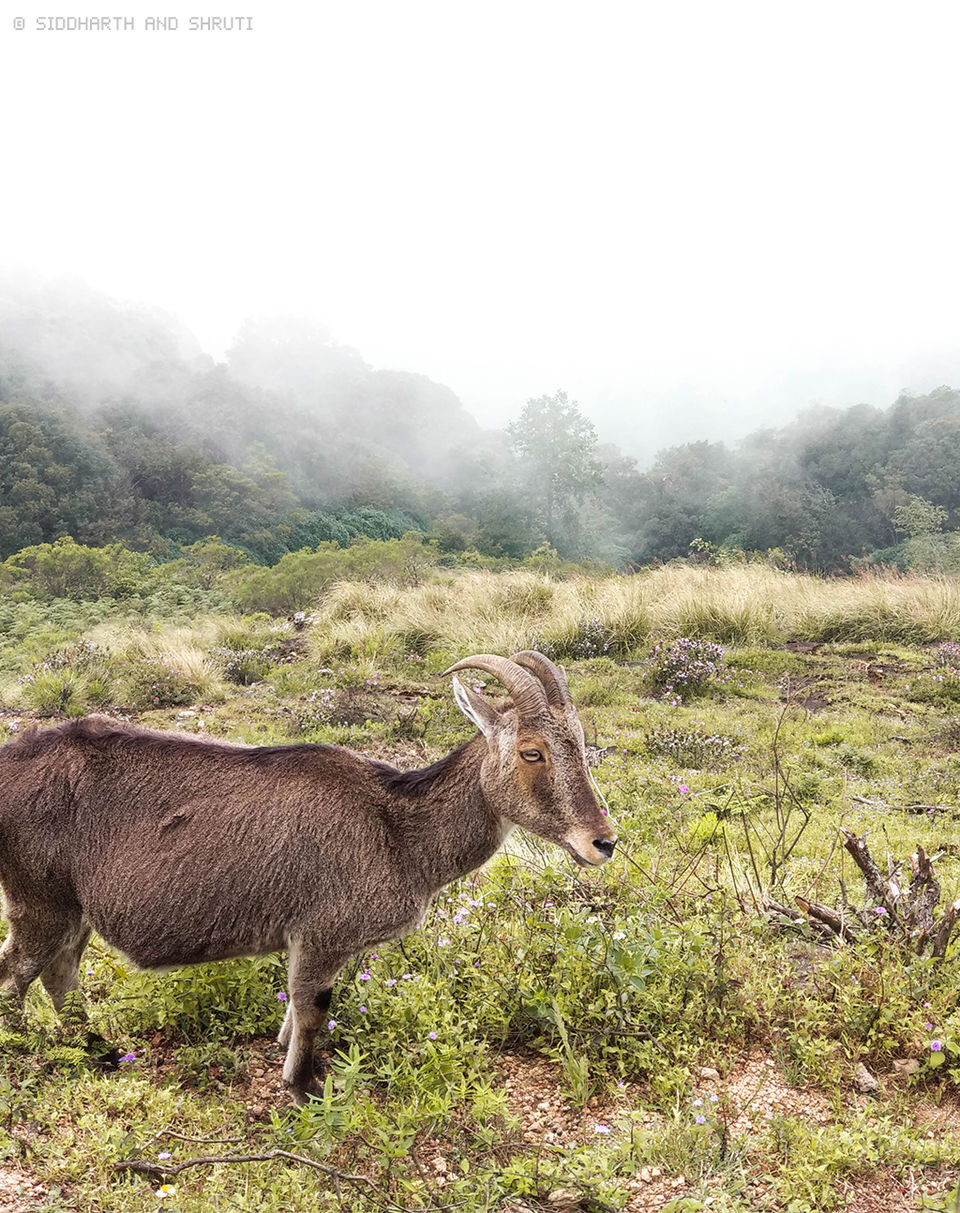 We reached around noon and after about an hour or so, the weather got cooler and the clouds started descending beautifully. The misty mountains contrasted with this lovely wild animal making the scene look like something straight out of a movie.
The park is gorgeous, with or without the Neelakurinji bloom and we are glad that we could visit and tick off another item from our ever growing bucket list.
Tips for planning a trip to Eravikulam National Park
Tickets to the national park can be bought in advance online. However, the park does not allow bookings within 48 hours of your planned visit date, so book at least 2 days in advance. If you miss the online booking, you can buy it at the official counter in Munnar. We did not face any queues since we went on a weekday, but it might be worth planning ahead, if you wish to visit on the weekend. Plan a visit in the morning. The weather in Munnar is slightly unpredictable. What seems like a sunny day, ends up becoming cloudy and rainy by late afternoon. The only advantage with the late afternoon gloomy weather setting in is seeing an amazing vista with clouds descending towards you. It is not a difficult climb. You can wear simple sports shoes and comfortable attire. The state run buses (fare is included in the ticket) take you from the entrance to the park to the top of a hill about 6 km into the park. From this point, you need to proceed on foot. The walk can take around 1.5-2 hours at a leisurely pace. If that's a bit much for you especially if you are travelling with children, you can climb up to wherever you wish and go back down. Buses to return to the park entrance are usually arranged once every 15-20 minutes but can take longer if there are groups. We ended up waiting at the bus stop for 45 minutes.Alternatives to Eravikulam National Park near Munnar
One of the alternatives that a few locals suggested to us is Kolukkumalai, a small hamlet around 32 km from Munnar. Unlike Eravikulam National Park which can be accessed by regular vehicles, Kolukkumalai is only reachable by off-road jeep. The rugged terrain requires a day trip which include some other attractions like a visit to a local tea estate. Another option is the sandalwood forests of Marayoor. This lesser known area lies in the Mangapara hills of Kanthallur. Because it is slightly remote, it is a great way to escape tourists.Neelakurinji Photo Diary: Expectations vs Reality Click To Tweet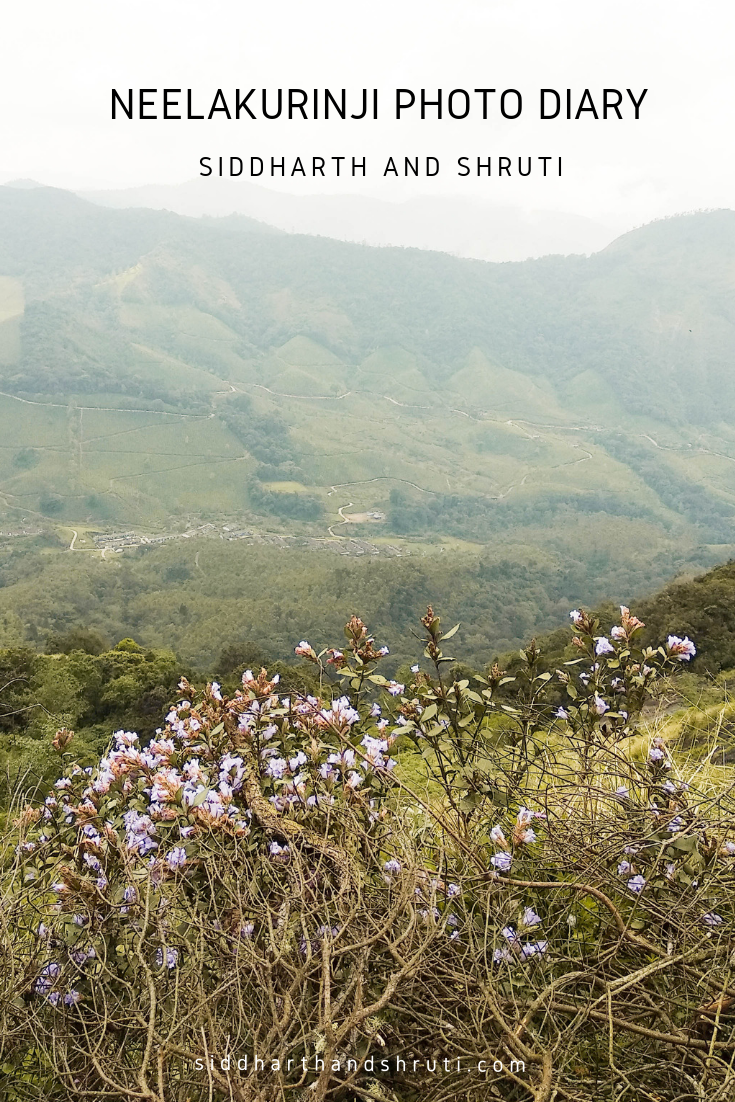 This article was originally posted on 'Siddharth and Shruti'