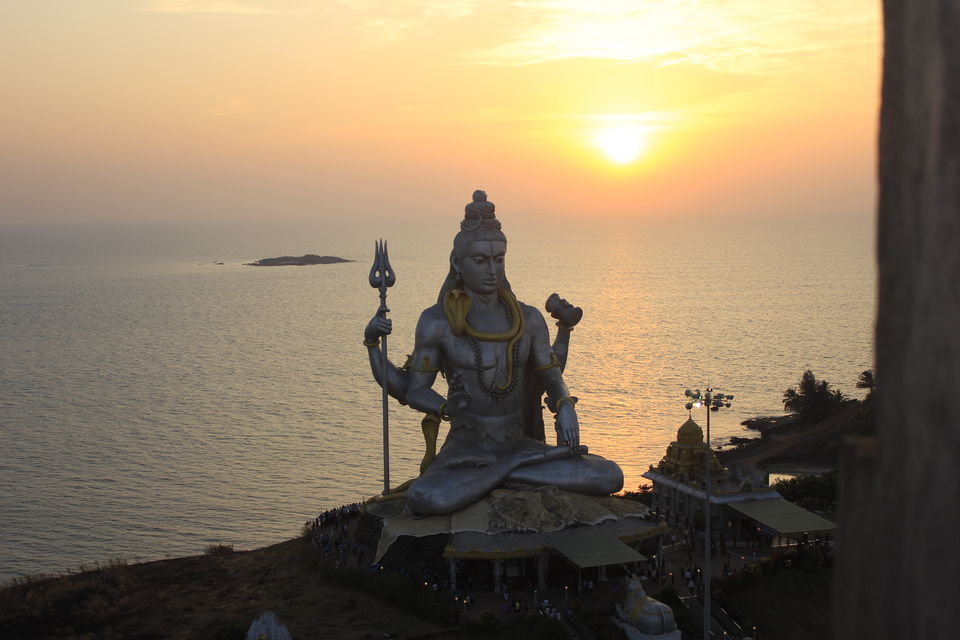 My first scuba diving experience is from the tropical waters of the Arabian Sea. A popular hotspot for scuba diving in coastal India at Netrani Island. It is off the coast of Murudeshwara in Karnataka, famous for the colossal statue of Lord Shiva on its beach. The island takes approximately an hour to reach on a motorboat at a moderate speed.
This rocky island is uninhabited and there is a plethora of native plants growing on it. The island has many varieties of corals, butterfly fish, trigger fish, parrot fish, shrimps and eels.
Our scuba diving group met at a hotel to learn the basics of scuba diving. Over there, our instructor taught us how to breathe using the underwater breathing apparatus.
I, being a non-swimmer found it difficult to balance myself in water with the bulky scuba gear and the most challenging part was when I was supposed to breathe through my mouth. In the 30 minutes of training, we learnt about increased water pressure and safe diving practices.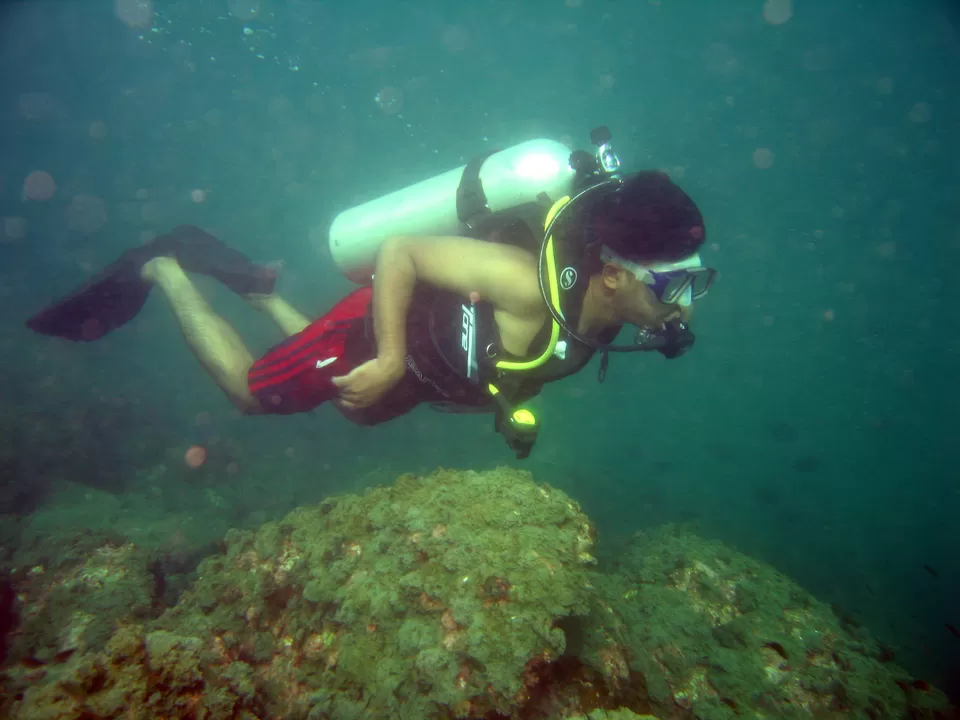 After the training session, all of us wore our life jackets, got on the motor boat and headed towards the island. We were introduced to our scuba diving instructors, very warm and friendly people from Greece and Hungary. The boat ride was great as we were riding along smooth waves in the open sea with just the birds overhead accompanying us.
After 45 minutes, we could see the island as a small peck in the distant horizon. As we approached the island, we could see a lot of boats already docked over there with people snorkeling and scuba diving in the calm waters. As our boat anchored close to the island, everybody was excited as the time had arrived and the instructors gave us a revision of what was taught in the morning.
I chose to dive last as I was never this deep in the sea. I was practicing finning techniques to navigate in the water and also to breathe through my mouth. I took a peek inside the water and that is when I was totally in awe of the treasure that was lying beneath me. I put my fears aside and decided to dive right away. Diving weights were tied and I descended into the water slowly showing the OK hand signal to my guide.
Although it feels like there is nothing much happening under the calm looking sea, there is a fiesta happening below these waves with so many species of marine creatures thriving blissfully. With the sun high above our heads, I could see the rays filtering through the clear water lighting up the spectacle that was going on underwater. I saw a school of golden colored fish swimming along the water currents, shimmering in all its glory. It felt as if pieces of gold had taken life.
Once a few feet underwater, I was experiencing something that I had never felt before in my entire life - the sense of weightlessness! We dove up to 12 feet below the surface and this feeling is definitely one of my most precious travel moments. I was in awe of the myriad colors of the corals, sponges and the multitude of fish species. The water underneath surprisingly was sapphire in color whereas the Arabian Sea looks shimmering grey on the surface.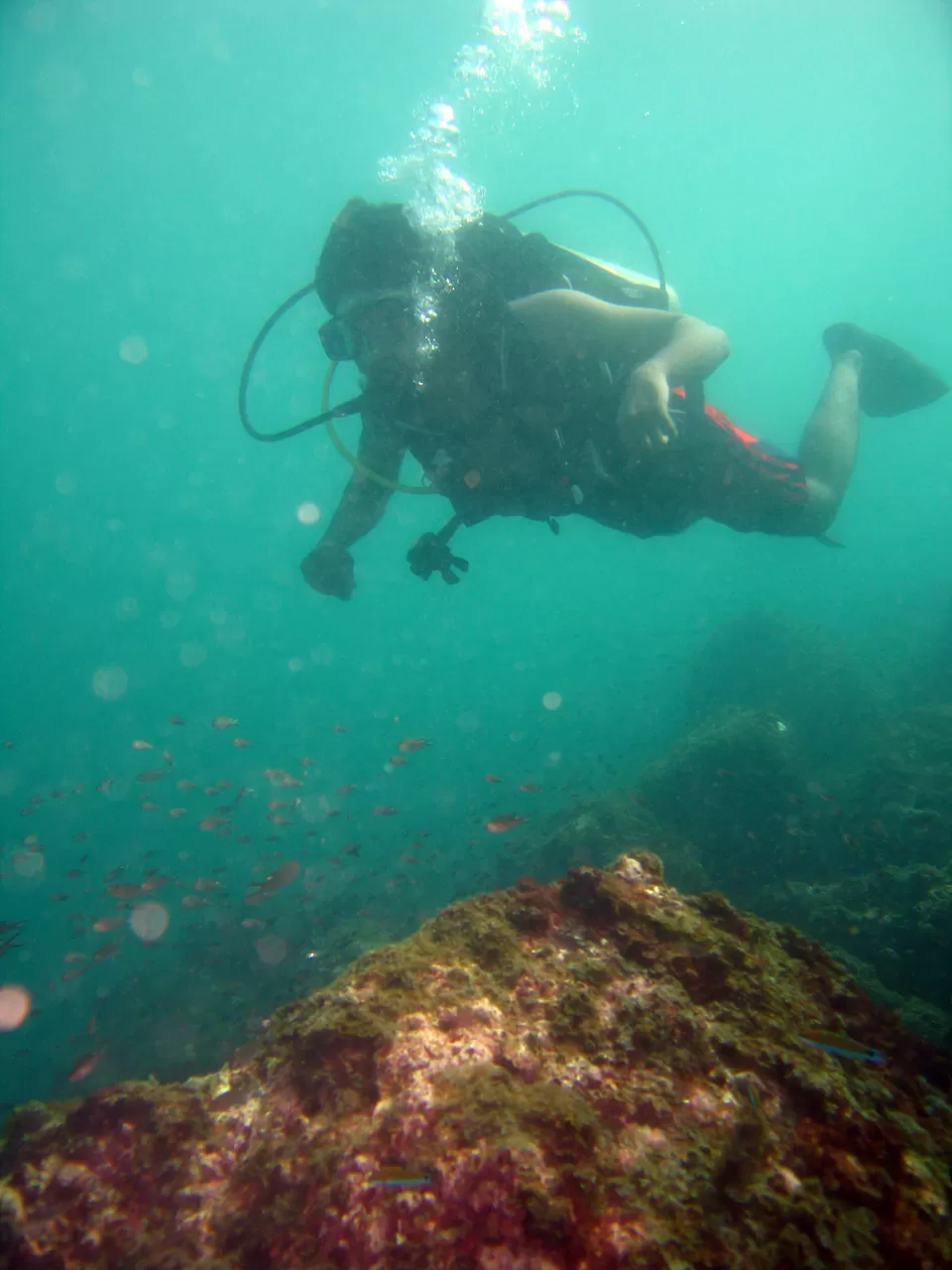 Netrani Island was previously being used by the Indian Navy as a target to practice bombing. Hence, it is common to find a lot of missile shells underneath when you scuba dive. I also caught a glimpse of a brightly colored purple eel hiding behind a coral and as I tried approaching it for a closer look, it bolted away in a flash. There were so many fish of varying size, color and pattern, it felt like I was swimming in a kaleidoscope. My friend who had dived farther away was lucky to find a sea turtle.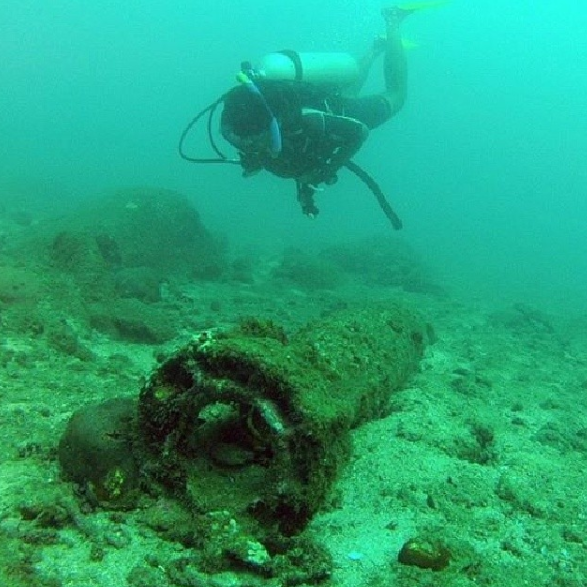 Once my stipulated time underwater ran out, I ascended to the surface very slowly and back to the boat. All of us were amazed at what we had just encountered and I don't think anybody wanted to leave just yet. As we reached the beach, we thanked our guides for giving us a great time and bid everybody adieu.
Scuba diving is a great experience everyone should have, so do not wait for the right moment, pack your swimming gear, book your tickets to scuba dive and witness the fascinating world below the sea. Who knows, you might return for more!