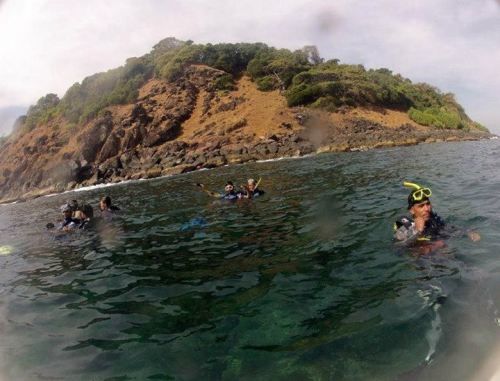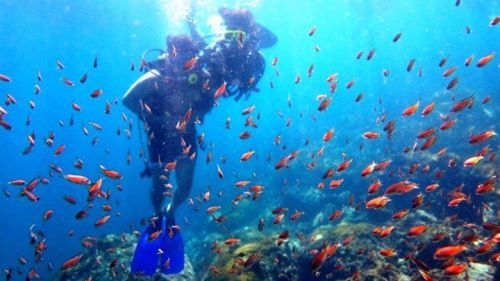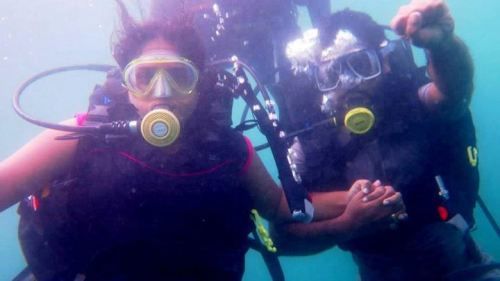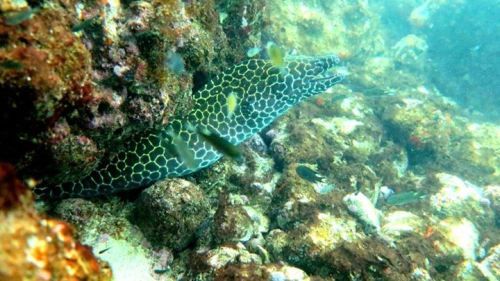 Have you ever been to an alien territory? A place which is not for humans? Surrounded by colourful creatures, most of which are unfamiliar to humans?
Yes! I'm talking about going INTO THE BLUE!! Into the deep blue waters of the sea and experiencing a whole new world in there!
It's said that life is sweeter (though not literally! 
 ) and more colourful at the sea. And there's a whole new world beneath, unexplored. I've always dreamt of being a part of that world for at least a brief moment in time.
The new year was just around the corner and I wanted to welcome it in style! And what's more stylish than going to a new world?
I'd heard a lot about this place called Netrani Island near Murudeshwara, Karnataka. It claims to be the best place for SCUBA diving in mainland, India.
A quick search on the Internet introduced me to Dreamz Diving which is the first professional Padi Recreational SCUBA Diving Company to open its doors at Murudeshwara.
It is run by Mr. Dhirendra Rawat who is an avid diver and an adventure consultant himself. I made a few phone calls to him and booked two slots ( for me and VJ) for the next weekend. They charge Rs. 4500 for a one tank dive which lasts for a good 45 minutes.
Murudeshwar is about 467 kms from Bangalore with a number of buses (both govt. and private) plying between the two. It is a beach town which houses the world's second tallest Shiva statue which looks magnificent against the sea. There is also the Murudeshwara temple and Raja Gopura surrounded on three sides by the Arabian Sea. It's a charming place worth visiting!
An overnight journey from Bangalore took us to Murudeshwara. It's a journey through the ghats. Expect an hour delay at least in reaching the place. A short walk from the bus-stop leads to the temple beside which one can find the RN Shetty Residency. The dive shop is housed within the guest house premises. If you are planning a one-day trip, (like us) then the dingy rest rooms provided by the dive shop can be used. They are not that good, to be frank. On prior intimation, the dive school can arrange for accommodation in the nearby lodges. Expect a minimum of Rs. 1,500 for a room per day on a twin sharing basis.
After a few formalities (making payment, filling the questionnaire, signing the disclaimer) at the dive shop, a short walk towards the beach takes us to the boat which would take us to Netrani island.
Netrani ( also known as Netragudo or Pigeon island) is a tiny island about 10 nautical miles (19 kms) from Murudeshwara. It's a coral island and therefore suitable for snorkelling and diving activities. A two hour humpy bumpy boat ride took us to Netrani. Be prepared for some sea-sickness!
During the boat ride, our dive masters introduced the SCUBA (Self Contained Underwater Breathing Apparatus) equipment and the various hand signals that are essential for communication under water. Upon reaching the island we were given life jackets and the snorkels. Before the actual dive we were let to snorkel around for a while to loosen up and relax. It was my first snorkelling experience and I thoroughly enjoyed it!
When it was our turn to dive, the dive masters helped us wear the SCUBA gear. It essentially consists of the mask and snorkel, buoyancy compensator, air tank, weight belt, pressure gauge and regulator, wet suit and the fins. We, however, didn't wear the wetsuit as the water was warm that day.
My heart started beating faster as I got ready to dive. My dive master Jessica was ready for me. I sat on the edge of the boat feeling very heavy with all the gear strapped onto me. With one easy push I tumbled backwards into the sea from the boat! Falling backwards is often the easiest way to make a deep entry into the sea without letting the mask slam into the face as one hits the water.
It was a tandem dive. My dive master Jessica held me soon enough and helped me relax for a while. Now we were all set to go deeper!
The main problem one encounters while descending is the ear pain. During descent, air spaces in the sinuses and middle ear must be able to equalize to the surrounding water pressure, which increases with depth. When pressure in air spaces can't equalize, one may sense pressure or pain from one of these areas. The key is to descend slowly and perform Valsalva manoeuvre at regular intervals.
Slowly the magic began to unfold!
Imagine this: you're 15 meters below the ocean's surface, silently gliding through the water. The only sound you can hear is you slowly breathing in and out. Suddenly, you're face to face with a group of Humphead Parrotfish….and then a black-spotted moray eel playing hide and seek. You even spot a turtle drifting through the ocean.
Sounds pretty amazing, isn't it? It's even more remarkable to experience SCUBA diving first hand in the deep blue sea.
The key is to stay calm and let your eyes have a feast! The joy of being underwater is indescribable. I was absorbing everything around me with wide-eyed wonder and sheer enjoyment. It was a meditating experience for me!
The 45 minute dive came to an end as we re-surfaced and got into the boat. I was lost for sometime unable to believe that I was in another world just a few seconds ago! I looked at VJ who had just finished his dive and we exchanged a silent smile knowing what it meant.
The journey back to Murudeshwara was mostly spent in silence trying to relish the magic of those few minutes under the sea.
We boarded the bus back to Bangalore the same night and were transported to our routine lives.
Quick info. on Netrani
Nearest place – Murudeshwara
Distance from Bangalore – 467 kms
How to reach – Overnight journey by govt. or private buses from Bangalore to Murudeshwara
Whom to contact – Mr. Dhirendra Rawat of Dreamz diving. Bangalore Mountaineering Club also conducts regular SCUBA diving trips from Bangalore.
Cost for each dive – Rs. 4500
Best time to visit – December to January
Precautions – Brace yourself for some sea-sickness, find tips to prevent sea-sickness here
What else can be done around?  – Murudeshwara temple and beach are worth a visit. If time permits Malpe beach, Gokarna and Yana can be planned.