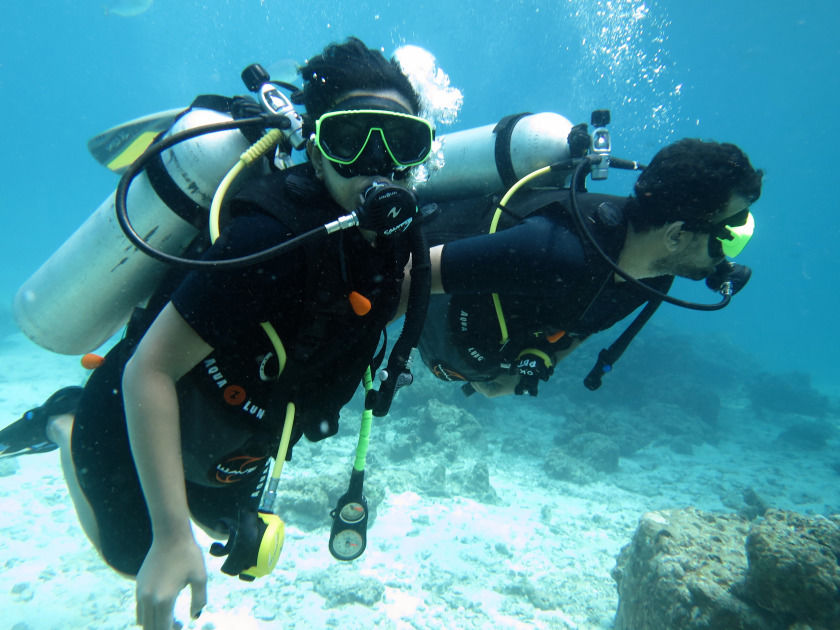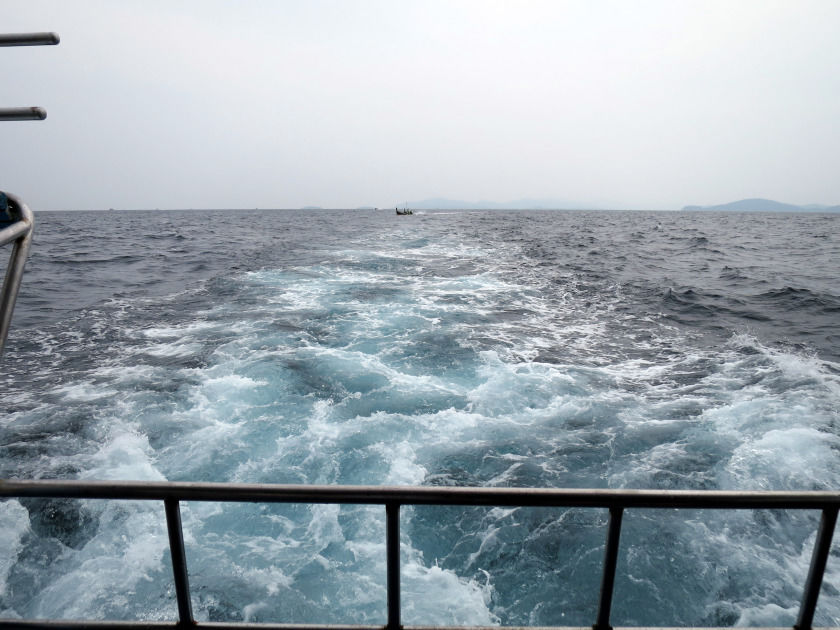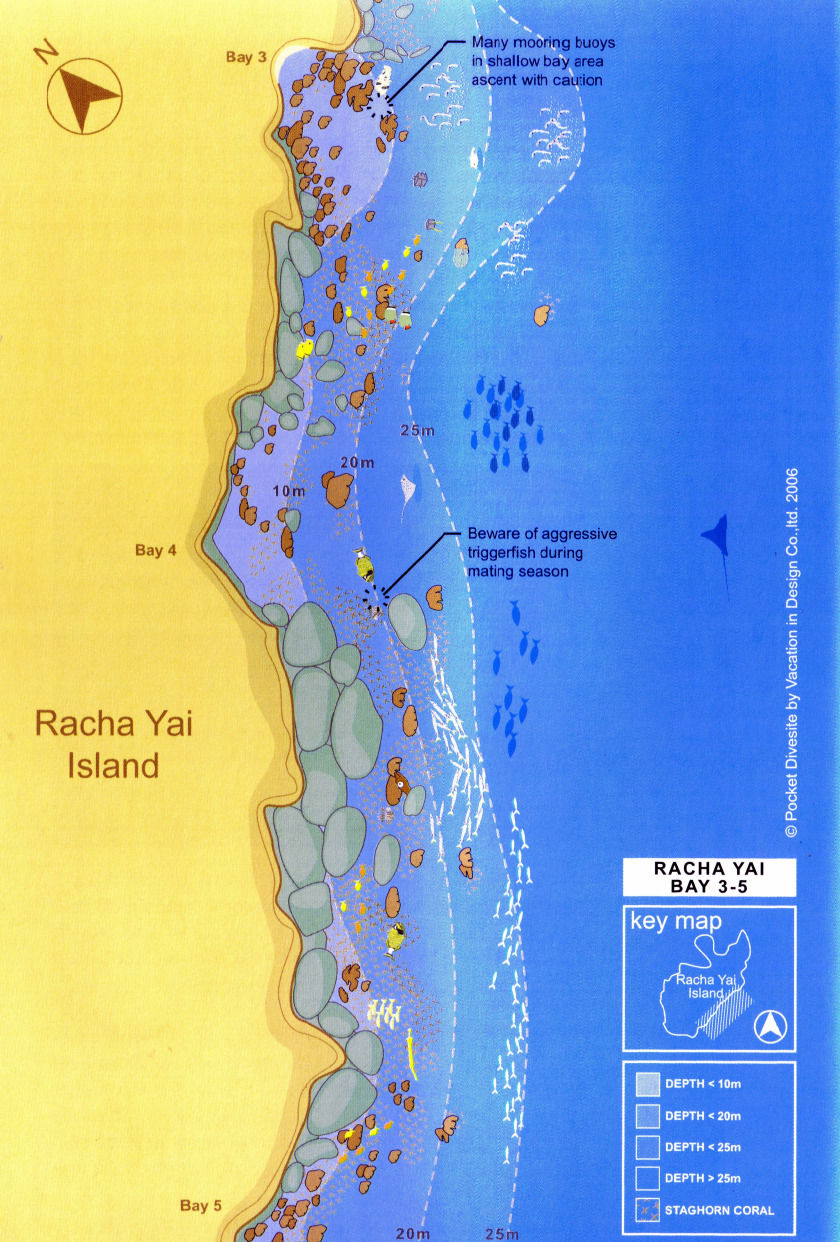 Scuba Diving for Non-swimmers
Yes! You heard it right. Scuba Diving is also for non-swimmers. It's a myth I have known for many years that you'd need to be an advanced swimmer to Scuba Dive – except some basic swimming skills can help you stay calm and confident underwater. There was a time I spent days and months online, searching for advices from other experienced divers if it was really possible for non-swimmers to go underwater. While some tips did help, some came with warnings to not attempt the dive. My fear is long since the first time I drowned when I lost grip of the ground beneath. On this trip to Thailand, I knew I had to overcome the ultimate fear of underwater.
Signing up for Discover Scuba Diving
One of the most famous diving destinations in Thailand is Koh Tao – also the cheapest site for getting a diver's license. Since Phuket was on our list, we signed up for Discover Diving with South Siam Divers at Racha Yai in October, the best time for diving when the water temperature is pleasant, hovering between 28°C and 30 °C. Discover scuba diving is a one-day experience that allows two dives up to a maximum depth of 12m. It's spot on for the first timers and non-swimmers to get an idea of the underwater world. It will also answer a lot of your questions before you opt for the diving certification – is diving an adventure you'll enjoy or is it too stressful that you forget to marvel at the gorgeous corals?
The Dive
On the morning of the dive, I had fluttering butterflies in my stomach. It was more like a great feeling but the anxiousness was mostly because of the lack of swimming skills. The diving company picked us from our hotel in Phuket to a boat where we were introduced to our instructor Daniel. It's a 25-minute boat ride from Phuket to Koh Racha Yai. After a short announcement on safety, we were asked to fill up a few forms and watch a documentary on the hand signals and the use of scuba equipment. The sea is rough so seasickness is quite common. Even if you're not prone to seasickness, consider taking in a couple of Dramamine tablets that is kept in stock in the dive boat. Before we realised about how crazy we were, it was time for our first epic dive.
Like I mentioned earlier, swimming has never been a part of my expertise, which means I had a minor snag in floating on my first dive. Initially, though Daniel held onto my gear as I kept sinking, I had to find a way to lay my body flat on the surface of the water, as that's the first step before you go underwater. I assume this part is easier if you know the basics to swimming but even if you don't, it's really not important. You're not going to float for a long time anyway.
Breathing with the Regulator
You must be wondering if you have the breathing regulators on, why does it matter if you sink. That's what you'll learn on the first dive. The technique to using the regulator is that you need to hold the regulators with your mouth, preferably with your teeth. But when a first-timer jumps into the water, the panic is inevitable so you're more likely to lose your grip over the regulator. At the time you're busy trying to save yourself, you tend to forget that the breathing regulator is your own independent savior.
As I held onto the regulator, I clamor
"Daniel, I can't breath through these regulators"
With his gentle British accent, Daniel says
"It's all in your head, it's all in your head."
I'm not sure what triggered my confidence but Daniel's words were magical. Through hand signals, I requested Daniel a few seconds to figure out ways to breath through the regulator, in my own terms. I held onto a rope and dipped my head underwater a few times while my body was underneath the water. Truth be told, I hadn't felt more comfortable breathing with the regulator even outside the water. It was pure bliss. We were now ready to dive in.
Remember: Never hold your breath. Keep releasing bubbles throughout the dive. It honestly helps a great deal.
Buoyancy Control
The instructor controls your buoyancy, which means he controls the amount you ascend and descend underwater. This also depends on your inhale and exhale; When you breath out, you begin to go down at the time you become less buoyant; when you breath in, you start to go up when you are more buoyant. What you need is to stay steady, so breathe as slowly as possible and see yourself fluctuate accordingly.
Daniel loaded Vishnu with a few extra weights, as he did tend to continuously float upwards while we meant to dive a lot lower, somewhere close to the seafloor. Watching him have no control over where he was heading to, it made me giggle a couple of times only to realise that it is not safe to open your mouth as the regulator can fall apart.
Movements: Fin Kicking
It's even easier when you're steady and set to start the adventure to see plentitude of coral forests and colorful unique species. At a time when we stopped for a few pictures, we noticed a little creature (below us) moving its long tail as it buried itself in the sand on the seafloor– it was a beautiful stingray camouflaging itself from predators. We even saw a couple of star fish, the most appealing one was a blue star fish glued to a coral wall.
Moving underwater on a horizontal position is yet another easy task. Keeping aside the buoyancy control and the breathing, fin kicking also ensures that you stay balanced. A perfect kick will make sure you're not too up where you'll barely see any fish life or too down where you might hurt any corals. A trick to this is, fin kick and breathe out at the same time – you'll not lose balance.
Equalizing
Many first-time divers may face ear problems as they dive deeper. I experienced a sever earache on not our first but our second dive. There is a hand signal to inform your instructors about the pain you're going through. They'd suggest closing your mouth, pinching your nostrils and blow through your nose. Breathing the bubbles out of your nose while slowly breathing in from your mouth really helps for earaches. Scuba Diving is all about creating your own techniques as to what works out the best for your body.
I hope my two cents will inspire you to delve in the whole scuba diving adventure at least once in a lifetime. It's never too late nor too early – this is the time.
Have you been on a scuba diving adventure before? What are the techniques you've discovered? Tell me your experience or any tips you'd like to add in, on the comments section below.
This trip was originally published on The Satori Saga.
Frequent searches leading to this page:-
Thailand tour package 3 days 2 nights, Thailand tour package from, Chennai Thailand tour package from Delhi, top Thailand tour packages with price, best Thailand tour packages for couple with price, best Thailand tour packages with price from Delhi