I have always believed that in India, weddings are one of the best ways to experience community traditions. You see every corner of India in fact, every corner of the city gives you a different glimpse.
South Indian weddings are the window to vibrant culture.
I was always excited to see one, so when my best friend's brother ( ANNA ) got married, I did not even miss a single day.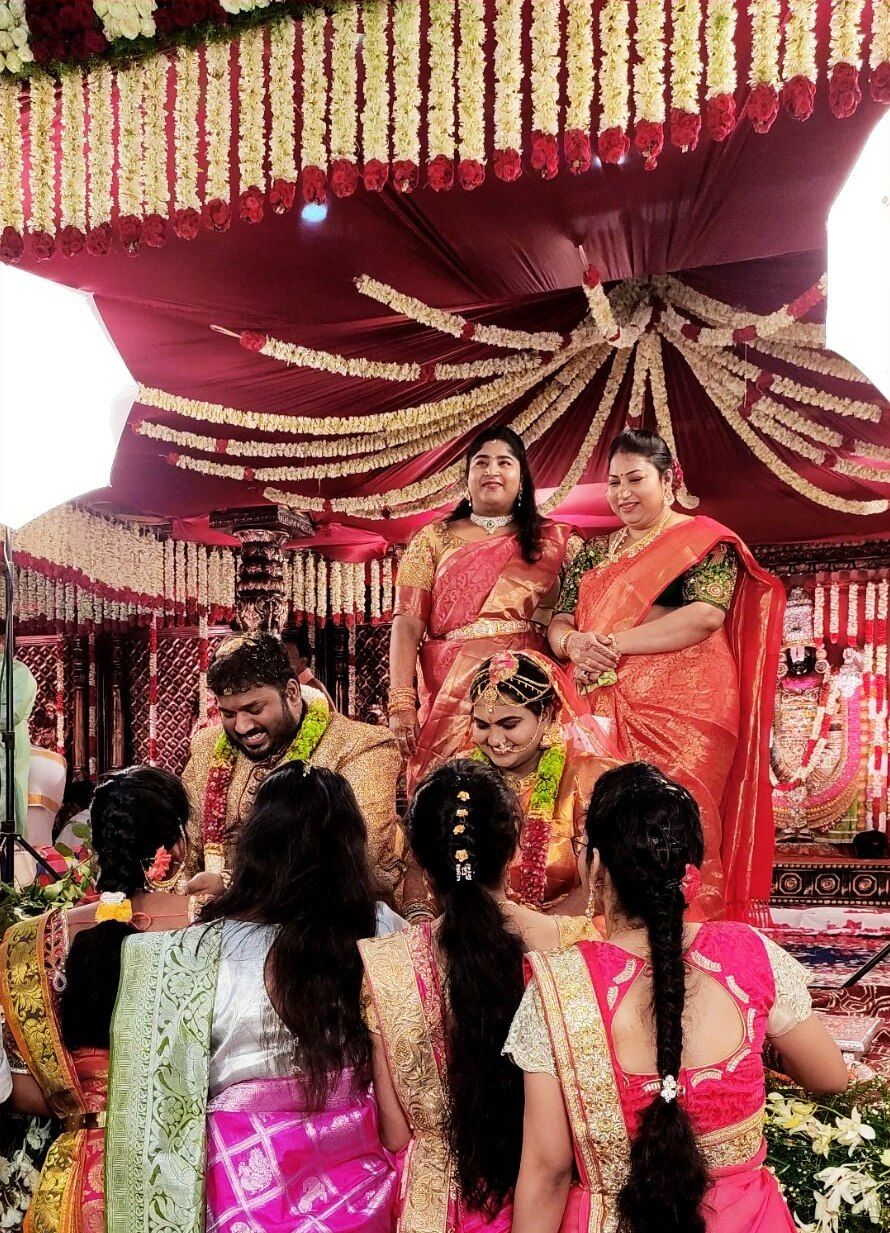 Without a further a due, let me tell you what I got to see in the lavish South Indian wedding & let me take you through all the fun, food, dress-up & preparations I got involved in:
Let's start from the beginning
Day 1 Arrival
The marriage was in Nellore but since there was no airport, I planned to go with Anna's family. After landing at the airport, I & my best friend had our favorite boost & coffee followed by a long walk on the beach with her friends.
Day 1 ( Night - 10pm ) We started our journey towards Nellore & reached around 2 in the morning.
Day 2 Nellore Local Tour
The morning started with dance practices and after an amazing breakfast served in coconut leaves, we visited the flower market.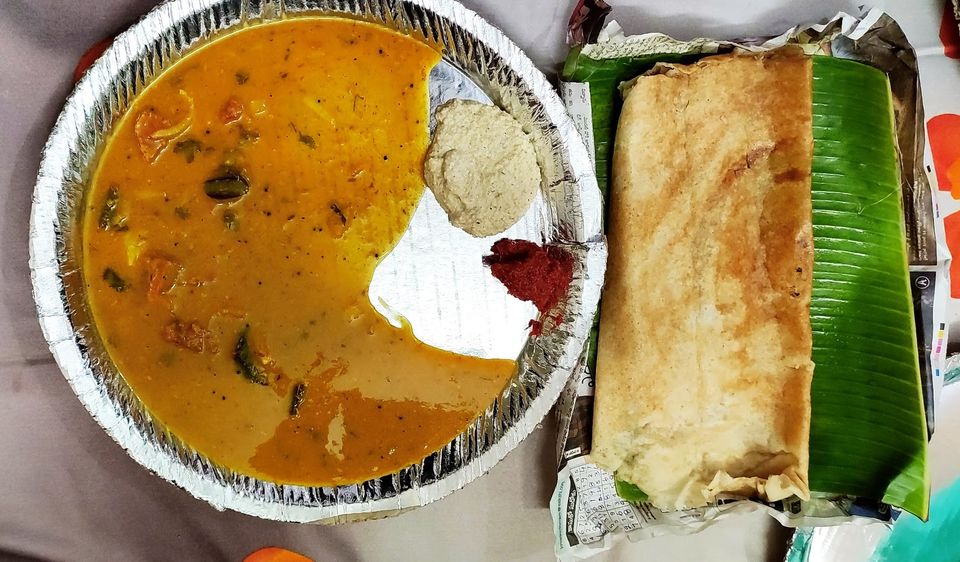 As the evening came, we decided to have ice-cream at one of the famous places in Nellore - Babu ice cream. This place is famous for an exclusive Sunday that includes 5 scoops of ice cream with jelly & roasted dry fruits. The ice-cream costs Rs.80 ( I wish I was joking ). We summed our night with some tasty snacks, chicken rice & little sangeet night practices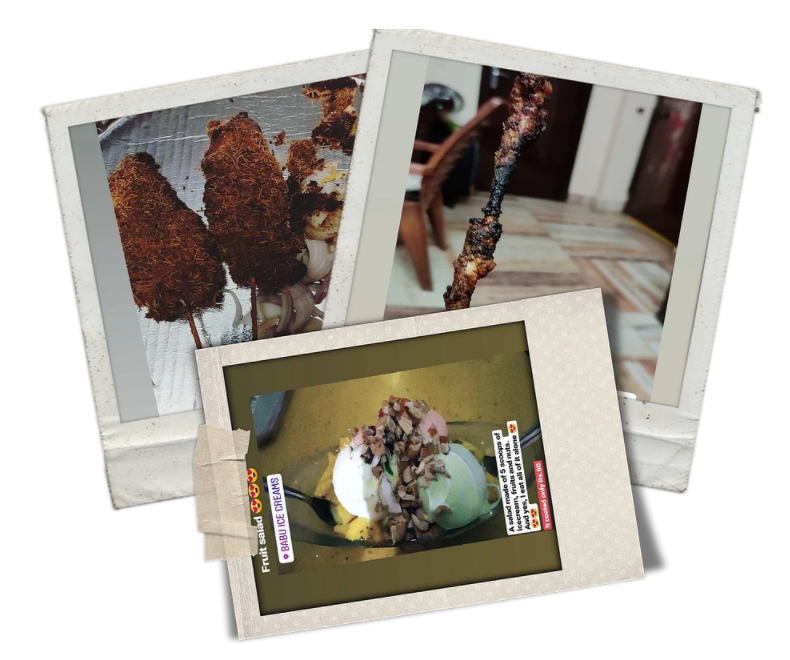 Day 3 Nooni-Nalugu & Sangeet Night
Today was a busy day, so keep up with me :
I opened my eyes with a beautiful view of the front porch being decorated with pandal. It was being made up of bamboo sticks & coconut leaves.
As per Anna, the sangeet nights stage was small. But the time we entered the beautiful function hall, I was apparently stunned with the stage setup. It was way much better than Anna's description. The stage was classy & the lighting made the whole ambience very gorgeous.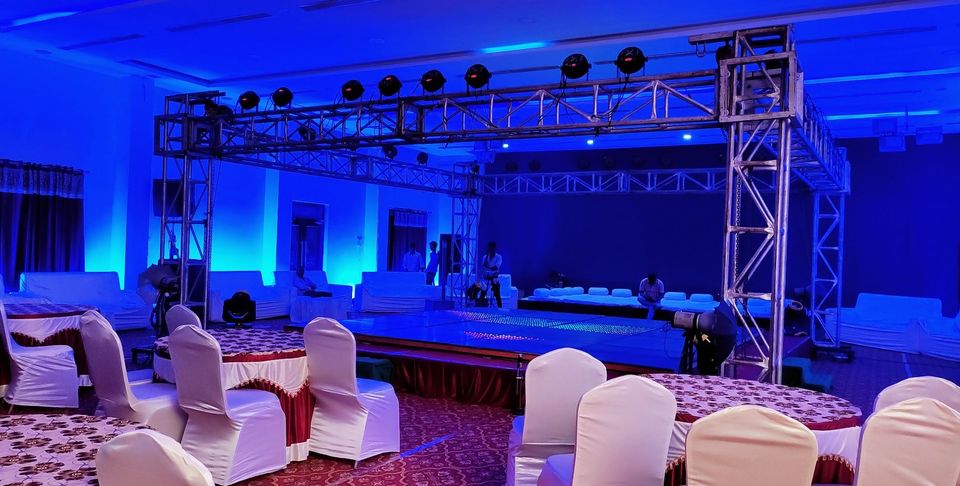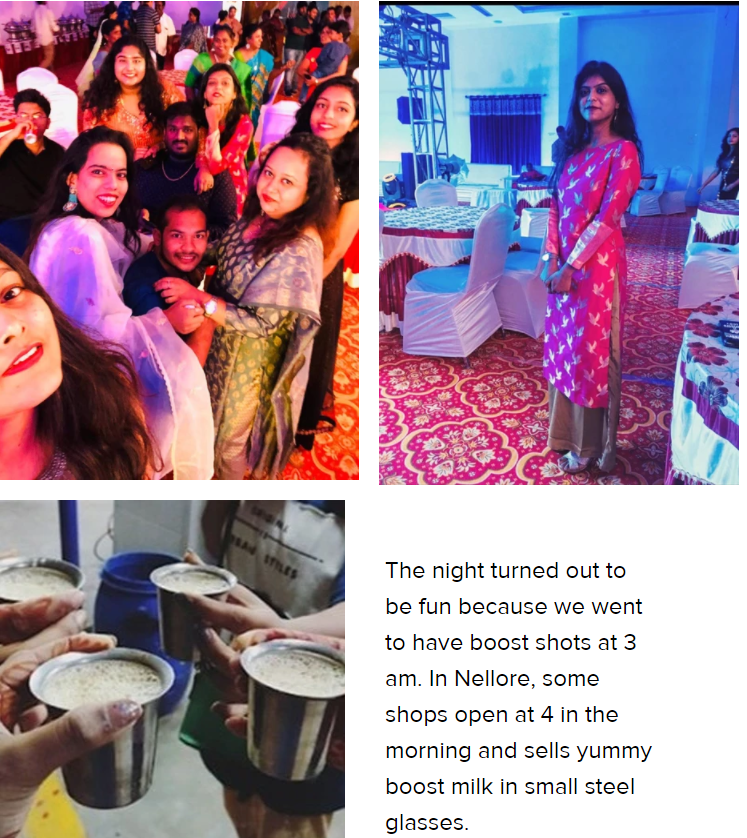 Day 4 Bachelorette Day
I really don't know about anyone but I, Anna & my bestfriend will remember this day very well. Because we were the only sober ones left & were up till the morning.
Today we shifted to a mansion were the bachelorette party had to happen at night. The morning started with some late coffee & brunch. And after that we started shifting bags, booze & snacks.

Day 5 Mangala Snanam
One thing I love about south Indians wedding is that everything happens in time given for the ritual, these people are so punctual. The ceremony started at 7 in the morning and ended by 11am.
Now flowers & oil are some of the most important components of South India Wedding
As per the ritual we had to put him Haldi; put some oil, rice, flowers on his head. This was followed by a fun ceremony known as Mangala Snanam (purifying bath), we had to put water on anna through a decorated sieve.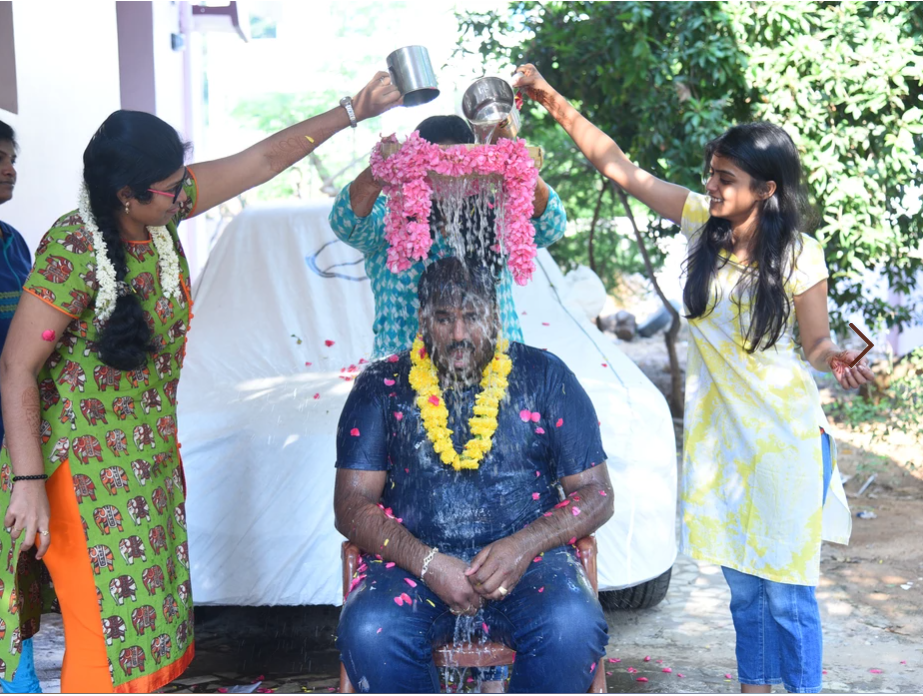 In the evening the outsiders had a chance to give their blessings and put flowers, rice on the bride & groom. The day ended with mouth-watering dinner, I personally loved Ragi upma with fish curry & chicken biryani.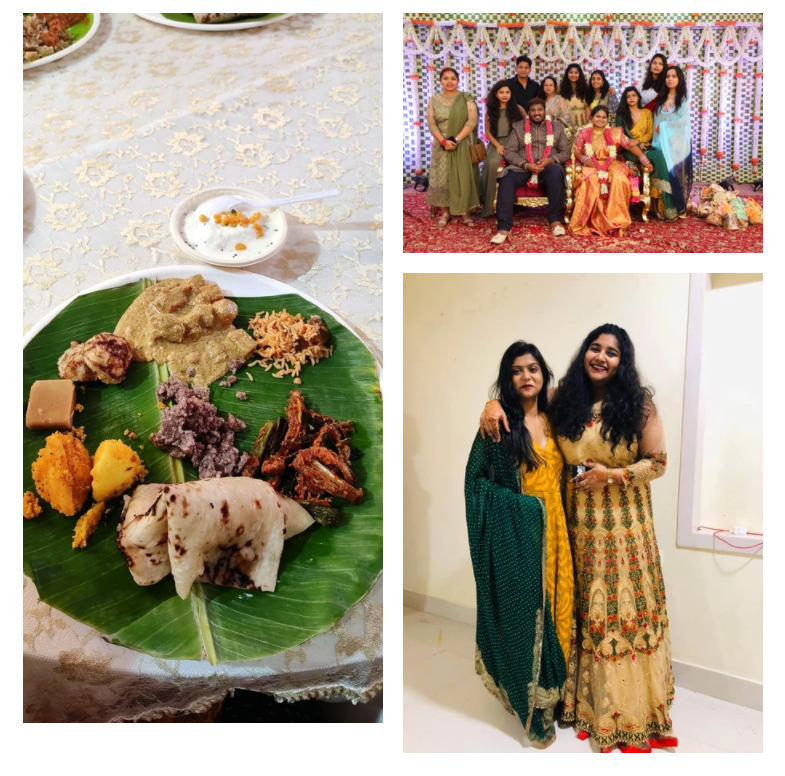 Day 6 Kalyanam
Now there are somethings you would only see in South Indian Weddings. Read through and enjoy
The decoration : The stage was beautifully depicted a South Indian Temple. Idols or statues of the gods is a common feature in the wedding decoration. But here it looked more exquisite because statues were painted with rusted & gold plated metal. More further it was decorated with loads of garlands which gave the whole setup a unique look.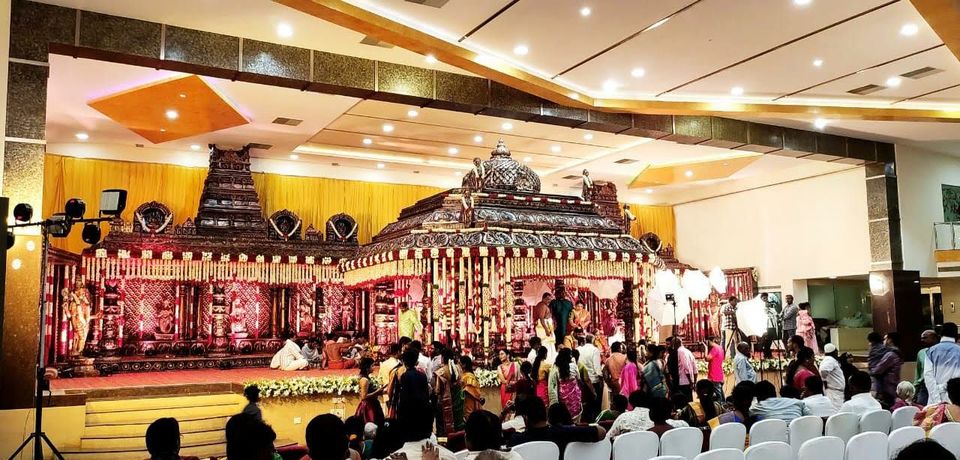 The music : I love learning about music & dance that different communities have inherited from their ancestors. And when you come towards the South, you are always in luck in finding something fantastic.
Nadaswaram and Thavil are the energetic duos that dominated the whole wedding. But there was one more instrument that caught my ear, it was the drums that were played with a single thread and ball attached to its end.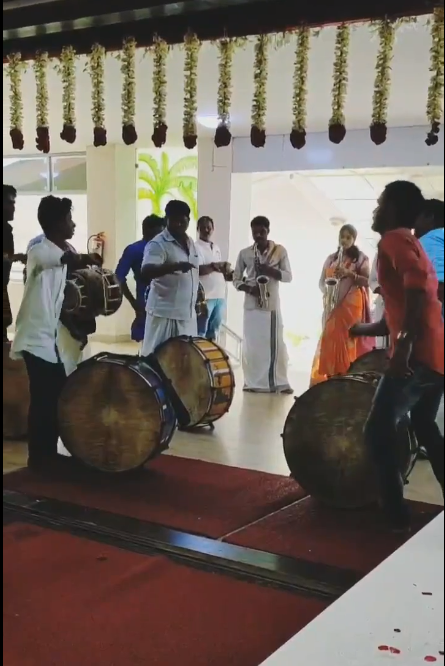 Finally, the day ended and everyone left for their home. The next day, before catching our flight from Chennai, we took a stop in between & had a dabarah (cup) of filter coffee.
I hope this gave my picturesque blog gave you an idea of what a south indian wedding looks like & what can you expect more. And just in case you are thinking about what I gifted them - Click on this link ;)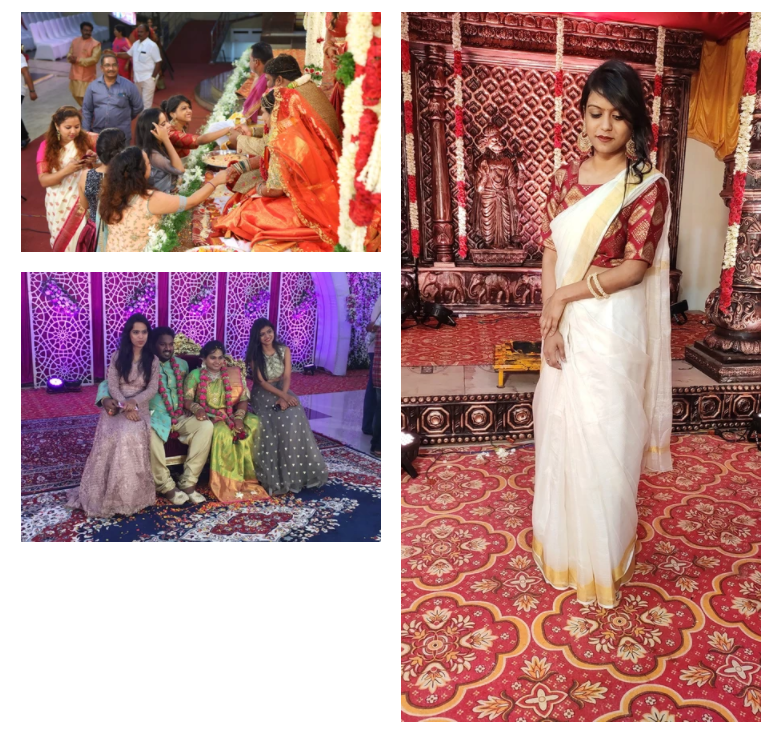 ----------------------------------------------------------------------------------------------------------