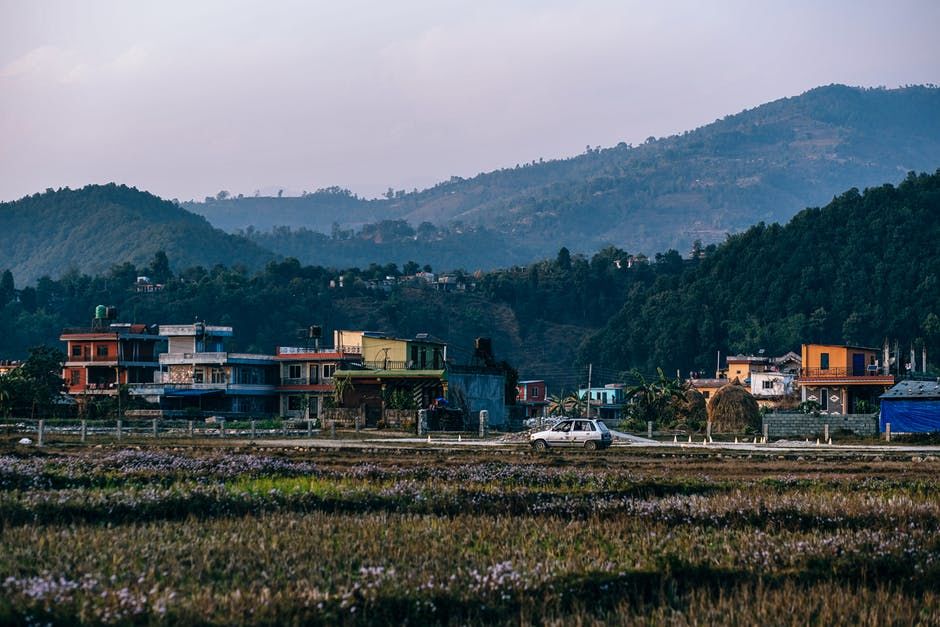 There is a place that rests between the mightiest mountains in the world and the blooming plains of India, and its name is Nepal. Labelled the Disneyland for backpackers, Nepal is the land of snow-peaks and Sherpas, with traces of mythical magic scattered all over its medieval streets. The place appeals to every kind of traveller, and for honeymooners, there is so much on offer here.
Getting there
By air: There are daily flights to Kathmandu (Tribhuvan International Airport) from New Delhi which take a little over 90 minutes.
By road: Kathmandu is 1150 kilometres from New Delhi. This journey can be completed in three days via the Agra-Lucknow Expressway.
Visa guidelines
Indian passport holders do not require a visa to enter Nepal, and can reside permanently as citizens of Nepal with no restrictions (because 1950 Indo-Nepal Treaty of Peace and Friendship allows free movement of people between the two nations on a reciprocal basis.)
What to see and do

Here's a 5-day itinerary for you to consider. (Ideally, you should spend the first two days in Kathmandu and the last two days in Nagarkot.)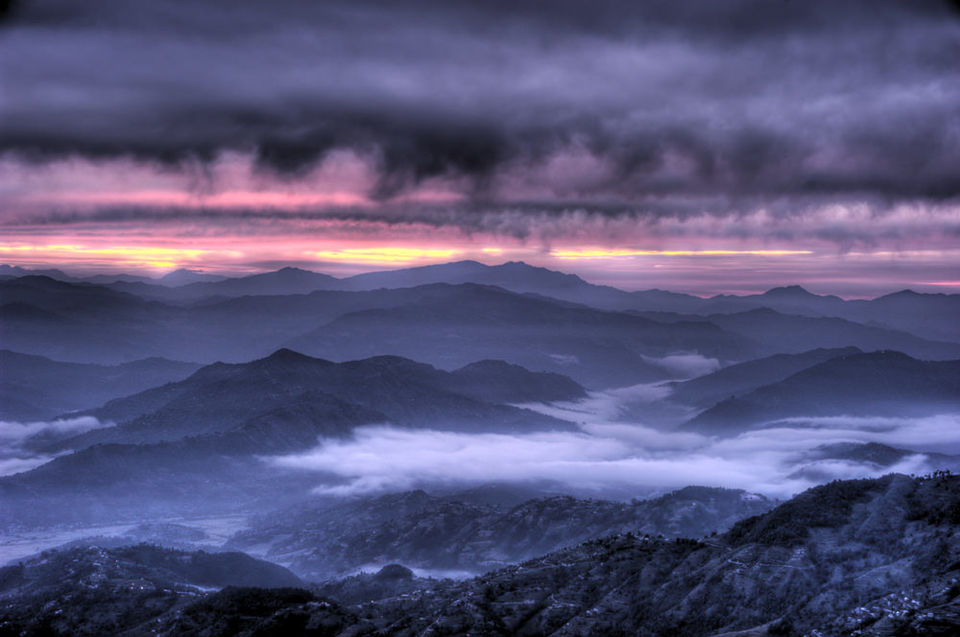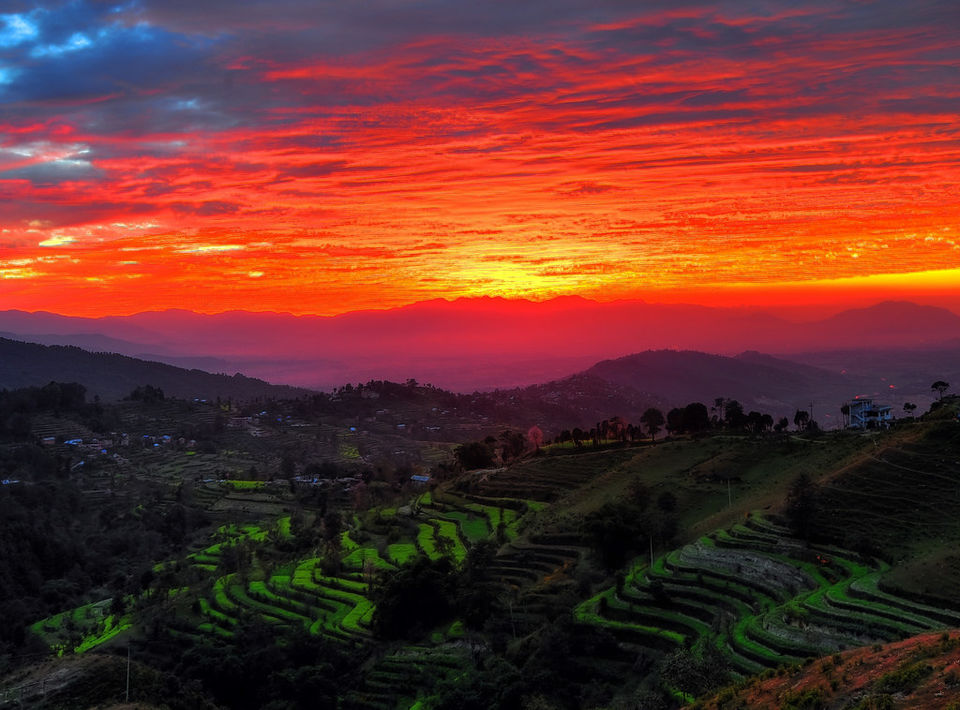 You'd know what to expect from the capital of Nepal when you step off your plane in Kathmandu. Here is a city that has not lost its medieval charm, even when the casinos run late into the night. Since you have two days here, make it a point to visit the temples (Pashupatinath and Boudhanath) and the two monasteries (Shechen and Kopan) of the city. An entire day should be kept aside if you wish to visit the Langtang National Park which was the first Himalayan national park established. Flight tours operated by local airlines will give you a bird's-eye view of Mount Everest. If you're feeling lucky, head to any one of the numerous casinos of the city.
Restaurants nearby: Rosemary Kitchen & Coffee Shop for Nepalese, Asian and European (1.9 kilometres away); Pilgrims 24 Restaurant & Bar for Asian, Indian and continental (2 kilometres away)
Entrance fees: Free entry to Pashupatinath; ₹65 per person for Boudhanath Stupa; free entry to Shechen and Kopan monasteries; ₹1100 per person for Langtang National Park
Opening hours: 4am to noon and 5pm to 9pm (Pashupatinath Temple); open 24 hours (Boudhanath Stupa); 9am to 5pm (Shechen and Kopan monasteries); open 24 hours (Langtang National Park)
Closed on: National holidays
Flight to Pokhara: 25 minutes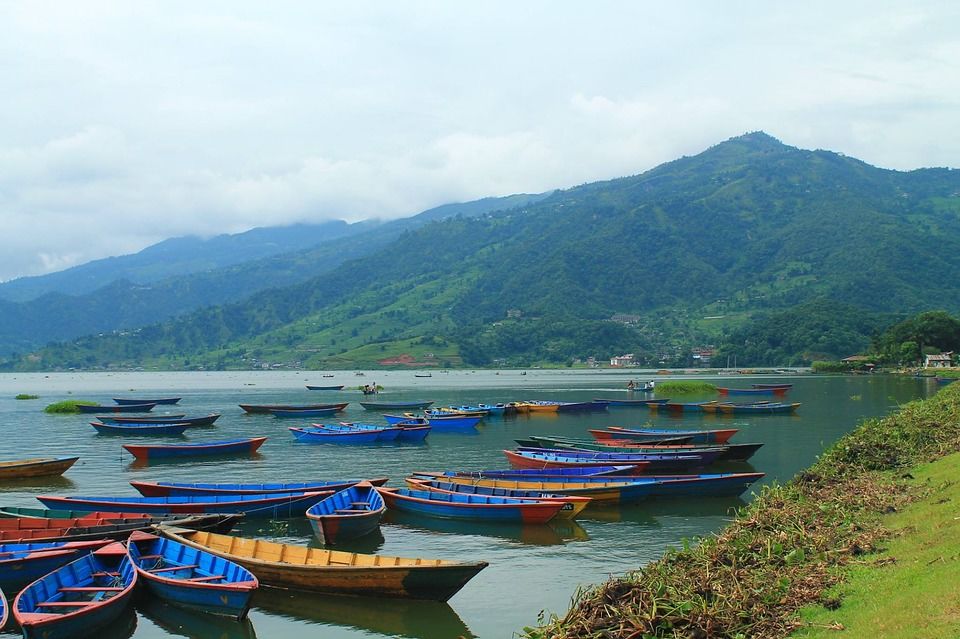 Known as a mirror to the Himalayas, Pokhara is a dreamland where the mountains, lakes and valleys bask together in the light of the sun. If you could manage an early start to the day, muster the strength for a short hike in the Annapurna circuit. Rest of the day should be kept aside for the pleasures that only a lakeside destination can afford. Do not miss a boat ride in the Phewa Tal.
Restaurants nearby: OR2K for Mediterranean, Asian and Nepalese (7 kilometres away); Caffe Concerto for Italian (7 kilometres away)
Boating charges: ₹200 to ₹800
Opening hours: 7am to 10pm
Closed on: National holidays
Flight to Kathmandu: 25 minutes – Nagarkot is 27 kilometres away from Kathmandu
Nagarkot is famous for its balconies and the views that they facilitate. No other place in Nepal can offer a better view of Mount Everest (along with many other peaks) during sunrise. So, be determined to wake up when the alarm rings so that you don't miss out on the morning tea/coffee with the mightiest mountain for company. It gets extremely cold in Nagarkot and you should pack extra layers. If you feel like it, you can keep one day for exploring the town and the other for marvelling at the distant mountain ranges from the comfort of your room. A hike to the Nagarkot Panoramic Hiking Trail could be taken if the mood permits.
Restaurants nearby: The Garuda Bar for Nepalese, Asian and continental (12.5 kilometres away); Cafe du Mont for Asian and continental (6.5 kilometres away)
Accommodation
Here are some places you can stay at when you are in Nepal:
In Kathmandu:
Fairfield by Marriott Kathmandu
In Pokhara:
In Nagarkot:
When to visit
The best time to visit Nepal is the autumn season – October to November. These months promise clear skies along with warm days. Plan and book in advance as this is the season when Nepal is flooded with tourists.
Getting around
Because of the terrain and the weather conditions, getting around in Nepal is a challenging business. The ingenuity of the people of this landlocked country will get you to your destination in the end but you should build plenty of time in your itinerary. Taxis, tempos and rickshaws are the most commonly used modes available to tourists in Nepal. A hired cab will cost you anywhere between ₹4000 to ₹6500 for the entire day (including fuel). You can also consider renting a motorcycle (from Pokhara and Kathmandu) but you will need a valid driver's license. Depending upon the type of bike, it will cost you ₹600 to ₹1500 per day.
Costs
Flight from New Delhi to Kathmandu: ₹10500 onwards
Taxi starting tariff: ₹150
Hotel stay: ₹3500 onwards (3-star hotel)
A meal: ₹800 (serves two)
Have you been to Nepal? Share your experience with Tripoto's community of travellers.
Frequent Searches Leading To This Page:-
Best itinerary to nepal for honeymoon, nepal honeymoon reviews, nepal honeymoon tour package, honeymoon package from nepal to abroad