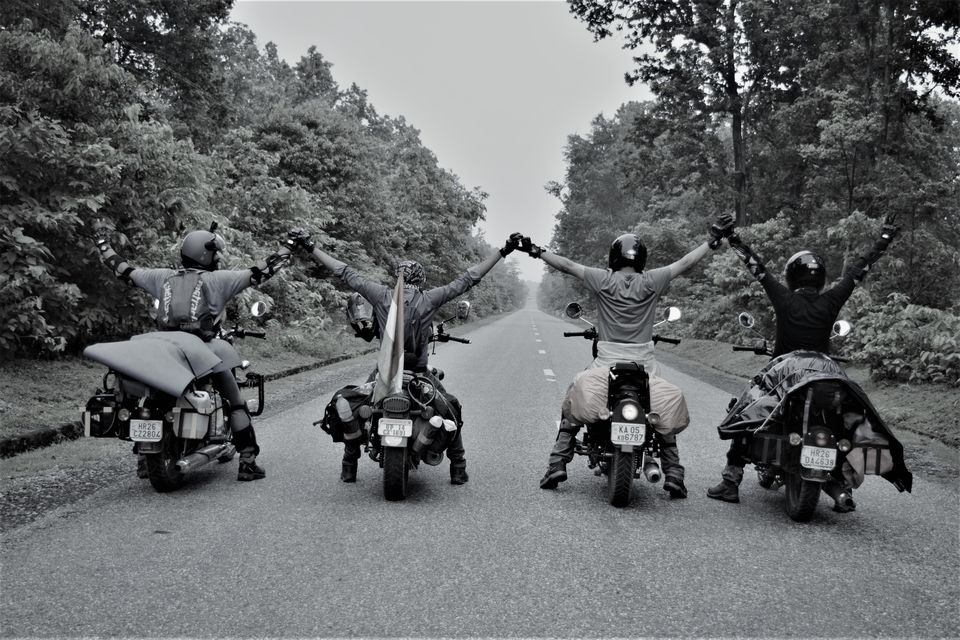 Nepal is always in my riding list and because of Leh ladakh Trip every year we all are avoiding to visit this beautiful place , however this time we all are finally decided to ride in Nepal and especially in Mansoon which is the most dangerous time for Hills . Even Many people say dont go in August 17 but they really dont know why we are planing to visit this beautiful place in August 17 . We actually planing to visit Nepal to check how much adventure we can manage and how to handle the situation in Himalayas . And finally after lots of ups and down five people ready for Nepal Bike ride and one of my friend come from Bangalore to explore Nepal . 4th August Early Morning sharp 3 AM we all are started our journey from Gurgaon and Reach Ghaziabad at 4 Am and then decide to take first breakfast in garhmukteshwar and collect the holy water for Pashupati Nath and Muktinath . After 1.30 Hr journey we all are successfully reach Garhmukteshwar and take a short break and purchase one flag and collect holy water and then start our journey for Tanakpur and finally reach banbasa at 3.30 and cross india -nepal border at sharp 4.15 PM and along immigration formalities . After crossing a border picture is totally change and their is lots of greenery and because of forest area and village and after 2.30 PM journey we all are decided to stay in Atariya which is near by bardia national park because of some problem in one of the royal en field and some local person guide us to repare the same in Atariya only otherwise no one is available till Lumbini.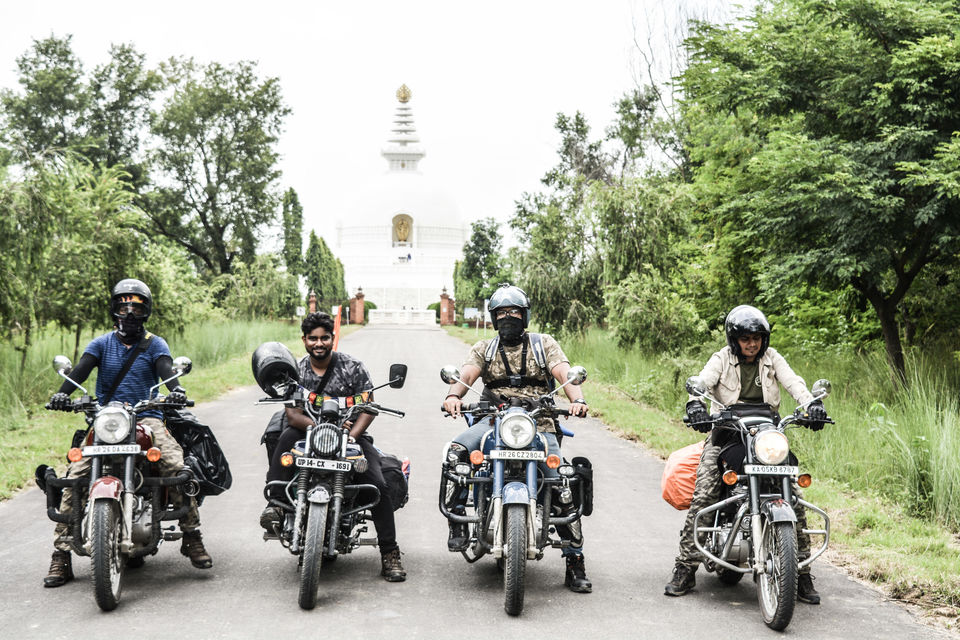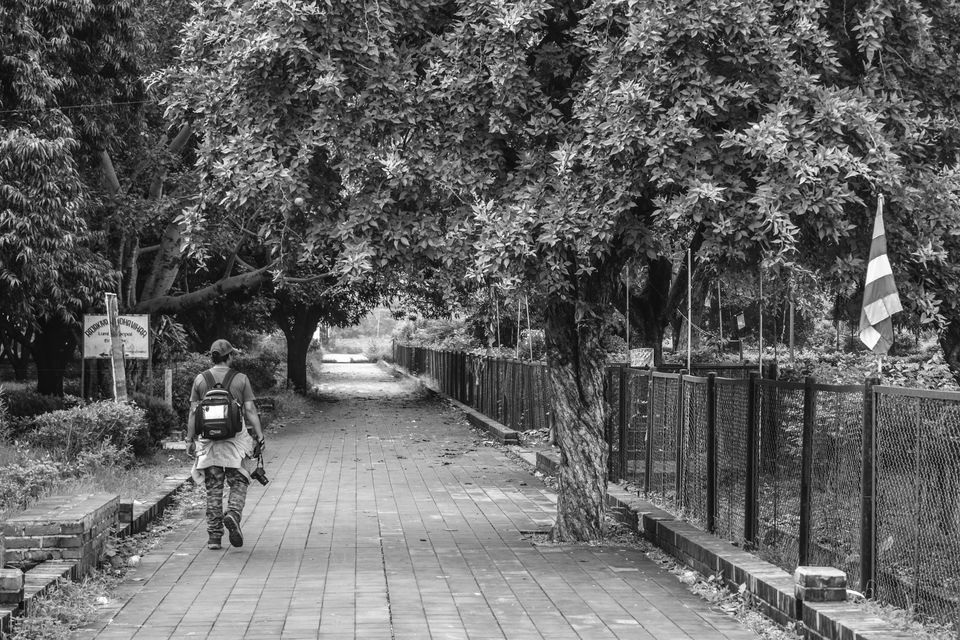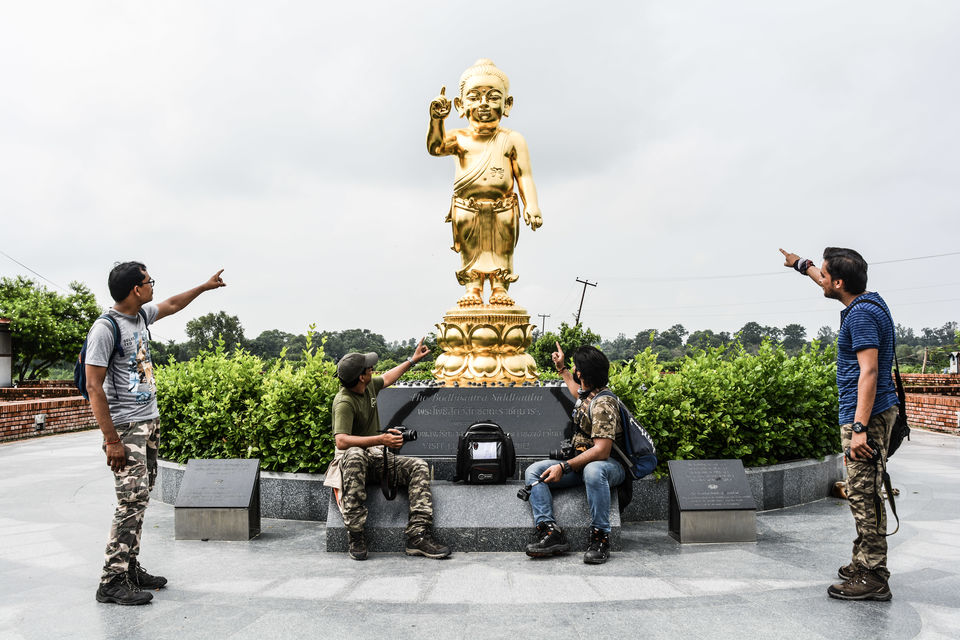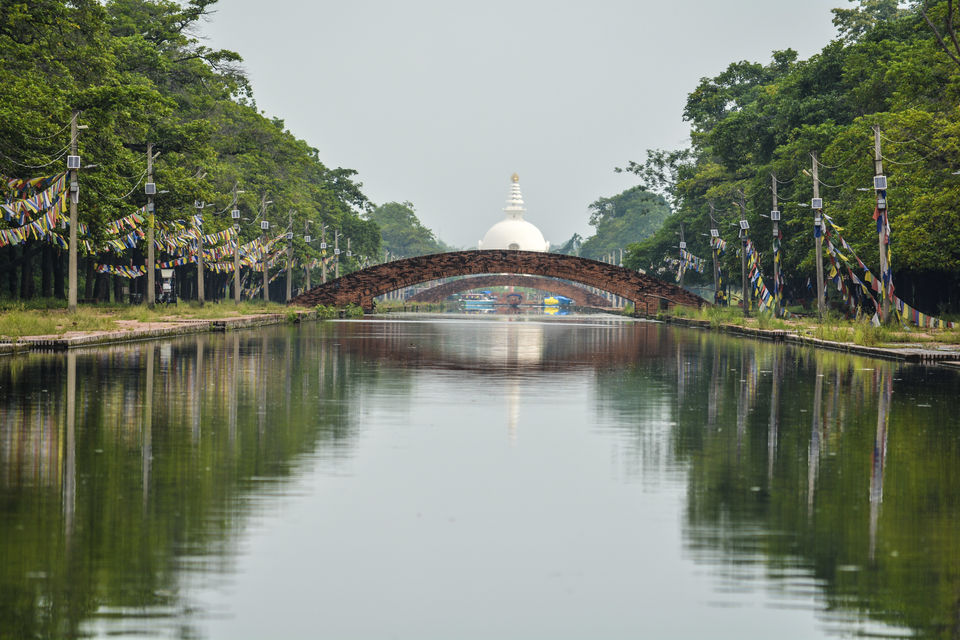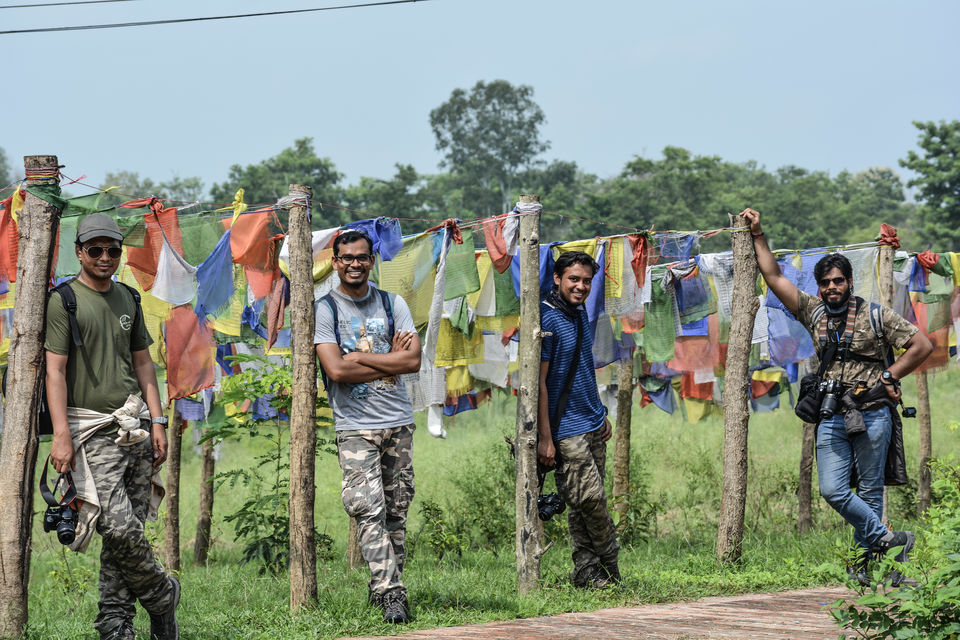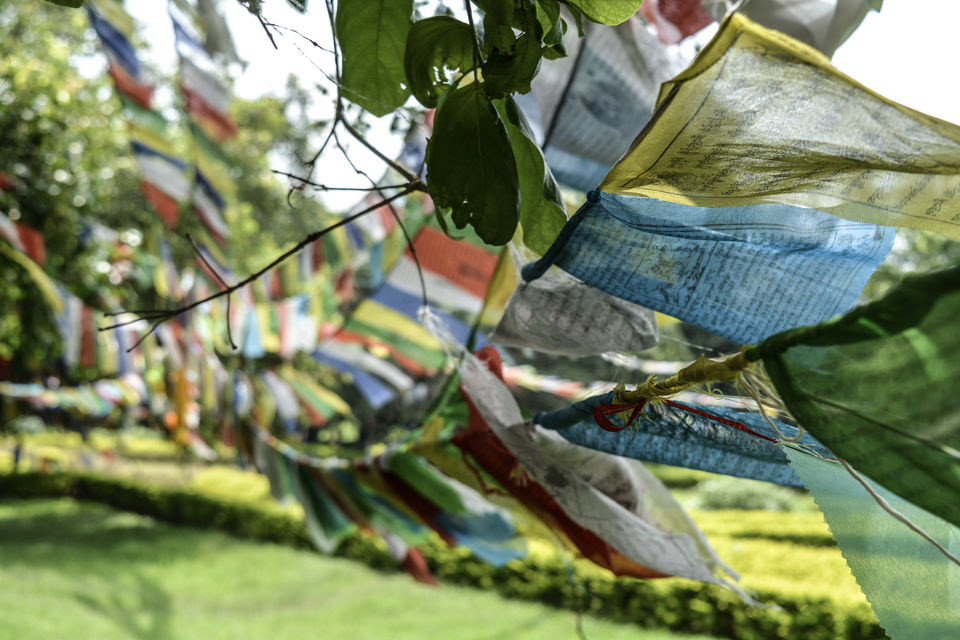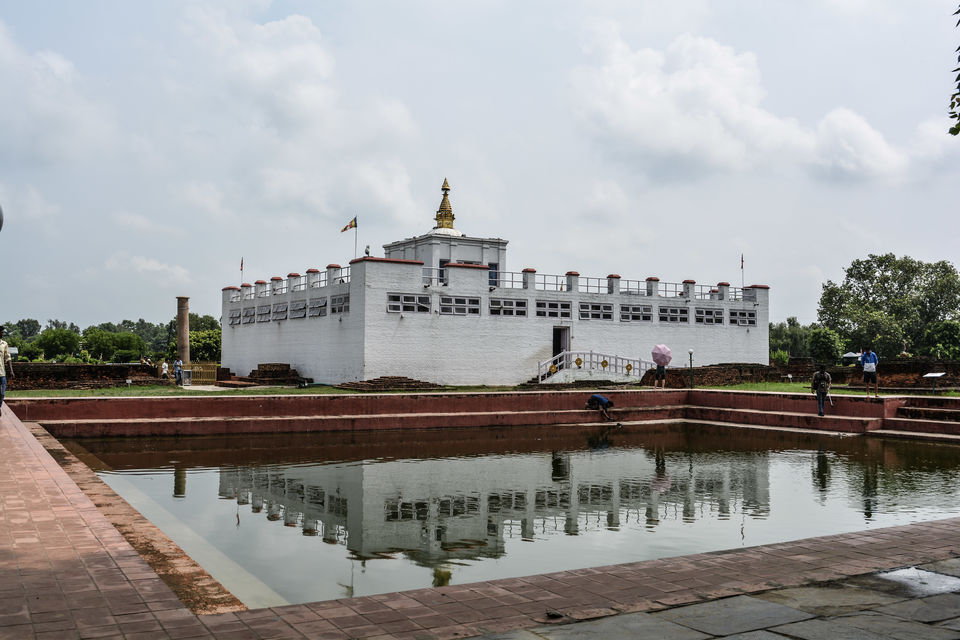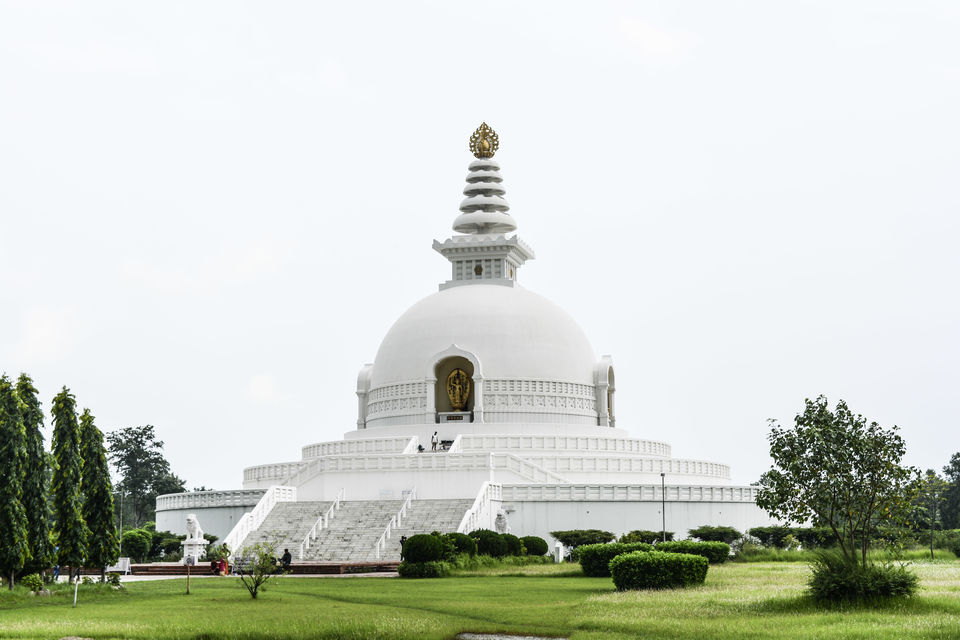 Next day we all are finally reach to lumbini and explore this beautiful place . their is lots of humidity along with temperature is more than 42 degree and still because of this place only we have spended more than 3 hr and explore every place and capture all the area with proper details in terms of knowledge of this place . After completion of Lumbini darshan we all are decided to take rest and complete our lunch because the same day we all are planing to reach pokhara which is something around 200 Km from Lumbini and 160 KM plus in Hills area. After Lunch at something aroun 12 Pm again we all are started our journey from Butwal to Pokhara and explore the beauty of Hills and we all are very excited because till butwal whatever the hills come in the journey its a part of forest area and now finally we all are enter to the himalayas range . After 6 to 7 Hr journey one bike get puncher ed and their is no service center also available and according to one local person one service center available after 2 km journey ... we finally decide to reach this place and from this place to pokhara its just a 35 Km .. we are planing to resolve the issue and reach pokhara at least 9 Pm but there is no local shops open in the particular area and finally we all are finally decide to stay in Rayatpur and enjoy the beautiful whether with Nepali thali and drink and early morning after issue resolve than again started our journey from Rayatpur to Pokhara in Rain only.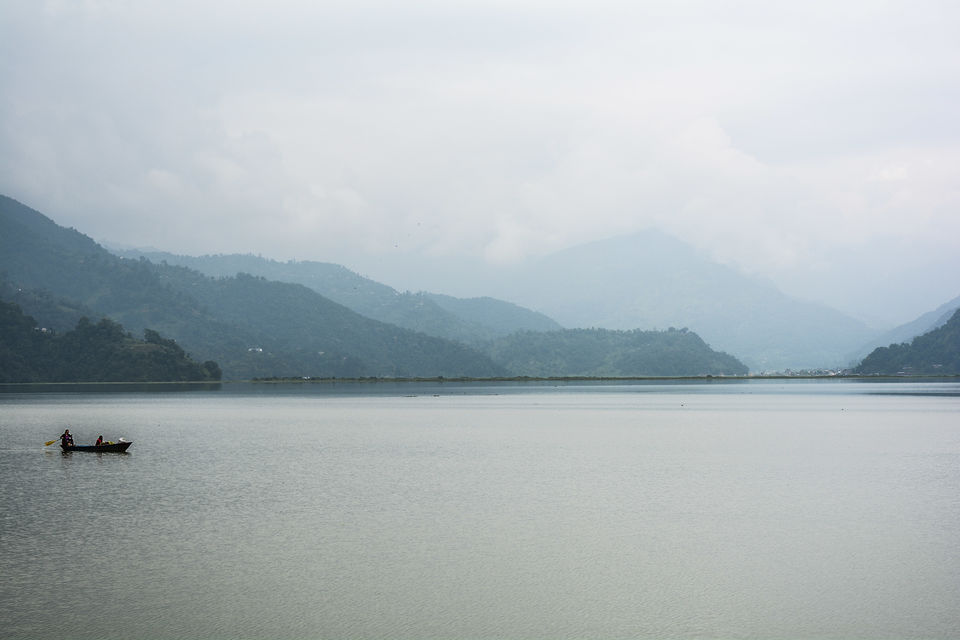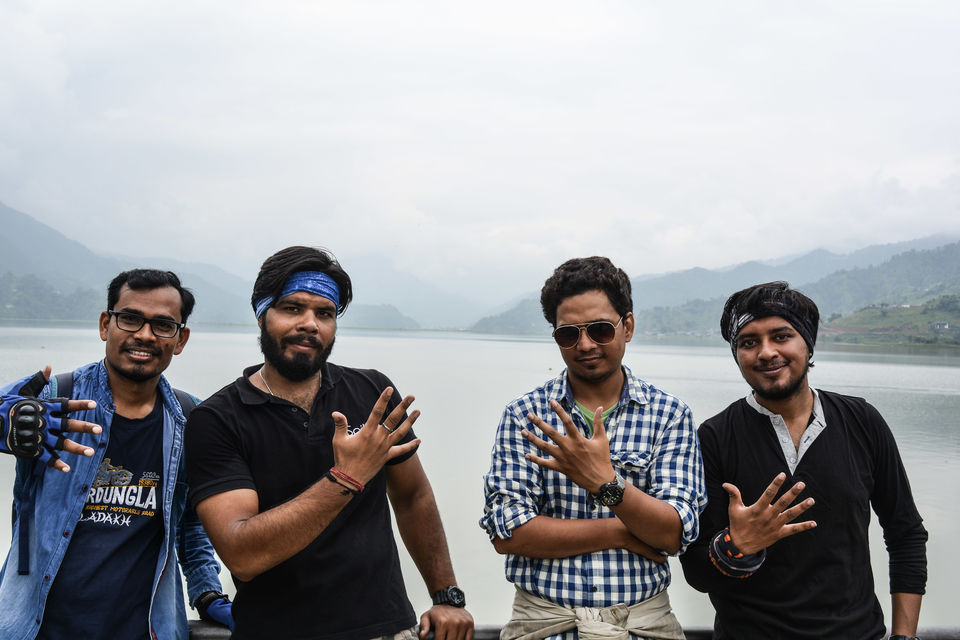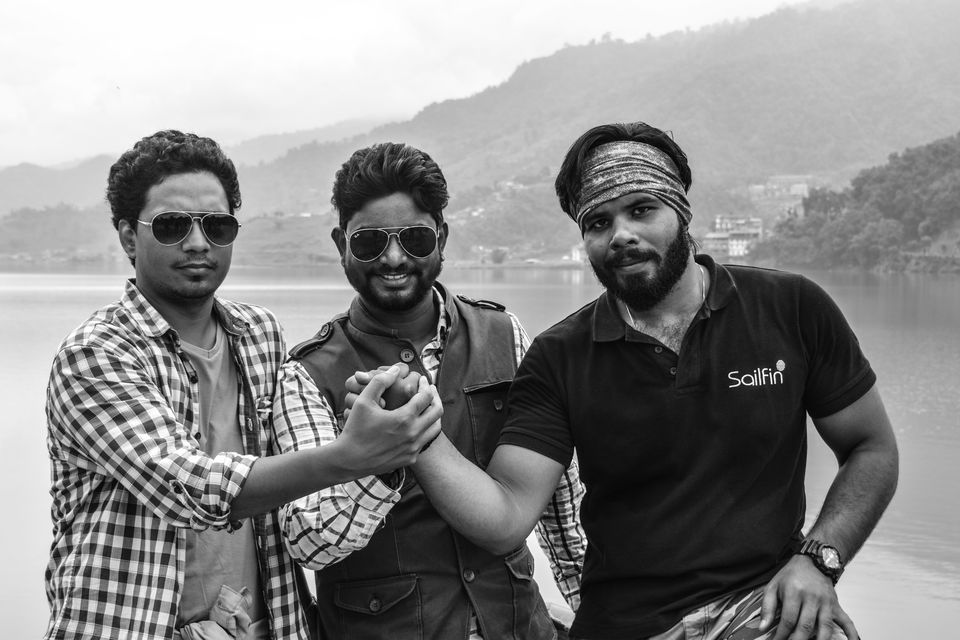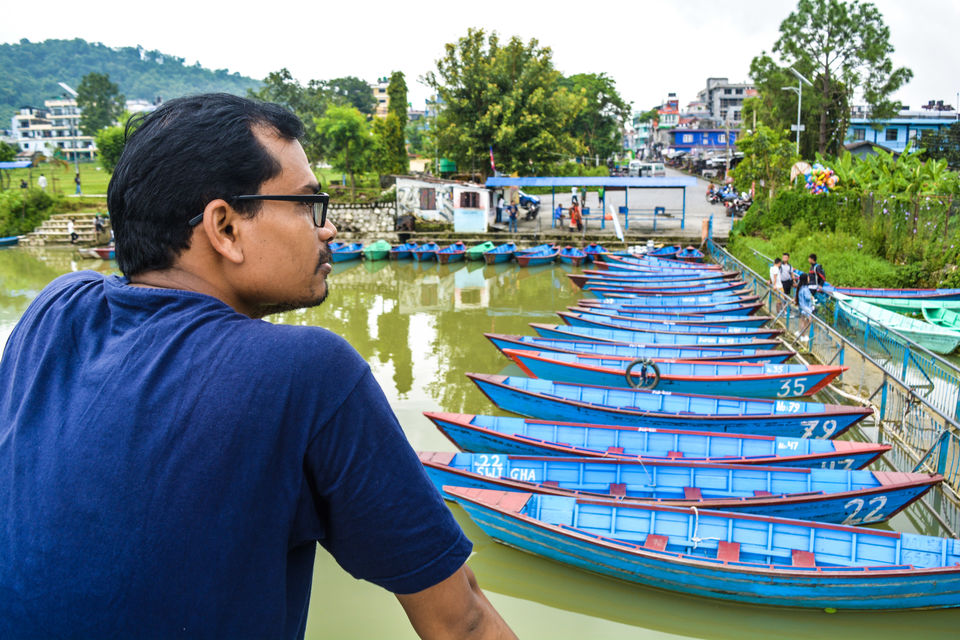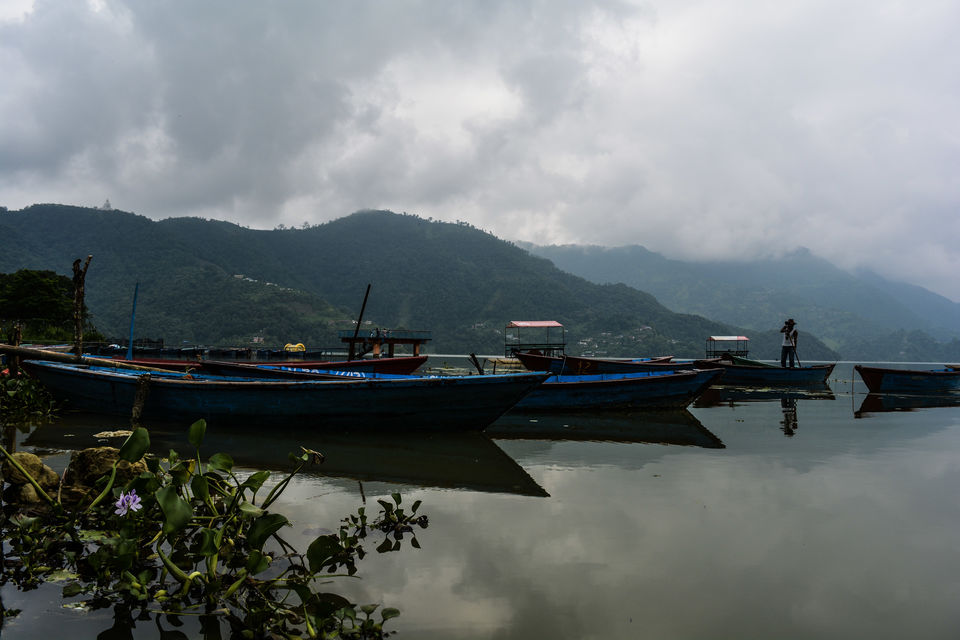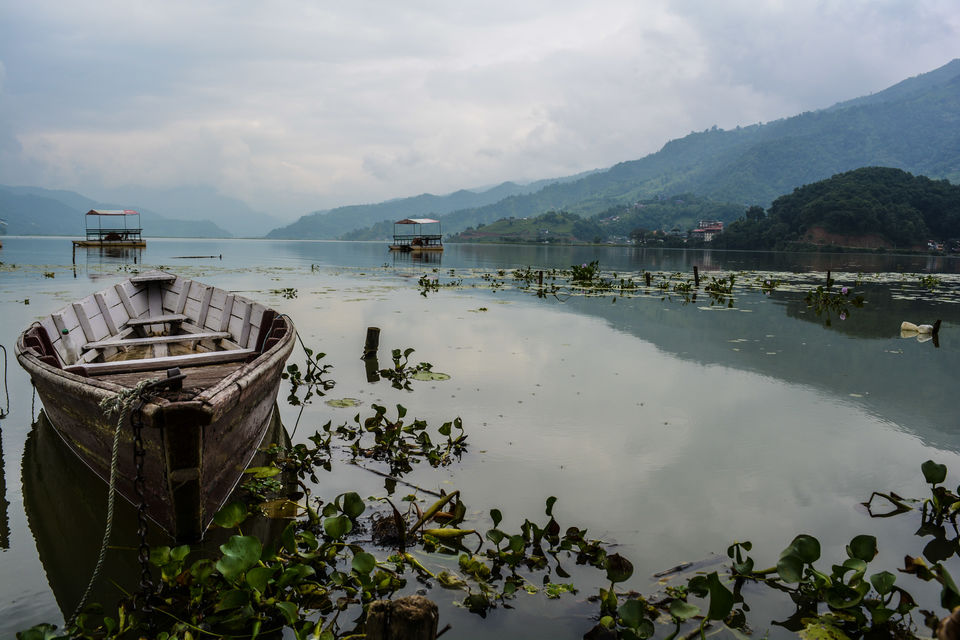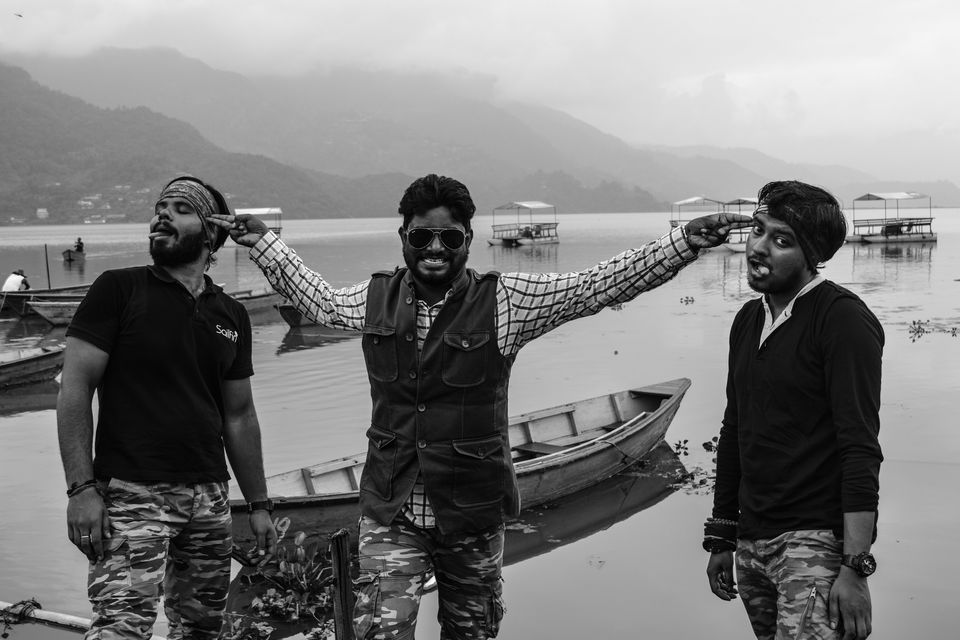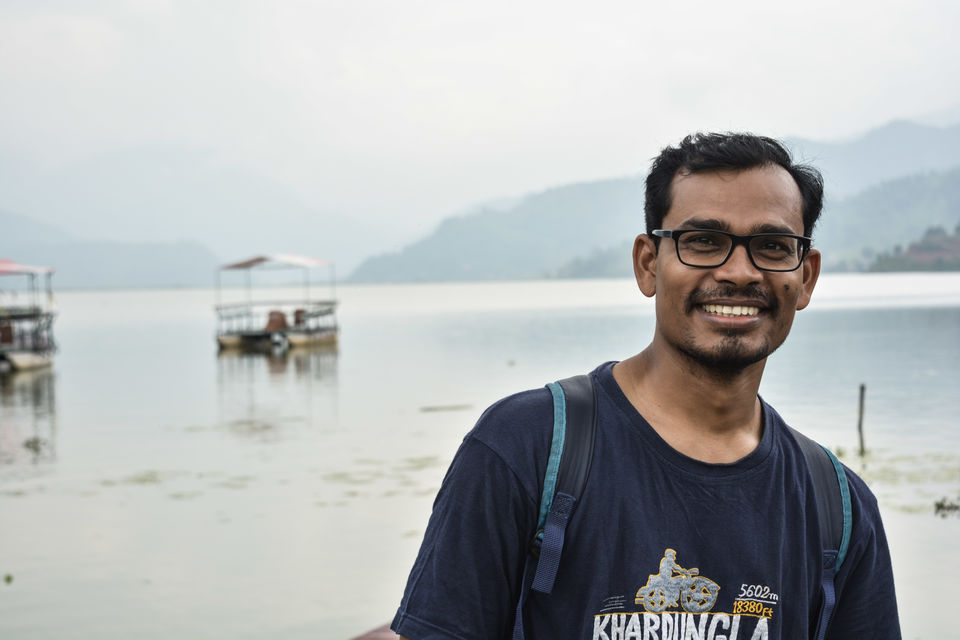 Pokhara Lekhnath is a metropolis and the largest city of Nepal in terms of area. It is the provincial capital of Province number 4, headquarter of Gandaki Zone and Kaski District. It is located 200 kilometres (120 miles) west of the capital Kathmandu... As per my experience Pokhara is actually one of the best place in nepal which is connected from both the border either you come from Tanakpur or Saunauli . Its a place to stay and enjoy the local market and culture of Nepal along with new culture you observe that now a day people are changed a lot and Pokhara is one of the smart city of Nepal and always better then Kathmandu . Most of the tourist come to pokhara and enjoy the night life along with lake view and the best to seen the Annapurna range from pokhara .. Along with natural beauty Pokhara is famous for education and holly places like Gopeswar Mahadev , Devis Fall. Mahendra Cave, Bat Cave . we all are spend a very good time in pokhara and always recommend everyone to visit this place .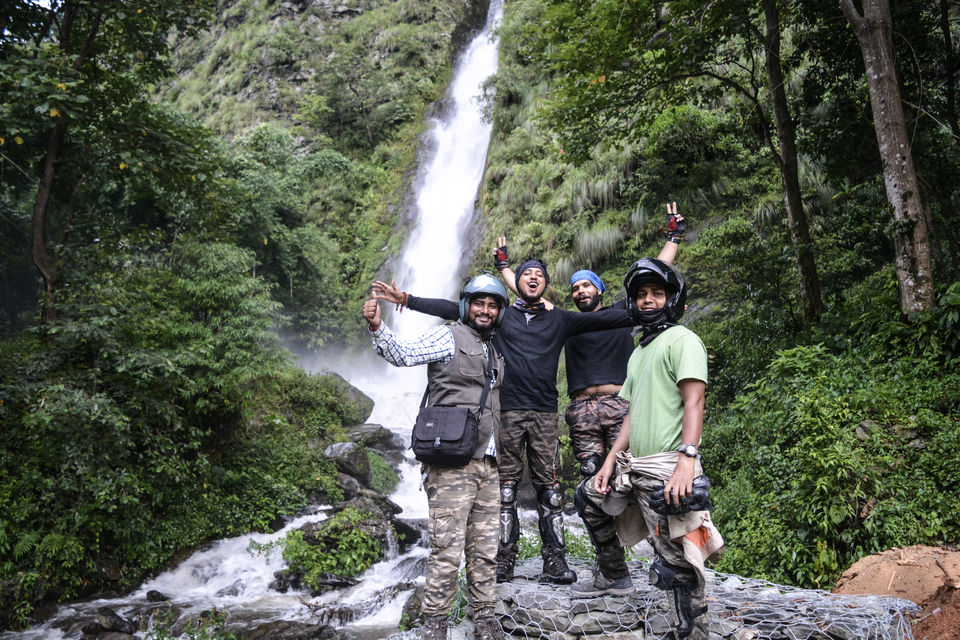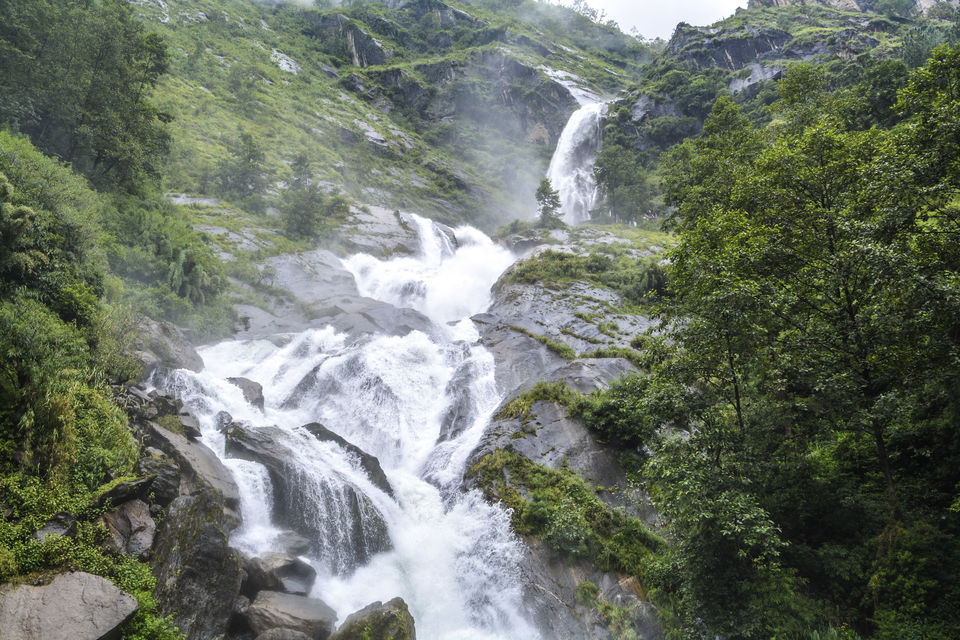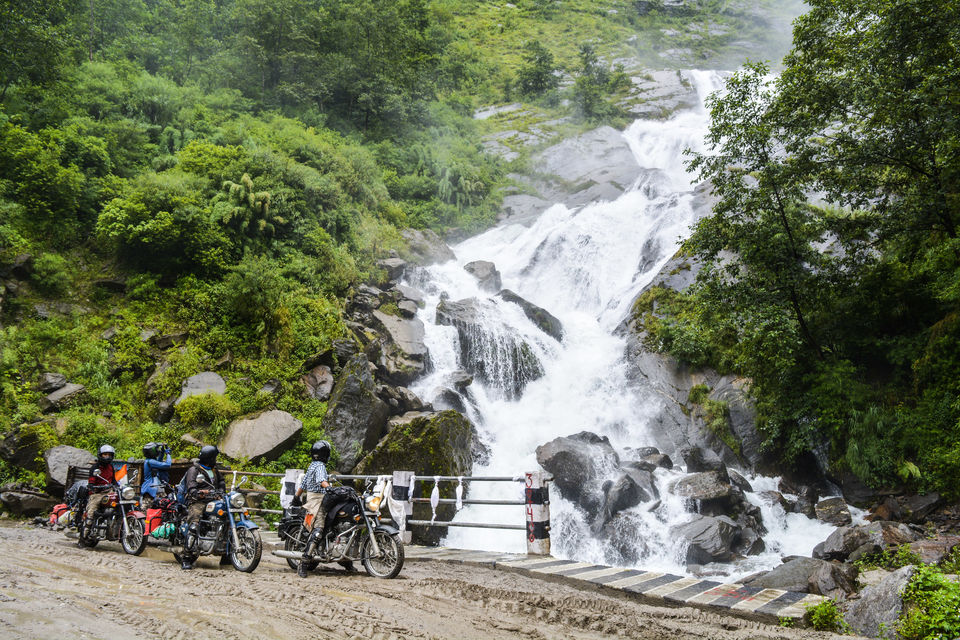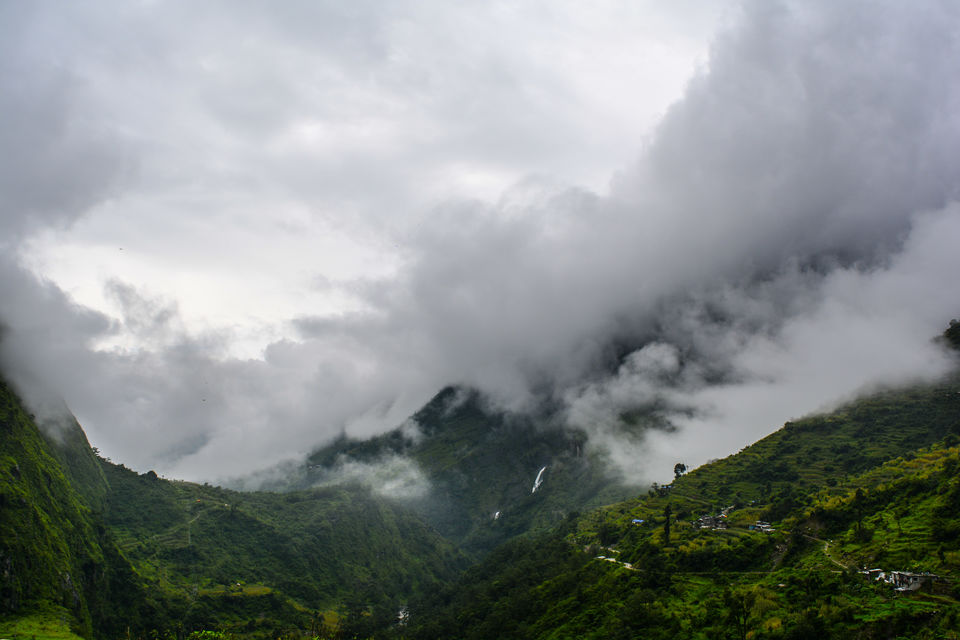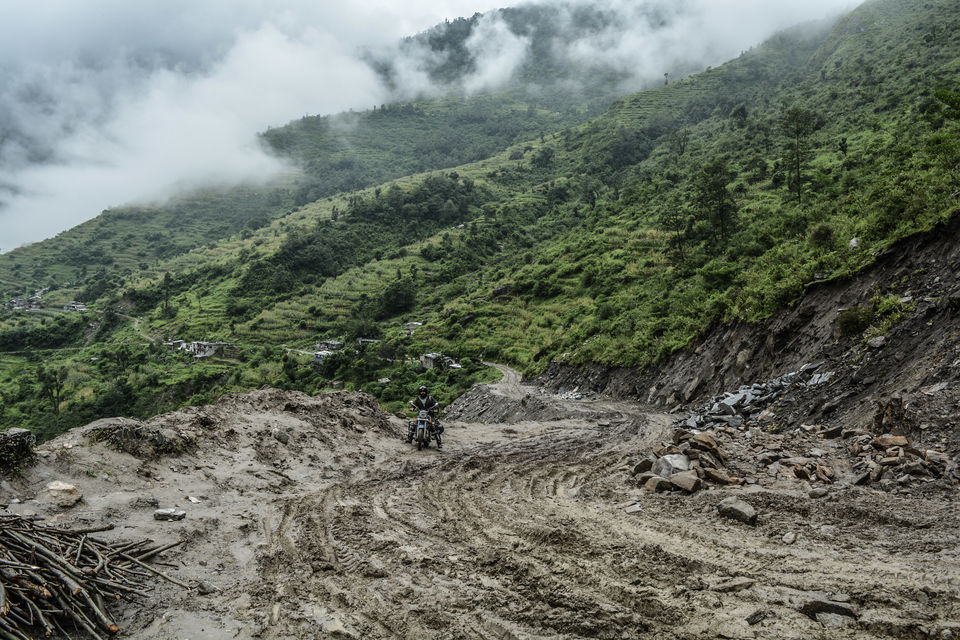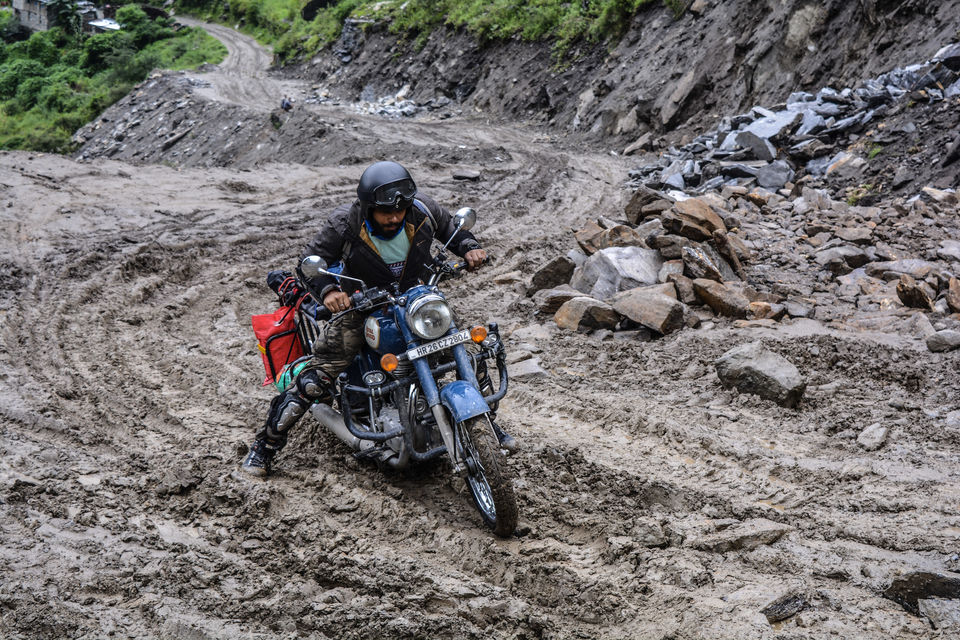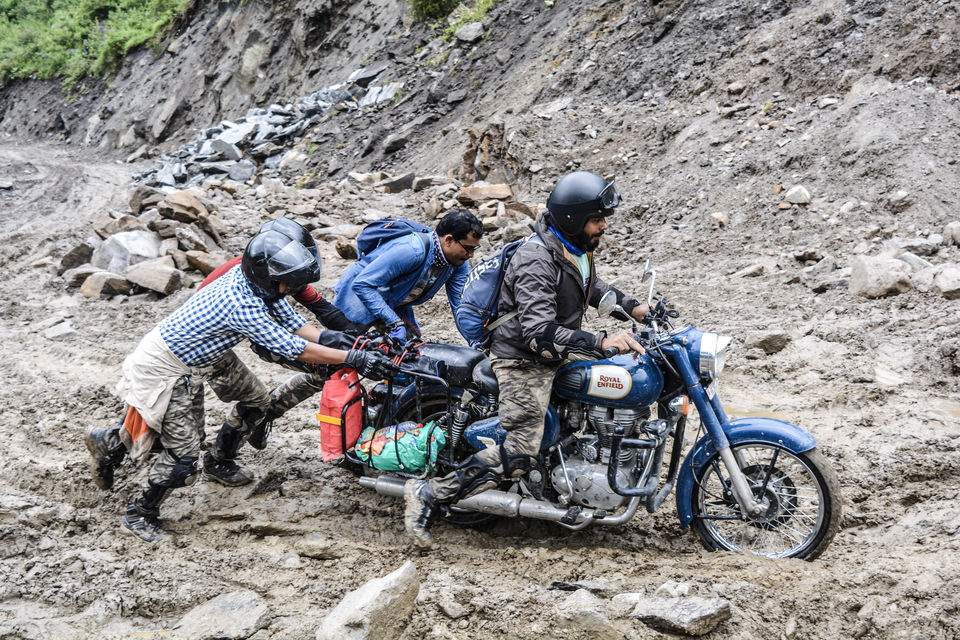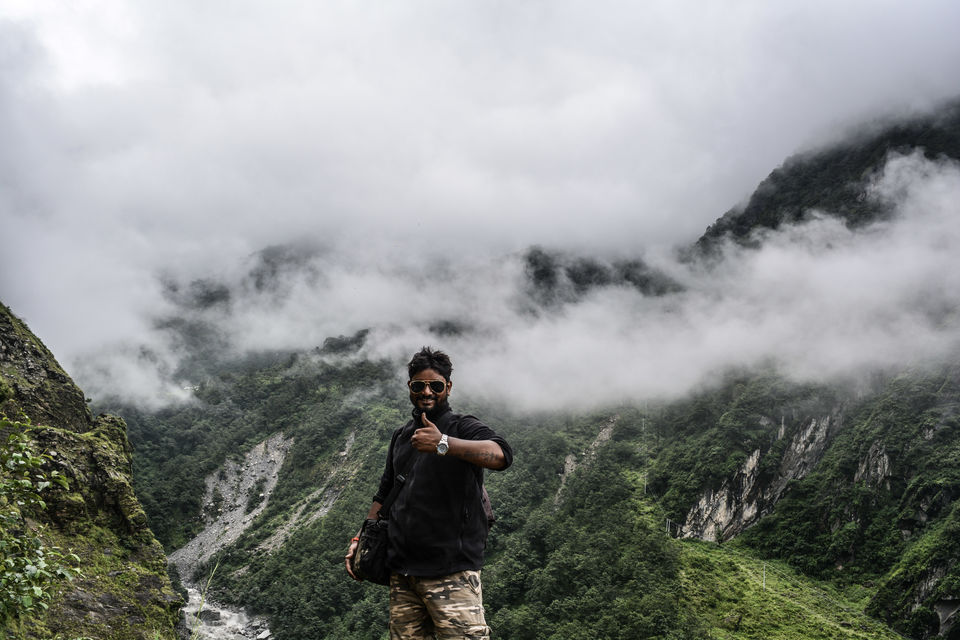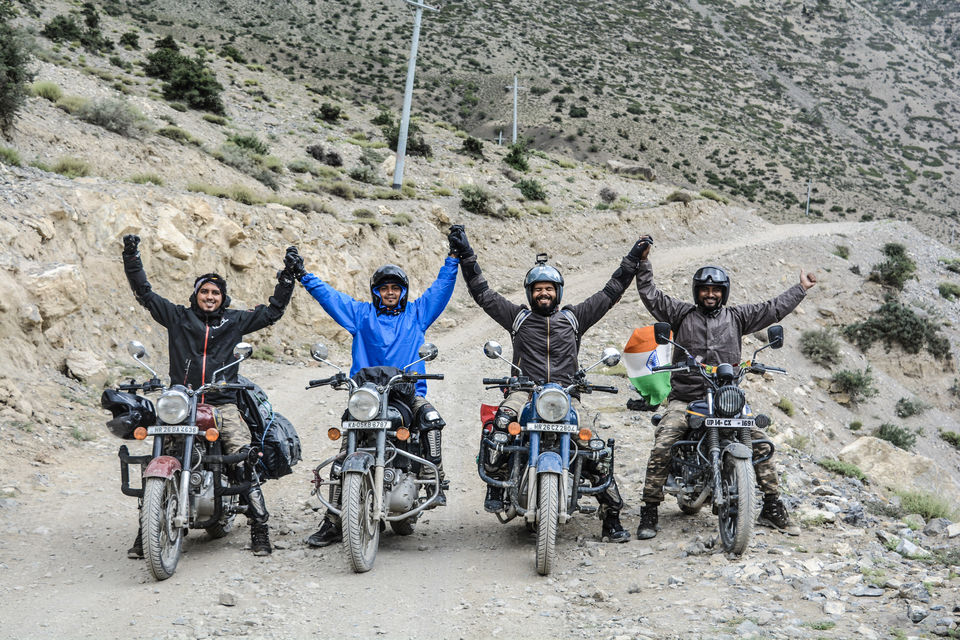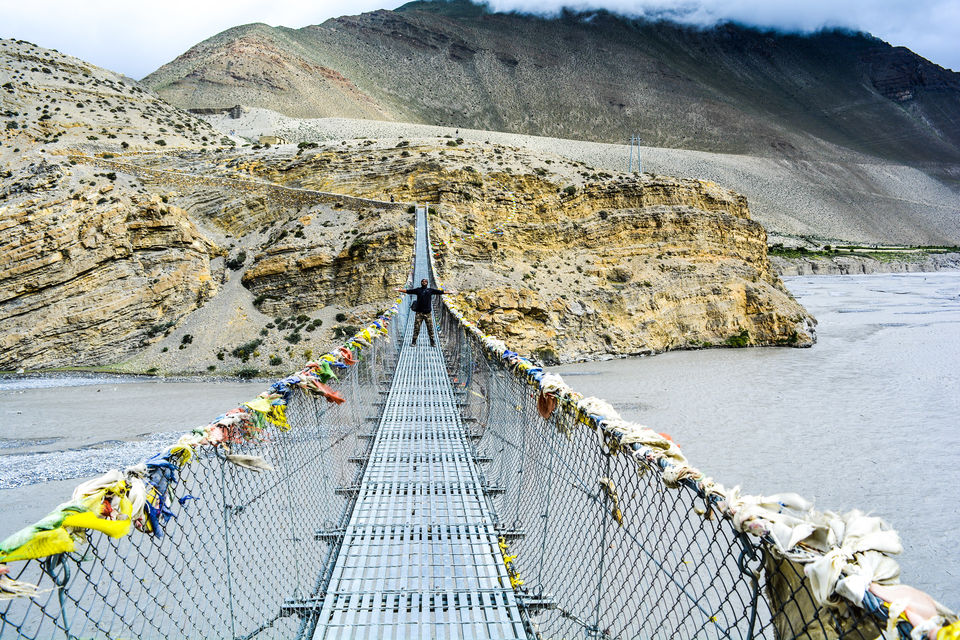 After exploring Pokhara we all are finally decided to explore Mustang Valley which is one of the best place and remote area of Nepal . As per local people it is really very difficult to visit Mustang valley because of heavy rain and Landslide and it will take 12 to 14 hr for buses to reach Pokhara from Mustang and the distance is 200 KM .. IF somebody say its just 170 or 160 then everything is just fake . its practicality more then 200 Km and people suggested to avoid visit now and if you visit then it will be take 15 to 18 hr only for 200 Km and little say is it a joke or what till the time we actually not facing a real picture of this trek . So finally all Five decide to move for Mustang Valley and Visit Muktinath temple before moving we have to take a permission from Tourist office and after permission only checkpost team allow anyone to visit Mustang . From the starting point to till 45 Km journey little superb but after crossing Kosum we slowly slowly feel and observe that why people are laughing and saying dont go . however we already decided to move so there is no other option and now the actual adventure come after crossing first waterfall which is never ever forget in my whole life. for Next 100 KM there is no road because of heavy rain and landslide and our speed is 4KM per hr with lots of issue in bikes which we will shared with you all in Video documentary . Because of late start we all are aware that we never ever reach Jomsom today but still trying to reach any near by places and stay in night .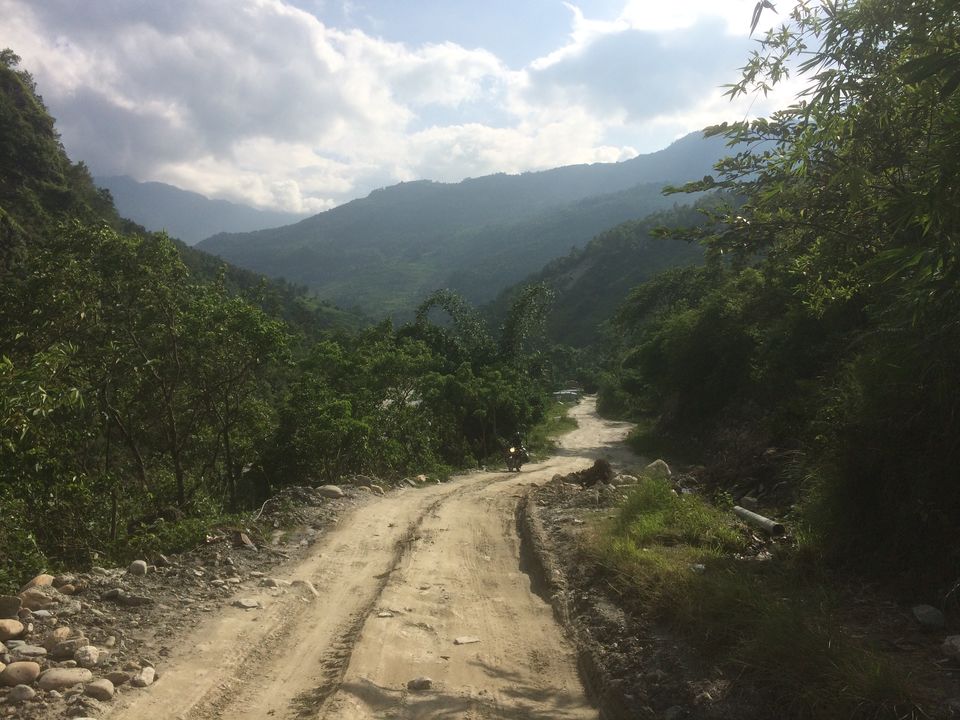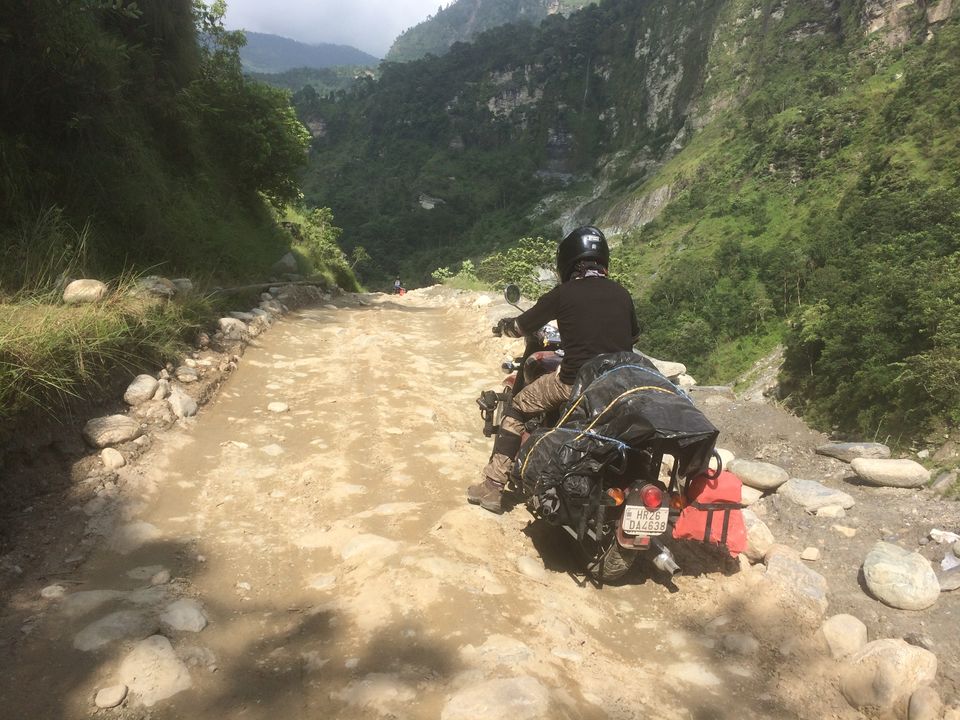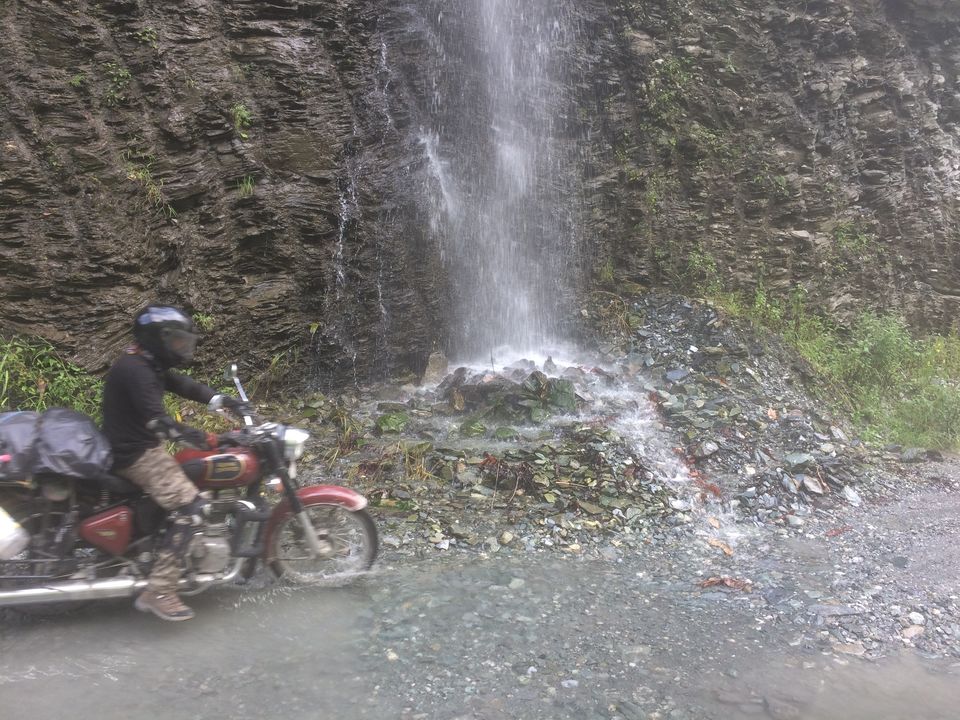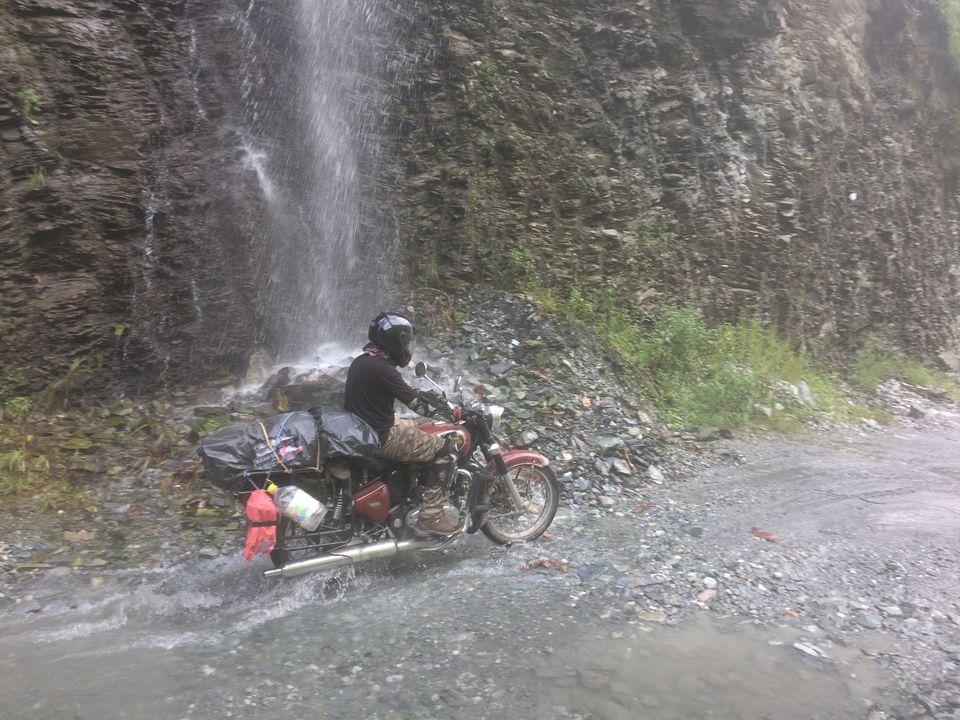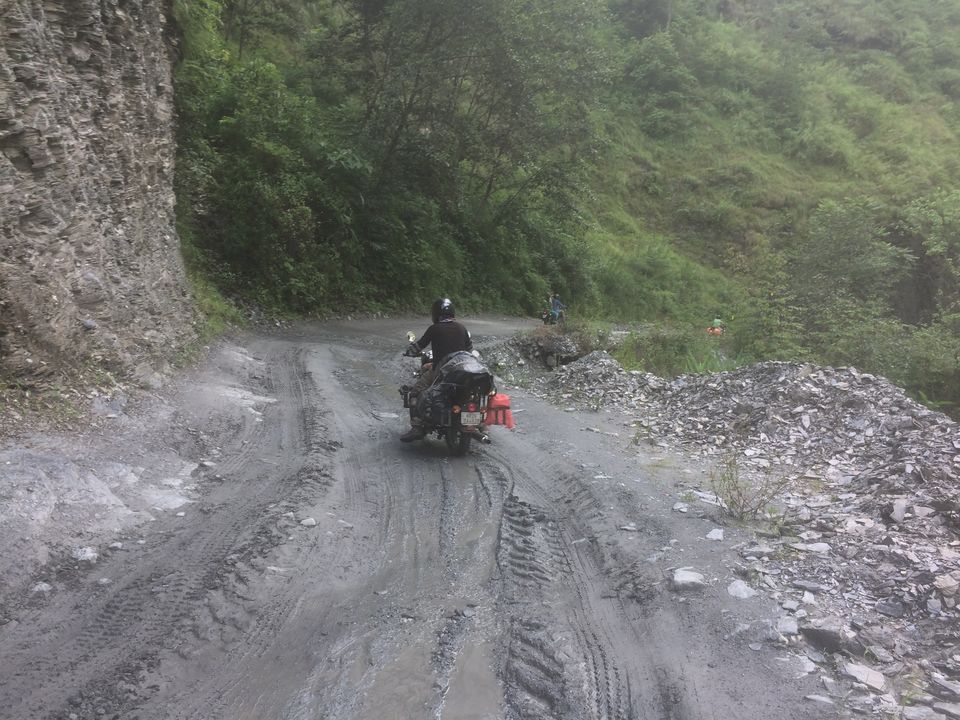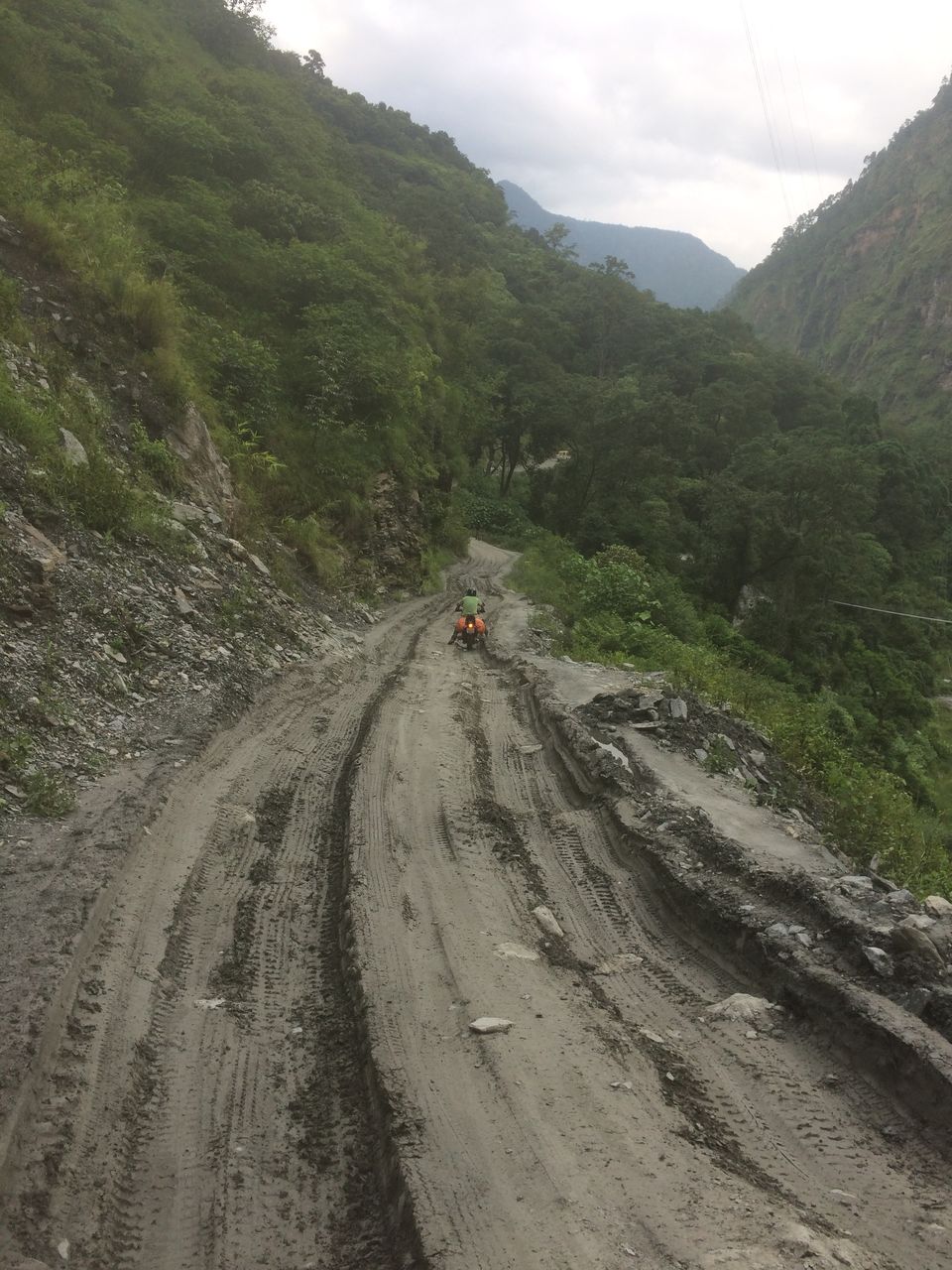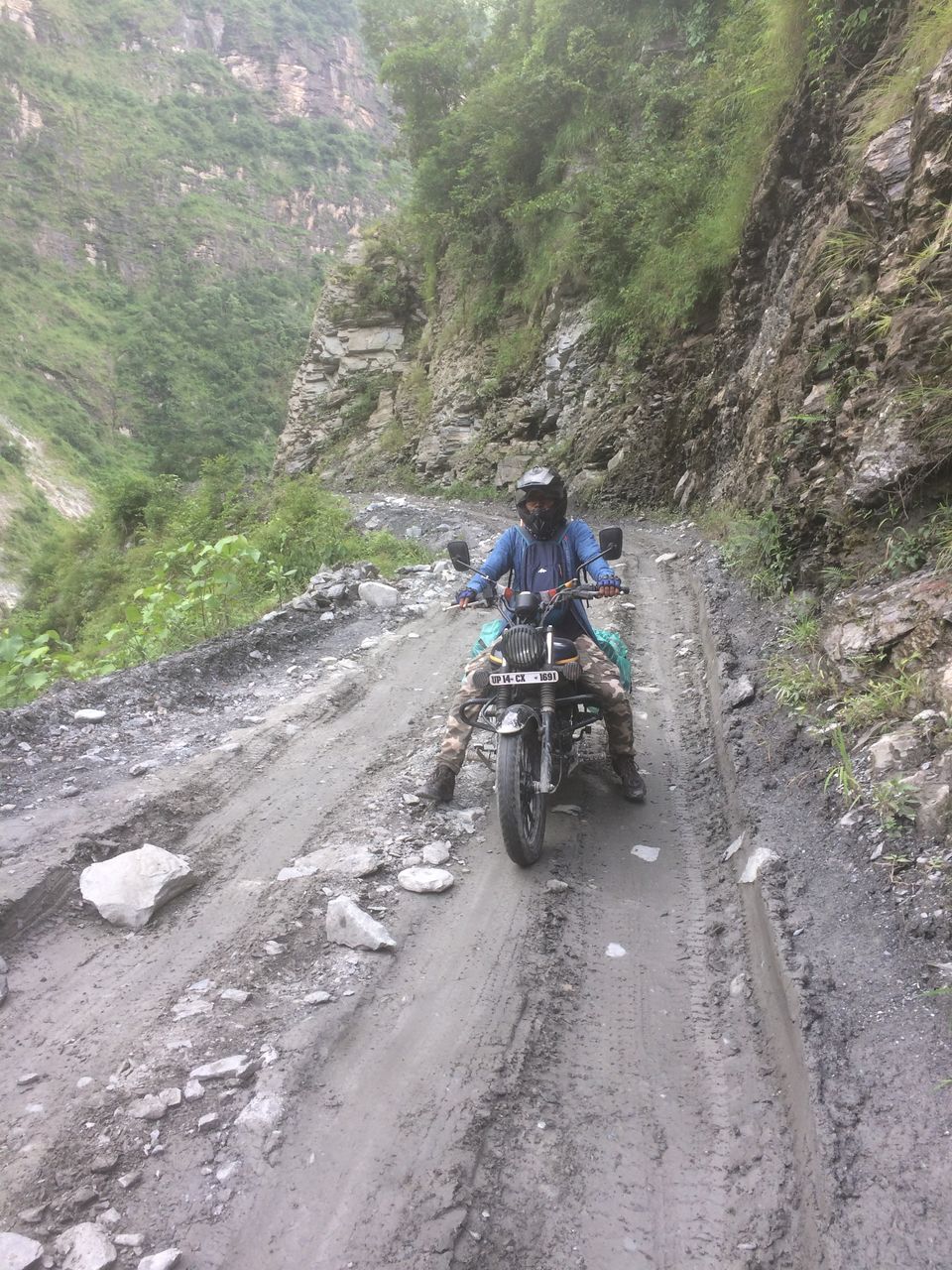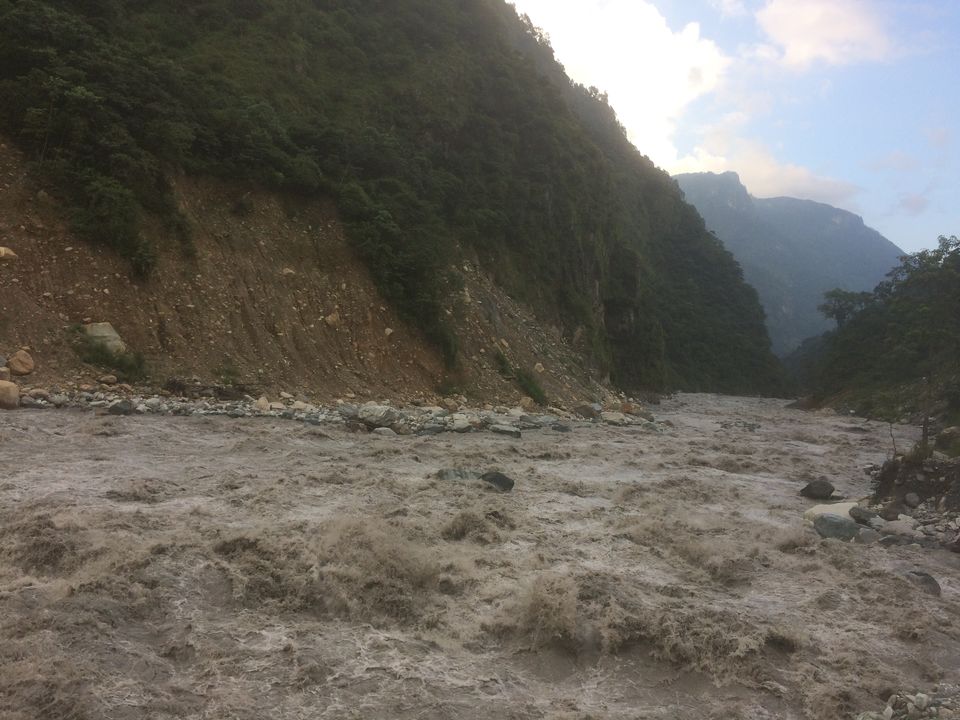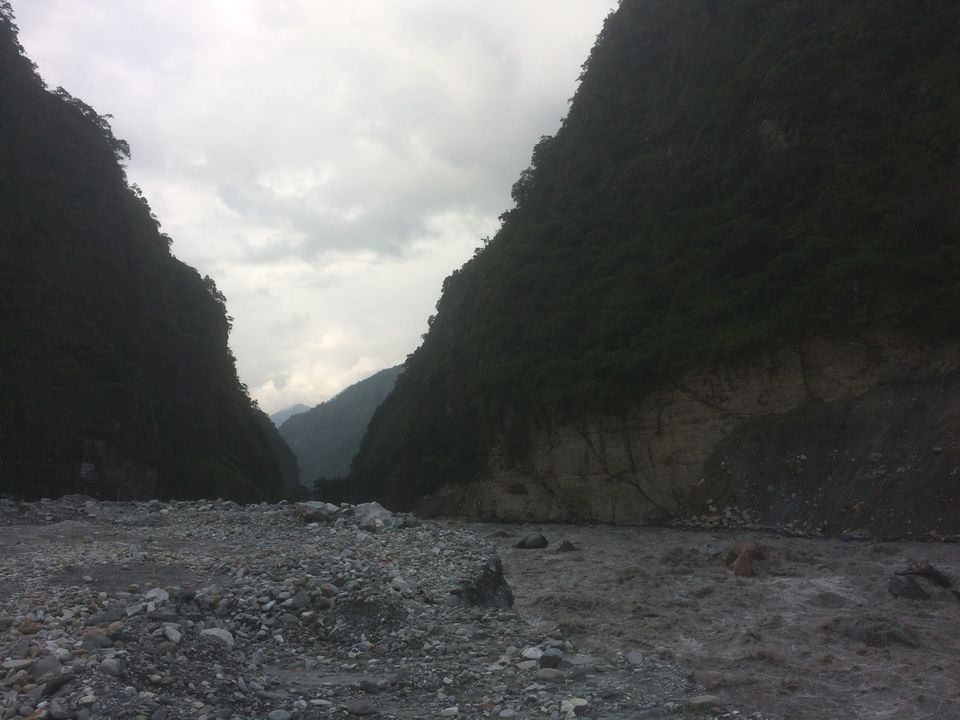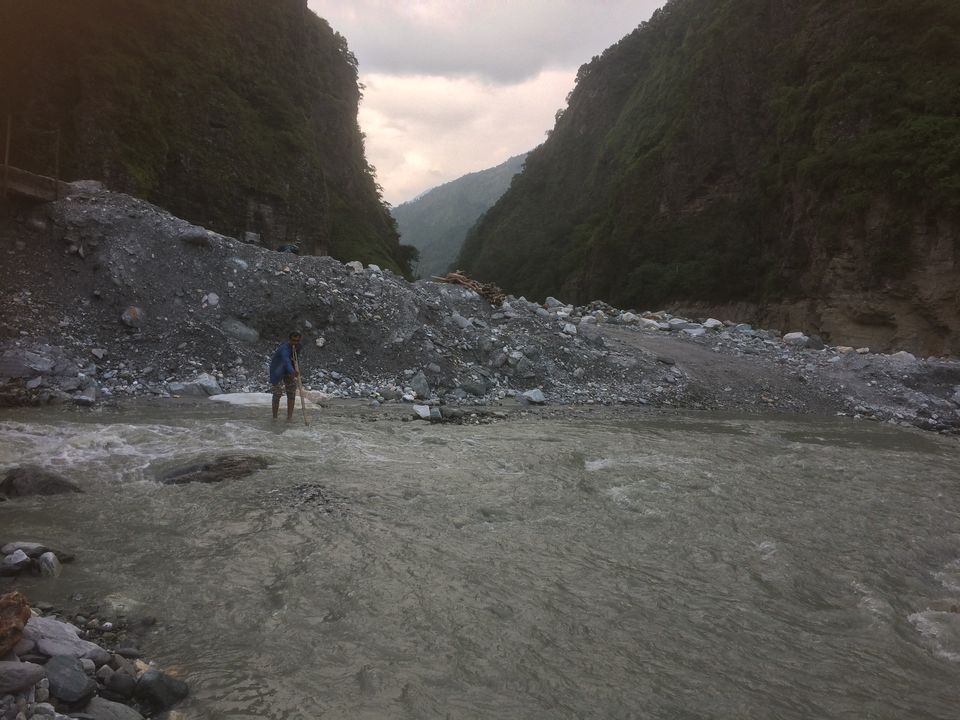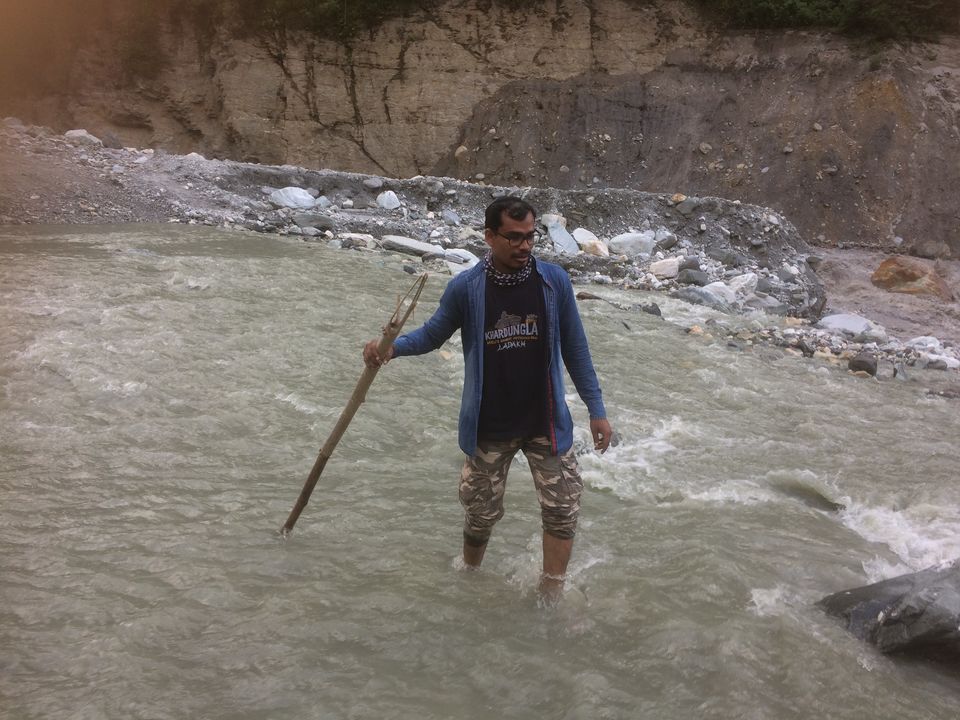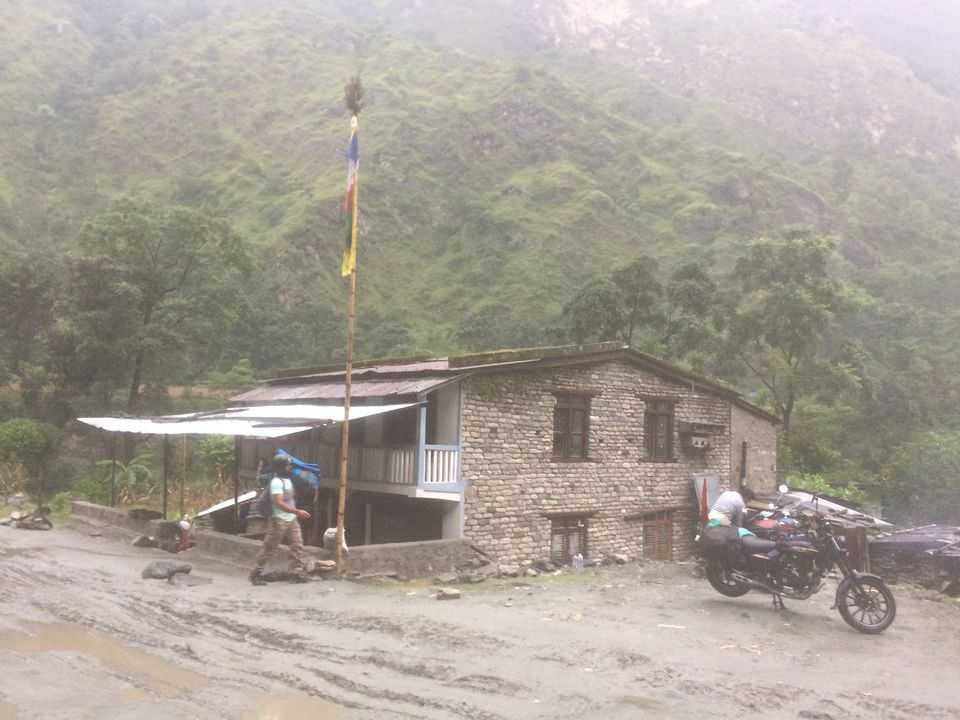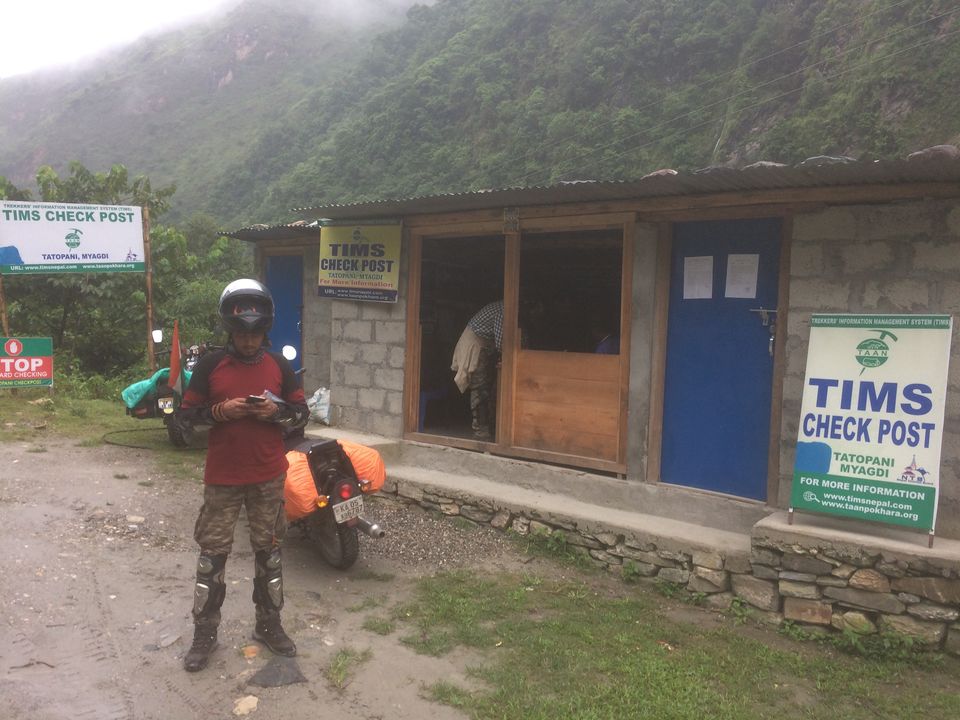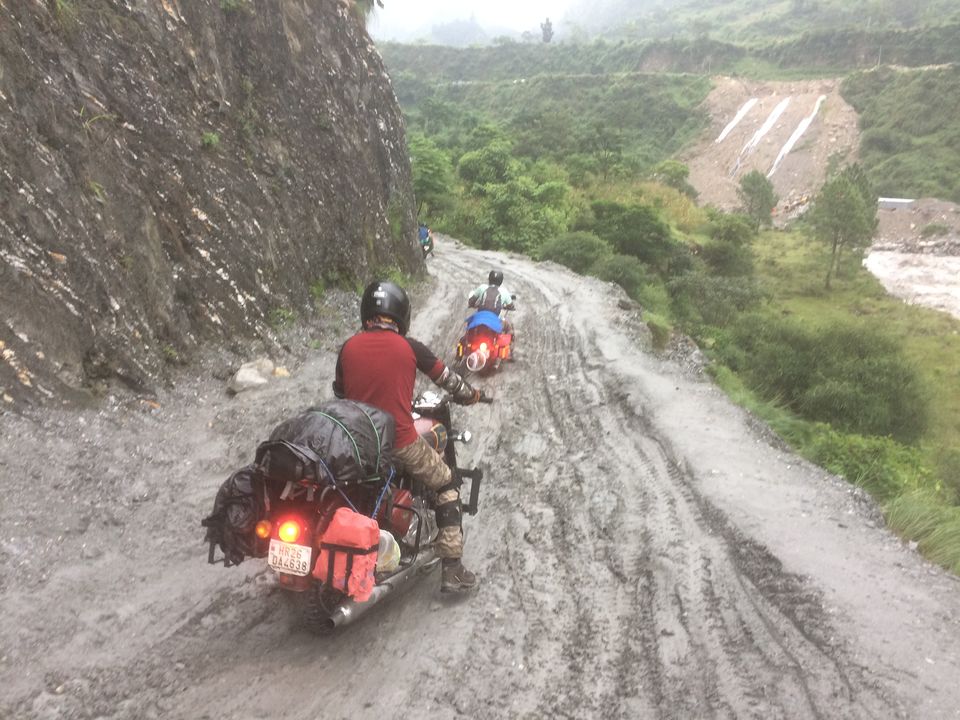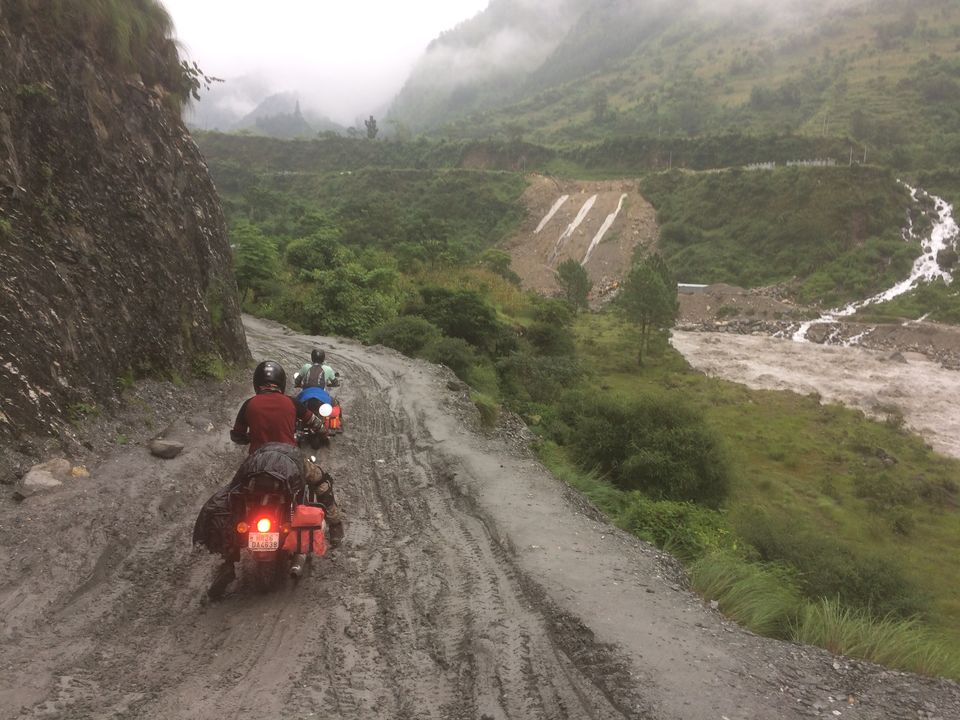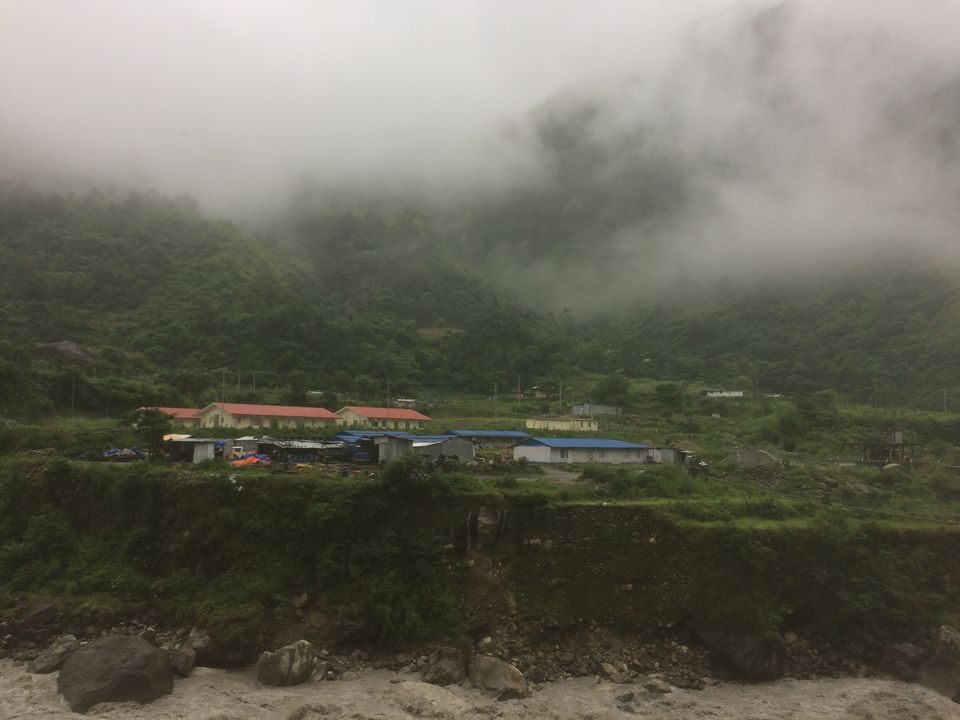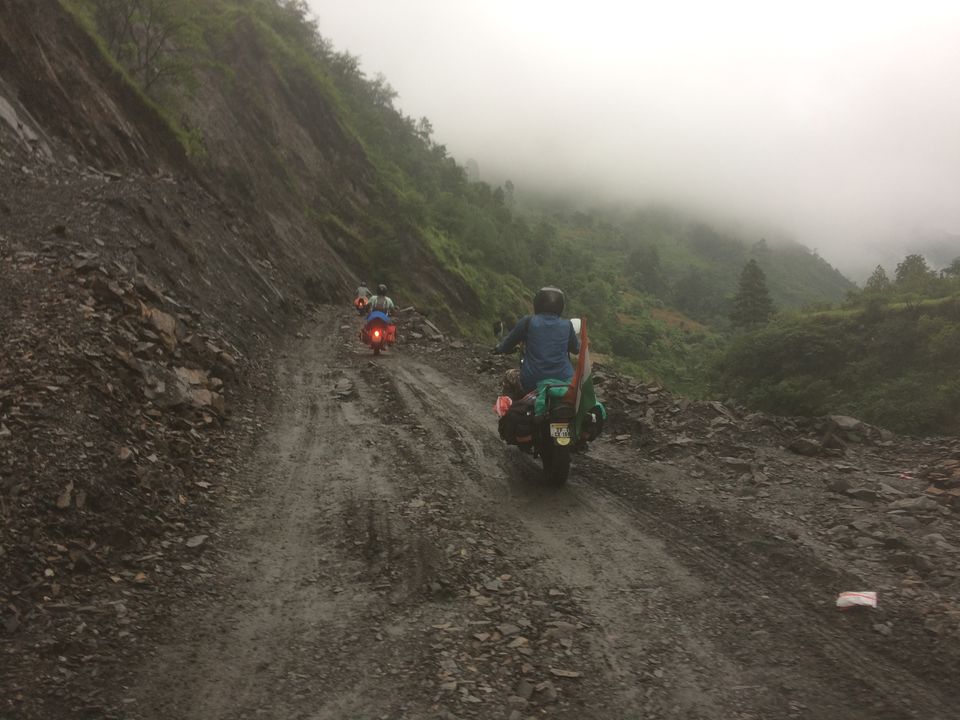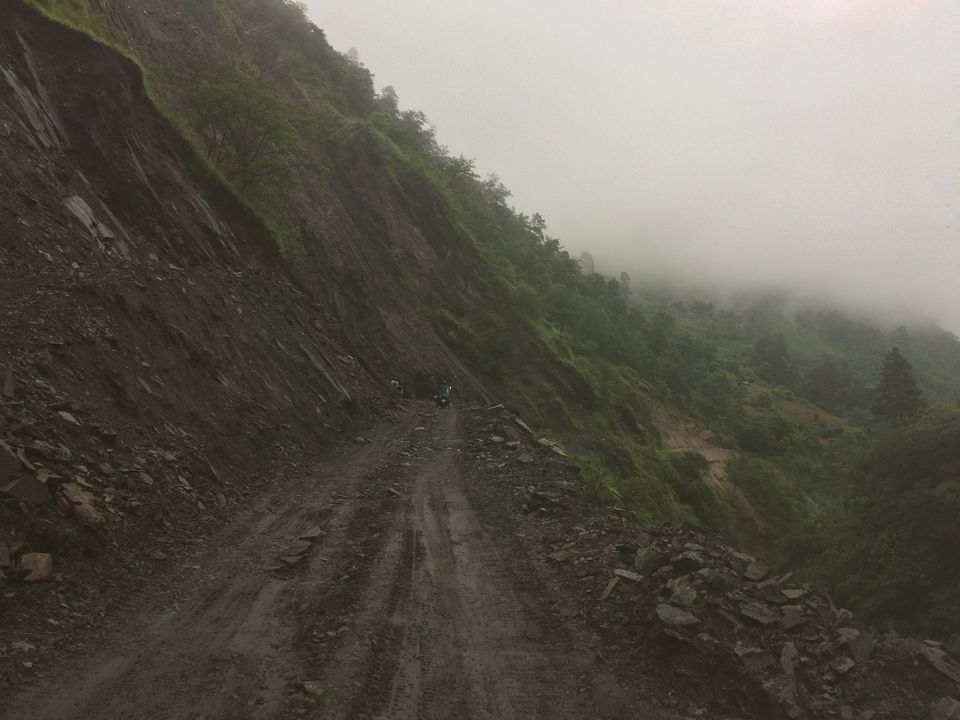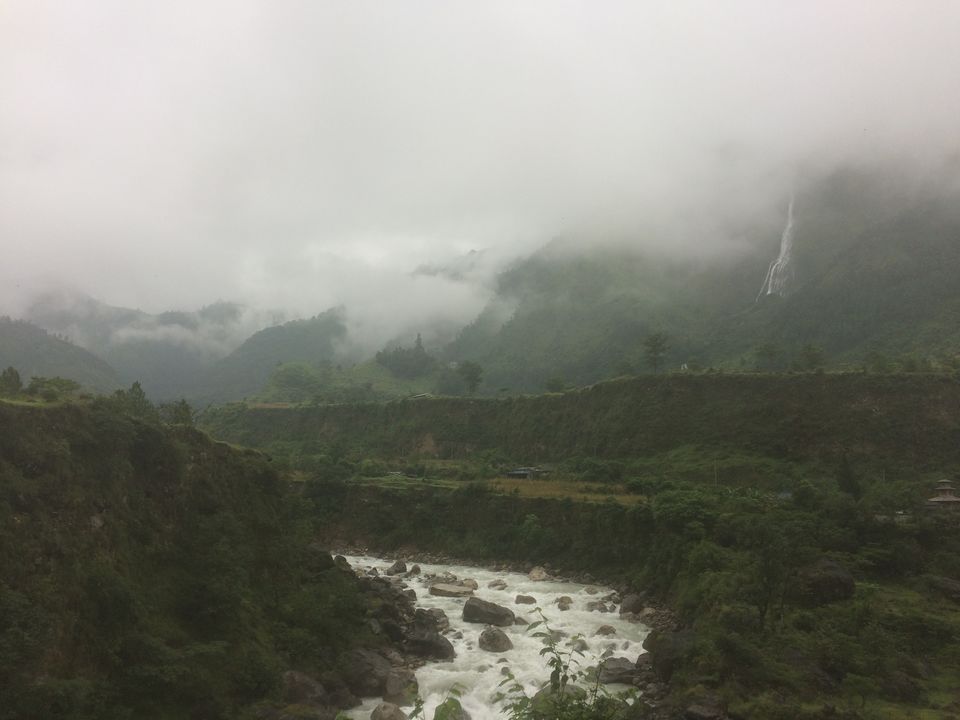 After 7 Pm we all are decided to stay in one village which is located near by Darchu Village . Local people little very good in nepal and after entering is room we all are very excited because its a wooden based room and there is no connection in terms of fan and all and finally we all are feel like .. thats actually we need here :) :) we all are so tired because of road and crossing many dangerous river . Everyone decided to take bath before dinner and you know in hills water is like anything :) After bath and dinner we all are decide to reach jomsom tomorrow at any cost and planing to starts our journey in early morning .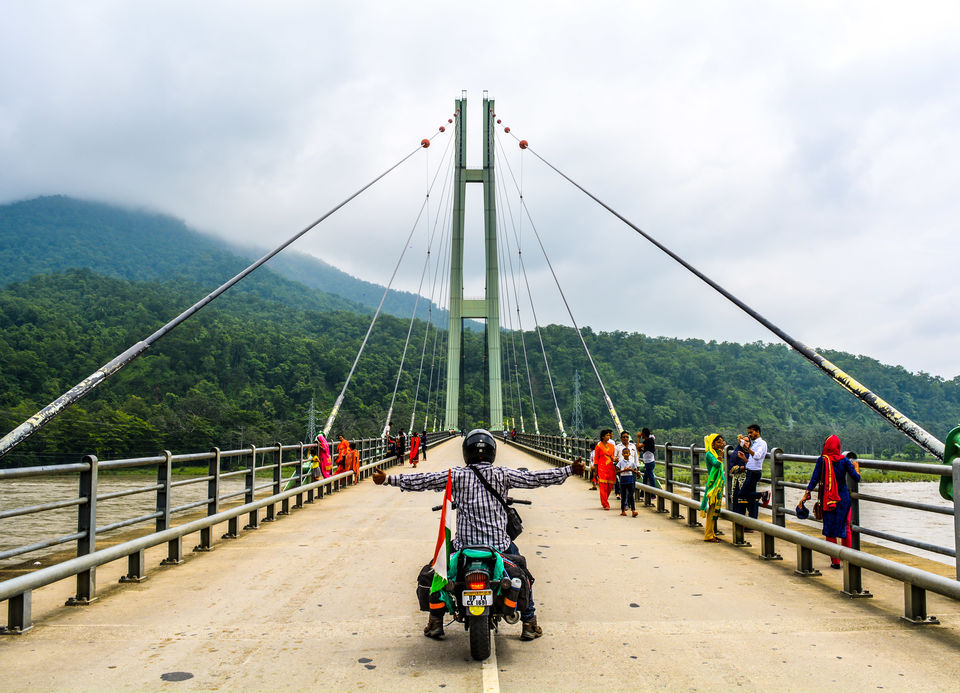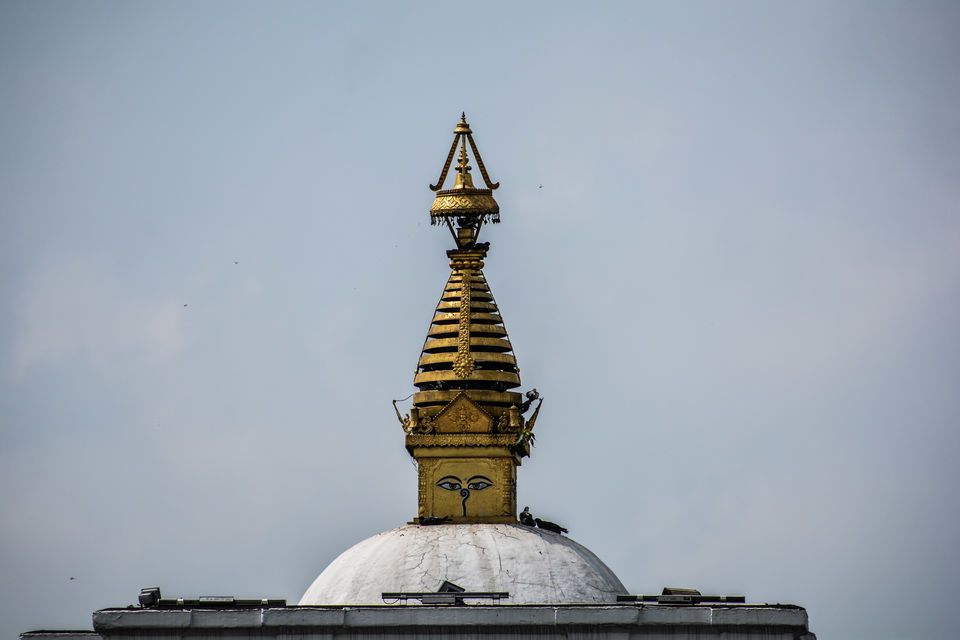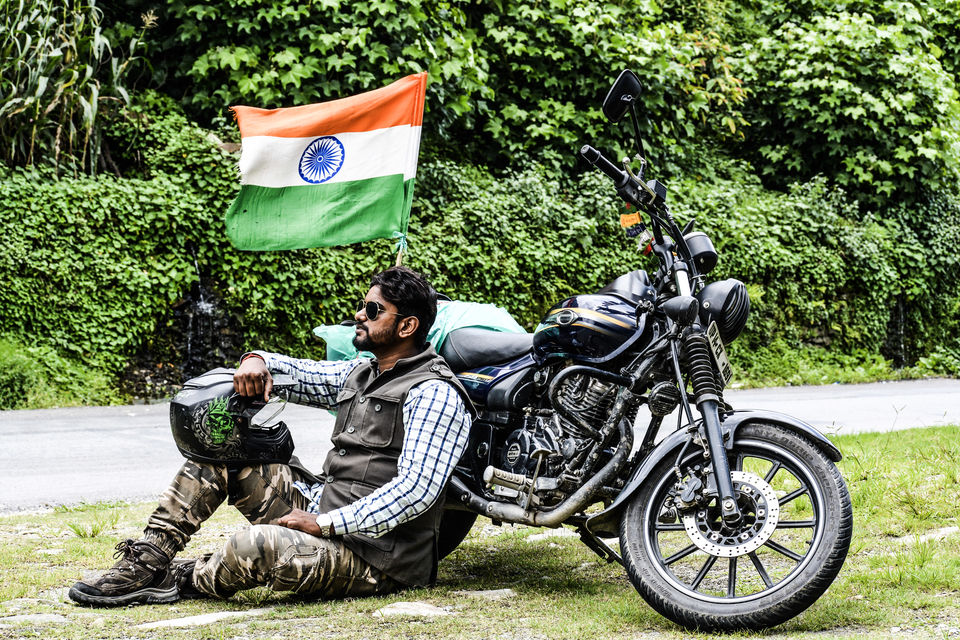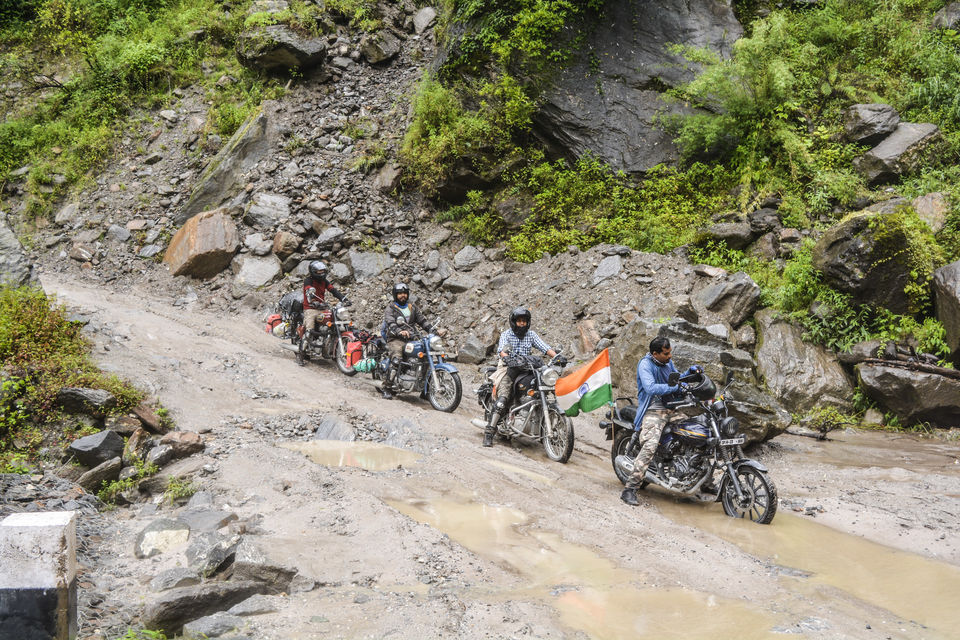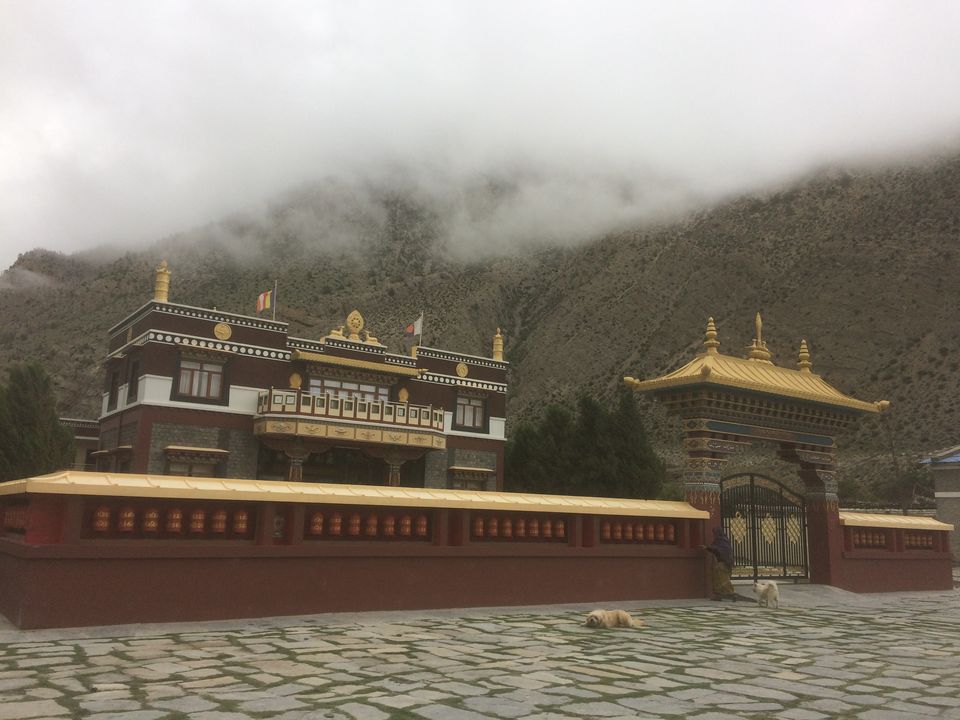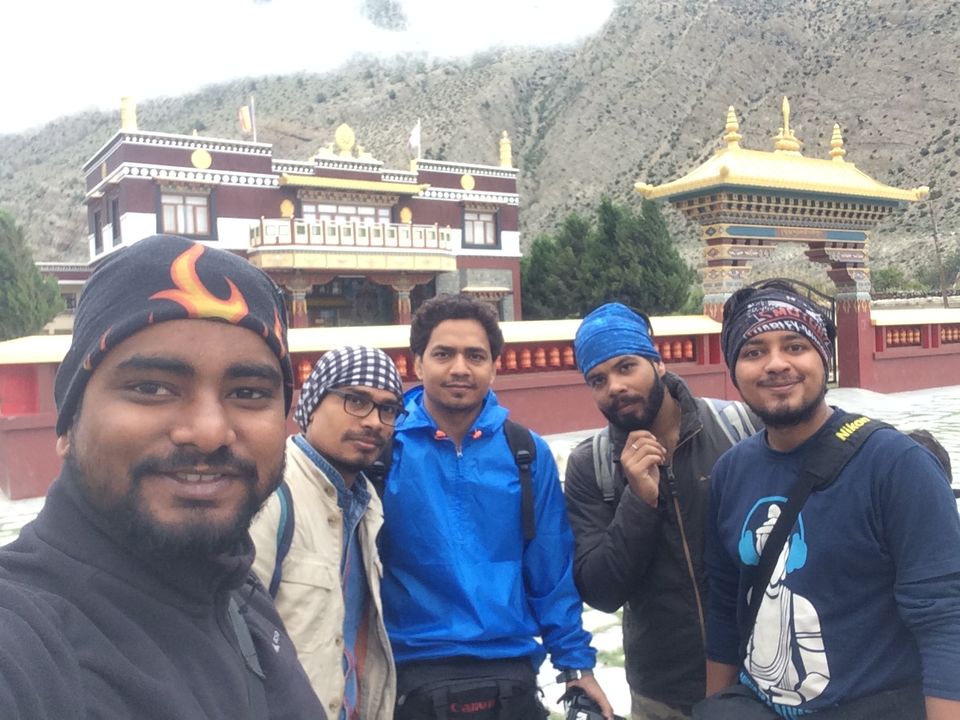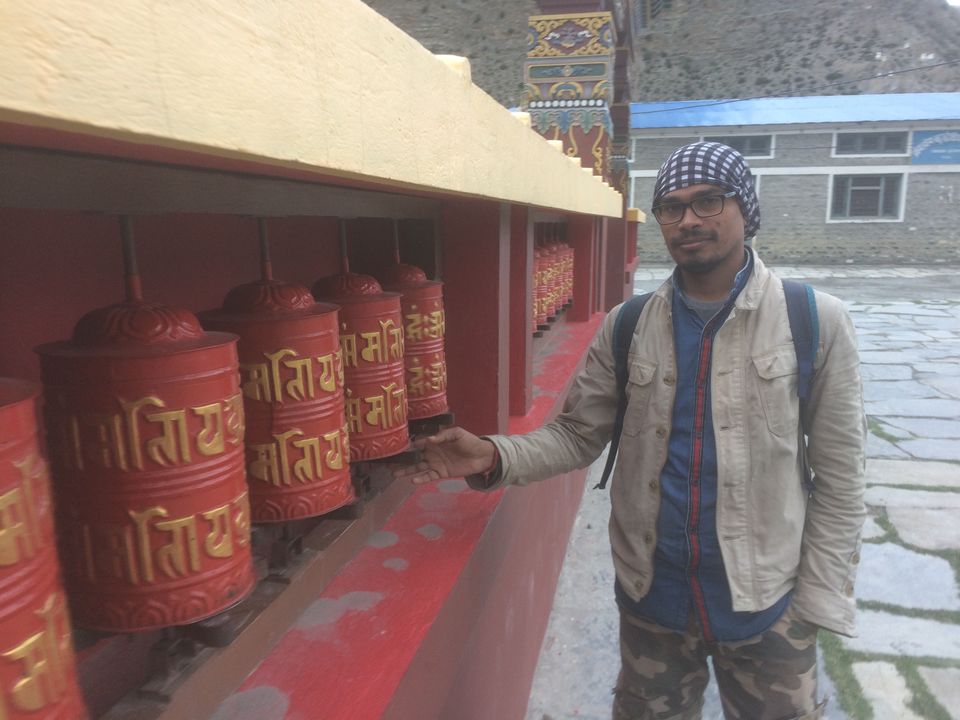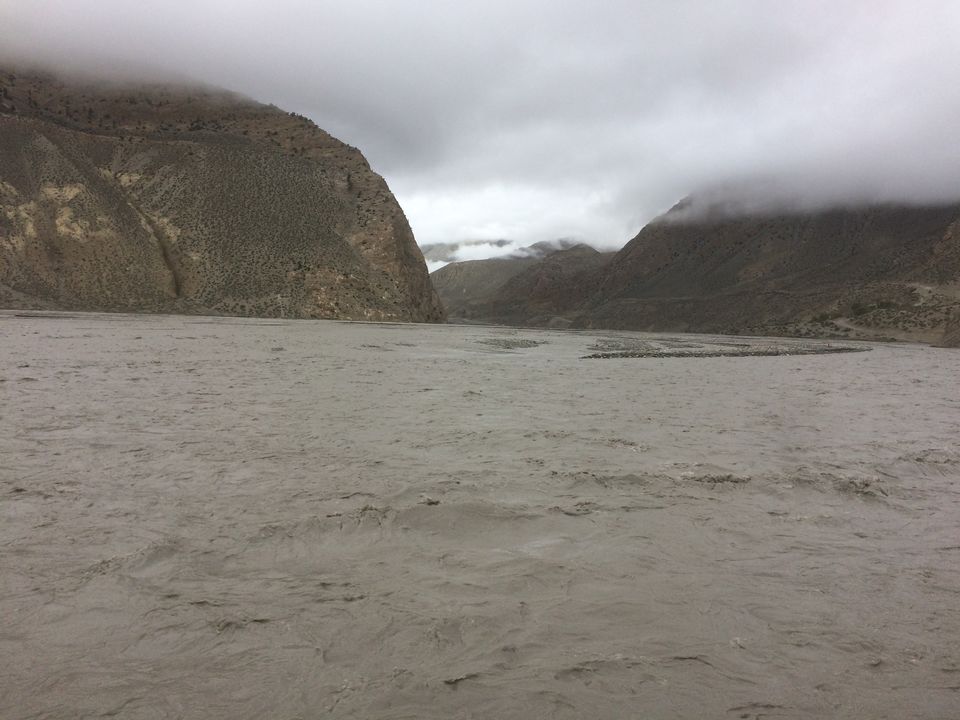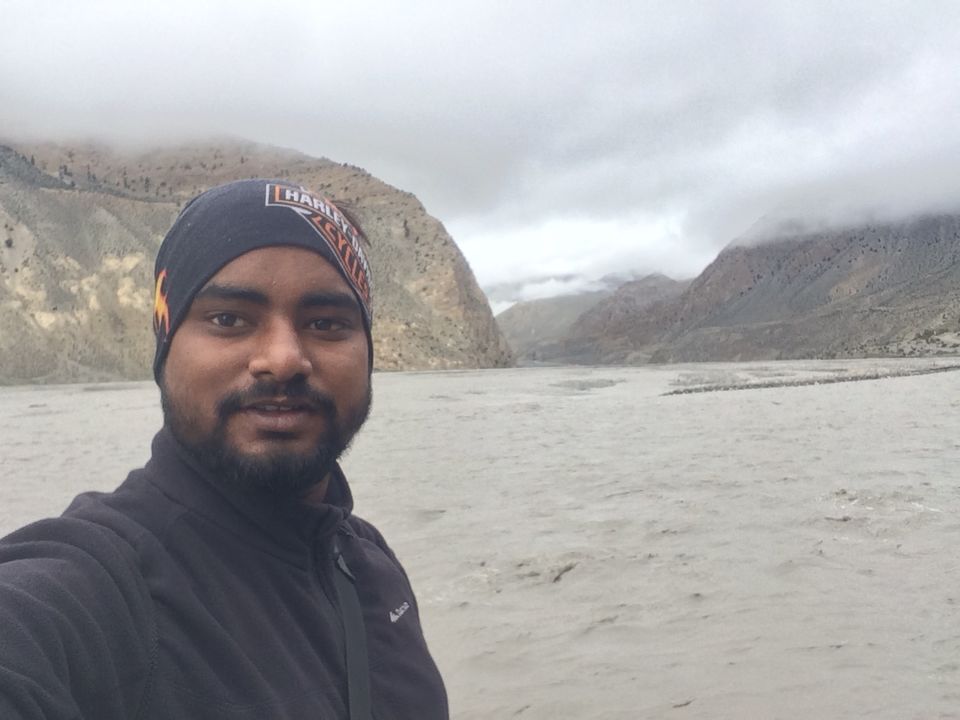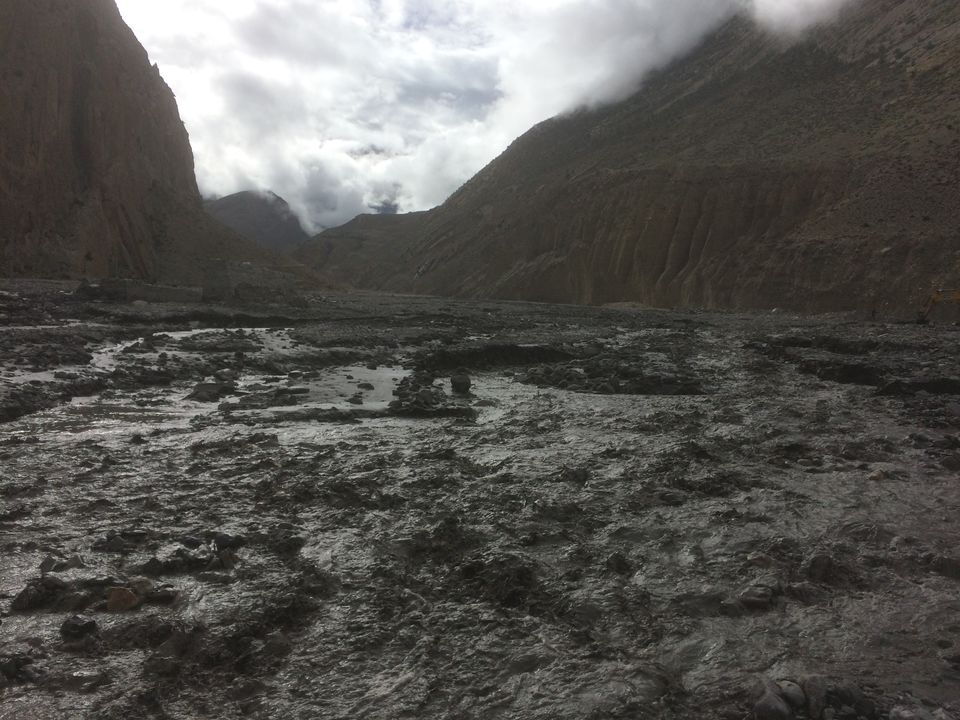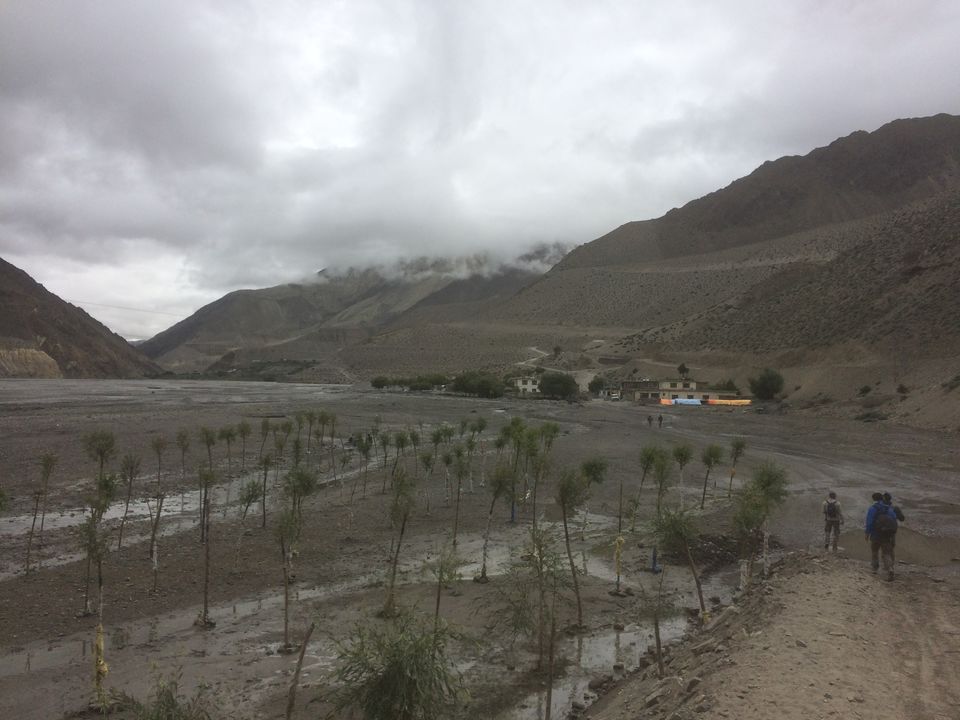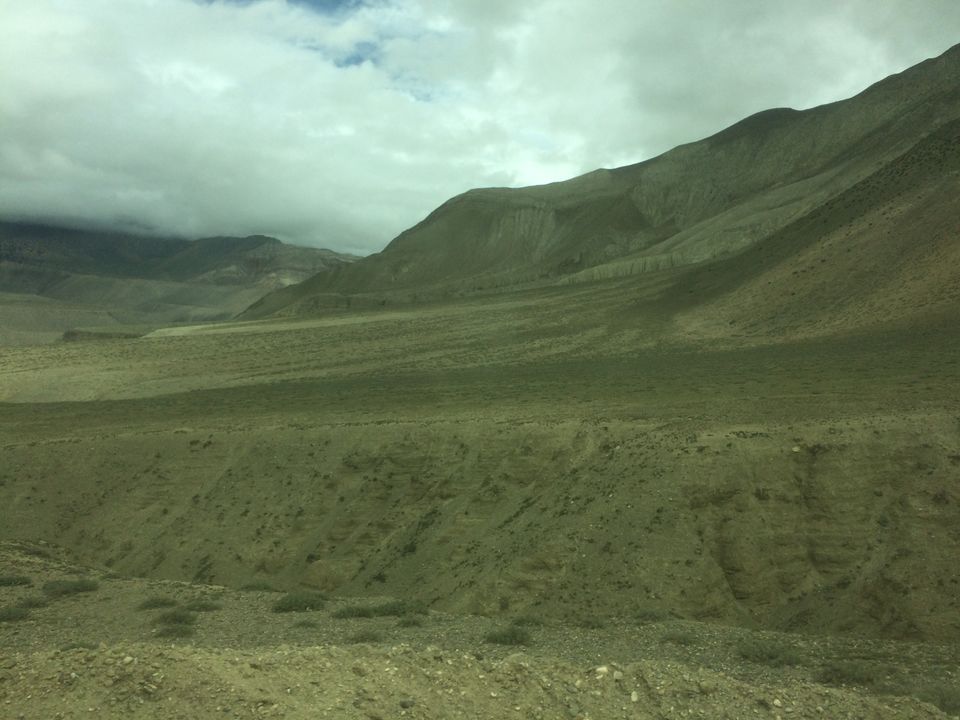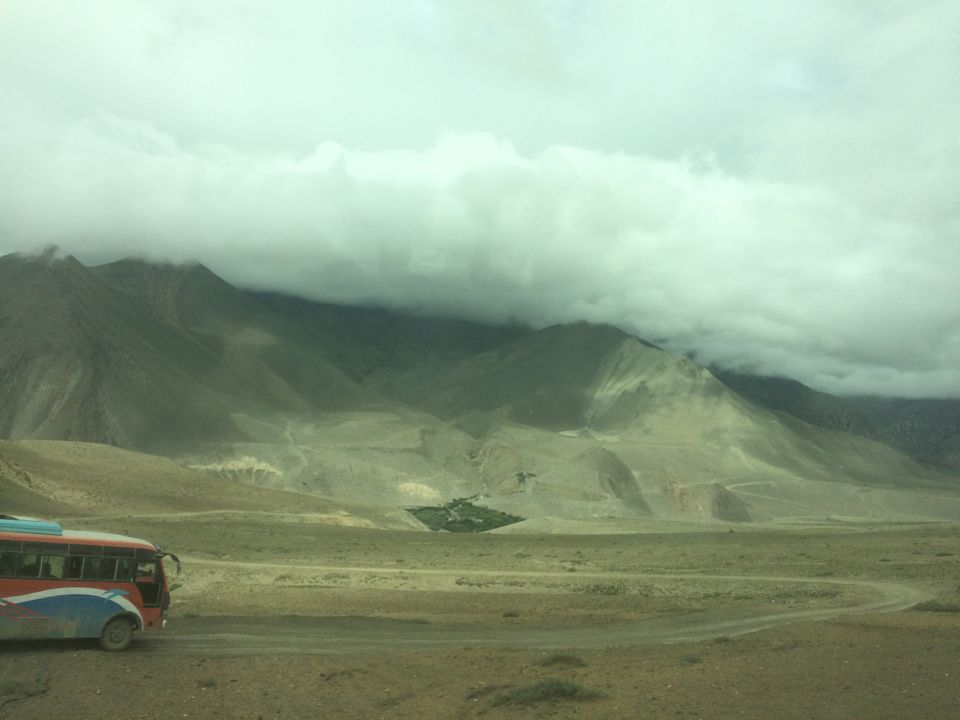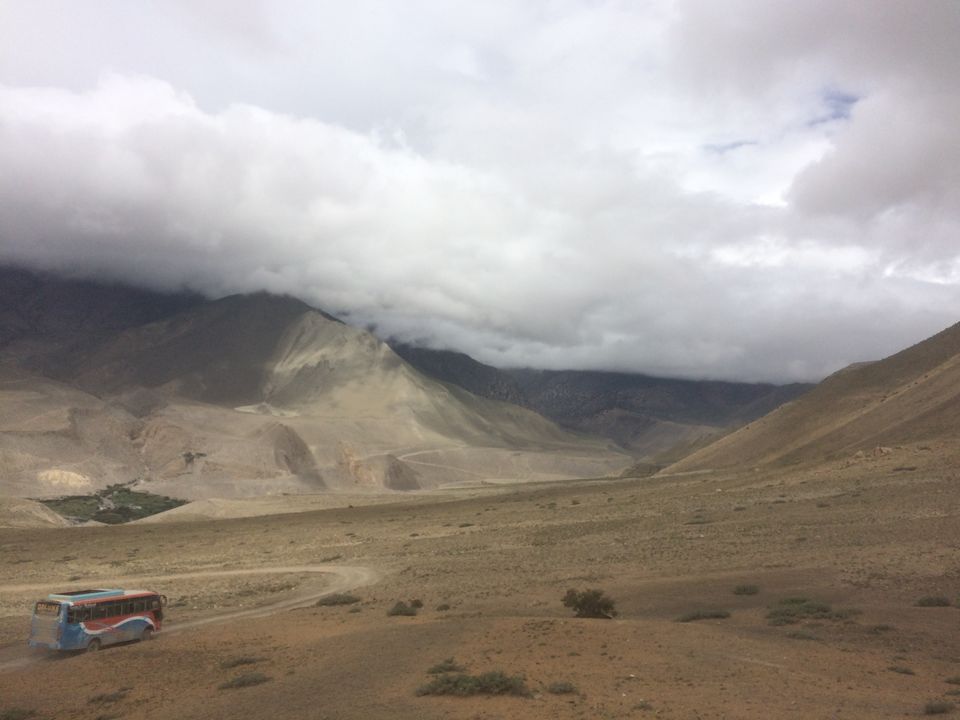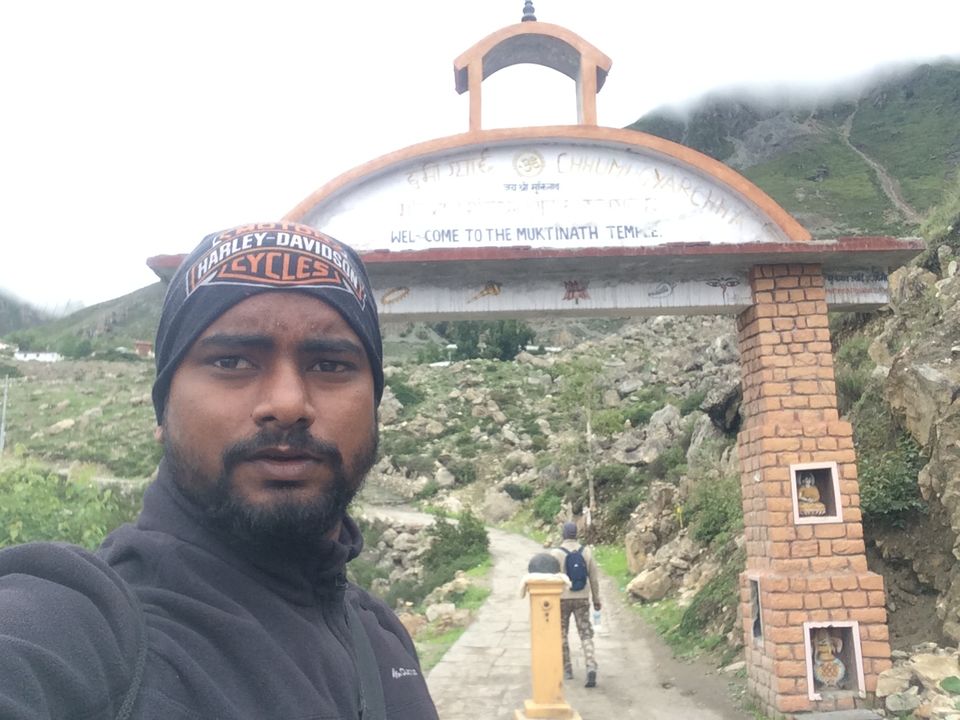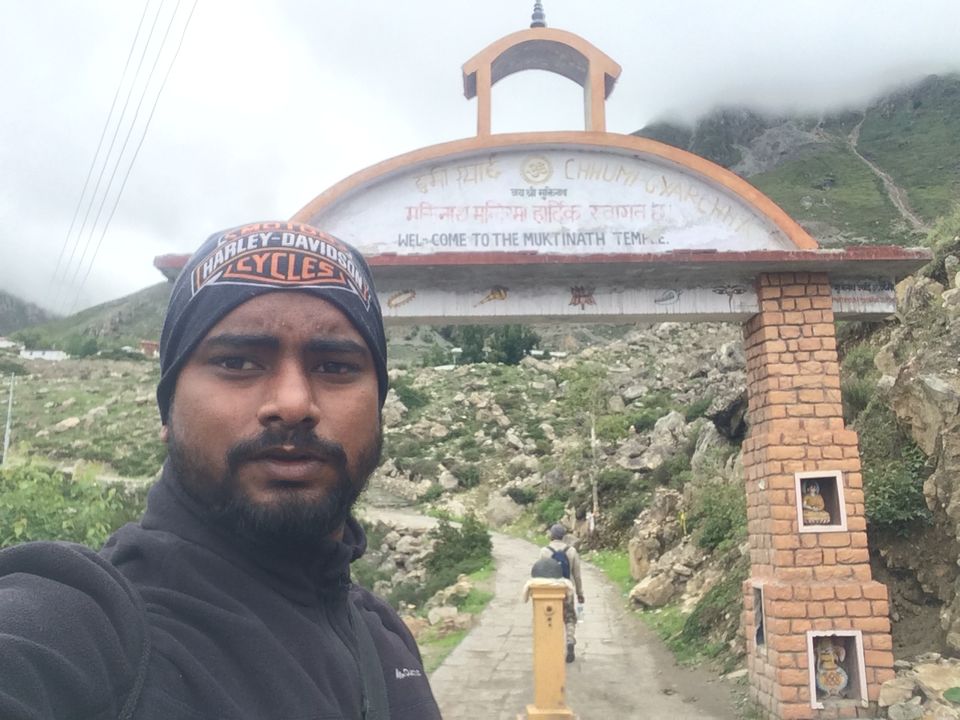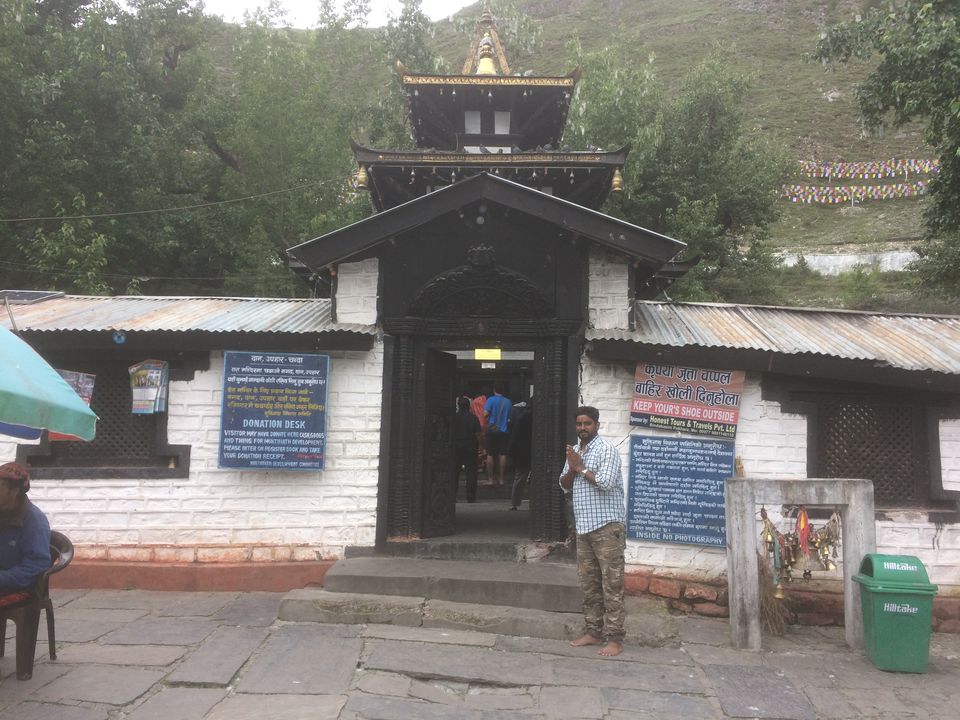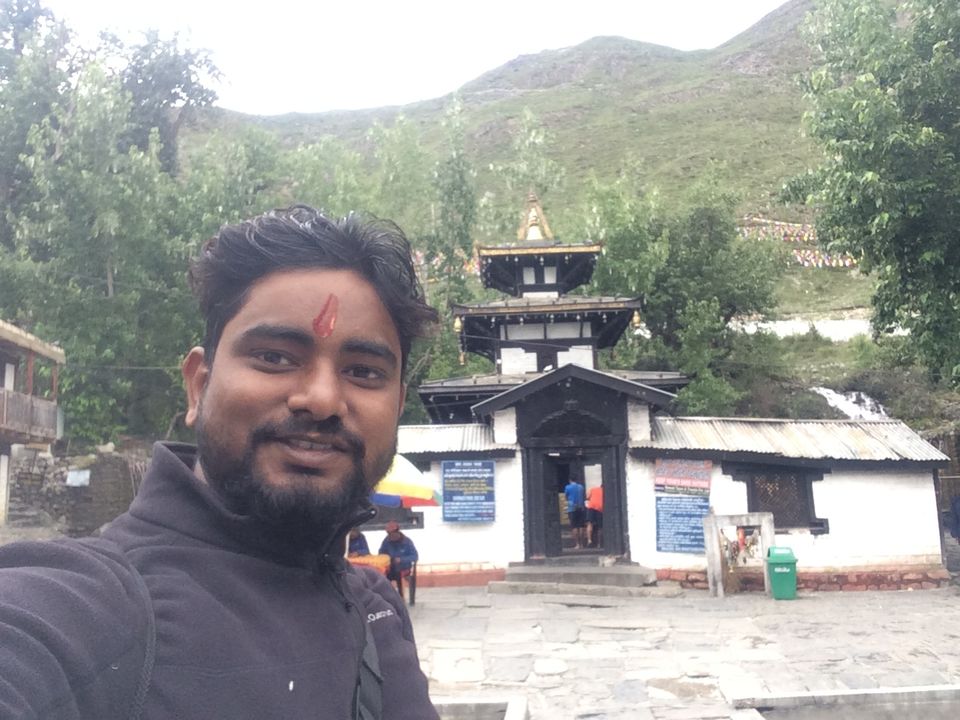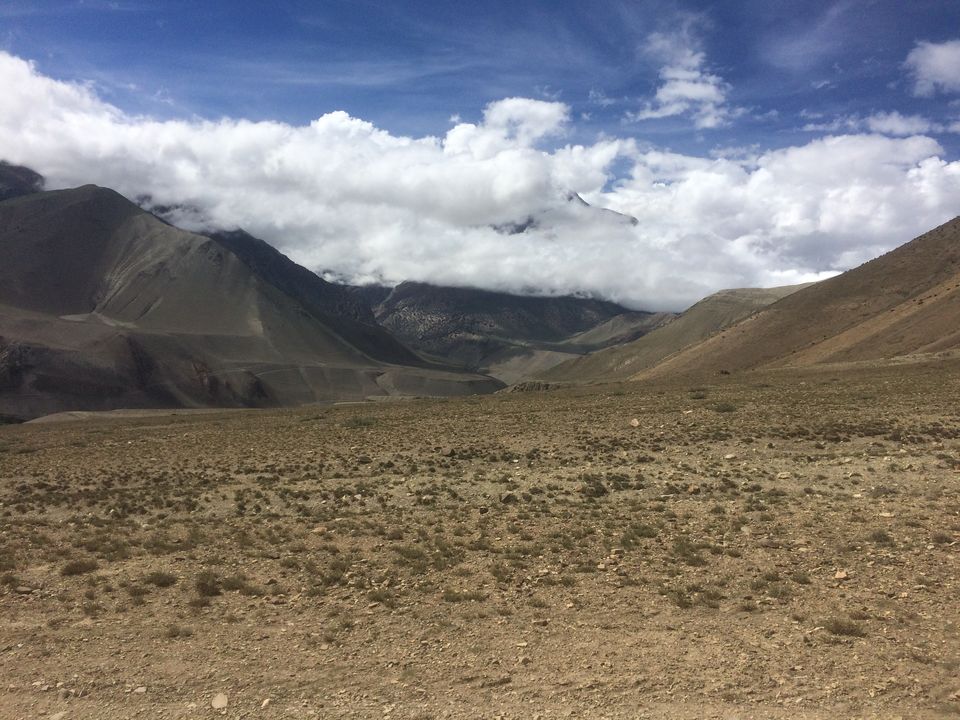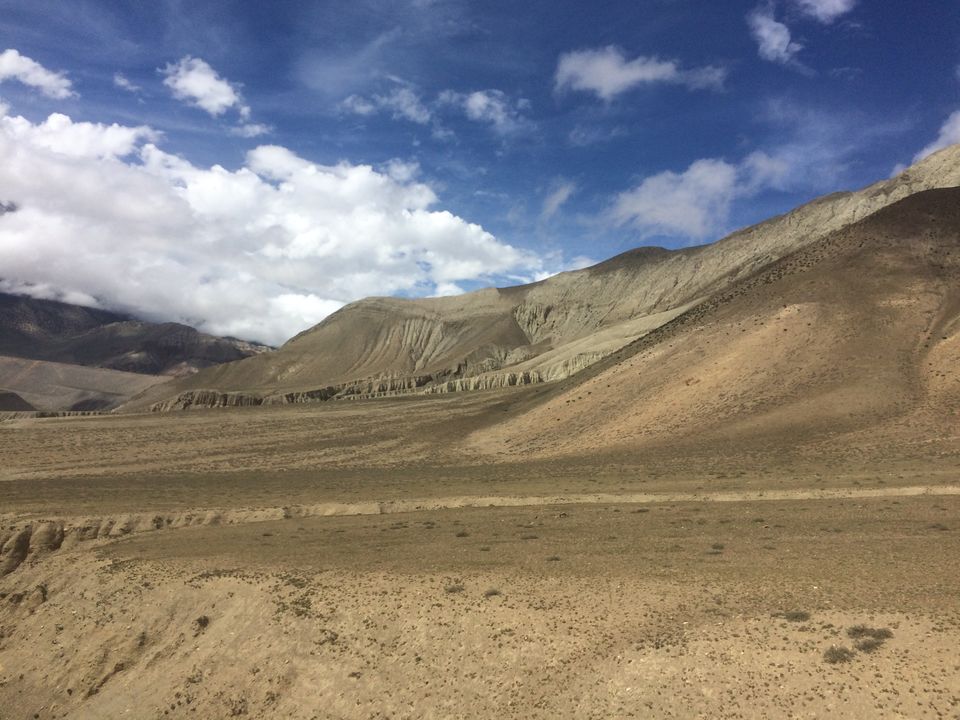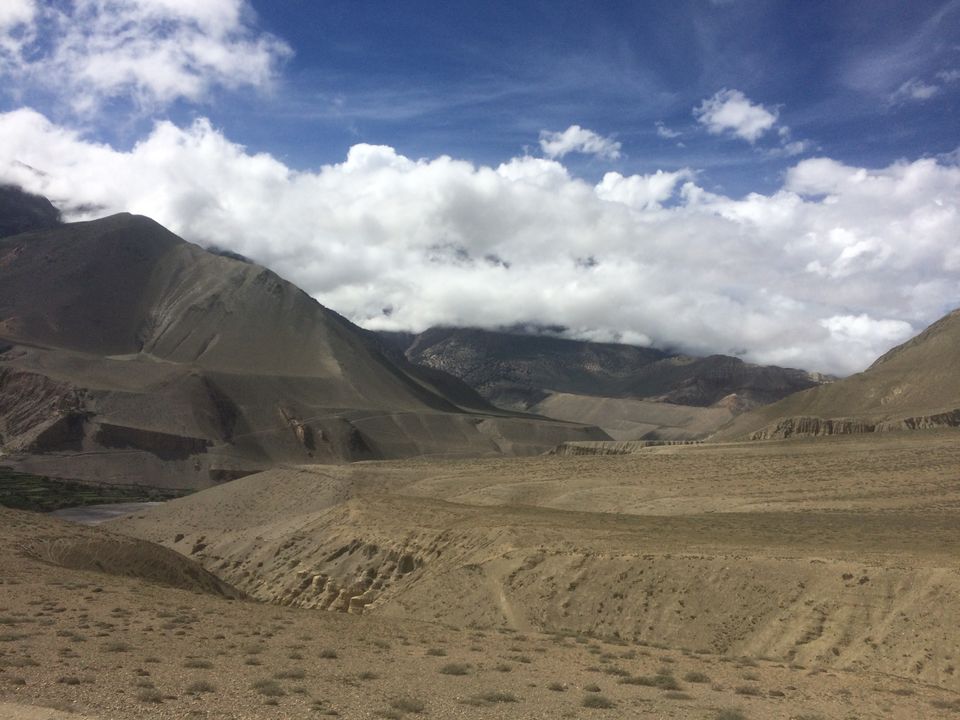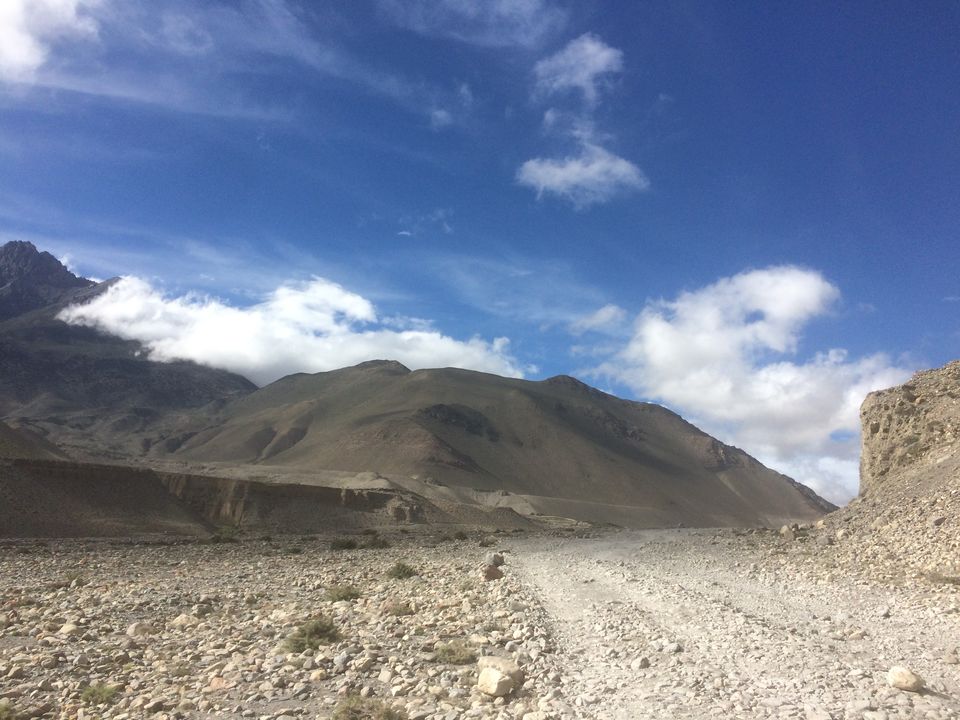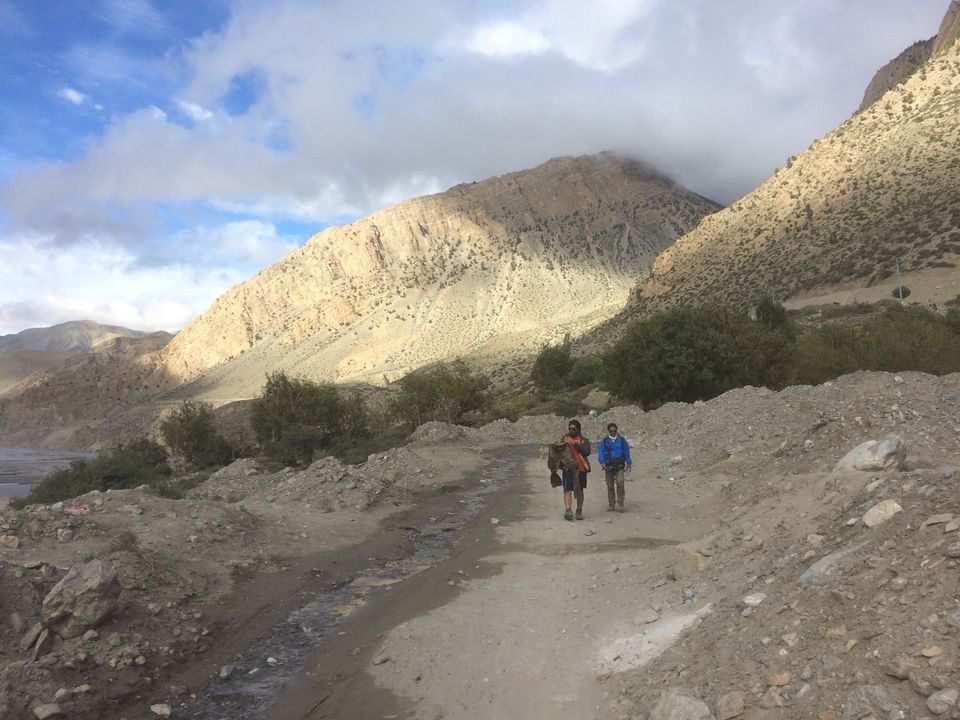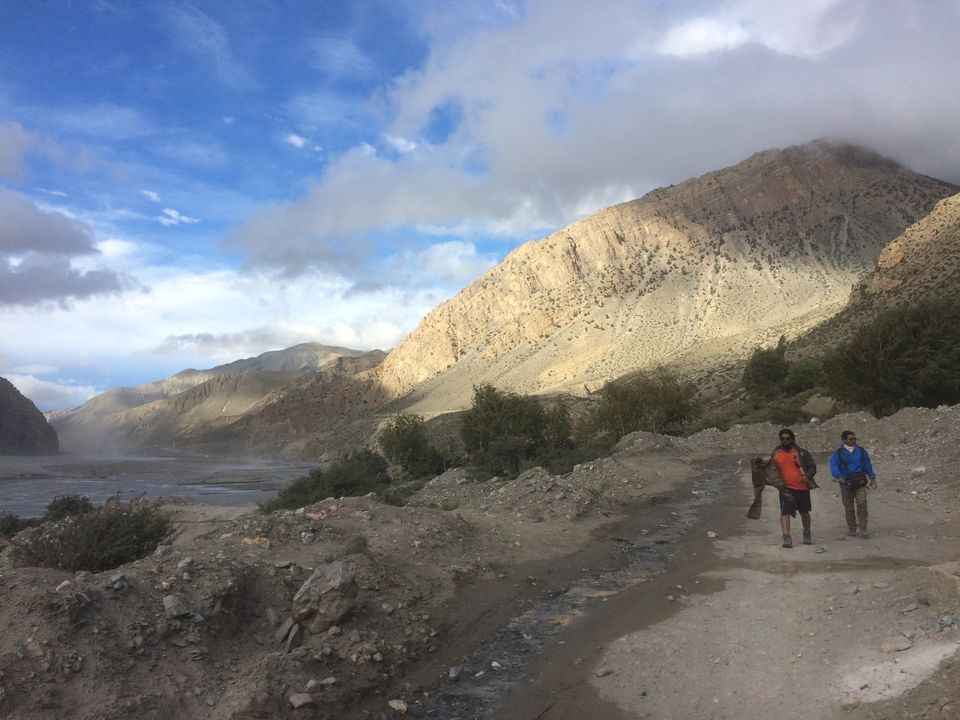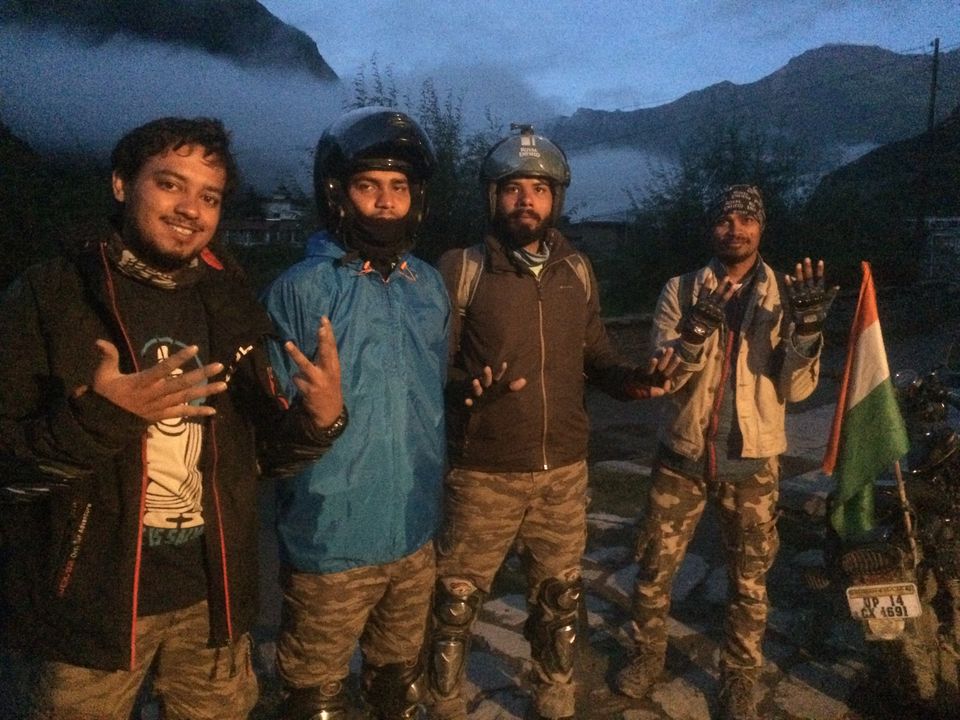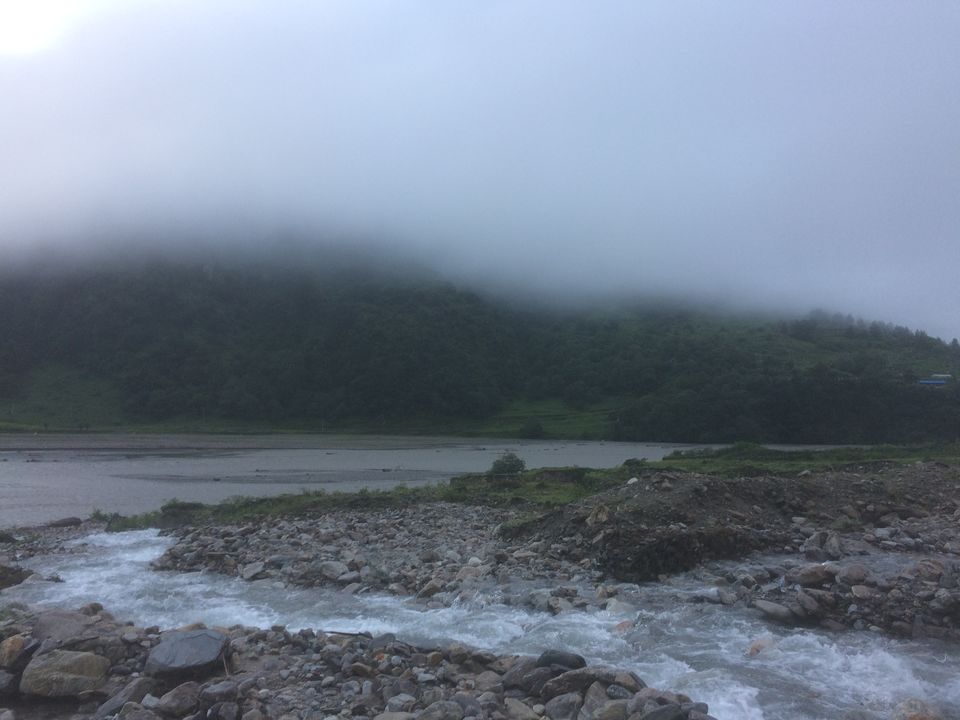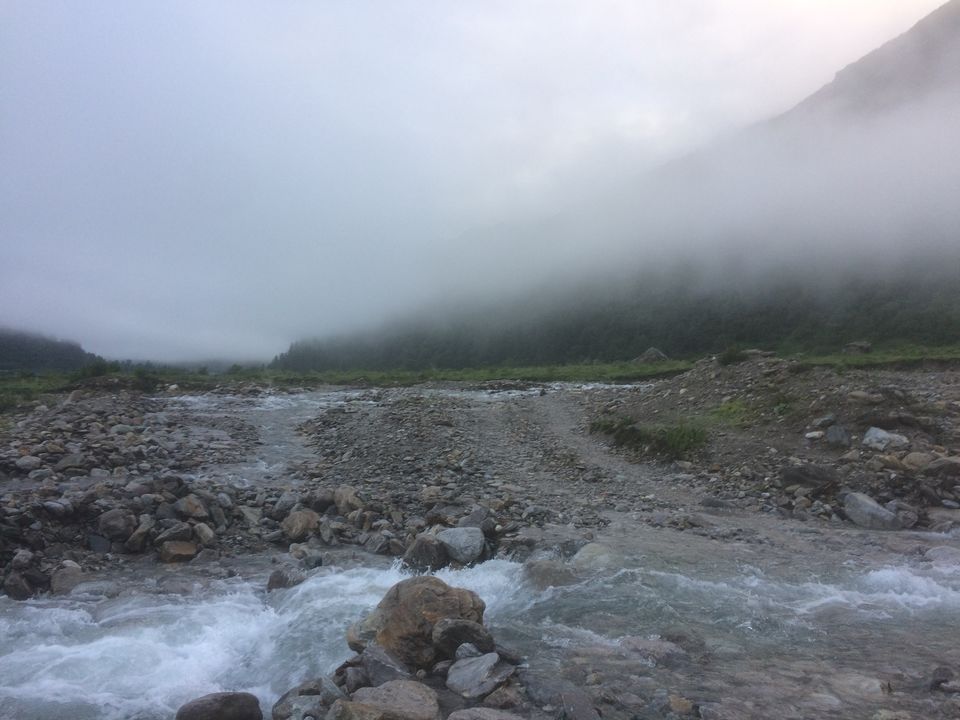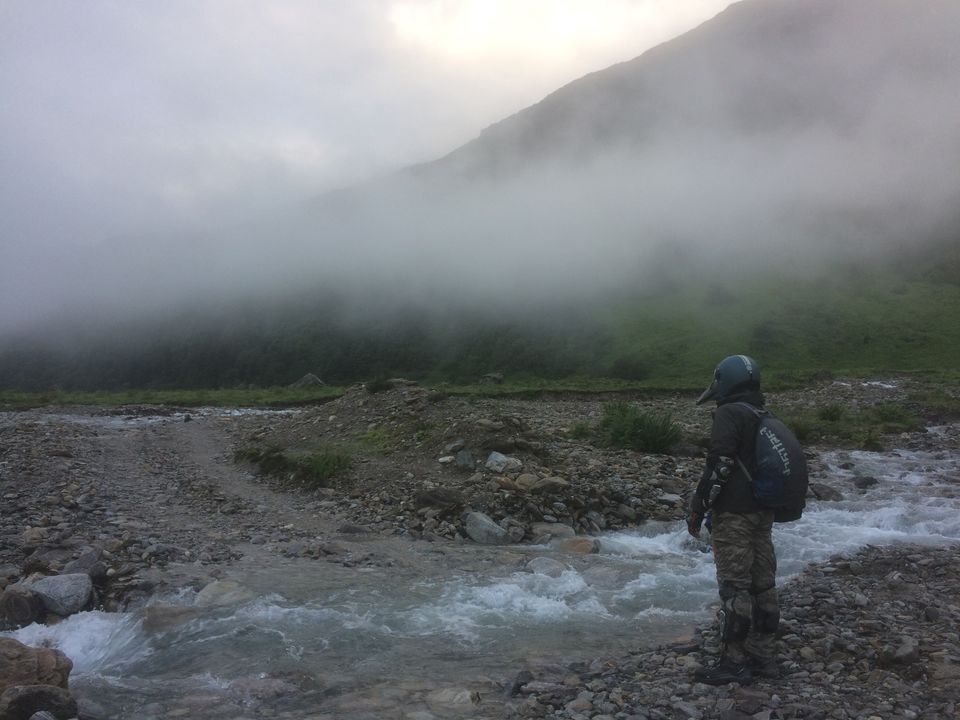 So finally early morning after tea break we all are decided to start our journey for Jomsom and the same day planing to visit Muktinath and after 5 to 6 hr journey we all are finally reach to Jomsom and enjoy the beauty of desert valley . we have spend some good time in Jomsom and planing to reach Muktinath the same day because of delay but god always decide something else for all five people .. Muktinath is something around 30 Km from Jomsom and we have to cross one Kali gandagi river to reach muktinath which is always ok in summer but we really surprise to see the river in Mansoon . we all are shocked and its really very difficult to cross this river not because of Water but there is lots of other thing are also mixed . its like cement flow in the river along with stones . we are trying to cross but its difficult to cross all the bike in such dangerous flow and every one suggest to go back because of mansoon condition are more worst in next 1 hr and finally we have spend some 2 hr in the same place and waiting for the right condition to cross but condition are the same and finally we all are decided to go back to jomsom and starts trekking from tomorrow which is 50 km something around up and down or checking the current situation tomorrow and then decided to carry bike or not because this is the first time we all are visit this place and dont know the condition what actually happend after crossing this river . might be there is some more critical situation come in picture along with no support in such remote area. Jomsom still good village city and everything is available but after crossing Jomsom we are not sure that any support is available or not . its like god itself decide everything for us and telling us to go back and try tomorrow . we dont have any option and now finally decide to block the accommodation because in Nepal after 7 pm everyting is closed and no one is available in road to provide you any support. So finally we go back to jomsom and start searching hotel for stay and enjoy the night life with cold whether. Finally we all are getting one place and stay in one room with five bed . Next day morning 6 Am we all are decide to start trek for Muktinath and after completion of 6 km again we all are stuck in the same place and this time river is again more dangerous than yesterday . Now there is no option of crossing the river for human being as well and if you cross then again there is multiple cut in the river to stop you to reach your destination And finally after so many effort finally JCB helps us to cross the river and we all are cross the river successfully . We never ever forget this Kali Gandagi River in my life and especially in Mansoon. After crossing the river again we all are starts our journey to reach Muktinath and after something again we all are getting one more river which is not big like last one but one part is sure than we will never cross bullet from this river and again we have to stuck if we all are come with bike in such area. Big than to BRO in india to develop such beautiful road to reach leh ladakh and now a days family also reach Ladakh area easily but in Nepal government is totally avoid the Upper mustang valley along with Jomsom after getting lots of money from Permit itself and trekking but there is no development . however 2 Pm something around we all are reach to Muktinath temple and enjoy the upper beauty of this temple . After completion of Muktinath darshan we all are decided to reach jomsom same day to start our journey to cross atleast 30 to 40 Km. After so many effort finally 6 PM onward we reached jomsom and starts our journey for Pokhara again and target to close atleast 30 Km journey and stay in some village so that it will be a add on for us and after 1.30 hr journey we reached Darche which is really very beautiful places and stay in one room and again five bed with superb dinner .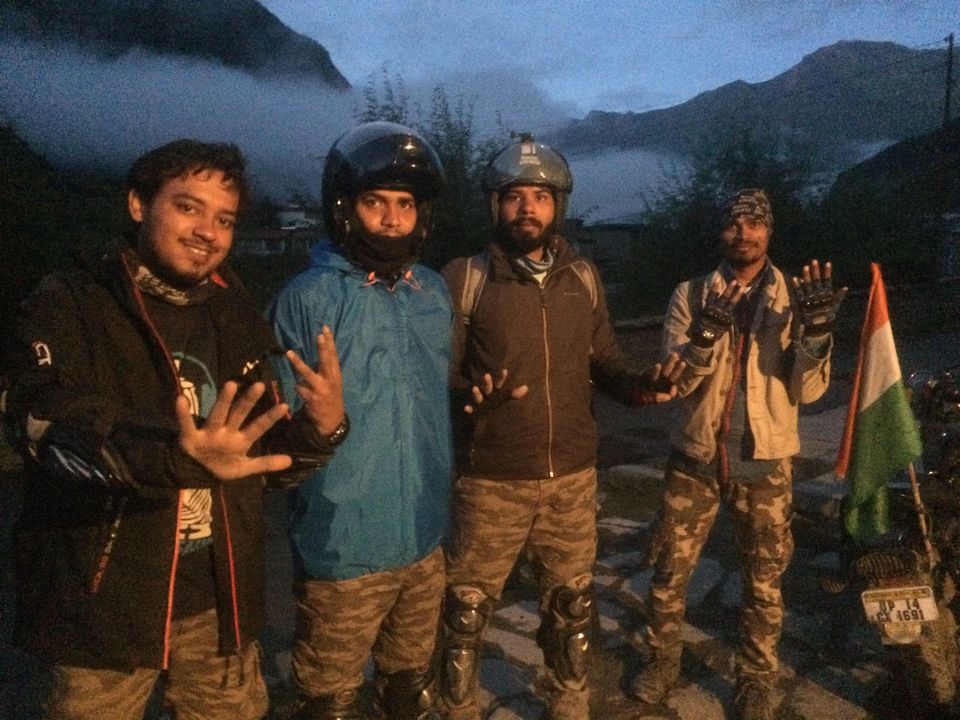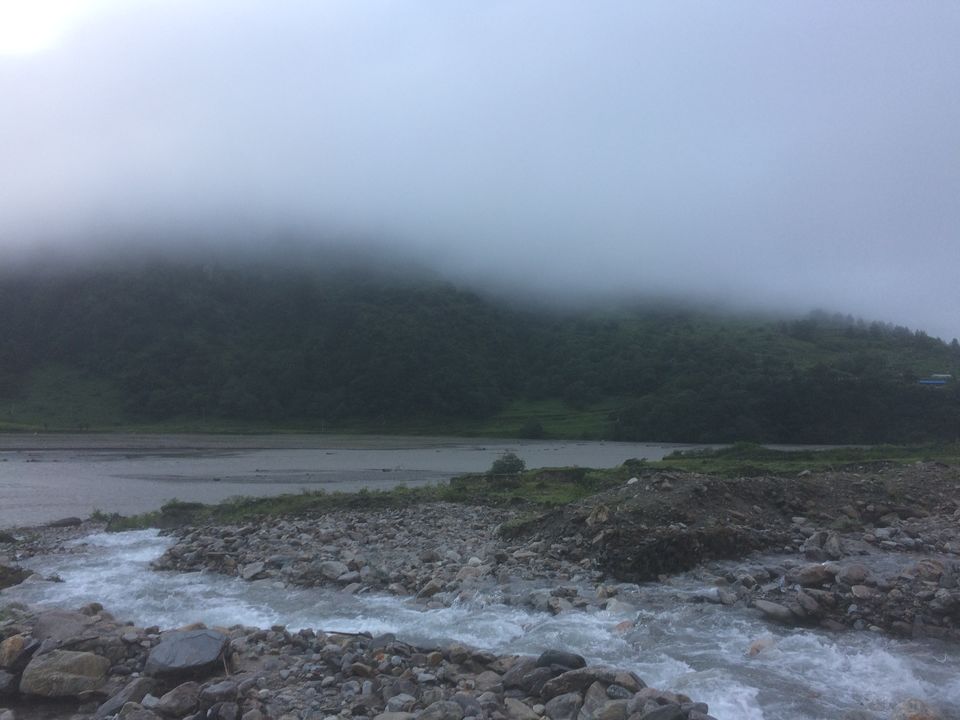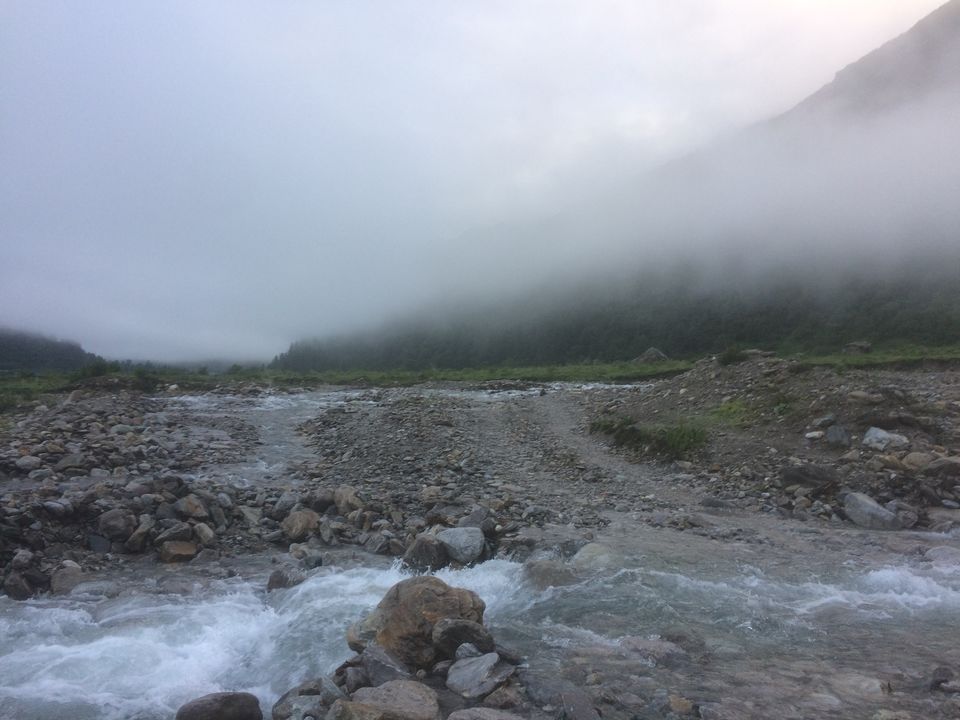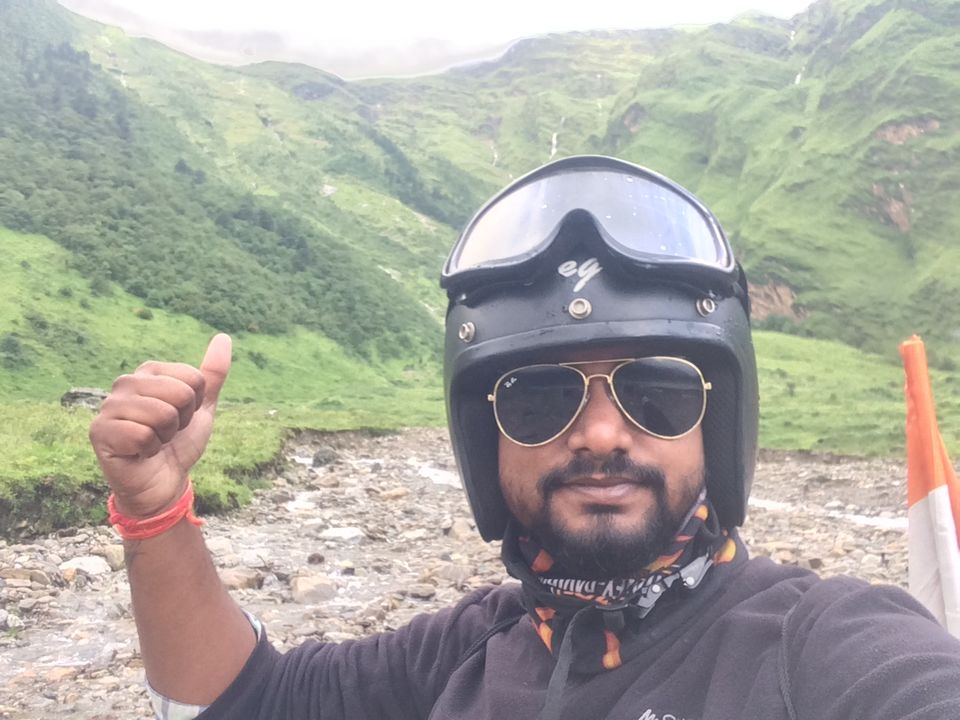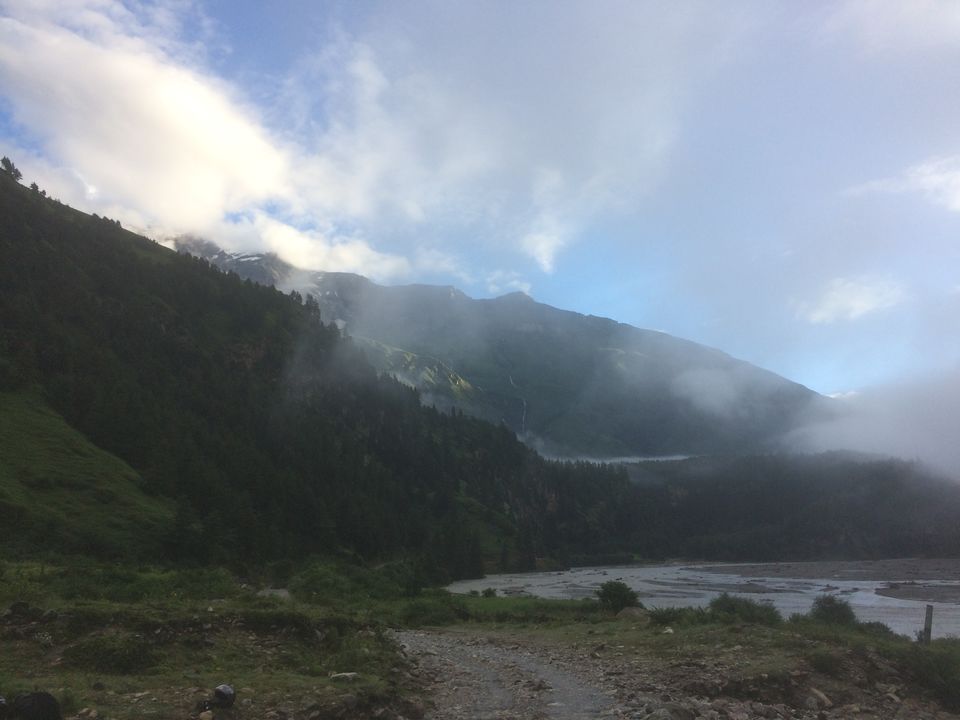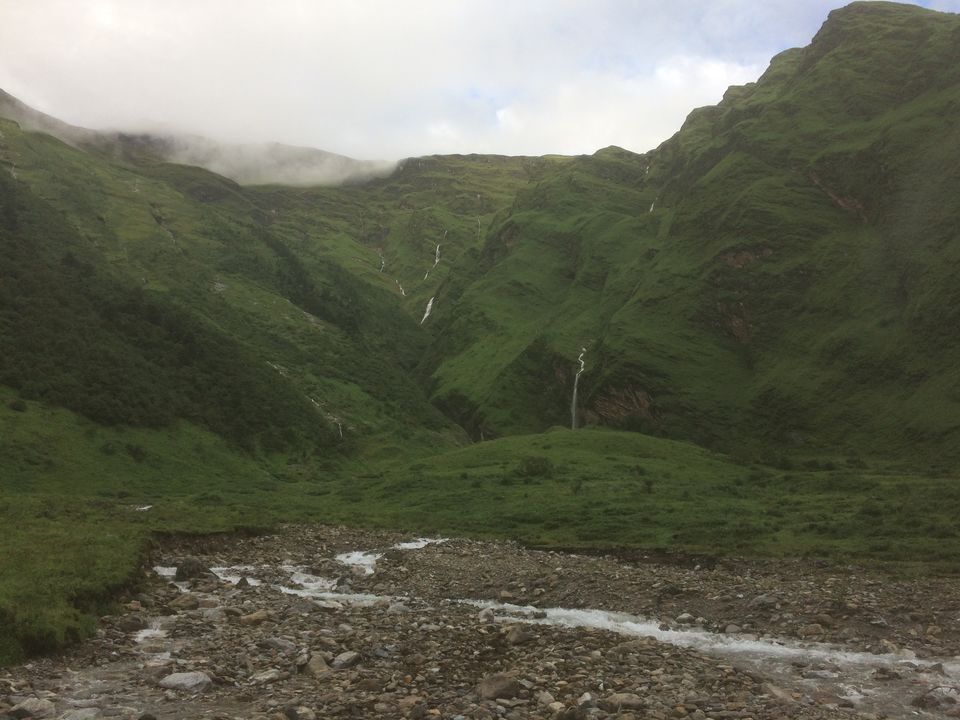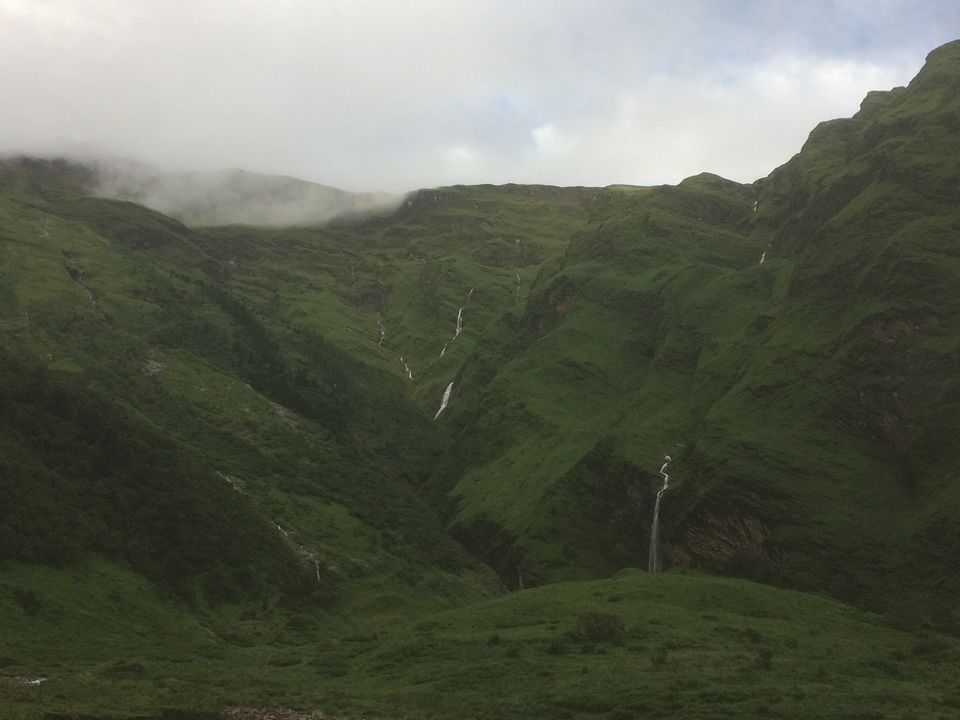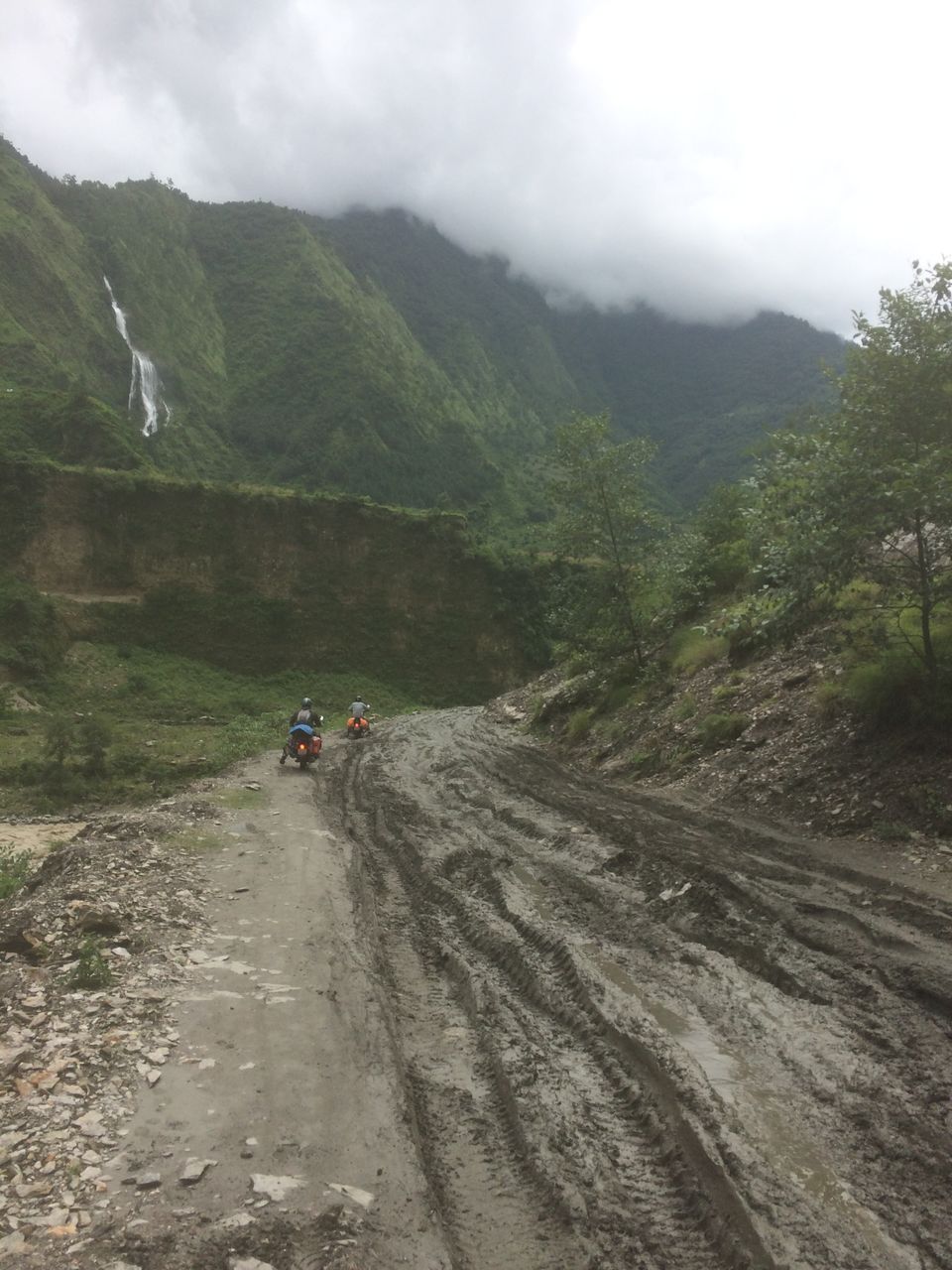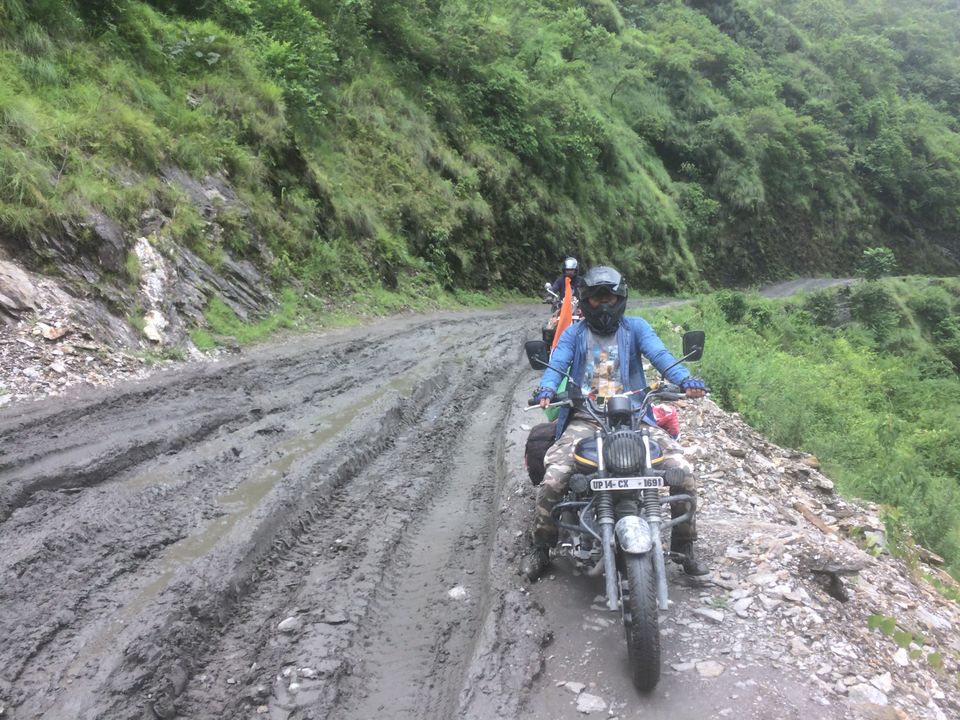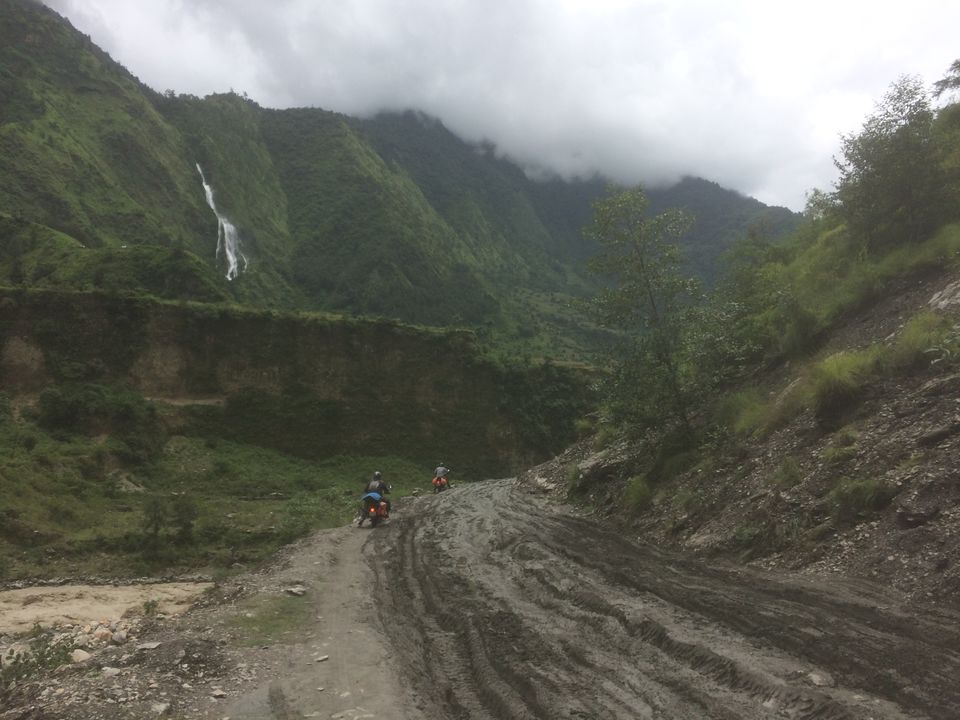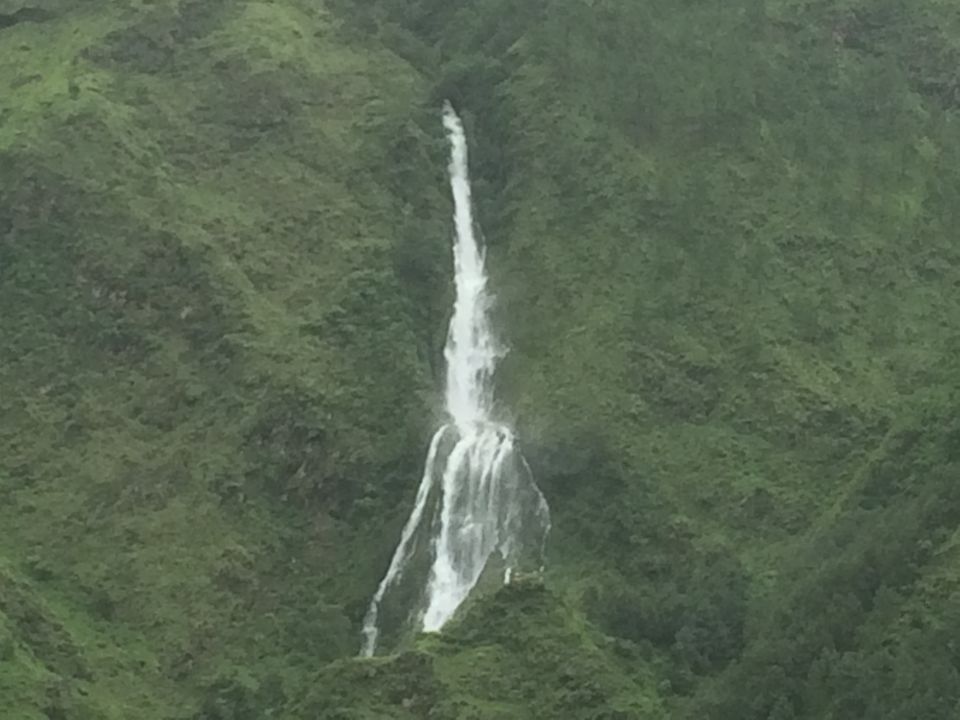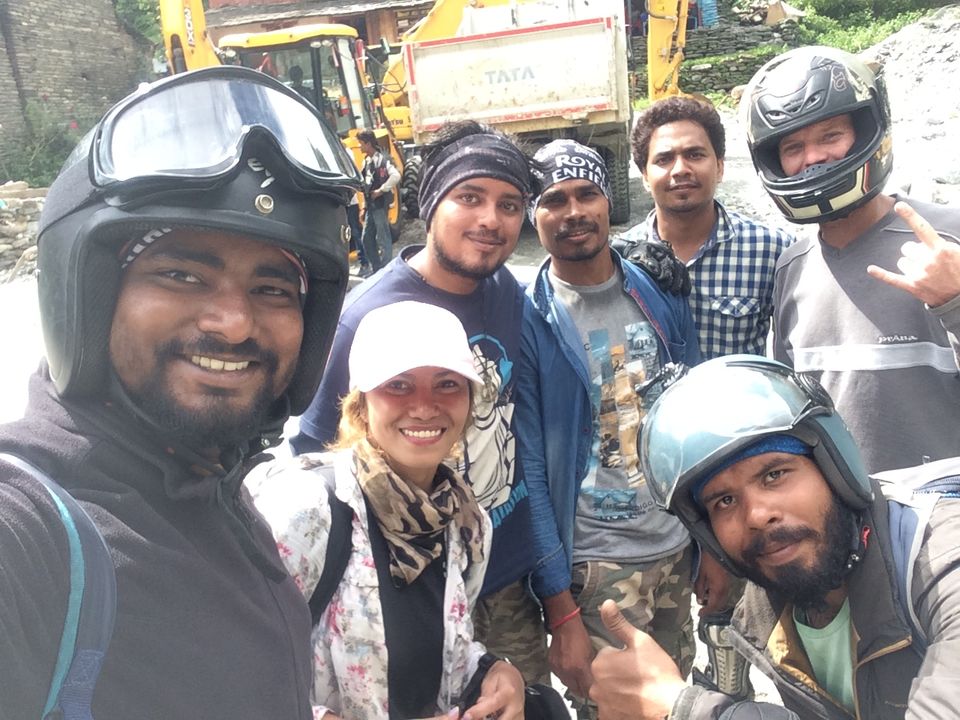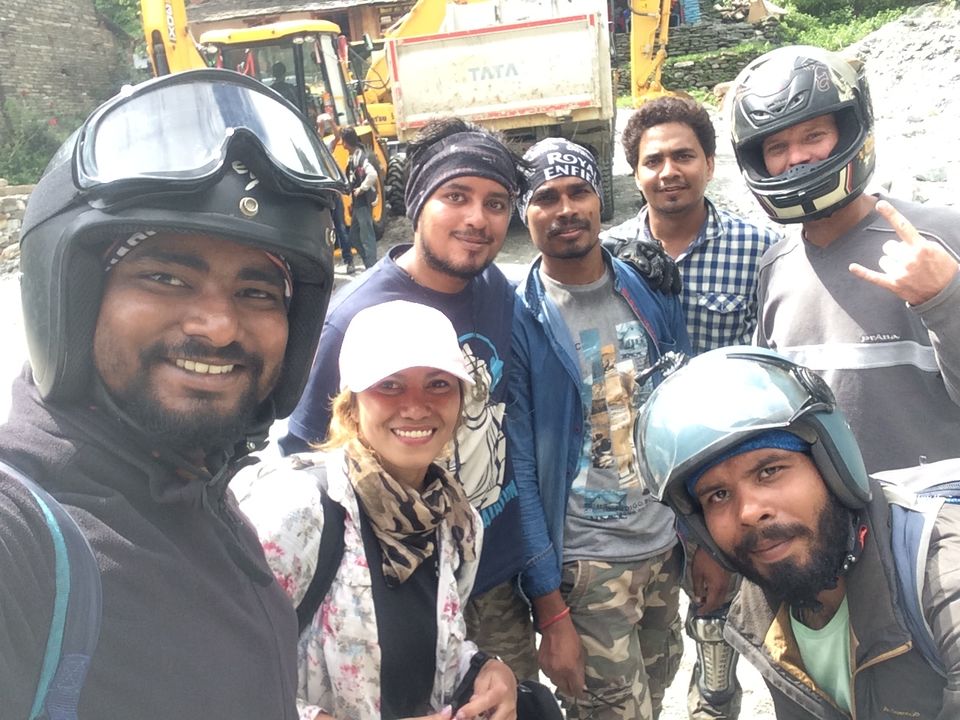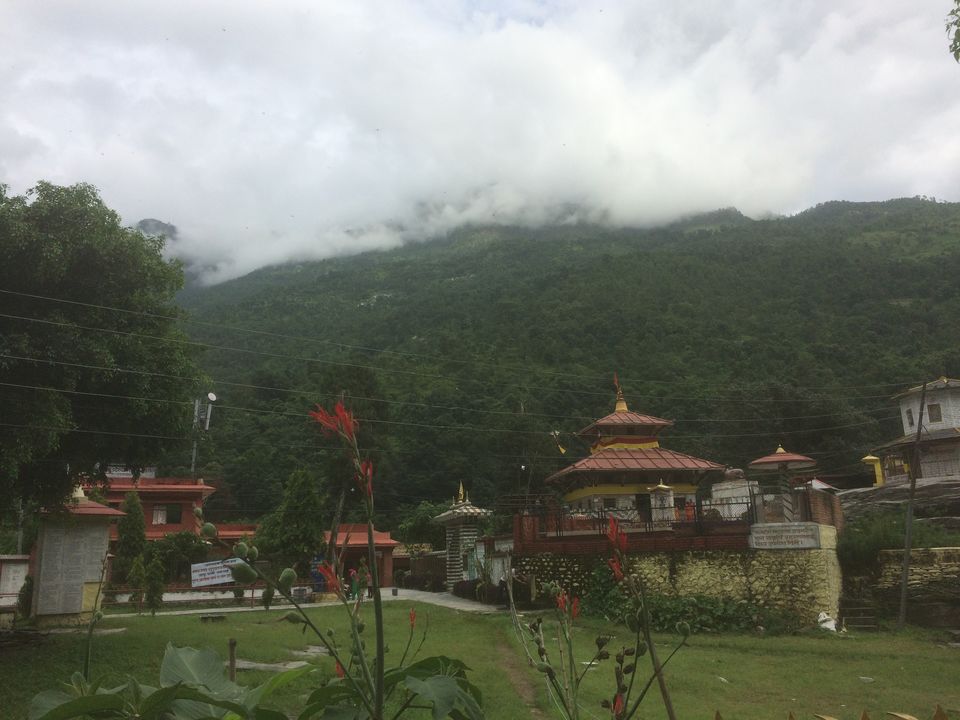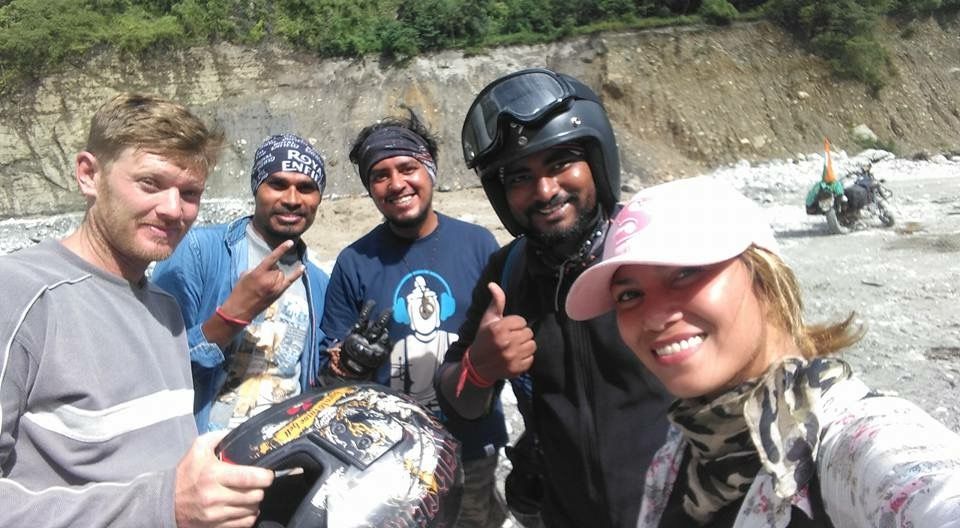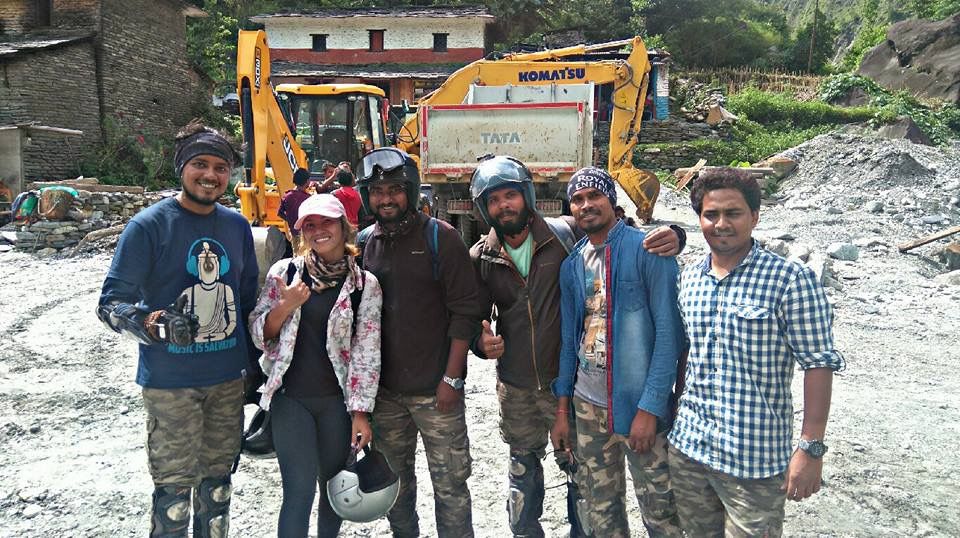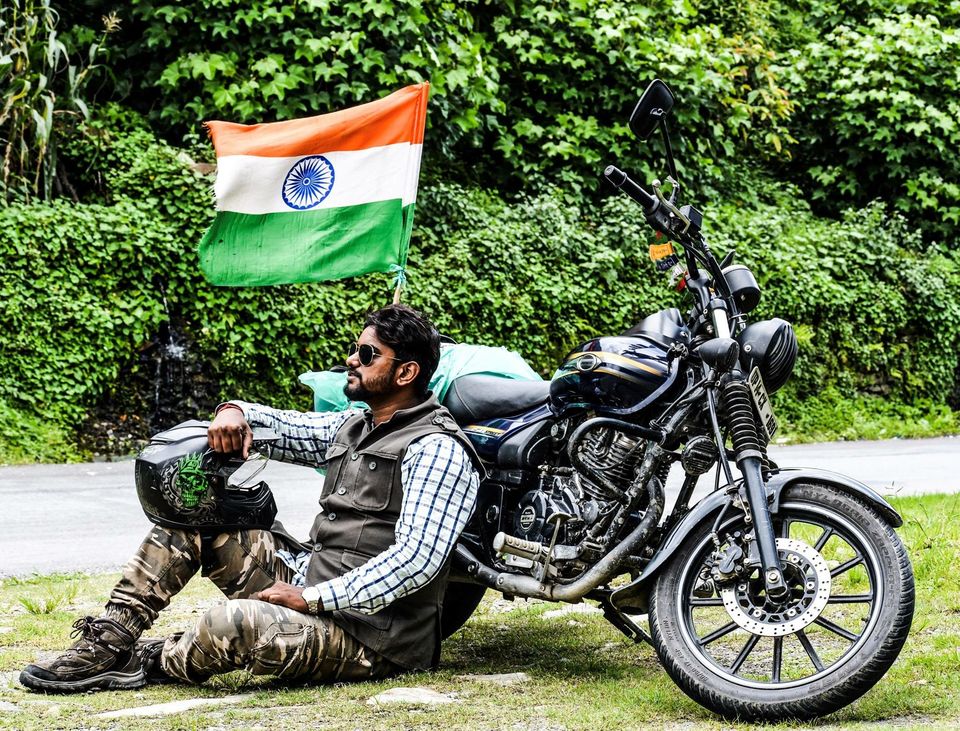 So Next day early morning sharp 4.30 Am we all are starts bikes and decided to reach pokhara today itself at any cost with fresh energy along with good by to jomsom valley as well. After 2.30 Hr journey again one of the best beautiful place and river comes again and it will take 30 min to cross this river and after crossing this river my shoes again stuck with lots of water which is now very common and we all are avoid to check the same . it like leave it because its a very common thing now after 9 days journey . now after crossing the river one problem faced which is more critical for everyone . In Ghaasa some landslide happened and one trekker no more alive and one trekker is hospitalized and now Government very strict with rule and policy and they stop all the tourist till the time landslide not stop or JCB clean the road .. we all are started our journey 4.30 Am so that reached on time and again one more problem stopped us with more delay to reach pokhara . Anyhow we all are decide to enjoy the local village and had a breakfast and after 3 to 4 hr wait finally roads are open which is one sided to cross the traffic . after 15 to 20 min Army and Police team opened the road for everyone and finally again after 4 hr we all are started journey again and reach one of the dangerous place and this place already stucked us for 2 hr in past as well but we all are crossed the same but this time river change the flow and route as well which is more adventurer . And their is no option to cross this road .. Along with us their is many people available to watch the mansoon effect and the same place we meet with Rhaya and Daug and discuss with them as well how to cross the river . They both are also come from different country to visit Nepal and Mustang valley . And after so many discussion we all are finally decide to connect with JCB team for toy the bike and cross the same from one point to another point and give him 1600 Rs Nepali .And after crossing river we reached to Galeshwar Mahadev temple and finally after long journey we all are reached to Pokhara at 9.00 Pm and stay in hotel after dinner which is also never forget moment of my life .. What is Chicken :) :) i hope you understand the way i am writing here.
So Next day we all are planing to reach the final destination and its Kathmandu because of pashupati nath temple only otherwise most of the people interested for directly go to saunuali border and enter in india. however finally we all are decide to visit Kathmandu which is 210 km from Pokhara and because of roads is good so it will not take more than 5 to 6 hr . however same day one problem we all are faced and its a petrol issue and all the petrol pump are close and we dont have suffcient petrol to reach kathmandu . However somebody told to cross pokhara and then petrol is available and finally after crossing 54 Km we all are getting a petrol pump and full all the tank so that easily reached to kathmandu . After 30 min journey heavy rain ready to welcome us and it continue till readh kathmandu and i am telling you this is like most beautiful and hell as well because we know next day after this rain we all are facing lots of problem in terms of landslides and the same thing happend as well next day after pashupati nath we all are decide to reach saunauli border and enter in india but again after crossing Mankamana police stopped all the car and bike because of landslide and heavy rain and Jam is somthing around 20 KM. however we all are finally decide to visit pokhara and from pokhara way butwal we will cross saunauli border and finally again this is the third time visit pokhara and reach 10 PM and stay in hotel just of formality to start our journey in early morning in 14th August to reach india in 15th August and we all are decided to close this 800 Km journey till home in one day with any long break and end of moment we all are reach to india at 1 PM and cross Basti /Lucknow/Sitapur in night and early morning crossed shahjahapur / Rampur/Sewapur /Garhmukteswar/Hapur and finally reach home on 15th August .
This journey giving us a lots of experience and challenging atmosphere along with happiest moment of my life with my friend i would personally suggest to you all if you visit Nepal with your family than avoid to visit in Mansoon but if you really interested to advent-ours and challenging atmosphere then only come to nepal in August Month . i have closed many places and all the border which actually touched to nepal and avoid going to lukla and namache this time which is part of my list for MT .Everest Base camp .
Suggestion - Hotel are very cheap but its a marketing to sale their food which is very costly . i would suggest to go for lunch and dinner in any local restaurant instead of enjoying the food of your hotel . Try some local food . Always carry extra stuff for your bike gear so that if you face any challenges in remote area so that team itself take care everything.. Beer is very common in Nepal so no need to carry :) :) because normal kinara store also give you everything :) Suggest to avoid eating chicken if you travel for long journey .
Frequent Searches Leading To This Page:-
Kathmandu Inner beauty of Himalayas, trekking in the Himalayas, himalayan trekking experiences, how to reach himalayas from delhi