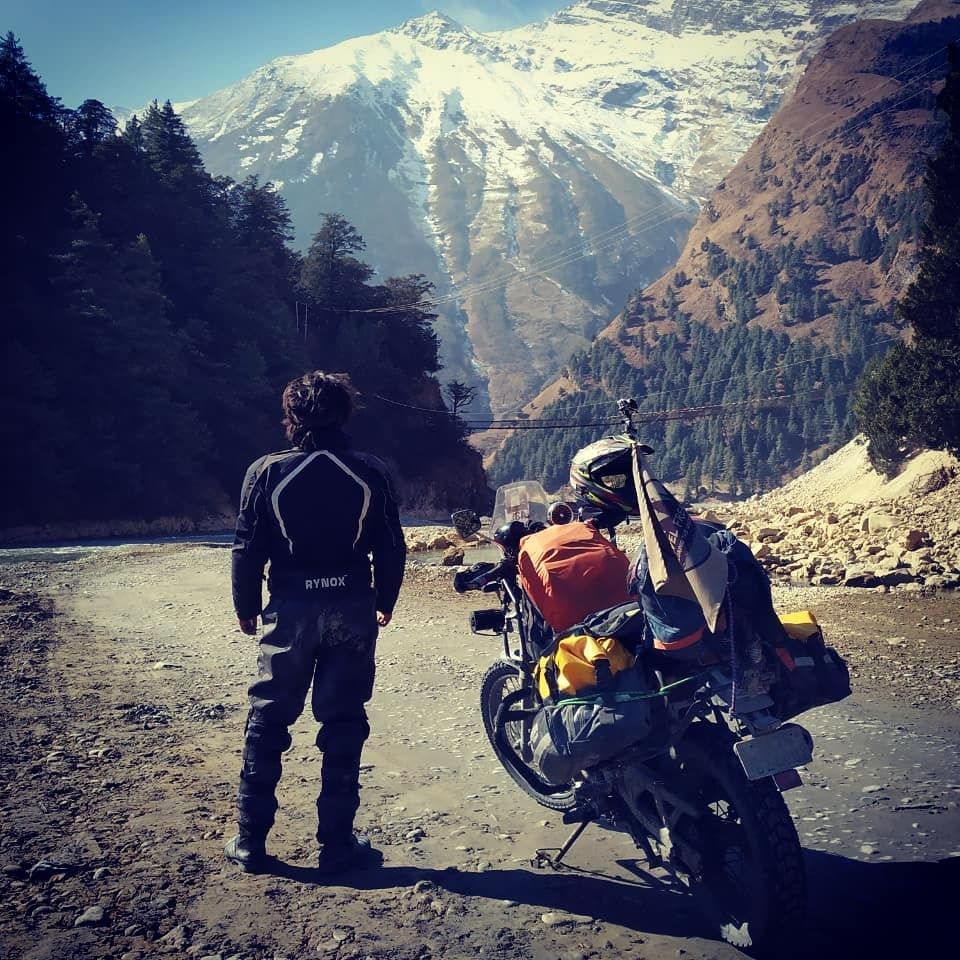 Day 6: Lete -> Jomsom -> Mukhtinath
We couldn't sleep properly last night and somehow we woke up at 7am and it's -2° in Lete and we are literally shivering as cold waves are entering in our body from where ever there is slight gap. I just went outside and I can't believe my eyes. Still water which we saw last night is frozen and I am not able to focus on one scenery. Wait this looks beautiful...No No No..this one looks more beautiful..We are just enjoying looking at Dhaulagiri ranges. We ordered cup of tea and some biscuits as we can't afford proper breakfast as we don't have sufficient cash as whole cash is utilised in the permit.
Now we are quickly wrapping up our luggage as we need to reach jomsom and Mukhtinath as well..But the main focus was on Jomsom first as we have to take cash from ATM. Last night we tried to reach jomsom but we couldn't as it was too dark and cold was unbearable. Also we were stuck finding out the way.So we decided to stay in Lete.
I am worried now as bike temperature is showing 2°c. Will it start? It's a big question and I am just praying. Two attempts I have already made but it didn't started and now I have ON the choke. Finally it started and there is a relief. Thank God we are all set for Jomsom.
We are trying up to tie up the saddle bags on Himalayan. We can't use bare hands.. Obviously it's -2°c. We somehow managed and tied up our luggage and we are good to Go now.
We have started the ride now. I am trying to find out the way to jomsom which we couldn't find last night due to zero visibility. I am still struggling dude. I guess we have to cross River and there is no other way which we can see. I am asking Nadir to go ahead and have a look. He went ahead somewhere 200mtrs and came back and said "Bhai yaha koi Rasta nai hai"... I am in a shock. I am telling myself " Aisa ho hi nai sakta..Rasta to yehi hai" We waited for sometime in the middle of River bank surrounded by water and stones and Dhaulagiri ranges. I am calm and enjoying the view...Nadir is looking for some vehicles. After sometime, we can see a pickup van came from very far with it's lights on from Nowhere.Dude where is he from coming...He is coming here via crossing ice cold water and we are in a shock..I am trying to calm myself.." don't worry ankush, u can cross the water stream". We have a huge luggage bro and a pillion and its fucking difficult to cross those River streams. It seems nearly impossible. I told nadir to stay there and let me cross the First water stream. Let me get the confidence first. Mene bola " chakkhh de fatteyy" and I started crossing water stream and I am screaming continuously so that I couldn't focus on my fear. Dude I made it...I crossed the First water stream and my boots and even socks are wet..My boots were local Army boots which is good for riding but it's only water resistant and not water proof. I am scolding myself that why I don't have waterproof riding shoes..then I told myself " dude it costs more than 20k" and I am like " thank God...it's ok..I can manage this"
I am calling Nadir and asking him to find a way to cross the water stream without getting wet. He somehow jumped and managed to cross first water crossing.
Now I have developed some confidence and I can cross upcoming water streams. Now the whole way is full of water stream and big stones. It's totally off-road and followed by River stream.
We are riding now as we got some idea about the route. Suddenly there is a discover bike passing us in a good speed. I am like Fuck Bc..what is this...He is going like a Pro. " Muje malhargarh Wala scene yaad aa Gaya. Sharam karo Himalayan sharam karo" hahahaha.
I scolded myself and I throttled with good confidence and I am riding around 40 kmph on that patch now..I am gaining confidence now and not thinking about the difficulty level. We are crossings River streams one by one.
At one point, I started thinking " are we going in right direction?" As if I see whole 360° around me, it's all over stones, water and mountains. I am in fear now. We are in nowhere. No vehicles I can see. I forgot my way as well as this whole thing is messed up in my head. I stopped my bike and started relaxing and it's cold. Cold winds are blowing continuously and it's blocking our thinking. We are stuck now. We can't find any person. I started screaming so loudly and somewhat crying as well.
In a high and loud tone " hum jinda pahuchenge..hum jarur pahuchenge.. Himalayan Meri jaan, tuje kuch nai honey dunga me" and with that said, I somehow .I don't know how but I builded up my confidence and started riding again.
My hands are frozen now and I am not able to feel my fingers. Pata nai shayad bhagwaan ji ne help ki...I can see a bike coming towards us...I started shouting loudly. He came and said we are going in right direction..ohh man what a relief it was and at the same time, I was like dude ye kaisa Rasta hai..
We continued our ride with the relief and we are still in the middle of nowhere. I can see roads are getting merged in the mountains and that's where I realised this patch is going to be over soon.
I am almost done with this patch and wait " what the fuck is this" there is a last River patch with both the sides ice on it. I asked nadir to get down and let me cross this very carefully. I crossed the River patch successful but my shoes are totally wet now.
I am not focussing on my wet foot and I am riding in the mountains with no roads. It's totally off-road with lot of steepness and huge stones every where. It's totally dry mountain. We are somehow crossing and we entered one village called Marpha. We are in a relief. At least one village came. We came to know that next village was Jomsom. Jo Khushi mili hai Kya batau me.
We started riding with the lot of happiness thinking about reaching to Jomsom.Finally we reached Jomsom and I am crying from inside. We did it. We reached Jomsom
Now the first task was to find ATM and somewhere in my mind I was thinking what if our cards didn't work here. Somehow I stopped thinking and we reached one ATM. Unluckily that ATM was not working and we started searching again and finally we got one more ATM
I gave my card to Nadir and asked him to take 20000 Nepali currency.
He went inside and I am crossing my fingers. After 10 minutes he came and the first question was " Nikla Kya?"
He nodded his head and I am like " Thank you God"
He told that Master card was not acceptable there and only Visa cards are acceptable. Somehow we had backup in Visa card as well.
It's 11am and Now we entered in one hotel and asked for room. He said 1000 Nepali currency and he was not in a mood to negotiate. I said fine, let's take the room. We got the room and it's good. We unpacked the luggage and kept it inside the hotel. We freshened up and had a good meal (Paratha (320 Nepali) and Puri sabzi (400 Nepali). It's too costly but abhi hum Ameer hai Bhai????
It's 11:45 and we are done with breakfast and I am checking with Nadir whether to stay for whole day here or should we go for Mukhtinath. We decided to go to Mukhtinath keeping our luggage here. We took a small bag keeping power bank and other small stuff with us.
We are now leaving for Mukhtinath.its the final Destination of our Nepal ride and it's going to be challenging one.
It's 23kms from Jomsom and it takes around 1-1.5hrs depending upon speed.
We confirmed with the localities about the route condition. They told us that first half is difficult and next half and hour we will get good roads.
We have started the ride for Mukhtinath and we don't have luggage and I am riding bit confidently. Scenaries omg it's Soo amazing. Every turn, landscape was changing and in front of us there was Nilgiri Mountain, Annapurna Mountain and Dhaulagiri. Himalayas everywhere ???????????? I am feeling so lucky man. I can't explain that feeling. It's awesome.
Now the roads are bit worst but we are mentally prepared.
We are riding and there is a River crossing with ice all over and I thought I can cross it. I asked nadir to get down just to be on safer side.
I started crossing that River stream and suddenly the depth I realised was too much..I was almost stuck but somehow I crossed it. I started thanking God and waiting for nadir. We are on the way to Mukhtinath and there is a village called kagbeni. We thought of going via kagbeni route and we entered the village but after sometime we realised we took the wrong route. There was a diversion which we saw but we didn't took that. We went back and took that diversion and after sometime we found the pitch road .it was perfect for the ride. We rode continuously and we are going in an elevation. Height is increasing continuously and the wind blasts are coming continuously. We are almost there. 4 kms before Mukhtinath, we were going in a good speed and what the fuck. Suddenly we saw ice patch all over the road and we were not able to stop due to good speed. We were almost dead if I have applied brakes or could have changed my handle direction. We crossed it man with the straight handle on the ice patch and we are like shivering with the thinking if this was the last curve of our ride. We were almost dead. I thanked God once again and we started riding carefully. There were ice patches in between but we crossed it carefully.
We are here in Mukhtinath...Burrrraaaaahhh. we are congratulating each other that finally we made it. We rode till the temple and just next to temple we had a fall????????hahahaha. I guess that was a gesture of my Himalayan saying Namaste to Mukhtinath ( Vishnu bhagwaan)
We stood up and checked the bike and it was fine.
We took the stairs for temple and we got the darshan as there was no one. Obviously -9°c me kaun marne aayega Wana. ????????
We did the parikrama and enjoyed staying there for while. Now we are returning with joy ..while returning back, my hands and my foot are dead. I can't feel as the temperature is dropping down rapidly. I literally want to pee on my hands but I can't as I can't open my pants. Lol ...my hands are dead. What to do now...I replaced my gloves with nadir's. Since I was in an assumption that the gloves which I gave to nadie nadir was not riding ones, so I was bit confidently whether I will be to ride with that one or not.But I didn't had choice. I started riding and what I can see is that my hands are feeling much better and I can ride as well with those gloves.
I am riding in a good speed around 60-70kmph on off-road and I have a huge confidence developed in me. I am crossing off-road patch like this is nothing in front of me and my Himalayan.
I am near the same water crossing which we came across while coming to Mukhtinath. I told Nadir to go via bridge and I will cross that patch. Nadir asked me to come via bridge and I refused bcoz mere andar jyada hi keedey karne ka shauk tha. I am heading towards the ice patch and I am crossing the ice cold water. God it's too cold and I don't want to stuck here..with that thinking, I am crossing the River patch and after sometime I am stuck....Fuck...I can't move my Himalayan...I literally can't move...it's ice cold water...my senses are going..I can't feel my toes...I am loosing my mind...I am throttling continuously and praying jaldi see nikal jau but I am not able to move...I am tired...I am crying and shouting " Naaaaaadiiiiiiiiirrrrrrr Naaaadiiirrrrrr...helllpppp helllpppp" I am freezing..I am not able to move...He is on the bridge and he is not able to hear me.. somehow he heard the sound of throttle and he looked down from the bridge and saw me stuck there...he quickly ran..there was a foreigner whom I can see a bit ahead and I am shouting help from him but he is not helping me...he is saying that it's too cold water and he can't come inside . I was literally down from inside and I thought I am dead today...but nadir was there for me...he quickly without thinking for a second jumped into ice cold water and I looked him with a puppy face and asking for help.. he said I am coming... don't worry ..he somehow tried pushing my Himalayan but it's too heavy and we both are breathing heavily...I somewhat thought of saying Bhai chale ja...but I don't know what came in my mind...I stood stand on my bike, leaving my weight on my one leg and Keeping no weight in my Himalayan and started pushing hard..I am shouting and pushing my Himalayan hard...water is inside the airfilter and I can feel it that engine is going to shut down within a minute...I still didn't loose my hope and didn't left the throttle...somehow nadir pulled the rear (back) Tyre and I pushed at the same time and my Himalayan is released..I am trying to cross the River patch and my Himalayan is almost dead...I am at the rpm of 4000 and I it's missing the throttle...I still didn't loose hope on her and asked nadir to push my Himalayan from back...He pushed and somehow we crossed...ohh man we are dead....we both can't feel our legs but I can't get down from my himalayan.i know if I stop my Himalayan, there will be very less possiblity that it will start again.. I requested nadir to sit and we rode around 300 mtrs ahead and I can see another foreigner and I asked him for socks. He refused but he told that he can give his towel...we both opened our boots and looking for our feet...we are not able to feel it...we thought our fingers are gone ..we are continously rubbing our feet and we somehow changed our socks ..we are dead...we can't feel anything..I haven't stopped my bike and I am continuously giving throttle parallelly while changing.
I asked Australian guy to throttle continously and no matter what, you shouldn't stop giving throttle..He said ok...I quickly changed my socks and taking out water from the boots and nadir also did the same..Since the Australian guy helped us, we offered him lift till Jomsom..now we are 3 on Himalayan...I am riding around 80kmph and I am not thinking anything... Australian guy is shouting continuously and I am trying to avoid him as I am in immense pain...I am freezing and same case with nadir...we reached Jomsom in next 15mins which was 40mins usual route..Now think how fast we did the off-road while doing trippling..
I dropped him and he is thanking us with a smile and we are enjoying...we are laughing that we got this life time experience. We rushed towards the room and started taking off the boots and somehow we warmed ourselves.
We are laughing and shivering at same time...Now we are inside our bed and the current temperature is -4°c in Jomsom. Tomorrow we have to leave to Pokhara.
Hopefully we will reach alive tomorrow
PS: Headlight has got crack and sari guard is gone????????