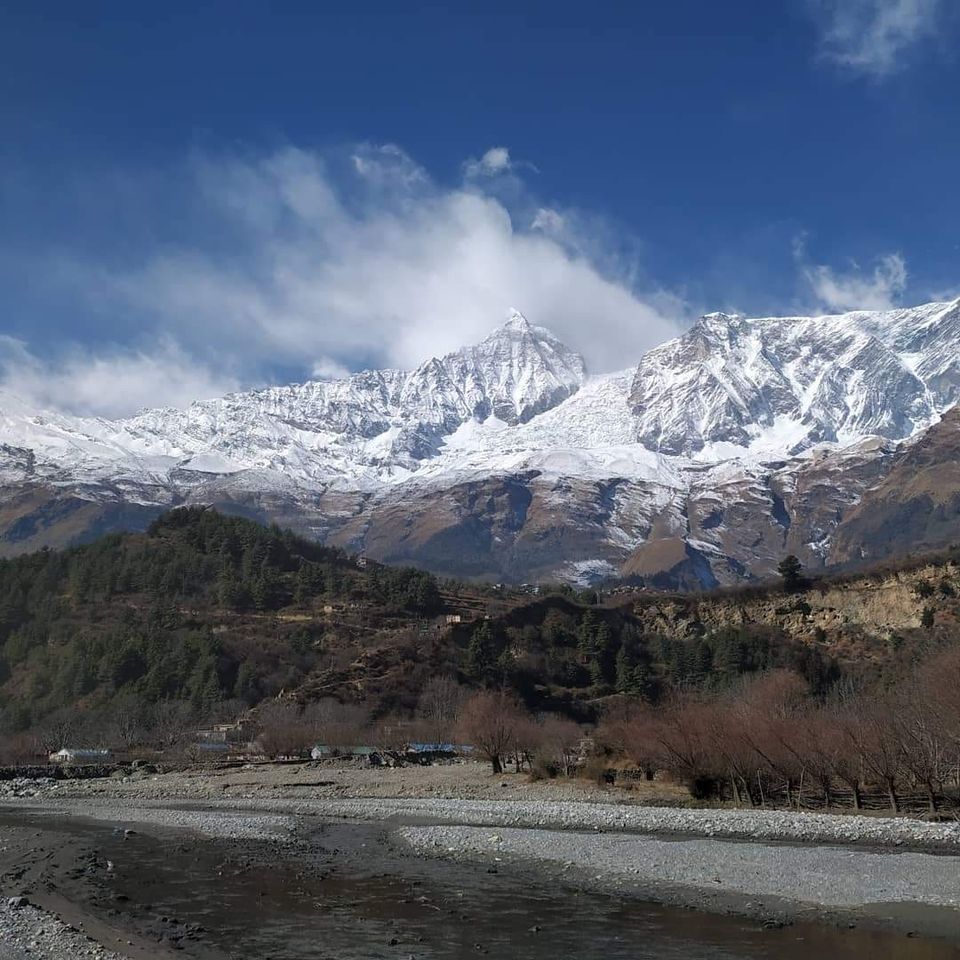 How we came Alive from deadliest patches of Mustang. Here is the story of Day 7
HUM ZINDA HAI
I thought that Day 6 experience was the last one but there was something else planned in the Journey. "Abhi to bas shuruwat hui thi"
Day 7: Finally after completing Mukhtinath ride, we reached Jomsom somehow and we are all set for the return journey towards Pokhara. I wanted to make sure that my Himalayan is in working condition, so i took her to local mechanic shop and told him that there is some sound coming from ahead.He checked and said " backside of Headlight has got cracks, that's why its creating sound..My heart was broken. It seems something has happened to me. I am trying to console myself that she is gonna be fine" I cleaned my Himalayan chain and removed the broken Sari Guard and somehow made her ready. I refuelled her with 8 ltrs of petrol which costed me around 1200 nepalis, which was 150nepali per litre. It was costly though as compared to Pokhara (109/ltr) but we didn't had choice.
Now we are all set to leave for pokhara. Next Morning we woke up around 7 and the view in front was Breath Taking. Sun kissing the Head of Himalayas and in front of me Jomsom Airport was there.
Flights were landing and taking off and it was so beautiful scenary.
We ordered Puri bhaji and had our breakfast. Packed our luggage and we were all set for Pokhara.
I knew that this time, Pokhara journey will be not that difficult as we are aware of difficulties. Around 8 we started our ride and we are crossing offroad patches but this time i was confident.
I am talking to nadir saying " is baari to rasta pata hai, I don't think hum fasengey kahi pe". Now we are crossing Ice cold water and icy patches with lot of confidence.
Suddenly we stopped and what we saw that roads which were previously there, were filled with water. Now there were no roads technically. We had to cross actual rivers continuously without loosing the confidence. We were excited and somewhat a little bit of fear was there but i was managing myself by talking some shit inside my helmet, lol...I was basically diverting my mind.
We are continuously crossing river patches and the confidence level is fucking increasing. We are so happy.Now we saw couple of bikers coming from the backside, they were also heading towards Pokhara and they were from Delhi. Finally apney log dikhey kahi to. We met them and introduced each other and had some laughful talks.
We are leaving together towards pokhara now. I thought journey is going to be smooth now. As i was thinking this while doing offroad, what i saw stopped me. I was broken into pieces. My heart broke when i saw my headlight broken completely and these guys were gone ahead. I didn't stopped them as i wanted to face that situation.
Nadir is looking towards me and i am completely shattered. I am calming myself by saying " meri jaan tuje kuch nai hoga..tuje thek karunga me"
Firstly i switched off the engine and started looking what exactly has happened. I somehow realised that the connections seems fine but headlight mountain was totally broken and there was no chance it can be fixed with tape or something.
Nadir and me looking at each other and thinking what can be done. We knew that we need to fix this up, otherwise we will be in danger soon as we were stuck in Nowhere. We were in the middle of River bank surrounded by Annapurna, Dhalulagiri and Nilgiri ranges.
I am smiling now and looking 360° around me and thinking " kaha fasey hai yaar...Bhai jannat hai ye Jaghey..Yaha agar mar bhi jayenge na to koi afsoos nahi hoga"
Now there is an intelligent person with me. He came up with the idea that we will make threads of cloth. Instantly from my side " Kya baat hai Nadir 😍"
At the same time i was thinking of tying headlight with the the help of bunjee cords but his idea saved use of Bunjee cords.
Now we are working how we will tie the threads. I am analysing the Headlight and somehow there were Right and Left Holes on the Headlight from where we can pass the threads and with that help, we can tie the Headlight somehow.
Now before we were doing that, i made sure that we haven't got cuts in the wires. I realised that there was a cut and i quickly took out the Black tape and started insulating wires and applied the tape every wire without getting it short.
Now we are good with the insulation and we are now trying to tie the Headlight in its current position. We somehow made it...ohh man...the Himalayan headlight with the threads around looks sooo sexxyyy😍 It seems she has wore a new dress or something.
Now i dont want to take any chance. I switched off every light switch and just turned on the engine by praying "Meri jaan tuje kuch ni hua hoga.mene tuje thek kar diya hai...at the same time i got the movie scene in the mind...its actually a series called as Lost in space where the small child fixes the Alien robot and then alien robot becomes his friend😆😆
I am turning ON the engine and my heart beats are really high, thinking continuously about her.
Burrraaaahhhh Engine is ON...we made it Nadir...we made it... Hum bhi mechanic hai...Meri jaan tu thek hai🤩🤩
Now i dont want to ON the lights and that was not necessary. I didn't wanted to take any risk. So we thought of riding without lights. We are 70kms behind Beni where we can get some Mechanic support. Its going to be a very hard journey for us as a single mistake will cost us.
I don't know but from that place onwards, offroad patch became so tough and somehow without disturbing the Headlight we were crossing the river patches. I am riding less than 20kmph and my hands and my shoulder is in pain now.
Temperature is going low now and we are riding with a speed of 15-20kmph. We don't have any other option. Confidence level is started decreasing rapidly. River patches which i was crossing so easily is becoming difficult for me. I don't know but there was an internal faith on me for my Himalayan. Might be i love her soo much, thats why she didn't left her hope as well. She was performing Amazingly and crossing Rived patches as these patches were nothing in front of her. She proved it that Himalayan is Made for Offrroad and no other vehicle can challenge her. She has its own charm and with the confidence of hed, i started building my confidence as well.
We have crossed major river patches and we have entered the main offroad patch ( That place is Lete) We got a relief that somehow we made it to Lete. Now we are in that region where we have to cross deadliest offroad patches where rhs is mountain and lhs is steep valley.
It looks like we are riding in Spiti valley. Its getting cold now as the sunrays are blocked by those mountains. We are riding with the same speed (20kmph).
Icy patches are going to start now. That moment when we saw the first Ice patch my confidence dropped to zero. I dont know why it happened but i am shivering and nadir is saying " bhai me yaha utar jata hu and thats the wrong move we did". The time he left bike and i started crossing the icy patch, my bike had a skid and i had a fall. Omg its a downside slope and my Himalayan is saved somehow due to saddle bag and leg guards. Omg i am shivering and i am trying to convince myself" chill nothing happened .. it's ok .and i switched off the engine..Nadir quickly came and we tried to lift her up. Bhaiya ye nahi uthney wali..she is too heavy. Somehow we lift her up and i started looking at her. Nothing was damaged as leg guards saved her from the fall. I quickly managed and sat on my Himalayan.My legs are shivering and i am trying to cross the downslope. Somehow i crossed it and asked nadir to sit again.
We are riding with the same speed but my confidence is bit low. Its ok its ok...i am saying to myself...Falls are meant to happen until and unless something major happens. We are riding carefully as i need to increase my confidence level. I somehow gained my confidence level again and i have crossed some flushy tracks.
I am happy and talking to my Himalayan " meri jaan u r doing amazing"
Now there is a downslope with a U curve filled with icy patch. I thought i can cross it and thats the time we had another fall.This time my Himalayan is dipped in ice cold water and the petrol is coming out. I am shivering. Am i hurt? I don't know and I don't care about it. I am worried about her.
I quickly got up and switched off the ignition and i am fallen again as i cant stand on the icy patch. Its slippery. Is nadir okk? I M looking at him...He seems to be struggling and his right arm is in pain :( since Himalayan is totally dipped in ice cold water, we dont want to get frozen. We started dropping big stones inside the water so that we can stand on it and try to lift my bike. We tried our best and in multiple attempts, somehow we managed to lift her up. Nadir is in Pain now and i have forgotten mine.
I am checking both of them. Nadir in confidence saying " don't worry lets continue the ride. We will see once we will take stop"
We started riding again and Now There is ond fear what if it (headlight) again fells as there was High chances because of the Fucking offroad.
We decided to ride less than 20kmph and we will ride till the time something doesn't gets wrong.
We have reached Beni somewhere around 4pm and we are feeling relaxed as we are not afraid now. I refuelled my tank and started checking the headlight fitting. It still looks strong. Now I decided to ON the lights as if something goes wrong, we will quickly rush to mechanic but as soon as I turned ON the lights, there was a magic. Lights were working. We have made correct connections. We felt like that we have achieved something.
We decided to leave Beni and reach Pokhara. It's 90kms for Pokhara but it's not as difficult like mustang and there are small villages and support every where. That's why we started towards Pokhara. In next 30 mins I have ridden around 16kms leaving the fear of breakdown.
We stopped for a break as we didn't had any from morning 11 o'clock.  Now it's getting darker and colder.  Now it's almost 74kms left for Pokhara and within 30mins, sunset is gonna happen. We speeded up and now there is another situation..Another 50kms off-road patch is there and it's night time..only one light is working.(2 extra lights were there and only 1 is working...i don't know why)
Trucks have blocked the way and there is lot of dust. Whole route is covered with dust...we can't see anything. Even the fog lights are not helping that much...
We didn't wanted to stop as we have to Pokhara. Google shows we will be reaching around 7:30. That means it's gonna take another 2 hours for 50kms...ohh man, my eyes are totally red due to dust ..it's paining but I don't want to take rest...we rode continuously and somehow reached Pokhara after doing lot of offroads..
We have reached alive and we are shouting...Burrraaah we made it...we made it...we booked the hotel around 1000 nepalis and decided to take rest for 1 day. 
Now today we have explored Pokhara and tomorrow we are leaving for Lucknow via Gorakhpur..we will change the headlight in Gorakhpur Service center and will stay in Lucknow.
Hopefully we will be able to complete tomorrow's ride ..Hoping for the best.