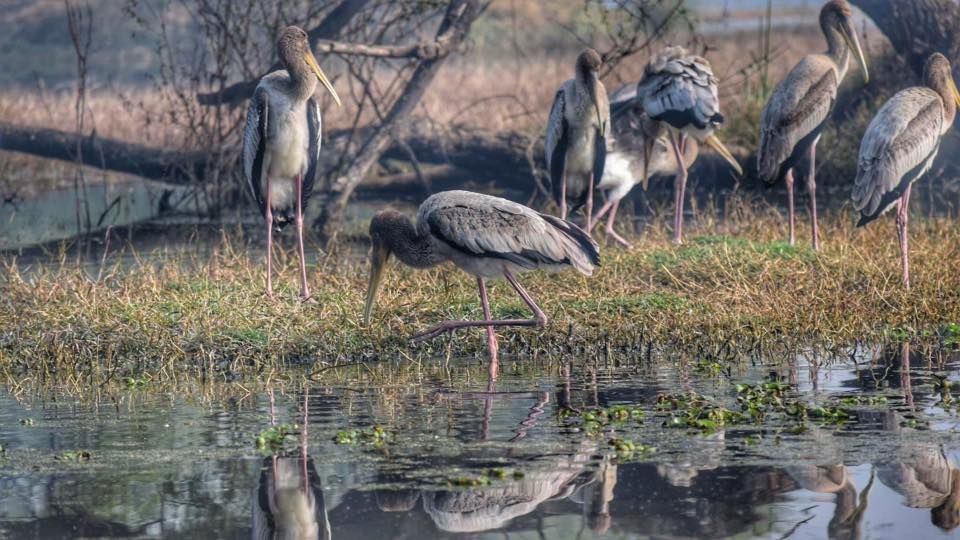 It was 31 st of December, 2015, a few hours before we set foot in another new year, which we wanted to spend not just by partying around in Delhi.
A close friend of mine agreed to accompany us in this adventurous trip. Since it was not a long holiday, we decided to go some nearby place which we can visit in a day or two. We have been planning to go to Bharatpur for long time then. What can be more exciting than spending your new year among those beautiful little creatures - especially for the migratory birds flying in from Serbia, Sri Lanka, Pakistan and the list goes on...
Bharatpur Bird Sanctuary is a home to plethora of flora and fauna and protecting its avifauna residents and migratory guests since 1971. Now, it's been renamed as Keoladeo Ghana National park.
The total area covered is 29 sq km. This World Heritage site houses around 300 species of birds and various trees and plants.
We boarded a train from Nizamuddin railway station for this two and a half hour journey to Bharatpur. We had pre-booked a hotel near the railway station. Since we needed to spend a night in the hotel, we did not go for any luxurious hotels. The hotel was nice, clean and pocket-friendly.
Since me and Tridib are crazy about national parks and doing wildlife photography, we believe morning is the best time to visit these parks to avoid the hustle bustle of the crowd.
We started as early as 6.30 am and it took us a 20-minute drive to overcome that 5 km stretch from the hotel. Here we are - Keoladeo Ghana National park -what better start to a New Year can it more be!!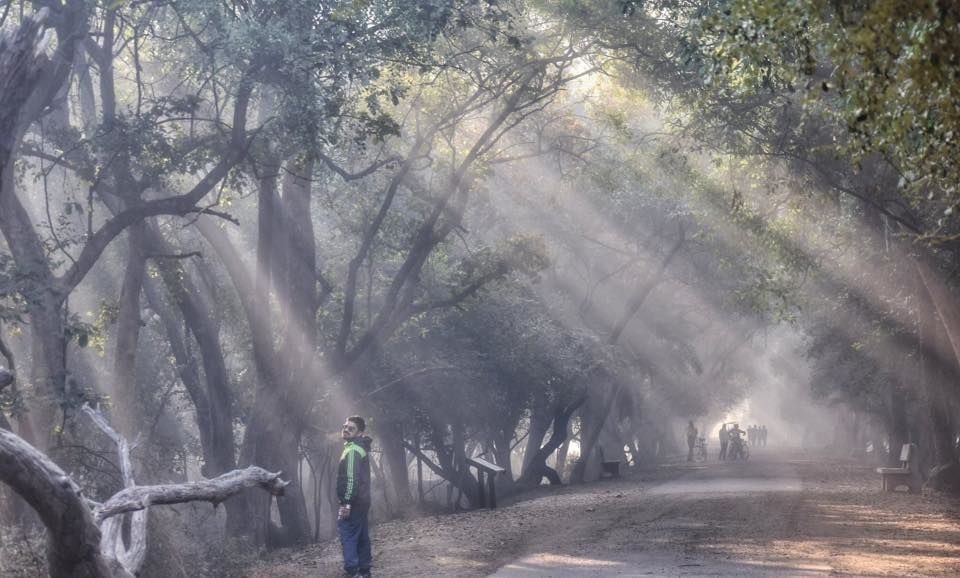 At the ticket counter, you can choose your own vehicle (rickshaws and bicycle). You can cover the park on foot but you will not get a guide then and yes, it's a huge area.
Tridib, of course chose the bicycle. My friend and Tridib took turns to ride the bicycle as only one bicycle was available when we reached. And I chose the rickshaw as I am a rookie in riding the bicycle. Nevertheless, I was happy chitchatting with the guide while he peddled to the world of birds.
Our guide-cum-rickshaw puller told us that morning was the best time to spot various birds as they came out in search of food.
Very few can be spotted in the later part of the morning and afternoon. The long pathways are made into concrete. He informed us that the park was mostly marshy but it's a mixture of grasslands, swamps and wetlands.
The first part of the area is grassland consisting of mostly grass and few tall trees where we were welcomed by a laughing dove and the first one to be spotted. We spotted various birds from the Babbler community, Parakeets, Robins, yellow-footed pigeons and the owls. The famous Weaver bird can also be spotted in this part of the park, but we could only see their nests.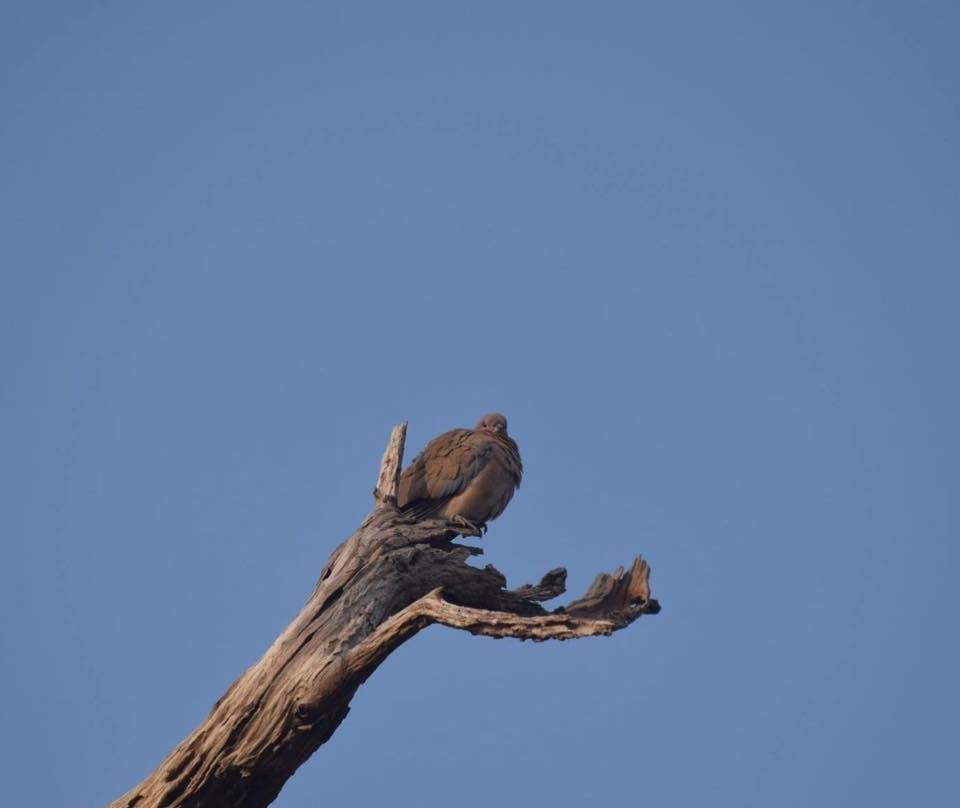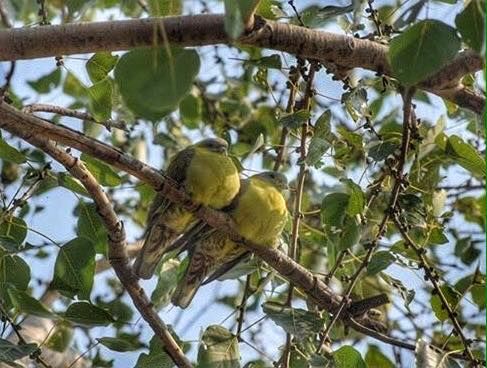 The middle part of the park is mostly wetlands and swamps where we spotted the water birds and fish eating birds. And yes, we also spotted the famous Kingfisher near the boating area.
Birds such as Water Hen, different types of Herons such as Indian Purple Heron, Pond Herons, Grey Herons etc., flight of Indian ducks, Siberian ducks, Spotted ducks, Egrets, Darters can be seen in this part of the area.
Beautiful Pelicans, Siberian Storks and Painted Storks added to the perfect start to our morning.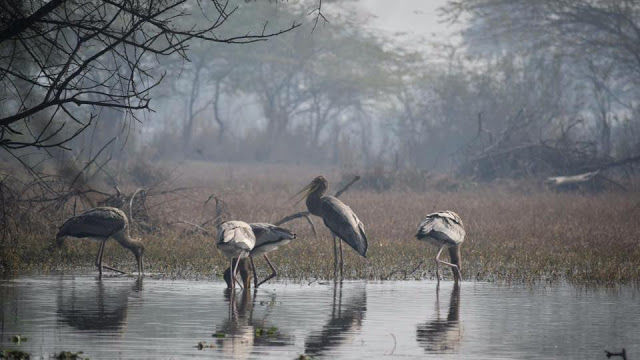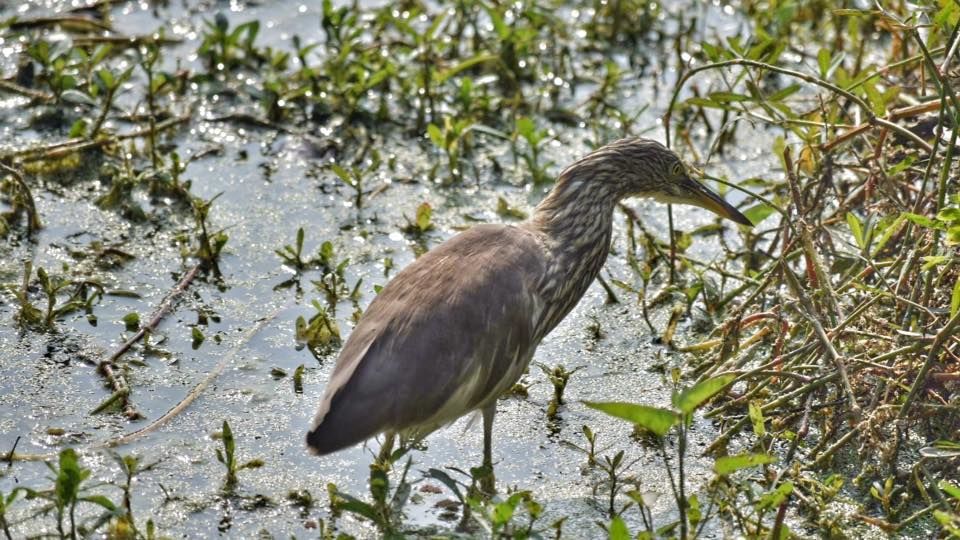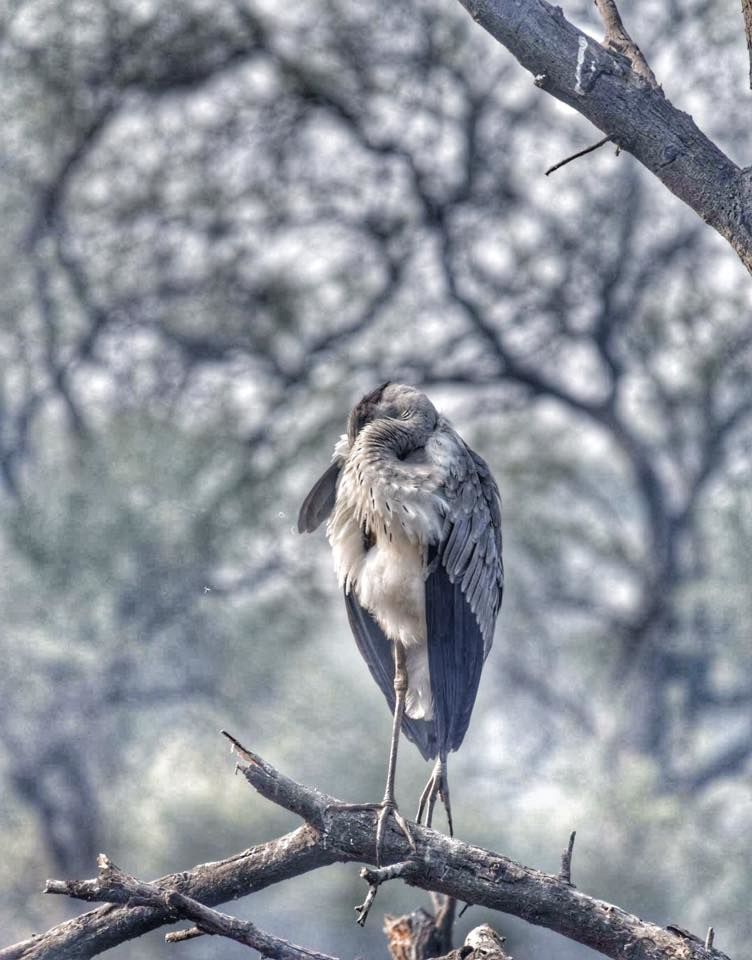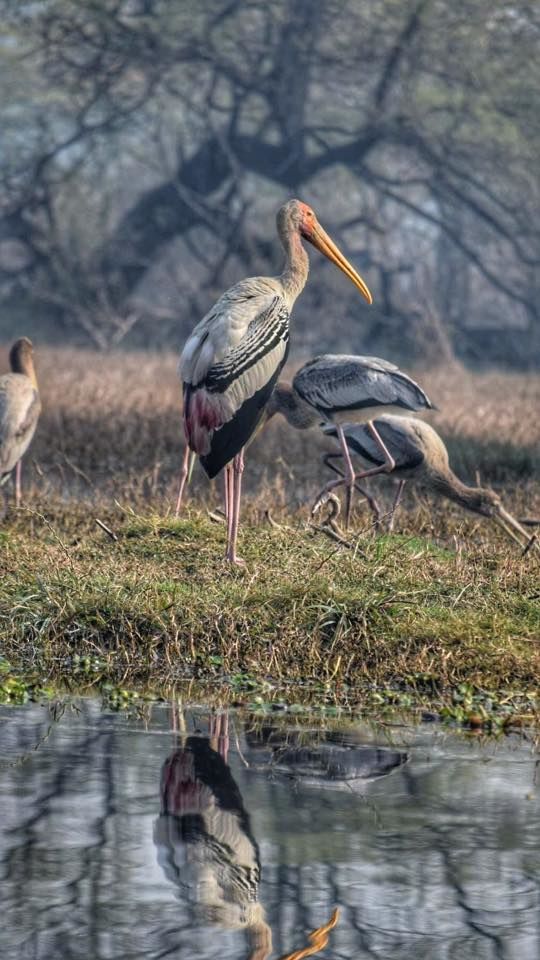 There is also a temple inside and a tower, from where one can have view the whole area. There is a resting place to refresh.
No proper food was available there except for samosas and tea. After this refreshment, we started our journey towards the thickest part of the park.
Most visitors do not enter this part of the area and return from this point. But, I would suggest visiting if you are interested in slimy reptiles.
The later part of the area is covered by woodland with huge trees where we spotted the Indian python sunbathing after its heavy meal. There we found some spotted dear grazing too.
The area where pythons can be spotted is another 3 kms inside where cycles are not allowed. Only rickshaws are allowed with guides. The paths are rocky and narrow. We were taken to the area where pythons are spotted.
Documentarians were waiting for the sunbathing python to grab his food (deer) that was grazing near him.
This aviary also houses other animals such as Nilgai, Wild Boars, Deers etc. Apart from birds and animals, the park also houses various trees such as ber, kadam, babul etc. We plucked few bers and wild berries from the trees while returning.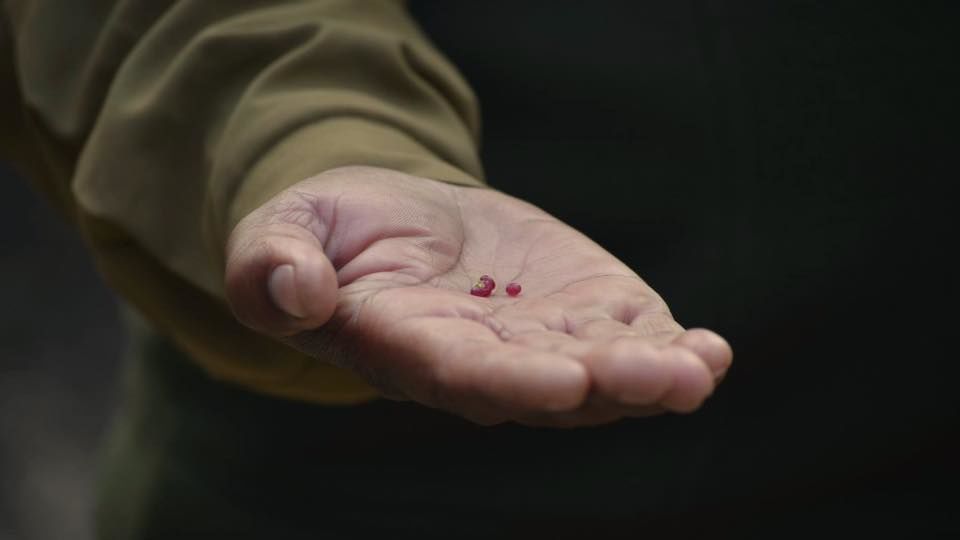 On the way back, we spotted the monitor lizard, which was playing hide and seek with the visitors. We also spotted a rare bird named Orange-headed Thrush.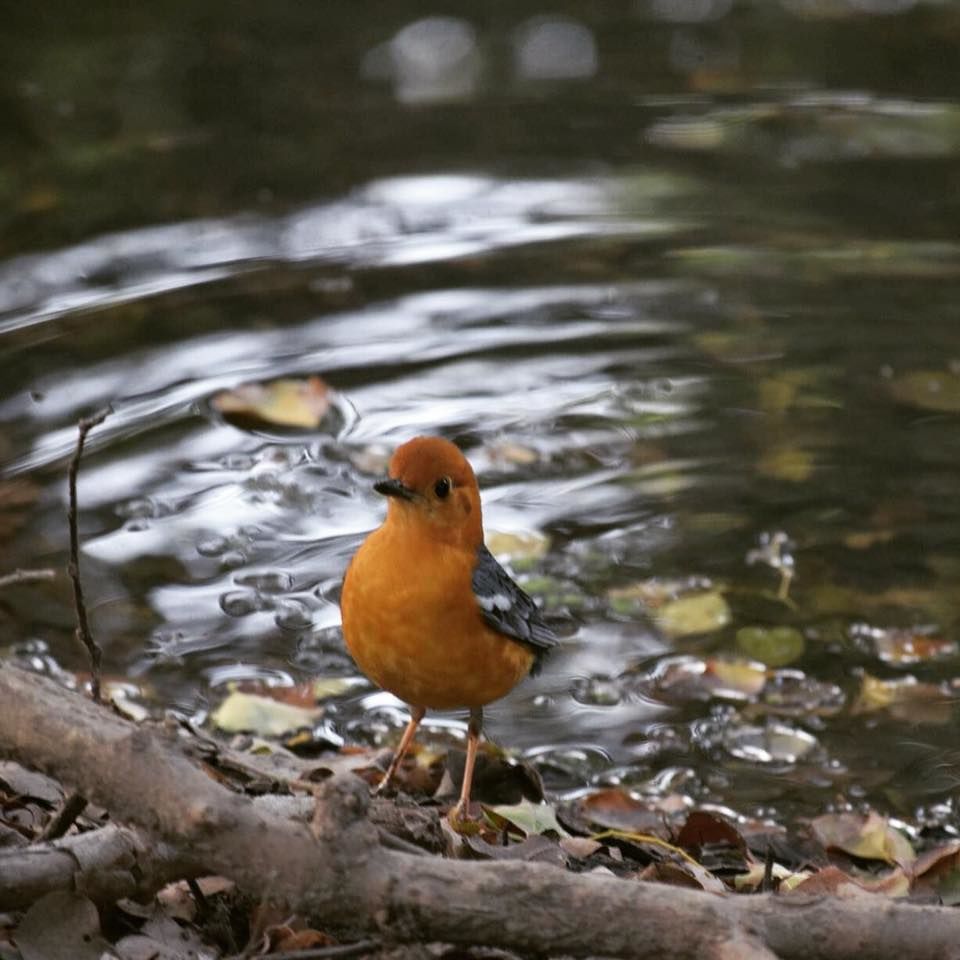 Our guide told us, many photographers go there just to click a picture of this bird. In the latter half of the morning, we could not see many birds except the small birds. Thanks to the noisy crowds from the nearby towns and villages.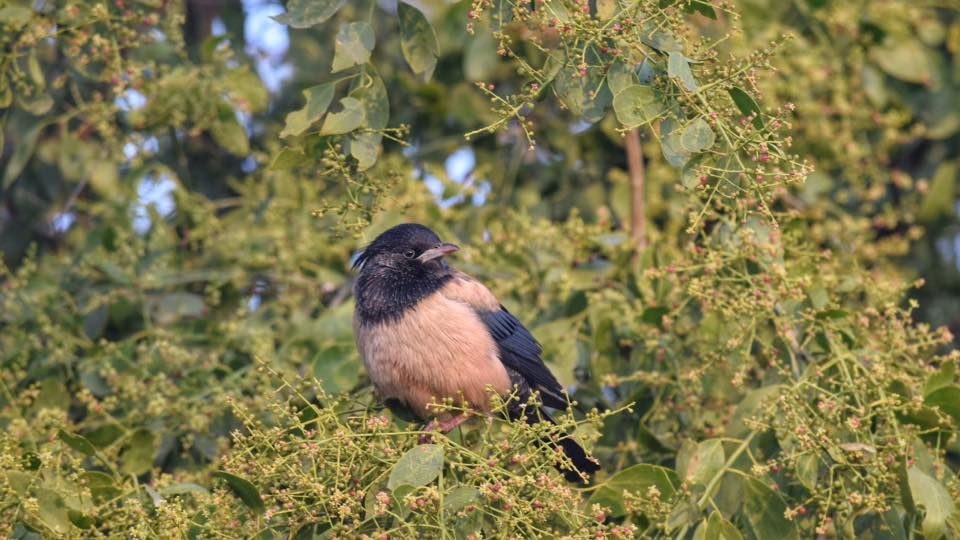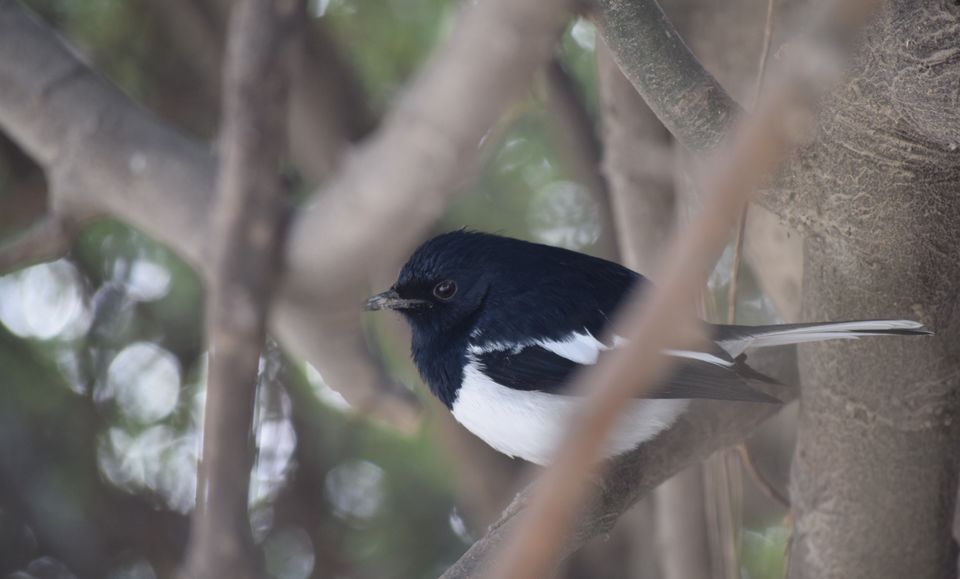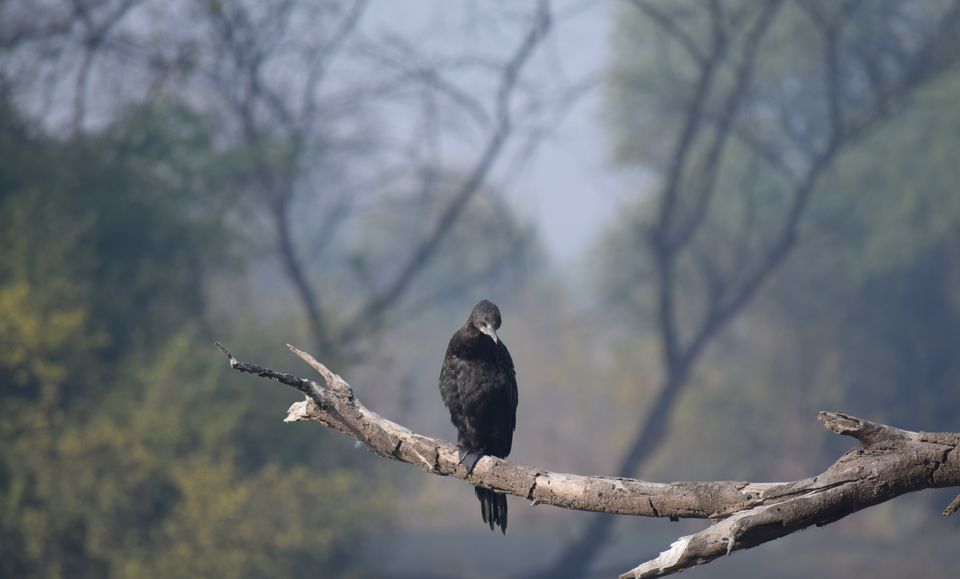 As we finally bid goodbye to the park with a promise to visit it again, here came our thoughts of rejoining our respective workplaces and the journey back to Delhi started....
Travel tips:
· Hire a guide if you are a bird enthusiast
· Get your binoculars or you can rent one from the office of the park.
· Early morning is the best time to get the glimpses of the birds.
· Be patient.
· December to February is the best time if you are looking for migratory birds and do not go by what Google says, you might end up seeing only the local birds resident birds and the grasslands.
· And lastly, do not steal the birds' nest like we did….