Delhi in 8 hours?
This post is useful for those who are looking at Delhi as a centre point before they go up north or down centre. Especially if you have a huge lay off at Delhi or you are taking another mode of transport for your onward destination and have at least 6-8 hours to kill in Delhi. Here's the survivor guide for travelers who are looking for efficiency, want a wholistic experience or have a budget constraint
Our full trip was Delhi-Dharmashal-Amritsar and to read it in full click here
Our flight to Delhi was supposed to land us in the city by noon after which we were only scheduled for a overnight bus travel to Dharmashala. So we had nearly 8 hours in our hands to explore a bit of the city. For all those transit travelers looking to spend less than a day in the city, the below information will be immensely helpful.
Delhi Metro
First thing to know about the city is its well-connected metro system. We were thoroughly impressed with the Delhi Metro and the Airport express which connects to the local metro. You might rather rely on the metro than any other mode of transport considering the traffic and pollution levels in the city!! Personally, from a user point of view, the Delhi metro system is extremely efficient and no less comparable to the systems at other developed countries. Some of the best things we loved when using the Metro were
The Airport express (orange line) connect to the City Centre – Delhi Metro from where you can use the yellow line and other lines to connect to major sightseeing destinations and shopping districts. You can buy a one day smart travel card which is moderately priced and saves a lot times when you hop on and off between stations
What happen when you are in transit at Delhi and have a good load of luggage? Delhi Metro comes to the rescue here too! It has an efficient cloak room both at the Airport and at the Delhi Metro station. We preferred to chuck our luggage in here as opposed to taking a day room or a hotel which saved us a lot of travel time. If you have a return flight, use the cloak rooms at the Airport. If you have a connecting train or bus for you onward journey, we advise the Delhi Metro cloak room
The metro stations are well defined with adequate direction markers and indicators and are super traveler friendly. They are on time even in peak hours with adequate frequencies of shuttles across most directions.
Is Delhi doable in 8 hours?
For the non-travel bugs – one needs more than a week to really see Delhi in all its glory and gory! We had less than eight hours in the capital and we were initially flummoxed. The first thing to do in such a situation is to shortlist what you want to do and see if it can be done within the time on hand. My friend was keen on exploring the shopping districts and the food while the greedy me wanted to do all – shopping, food and sightseeing. So, we ended up picking a place which offered both in close quarters -"Chandni Chowk".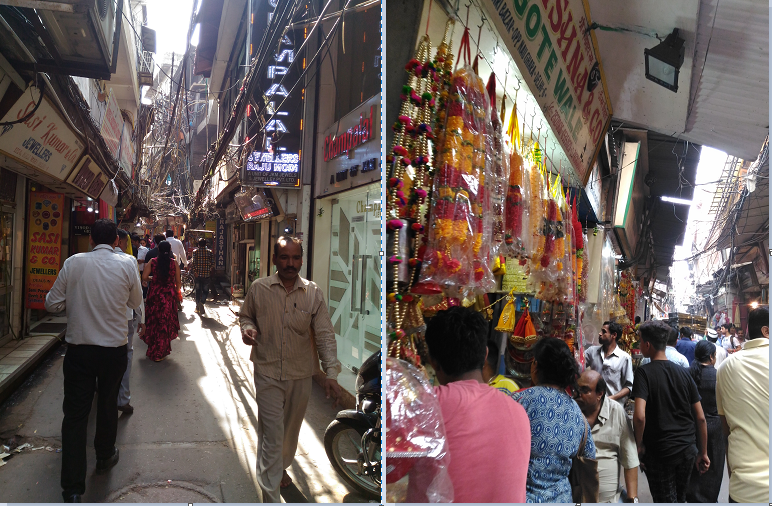 After we landed, we took an airport express to Delhi Metro, chucked our luggage in the cloak room, purchased a one day travel pass, changed to yellow lines and were on our way to Chandni Chowk for a local lunch affair and an afternoon of shopping.
Okay first things first-"Demystifying popular belief" – most of the paranthes in the paranthe wali gali are fried and is not everybody's cup of tea. However, don't ignore the small corner shops or the cycle shop in the corner selling Kulche- Chole, Dhal-Chawal etc. We found these are the hidden treasure which are not rated/ reviewed and added an element of surprise and excitement in our travels. Do try the espresso in a foam cup offered in small stalls selling other stuff like juices etc. We had a couple of hits and misses with the food – overall it was a discovery that not all online reviewed things are a must try and one must explore on their own to find things that matches their taste!
In terms of shopping, if you are looking for traditional and festive, Chandni Chowk has a lot to offer – sarees, lehengas to other festive accessories. The chowk is laden with history in every corner, people thronging with shopping bags, tourists with cameras, vendors using the old cart to transport things in the narrowly narrow lanes. Its a world of its own and is one which is intriguingly interesting.
When you get bored with too much shopping at Chandni Chowk (Really?? is there a thing called too much shopping!!!) exit the chowk via the chawri bazaar and the Jama Masjid road and head to Red Fort – popularly called as 'Lal Qila', a 10-minute walking distance from the chowk. It is a UNESCO heritage site and was the ruling home of Mughal dynasty for over 200 years. For Architecture lovers, it is an interesting place to visit and revel upon. The architect who built the fort also built the 'Taj Mahal' under Mughal emperor Shah Jahan's rule. Once you enter through the fort walls and enroute the public audience hall you will see stalls selling various antiquities and trinkets. The insides of the fort have well maintained gardens in between the structures. Take a respite in these gardens and enjoy the architecture, the history under the evening sun.
Ok- fact- there is nothing called too much shopping! Going to Delhi and not visiting the Connaught place is nothing less than a crime, even if you have less than 2 hours in the city. Take the metro (yellow line) from red fort to Rajeev chowk to reach the many markets hosted there. A couple of pointers when you take the metro from Red Fort
there are two metro nearby Red Fort – Chandni Chowk Metro and Jama Masjid Metro. When you exit the main gate, take a tuk tuk to Chandni Chowk metro where you can board the yellow line directly to Rajeev Chowk
If the tuk tuk takes you to Jama Masjid metro station, you need to get in the purple line towards Delhi Metro and change into a yellow line in the nearest changing station heading towards Huda City. The best thing is that the indicators in the train are well marked and is quite easy to follow. All we have to do is keep our eyes and ears open!
Hit the cafe coffee day at the Rajeev Chowk station to have a quick refresh and reboot and step out. The connaught place is a huge circle and has many markets including the popular one's like Janpat and Palika bazaar. For good quality daily wear and casual wear, head to Janpat. Every market is walkable from the station. Get help from the google map or ask people for directions if you are lost. It is best to do this place at leisure with no strict deadlines to return and start early to explore better!
How efficient is the Delhi Metro
We had to board our bus to Dharamshal at 8pm from Majnu ka Tila which is about 4 km from Vidan Sabha Metro and 12kms away from Connaught place. We boarded our train from Rajeev Chowk at 7.20pm, got down at Delhi Metro to collect our luggage from the Cloak room and then run back to the yellow line platform to catch the train again to Vidan Sabha. We were at Vidan Sabha station at 7.51pm. From there we took a tuk tuk and reach our bus at 8.05pm. Phew!!! one hell of a journey.
Frequent Searches Leading To This Page:-
Day trip in delhi, explore delhi markets, monuments in delhi, weekend getaways from delhi, Getaways from delhi