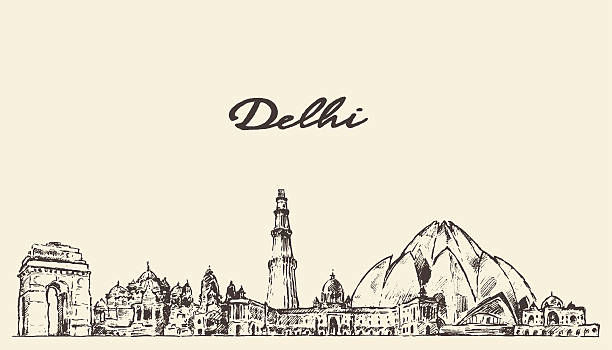 Having visited many times I can truly vouch that Delhi is an incredible city with many things to do on top of that you will see the things which you could not even imagine. Delhi is massive its not an easy city to navigate due to traffic and crowd and incredibly hot weather in summers. In this blog I will give an itinerary of how to travel in Delhi when you have only 24 hours.
Let us start with one of the most important structures of the city "India gate". We will start early in the morning because you will get a peaceful and incredible view of the monument at that time. India Gate is a lot more impressive in real life then it might come off in pictures. India Gate is a war memorial. It stands as a memorial to 70,000 soldiers of the British Indian Army who died between 1914–1921 in the First World War, in France, Flanders, Mesopotamia, Persia, East Africa, Gallipoli and elsewhere in the Near and the Far East, and the Third Anglo-Afghan War. 13,300 servicemen's names, including some soldiers and officers from the United Kingdom, are inscribed on the gate.
Nearest metro station:- Mandi house metro station on the blue line as well as violet line.
Suggested Duration:-1 hours
The National War Memorial is a monument built by the Government of India near India Gate, New Delhi, to honor the Indian Armed Forces. The memorial is spread over 40 acres of land and is built around the existing chhatri (canopy) near India Gate. The memorial wall is flushed with the ground and in harmony with existing aesthetics. The names of armed forces personnel killed during the armed conflicts of Indo-Pakistani War of 1947, 1961 War in Goa, Sino-Indian War, Indo-Pakistani War of 1965, Indo-Pakistani War of 1971, 1987 (Siachen), 1987-88 (Sri Lanka), 1999 (Kargil), and other operations such as Operation Rakshak, are inscribed on the memorial walls.
Distance from India Gate:- 300 meters walk
Suggested duration:- 1 hour
now it's the time for breakfast. So, Let's go to Parathe vali Gali. As I have told you earlier this place serves best street food in whole Delhi according to many people as well as me. You will surely eat twice more then you used to after coming to this place.
Cost of two:-100-150 rs (approx..)
How to reach:-
From national war memorial take a rickshaw till mandi house metro station. From mandi house metro station take blue line till Rajiv chowk metro station and then change to yellow line till Chandni chowk metro station. Then it is just around 500 meters walk from Chandni chowk metro station. This will cost you 25-30rs per person.
You can take direct uber as well which will cost you around 250rs.
So after gaining too many calories now its time to burn it. We will go to Red Fort (Laal Qila). The Red Fort is a historical fortification in the old Delhi area. It was the main residence of the emperors of the Mughal dynasty. Shah Jahan constructed it in the year 1939 as a result of a capital shift from Agra to Delhi. This imposing piece of architecture derives its name from its impregnable red sandstone walls. Formerly known as Quila-e-Mubarak or the Blessed Fort, the Red Fort lies along the banks of the river Yamuna, whose waters fed the moats surrounding the fort. It was a part of the medieval city of Shahjahanabad, popularly known today as 'Old Delhi'. The entire fort complex is said to represent the architectural creativity and brilliance of Mughal architecture.
Entry Fees:- 35rs Indian Citizen and 500rs if you are a foreigner
Duration:- 2-3 hours
How to reach:- It is around 1 km away from parathe vali Gali so you can walk or take an auto as well which will cost around 10-15rs.
Delhi is full of patriotic places, Rajghat is one of them. Rajghat holds a great significance in the history of India. Rajghat is a place where Mahatma Gandhi, Father of the Nation was cremated followed by his assassination in the year 1948. The cenotaph commemorating his memory is a simple black marble structure that sits amid a beautiful lush green garden. Gandhiji's philosophy is projected through pictures, sculptures, and photos.
Entry Fees:- no entry fees
Duration:- 1 hour
How to reach:- Take Metro till Delhi gate from lal qilla metro station. And it is just a km away from the Delhi gate.
Now its time for lunch. As we had a heavy Breakfast I don't think that you guys will like to have something for lunch but still you guys will find many good restaurants at Connaught place as well as Rajiv chowk metro station as well.
How to reach:- Take metro From Delhi gate to Rajiv Chowk
In the business capital of Delhi, lies a market like no other in the city. Palika Bazar, the most famous market in Delhi is a paradise for every shopper in the city. An underground fully air-conditioned market in the Connaught Palace, the world beneath the surface will surprise you with the variety of options to choose from. Be it electronic gadgets, clothes, accessories, or lifestyle products, everything is available. Notoriously known for its extensive bargaining, you can buy a bag at 300 bucks whose initial price might be 3000. This market tests your bargaining skills, you can't reveal your cards. It's like poker in there, you need to call their bluff and have a perfect poker face. I have bought a belt in 100 whose starting price was 2500 as well as 3 pairs of sunglasses 300 total whose starting price was 5000. This is the fun in this market. You will find everything and you can buy it at your price if you have skills.
Duration:- 2-3 hours
How to reach:- Just a 400-500 meters walk from Rajiv chowk metro station
After shopping its time to go to the most photogenic destination. I will recommend you to go to your hotel and freshen up as well as put your shopping bags there and then can go there. This place will make you feel in another word. This place is simply stunning. This tomb, built-in 1570, is of particular cultural significance as it was the first garden-tomb on the Indian subcontinent. It inspired several major architectural innovations, culminating in the construction of the Taj Mahal and many other Mughal architecture and garden complexes in India.
Suggested Duration:1-2 hours
How to reach:- It is better to take a cab . It will take nearly 20 minutes and it will cost around 100 rs.
Now it is almost sunset. So it's time to go to the best place to have dinner in Delhi according to me. It is in Haryana not in Delhi to be more precise. Murthal is a village in Sonipat district of Haryana. It is famous for Its dhabas. They have a proper air-conditioned well-furnished restaurant in the name of dhabas. It is very much famous among Delhi people for dinner as it has two advantages you can have some really good food as well as you can have a long drive as well.
How to reach:- It is around 80 kms away from Delhi so Taxi or Zoom car would be a better option I guess
So, The day started in Delhi and ends in Haryana this is my itinerary for people you want to visit Delhi in 24 hours.