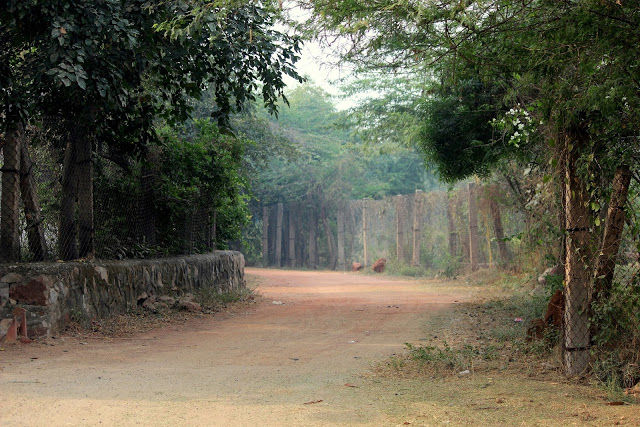 I asked this question in one of my Instagram stories, and a majority of those who replied said, "No way!" So, it turns out, people really don't know there lies a full-fledged wildlife sanctuary across the road from Tughlaqabad Fort at the far southern edge of Delhi.
It is called Asola Bhatti Wildlife Sanctuary and is comprised of nearly 7000 acres of semi-arid forest area in the northern-most extension of the Aravalli Hills, one of the oldest mountain systems in the world.
Historical Background
There was uncertainty regarding the legal status of the region until 1986, when certain areas owned by the Gram Sabhas of villages Asola, Sahurpur and Maidan Garhi were notified as a Wildlife Sanctuary by the Delhi administration. The adjoining Bhatti village, from the early 1960s until as recently as 1990, was home to unregulated open-pit mining of building material that was transported to the city of Delhi to fuel its developmental aspirations. The mines were owned by local Gujjar landlords and controlled by a mafia of unlicensed contractors who made labourers manually excavate mineralised quartzite (badarpur) and stone under unsafe and inhumane conditions. The illegal mining was legalised in 1975 by the State administration by setting up checkposts and collecting octroi tax, while letting the same contractors continue operation.
After decades of mindless neglect and exploitation, it was the unfortunate death of 7 mine workers in an accident in 1991 that pressured the government into putting a stop to the scourge. The mines were officially closed in April 1991 and the area was declared a Wildlife Sanctuary, although it took another decade to completely eradicate unauthorised mining operations from Asola Bhatti Wildlife Sanctuary.
Restoration of green cover in the area
An Eco-Task Force was created by the Delhi government in 2000, which over the last ten years has successfully restored lush green forests in this former wasteland. The restorative operations of the ETF have since been extended to the Asola part of the Sanctuary as well, a fact I have pictures to prove.
A Sunday morning expedition to Asola-Bhatti WLS
My high school Biology teacher had for two long years fed us the idea that she will take our class to the Asola wildlife sanctuary on a field trip. Needless to say, the plan never materialised. But it left me with a fixation to visit on my own one day. The long-lost wish adorned my desktop on a sticky note until a cold Sunday morning last December, when I woke up super early and set out to explore Asola Bhatti Wildlife Sanctuary with an equally eccentric friend in tow.
The drive is beautiful with lush greenery on both sides of the road, right from Tughlaqabad, past Dr. Karni Singh Shooting Range on Surajkund Road, leading up to Asola Bhatti Wildlife Sanctuary just short of the Delhi-Haryana border. Unfortunately, when we entered the gates of the compound, a staff member clad in a sweater and pajamas told us the sanctuary was closed on Sundays. There was an option of guided safaris with the forest officials, but tickets to those had to be booked online and well in time. We must have looked crestfallen, for he then offered us some extra info on the side: the sanctuary had virtually nothing to boast of in terms of wildlife. He said it was his duty as the caretaker to tell us the truth - that we would be wasting our time inside.
I'd read reviews online, so I knew there is at least some wildlife to be found deep inside those forests. But since it was closed, we couldn't go in to find out. (Till then I had absolutely no idea I was going to have my very own Bear Grylls moment later on!)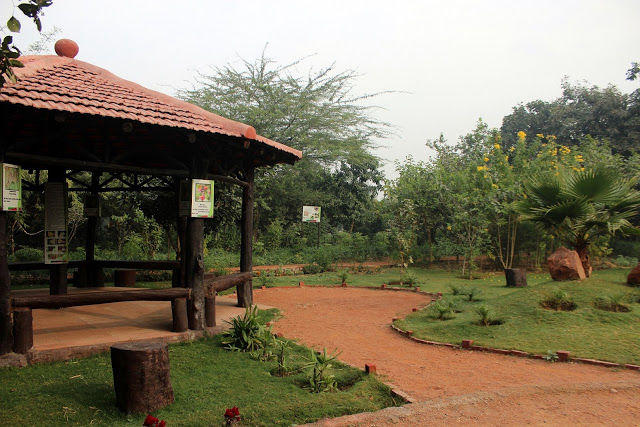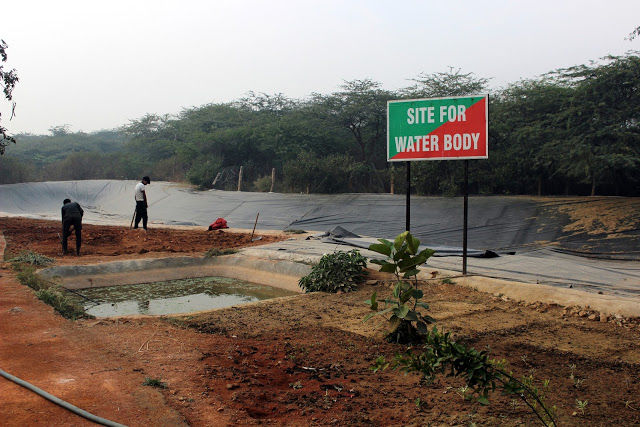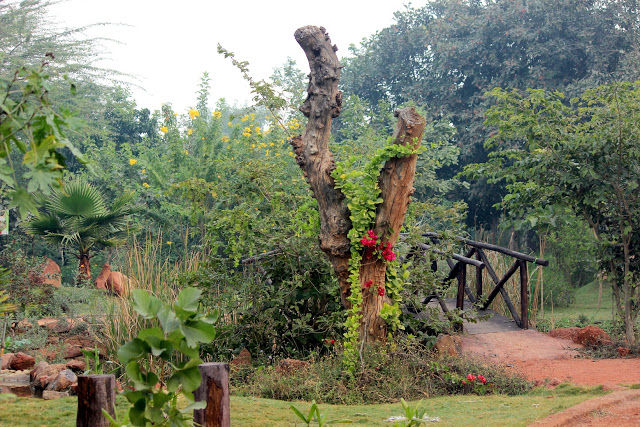 The guard was nice enough to let us roam around the butterfly garden nearest to the gate. Inside, we found labourers hard at work even at 9.30 in the morning. Soil was being upturned, trees planted, and the ground dug for a water body. There were pretty little canopies and benches to sit around and enjoy the landscaped views. Pink bougainvillea blooms dotted the tree trunks, and even though we stayed for less than half an hour, I spotted a few birds that are also commonly found in other green areas of Delhi (including my backyard). Of course, my birdwatching skills were still rusty, and the nimble little things flew away before I could capture any on the camera.
As my friend and I roamed freely through the garden, our eyes simultaneously caught a horrific sight a few feet from where we stood: there was a skull lodged in the soft ground. While all kinds of murder stories and morbid imaginations began cropping up in my head (I have a sick imagination and I love it), we went closer only to realise it belonged to an animal, not a human. We couldn't figure out which animal it was: a dog, a monkey, or a Nilgai maybe? Please let me know in the comments if you know or have a better guess.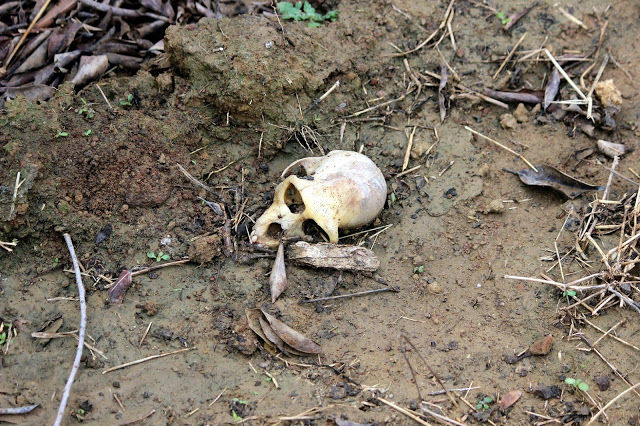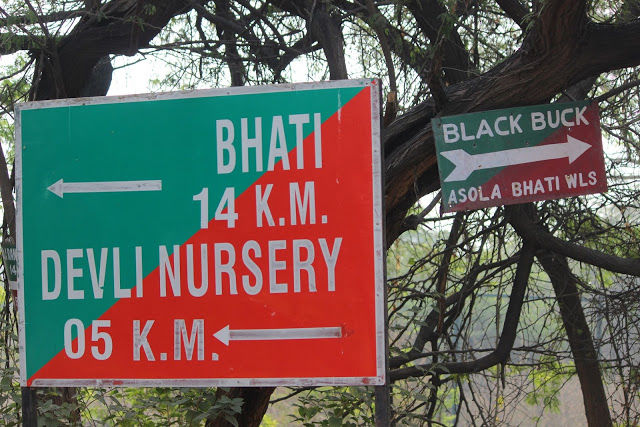 We walked as far as the sign that indicated that Black Bucks were to be found deeper inside. Since we didn't want to be caught trespassing on a Sunday morning, we turned and walked out of the gates, disappointed at the turn of events. I'd honestly gone in with high expectations, going by the reviews I'd read on Tripadvisor, but I guess I should have gone on a better day and perhaps a bit earlier in the morning. Nevertheless, we drove away from the sanctuary, planning to explore the Tughlaqabad Fort next. On our way back, I was generally looking at the scrubby forested landscape on my left, a little lower in height than the road. All of a sudden, my gaze caught something hidden cleverly behind short trees and dry bushes. I yelled at the top of my voice and we ground to a halt.
There was a Nilgai sitting in the foliage, calmly looking on as the traffic passed by on the road. My yelling may have been a bit of an over-reaction, for Nilgais are found all over Gurgaon, Haryana, and on the Yamuna Expressway around Delhi. But this unexpected incident of a wildlife spotting made the whole morning expedition to Asola Bhatti seem worth all the trouble.
My incredible Bear Grylls moment
The creature was well-camouflaged behind the scrubs, but I wanted to get a better shot. So I slowly climbed down the side of the road, making eye contact with the Nilgai throughout to preempt any sudden movements and be prepared to save my ass. But while it stared right back at me, it looked bored and did not stir. I went as close as I could without putting myself in danger of not being able to run back to safety in case the animal charged. I did not end up getting very good pictures, since it was hidden behind the trees, but the experience still felt like an adventure. For a moment there, I even thought of myself as Bear Grylls. Thankfully, the moment passed as soon as I was back on the road.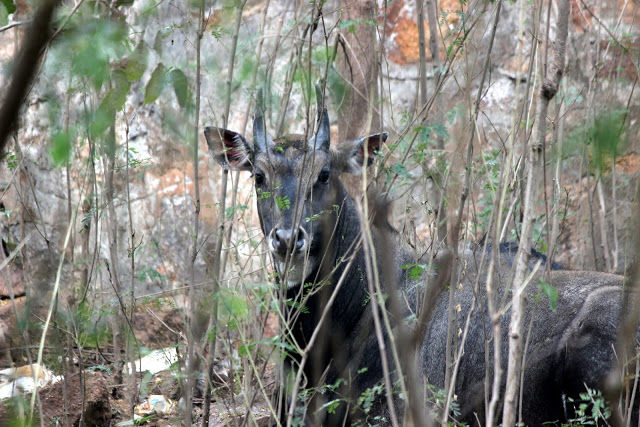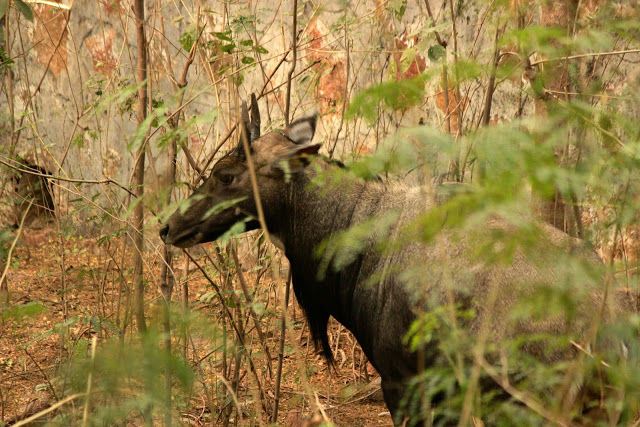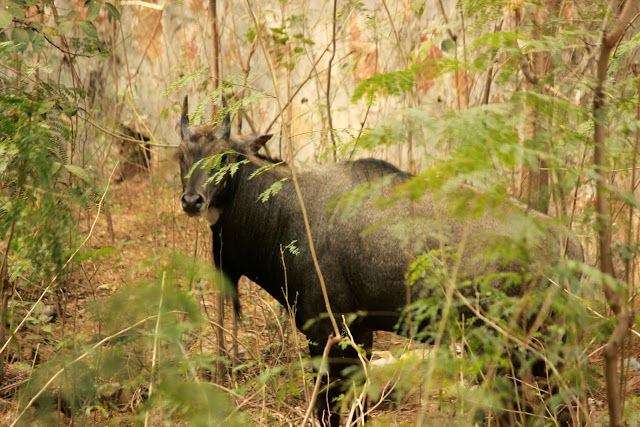 To sum up, even though the government caretaker thinks otherwise, I still have hopes from Asola Bhatti Wildlife Sanctuary. There has got to be some wildlife back there! I know from extensive Google searching that deep inside the Bhatti part of the sanctuary, there is a gorgeous Neeli Jheel (blue lake) flanked by nice picnic spots. There are several bird species and herds of Nilgai also to be spotted, though I doubt if there would be a single Black Buck. Nevertheless, I plan to wake up at an ungodly hour on a Saturday sometime this December and go find out more. If anybody is willing to drive me there or even just offer their company, hit me up!