Baolis are Step Well or Reservoirs which were used in Ancient India for storing water.
Water conservation has been always one of the prime motives of man, countless cities have been abandoned due to water crisis and we still face dire consequences of droughts all over the world.
The ruling clans of India, over the ages, have made many such Baolis all across the states, they were put to use in many different ways. While conserving and storage of water remained their primary purpose, separate baolis were made for Bathing and drinking purposes.
Steps were made so that when the water levels go down; people would walk till the well and draw water.
Baolis go many stories down and hence have a very cold vibe inside the structure. It is also believed that these places were used as communal meeting points where social gatherings were also held and religious offerings were made.
Delhi, the capital of India was the seat of power for many empires. It is believed that Delhi had once over 100 Baolis across the city however today only 30 or so remain and out of which one a couple of them are worth a visit.
The passage of time has not been very progressive for these structures, however the Archeological Survey of India is doing its best to save whatever it can of some of the monuments and return the Baolis back to their glorious days, albeit the water.
The Baolis are a must visit as they give insight into the era gone by.
While in Delhi, the following are a must visit for any History and Architecture enthusiast.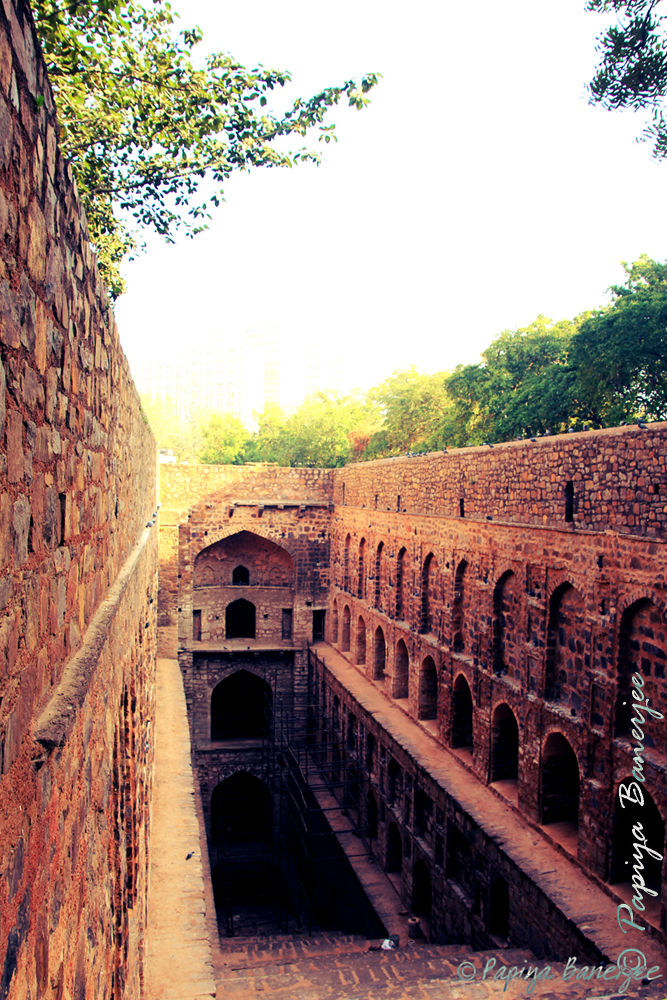 1) Agrasen KI Baoli
Location: Hailey Road, Connaught Place
Nearest Metro Station: The Janpath and Barakhamba Road Metro Stations lie closest. Take an auto rickshaw from the metro station.
Baolis such as this were used to for very efficient Rain Water Harvesting and used throughout the year for the common people.
Due to the cold air which arose from the Baoli it was a sanctuary for Meditation, Rituals and even other forms of relaxation and rejuvenations.
Agrasen ki Baoli is believed to be built by the 14th Century King Agrasen (or Ugrasen). It stands in midst of a very busy and bustling street of Delhi, Connaught Place.
The skyline of Delhi's new buildings can be seen looming over.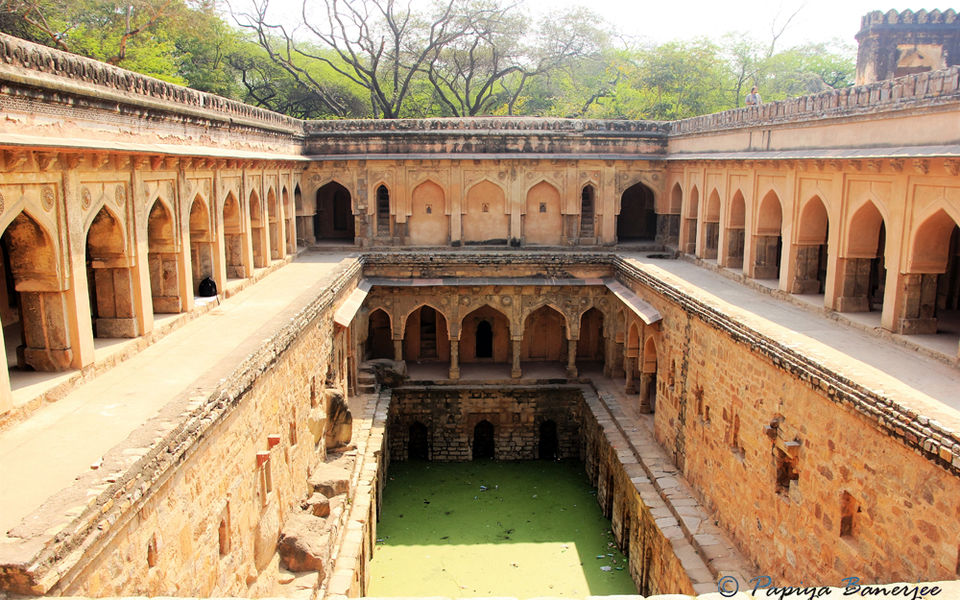 2) Rajon ki Baoli
Location: Inside Mehrauli Archeological Park, near the tomb of Jamali Kamali
Nearest Metro Station: Qutub Minar
This is one of the prettiest Baolis after the Agrasen ki Baoli and is situated in between the lush and green Mehrauli Archeological Park. This Baoli is believed to have been used by the Masons and the other highly casts and hence has a different level of Architectural sophistication to it.
Water has always held a special place in Hindu Mythology and Hindus even have a dedicated Deity called Ganga, who is till date very fondly revered. Some say that the Step wells formed a path between the Earth and Water and hence, one can take the spiritual journey by ascending the path.
These step wells show the intelligence of the architectures and expertise of the India Era gone by.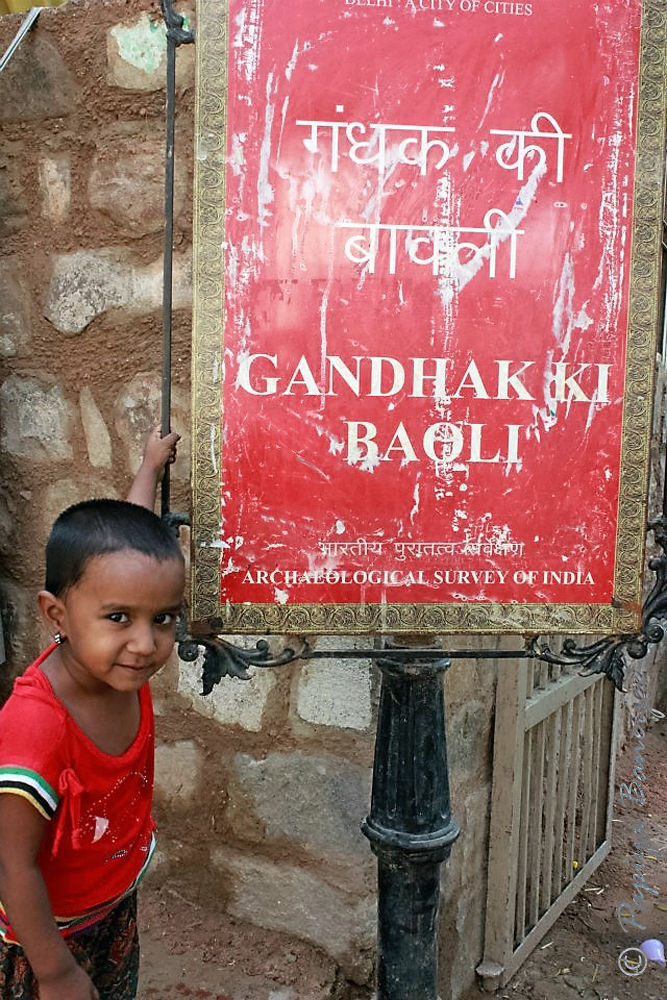 3) Gandhak Ki Baoli
Location: Near Mehrauli Archeological Park, 100 m south of Adam Khan's Tomb towards the
Dargah of Qutub Sahib
Nearest Metro Station: Qutub Minar
This is the Baoli of the common people. Acts as a proper reservoir and still hold water, albeit its color has turned into Green. The structure is surrounded by a highly populated village and one can only imagine its plight over the years
You will however, see a lot of young boys still Jumping over into the water during summers and enjoy their own little oasis.
These step wells are called by many names in other parts of India, it is known as a baori, bawdi, Baoli, or vav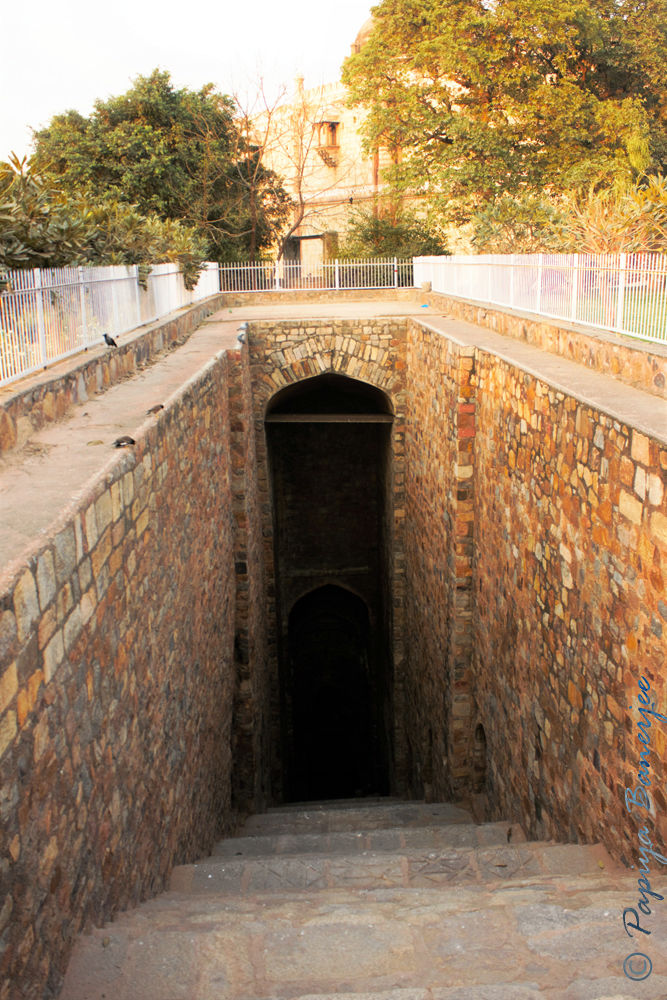 4) Old Fort (Purana Qila) Baoli
Location: Old Fort Complex, Mathura Road, Delhi
Nearest Metro Station: Pragati Maidan, from there take an Auto rickshaw till the Old Fort
Old Fort or as is a magnificent monument in itself, it comprises of many other monuments which hold very high significance amongst the historians and one of them being a Baoli. This is also one of those monuments which are protected by the Govt of India. It is a must visit.
Step wells usually are made up of two main parts: One a well which is dug underground to draw and store water, secondly the Steps and chambers made around it to access that water. In most of the step wells there are decorative Chambers which often were used as resting places during the hot summers.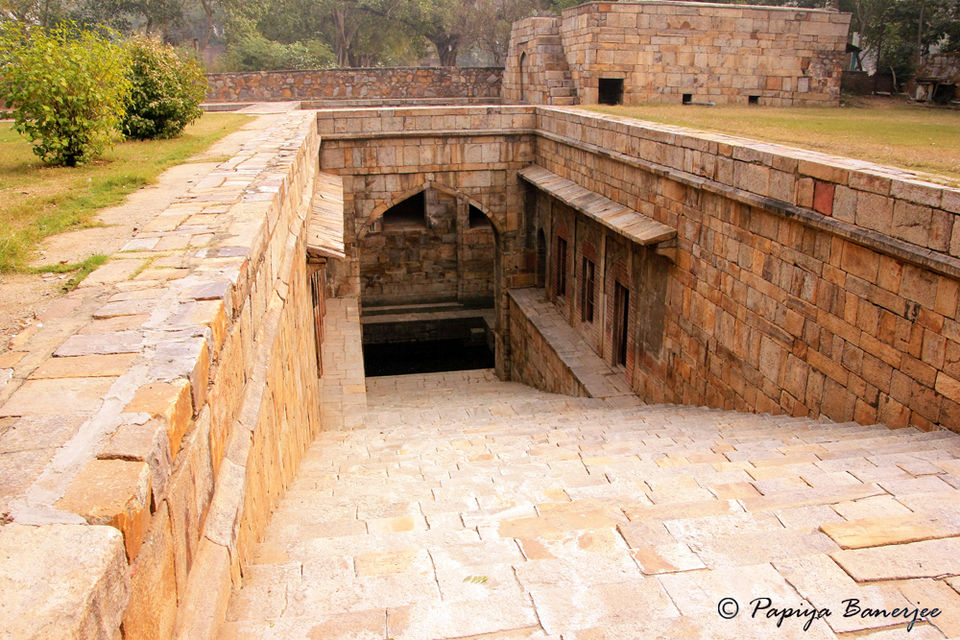 5) Red Fort Baoli
Location: Netaji Subhash Marg, Chandini Chowk, Delhi
Nearest Metro: Chandni Chowk
The Red Fort Baoli is mostly hidden because not many know it even exists, but its one beautiful structure.
It is made of an L shape and has chambers from all four sides. The perfect Masonry is visible in this architecture. Situated inside the Red Fort, it tells tale like no other.
This Baolis chambers were used as Prison cells by the British Empire to lock Indian soldiers. Etched in the stones are the names of the Commanders and soldiers who were captured and locked in this Step Well.
6) Baoli of Nizamuddin
Location: Nizamuddin Dargah complex
Nearest Metro Station: JLN metro station
This is another Baoli which is in use till date and is used as a Swimming pool for the locals who live around the Nizamuddin Village. This Baoli has been known to have special medicinal properties due to the present of Sulphur in the water.
During the British rule, the use of the Step well declined as the British found them to be unhygienic and unsanitary for bathing and drinking.
7) Rama Krishna (R.K.) Puram Baoli
Location: Sector 5, R. K. Puram
Nearest Metro: AIIMS
This Baoli is a part of other group of monuments in the same area and is famously known as the Wazirpur Complex Monuments. There are Tombs and Mosques with a garden surrounding this Baoli.
It is hidden in plain sight since the construction of modern buildings has seemed to shadow the monuments over a period of time.
Its construction is different in a sense that it holds two Turrets at the east side (domed towers)
8) Baoli of Qutub Sahib
Location: Dargah Hauz Kaki, Mehrauli
Nearest Metro station: Central Secretariat
This is situated very nearby the Gandhak ki Baoli in Mehrauli. Definitely visit the Dargah of Qutubddin Bakhtiyar Kaki.
Gradually it is being realized that the ancient forms of architecture, not only were a showcase of craftsmanship but made a lot more ecological sense. The way water has been stored and circulated from these step wells, we definitely have a lot to learn.
9) Ferozshah Kotla Baoli
Location: Ferozshah Kotla Fort, Bahadur shah Zafar Marg, Delhi
Nearest Metro Station: Pragati Maidan
This Baoli lies inside the fort complex of Feroz Shah Kotla. The Baoli is mostly kept under lock and key since it still acts as a reservoir and is used to water the gardens.
It is believed that every Thursday the doors of the Baoli are opened (by unknown forces) and people from all over the country come here to offer their prayers to Djinns.
What are Djinns you ask? Well that's a very vast topic. They are definitely not Gods neither Ghosts but are known as messengers. They are believed to be granting wishes of the devotees. Well you can write a letter to the Djinns and you might just get what you wished for.
10) Tughlaqabad Fort Baoli
Location: Mehrauli – Badarpur Road, Tughlaqabad
Nearest Metro Station: Tughlaqabad
This Baoli is situated inside the Fort ruins of Tughlaqabad and is surrounded by dense Jungles. Take the Guard along with you if you plan to visit this one. There are no specific trails since only the ruins are left. But nonetheless since it's inside the Fort premises, the fort itself was a magnificent structure and worth a visit.