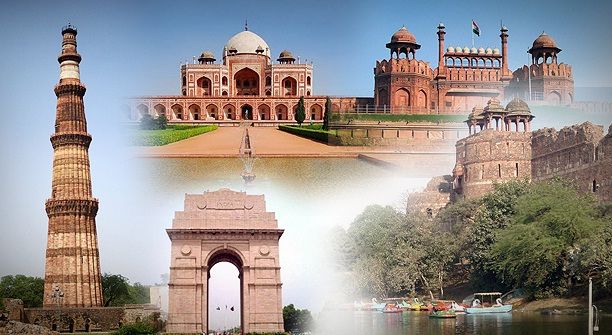 Delhi the modern capital of India and but I knew my capital for different reasons and they not reason to be proud of as every second day they were part of the breaking news but as thing happened I visited to Delhi to really know if It was worth all the hype or the misery that my friend had got say about the food and shopping of Delhi or safety of Delhi
I landed in the busiest airport of India Indira Gandhi International Airport throu interior somewhat remind me of T2 but I would still say that the Delhi Airport still had very elegant charm to it but what attracted me the most was view from the flight it was beautiful paradise with a lot of greenery and dome shape structure which were easily viewable from my flight
Delhi has a very a rich and famous history to it which made it moreover interesting for me to visit on left or on your right you find something got do with history either be the Rashtrapati Bhavan or the supreme court of India , Delhi Chaat to Momos , Jamma masquid to akhashdharam , quatab minar to lodha Garden all very easy to find to pay a visit to thou they spread out on quiet a distance , if you at look at map of India you see Delhi as such a small place but when I come here I swear it very easy to get lost . I written this blog because somewhere this place was special to me I was lost in it culture it has a power packed fusion of modern and historical which people sound very happy about. In food, in its nature. In true terms I was lost and I simply didn't want to come out of that zone I was enjoying myself I meet new people who were completely different in there ideology on life compared to me but I somehow found me self to be very comfortable in that zone of life . I made amazing memories I still remember going to all these famous part of history be it the India gate or shopping at Connaught place. I was lost but not in wrong way but in the good terms of it. I have spent nights in falling in love under the star and all the beautiful people I met along the way. It made me feel so alive It made me feel who I was and what I wanted to do in my life the day I entered Delhi I made promise to myself to be a who I was and when I left Delhi I had again promised something to myself to be a better then what I was .At the very end those memories will be the only valuable possessions I owned and to be very frank let any one say anything I was proud to visit such a beautiful place where the weather was perfect for my liking it was not so cold and not so hot , in term of food it was reasonable and yummy that I could not get back to some stuff in Mumbai , travelling In metro was such an easy job . I still plan trip to Delhi for there food and shopping at sarojini , lajpat nagar , karol bagh , janpath , chandni chowk , khan markert .
If do plan your visit to Delhi I would suggest something which I learnt after 3 trip to Delhi
Weather: - For a person like me I would love to visit that place In October as neither to cold nor to hot it perfect in all conditions for sightseeing or for a night out
Food :- The best of food at such a affordable price . Delhi very famous for their North Indian cusinie but I put down some items which people all over come for
1. Paranthas
2. Chaat
3. Butter Chicken
4. Kebabs
5. Chole Bhature
6. Biryani
7. Nihari
8. Rolls
9. Momos
10. Jalebis
Place to Visit:- Delhi is full of monument's From NEW TO OLD DELHI , but if short on time then I would suggest
1. India Gate: - The desi or Indian version of Arc de Triomphe magnificent site and it free of cost and it worth a visit
2. Red Fort :- was the residence of the Mughal emperor for nearly 200 years .
Every year on India's Independence Day (15 August), the Prime Minister of India hoists the national flag at the Red Fort and delivers a nationally-broadcast speech from its ramparts The Red Fort, the largest monument in Delhi is one of its most popular tourist destinations and attracts thousands of visitors every year
3. Lodhi Garden:- As there is little architecture from these two periods remaining in India, Lodhi Gardens is an important place of preservation. The tomb of Mohammed Shah is visible from the road, and is the earliest structure in the gardens. The architecture is characterised by the octagonal chamber, with stone chhajjas on the roof and guldastas on the corners.
4 . Qutb complex :- The Qutb complex refers to an array of monuments and buildings. In addition to the most famous monument in the complex, Qutub Minar, other important buildings and structures stand in the complex, including the Quwwat-ul-Islam mosque, the Ala-I-Darwaza, the Alai Minar, and the Iron Pillar. Twenty-seven previous Jain temples had been destroyed and their materials reused to construct the minar and other monuments of the complex. That resulted in the creation of a unique, Indo-Muslim architecture, blending the gods of Jainism and Hinduism with the symbols and architectural designs of Islam.
Safety is a problem but it a worth a visit this place once and take a look for your self end of the day it our national capital instead of taking out flaw help it out to make it better to be .