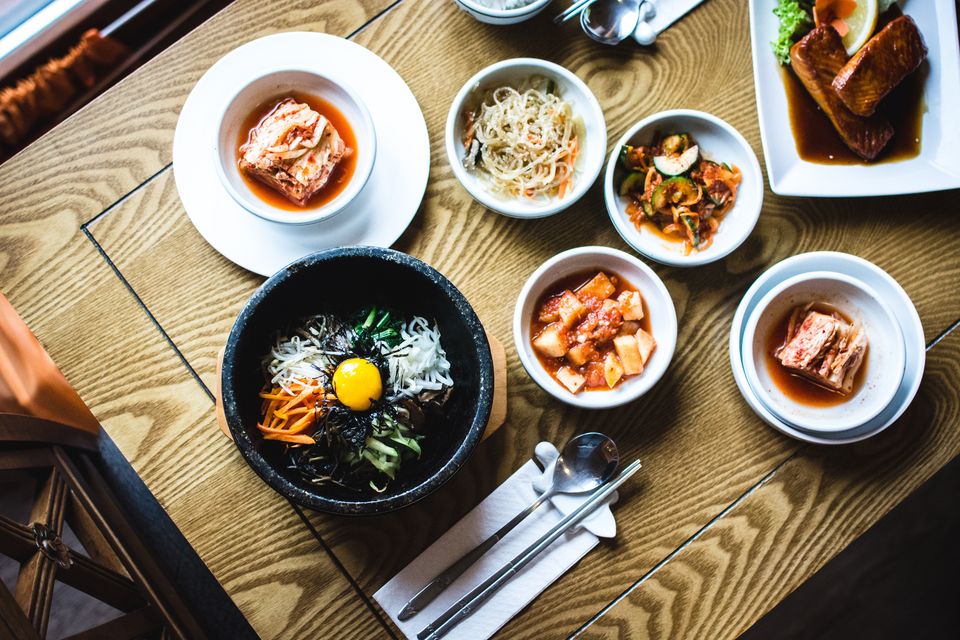 Right opposite the famous Deer Park, in the heart of South Delhi, is a place that can well sum up the entire spirit of Delhi. Narrow winding lanes, blaring horns, cobwebs of wires and moustached men smoking hookahs are some of the first sights you witness as soon as you enter Humayunpur. But that's not all that the urban village has to offer.
Inspite of being an area traditionally inhabited by the Jat community, Humayunpur has emerged as an outpost of the northeast. Owing to affordable cost of living and proximity to Delhi's crème de la crème, Humayunpur is the go-to neighbourhood for migrants from northeastern states. It is this confluence of cultures that has given rise to an understated yet exciting food scene. Believe it or not, the lanes of Humayunpur behold the flavours of Nagaland, Mizoram, Nepal, Myanmar and much more! Here are some of the top places to kickstart your next gastronomical adventure.
Tucked in a small by-lane, a short walk down the famous NCC Gate, Lha Kitchen is quite simply a hidden gem. The cosy restaurant boasts of a vast menu that includes a range of Nepalese and Bhutanese delicacies. A local favourite of sorts, Lha also does authentic Nepalese thakalis (thalis) which are to die for. The pretty decor, efficient service and pocket friendly rates only add to the entire dining experience. If you're going to have only one meal in Humayunpur, make sure its at Lha Kitchen!
Cost for two: Rs. 700 (approx.)
Cuisine: Nepalese, Bhutanese, Chinese
Standout dishes: Buff roast, Pork thakali, Chicken jhol momos
Timings and location: 12 noon to 11. p.m.; 168, 1st floor, Humayunpur
Contact number: 011-41694715
If you happen to be a no-frills person when it comes to eating out, Mizo Diner might become your new go-to place. The restaurant is one of the very few places in NCR dedicated to the delicate flavours of Mizoram. While Mizo Diner aces classics like chow satui leih (noodles with meat and lentil broth) and sachek (buff intestines), there's also a fare range of Chinese food for those who like to play it safe. A special mention for an off the menu item that's totally worth the hype – Mizo Diner serves homemade rice beer that will leave you feeling really light, almost lethargic. Pro tip, don't underestimate the beer!
Cost for two: Rs. 500 (approx.)
Cuisine: Mizo
Standout dishes: Pork ribs, Chicken with bamboo shoot, Chow satui leh
Timings and location: 12 noon to 11.00 pm; 85, Humayunpur
Contact number: 07065737746
From a small takeaway counter to a vibrant and cute restaurant, The Categorical Eat Pham has come a long way. This Manipuri restaurant, despite a limited menu, is a meat lover's paradise with the River Snail Curry particularly enjoying a cult following. The staff takes special care while cooking the rare delicacy, meticulously cooking it after cleaning the snails for 12 hours! Owing to an exotic beverage menu, The Categorical Eat Pham also makes for a great place to spend a winter evening sipping rare teas with your significant other.
Cost for two: Rs. 600 (approx.)
Cuisine: Manipuri
Standout dishes: Duck curry, River snail curry, Full fish fry
Timings and location: 12 noon to 11.00 pm; 168, Ground Floor, Humayunpur
Contact number: 011-41812089
First things first, Hornbill is anything but a fancy place to dine at. The Naga restaurant is located in a small, dingy basement that can barely seat 12-15 people at once. However, despite the humble setup, Hornbill is one of the oldest and most popular places in Humayunpur which only proves how good the food is! What sets Hornbill apart from other restaurants in the area is the fact that the team continues to source its key ingredients all the way from Nagaland. Apart from a long list of pork and fish curries, Hornbill's menu also includes their signature chutneys. These homemade dips are just the souvenir that you'd want to take back home after a wholesome meal.
Cost for two: Rs. 1,000 (approx.)
Cuisine: Naga
Standout dishes: Smoked pork with yam, Chef's chicken, Fish with bamboo shoot & raja mircha
Timings and location: 1 p.m. to 10:45 p.m.; Basement, 104/A, Humayunpur
Contact number: 09811323267
If you're someone who's always equated sushi with high-end fancy restaurants, a trip to Kori's will open up a whole new world to you. Kori's, with its laid-back vibe brings the complex flavours of Korea to the winding lanes of Humayunpur and how! The cafe offers a range of Korean classics such as kimbab, sushi, ramen and dosirak (thalis), in both vegetarian and non-vegetarian variants. Interestingly, Kori's also has one of the most extensive beverage menu that you're likely to see in a budget eatery. Oh, and did I mention how the Korean teas are so good that you'll feel as though you're in the heart of Seoul? Miss them at your own risk!
Cost for two: Rs. 1,200 (approx.)
Cuisine: Korean
Standout dishes: Tuna kimbab, Crab roll, Shin ramen
Timings and location: 11.00 am to 11.00 pm; R 62/1, Humayunpur
Contact number: 08287371686
Despite the fact that are less than ten items on the menu, Mohinga still finds a spot in this list for its sheer uniqueness. The restaurant is named after the national dish of Myanmar, Mohinga – a fish and rice noodle soup which also happens to be the in-house speciality. And just to make things easier, Mohinga has five variants of almost their entire menu – egg, chicken, buff, prawn and vegetarian! But if there's one dish that steals the show, it has to be the Capital Ramyun. The dish claims itself to be the spiciest ramen in Delhi and just one bite is enough to make you realise that they are not kidding.
Cost for two: Rs. 450 (approx.)
Cuisine: Burmese
Standout dishes: Buff capital rayum, Chef's special fish broth ramen
Timings and location: 11.00 am to 11.00 pm; Shop 97, Humayunpur
Contact number: 07982752510
Know of any place that deserves a spot on this list? Tell us about about it in the comments below or click here and share your stories with the Tripoto Community.
Get travel inspiration from us daily! Save our number and send a Whatsapp message on 9599147110 to begin!