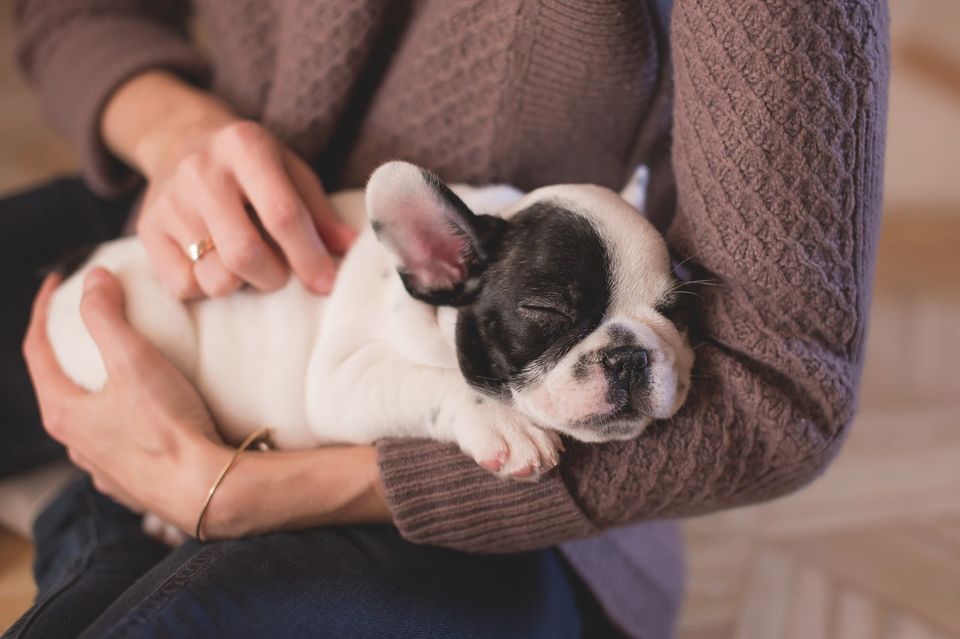 Famed American humorist Josh Billings once correctly said, "A dog is the only thing on Earth that loves you more than you love yourself." While Billings said these famous lines way back in the day, they couldn't hold any truer than they do today. In times when friends and lovers come and go, a dog's love is indeed the only thing that stays forever.
And since the best way one can respond to love is by giving it back, get on and plan a special date with your furry friends to make them feel special. Thankfully, Delhi NCR boasts of a lot of dog cafes that provide sumptuous meals for both you and your pets. Here are the city's ten best dog cafes you must visit with your doggo for a satisfying experience unlike any other:
Nestled right amidst Shahpur Jat's designer boutiques is the ultimate haven for every dog lover in Delhi NCR, Puppychino. In addition to offering a lip-smacking spread for dog owners, the cafe has a dedicated doggo menu to ensure that everyone is pampered here. Speaking of pampering, Puppychino also boasts of a dog spa to take care of your pets' grooming needs. In case you want to celebrate your doggo's birthday or throw a party for them, these guys will be more than happy to host that too!
Cost: ₹1,000 for two (approx.)
Cuisine: Continental, Italian
Standout dishes: Barbeque chicken pizza, pancakes, nutella caramel shake, spicy beans and beetroot burger
Timings and location: 12pm to 10pm; 119, 3rd Floor, Shishan Bhawan, Shahpur Jat, New Delhi
Contact: 011-33105862
If you're looking to treat your pet to a fun and playful experience with delectable food, drop everything and head to Off The Leash right away! Located on the outskirts of the city, Off The Leash boasts of a small pool, open green space and tons of activities to keep your dog busy. Laze about while your dog interacts with other furry friends, savour the selection of snacks offered or explore the cafe's pretty surroundings with your pet—the possibilities are endless at this one!
Cost: ₹800 for two (approx.)
Cuisine: Snacks
Standout dishes: Cold coffee, masala tea, chilli potato, green sandwich
Timings and location: 7:30am to 11am and 5pm to 7:30pm; Behrampur, Sector 59, Near Sohna Road, Gurgaon
Contact: 08527075275
Though Tabula Beach Cafe is one of the most legendary hotspots to enjoy Delhi's nightlife at, it offers a completely different vibe by day. The beach themed cafe, with its picturesque outdoor seating area makes for a great place to take your dog out for a lunch. Add a dose of delicious cocktails to your lunch with your pet by your side and you'll get the perfect beach vacay vibes!
Cost: ₹1,500 for two (approx.)
Cuisine: Continental, North Indian, American, Italian
Standout dishes: Apple martini, zesty quinoa salad, butter garlic calamari, Mangalore masala ensemble
Timings and location: 12pm to 1am; The Village Restaurant Complex, Asiad Village, Khel Gaon Marg, New Delhi
Contact: 09650250099
Combining their love for bikes and dogs, Throttle Shrottle is a 24-hour bikers cafe located on the Gurgaon-Faridabad road. Throttle Shrottle has two resident dogs Peddler and Sparco, who are trained to welcome other guests and their pets. While guests can embrace the rustic, grungy decor and explore their love for riding, their dogs can play around with other on-site animals which include rabbits, turtles, fishes, birds and guinea pigs!
Cost: ₹500 for two (approx.)
Cuisine: North Indian, Snacks
Standout dishes: Bun maska, chicken cheese burger, 1000 CC omelette, kick-ass lemonade
Timings and location: Open 24 hours; Opposite Valley View Apartments, Gwal Pahari Signal, Gurgaon Faridabad Road, Sector 56, Gurgaon
Contact: 09560190100
Whether it be humans or dogs, you just don't say no to pizza! Understanding that emotion, Leo's Pizzeria unites the pizza lover among us all and offers artisan, authentic Italian pizzas right in the heart of Delhi. The eatery also has a porch and an outdoor garden for your pup to have a gala time. And while the furry ones do that, you can pick up a book from their impressive collection and spend some quiet time reading.
Cost: ₹1,500 for two (approx.)
Cuisine: Italian
Standout dishes: Pepperoni pizza, chocolate pudding, gourmet pizza, virgin mojito
Timings and location: 12pm to 3:30pm and 7pm to 10:30pm; 28, Basant Lok Market, Vasant Vihar, New Delhi
Contact: 09821277236
With its chic ambience and top notch flavours, Cafe Dori makes for a great place to spend a relaxed evening at with your special someone. And the best part is that you can bring your pets to this beautiful eatery that offers plenty of space for them to play around. Apart from their fine dining fare, Cafe Dori also has a special carrot cake for doggos which is said to make them drool endlessly.
Cost: ₹1,750 for two (approx.)
Cuisine: European
Standout dishes: Hot chocolate, pumpkin ravioli, Swedish pork meatballs, homemade banoffee pie
Timings and location: 10am to 10pm; Dhan Mill Compound, 100 Feet Road, SSN Marg, Chhatarpur, New Delhi
Contact: 011-26302488
Want to take your dog out but also need a little something to satisfy your sugar cravings? Panchsheel Park's The Brown Box is where you should be headed to right now! One of the most exquisite bakeries in town, The Brown Box offers a sinful selection of bakes that you can't help but fall in love with. To add to that, the pet-friendly bakery has a cosy ambience with plenty of space for you to cuddle up with your pet while satisfying your sweet tooth.
Cost: ₹1,000 for two (approx.)
Cuisine: Bakery
Standout dishes: Kit-kat shake, egg sandwich, chicken tikka panini, dark chocolate waffles
Timings and location: 10am to 9pm; Shop 2, S Block, DDA Shopping Complex, Panchsheel Park, New Delhi
Contact: 09910277733
If you're someone who takes their love for coffee as seriously as their love for dogs, a trip to Saidulajab's Blue Tokai Coffee Roasters should definitely be on your to-do list. A successful chain, Blue Tokai offers perfectly brewed coffee preparations and a good selection of snacks to go with the same. The beautiful surroundings and insta-worthy decor of Blue Tokai's Saidulajab branch makes it an ideal place to take your dog out on a rainy evening coffee date.
Cost: ₹1,000 for two (approx.)
Cuisine: Cafe
Standout dishes: Banana cake, grilled mushroom cheese sandwich, iced latte, peppermint hot coffee
Timings and location: 9am to 10pm; Khasra 258, Lane 3, Westend Marg, Saidulajab, Near, Saket, New Delhi
Contact: 09821126015
Located away from Gurgaon's bustling traffic, Cafe Soul Garden is a lot of things at once. The garden cafe frequently hosts screenings and flea markets, has lightning fast Wi-Fi for workaholics and of course, an expansive menu for foodies. Add to that, their lush green space which is perfect for your dog to breathe in some clean air. And while your pets do that, they can relish special meals prepared keeping their nutrition needs in mind.
Cost: ₹1,500 for two (approx.)
Cuisine: Continental, Italian
Standout dishes: Peri peri burger, grilled cottage cheese steak, tomato basil soup, berry blast shake
Timings and location: 12pm to 11pm; Next to Supermart 2, DLF Phase 4, Gurgaon
Contact: 07065733733
Neither is Diggin' a dog cafe, nor does it have a special menu for our four-legged friends. You must be wondering, why does it still find a place on this list? Well, for starters, Anand Lok's Diggin' is as much a sensory experience as it is a gastronomical one. Their pretty outdoors are straight out of a dream and will make both you and your pet fall in love with the place. Second, the staff is more than welcoming to dogs and even takes care of them while you spend a quiet winter afternoon. Finally, there's always cats and dogs roaming around in the restaurant's outdoor area so your pet won't feel lonely!
Cost: ₹1,500 for two (approx.)
Cuisine: Continental, Italian
Standout dishes: Lamb lasagne, Pesto pepperoni pizza, spaghetti bolognese, chocolate gelato
Timings and location: 11am to 11pm; Anand Lok Shopping Centre, Opposite Gargi College, Anand Lok, New Delhi
Contact: 011-33105376
Have you ever experienced the joy of travelling with your dog? Share your memorable travel stories with the Tripoto Community by simply writing in here.
Don't forget to head over to our YouTube channel for some kickass travel videos to fill you up with wanderlust!
Frequent searches leading to this page:-
best dog cafe in delhi ncr, play with dogs in delhi, dog cafe in noida, dog cafe in gurgaon, dog cafe near me, Explore Delhi with tripoto, Weekend getaways from delhi