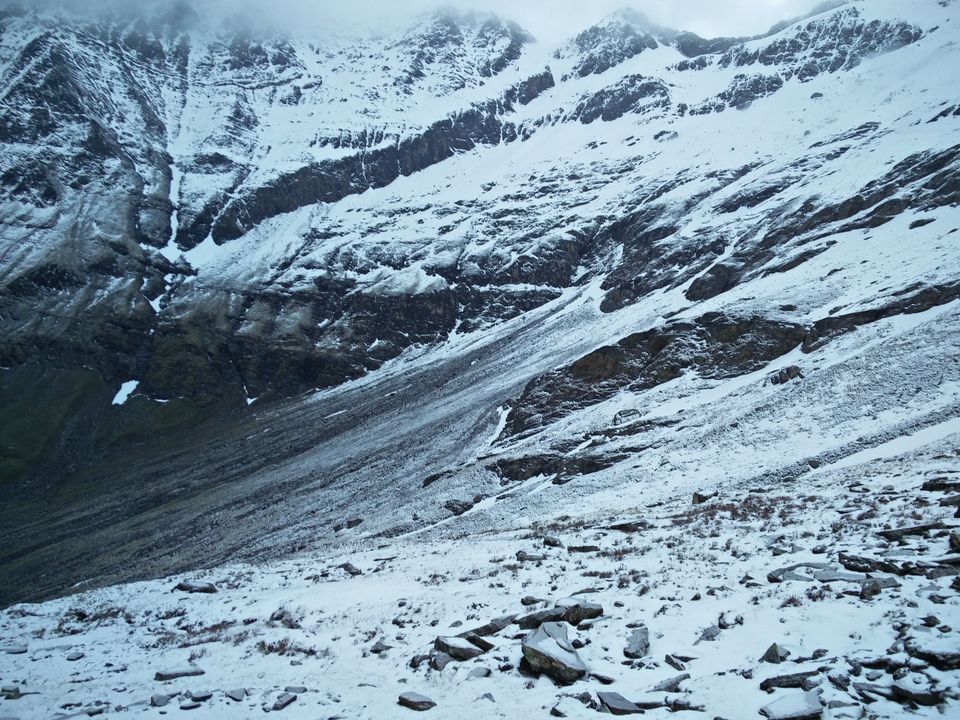 Day 1 - Leaving Gurgaon
For long, I wanted to go for Roopkund trek which fascinated me for its mysterious lake with skeletons.
As soon as I foresaw some lean time in my professional life, I booked this trek on Trek the Himalayas.
After getting done with my day's work, I took metro to reach Old Delhi Railway station to catch Ranikhet Express for Kathgodam where all trek members were to assemble in the morning.
Day 2 - Kathgodam to Loharjung
My train was 2 hrs late and I along with some other members reached at Kathgodam by 7 am. One tempo traveller and two cabs were waiting for us to take us to Laoharjung, the base camp for trek. Kathgodam is a beautiful place. The temperature was down as compared to Delhi and of course, the air was clean as I could feel it while breathing.
I joined 10 other members in tempo traveller and we started our journey. We crossed Bheem taal, Almora and Kausani on our way. It was a 12 hr journey to the base camp. I hardly felt tired because of excitement to go to the mountains once again. It was going to be my 4th trek, and probably the one with highest altitude for me. Earlier, I had been to Kedarkantha, Hampta Pass and Valley of Flowers / Hemkund Sahib.
We stopped at roadside restaurants for breakfast and lunch.
At around 7 pm, we reached Laharjung. Hot tea and Pakodas were waiting for us. It was bliss in this small place with distant mountain views and chill in the air. After we freshened up, we were briefed by the base camp in-charge and were introduced to our trek leader and other members. After a long but much useful information about the trek, we had dinner and retired for the day. I slept with utmost happiness and excitement as the day was there when I would start one of my bucket list treks tomorrow morning.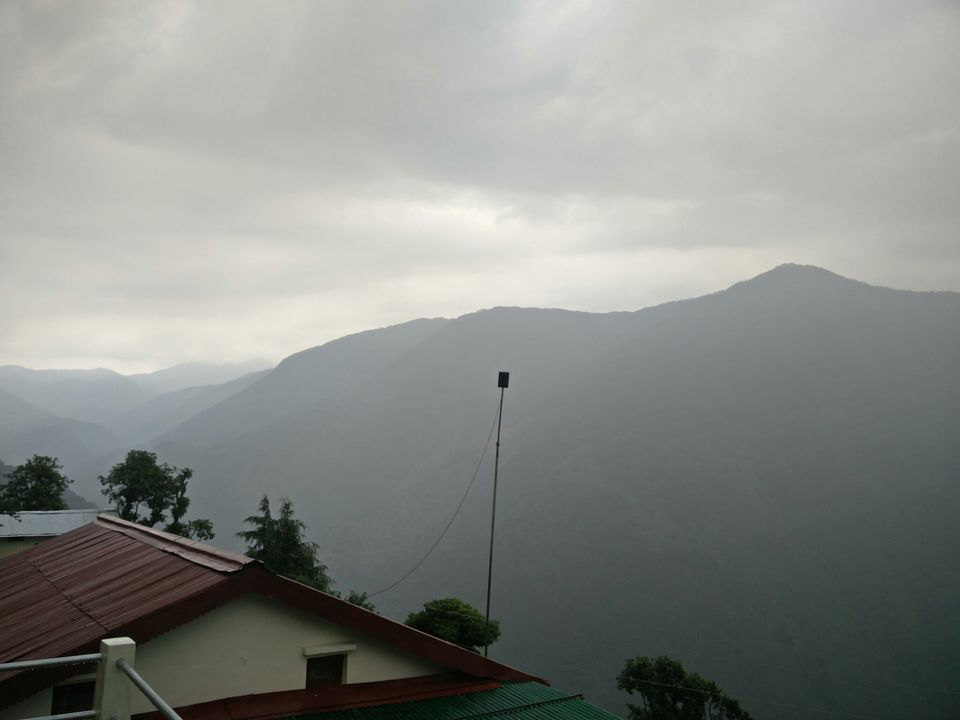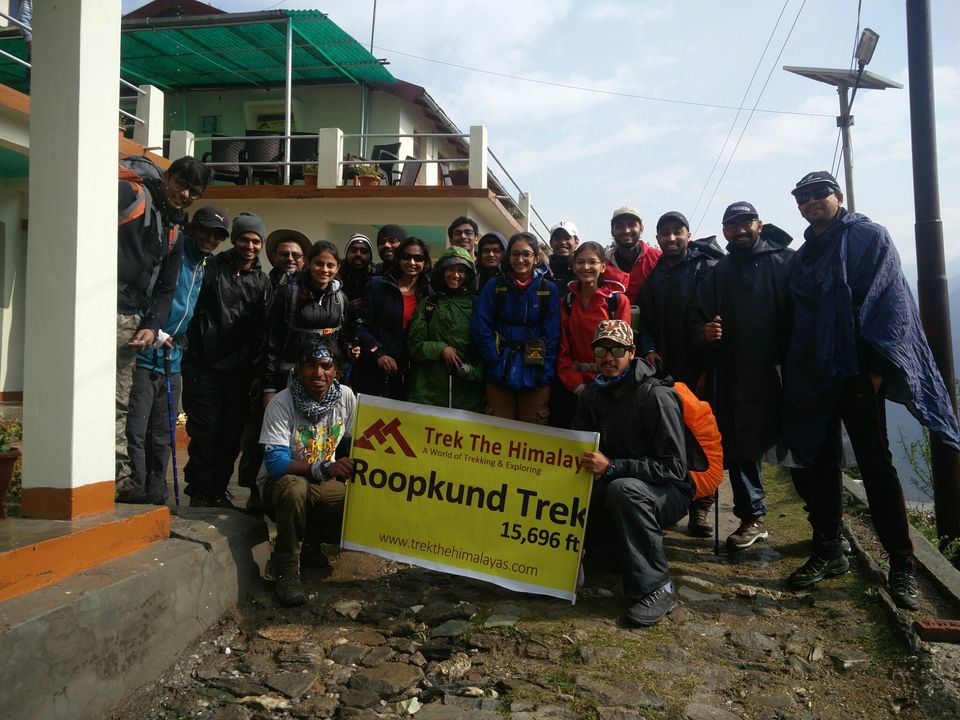 Day 3 - Loharjung to Didina Village (8500 ft)
It was first day of our trek. The day started with light showers in the morning and we had to take out our ponchos. After breakfast, we started our trek with guide at the forefront leading the batch. Pushkar, our guide, was a local guy and an experienced one. We walked on flat road for first 2 km or so. Then, we took a steep descent through a small village followed by a steep ascent to reach Didina Village. The trail was through a beautiful forest with dense trees all around. In between, there were village homes and I could see solar panels being used extensively in this village as source of electricity. At around 2 pm, we reached Didina Village where we were staying in village homes. It was a small village and our homestay was so serene that the view from our room was a large valley with distant mountains. The rain only added to the beauty of this place. We had an awesome rhododendron juice (local drink) followed by tasty lunch. As a ritual, we headed for acclimatization walk to a height 100-200m above our stay. For trekking to high altitudes, rule of 'Trek High Sleep Low' is followed. Heavy rain started in the evening and we retired to our rooms quite early after dinner.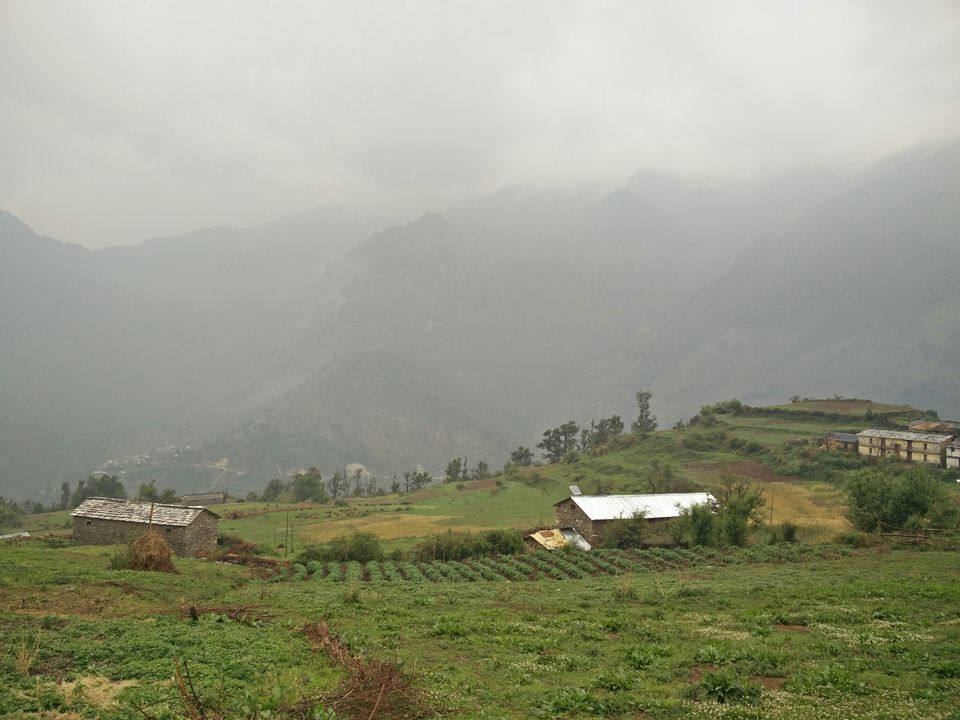 Day 4 - Didina to Ali Bugyal (11500 ft)
This day was supposedly the toughest day as we were to trek 11 kms from 8500 ft to 11500 ft. The first 4 kms were tough as it was steep incline through the forest. It was rocky-cum-dirt trail and was particularly tough because of the rain. As we were negotiating the steep incline, I could see the Didina Village as a small point in the valley far away. At the end of this incline, there was a small meadow and a small tea shop. We had Maggi, omelette and tea before leaving for our next leg which was a gradual ascent with intermittent steep. After another few kms of trekking, we entered a place which was green all around. We were at the entrance of Asia's largest meadows. As I finished the climb and saw on the right, it was lush plain green meadows as far as I could see. All around these meadows, I could see distant mountains. Then, it was all fun as we walked over the flat meadows and reached our camp site - Ali Bugyal. It was a perfect camp site. On one side, there were only meadows and other side was captured by large mountains. At a distance, I could see Mt. Trishul, Kaalidhat and other peaks. Clouds didn't allow us to witness these peaks for long though. It was already 4 PM when we reached the site. Snacks and tea were a bliss amidst meadows and cloudy weather. After acclimatization walk, we also visited a small tea shop in the middle of meadows. There was a strong wind with rain and we took shelter in a tea shop. It was cozy inside. The tea served well with random talks. After dinner, we retired in our tents. As I went out to answer nature call in the night, the sky had cleared, wind had throttled and all I could see was stars all around. The starry sky was intimidating.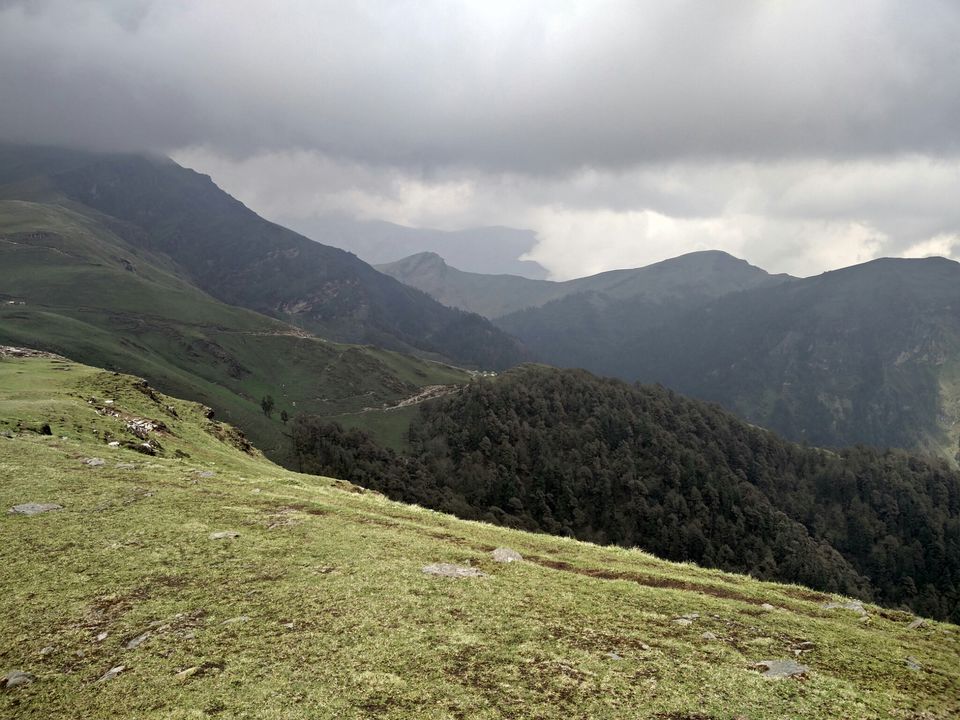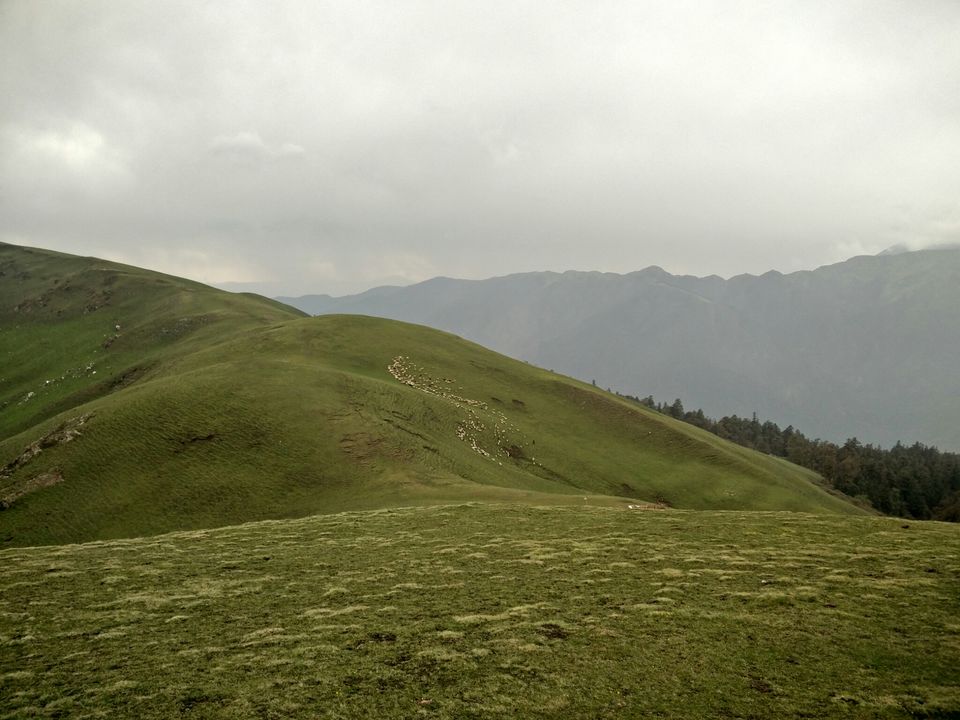 Day 5 - Ali Bugyal to Pathar Nachauni (13000 ft)
It was a beautiful morning with strong sun and clear sky. The distant peaks were shining and making their presence felt even at such a distance. We started at around 9 am as it was an easy trek day. We had to trek for 4-5 kms and that too a gradual ascent. We walked over the meadows for first one km. Then, the meadows were on our left side and mountains on the right. We crossed Bedni kund. It was a beautiful landscape as we had reached at significant height and one could see Bedni kund; valleys beyond the meadows and mountains beyond valleys. It was a beautiful sight. We met TTH's batch which was returning from Roopkund. Their words of encouragement filled excitement in many of us. The weather had also changed by this time. It was drizzling in between. By lunch time, we reached Pathar Nachauni camp site. It was one crowded site with trekkers and set up of different trek organizations. Our camp was almost at the end of meadow. It was a spectacular view. I could see the trail for our next day.
After lunch, we headed for acclimatization walk up to the tea shops at a height. It was very windy over there. I could feel the air gushing over me. It was a famous point as one could find mobile signal here. I sat over a big rock and enjoyed the wild nature before having hot tea and Maggi inside cozy tea shop.
In the night, I along with some friends came out to do star gazing as we discussed the last day. It was one of the beautiful sights I had ever witnessed. Milky way was easily visible in the sky and also big mountains seemed so daunting that one would take a few steps back while staring at them.
We were briefed by camp in-charge that evening. He mentioned that now our real trek would start as we would be gaining significant altitude the next day. As I slept, I wished for an early morning as I couldn't wait to go to Bhagwabasa which was our campsite settled in snow and where wait would end for summit trek.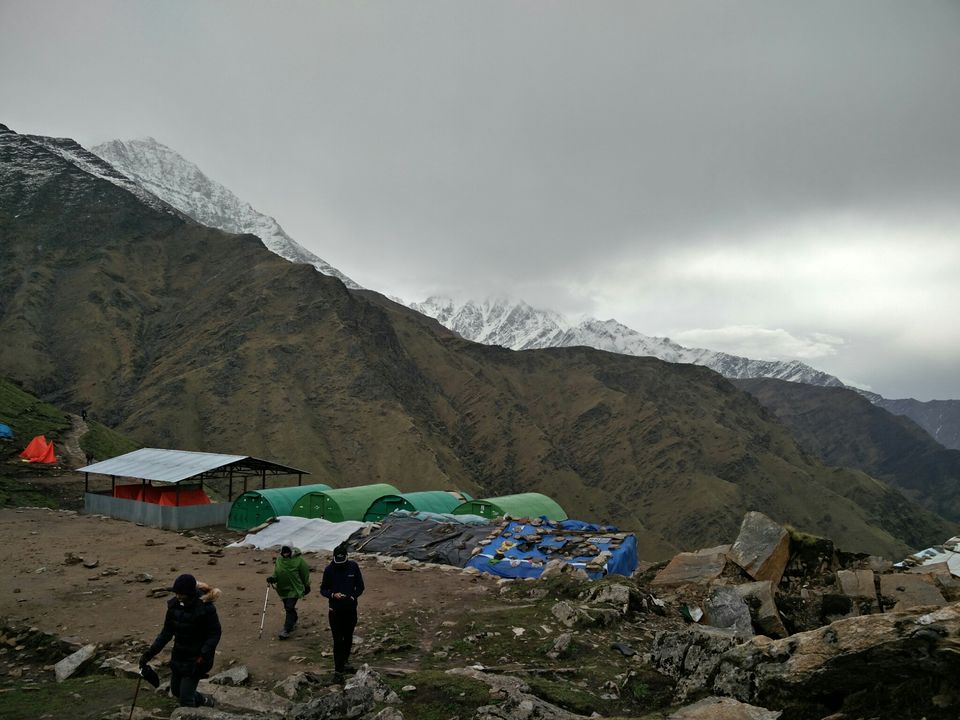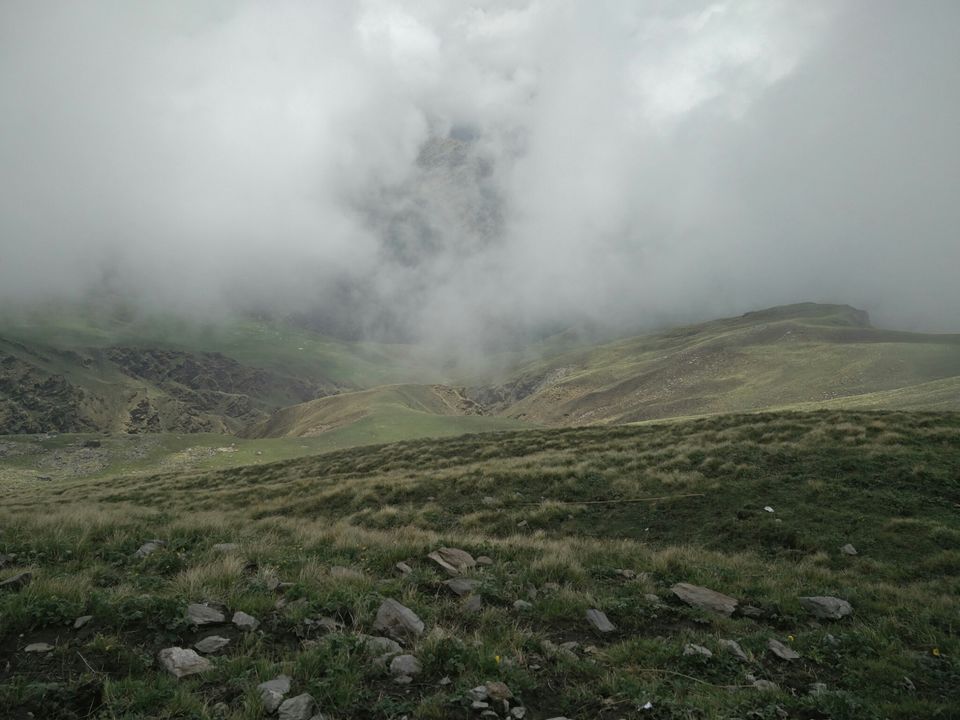 Day 6: Pathar Nachauni to Bhagwabasa (14000 ft)
The morning was quite eventful as early morning sun gave way to clouds and weather changed dramatically. Clouds were flowing like a river from east to west and that was below us in the valley. We packed our backpack before having breakfast. We left at 8:30 AM to avoid any major obstruction by weather as it gets quite unpredictable as you move up in the mountains. As there would be no water source on the way, we were instructed to carry two water bottles. Our first halt was Maggi point where we went for acclimatisation walk last day. From there, it was a steep ascent but with a well defined trail. Snow started showing in patches on our way. After trekking for 4 kms, we reached Kalu Vinayak Temple which was at 14200 ft height. It had also started raining by then. The temple was at such a serene place that I offloaded my backpack at one of the shops and came outside to be with the nature despite rain. I closed my eyes and felt the rain droplets with chilled breeze flowing and taking away all the worries of normal mundane life. We waited for our whole batch to arrive before leaving this place. The next 2 kms trek was gradual and flat at some places. The snow was becoming more prominent now. It was also quite windy and chilled. Three cloth layering seemed insufficient while trekking. Rain was getting heavier and heavier. As I saw the campsite from little distance, it was a serene set up. On the left was camps of multiple organisers and on the straight, one could see the trail of Roopkund. There was very poor visibility due to rain and fog. As we entered our camps, hailstorm hit the area. It was another world all together. The ferocity of hailstorm made me realise the position of us 'Humans' in this whole grand set up.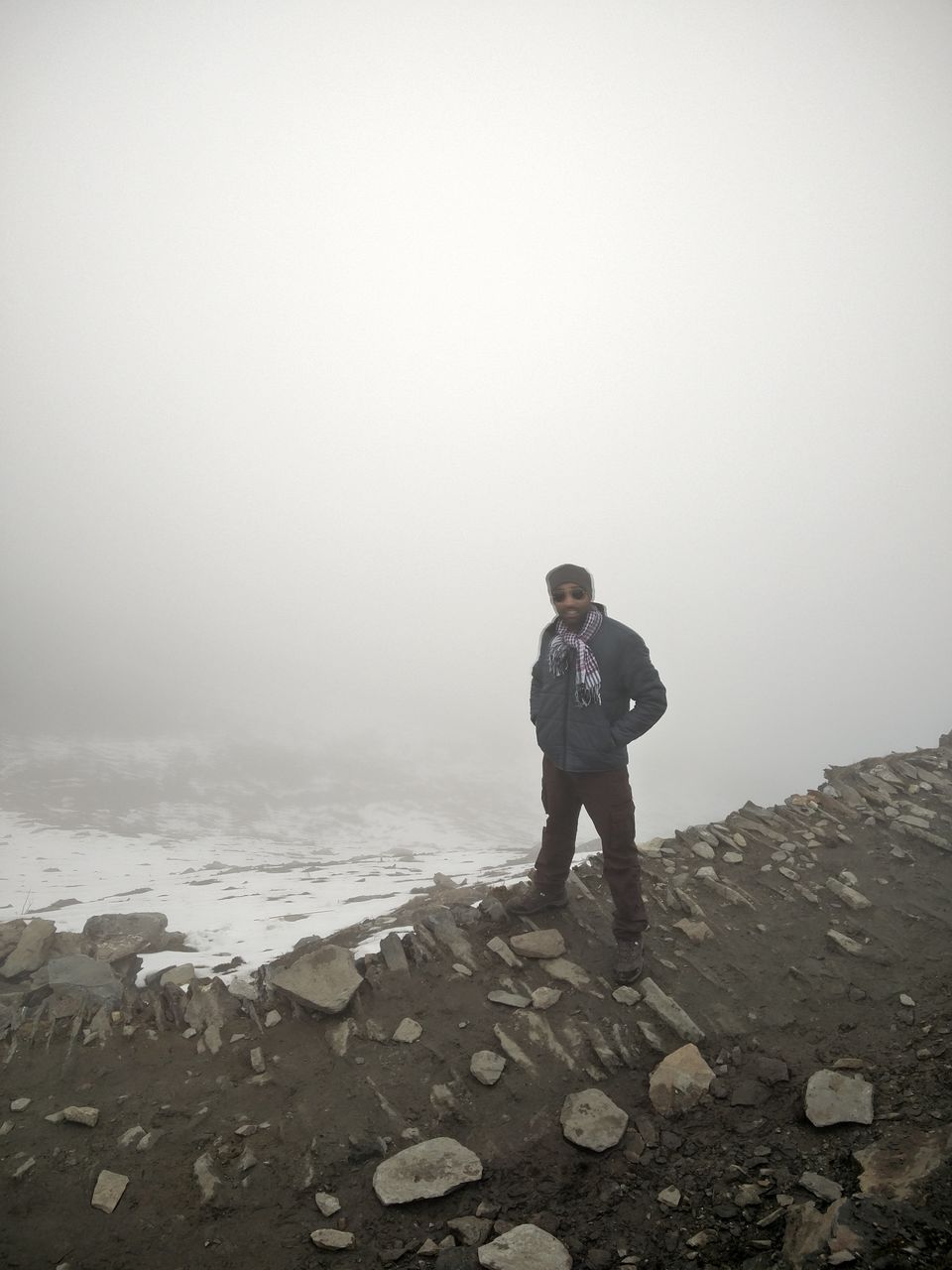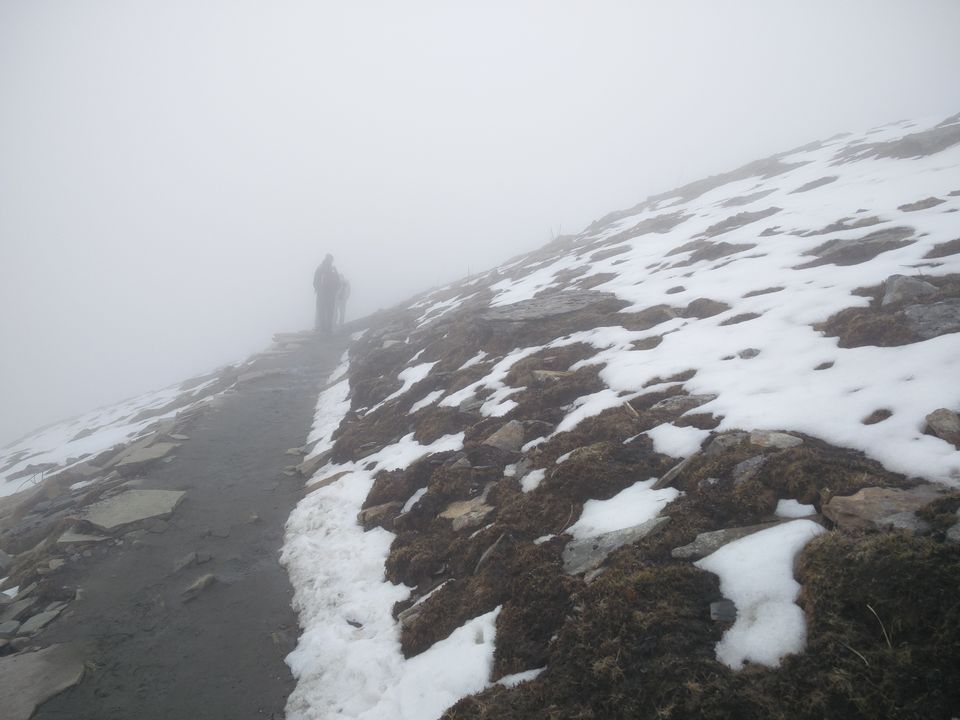 As the hailstorm mellowed down, we had our hot lunch which was nothing short of luxury in such harsh weather. After the lunch, we were briefed by the technical team of Bhagwabasa camp. There was a special team which leads the summit everyday for multiple batches. We were provided with snow spikes for shoes which were to be applied while summiting. As we had to start the summit trek at 4 AM, we retired early after an early dinner.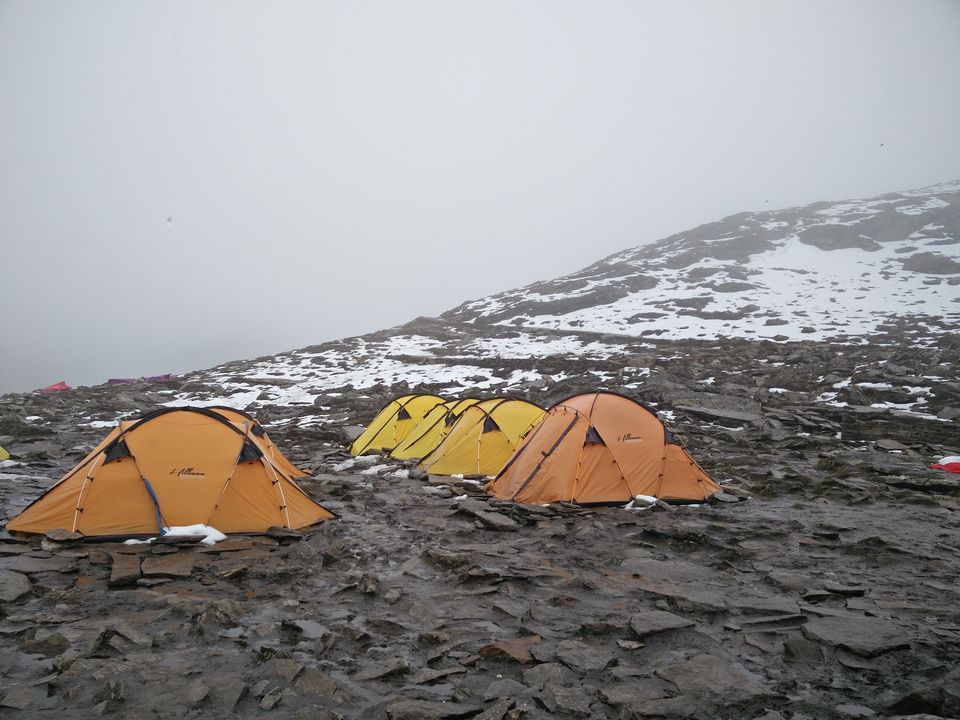 Day 7: Roopkund Summit (15700 ft)
I woke up to the distant ask of our trek leader to get out of our tents and get ready for the summit. It was 3:15 AM. In the torch light, I packed the essentials in the backpack and left rest in the tent which was to be picked up while returning. As I came out of my tent, everybody was running around. Someone trying to fit shoe spikes and someone looking for water to fill the bottles. By 4 AM, everyone was done with packing, breakfast and was ready in the line as instructed. As we started the trek, it started snowing. It was a dream come true:- walking on the trail to mysterious lake while snow falling on you and the place glittering in the dense white snow lying around. The first 1-2 kms were surprisingly easy although everyone started feeling breathless due to high altitude. We were having more frequent breaks and usually to drink water so as to keep our bodies hydrated all the time. Now came the hardest part of the trek. The ascent was steep and trail was difficult. Walking on the snowy-narrow-steep path with rocks in between made the trail difficult. Now, it was snow all around and we reached a point from where it was a vertical climb to the lake. Two surprises:- One was the near vertical way ahead which seemed impossible to climb just with help of trekking pole. Second was a small tea vendor at such a strenuous place. I came to know this guy starts daily at 3 AM and reaches this place to earn his livelihood by selling tea to the trekkers. Salute to this guy!! Finally, we started last leg of trek. Slowly and slowly, I managed to get through this most difficult part by following the footsteps of trek guide and technical team. As I reached the top, it was a jewel in front of me. The round shaped water covered with ice:- I could see the Roopkund lake. I was there. I had finally made it. I just sat down on a rock to let this feeling of accomplishment sink in. There was nothing above this place. On one side, it was Junargali peak. All other sides you see to find only shades of white, blue and green.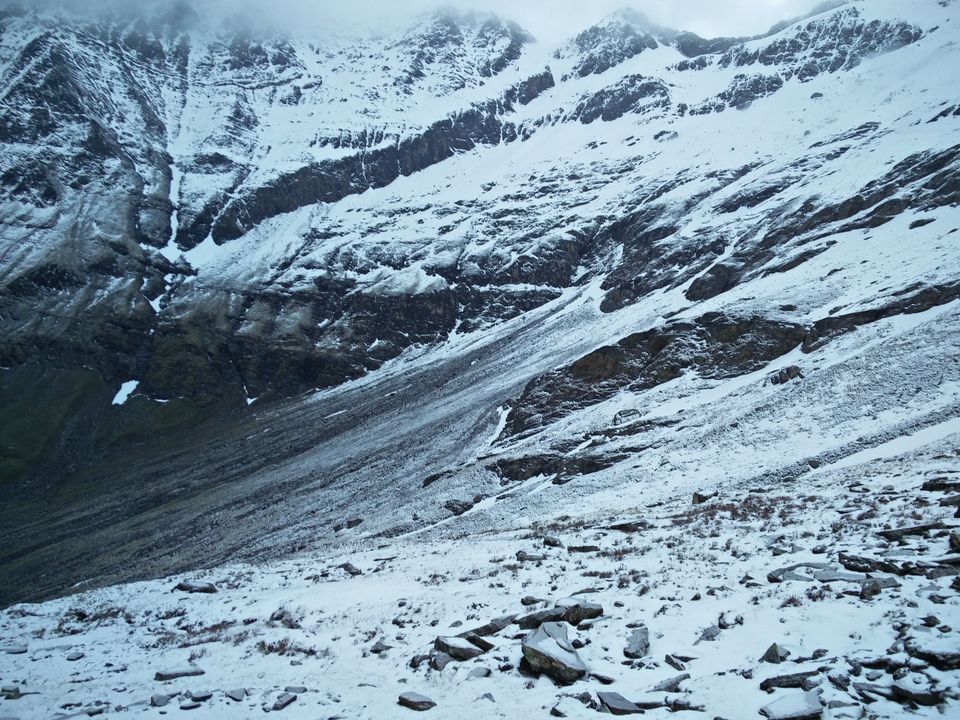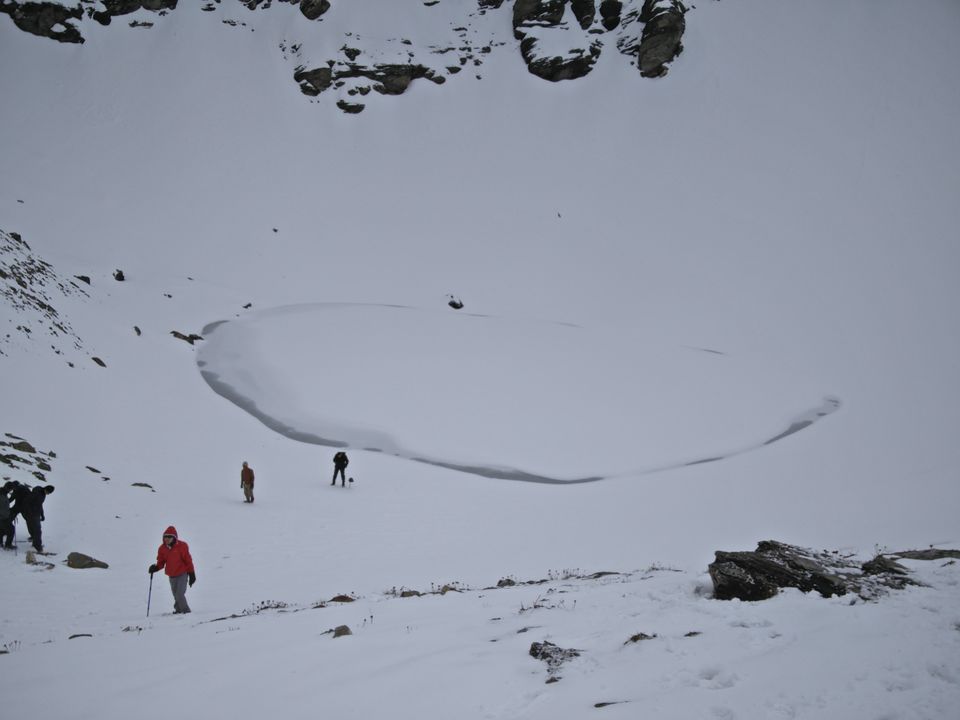 After spending around an hour there, we started the descend to Bhagwabasa. The trek back to our base Loharjung was enjoyable as everyone shared his/her experiences on the way back. We reached Laharjung in 2 days' time. The dream trek came to an end and it was time to go back to day-to-day life.
Such was the experience and joy of Roopkund I pray to have again and again!!