It was our last month in college. And as we sat on the threshold of corporate world, enjoying last of our happy- go- lucky days, my friend Deepika and I decided to go for a trek. We had been planning a trek for a long time, so we finally agreed on May,2016 and started our hunt for all the suitable summer treks.
Scrolling through the list of treks, we came across Roopkund lake. Reading about the bizarre stories of this lake, Roopkund intrigued us even more. The chance of seeing ancient skeletons beneath the bed of a frozen glacial lake, which is surrounded by snow- laden peaks, seemed interesting. And being as tempestuous person as we are, we booked the trek with Bikat Adventure without giving it much thought.
We knew that this trek was challenging and being first time trekkers, next two months were spent on speculation and preparation. We worked-out hard, consulted a nutritionist, shopped voraciously for trekking gear and waited patiently for the D-Day.
The beginning is fun!
And as 14th of May arrived we started our journey with our first stop being Haldwani. We decided to board Uttrakhand Sampark Kranti from New Delhi to Haldwani and booked a stay overnight at Haldwani.
The next morning we met our troop of eleven more people who were going to be our companions for next eight days. The youngest member of our group was a 15 year old girl while the eldest was 55 year old retired colonel from army. From Gujarat, to Delhi, to Chennai it seemed that the whole of India was together in this effort of scaling the Roopkund
From Haldwani,we started our journey towards Lohajung at 8 am in the morning, and reached Lohajung by 7 pm in the night. By the time we reached the weather in Lohajung had already started deteriorating. The chilly winds and intermittent showers greeted us as we huddled our way to the guest house.
The rain gods blessed us next morning, as the day was warm and sunny. After having a sumptuous breakfast it was the time to begin the trek. And soon with sticks in our hand and hopes in our heart we marched our way ahead.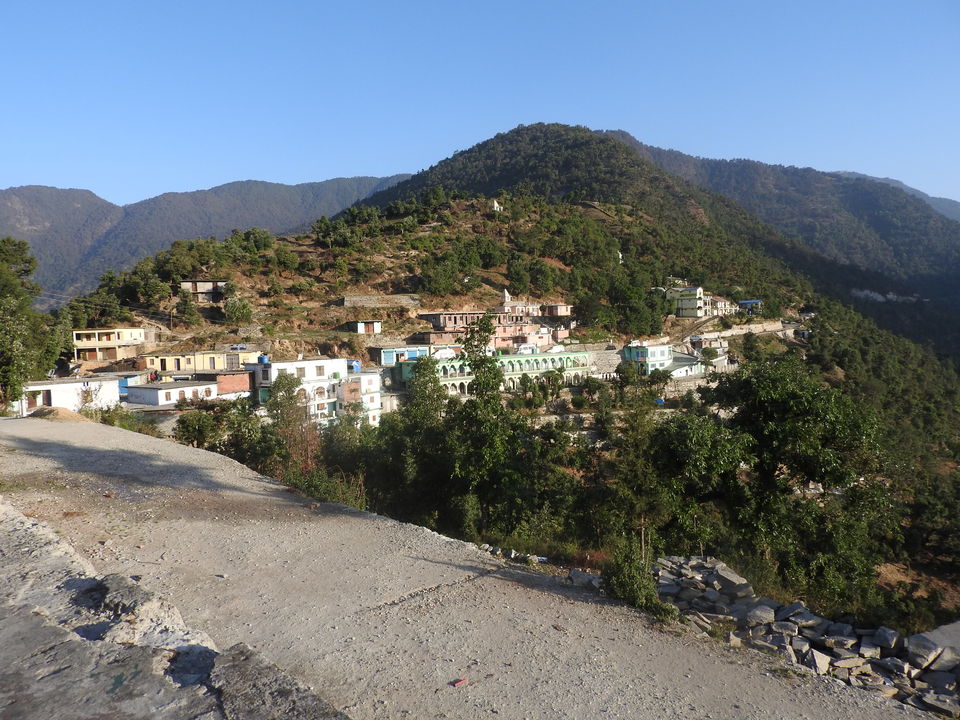 Now it gets tough…
The first half of the day till Didina village was a steep climb slightly exerting. On our way to Didina we crossed an ancient iron bridge over river Neel Ganga. At about 2pm, the lush green, gradual slopes of Didina hosted us for lunch and soon after that we started our way towards the bugyal of Ali and Bedni. Some of the troops halted at Didina but we decided to go ahead till Tol Pani. From Tol Pani, Ali Bugyal is about 3 hours of trek.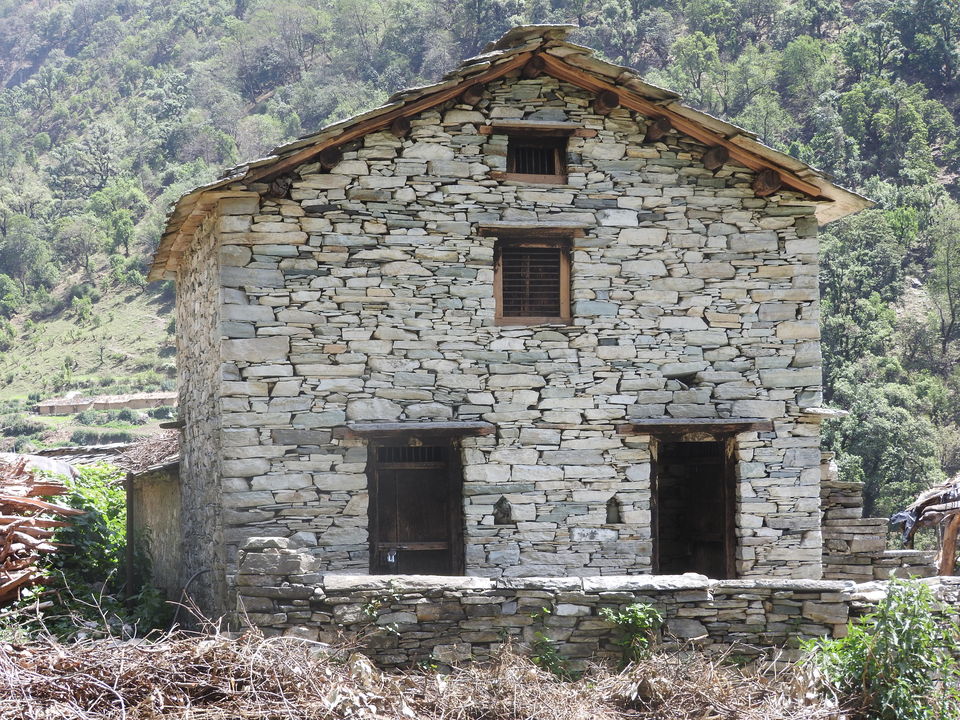 The bugyals of Ali and Bedni boast of being one of the most scenic alpine meadows in the world and one can see the vast expanse of pine forest stretched on both the sides.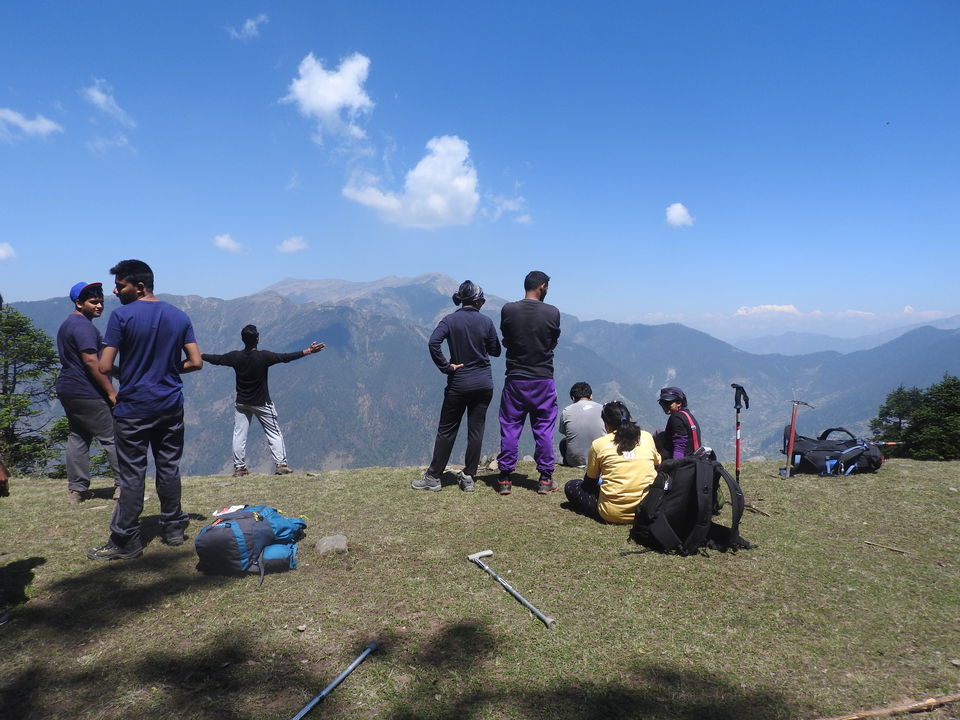 The next morning after passing through a really rocky terrain we reached Ali Bugyal at about 12pm. From here Bedni is about two more hours of trek. After Bedni Bugyal we were officially above the tree line, and from here the climb gets real tough. Since the oxygen in air starts thinning from here, every step became harder than previous. The way from Bedni Bugyal till Pathar Nachauni is tortuous and never ending. After 4 hours of strenuous trek from here we reached Pathar Nachauni. Our camping ground in Pathar Nachauni was about 5kms from Bhagwabasa which is the base camp of Roopkund .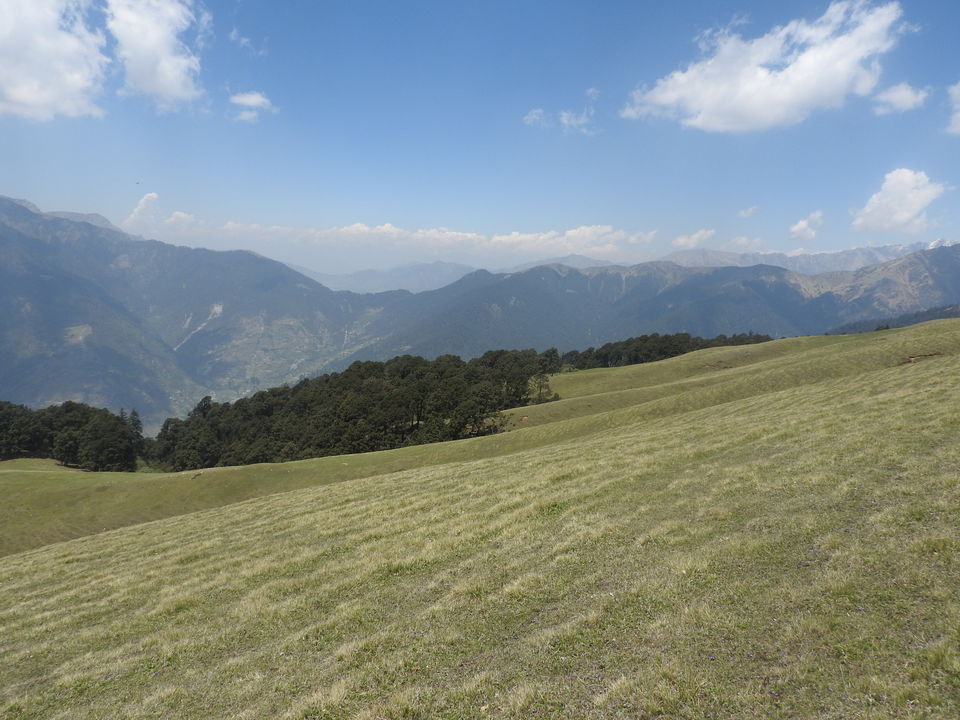 The night was freezing and almost all of us were suffering from some form of altitude sickness. So after a light meal and a dose of diamox we retired to our tents.
The next morning we were much better and to top that, our cook Krishna bhaiya surprised us with delicious pancakes and aloo parathas. Eating to our hearts content we made our way towards Bhagwabasa. The initial three kilometre climb was steep and rest of the one kilometre was gradual slope . In the middle of the trail there is small temple dedicated to Lord Ganesha which is called Kalu Vinayak. The lore says that this is the place where Goddess Parvati asked baby Ganesha to keep guard as she bathed in lofty Himalayas.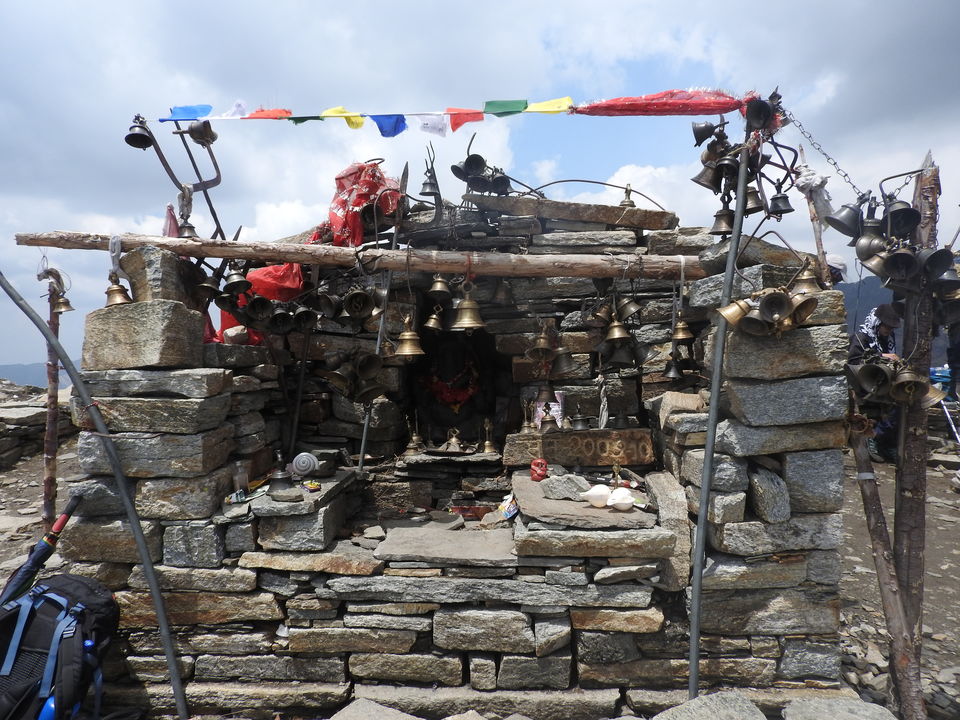 From Kalu Vinayak the path is straight without steep ascents till Bhagwabasa. From here on the whether became more temperamental and precarious. In next three hours of the trek we encountered a slight snowfall, bright sunshine and some patches of grey sky. The path was littered with patches of snow and little streams of water flowing from every nook and corner, making it slippery and slightly dangerous. But since there are no steep climbs we moved ahead at a better pace.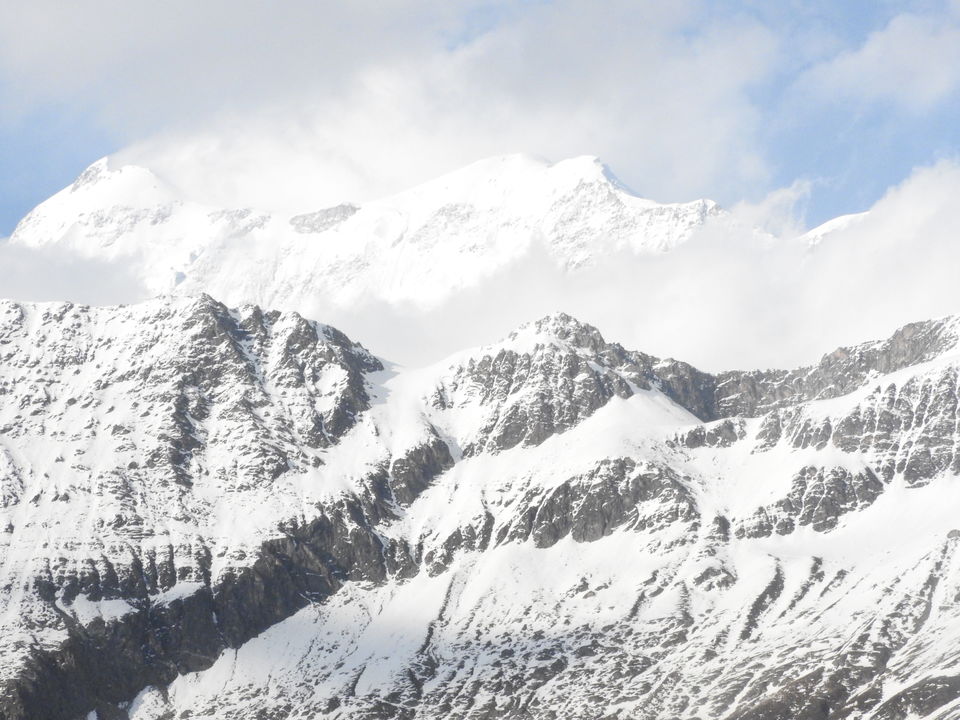 We have arrived!
Bhagwabasa , the foot of Roopkund was lined with multitudes of tents. The tiny specks of orange, blue and yellow pitched against the majestic expanse of Neelkantha, Chaukhamba, Trishul ( yes all these peaks are visible from Bhagwabasa!!!) made Bhagwabasa one of the most picturesque camping ground. But what was disheartening to see was the littered camping ground. Tucked amidst stones and ice, one could see plastic wrappers and bottles scarring the serenity of the surrounding.
Since next morning we had to start for the summit, our trek lead taught us about the ascent and descent on ice. The next day was going to be tough and we had to start early at about 4 am so after a quick dinner we all retired to our tents. The rocky terrain and the sub- zero temperature at Bhagwabasa gave us a sleepless night.
In the morning we woke up by 4:43 a.m and since we were already running late, we got ready in a frenzy started for the summit. Roopkund is about three kms from Bhagwabasa and the the path is curvy( particularly zig-zag) and completely laden with snow. As we treaded slowly and carefully, the lack of oxygen became even more prominent. The oxygen at this altitude of about 15000 became extremely scarce and several people of the troop were falling prey to altitude sickness. Pushing ourselves to our limit (and cursing our decision to come) we continued our ascent and at about 10 am in the morning reached Roopkund.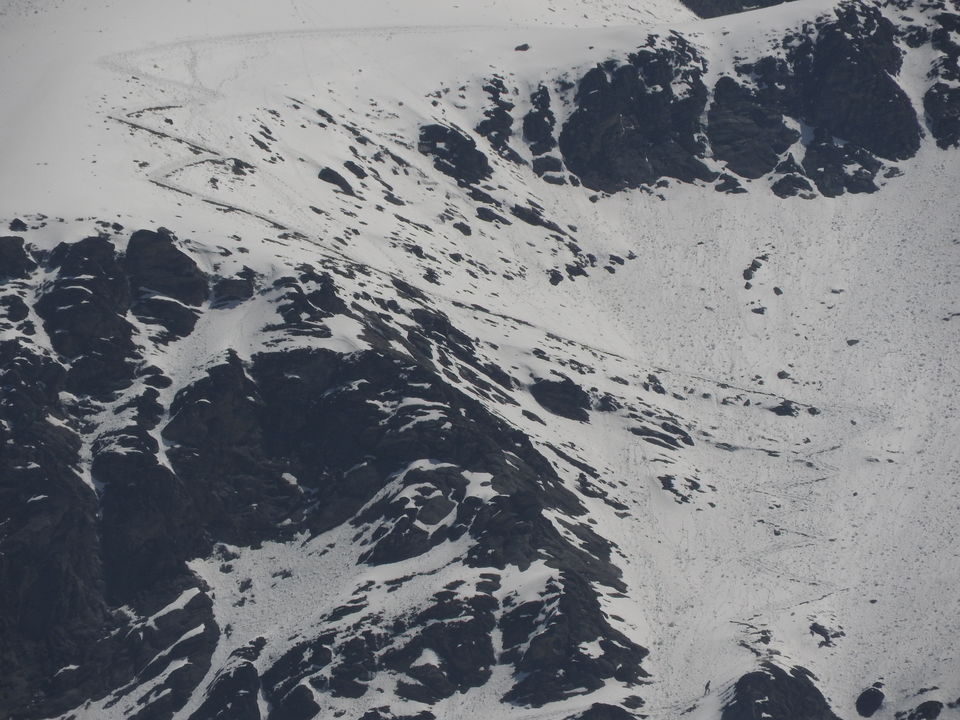 Ensconced in the heart of Trishul , lies Roopkund. Frozen yet glorious, the outside periphery had a one or two skeletons lying but majorly in this season the skeletons at the bottom of the lake were not visible.
In the serenity of that moment the fatigue and exhaustion of days faded away. The sight before us was stupendous beyond words. Staying at the top for about 45 minutes and relishing on our packed lunch we started descent.
The journey backward was much tougher than we expected, the snow had started melting making the path slippery and treacherous. Even a lot of experienced trekkers were slipping now and then, but for us newbies it was a true nightmare. The Bikat team with us was very supportive and trek leads literally held our hands throughout the journey.
As we came down to Bhagwabasa at about 3pm every part of our body was aching. From here we had to go down till Pathar Nachauni which was a descent of about 3 hours. After lunch and little rest we started for Pathar Nachauni and by 5:30 pm we were at the camp.
It was the last day of the trek and everyone was tired but jolly. We were relieved that we had passed through the most difficult part of the journey and now the only things that we were waiting for were a warm shower and a soft bed.
Next day after passing through the beautiful forest of Wan and small stream we reached Wan where our jeep was waiting for us. And finally at 5pm we were back at Lohajung. After a good long bath we had small party and we finally packed our bags for the final leg of journey.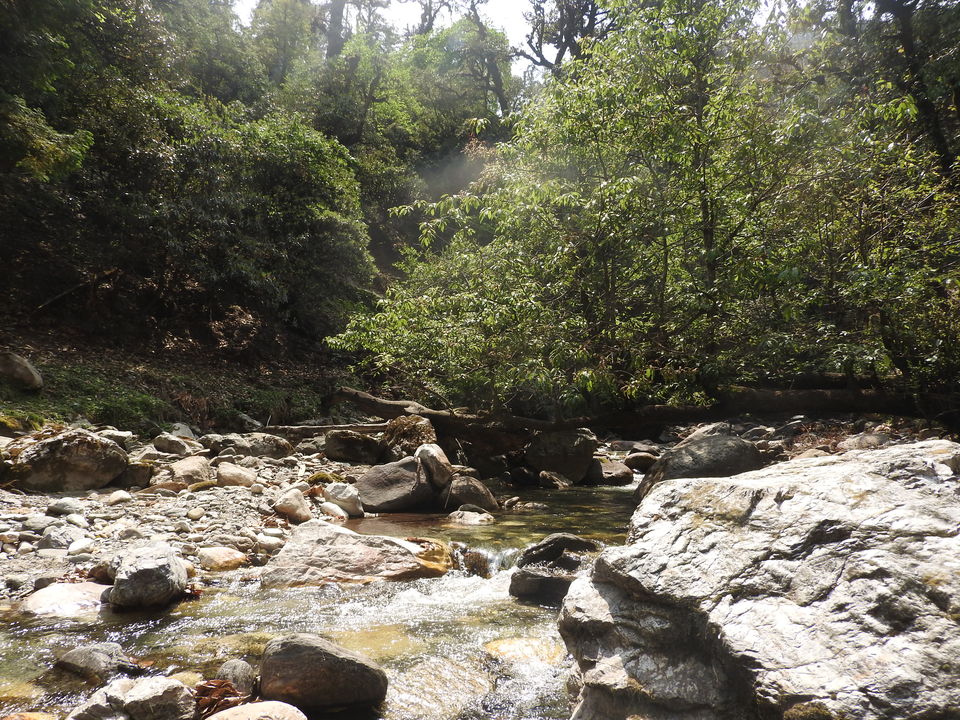 The day after we were ready to bid good bye to Roopkund, and as we sat in the bus we knew that we were all leaving as better people.
Today as I look back and reflect I would say that your first trek can be a life changing experience, however first time trekkers should keep a few things in mind:
1) First and foremost, start preparing on your health and fitness three months before the trek if you are planning to take up a challenging trek.
2) Secondly treks like Roopkund which are about 8-10 days long can be extremely tiring so try to stay fresh and fit before it. Unless and until you have really good stamina try to break your onward journey (don't travel continuously) and avoid getting exhausted before the trek.
3) Also first timers should be very careful while packing their rucksacks. Carrying the rucksack up is no child's play and every 5-10 gms which seems negligible otherwise , matters on such altitudes. So unless you are planning to hire a porter( we had to take mules after first day) pack minimum possible stuff.
4) Lastly come with an open mind, it would not be easy. There were times when I doubted my decision for taking this up but in the end a trek can be rewarding beyond imagination.