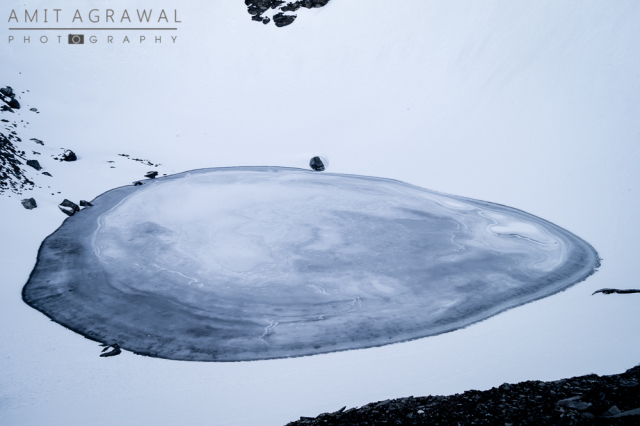 Last year a bunch of crazy friends decided to go on a Himalayan trek together for a lifetime experience. I must say this is the craziest bunch of friends I have ever made. This trip would never be so good if it were not them. Thank you guys.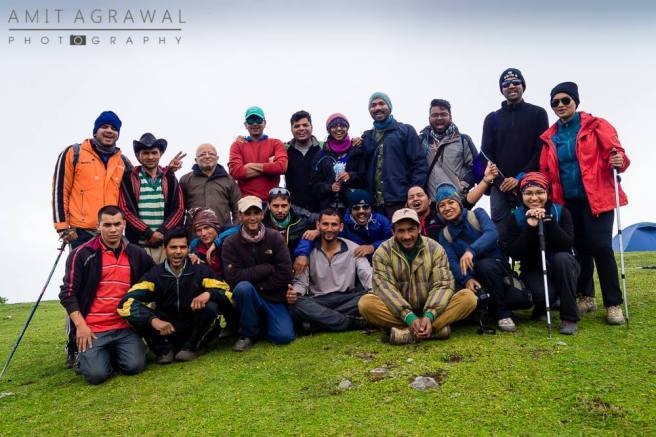 My most beloved trip until now - Trek to Mysterious Roopkund Lake.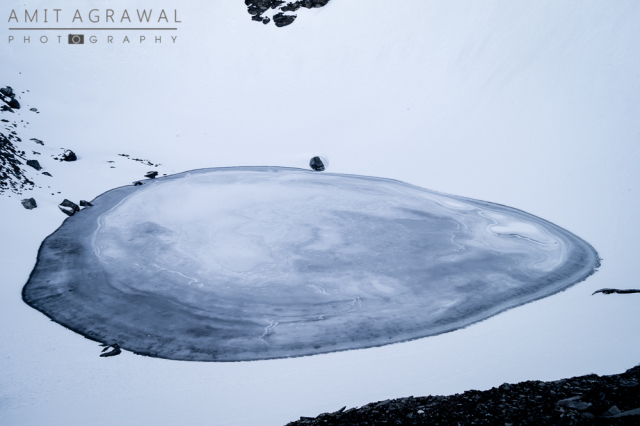 Our trip started from Mumbai to Delhi, reaching Delhi early morning and doing nothing but just chilling at a friend's place. A few gutsy friends did wander in the streets of Delhi in scorching heat of 40 deg C visiting touristy places, clicking pictures, making others jealous!
We took an overnight train to Kathgodam. Reaching the station early morning, felt so good. Breathing in the cool fresh air felt refreshing. This refreshing fresh air in the mountains accompanied us for the next 8 days. From Kathgodam, we started a 10 hours journey to Lohajung, our starting point of the trek, our first encounter with the Himalayan roads on this trip. The road trip was one of a kind, amidst the mountains, fresh air, drizzling rain, cool wind everything felt a movie.
The turns during the road trip made our heart skip a beat, so much so that few of us made crying faces every time there was turn or every time our bus overtook other vehicles. A heart-in-mouth moment....
Then in the middle of this trip, we had an amazing anniversary celebration for our Uncle accompanying us. The yummy bread cake, the jugaad cake I must say, was so damn good.
We had so much fun even during the road trip that it is difficult to capture in words.. So now let's jump to the trek directly.
The trek started with Lohajung. The route chosen was a circular trek route: Lohajung - Didina - Bedni Bugayal via Ali Bugayal - Pathar Nachauni - Bhagwabasa - Roopkund - Bedni Bugayal - Lohajung via Wan. Our Trek Lead Akhil from Great Indian Trails (https://www.facebook.com/Great-Indian-Trails-235296080140625) made the trek easier by taking us through a less steep trail right at the beginning of the trek.
Day 1: Lohajung to Didina
The trek started with a sunny day, glazing white stones and a beautiful forest. The start of the trek is easy and takes around 4 hours. Few of us were clicking selfies, some clicking photos of nature and few of us just chitchatting catching up with each other's life. After a walk of 4 hours, we reached our base camp, which was a cosy homestay.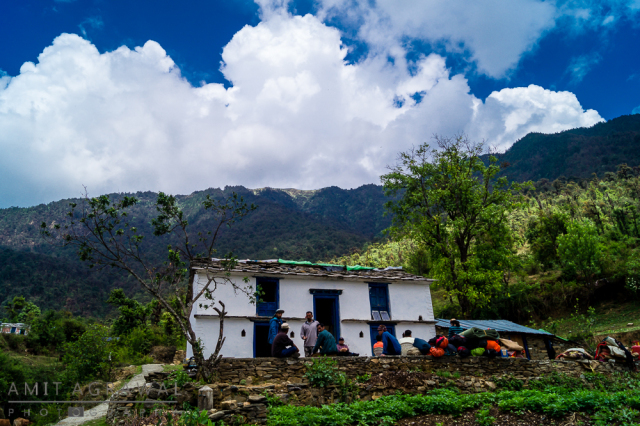 Since, we reached early at our base camp; we enjoyed our afternoon with games on the plain land in drizzling rain. A time to bond again playfully reliving the childhood playing the very old Lagori or so called Pitthu game of Seven tiles.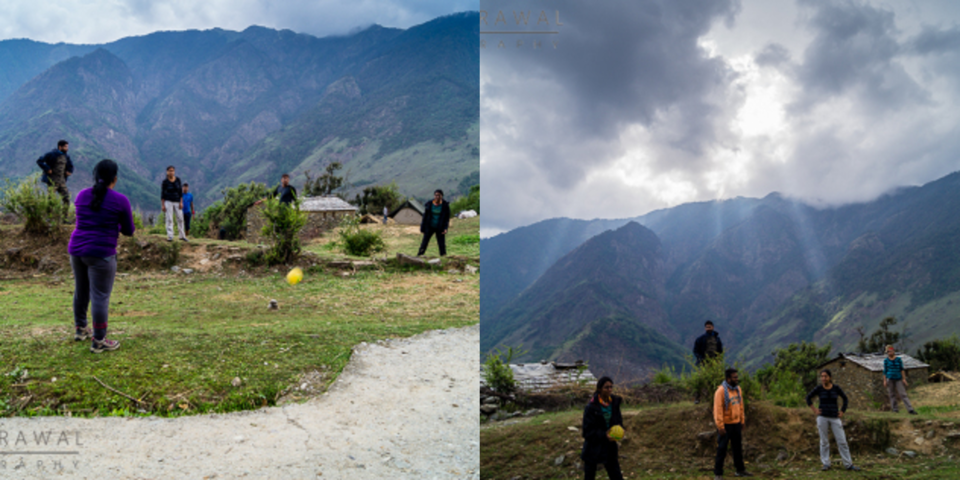 Day 2: Didina to Bedni Bugayal via Ali Bugayal
The trek is moderate with disappearing tree line as we approach Bedni Bugayal. The trek via Ali Bugayal was little challenging with rain accompanying us with cold winds. At Ali Bugayal, because of rain & cold wind our hands went numb and we had to reach out for our jackets, gloves to keep us warm. The heavy fog and rain, we missed the scenic view from Ali Bugayal.
By the time we reached our base camp at Bedni Bugayal, the vast stretch of meadows welcomed us with clear weather. The meadows felt like heaven on earth, with clean blanket of greenery and beautiful small flowers.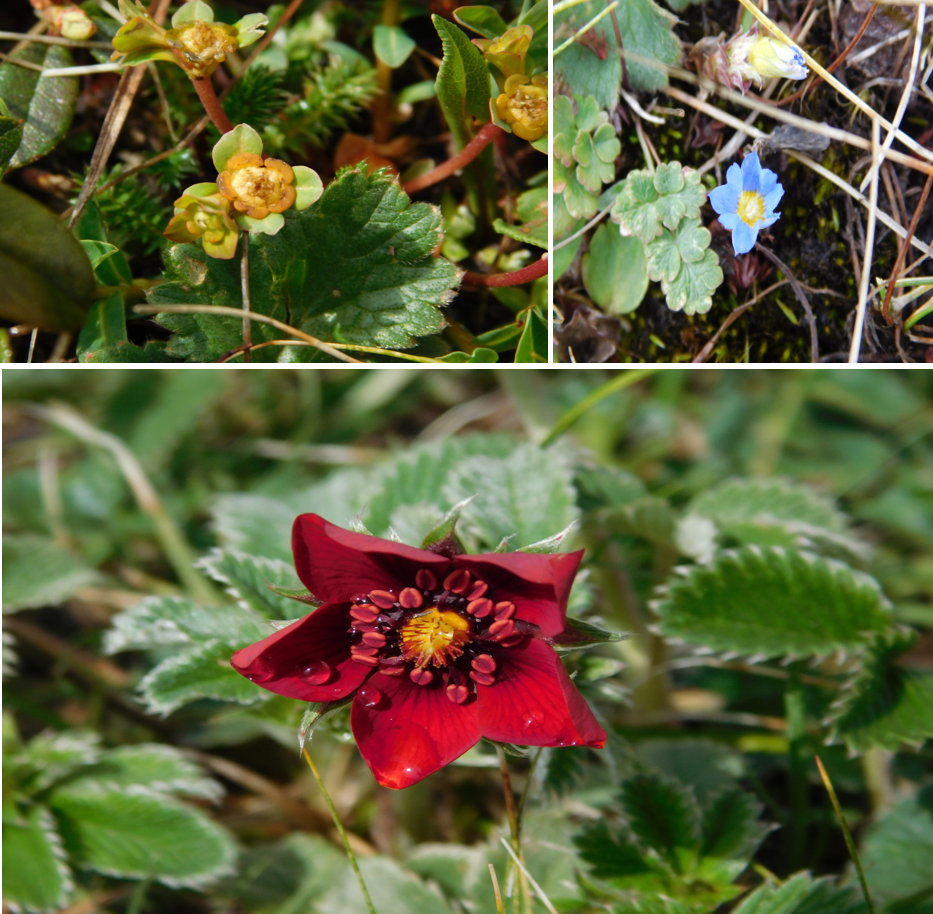 The campsite at Bedni Bugyal appeared the most beautiful campsite on the entire trek. Vast meadows, fresh air, place to play or either just sit down peacefully watching sunset.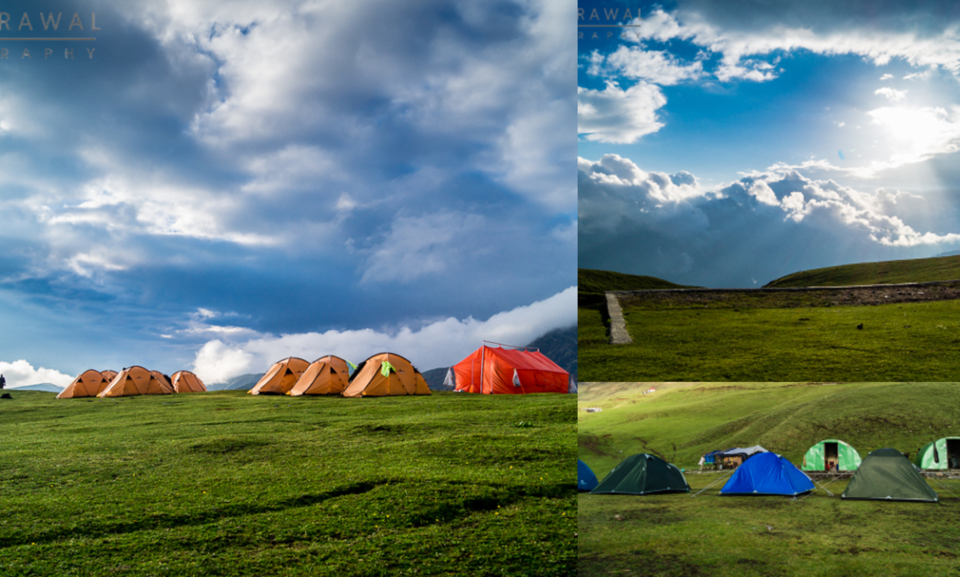 Day 3: Bedni Bugayal to Pathar Nachauni
The trek now slowly turns into a moderate one, as you start feeling the thin air. It is when you are approaching 12000 ft and AMS starts hitting in slowly. The only way to avoid dizziness and headache is to drink enough water on trek, however only the sufficient quantity. Over consuming water can cause water accumulation in lungs, so be careful.
At this campsite of Pathar Nachauni, mobile network is available only at one particular point. Networks are not available in between Didina to Bedni Bugayal. So if you want to make a quick call, this is the camp site.
We were lucky we experienced amazing weather at this campsite. Thankfully it was not raining when we reached here, however it was very foggy in the evening. Since this campsite is not as spacious as Bedni Bugayal, it is best to stay inside tents or take a small walk uphill to acclimatise oneself.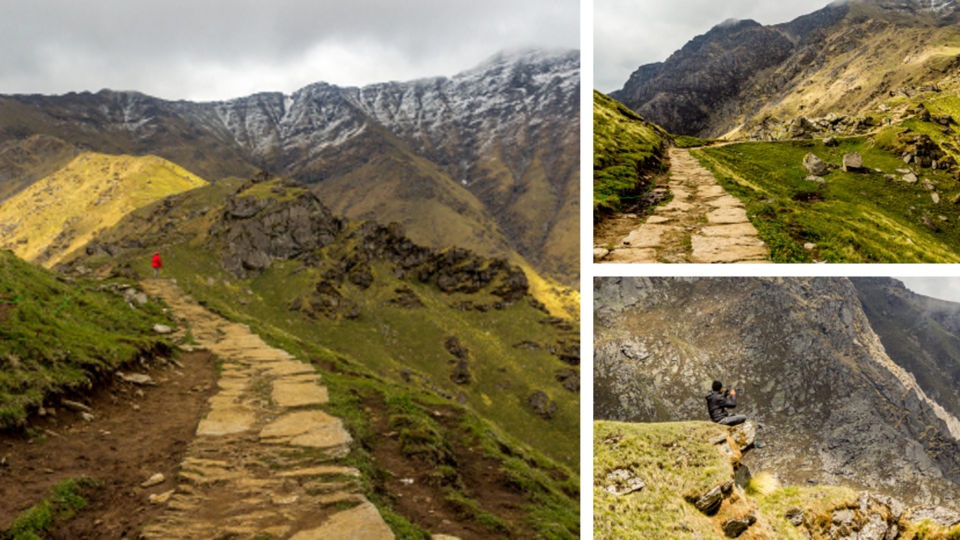 There are canteens available at all the campsites where one can buy necessary eatables and ofcourse the amazing yummy Maggie.
Day 4: Pathar Nachauni to Bhagwabasa
This part of the trek is difficult one as it is little steep at the start. The thin air makes it more difficult to walk. This is the part of the trek where at certain point you feel like giving up but still stand up courageously to walk ahead.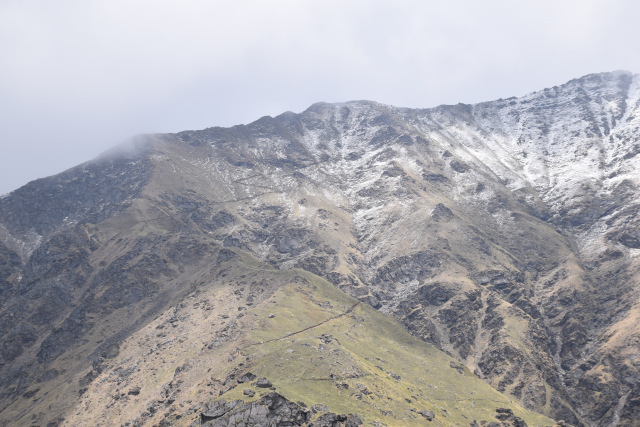 Mountains teach us amazing things at times. Not giving up, moving ahead and having faith in yourself is one of the biggest learnings in the mountains.
I personally felt like giving up in this part of the trek. There was a point when I just sat down and thought of going back. But going back is not an option. We need to keep moving forward, pushing our physical and mental limits.
The trek is amazing and you gain an altitude of 14000 ft in this stretch. The sight of the temple at Kalu Vinayak makes you feel good as it is the end of steep trek for this part and here starts the walk at the plains.
This campsite is start of snow if you are visiting in May-June. Unlike other campsite, this one is little rocky. You can find your tents on stones and the surface is uneven. However, all such concerns vanishes at the sight of Roopkund summit trail. It is this campsite where you realize you are this close to the summit.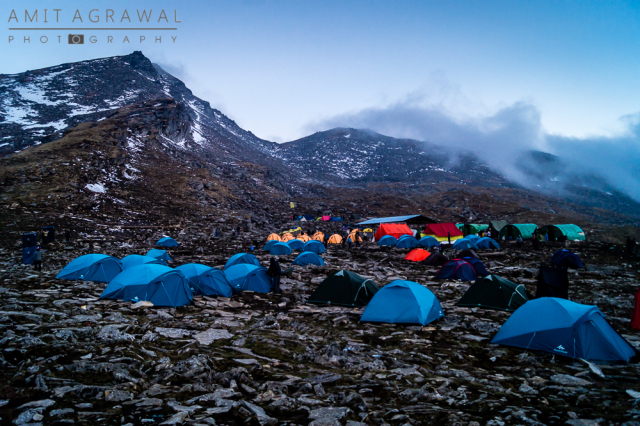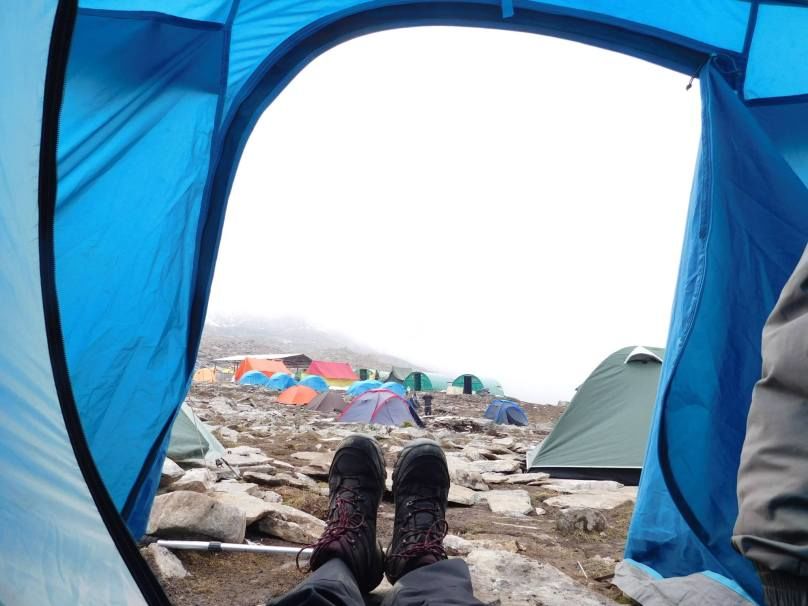 It is advised to reach this campsite as early as possible as the summit trek begins at around 3 am and trekkers need rest to begin their summit trek. Since you reach early, you can enjoy some games indoor if you are carrying one. Luckily, we had Uno, which is always fun to play with friends. At this campsite, we got to know more about Karma by this game. (My friends reading this blog are surely gonna laugh at this and relive the memories of +4, +2 and Reverse card)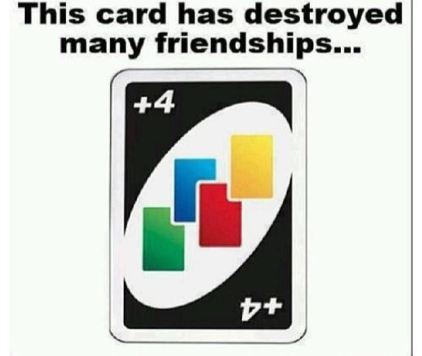 Summit Trek: Bhagwabasa to Roopkund
This is a snow trail if you are trekking in May-June. The trek begins early morning at 3am to reach the lake by sunrise. It takes around 2-3 hours depending on your speed. The thin air makes it difficult to walk uphill. Please take sips of water as you climb and possibly have something to munch.
As this trek begins at early morning, you can see a trail of head torches lined up walking uphill in the dark.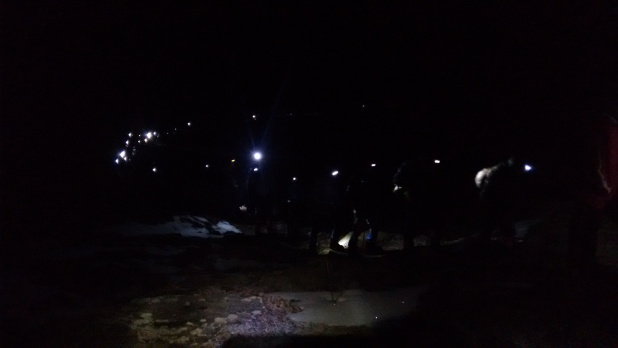 On this trail, chances are you might slip at places where the snow has turned into ice. Walking in snow is a different experience. Unlike other parts of this trek, this is little difficult one and needs some judgement to walk properly. (PS: Trekking poles are a must for the summit trek if you are trekking in snow.)
The sight of Roopkund is however totally worth all the efforts. The frozen lake is mesmerising to look at. If you are lucky you can even go down to touch the lake and even kiss it.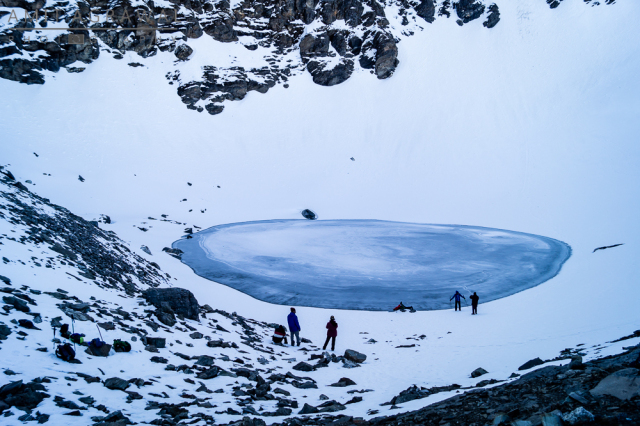 Day 5: Roopkund to Bedni Bugayal
This is long tiring day as it's a downhill of around 10-12 kms in a single day. The landscape changes from snow pastures to green meadows, with beautiful small flowers on the way as you walk back to the meadow campsite. Few of us who loves running downhill reached campsite by noon, others followed them slowly and steadily by afternoon. ????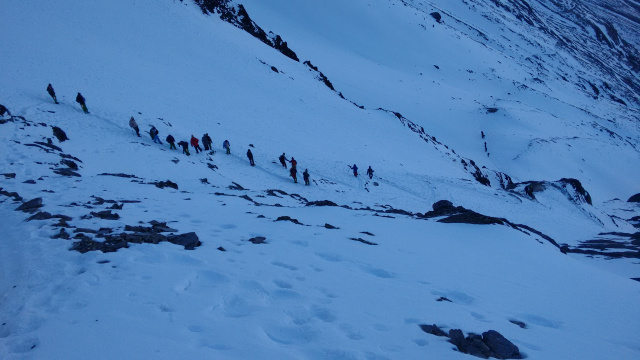 The vast open meadows welcomed us again with clear weather and reaching the campsite, and getting inside the sleeping bag after a long walk feels amazing.
It is here on this night where we saw the amazing sky full of stars. I remember my friend and I were literally waiting for the sky to clear out and stars to appear. Our wait was finally paid off after a while and the view was once in a lifetime experience, appearing to be straight out from the fairy tale.
Out of the many things we did during this trek, sitting underneath the stars and listening some old, Sufi songs with friends is what I cherish the most, what more can anyone wish! Wish I had a good camera to capture this memory!
Day 6: Bedni Bugayal to Wan
On this day we finally got to sleep till 8 am as the reporting time was 10 am.
The descent is steep and one can practically run downhill cautiously. The descent is amidst the long trees and it feels as if you are walking in forest trails. The trees make the trail beautiful. On this descent, you come across a small river Neel Ganga.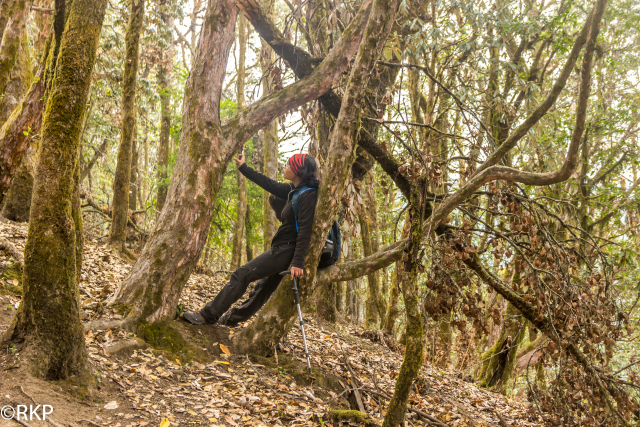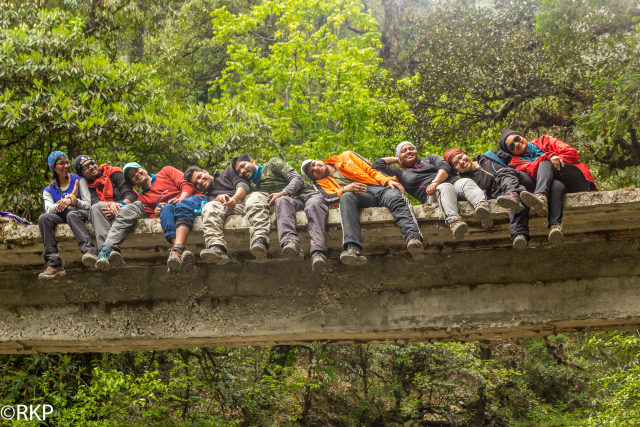 Reaching Wan ends the trek, but not the memories we cherished on the trek. The fun, the bonding, the childish fights over tents and jackets, borrowing jacket to add colours in the photos. All those memories will be cherished for a long time.