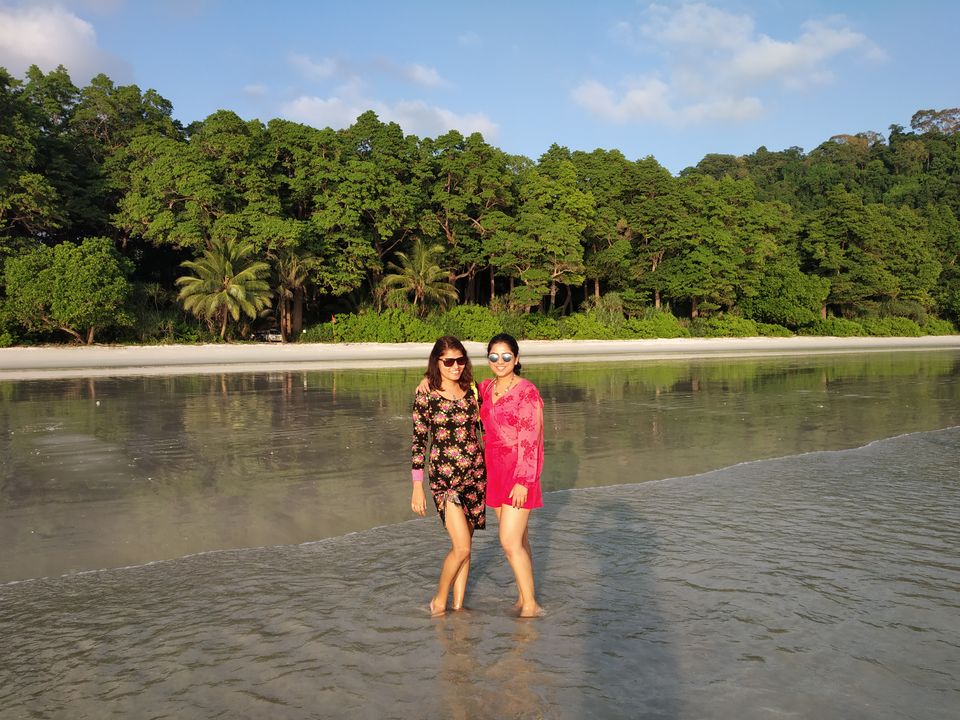 First of all, one of these two jobless girls is me. This was my first vacation after I had left my job to pursue travelling with more time and focus. My friend, a fashion enthusiast, who joined me from Denmark, is also without a job as she has decided to not settle down until she gets her dream job. Driven by our immense love for travelling, we both decided to take a trip to this union territory located in the Bay of Bengal. The twist was that we had to do it in the lowest budget possible, and that was exactly what we did. We took lift from people, stayed in not-so-good accommodations, walked to cover long distances, and everything else that helped us save even a few bucks. Lesson learnt- Usually considered an expensive place, you can still make your escape to Havelock Island as pocket-friendly as you want.
Read about our journey to know how.
How to reach Havelock Island?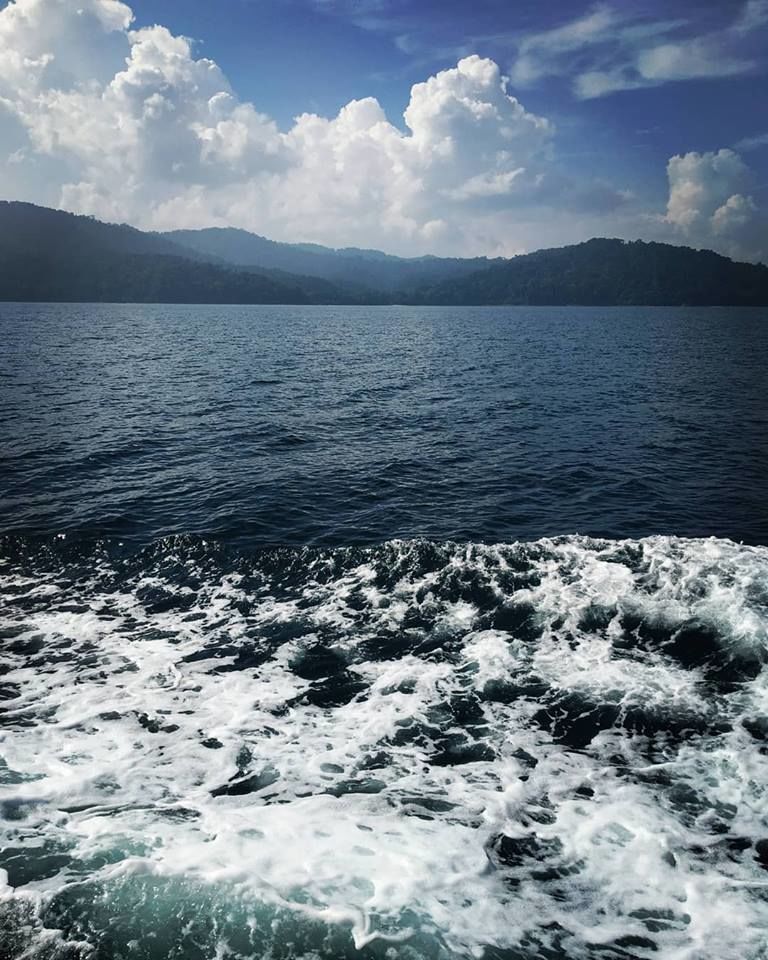 There are ferries plying from Port Blair that take nearly two and a half hours to reach to Havelock Island. Booking in advance is not necessary. You can ask your hotel receptionist to book it for you.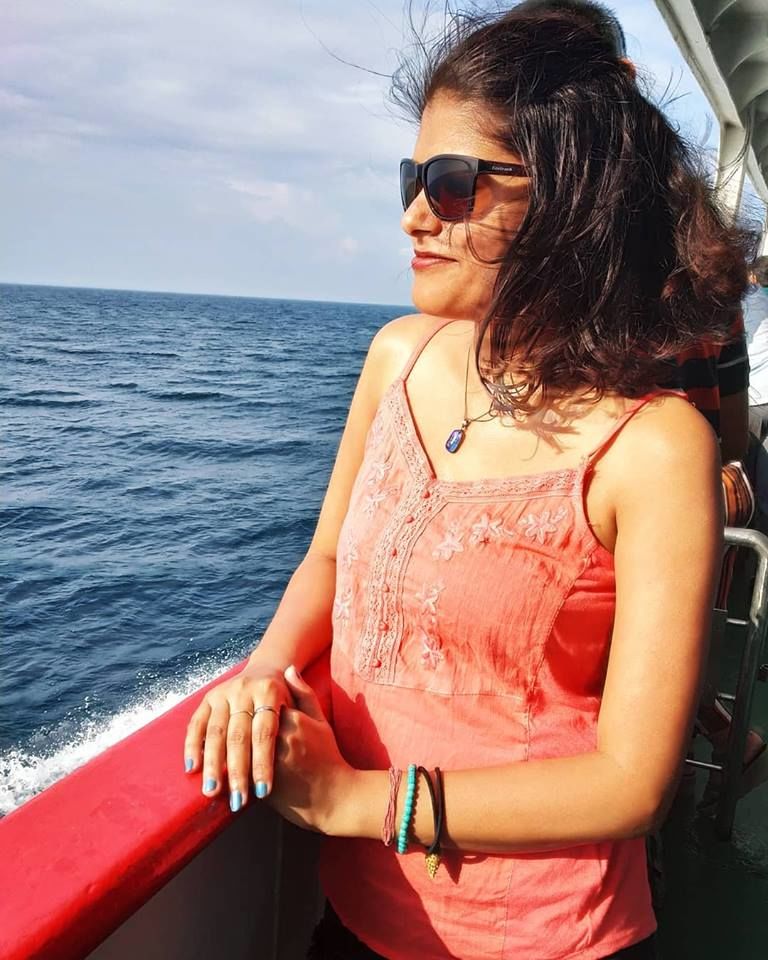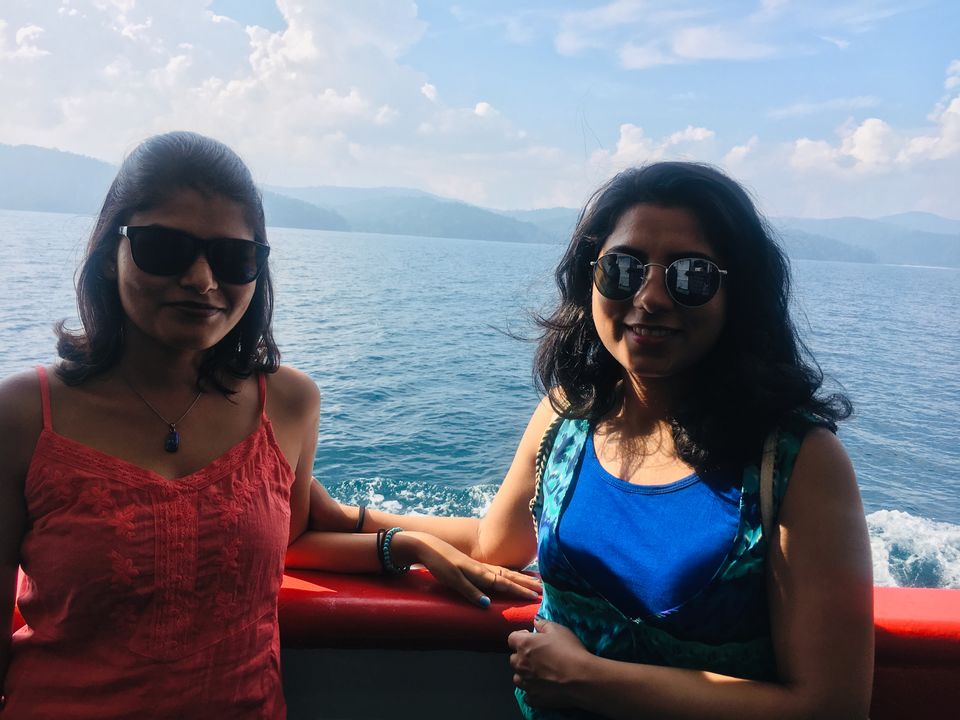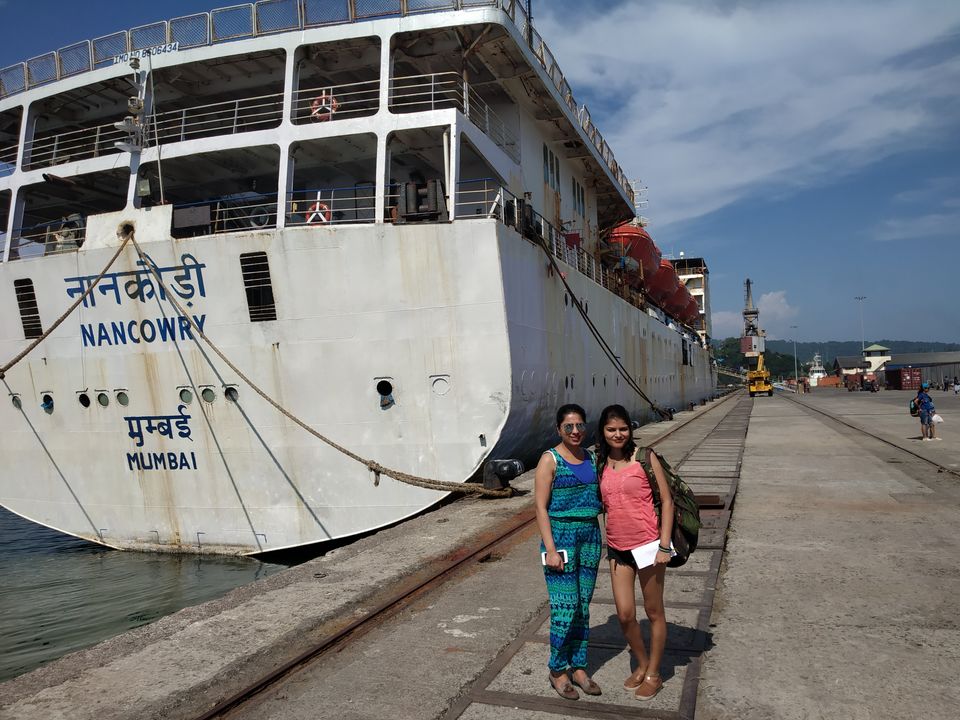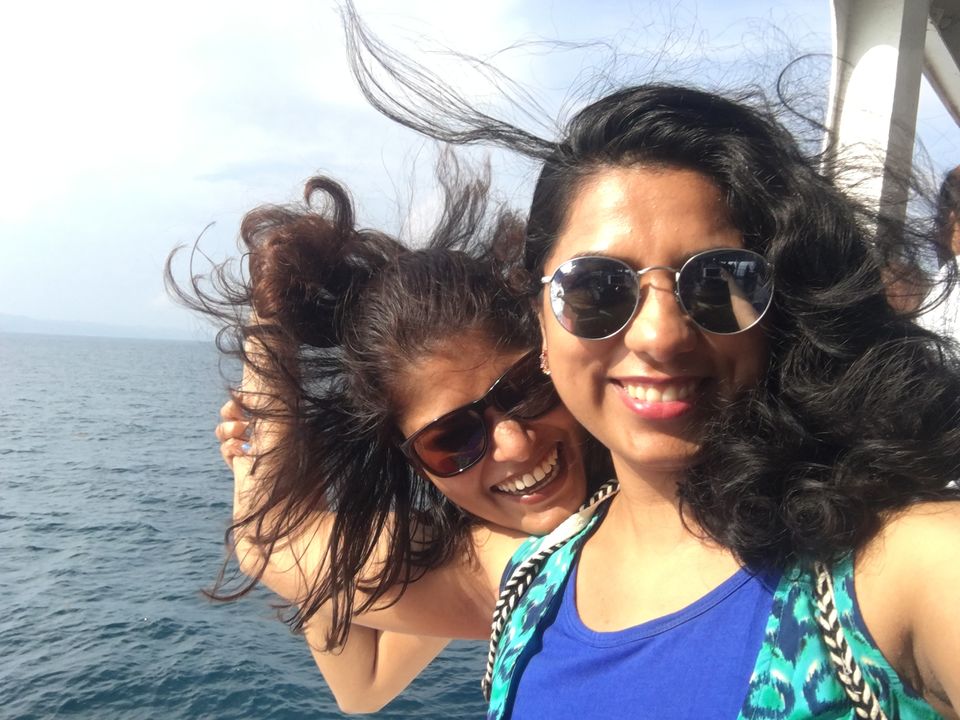 Scuba Diving at Nemo Reef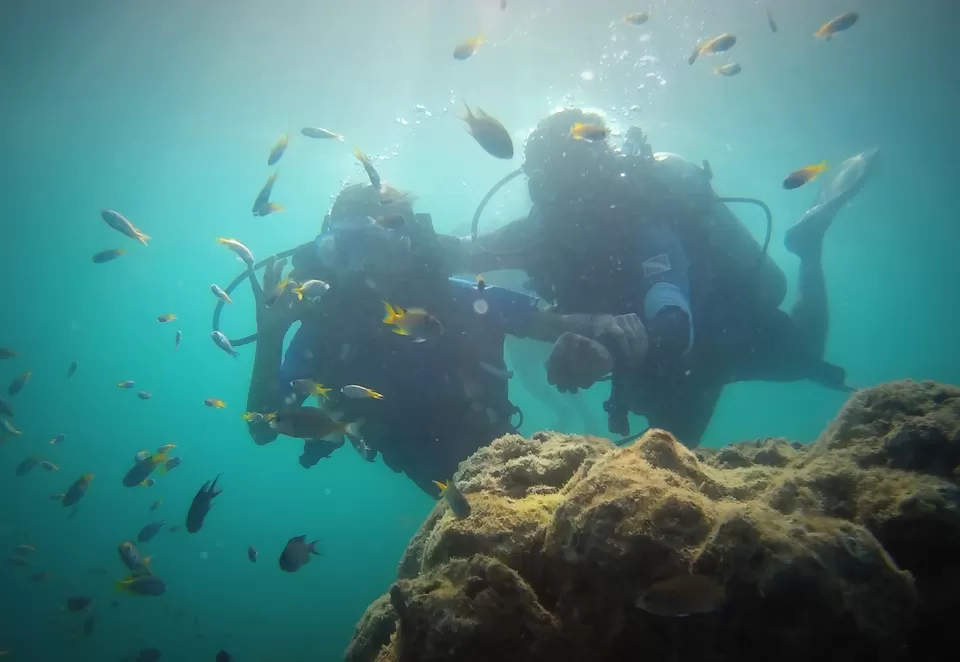 Ticking off scuba diving from our bucket list was long due, and Havelock Island is the best place in Andaman to do it. You don't need to book your slot in advance. The hotel/resort where you are staying will take care of it. You can choose from an early morning dive and an afternoon dive. The rates also vary because of clear visibility and increased chances of finding breathing corals early in the morning.
After doing all the formalities, we headed towards Nemo Reef- our scuba diving spot. We donned the oxygen cylinder, swimming fins and mask, and weights (to keep us underwater) before the instructor started to train us. We were also taught about the universal underwater signs for communication.
After making me do breathing practice and other techniques along with answering my unlimited questions, my trainer took me under the water and that was the exact moment when I forgot everything else that was happening outside.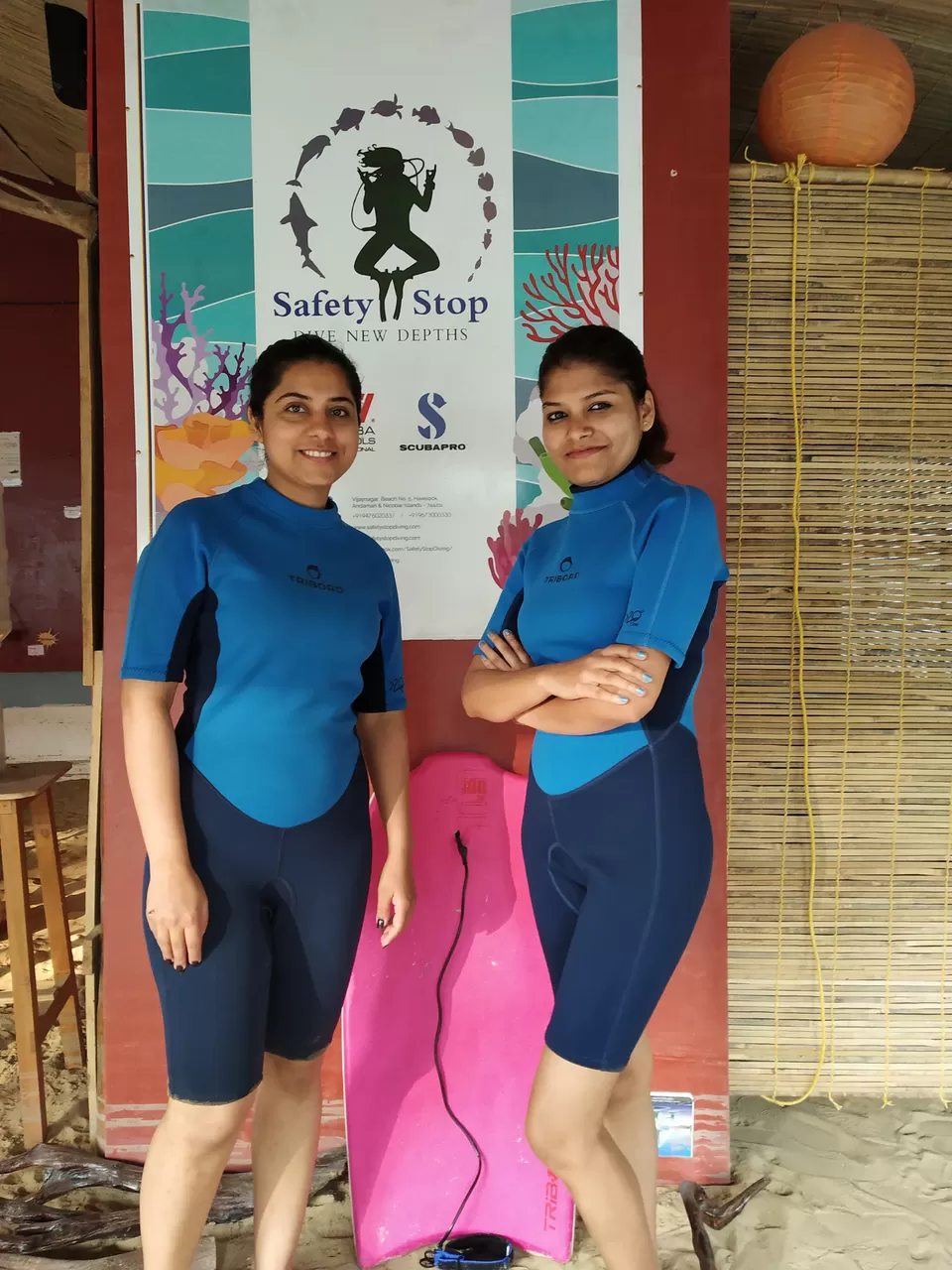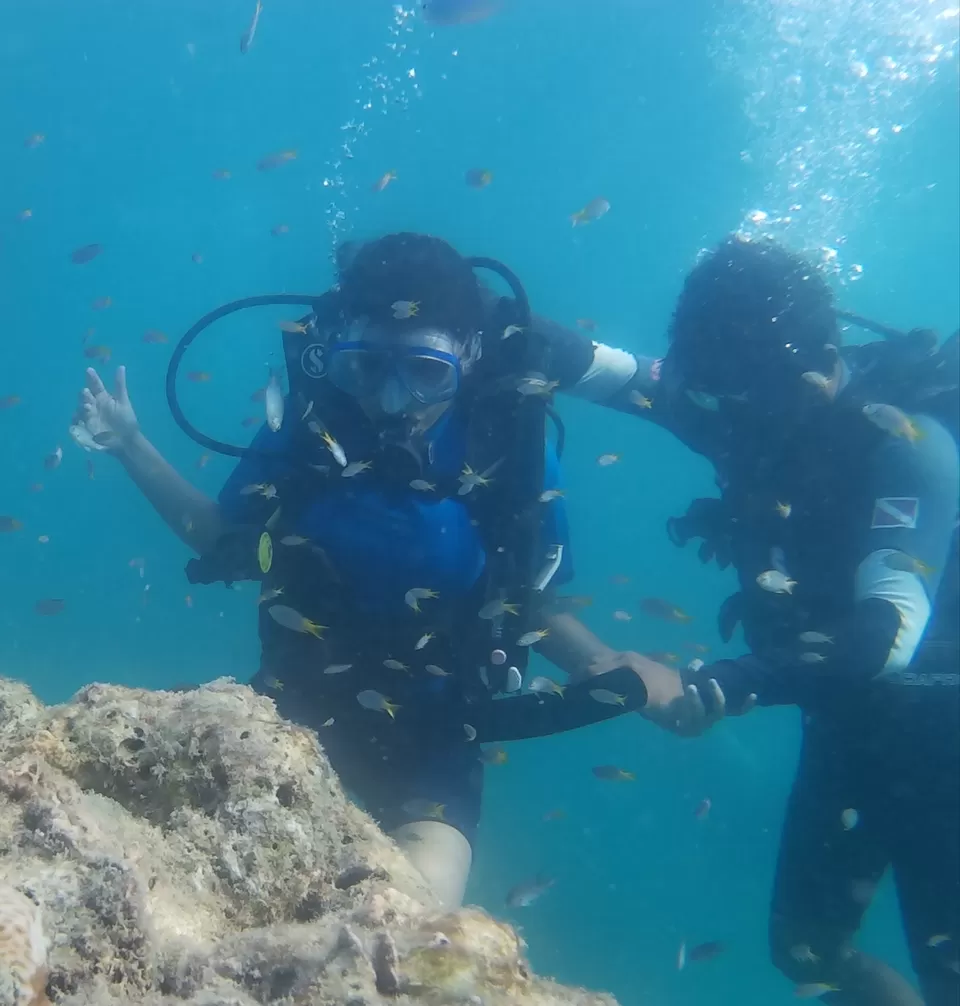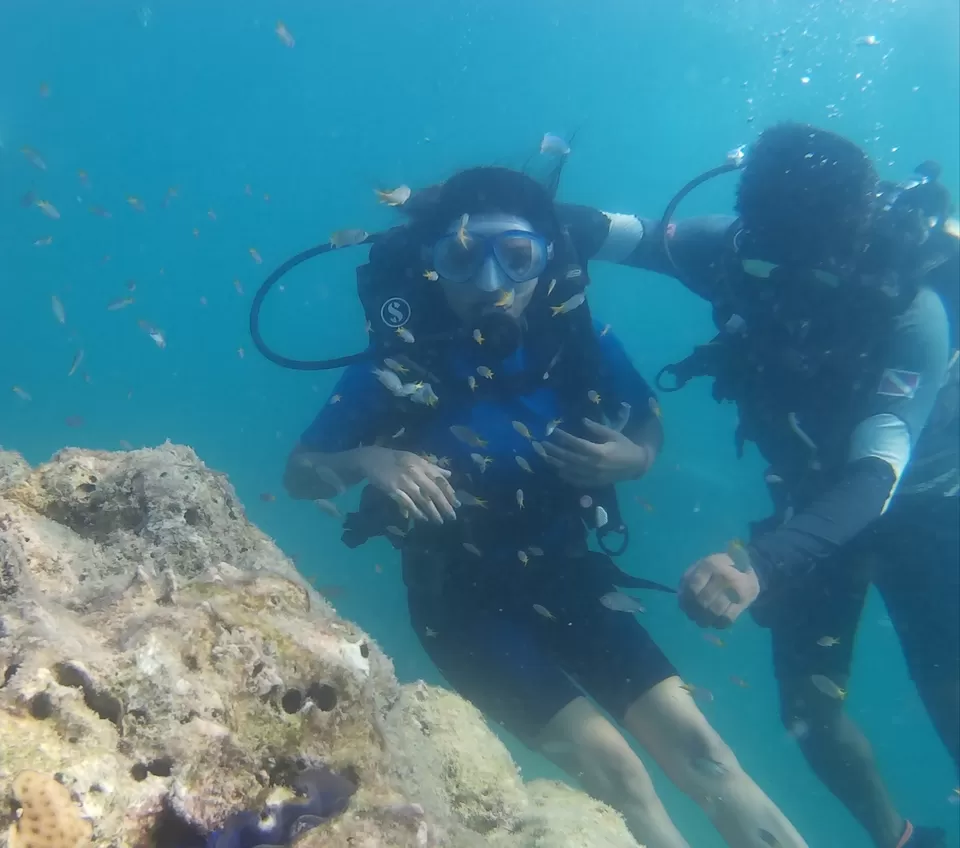 It's a quiet beach having white sand, turquoise water and coconut trees. It is so calm and you can actually feel the sea breeze flowing around you. You won't find many people there. It is perfect for nature lovers and photographers. Moreover, you should definitely go there during the night time. It will be an altogether different experience.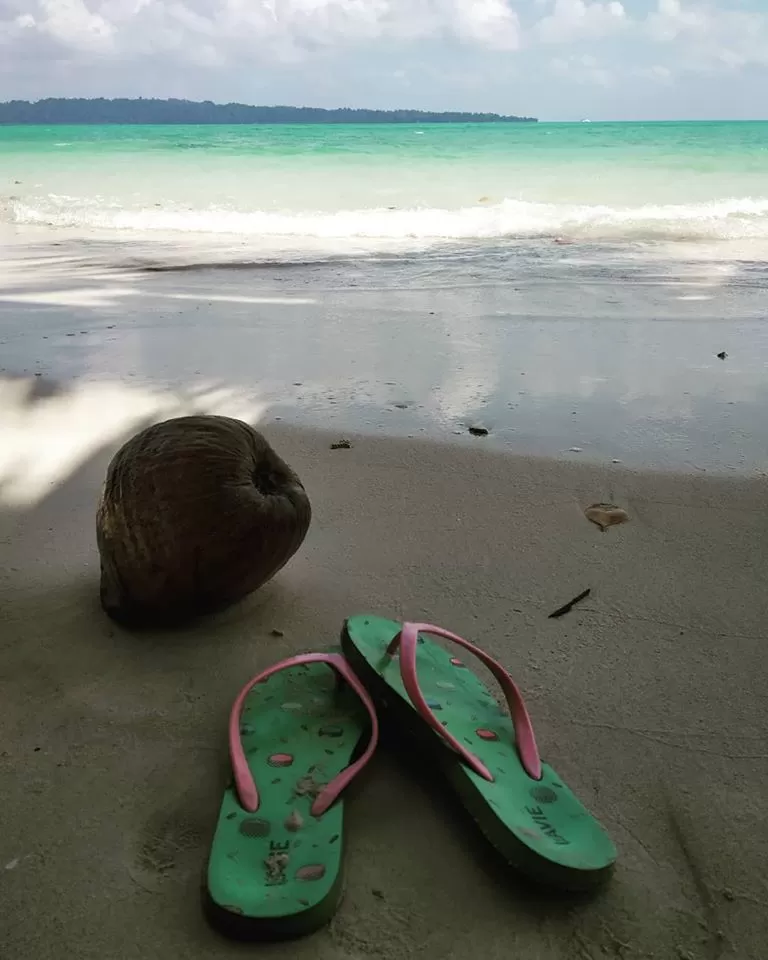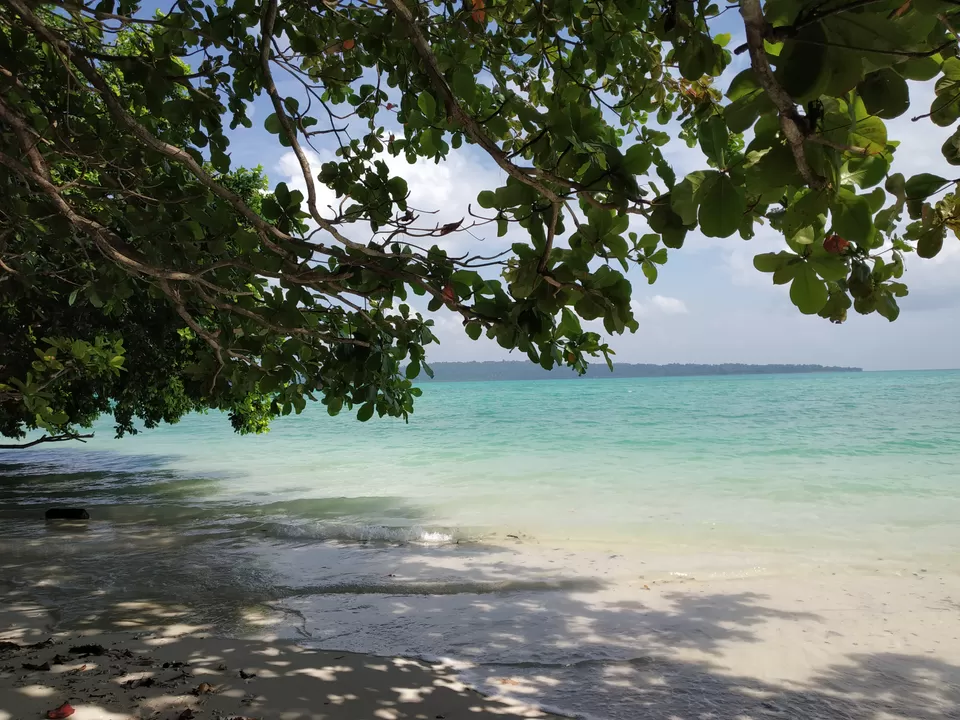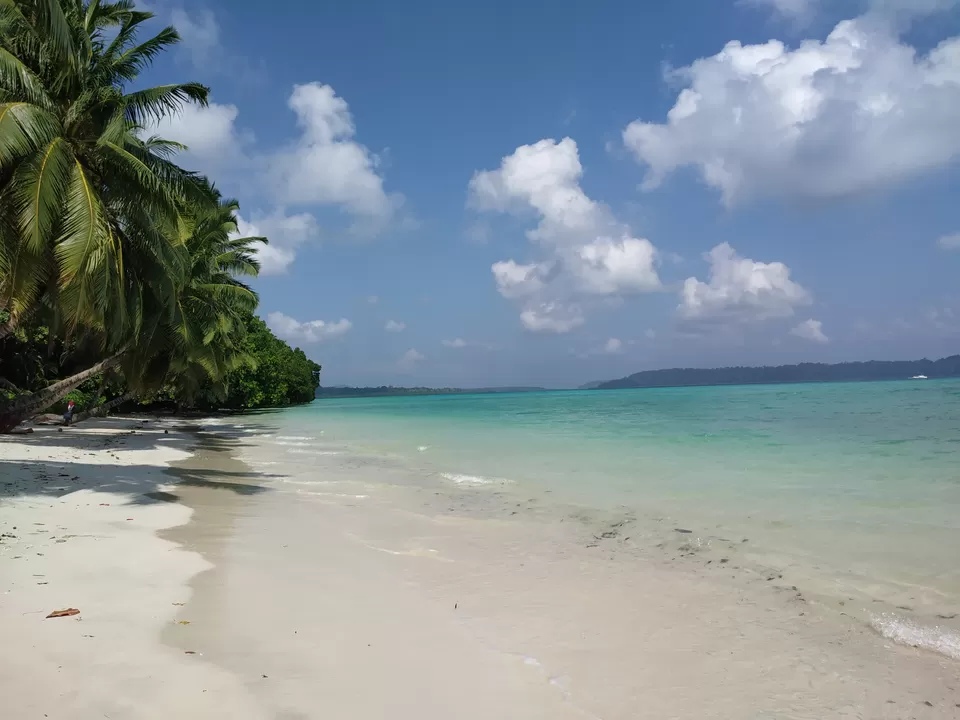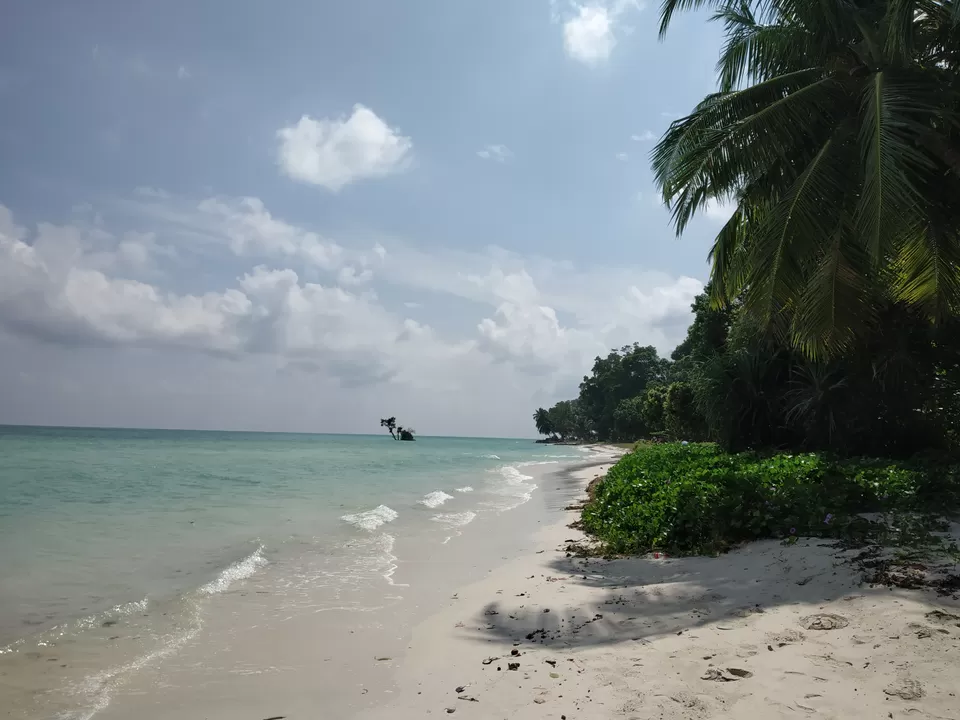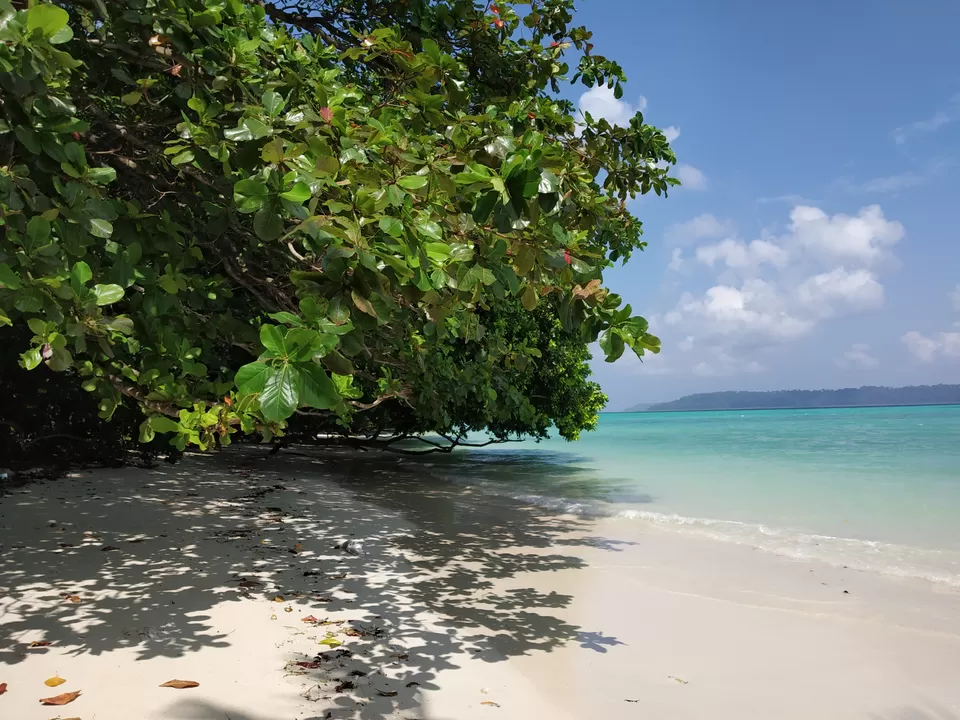 We left in a beachy dress and flip-flop, and headed towards Elephant Beach, not knowing that there is no road network to reach there. One has to take either ferry or trek for an hour to get there. We chose the latter and decided to do it on our own (without hiring a guide) because it was absolutely free of cost that way.
The 1.8-kilometer long trek to the Elephant Beach has resulted in permanently ending my fear of crabs, lizards, seashell insects, and other creepy-crawlies that used to make me scream before. The muddy path was full of them. We had to just move ahead ignoring all of them. And all this was totally worth it. When we finally reached the beach, oh God, it was paradise. It was beautiful beyond any words. Also, there was nobody else at that time. The whole beach was ours!! It was like a huge, endless blanket of different shades of blue. The grandeur of bright green trees grown on white sand below the white clouds that looked like cotton candy tucked in a clear blue sky is indescribable. There were a variety of beautiful shells spread all over the place like jewels. The splendor of this beach cannot be described in any words or photographs. You get to feel it yourself by seeing it with your own eyes.
Apart from getting surrounded by an aura of magnificence here, you can also indulge in an underwater fun activity- sea walking. This beach is known for offering a fabulous view of the underwater marine life. Earlier, scuba diving could also be done there but now that has been discontinued and is open for sea walking only.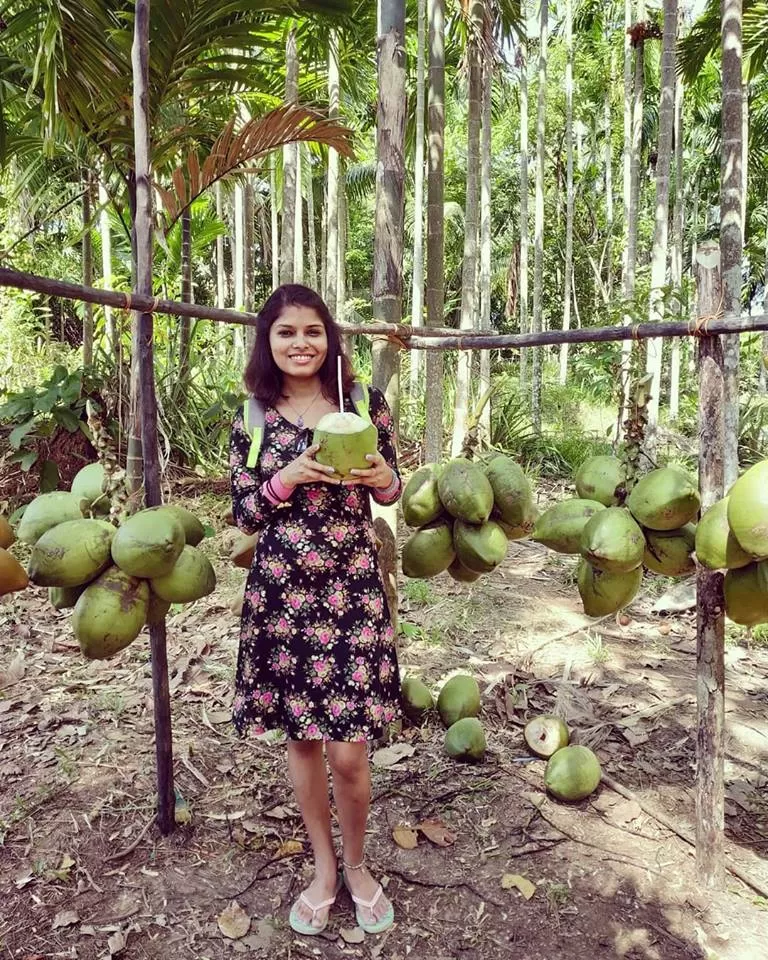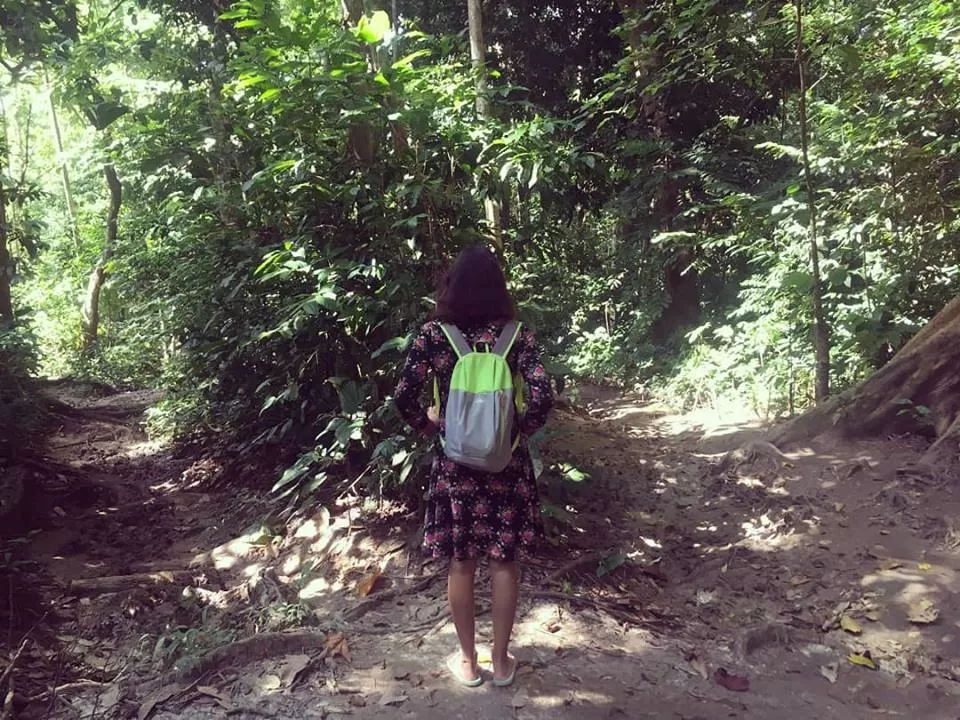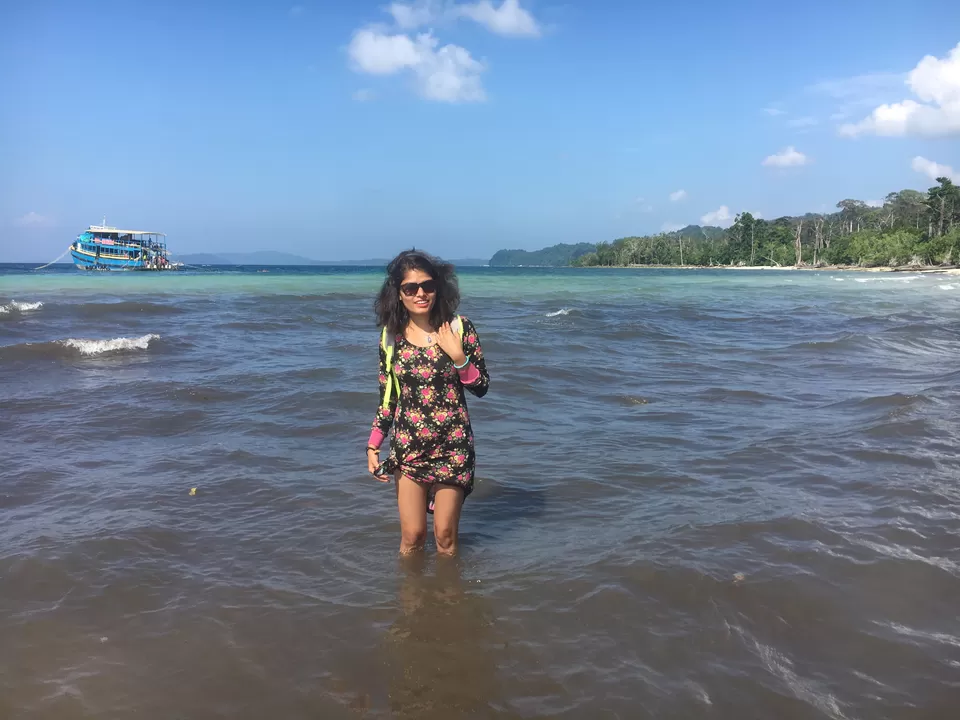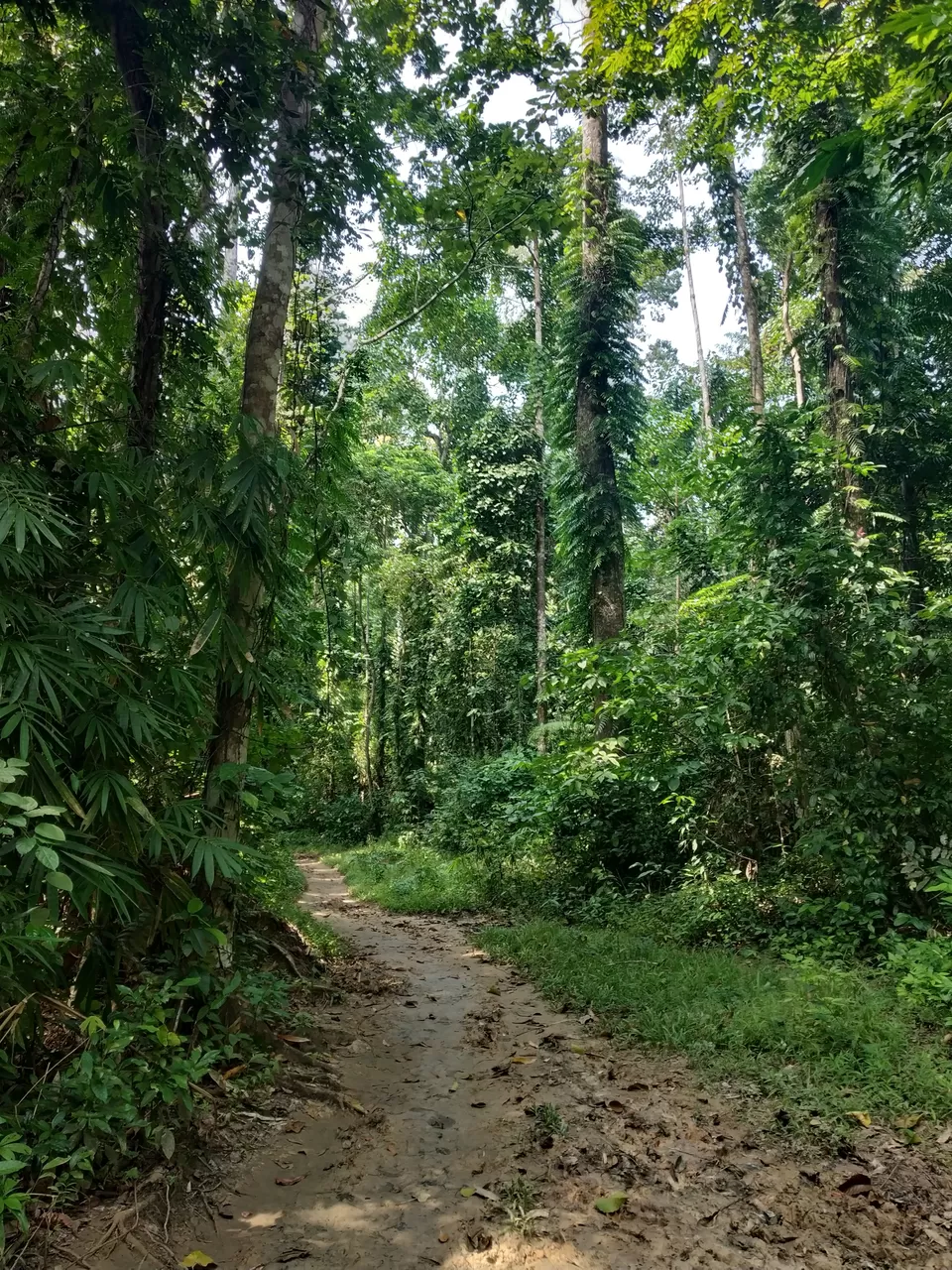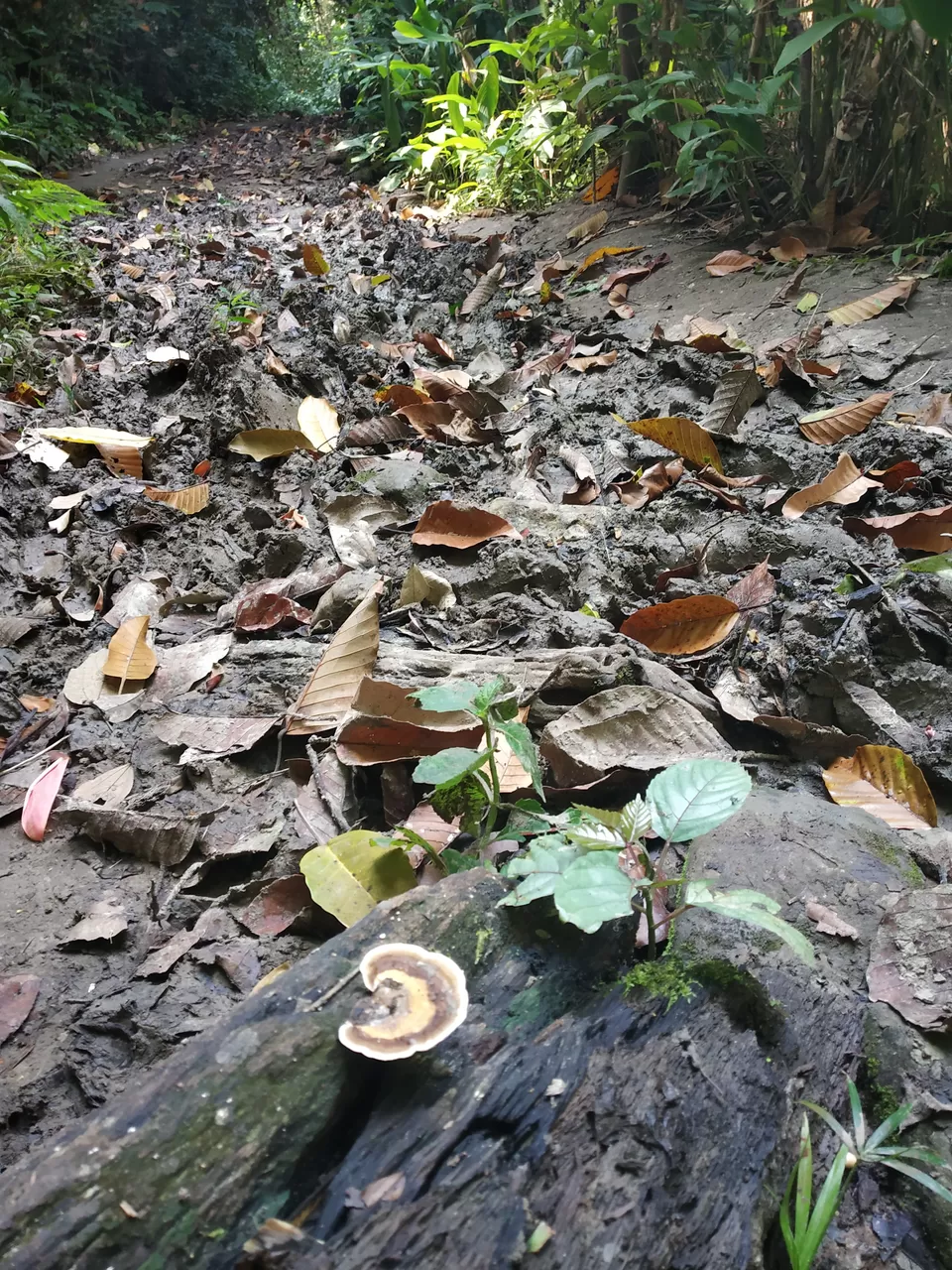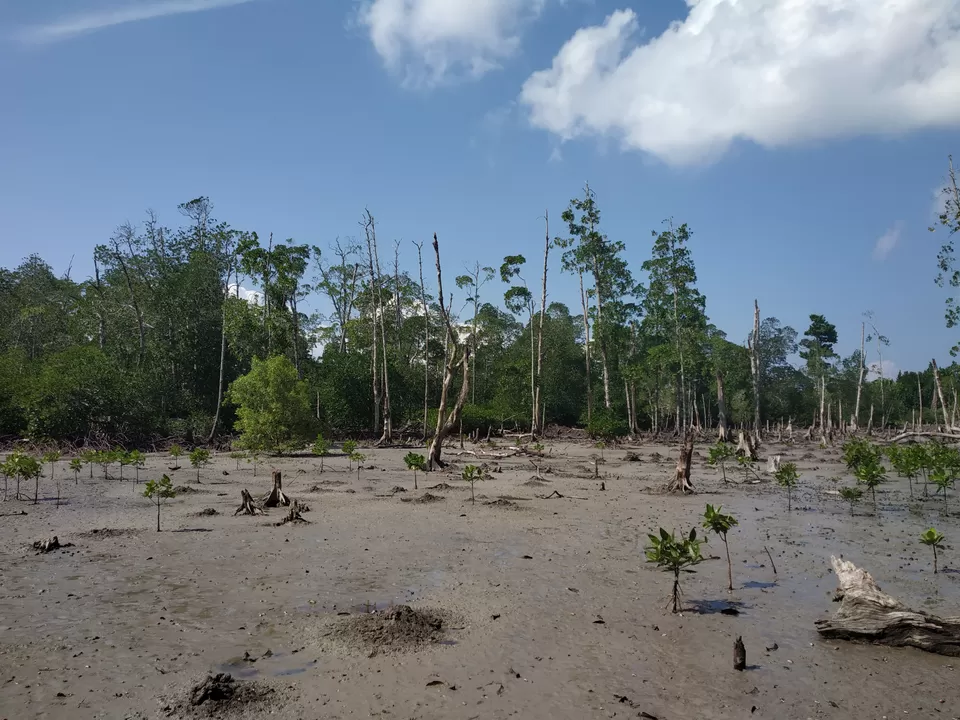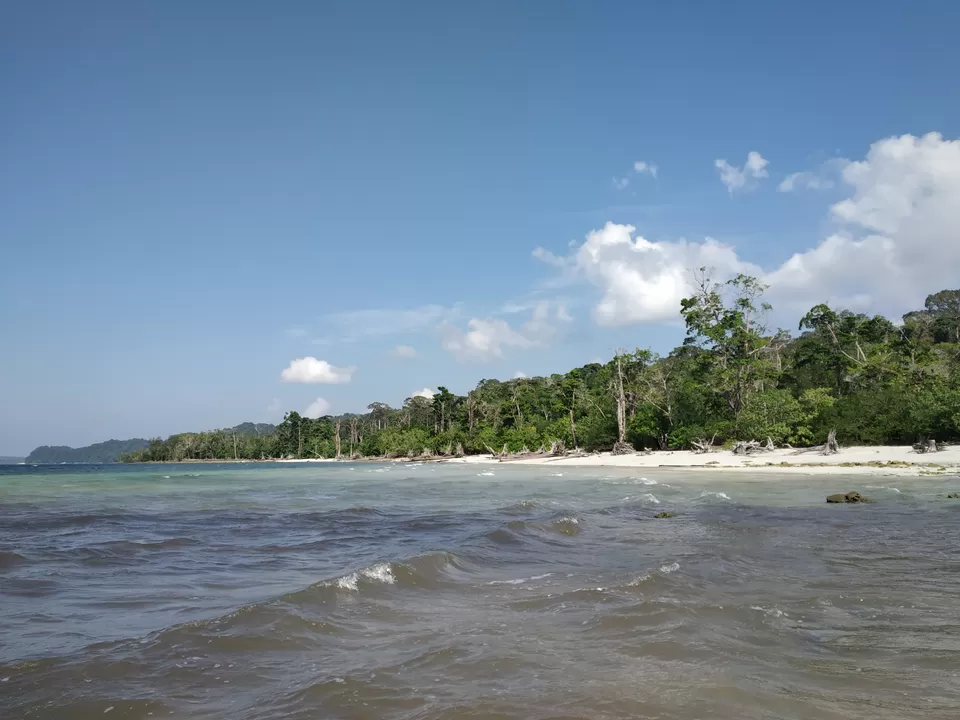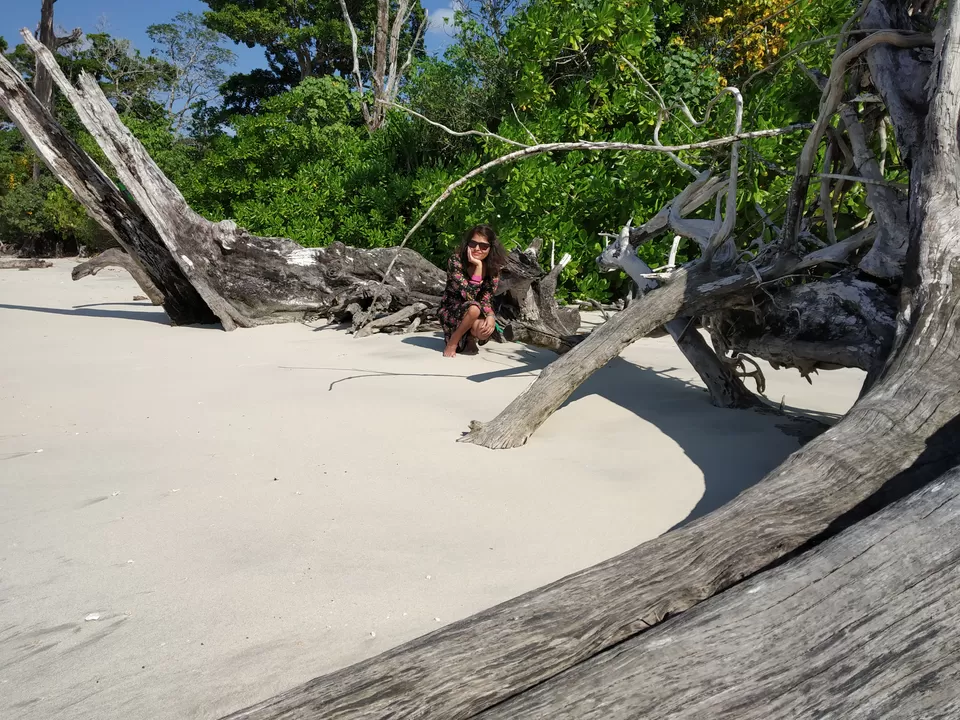 A small instance that restored our faith in humanity…
After spending few hours, we decided to leave from there and an interesting incident happened with us. There were two guys from whom we asked about the way back to the road so that we could go to our next stop. One of them told us that you will not find any mode of transport after you trek back because it was Sunday that day. He asked us why we didn't hire a scooty for the day because there would not be any private or public transport on road on a holiday. So, my friend and I got a bit worried and asked them for a solution because Elephant Beach was far from our next stop as well as from our accommodation.
Looking at us in trouble, he said, "You can take my scooty and return it when you are done for the day. The petrol tank is full as well." Well, coming from a place like Delhi where no one offers you anything for free, we were bound to doubt his kindness. Means, how could someone give his scooty to two unknown girls without even taking the money for it (It's Rs.500 per day there plus petrol cost)? We thought about it and not having any other option, we decided to take their help, hesitatingly. And the same day when we were returning his scooty, he asked us to keep it with us only for the next day as well, saying, "Why would you pay to your hotel for renting a scooty? You can keep mine without worrying at all."
When we finally said goodbye, I asked him, "How could you believe us? We might damage your scooty unintentionally, you know?" He replied, "You were in trouble. I had my scooty. So, I thought I can help you."
This thought really hit me hard that it was not about the money or scooty, it was his willingness to help someone in need. One of the best things about travelling is that it has made me come across some of the kindest people, along with the bad ones too of course. So now I know both the types, practically. Moreover especially in Havelock, it was not the only instance wherein the people had shown their concern for us.
It took us only twenty minutes by scooty to reach Radhanagar Beach from Elephant Beach. It is counted among Asia's most beautiful and the world's top ten beaches. The white silky sand, emerald blue sea and white foam waves make it a perfect spot for relaxing amid the natural beauty. There are lush and verdant trees on its side. No water sports are allowed there in order to preserve the gorgeousness of this attraction; so you can choose to either swim or sunbathe at this tranquil beach. I would suggest going there in the late afternoon so that you can see the lovely sunset in the evening.
This marvelous slice of heaven is my favorite beach in Havelock Island. You can't get enough of it in just one visit. That's why we went there again the next day. It's a must visit for every nature and beach lover. Your beach vacation is incomplete without including Radhanagar Beach in your itinerary.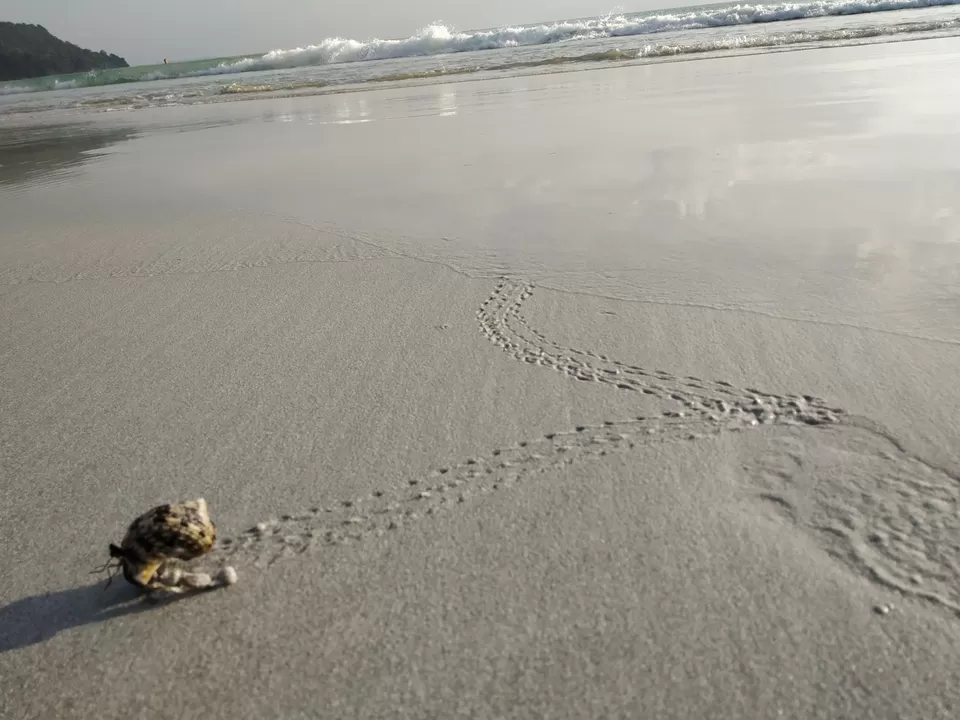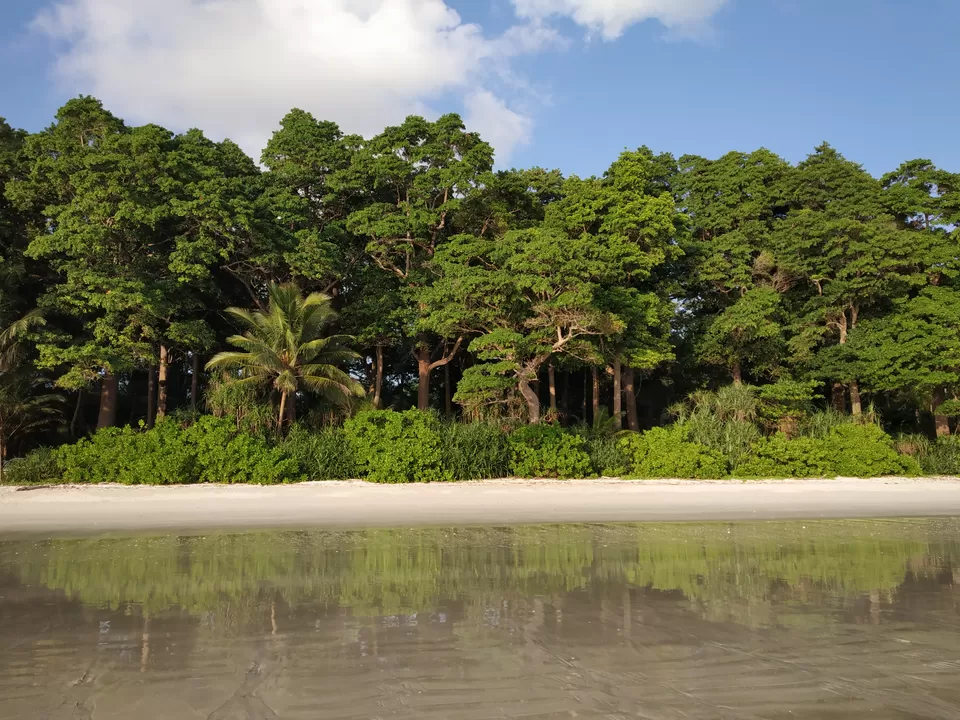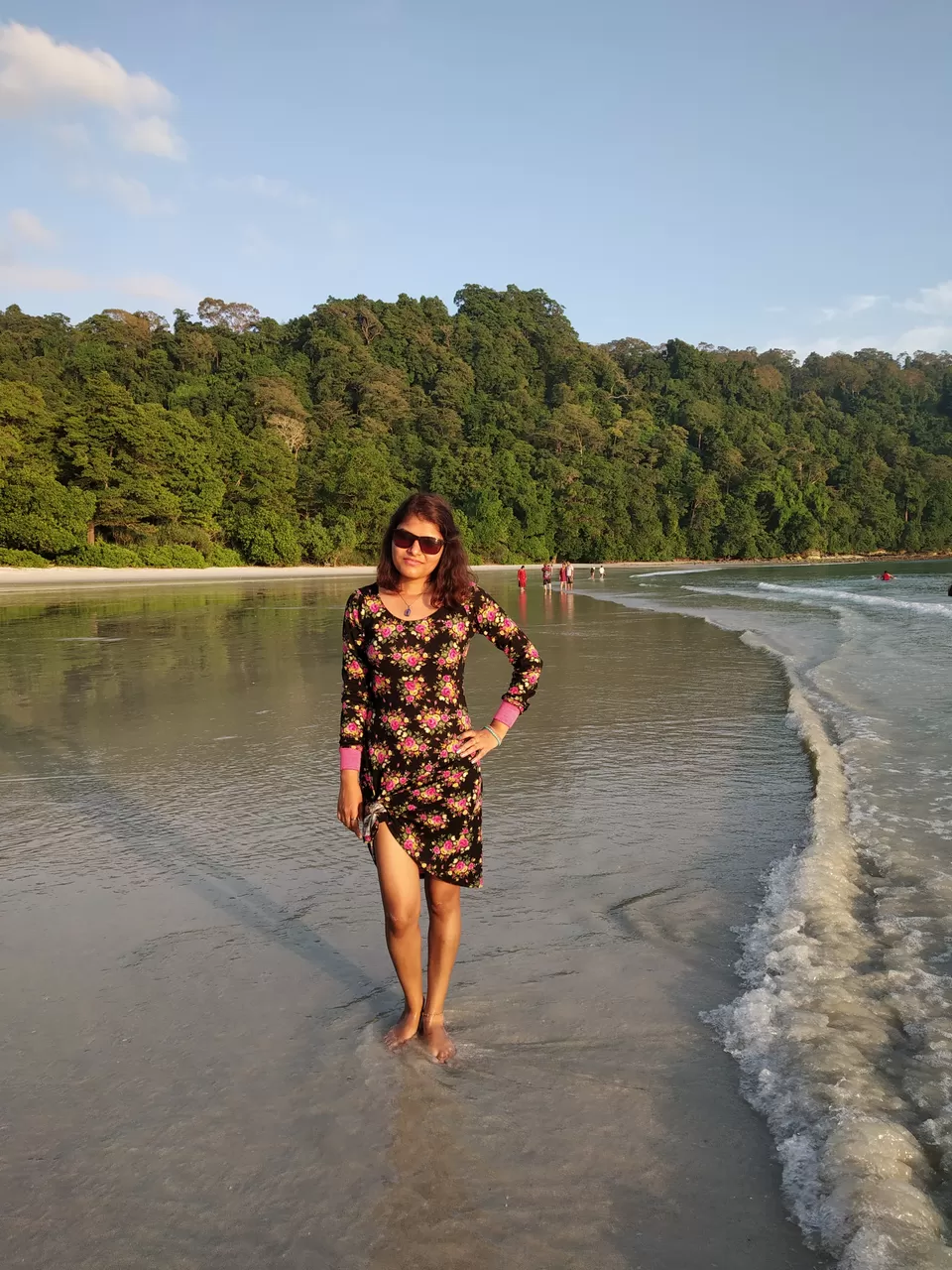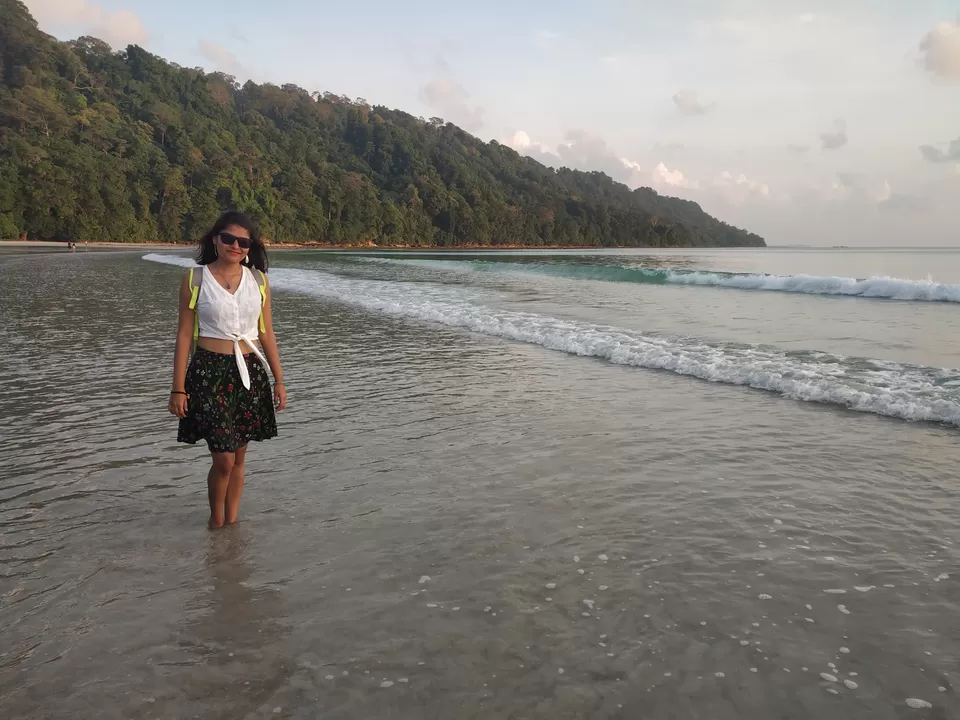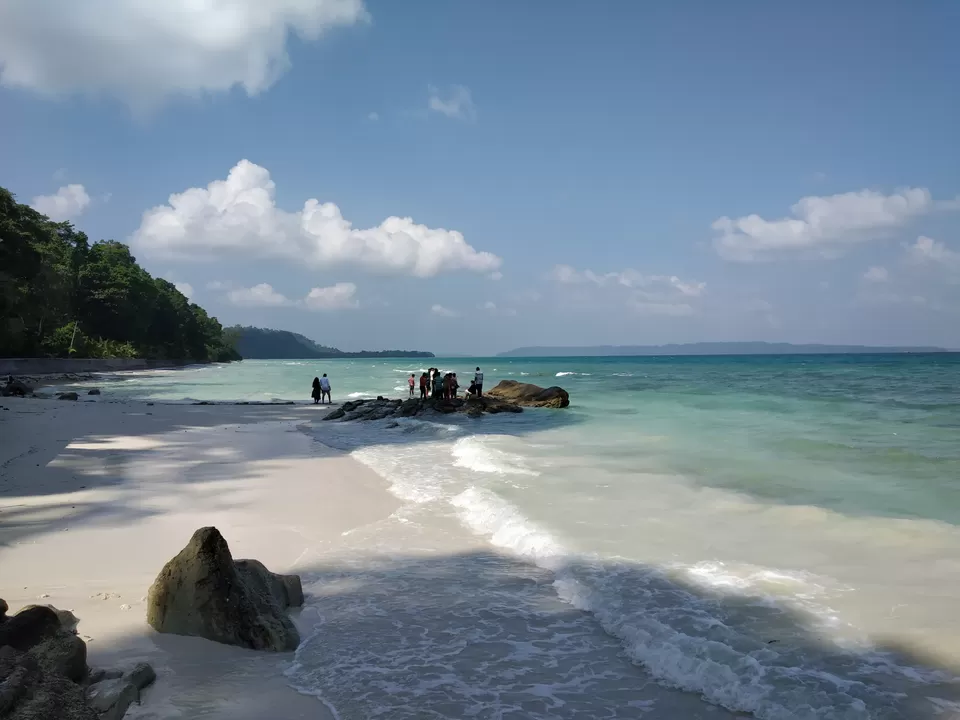 Just a 25-minute drive from Radhanagar Beach will take you to this pristine beach. With dense forest in the backdrop, Kalapathar Beach is a long stretch of golden sand beds, aqua water and big black rocks. It is a small but delightful beach. You can stroll here amidst the stunning scenic beauty while feeling the cool breeze on your face. The black rocks along the seashore present a vivid contrast with the bright sand. There are green forests engulfing the beach from all sides.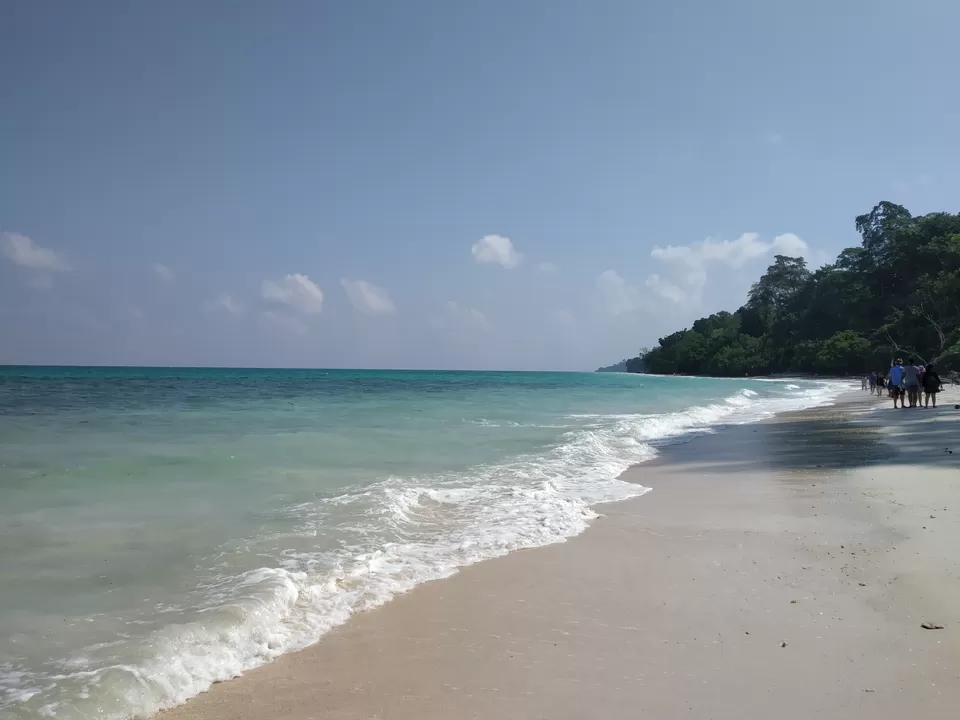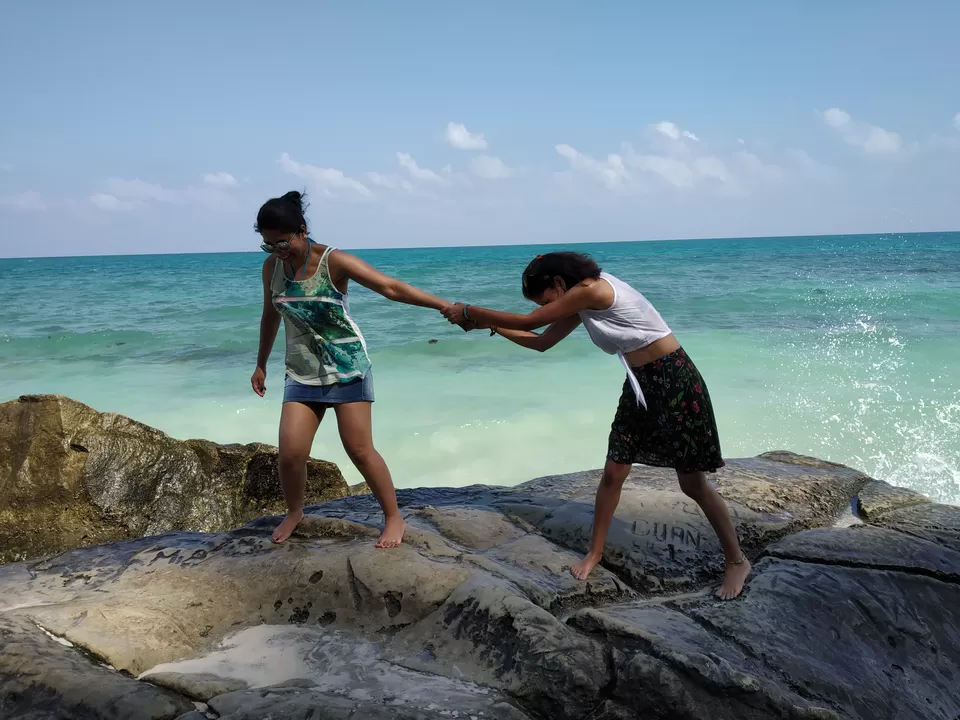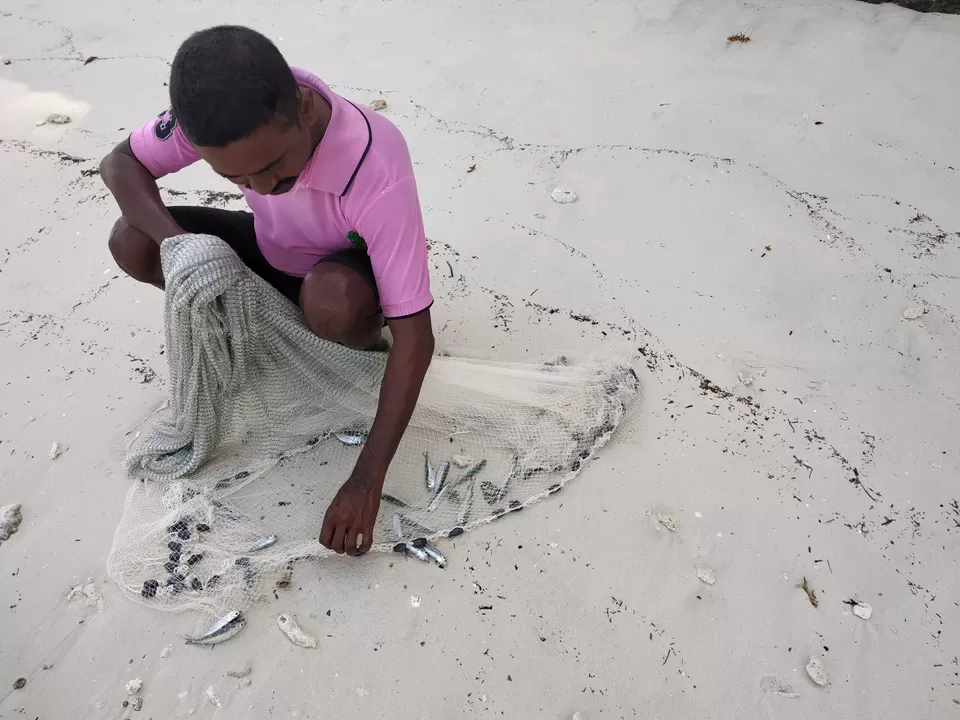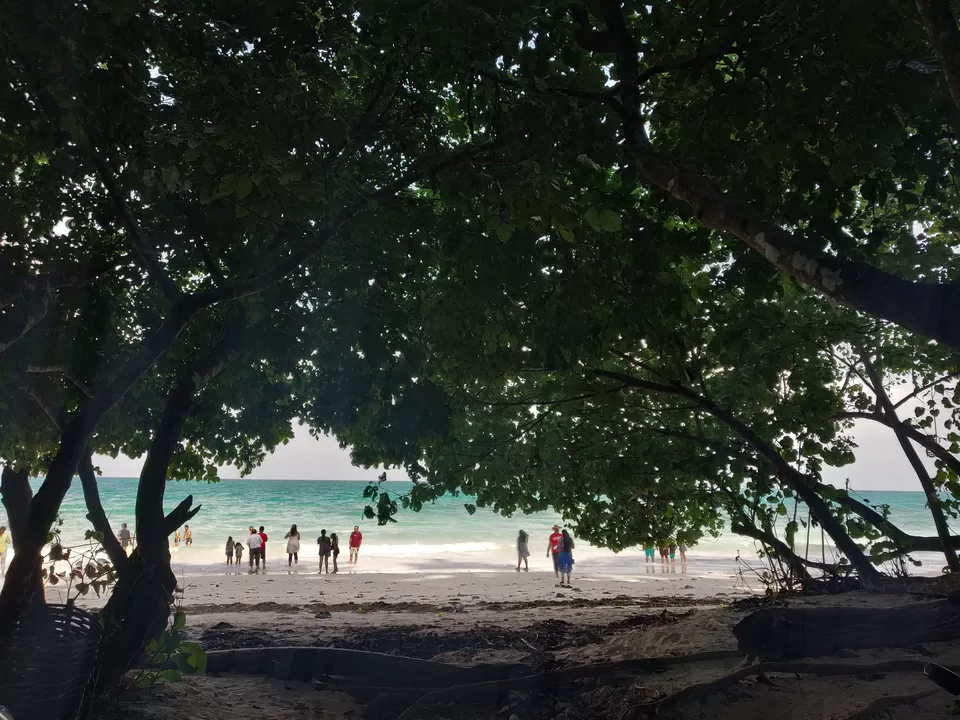 You have to go to Havelock Island to see the best beaches in India. It is a home of pristine beauty. Along with that, the people there are amazing as well. They are considerate and ready to help.
Remember, you can make your travel as luxurious as possible, but also as cheap as possible. So start planning and get set, go. Havelock Island will be a great addition to your travel list.
If this hasn't inspired you enough, then you should check out my Instagram page strolling_shoes and follow my adventures around the world!
Happy travelling :)