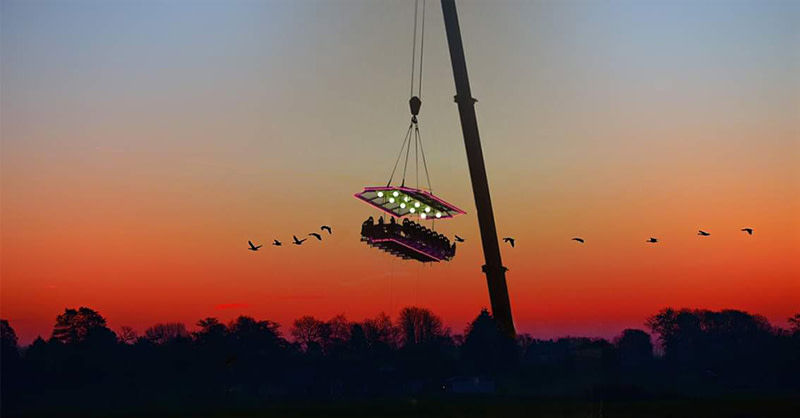 What would you say if we tell you that there's a restaurant in NCR that takes your dining experience up a notch, quite literally? Yes, we're indeed referring to the talk of the town, Fly dining which has recently opened up in Noida. First introduced in India in Bengaluru, it has now made its way to the NCR, making you reach for the sky with its innovative concept and scrumptious food. They have 5 time slots of 40 minutes each every day starting at 6 PM, so you can easily choose the one that suits your schedule. You're probably already tempted but we'll still go ahead and give you more reasons to flock your way to the place right away!
1. An Experience Of A Lifetime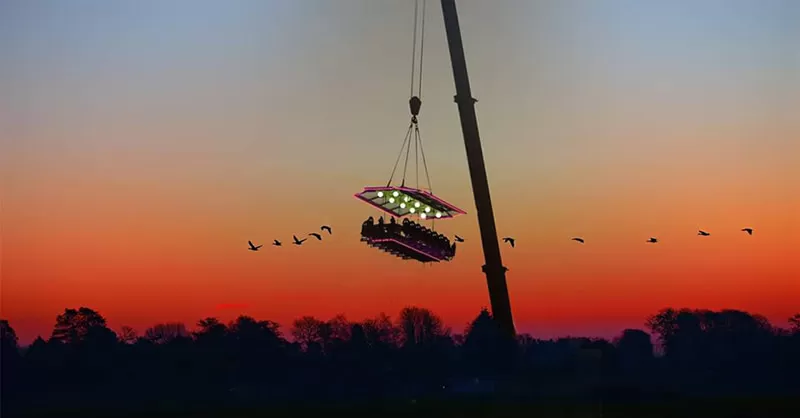 We can't begin to describe what a crazy experience it was. The whole idea of dining while hanging 50 meters (160 ft.) above the ground is simply thrilling. For people like us, who're always on the look-out for unique experiences, this one is surely a gem! For those of you who don't know the concept, it's an exquisite dining table, suspended from a crane structure, that can accommodate 24 diners and 4 crew members at a point of time. It's defo an exclusive affair and you've got to be a little adventurous to give this one a shot but trust us, it's going to be worth it. Also, did we mention the stellar panoramic views from the top that you guys will get to take in?
2. Gourmet Food With Unlimited Mocktails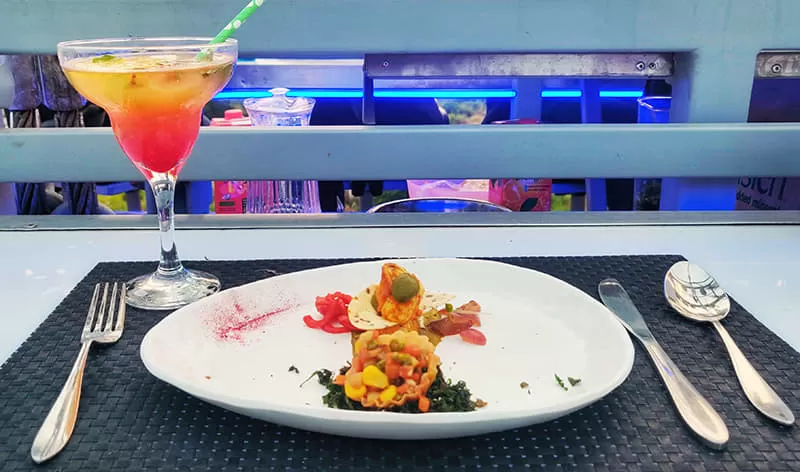 Of course, there will be food and not just any food, you'll have a meal especially curated by Chef Aman of Lincoln Gastro Co comprising a variety of meal options that include mocktail sessions, veg & non-veg dinner sessions as well as high tea. We were delighted to be part of the dinner session that included 3 tasty starters, a main course, an absolutely delicious dessert called Bird Nest In The Air along with an unlimited supply of refreshing mocktails. The food quantity is on the lower end but it's surely scrumptious and is included in the cover charge!
3. Safety Standards At Their Best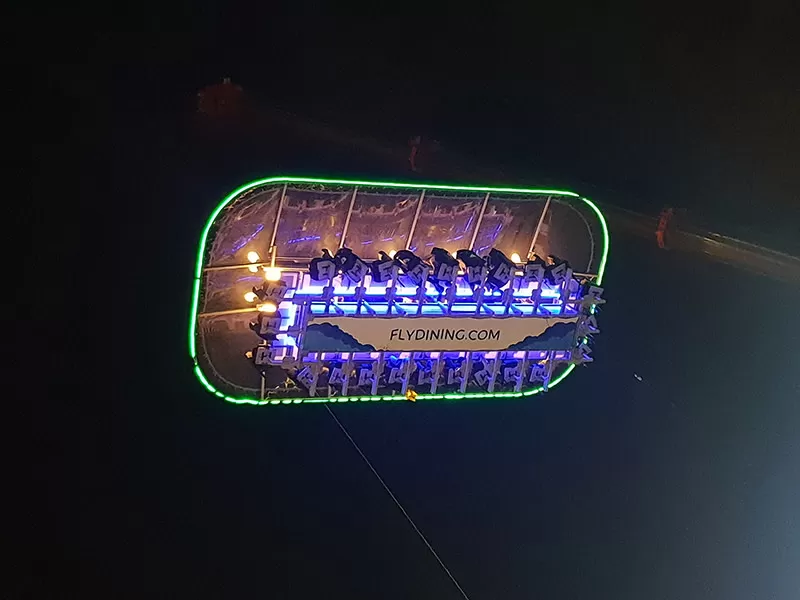 We know you've been waiting for us to answer all sorts of questions related to safety because it's obviously the first thing that comes to mind. Well, you don't have to worry about that at all because they've used high-quality German engineering. All sorts of security measures like aircraft level seat belts at all times and more are in place, all which have been certified for their safety standards. It's suspended on 16 metal wire ropes each having a safe load capacity of 4 ton, which means a single rope can carry the whole structure. They only allow people over 12 years of age and you have to be over 4 ft. in height, due to security reasons. So, we're saying is that they've paid attention to every detail and you can enjoy your meal tension-free!
4. Super Warm And Welcoming Staff
A place is made what it is by its staff and theirs is surely warm. Everyone from the friendly faces at the reception to the 4 servers who attend to all your needs on-board, will greet you with the warmest of smiles. We absolutely loved how everyone on board was dancing cheerfully and enjoying while the wonderful photographer captured each moment. The staff will make sure that you don't have any issues and have a whale of a time!
5. Guaranteed Fun For Everyone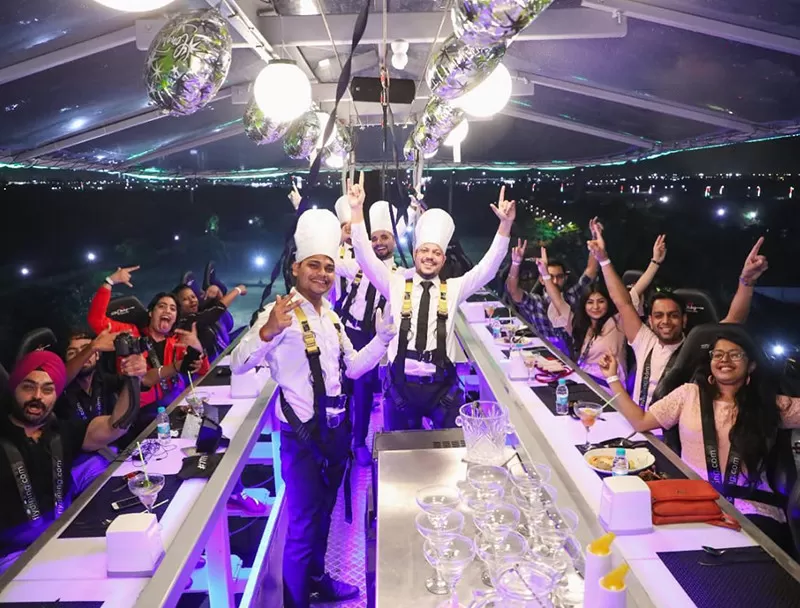 As we mentioned, it's not just about the food, it's more like an out of the world dining experience so, it definitely won't stop at just gourmet food. Guess what? They have karaoke on board and lots of dancing from your seats! Also, in case you're celebrating a special occasion like your birthday or anniversary, they'll make sure it becomes even more special with a complimentary cake and bouquets! Now, that's hospitality at its best, isn't it?
We're pretty sure you're convinced by now. We understand that the price tag may be a little over the top but so is the experience. Also, you know what? They have some pretty swanky discounts if you're booking in bulk! So, go ahead and either reserve your spots online through their website or just head over and become a Fly Diner!
Don't forget to share your Fly dining experience if you end up going to the place or write about other quirky restaurants like Fly Dining Tripoto here on Tripoto!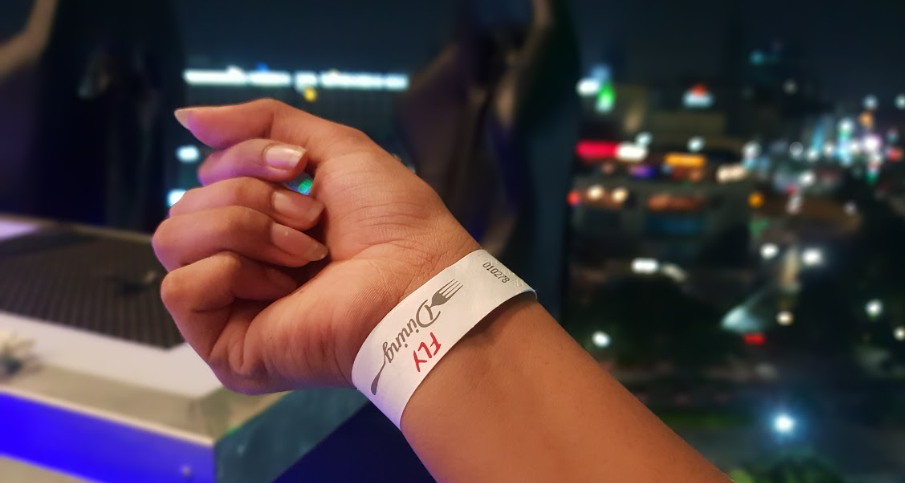 Where | Flydining Noida - Gardens Galleria, Noida
Tariff | Rs 2,999 Onwards
Call Them | +91 8448 444 960
Book Your Spots Online Here
Check Out Their FB Page here
(Imported from So Delhi)