Sun's down, bottoms up! Looking for some unforgettable vibes that are perfect for unwinding after work with a few drinks and good food? Well, good news for all party lovers– Delhi and Gurgaon are abuzz with new party places that promise a great night out. Whether you want to groove to the latest Bollywood tunes or just relax with friends over drinks, there's a place for you.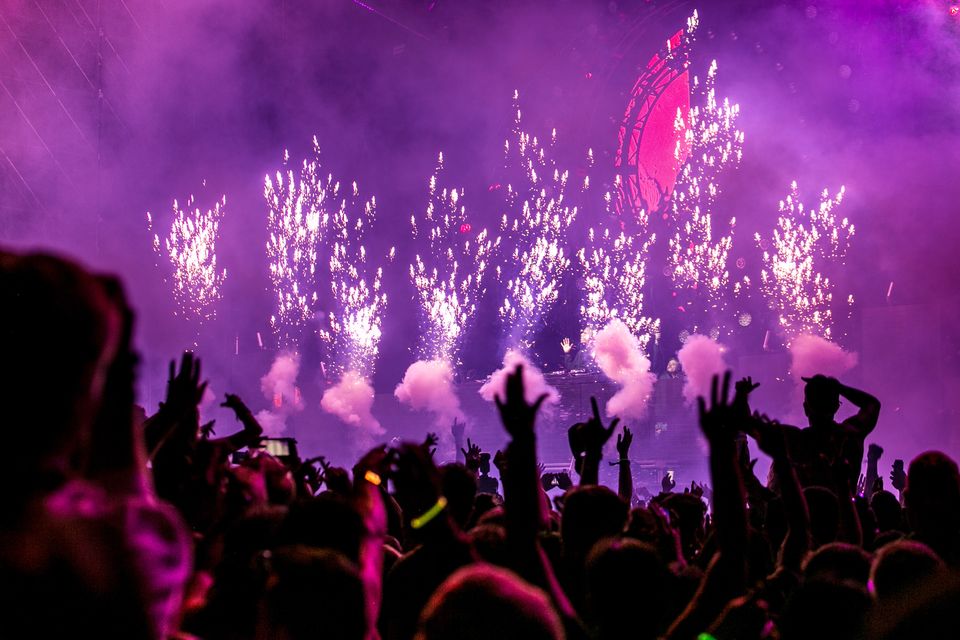 So put on your dancing shoes and get ready to party at these hot new spots in Delhi & Gurgaon!
This newly opened club at Pusa Road is chic on some next level, and everything from the decor to the food will please your senses. Inspired by Rome's beauty, Baardos La Citta will make you feel like you're in the heart of Italy. Indulge in some delicious eats, and unique cocktails, and take in the stunning ambience created by the fantastic lighting and decor.
Must-try dishes: Sushi, Dimsum, Prawn Tempura, BBQ Chicken Flaws
Address: 24-B (4th floor, Pusa Rd, New Delhi, Delhi 110005
Timings: 12 pm to 3 am (Monday to Sunday)
Get teleported to a foreign land as you take a bite of the delicious global cuisine served at Somewhere. With chic and luxurious vibes all around, this is one place you certainly don't want to miss out on! A newbie in Connaught Place, their menu is curated with minute details and offers a range of delectable items like dim sums, sushi, pasta and more that are sure to tantalize your taste buds!
Must-try dishes: Sushi, Chicken pizza, Nasi Goreng, signature cocktails
Address: Lakshmi Building, H-10, Ground Floor, Connaught Cir, Connaught Place, New Delhi, Delhi 110001
Timings: 12 pm to 12 am (Monday to Sunday)
This new club has just opened up in Gurgaon and it looks like it's going to be the new hotspot in town. Striker Prive boasts some amazing cocktails, delicious food and a great atmosphere - perfect for a night out with your friends. Be sure to check out their awesome decor too - it's sure to get your Instagram feed looking lit!
Must-try dishes: Bochai Momos, Pad Thai Noodles, Smoked Chicken Tikka Pizza and Kung Pao Chicken
Address: Shop No. 122, First Floor, The Walk, Worldmark 4, Sector 65, Gurugram, Haryana 122002
Timings: 1 pm to 2 am (Monday to Sunday)
Party-goers and foodies rejoice! Noche has arrived on the scene to bring some authentic Latin flavour to the city. With its modern, luxurious, and intimate setting, not to mention a stunning outdoor bar, this is one dining experience you won't want to miss. It's one of the newest additions to One Golden Mile's splendid restaurant circuit, and we're already in love. The menu has been thoughtfully curated to include some real mouth-watering dishes!
Must-try dishes: Buff Tartare, Achari Lamb Shoulder Pibil, and Pork in Coorgi Ghee Roast
Address: One Golden Mile, Block A, Netaji Nagar, New Delhi, Delhi 110023
Timings: 12 pm to 1 am (Monday to Sunday)
With vibes that are nothing short of perfect and a menu that will make your heart flutter, Maruchi should be on your list for the next time you want to have a night out with your friends! Not to mention, their ingeniously crafted cocktails are some of the best you'll ever have.
Must-try dishes: Chilli Garlic Udon noodles, Thai chicken basil Krapow, Rhodonite, Bronzite
Address: Sri Aurobindo Marg, behind Qutub Golf Course, Kutub Golf Course, Lado Sarai, New Delhi, Delhi 110030
Timings: 12 pm to 1 am (Monday to Sunday)
If you're looking for an escape to a scenic European city, where you can enjoy delicious food and exciting nightlife, Bergamo is the perfect place for you. This chic restaurant offers authentic European cuisine, as well as a lively party atmosphere that will make your experience unforgettable. With innovative dishes and drinks on the menu, Bergamo is sure to please even the most discerning palate. So come on down and see what all the fuss is about – you won't be disappointed!
Must-try dishes: Burrata Pesto Pizza, Mushroom Goat Cheese Toast, New Zealand Lamb Chop
Address: The Grand, Gate No 1, Nelson Mandela Marg, Vasant Kunj, Delhi, 110070
Timings: 12 pm to 2 am (Monday to Sunday)
The stunning new nightspot in Delhi, Zooey, has got all party-goers hooked with its chic ambience, delectable dishes and heavenly cocktails. They've got the formula for a perfect night out sorted with both indoor and outdoor seating, plus a menu that'll make your taste buds jump for joy. It's definitely worth a visit (or two... or three!) if you're in the city and looking for some good eats and drinks.
Must-try dishes: Pesto Potato Gnocchi Burrata, Canadian Pork Chops, Sea Bass, Frutti Di Mare
Address: D-26, Shiniwas Puri, Block D, Defence Colony, New Delhi, Delhi 110024
Timings: 1 pm to 1 am (Monday to Sunday)
Packed with the best interior design and a wide range of music, Zorro should be your go-to spot for an amazing night out! The food is to die for with a variety of spices that will tantalize your taste buds. If you're looking to get your dance on, the floor will be packed with people letting loose to the latest hits. And if you need a break from the crowd, head over to the bar for some refreshing cocktails.
Must-try dishes: Dimsums, Basil pesto spaghetti past, Thai water chestnut mushroom roll
Address: First Floor, Plot No. 16 & 17, First Floor, Leisure Valley Rd, Sector 29, Gurugram, Haryana 122009
Timings: 1 pm to 6 am (Monday to Sunday)
Already feeling the high? We don't blame you! With so many options to choose from, it's hard to decide where to go first. But one thing's for sure – you're guaranteed a good time no matter which spot you pick.
If you have an exciting travel news to share with us, feel free to drop your inputs in the comments below. Or write about it here on Tripoto and earn Tripoto Credits! You can also follow me on Instagram to stay on top of my updates.