Less than 50 km away from the hustle and bustle of the capital – Guatemala city is the colonial town of Antigua. First look and it feels you've been transported to a different period in time; that is if you can ignore those motor vehicles.
The city proudly sits surrounded by three volcanoes; its majestic outlook not doomed by the earthquake that turned the city to rubble in 1773. The earthquake stopped the time there it seems – the brightly coloured facades of colonial houses, majestic cathedrals, still standing walls of churches whose domes have caved in, cobbled streets are so inviting. Its a UNESCO world heritage site now; there is still magic in this centuries-old decayed dilapidated town.
I was excited about Antigua ever since I decided to visit Guatemala; since this was going to be my first ever Spanish colony experience. And I was not disappointed at all. The orange and red and yellow mansions are fascinating, the flowering trees lining the streets, the whiff of breeze as you walk in the evenings only added to the charm.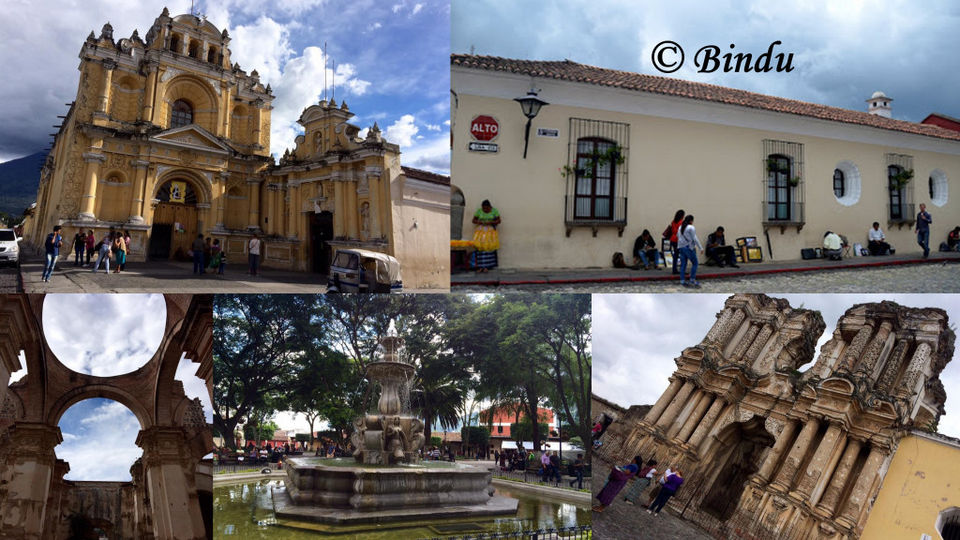 The "avenida" and "calle"(streets) crossing each other north to south and east to west at first was confusing; later I got used to it. I decided it was best to explore the town by walk though there were tuk-tuks (our very own Indian Bajaj auto rickshaws) for short rides. That way; I got to explore in leisure and have a chance to chat with locals. Most of sight seeing in Antigua are the religious and other colonial structures. There is no dearth for cathedrals, convents and churches. Most of them are in varying states of despair, but functioning. I went around and explored most on my own; few have entry fees that is nominal. However; I gave a miss to few museums whose entry tickets seemed too pricey for me.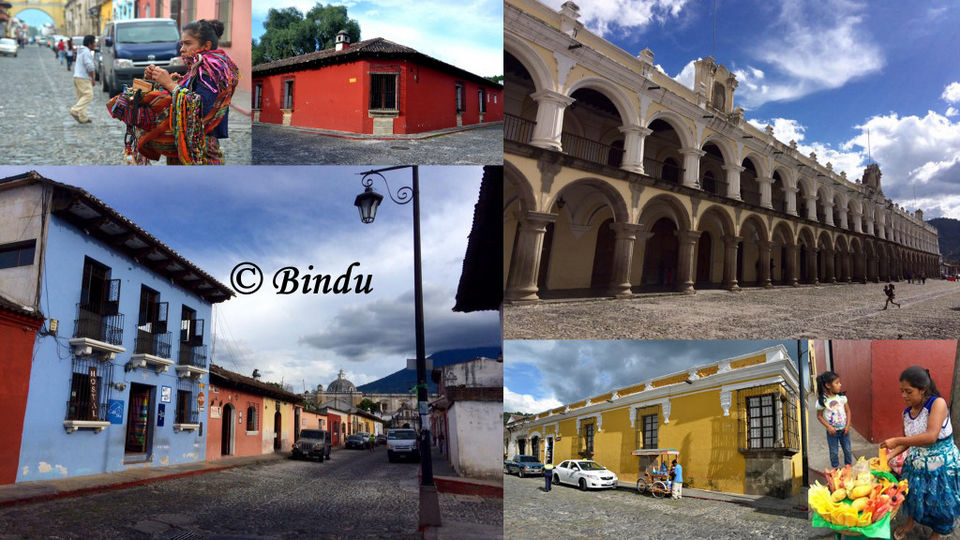 It gets hot and sultry around noon and what better than to savour fresh fruits bought on the street from locals. They are peeled and cut and given in a neat polythene cover and it becomes easier to eat them as you walk. But if you want to take a break and enjoy your meal in leisure; there are many cafes and restaurant with good food and drinks and free Wifi.
I loved Antigua; I am a sucker for such colonial architecture and experience. However; every nice thing has a flip side. So is Antigua; this pretty laid back town is infested with heck a lot of tourists like me. Hoards of cafes and restaurants and vendors selling food and wares. You'd see many Mayan men, women and children in their traditional clothes pestering tourists to buy textiles, accessories, flutes and such. I met one such very old lady who started talking to me in her limited but fluent English (enough to start a conversation and sell her items). I wanted to take a picture of her; her features and wrinkles on her face were so attractive. Since I didn't want to take a free picture; I offered to buy a beaded necklace from her after good bargain. And later when I requested her for a picture; she asked me for 10 Quetzals (Guatemalan currency). Well! very tactical lady huh. I denied and went my way. So yeah, this is an account of how tourism is driving Antigua. Nevertheless, I thoroughly loved the place.