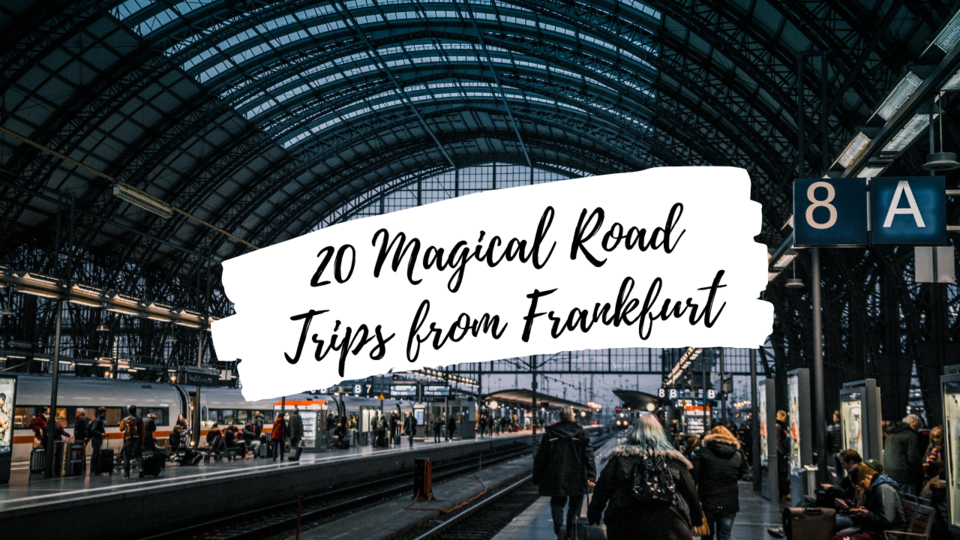 Lockdown, Pandemic amidst Summer Vacation? Travelling during Pandemic? Is it safe to travel now? How about going on some Magical Road Trips From Frankfurt, Germany? Doesn't it sound safe and fun?.
Well, it has been almost 5 months and I haven't been out to travel. I have started feeling time slipping from my hands. 2020 just started and its 8th month of the year already without travelling. Looking at the current scenario of COVID situation, if you have a car and you are practising social distancing. You are free to travel to European regions and Germany.

Frankfurt is the financial capital of the country and is well connected with public transport. In case you don't own a car, Deutsche Bahn (DB) trains and buses will take you to these marvellous places for a Day Trip from Frankfurt. The connection and routes are amazing from Frankfurt Bahnhof.
Although I agree, there's a lot to see in Frankfurt itself, from High Rise- Skyline to Gothic Architecture Buildings. Metropolis with river Main, gorgeous gardens and diverse museums. I always find Frankfurt interesting both during the day and night. My best time of the year is its Christmas Market.
Most importantly, the list which I have made includes cross border travel along with stunning places within Germany. If you want to know accurate details about how to travel other European Countries in the EU during Pandemic. EU government has released a new website Re-open Europe that covers information like:
How can I transit to other countries?
Can I enter France via Flight?
Can I transit Austria via bus/car/coach?
How safe is it to travel?
May I enter this country without being subject to a mandatory quarantine?
May I enter this country without a medical certificate, such as a negative test?
Now, let's check some amazing places that you can visit and get over with Lockdown. Be sure to stay safe and follow the latest guidelines of the government while travelling. For instance, Masks on public transport, Compulsory Free COVID test for travellers coming back to Germany, if you are travelling from high infected regions in Europe. This test is free and mandatory at the borders. People refusing to take a test could face a fine of up €25,000 ($30,000).
The current pandemic situation is making me crave for a vacation. Since the idea of staying at a hotel or hostel still makes me afraid. I wish I had a caravan of my own along with Driving License. My life would have been great with countless road trips which I might have taken.
Sometimes, I regret being lazy 🙁 I wish I had applied for a Driving License. These affordable car renting options are great if you can drive. My ultimate solution to travel amid Corona Pandemic is to buy a day ticket pass, take a day trip from Frankfurt, travel in Germany and come back home by the time its night.
A day trip from Frankfurt is sufficient to visit this beautiful city. Its a drive of 1.5 hours from Frankfurt via car. Or you can buy a day pass from Deutsche Bahn (DB) Railways for 22 Euro per person.
1. Koblenz