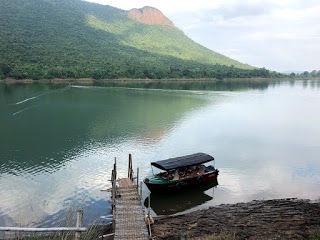 The once powerful and mighty land of Kalinga, under the reign of the great king Ashoka, has now turned into the much unknown land of Odisha.
Odisha is rich in its untouched beauty and unexplored regions, with a variety of topography. It has a vast coastline, the biggest brackish water lake - Chilka lake, the Eastern Ghats, lagoons, gorges, snowfall at Daringibadi, and you name it!
This was another impromptu trip after a friend showed me a post by Satkosia Sand Resorts on Facebook last November (2017). This was a trip organized by a company called Detour Odisha and they were offering a 2-day return trip to the Satkosia Sand Resorts with a promise of Camping under the stars, trekking, bonfire, food, transport for a freaking unbelievable price of ₹999/person. No, I'm not kidding. I was pretty apprehensive as to what they must be offering for such a meagre sum. This was too good to be true. And I dissed the idea.
But a few days later, I was like what the heck let's just give it a go. And I booked 5 tickets for me and my friends.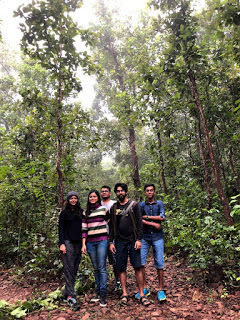 A bus was supposed to pick us up from Panthanivas in Bhubaneswar. I imagined the bus to be the worst of city buses with broken seats, paan stains, and super jerky with dismantled springs defying laws of physics ( Yes, I exaggerate in my imagination.) But I was overwhelmed with the amazing airconditioned Volvo bus with pushback comfy seats, welcome drinks, and super friendly hosts ( I had imagined them as well as our co-travellers to be very shady people. Yes, I have a sceptical pessimistic mind. As I have mentioned many times before and the people close to me know.). And this was just the beginning of uncountable happy surprises.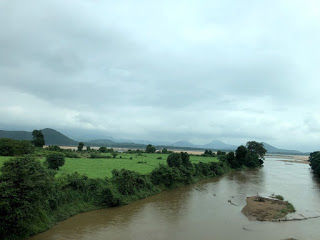 It was a 3 hours ride to Satkosia. The journey was relaxing through an amazing backdrop of luscious green paddy fields, gentle slopes of the Eastern Ghats, with a romantic river flowing by and a cloudy weather. And the first thing I noticed on getting down from the bus was this vibrant assembly of flamboyant bicycles and helmets. They were for us to ride. WooHoo!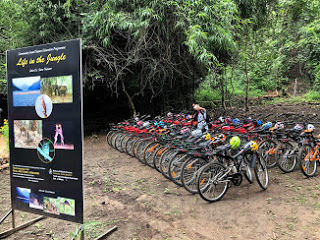 I walked through the gregarious canopy to cherish the first glimpse of the campground. I was stunned at its perfectness. The tents looked superb and I couldn't wait for my first organized camping experience.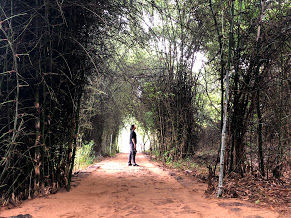 Amidst the gentle breeze, we were all assigned our tents. It was extremely neat and cozy with cute solar lanterns hanging inside to be used in the latter half of the day. Breakfast was delicious. There were a badminton court and two huge volleyball courts, both of which were put to good use by us. Playing badminton on sand is tough. Famished, we devoured our lunch which consisted of cooked fish freshly caught straight from the river. And it was an unlimited buffet (All this for ₹999. I still have difficulty in digesting this fact unlike the scrumptious lunch.)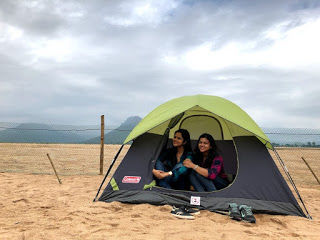 Followed by this we rode those ornate bikes to the riverside some 2-3 km away. I think we made an interesting spectacle for the villagers with our cheerful faces, colourful bikes, and patterned helmets.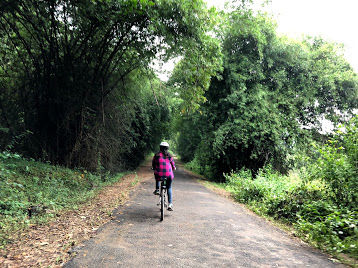 We went on a boat ( included in the package. I can't stress the amazing-ness of this deal enough!) through the most picturesque ride ever. It was a heavenly sight where I felt my eyes had suddenly become prismatic because the color play of nature was seriously giving me goosebumps. The dazzling reflection of the multicolored hills mirrored on the water was pure magic! I couldn't believe it was real (And more importantly that I had been living 3 hrs away from this for the past 5 years!).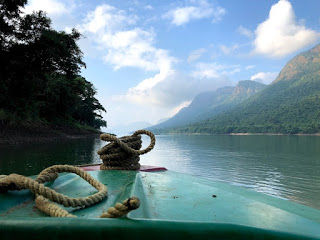 We trekked further up ( I swear I was drained by then and barely managed to do so) and found this haven of sorts tucked behind the overgrown creepers. It had a stunning view of the river and hills. We sat there for some time just breathing the fresh countryside air. Feeling a tad bit rejuvenated we cycled back through the verdant land.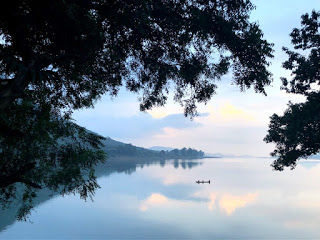 Being the ignorant snobs, we trotted out of the fenced area (which apparently had been put to protect us from the giant Gharials) and took a dip in the inviting river. Now I know why it was so inviting cause well, Gharial calling! But as they say, Ignorance is bliss.
So we enjoyed the refreshing bath in the pristine water. It was just our group and no one around with the dark clouds hanging over us, and mighty mountains in the far distant. It was like a picture taken out straight from a fantasy movie ( To be honest it reminded me of the last scene of Game of Thrones where Khaleesi was advancing towards King's Landing in her majestic ship, the dark clouds suggesting an impending thunderstorm...you get it, right?) And obviously, we survived the Gharials (how else am I writing this) about whose existence we came to know of the next day.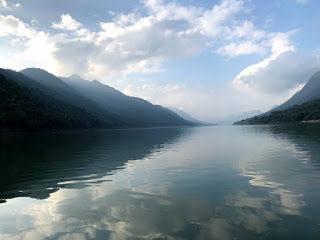 It was surreal! It was phantasmagorical!
Returning to the campsite, we enjoyed a bonfire with some soulful music and live folk dance. There is a certain charm about sitting by the bonfire and talking about anything and everything with your best friends that words can never describe. Or the happiness you experience when you lie down on the sand just staring the zillion stars in the night sky! (Okay, not a zillion but more like speckled in between the dark clouds.)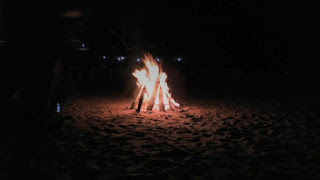 The universe was perfectly in sync with us, cause right after dinner it starting pouring marking the end of the day and ushering us all back to our tents. It was a superb experience sleeping with the rain lashing onto the impenetrable tent material. I was worn out but I had never felt more alive. Life as at its beautiful best!
Early next morning we went on a trek through the jungle in search of tigers or leopards. But, alas, no such luck. Although we spotted a lot of quirky insects in the dew-laden plants, meandering through mushy roads.
After another great breakfast, we bid adieu to the stunning Satkosia and returned. Only to become the unofficial mascots, crusaders and guides of the stunning Satkosia.