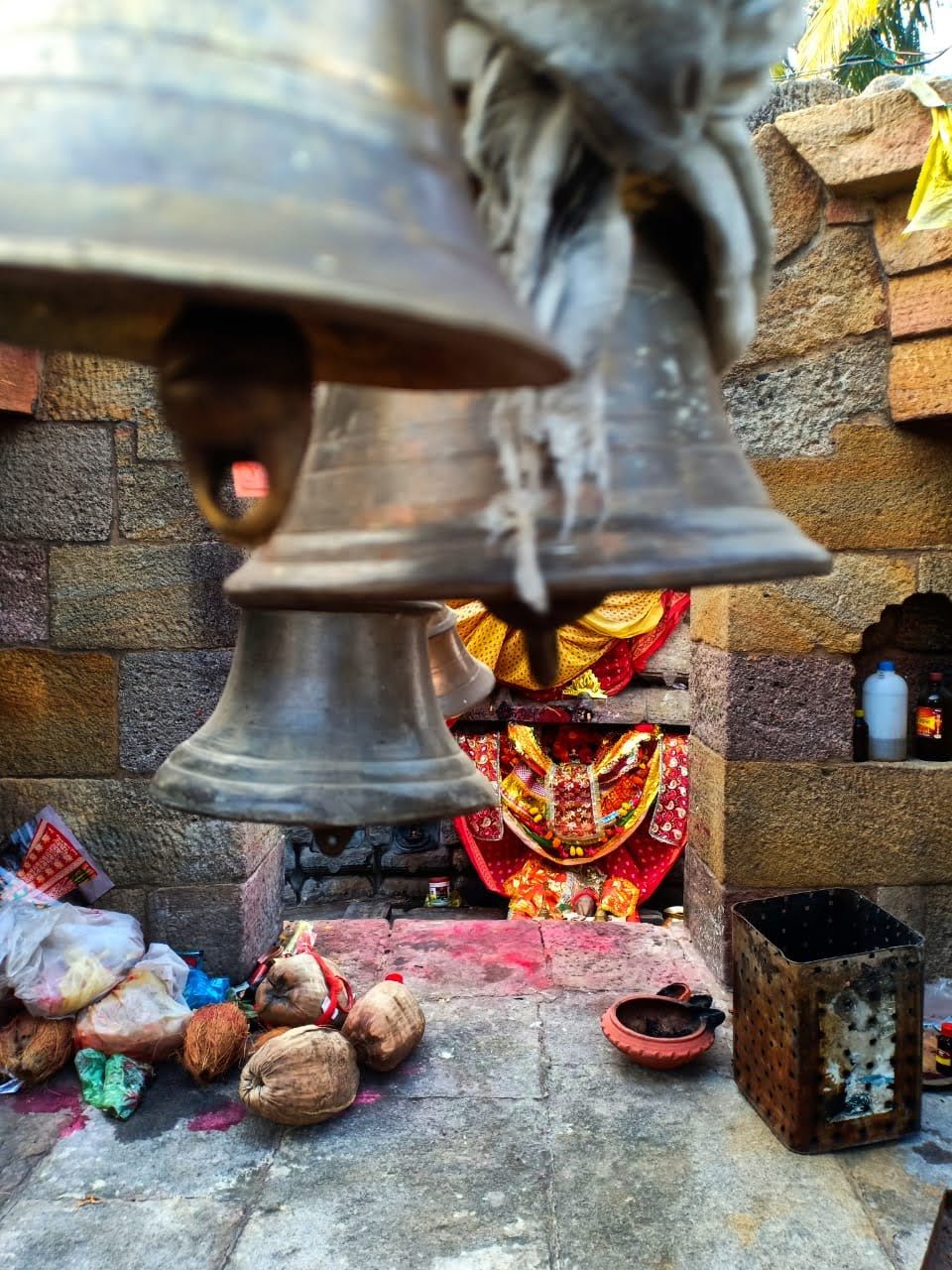 A visit to the ruins of Chausath Yogini temple in Khajuraho (in 2017) piqued my interest to visit all of these temples across India. It was followed by a visit to the exquisite one in Jabalpur (near Bhedaghat in 2018) which displays some hints of modernity in an attempt to restore the original structure. These two constitute a part of the four major (other two in Odisha) Chausath Yogini temples in the country.
For a layman, the name "Chausath Yogini" is dedicated to 64 Yoginis (Chausath meaning - 64) worshipped as incarnation of Mother Goddess Shakti.
Ironically, the oldest and smallest of these temples (termed as "Chausathi Jogini" in Odiya) which started the cult following lies right next to my hometown, Bhubaneswar; however, took me the longest to visit. Best suited for art, architecture and history lovers; it is popularly known as "Mahamaya Temple" by the villagers as Mahamaya deity is the main goddess being worshipped. Do not get confused if one refers the temple by this name.
Location - The temple lies in a village named Hirapur approximately 15 km east of Bhubaneswar. The road leading to the rustic area does not bear many active sign boards as most have fallen around. It is better to ask for guidance from a local as the path goes through narrow, dusty lanes after taking an off route from the highway.
P.S - Alternatively, Google map absolutely leads to the exact location.
How to Reach - No direct public transport is available to the temple and it can only be accessed by personal conveyance. An auto/ cab from Bhubaneswar can be easily available charging both ways for the trip.
Good to know
Timings - 6 AM till 7 PM
Visit time - Approximately 30 - 45 mins (depends on personal interest)
No tickets/ entry fees (But you will see donations near the Mahamaya temple)
No charges for Mobile phones/ Camera
Legend of "Yoginis"
The term "Yogini" mostly invokes a sense of fear with a majority regarding them as followers of a secret tantric cult or ones capable of extreme destruction. Some consider them as female attendants of Goddess Durga. However, in essence, it is the feminine Sanskrit word for Yogi (masculine) with their references in our ancient and medieval texts from Hinduism. Literally used for a female master practitioner of Yoga as a mark of respect, the ancient culture of Yoginis are as spiritual practitioners. Researchers have also found their relevance in Buddhist and Jain scriptures.
Origin and architecture
Experts suggest that the temple in Hirapur was built by Queen Hiradevi or Hiradei (of Brahma dynasty) around the 9th century. It was also the time when some of the prominent tantric temples of the state were built. Some scholars differ and suggest a later date of around 11th century. For long, it was safely kept as a secret from the outer world, maybe by the practitioners of the tantric cult. It was in 1953 when Kedarnath Mahapatra, archaeologist and historian of Odisha State Museum discovered these ruins and pieced it back to life; it became public.
Today, the temple is under the Archaeological Survey of India and is open to visitors. It is also the only functional one of all Chausath Yogini temples in India.
The small temple is made on a unique architectural pattern (cicular like other Yogini temples) as it has no roof above. Evidently, it is completely different from the major Kalingan style temples in town and other parts of Odisha. The aerial view resembles a Yoni. The temple walls are built with blocks of coarse sandstone. These are small and circular about 25 feet in diameter. All the primary deities are made of black granite.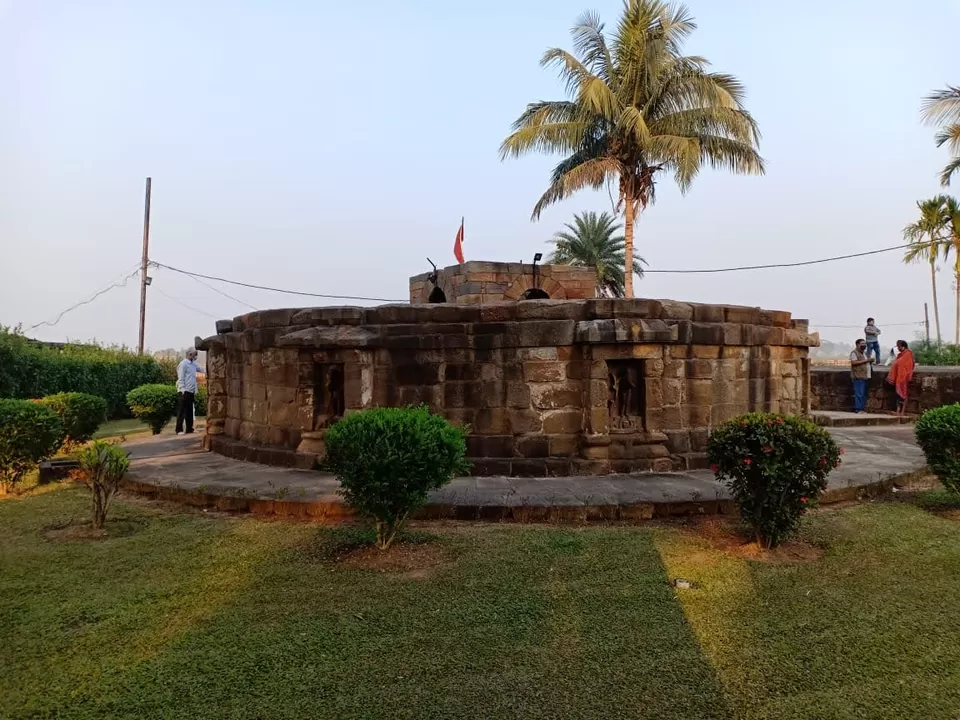 Chausath Yogini Temple - Hirapur premises
In isolation from the main village, the surrounding is well maintained by the local priests and temple administration. Outside the gate, a small pond named Puskarini Pond and an age old banyan tree add to it's timeless charm.
At the entrance, a small Shiva shrine is significantly placed before the path leads to the main temple through a garden area.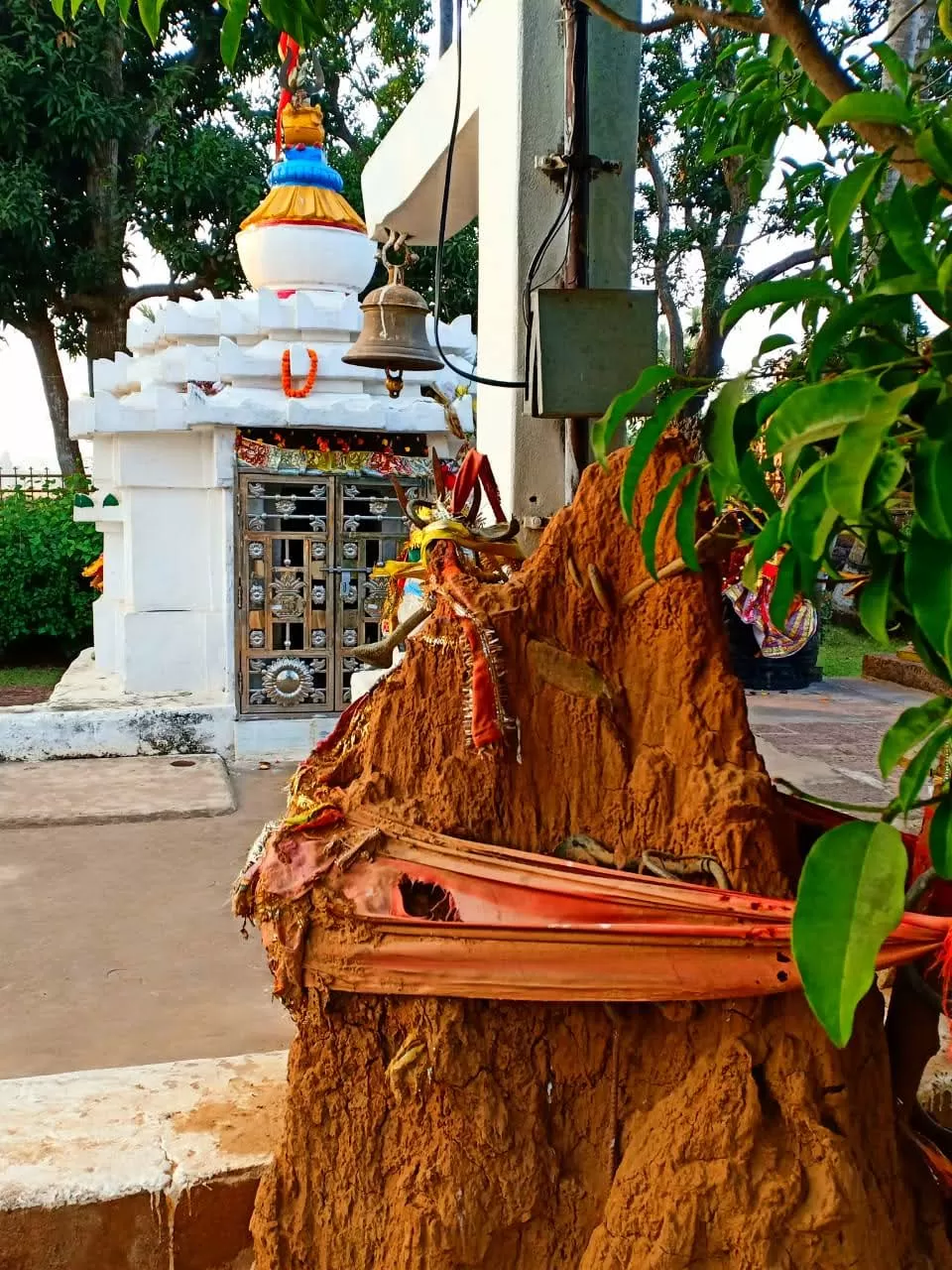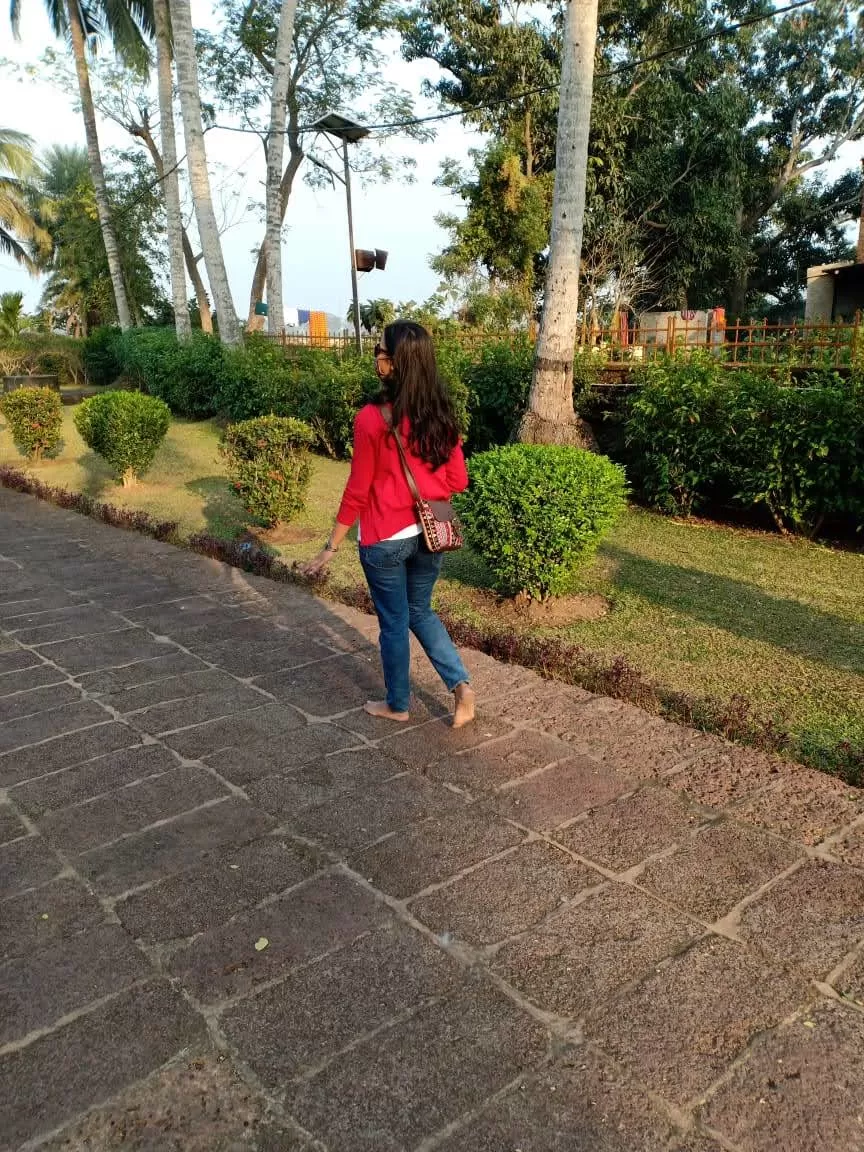 The place has the divine vibes of a shakti peeth blessed by the goddess herself in many forms.Outer wall of the temple is guarded by nine feminine images, Katyayinis and the entrance gate is guarded by dwarpals. One has to bow down and enter (one at a time) through the small gate which opens to a small courtyard with 60 yoginis adorning the walls in a circular pattern.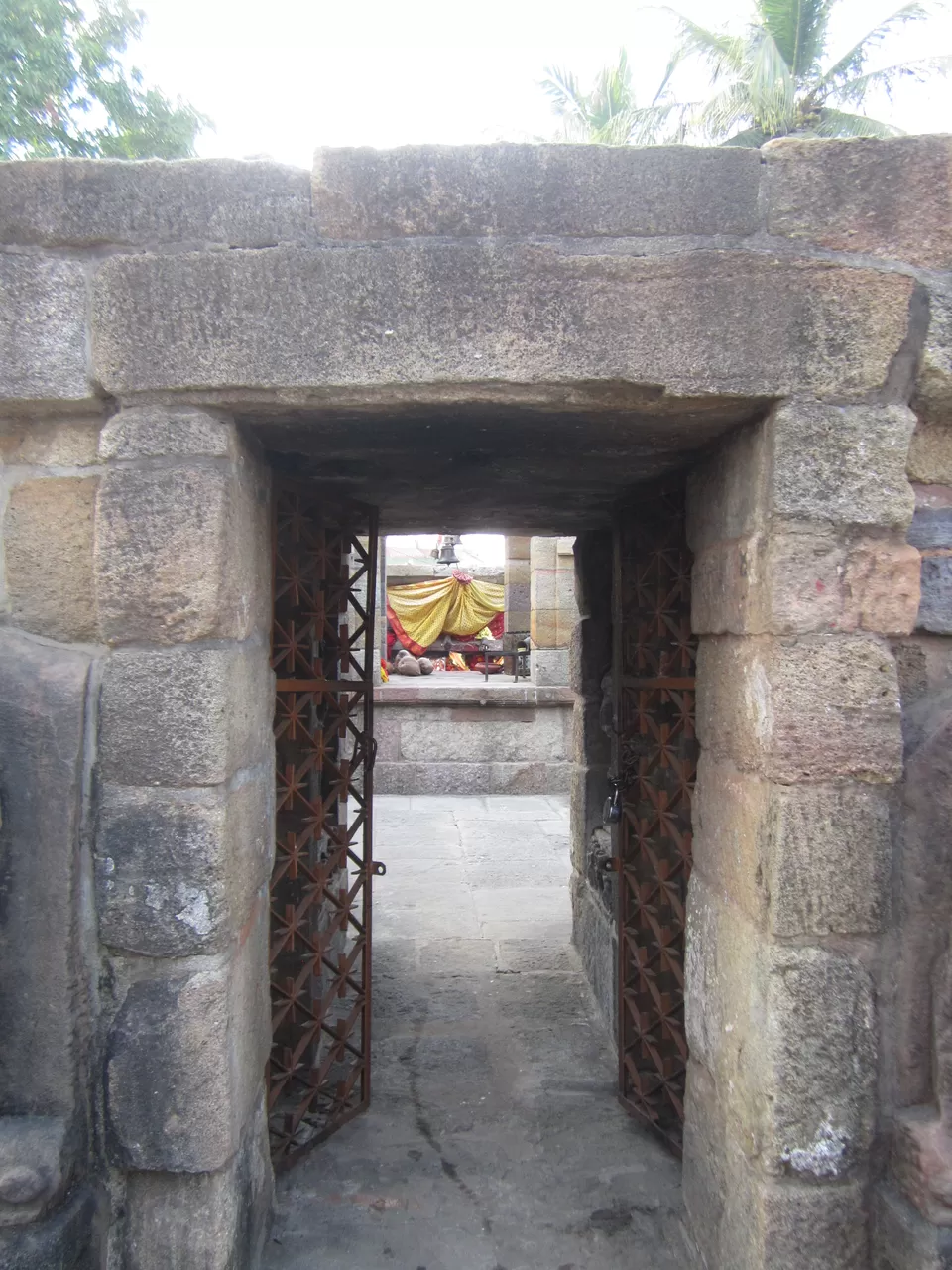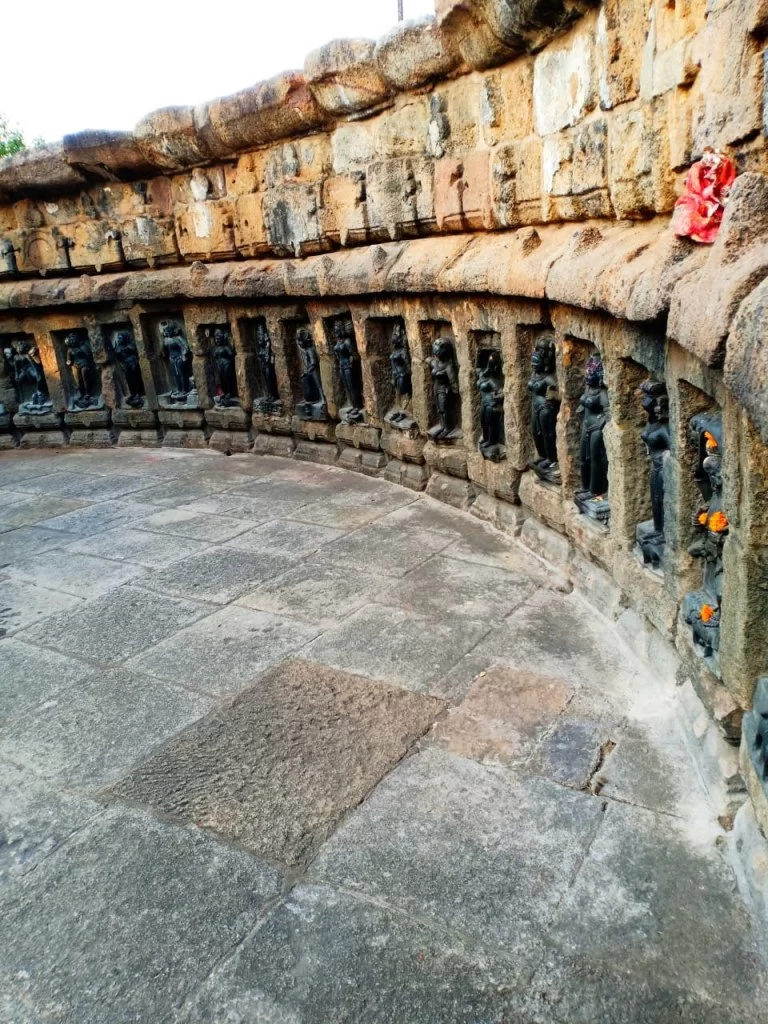 In the middle is a raised platform with Shiva at the center surrounded by an inner wall of remaining four yoginis and four bhairavas.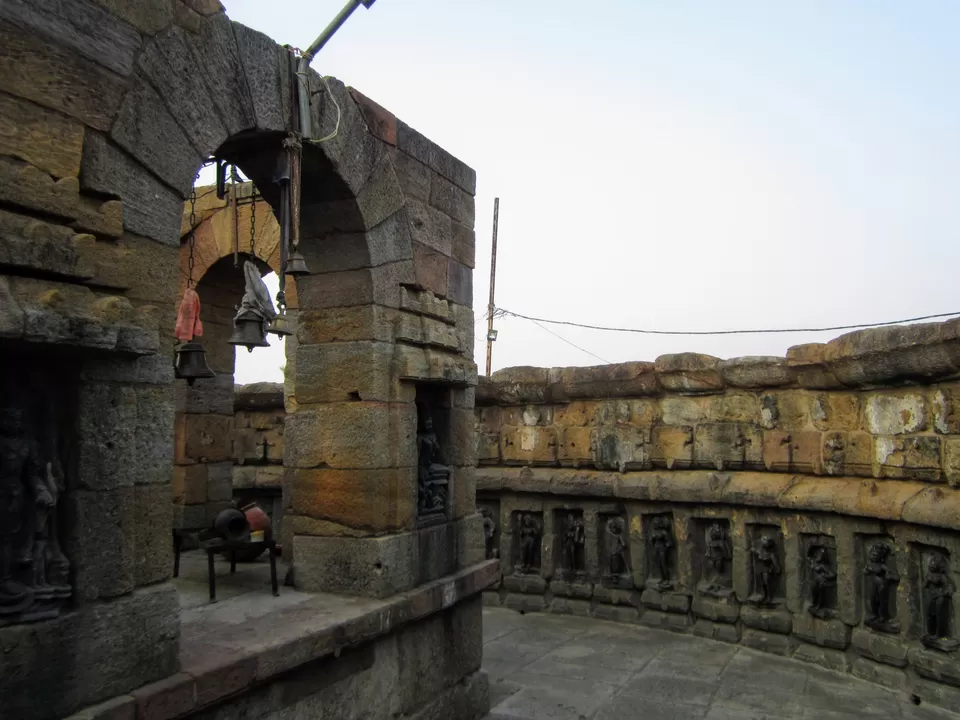 The delicately carved yogini sculptures are certain to keep you spellbound and take a closer look at their gracious postures. One can't help but notice the elaborate hairstyles, accessories, animal figurines and weapons. No two images are identical and most yoginis are in a standing posture unlike other temples of the clan. They either represent a celebratory or war pose; however, there is no textual evidence or inscriptions on the walls. Scholars believe they have been identified based on the features as described in the 16 th century text, Chandi Purana.
Each yogini has a name with a distinct set of powers and can be distinctively identified by the locals. The priests and guides can provide the details. Some of the yogini images are shared below: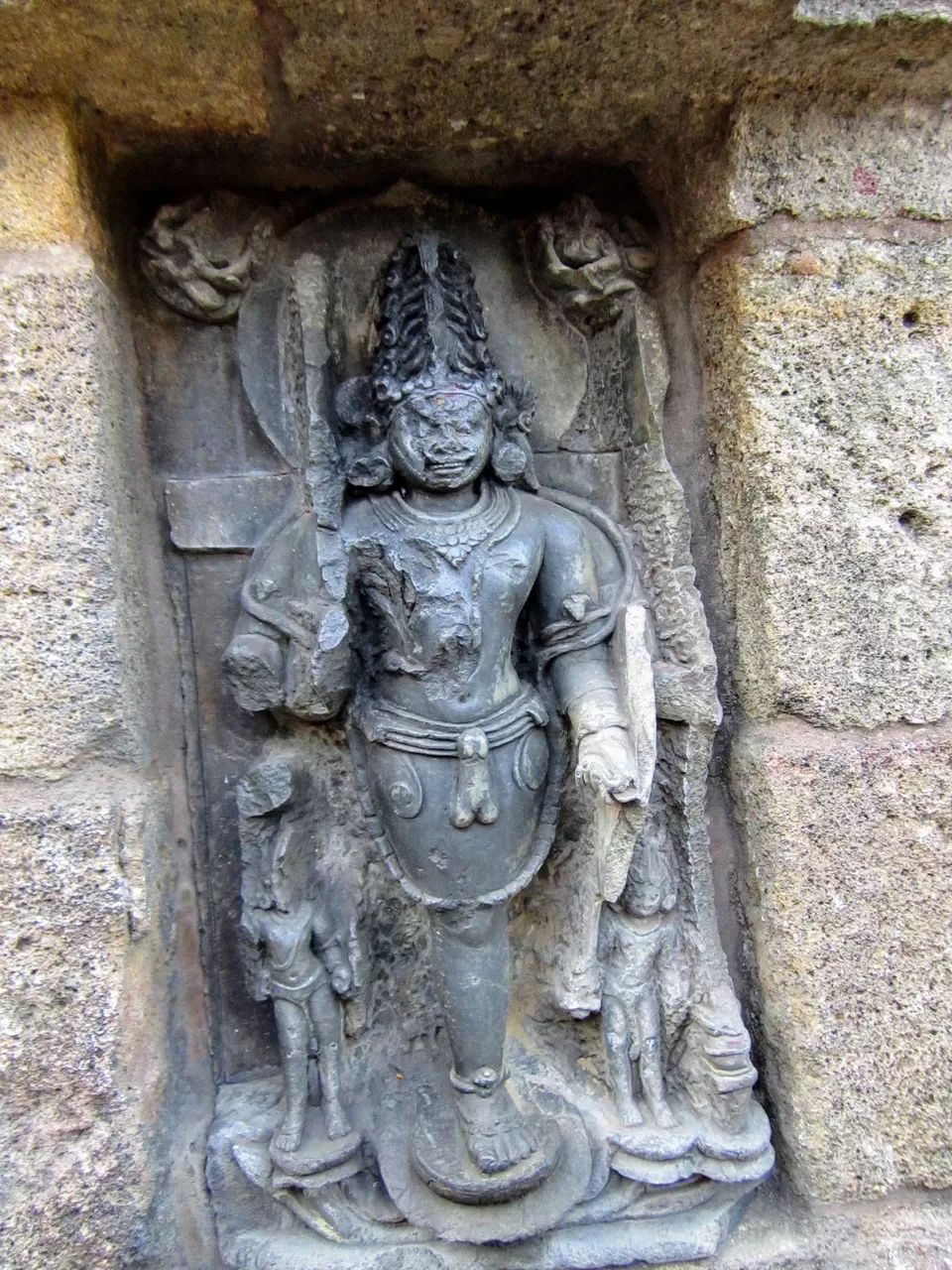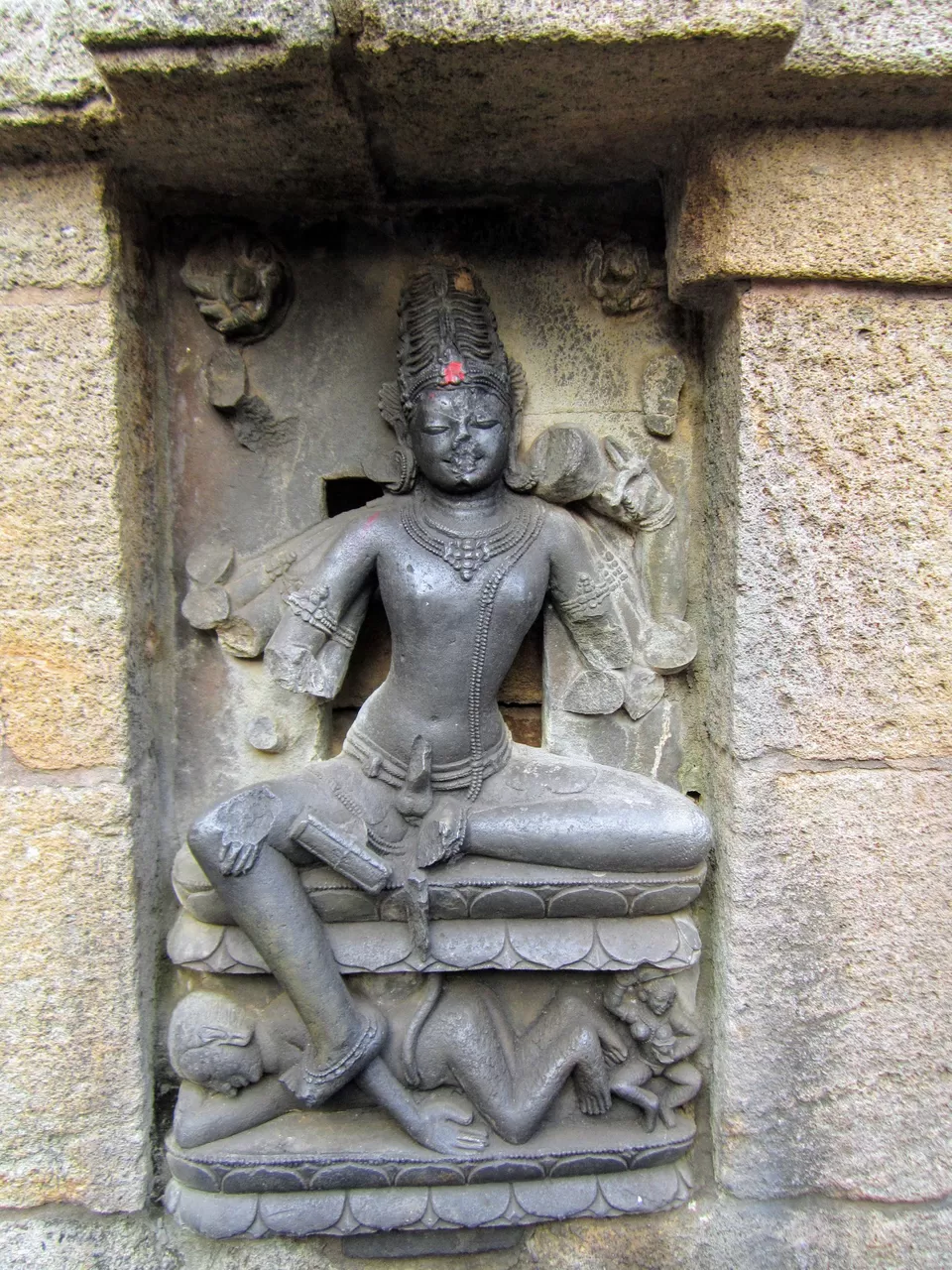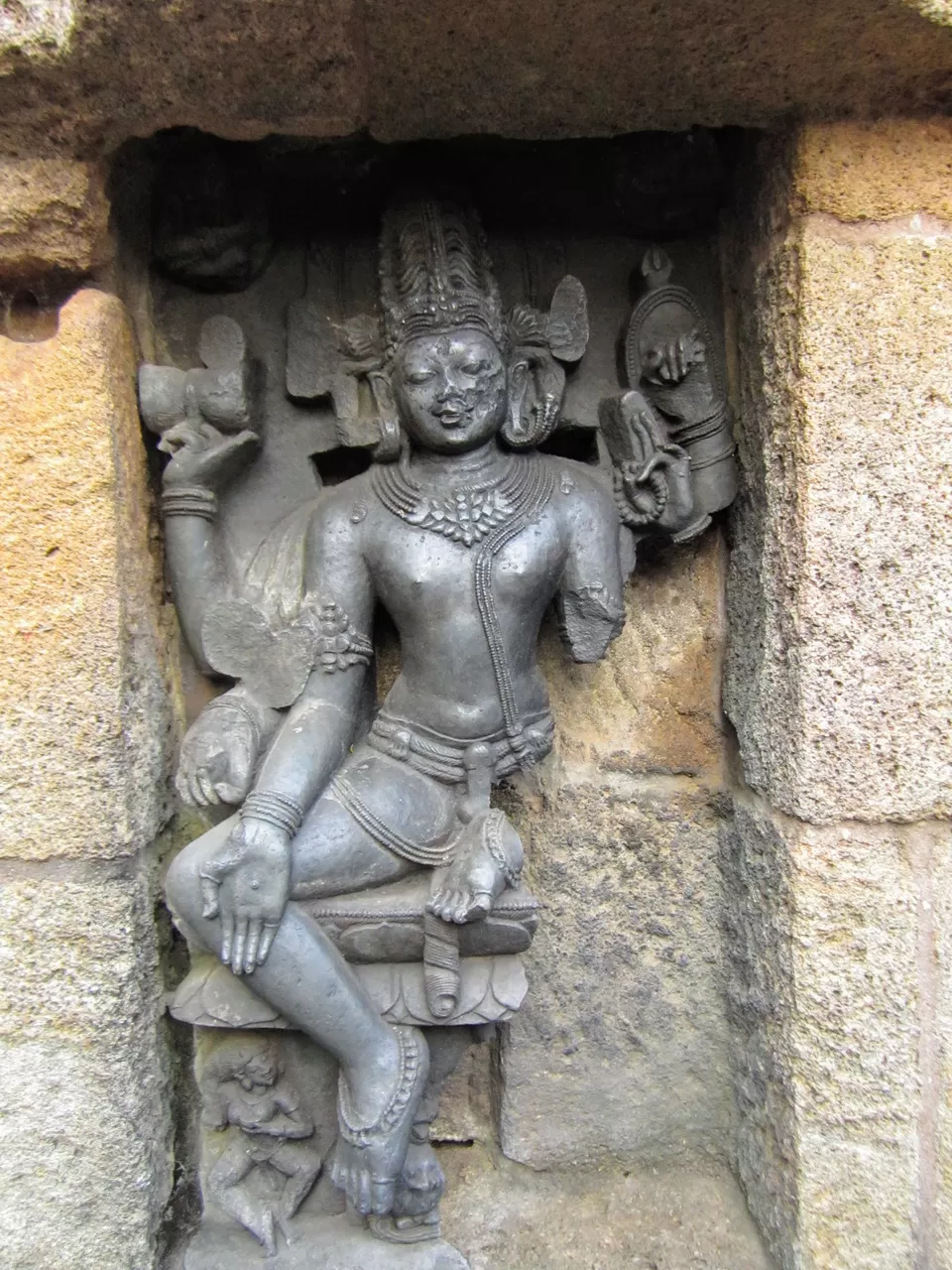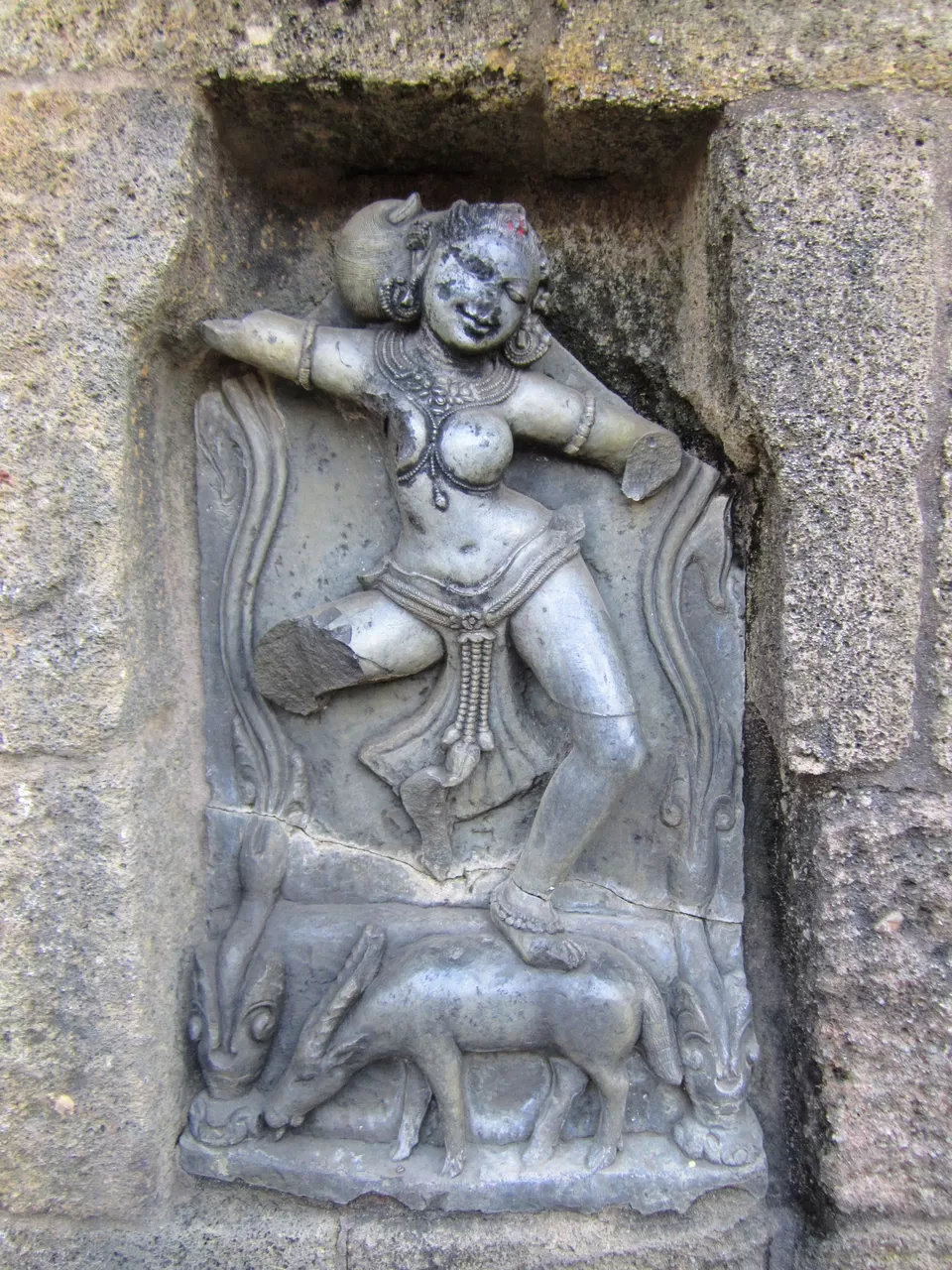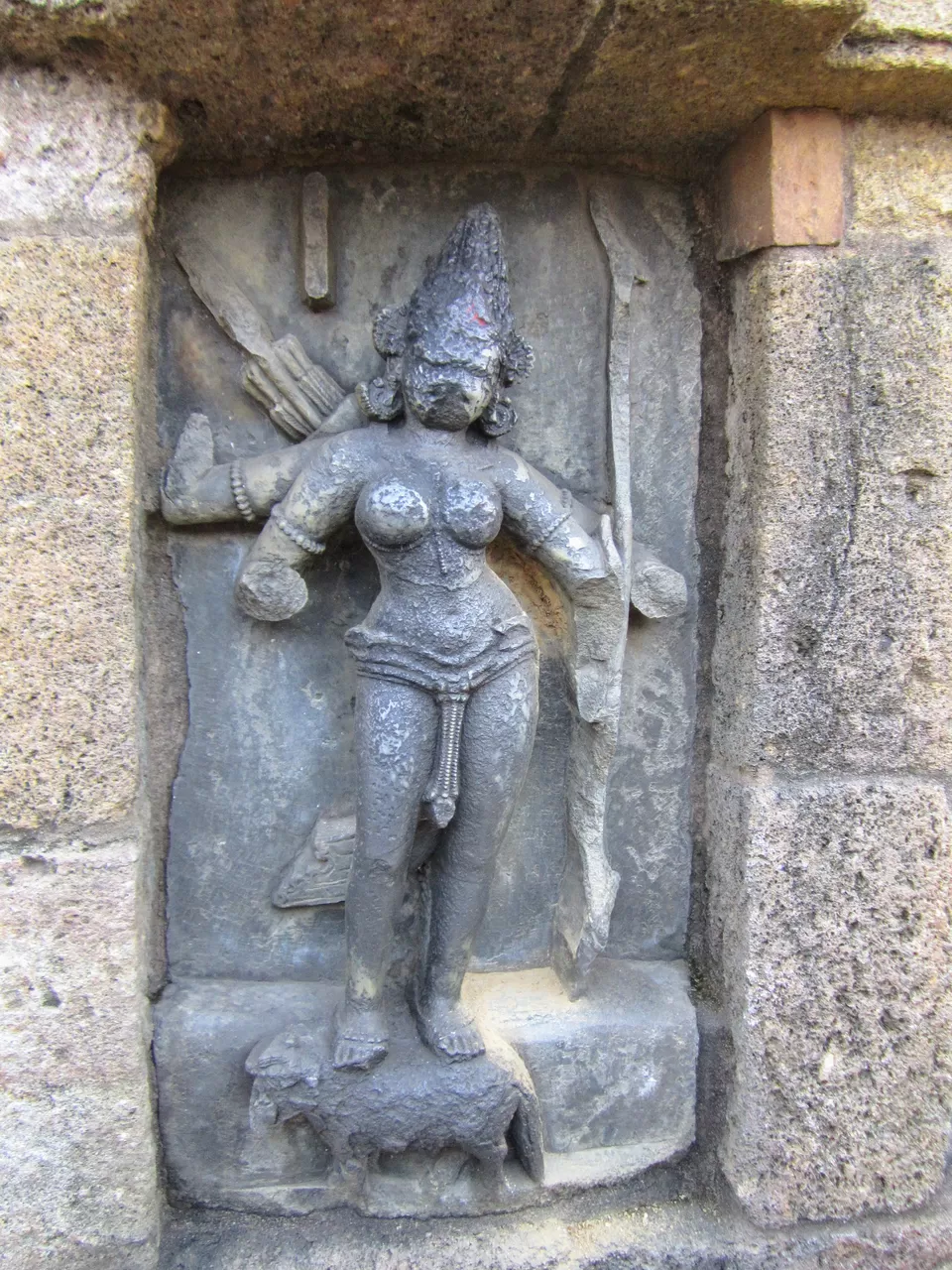 The central shrine belongs to Mahamaya Devi -Yogini no 31. The deity is the primary idol adorned with colorful clothing, jewellery and vermillion.
Another remarkable difference of the temple in Hirapur from other temples of the same school is the visual absence of any erotic carvings.
The rituals performed here are kept as a secret with exceptions of someone who has embarked on a spiritual path. Noticeably, Chandi Patha is performed regularly by the priests to worship the goddesses. For a moment, I close my eyes and imagine an aura of sheer mysticism in the eerie silence when these yoginis come to life.
Odisha has many untold secrets symbolic of the state's cultural heritage and fascinating folklore with a deep religious significance - this temple is just one of them. There's still a long way to unravel these mysteries - one by one, layer by layer.
The information provided is based on firsthand experience and online research (for historical facts). For any further queries, feel free to leave a comment below or email. I will revert at the earliest.
**NOTE: The information provided is based on firsthand experience and published originally on my personal blog "A Merakulous Life". For any further queries, feel free to leave a comment below or email. I will revert at the earliest.