Disney has enthralled many an audience with its heart-tugging stories, loveable Disney Characters and stories that stay with you. It has succeeded in bringing the same magic as in its movies to Disneyland, a place that is more than an amusement park and is now aptly known as the 'Happiest Place on Earth'.
Disneyland® Paris has created unforgettable memories for over 375 million visitors for three decades now and wants you to come celebrate their 30th anniversary, starting March 6, 2022! Its magnificent celebrations include new attractive decor, eye-catching new costumes, fascinating new shows, an innovative aerial drone show and a fashion collaboration with none other than designer Stella McCartney!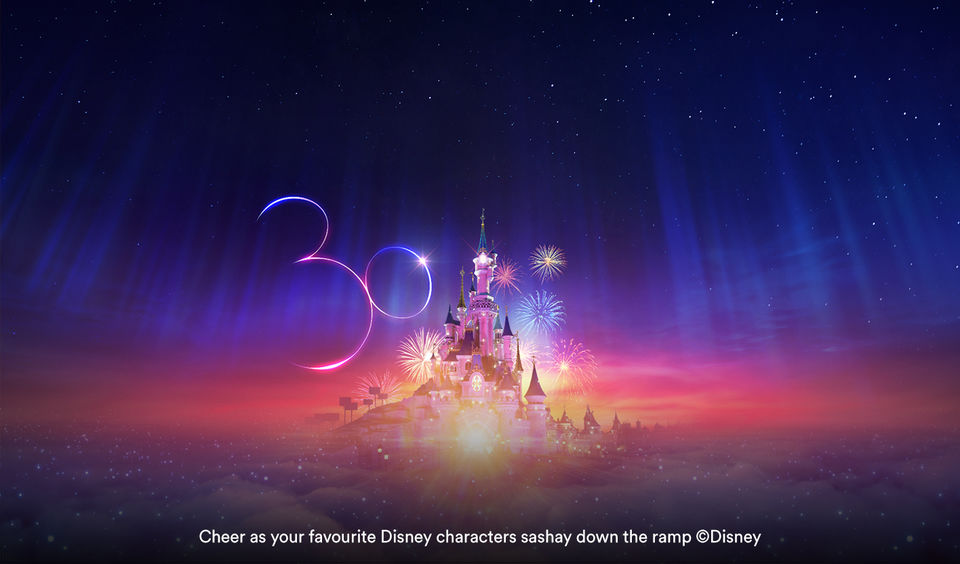 But before we reveal these new additions, here's a little story of how it all started…
The Story Behind the 'Happiest Place on Earth'
Disneyland started with Walt Disney realising that parents wanted to take their kids to a place where they could all have fun together. After the first Disney® Park was built in California, the concept of these themed parks became an instant hit with families. Gradually, several Disney® Parks were built all over the world, including in Paris in 1992, and all were met with admiration from children and adults alike.
Piece by piece, Disneyland® Paris became the world of entertainment that characterises Disney movies with exciting rides, fascinating shows and experiences that have families singing and laughing along. With the fast-paced age of today, the theme park has similarly progressed in innovation to bring new stories and immersive experiences with fun characters from Disney, Pixar, MARVEL and Star Wars™ franchises to life.
Today Disneyland® Paris boasts of having created over 200 shows, over 50 attractions, restaurants, shops, hotels, gardens and stunning decor to ensure that every visitor carries home tons of fun memories. The legacy of Disneyland® Paris has inspired many artists to put forward their renditions of the resort in their work which have been preserved in this video that celebrates the park's 30 years of magic.
To mark the occasion, Disneyland® Paris has lots of exciting and innovative attractions to look forward to. So don your Mickey Mouse hat and head to Disneyland® Paris to fall in love with the world of Disney all over again.
New Shows That Will Keep You on the Edge of Your Seat
Disneyland® Paris has introduced a new daytime show called 'Dream… and Shine Brighter!' to usher in their 30th anniversary which will take place in Central Plaza in front of the Sleeping Beauty castle. With three themes that celebrate the power of laugh, passion and dreams, the show will feature more than 30 dazzling Disney characters and dancers along with colourful floats and a groovy soundtrack to make this a party to remember. Mickey, Minnie, Donald, Daisy, Jessie and Woody from Toy Story and Rapunzel are all coming to let down their hair!
There's more awaiting you when night falls and the lights turn on. A new nighttime show named Disney D-Light with state-of-the art-tech has video projections, illuminated water jets, lighting effects, mist, famous Disney songs, and drone choreography to light up the iconic Castle in ways you've never seen before. A light and air show featuring 200 drones will form a sparkling '30' in the sky to mark the occasion as a theme song created especially for the anniversary, 'Un monde qui s'illumine', plays serenely in the background.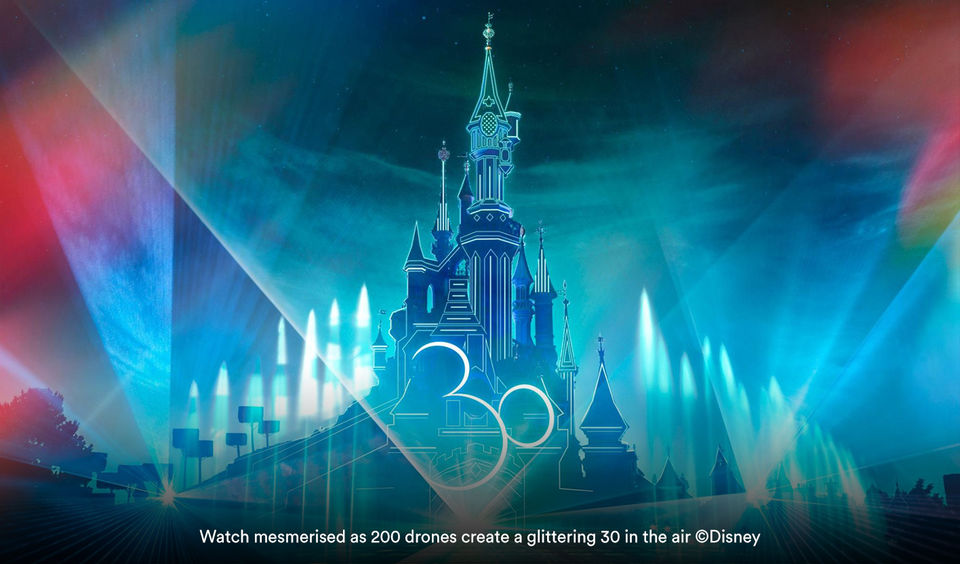 Don't worry! Your favourite shows such as 'Mickey and the Magician', 'Disney Junior Dream Factory' and 'Disney Stars on Parade' will be part of the celebrations so that you have a whale of a time.
Your Favourite Characters Got Makeovers!
This one is for all the fashionistas!
Disneyland® Paris has got its own fashion show with Mickey, Minnie and friends hitting the ramp in new iridescent costumes designed for the park's 30th anniversary. Created in the ateliers of Paris known for their avant-garde fashion, these costumes will adorn your adored characters in more than 2000 rhinestones and 190 jewels - so make sure you get seats in the front row!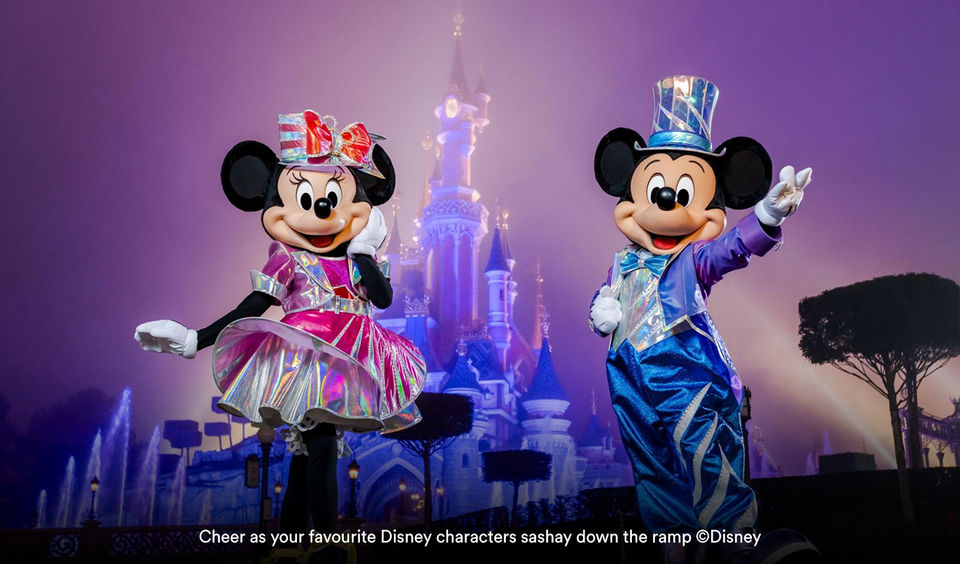 Minnie's got a chic new pantsuit for the anniversary and it's been designed by none other than British designer Stella McCartney! Here's what she said about the experience,
"Minnie has always had a special place in my heart. We share the same values. What I love about Minnie is the fact that she embodies happiness, self-expression, authenticity and that she inspires people of all ages around the world. Plus, she has such great style! I wanted Minnie to wear her very first pantsuit at Disneyland® Paris, so I have designed one of my iconic costumes – a blue tuxedo – using responsibly sourced fabrics. This new take on her signature polka dots makes Minnie Mouse a symbol of progress for a new generation."
Minnie will make an appearance in her sleek new pantsuit in honour of Women's History Month in March 2022.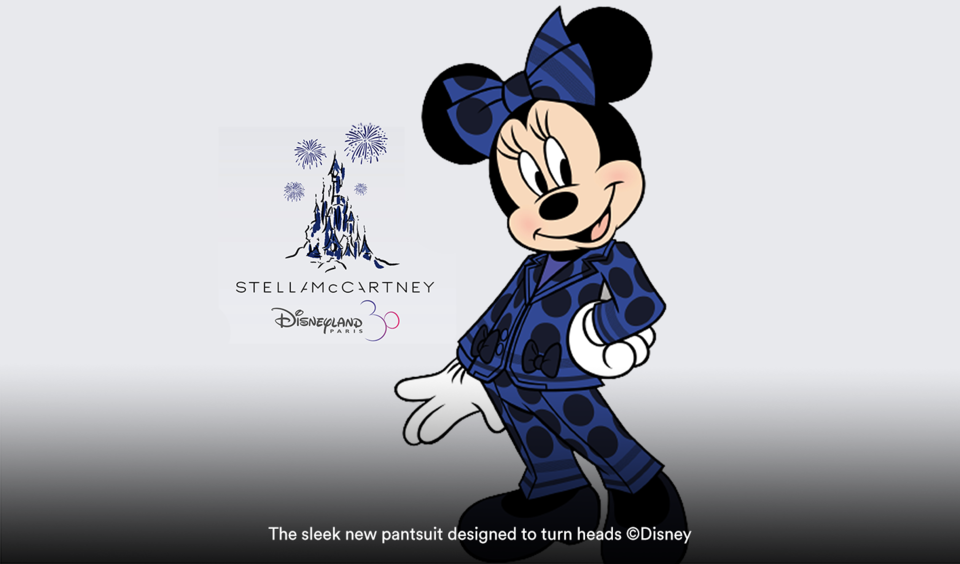 There's something for you as well! Stella McCartney has also created a unique Minnie Mouse t-shirt for International Women's Rights Day which you can get online and in Stella stores on March 8, 2022. There's also a limited-edition product line inspired by the cult movie Fantasia coming up which will be launched by Stella McCartney.
Disneyland® Paris Has a Whole New Look to Celebrate Its 30th Anniversary!
There are new 'Selfie Spots' where you can meet and greet your favourite characters and get a cool selfie with them that you're sure to treasure.
The iconic Sleeping Beauty Castle has also gotten a makeover from French and European designers who have lent the structure touches of European style. The castle glitters now with pastel pink, royal blue and touches of gold. This landmark in Disneyland® Paris has roofs that are reminiscent of the Hospices de Beaune and a stained-glass dome inspired by one in Chatur de Chambord.
The famed Gardens of Wonder at Disneyland® Paris which has 35,000 trees, 450,000 shrubs and over a million flowers are separated into 10 different theme-based gardens. The gardens are set to feature 30 new moving sculptures from the worlds of Pixar and Disney. These pieces will range from princesses to villains and will come to life in front of your disbelieving eyes.
The iridescent theme is splashed all over Disneyland® Paris so that it sparkles in blue and purple hues. There are light effects, neon lights and backlit kinetic mobiles that will decorate Disneyland® Paris' main places, such as the Gazebo, Main Street Station, and Disney Village to turn the place into an enchanted fairyland.
Tuck Into Delicious New Anniversary-Themed Dishes
With so much to experience at Disneyland® Paris, you're bound to work up an appetite. Chefs and sous chefs have come up with sixty tasty dishes to commemorate the occasion!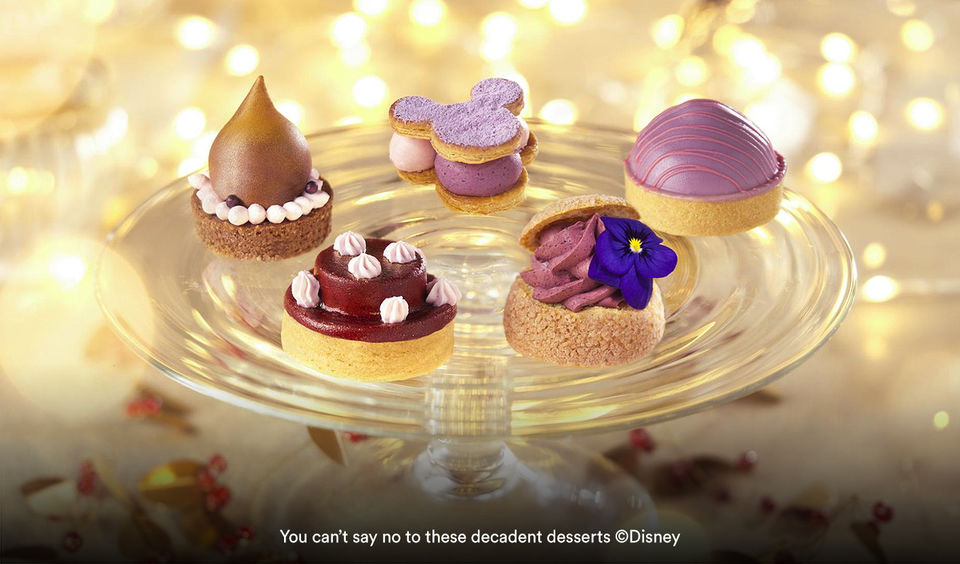 Tuck into a vegan panini, salted mashed potato waffle or indulge your sweet tooth at Les Délices de Minnie with a white chocolate and strawberry cake served under a dome called 'Le Bouquet Final'. If you'd rather go all out, try the all-you-can-eat buffets with anniversary-themed macarons that look and taste absolutely scrumptious. There are exclusive drinks as well such as the pink 'Happy Birthday Cocktail' or even the blue 'Enchanted Flute' that will get you happy high.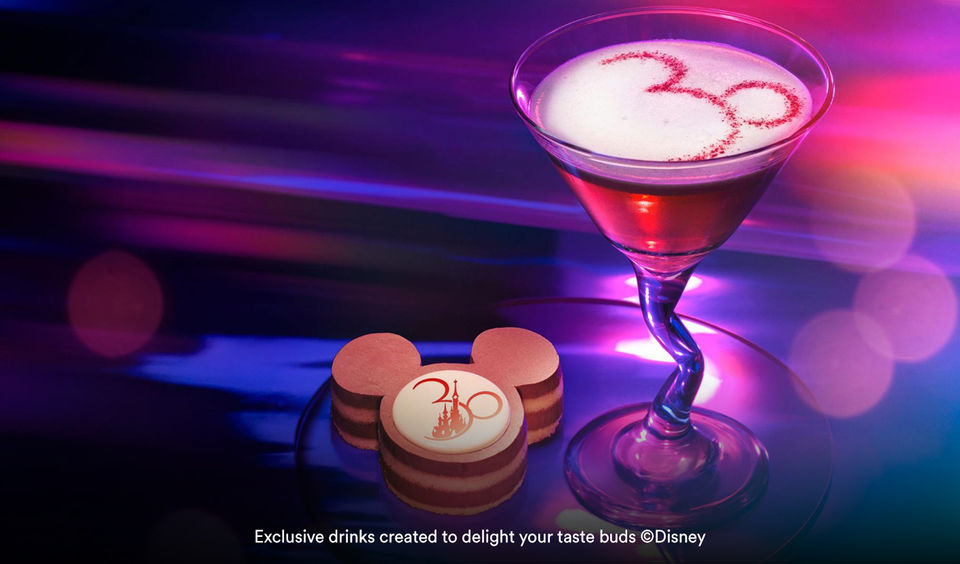 Shop Till You Drop
This will be your mantra when you come across Disneyland® Paris' 63 theme-based boutiques and shops. These shops have 350 new exclusive items, just in time for the resort's 30th anniversary.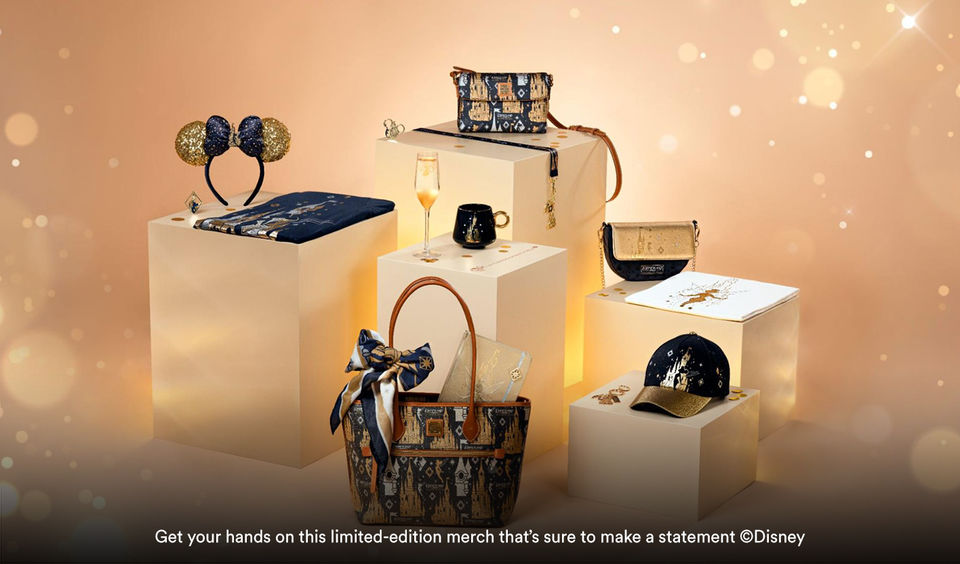 Pick up limited-edition collectibles to adorn your home, keychains, anniversary-themed plush, cute ear headbands and sweatshirts for an added oomph in your style.
Pssst, there's more…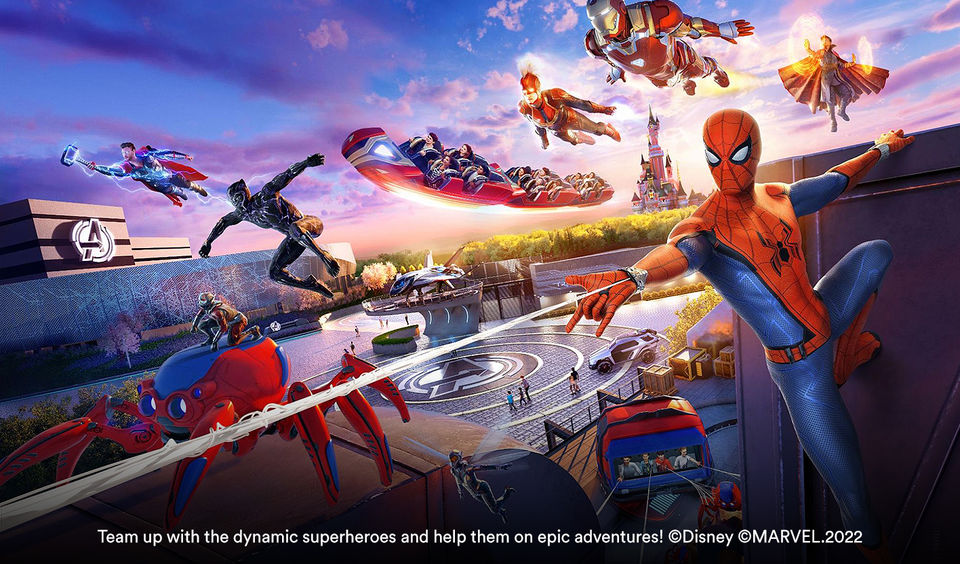 There's one more attraction coming up to get you excited. The 30th anniversary will mark the highly anticipated opening of the Avengers Campus, a new theme-based area that'll turn your Marvel fantasies into reality! Team up with Marvel superheroes and discover your powers on action-packed missions and adventures!
With all this and more, you will not want to go back home! So book your tickets and awaken the inner child in you to experience the magic of Disneyland® Paris' 30th-anniversary celebrations. This is one party you can't afford to miss!
In association with Disneyland® Paris