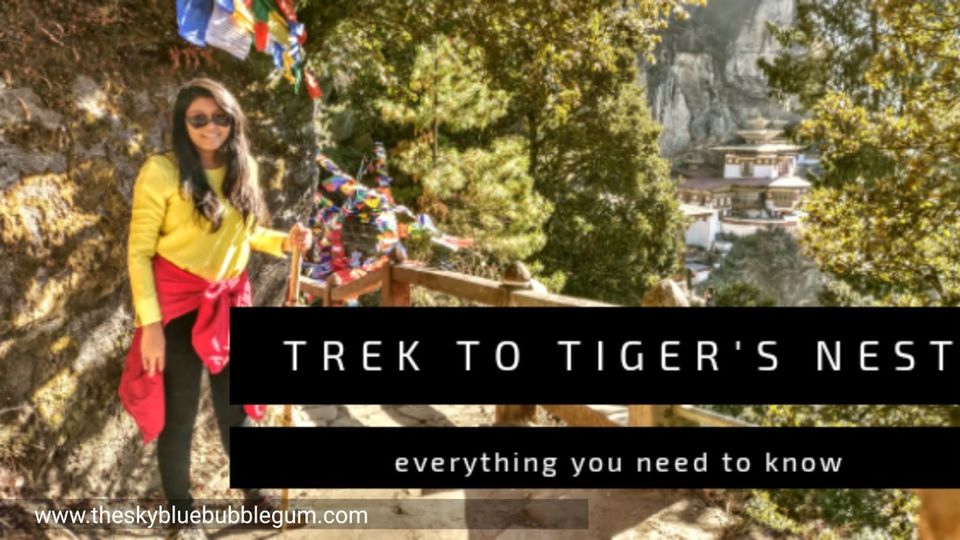 When we hear Bhutan – the first thing that pops in our mind is a white monastery perched on top of a cliff! Its name is Paro Taktsang aka Tiger's Nest.
This beautiful wonder is closest to the town of Paro. Everyone usually takes a vehicle till the base of the trek. It takes 5-9 hours to complete this trek depending upon the person's fitness level. It is doable for most of the people but ensure you take your time.
When you look at the monastery from the base or from the first halt at cafeteria, it looks difficult to reach. But worry not, all the information given below will have you covered.
Good to know:
The legend goes by, Paro Taksang was built in 1692. Guru Rinpoche who is believed to have introduced Buddhism to Bhutan, meditated in a cave at this site in 7th century A.D for three years, three months, three days and three hours in order to subdue evil demons residing within it.
It is said, he had flown on a tigress' back from Tibet to meditate here and the temple perched on the cliff was carved out of her tooth! He transformed Yeshe Tsogyal into a tigress for this purpose. This is why the monastery got its popular name – the Taktsang, which literally means Tiger's Nest.
Guru Padmasambahva, who is believed to introduce Buddhism to Bhutan, meditated in the 8th century. He is known as a Protector Saint of Bhutan. Since then, numerous Buddhist monks have come to these caves to meditate.
Unfortunately, in 1998, the temple was completely burned down by either an electrical short circuit or flickering of a butter lamp. It was fully restored in 2005. The restoration cost around USD 2MN since it was restored in its original form and needed highly skilled and detailed work.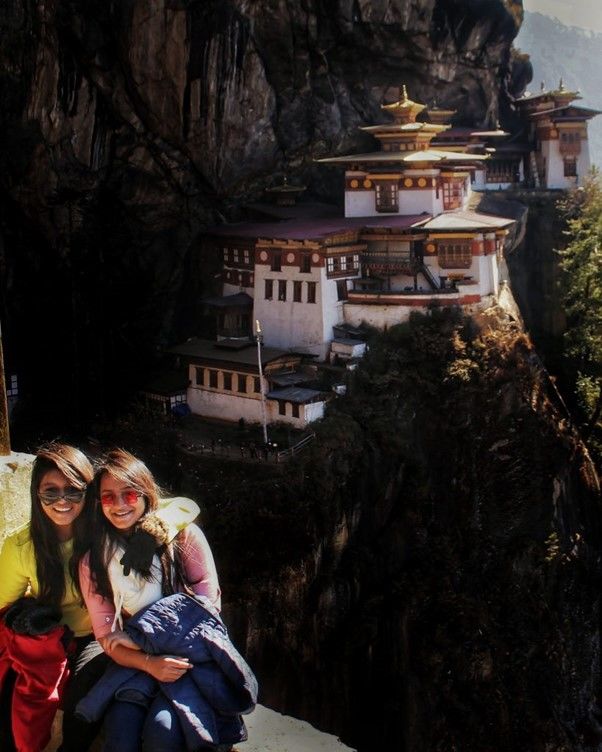 Tiger Nest's Trail:
1. The Cafeteria – 30% of the people trek only till here where they can see a decent view of the monastery. This makes 50% of the hike.
2. The viewing point– Another set of 30% of the people trek only till here where they get a much better view of the monastery. This marks 75% of the hike. (1st photo (post card) on this blog)
3. The monastery- Only 40%of the people complete the trek (Given my stamina, I am extremely proud to complete this trek, though I feel sick the next day it cannot be compared to the amount of happiness it gave when I finished the trek). The silent, beautiful, cold, windy, colourfull and adventurous stretches are all worth it! (I would like to give a shoutout to my new friend – Rucha, I made on the trip who helped me complete the trek. If it wasn't for her, I wouldn't have completed this).
Things to know & do before the trek:
• Do NOT skip Paro Taktsang if you're visiting Bhutan unless you are medically unfit for this trek. Start the trek as early as possible like us by 6:30 or even sooner.
• The temple is closed from 1 to 2 pm for lunch. Ensure you reach before or after that. Even if you do reach in that time slot, there are a lot of views around to indulge in or you can just catch your breath by sitting outside the temple till the time it re opes (trust me you'll need it if you're not a regular trekker or work out daily)
• The temple follows a strict dress code. Both men and women need to cover their legs and hands. Wear full sleeves top / shirt and long pants.
• In case someone has trouble walking, they can hire horses from the base and reach the 1/3rd path. I would recommend taking walking stick/s at Nu.50 (If you are an immature trekker, carry two sticks – like I did) instead of harassing the animals.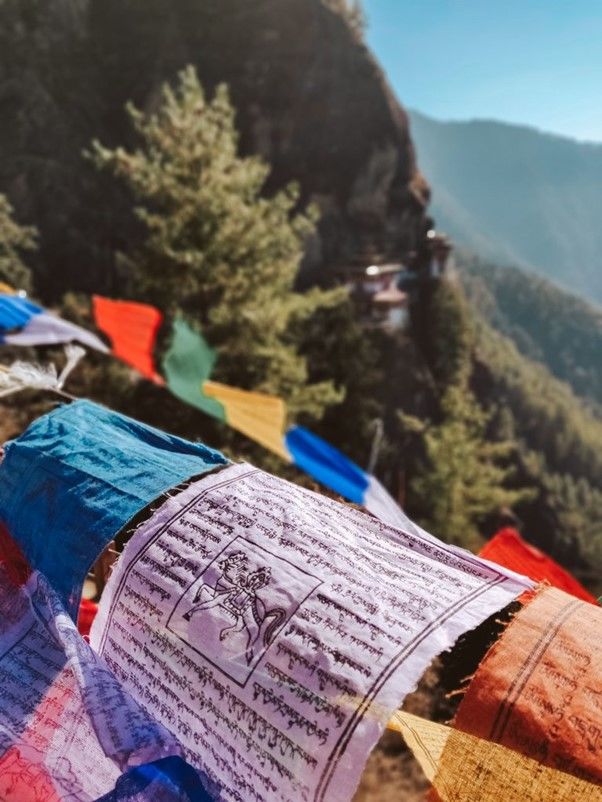 • Be a responsible traveler by carrying your own water bottles for 2 reasons. 1) The option of purchasing water is only at the 1st halt – i.e. the cafeteria. 2) Saving the planet by reducing plastic consumption. 3) Around the 2nd halt of the trek, i.e. the viewing point, there is a pipe through which natural, holy drinking water flows out from it. You can refill your bottles there too.
• There are garbage cans at most of the bends, use them to throw your litter and not on the paths.
• Alcohol and smoking is prohibited. Paro Taktsang is Bhutan's most religious place, please maintain the sanctity of the place.
• There are some options of prep hikes before this massive trek viz. Tango Monastery in Thimpu.
• Please have regular breaks in between the trek. We started the trek at 6:30 am, my friend reached Paro Taksang at 8:30 am (He is an avid trekker) and I reached around 2:30 pm. He had already completed the trek by the time I was catching my breath on top of the temple. I descended and completed the trek around 5:30 pm. Please note – this isn't a competition, so please take breaks even when you feel you don't need it.
• Once you reach the top, you can purchase tickets to the temple and get a guide too. You get an option of a guide to lead you through the trek as well. But you will find a lot of people post 7-8 am and you can tag along with them. However, do not get lost during the initial hours of the trek when there are fewer people around.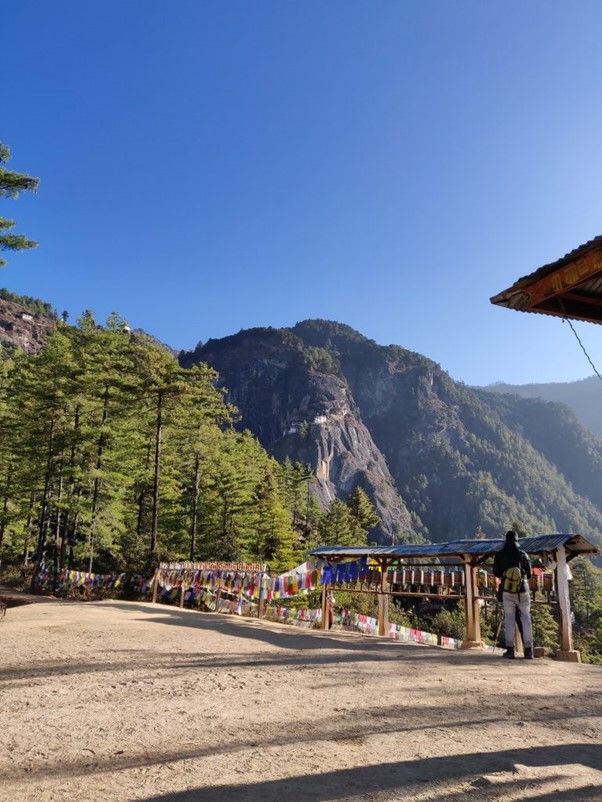 • Tiger's Nest is located 1000 ft above the sea level and people are likely to get hit by AMS – Acute Mountain Sickness irrespective of age, gender, fitness level. Headache, dizziness, and breathlessness are common symptoms. I have traveled to a higher altitude place ( Leh ) and was fine throughout the trip (obviously by taking precautionary measures like keeping myself hydrated, resting on day one, not running around) apart from Khardung La (where my some friends and I had to breathe in from an oxygen bottle). I was hit by AMS were descending after the cafeteria, all thanks to our stupidity (in detail in next point)
• The cafeteria offers lunch buffet at Nu.400 /- per plate (as on November 2018) with lots of dal, rice, phulka, and vegetable options. They also offer snacks and beverages options too
• There are toilets available on the way and in the monastery. There is no washroom available in the cafeteria.
• Visit Tiger's nest visit on the second last day of your trip so you have the last day to rest if required. It is a place with the highest altitude on the itinerary and hence you will get acclimatized and make your body ready for that altitude and trek.
• Stamina and fitness – Two third of the path is not that difficult but the end is little strenuous (A LOT strenuous for me). I would recommend people with bad stamina and fitness level (like me) to start working out AT LEAST a month in advance. I cycled/swam for 30-45 min daily and hence had lesser issues than the ones I went through. A morning walk /jog for 30 min also should help. The trek has steps which are 0.8-1.5 feet tall which we do not climb daily. There are 700 steps before and after the monastery and a lot of steps inside the monastery as well.
• I wouldn't recommend this trek during monsoon. But if you a trekker and/or an adventurous junkie, you'll love it! I also know of a 60 y.o. Indian man personally who has completed this trek in the monsoon!
• No gadgets are allowed inside the monastery. Once you reach the gates on top, you will be handed a form to be filled and will be asked to keep all the gadgets in the locker.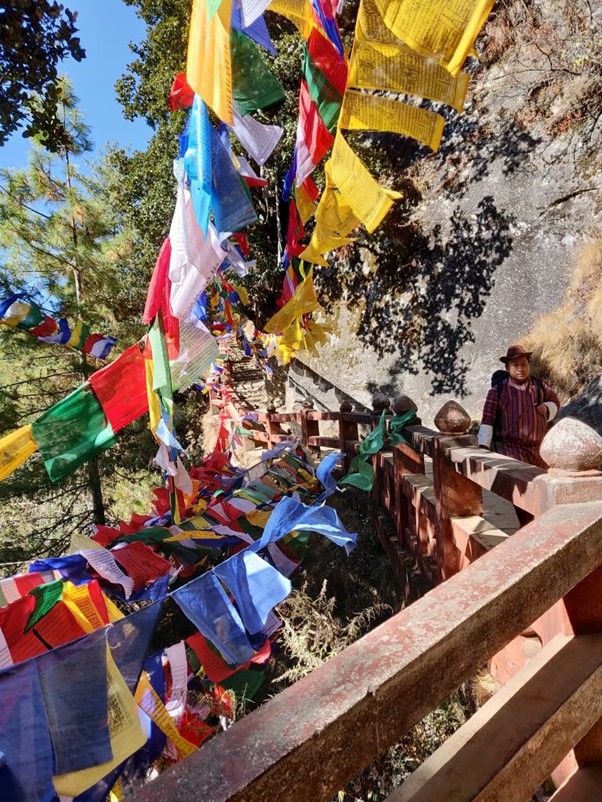 Things to carry:
• I CANNOT stress enough on carrying a bag with all the essentials – Glucon D, sugar (Yes, sugar to give you instant energy. We carried this even during our prep trek in Thimpu – Tango Monastery), some energy bars, munchies, fruits, nuts, chocolates etc. which will keep your hunger and energy levels in check
• I CANNOT CANNOT CANNOT stress enough on carrying water bottles along. There are natural piped water points on the path where you can refill your bottles.
• We did not want bags to weigh us down while trekking and hence decided to carry NOTHING (Award for the Dumbest Person goes to – us!), turns out to be the stupidest decision! My friend and I were hit by AMS while descending. Another friend surprisingly wasn't.
• Wear only sport-shoes and socks. No other footwear. The paths are muddy and rough.
• When we started the trek (November 2018) the temperature was around 10 degrees C and in the afternoon it was around degrees Celsius.
• Carry caps/scarves and sunglasses to protect yourself from the scorching heat.
• Wear layers on top of your clothes so you can remove them when it starts getting hotter (instead of being stuck with the thermals inside in the scorching heat)
• Raincoats and gears if you're visiting Bhutan in its monsoon season.
• The most important thing – loads of biscuits for lots of cute and helpful doggos on the way!
• And of course, your camera!
I went on a Bhutan trip with The Land of Wanderlust for just INR 20,000/- (not a collaboration)
I hope this covers all the queries. In case of confusion, feel free to drop a comment below and I'll get back to you soonest!
Stalk me on