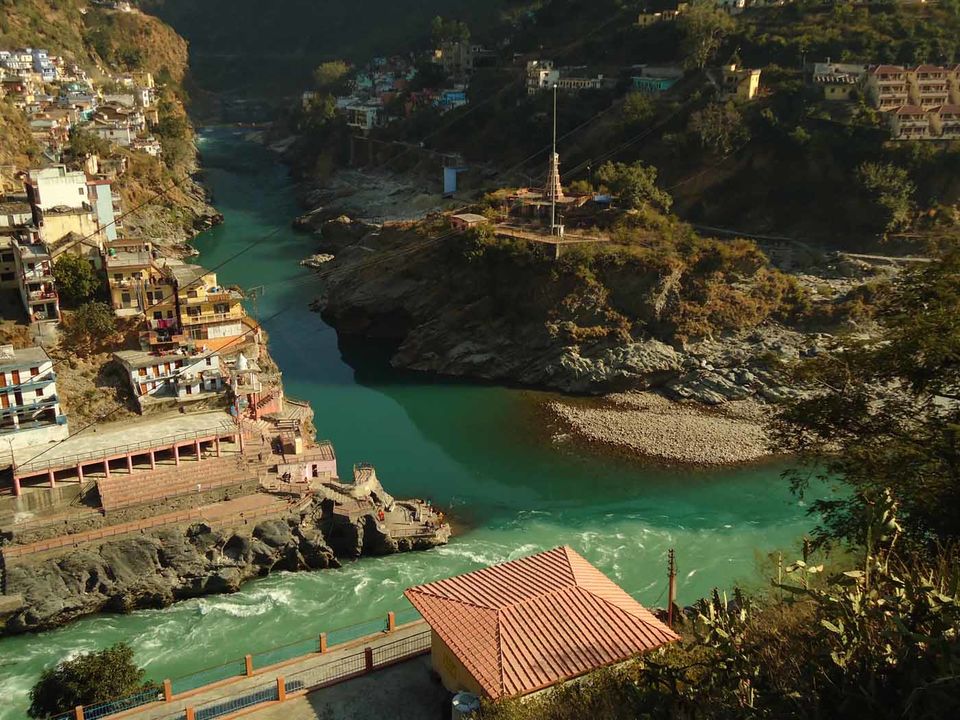 Day 1 – 24th Nov 2015
It was a long Christmas weekend 2015. I planned a tour of Kotdwar-Landsdowne-Pauri-Devprayag-Rishikesh with some of my office colleagues.
We decided to leave Noida at 24th dec 2015 evening as there was a holiday of next 3 days. But at the end time every one cancelled the programme due to various reason like fear from winter, fog and all that. It was very disappointing moment for me because everything was pre planned. Suddenly i called to my wife and ask to give me company. she got ready immediately as she is also a nature lover. In spite of extreme winter season we decided to go by bike. Bike is an ideal mode of transportation to explore hill stations. One can enjoy broad view of hills on bike on the move, car lacks on same.
It was 2:30 on 24th and i left the office with extreme excitement. we packed our cloths quickly with winter wears. It was 3:30 PM and we were ready to leave for Kotdwar from our residence place crossing republic Ghaziabad. I started my journey with my wife at 3:30 PM 24th Dec on my Apache RTR 160. My plan was to reach and stay in Kotdwara today. I started accordingly as my route was Ghaziabad - Modi Nagar - Meerut - Khatauli - Bijnor - Najibabad - Kotdwara. I got some traffic till Meerut Bypass which was not expected. My bike was moving at an average speed of around 40 till Meerut bypass. after starting from Meerut toll road it was a crazy ride as bike was moving till 90 KMPH. I took the route of Muzzafarnagar from Meerut. But there is a cut at khatauli between Meerut and Muzzafarnagar which was the route of Bijnor. I reached till Khatauli(approx 90 km) in almost 1.5 hours . From khatauli I left main road and moved toward Bijnor, till then it was started to getting dark because of winter season. After khatauli road condition was very bad which was not expected, I was getting problem in bike riding because road was narrow without divider. After around 20 km road condition was getting better. I reached Bijnor till 6:30 PM. These routes are not so busy and at night there were very few vehicles moving on that. Me and my wife was moving on bike in spite of those things. I was concentrating on some things like no body should chase us, so i was maintaining my bike speed till 80-85 KMPH. When we left from Najibanad we were feeling icy cold on bike, but we had covered our self very well with jacket, cap and thick gloves. Finally we reached Kotdwara at 7:45 PM with Non-stop bike riding  from Ghaziabad (200 KM in approx 4 Hour 15 Minute). We were feeling lucky to didn't get fog in whole way, which is generally expected in december. we got little tired after non-stop riding.  There was shivering cold at Kotdwara so i was in rush to find any good hotel to stay. After reaching there i realized that there is very few tourist at. so i was expecting good accommodation at cheapest price. I got a  good accommodation at very little time near Kotdwara jhanda chowk, which is the main market of Kotdwara. There are no. of hotels available in kotdwara town. We checked-in in hotel got fresh and went out to have dinner. we took dinner at one of the restaurant near jhanda chowk. The food was delicious indeed. We finished the day with having Hot tomato soup at the corner. The hotness of soup was giving extreme relax in icy cold.
Day 2 - 25th Nov 2015
Next Morning I woke up early to see first sight of mountain which i do at every hill stations. Kotdwar is also surrounding between hills. I was very happy to have first sight of hills. I took some snaps as well. It was a bright sunny day and i was very excited to start today. One thing i learnt from my past visit of Nainital in last winter, that there is no fog at hills in winter. on the other hand at planes you will get dense fog in winters. 
After getting ready in the morning, we were waiting for sunlight to come and reduce the cold shivering effect [Remember that we were travelling by bike]. we checked out from the hotel at 9:30 AM as our first target was Landsdowne.  we took morning tea in one of the tea stall near to hotel. I searched for Parathe in breakfast, but didn,t find, so we took bread pakora with green chutney. I asked for petrol pump to get my bike tank full. If you are going anywhere in hills don't forget to get your vehicle tank full at every nearest petrol pump. At kotdwara there are many petrol pumps on the way to Lansdowne, so  i got my bike tank full at a HP petrol pump.
We started our Journey to Lansdowne at 10:30 AM. It is around 43 Km far away from Kotdwara. Soon after leaving kotdwara hills road started, I clicked some snaps at the entrance of hills.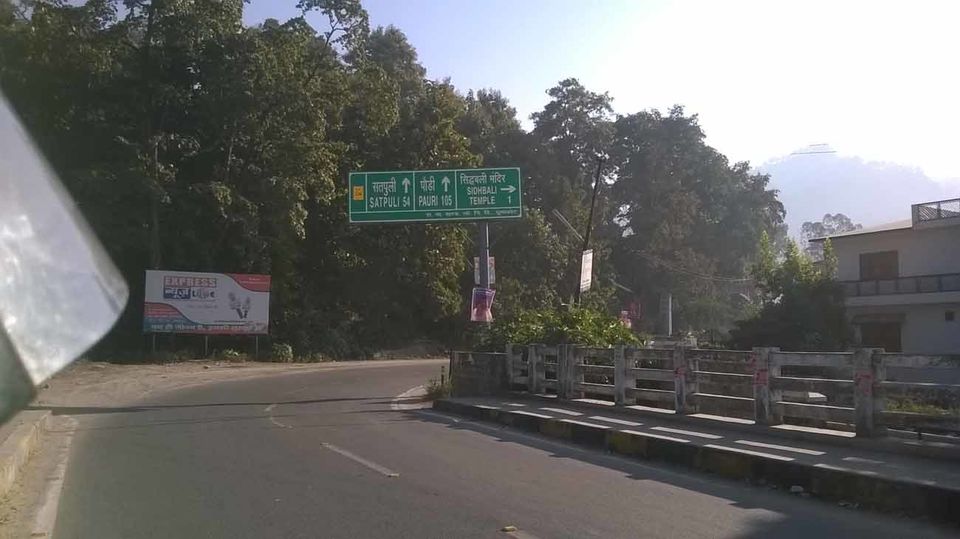 Pic - On the way to landsdowne
We were moving slowly towards lansdowne and scene was getting better and better. Hills and trees all around was giving us enormous pleasure. When we were around 10 KM behind lansdowne main attraction of lansdowne started. We were moving between oak and pine trees. The forest area of lansdowne is just beautiful. we entered in the cantt area of lansdowne within 1.5 hours. Cantt area is clean and well maintained. A parade was going at a parade ground, which was looking beautiful. We stopped there to see that but a security personal came and said us not to stop here. This is the bad part of every cantt area.
I asked to a person about attractions of lansdowne. He said there is nothing much to explore here only you can enjoy the beauty of hills, trees and nature here. We directly went to Tip n Top which is a view point in lansdowne. It is a beautiful view point providing 180 degree view of dense oak and pine trees forest. As sky was clear and blue snow capped mountain was looking awesome. A GNVM Guest House property is situated at Tip n Top. One can stay here in the lap of nature. We also visited the church near to Tip n Top. There is also a lake with boating facility.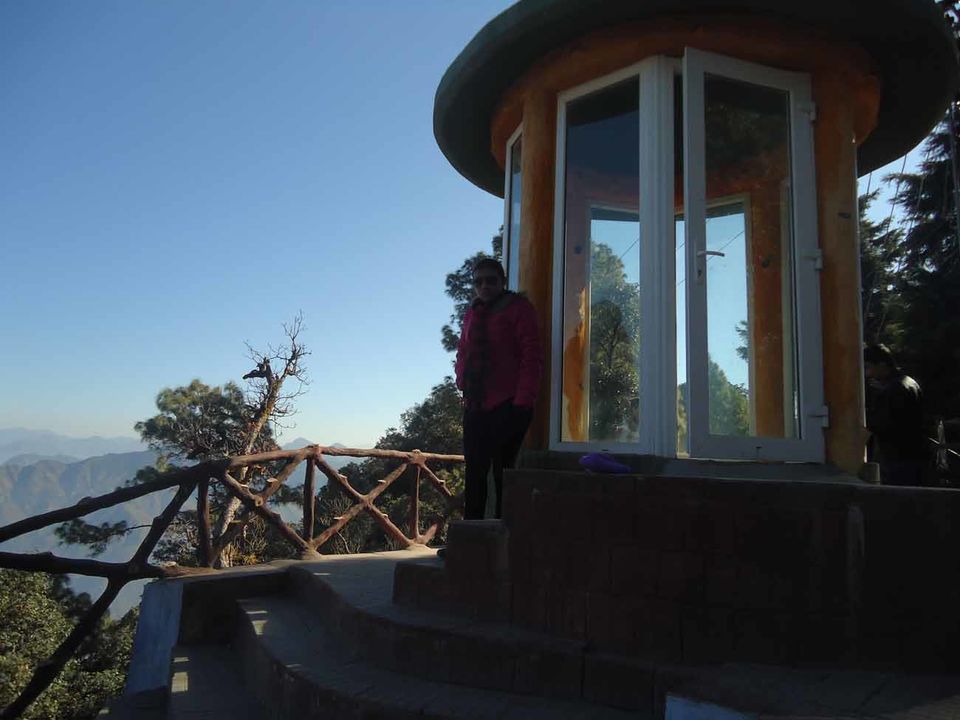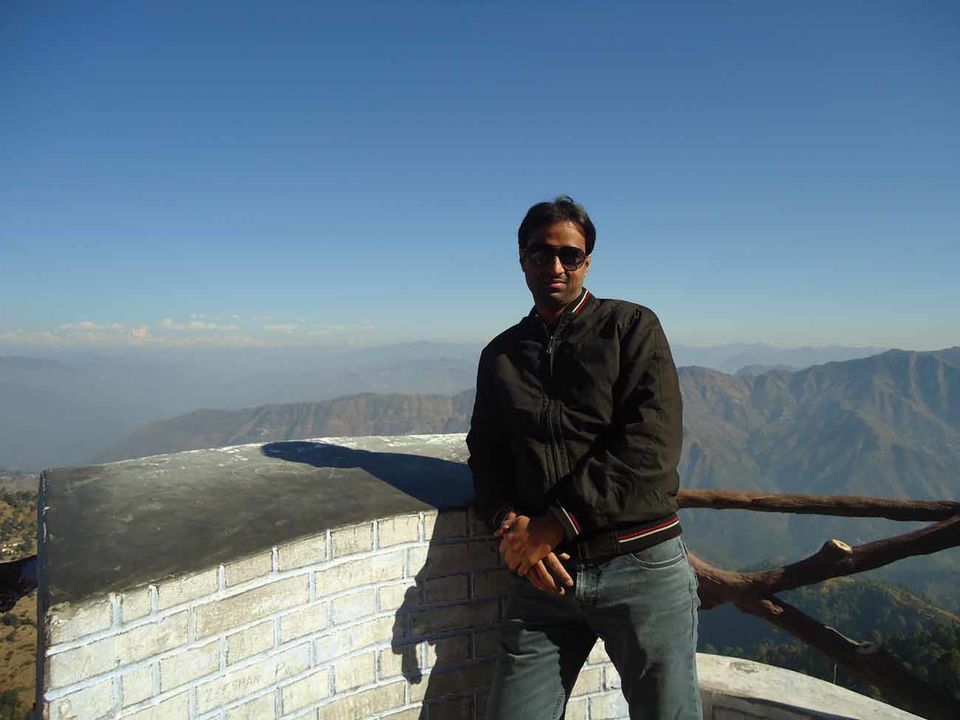 Pic - Tip n Top lansdowne
After roaming around for half an hour we decided to move towards pauri. Tarkeshwar Mahadev Temple is also an attraction but that is 35 Km far away from lansdown. We were in hurry for Pauri as that is 85 Km far away from Landsdowne. So we skipped the idea of visiting Tarkeshwar Temple and moved towards Pauri at 12:30 PM.
We stopped at Satpuli for lunch. Satpuli is a small town between Landsdowne and Pauri. Lunch was worse in taste but we were hungry so took it. Road between Landsdowne to Satpuli is narrow but OK with too many sharp turn. As there was hardly any traffic on these route, so driving is just so easy. After Satpuli Road condition was exceptionally well with wide roads and straight enough for a long to maintain average speed of 60. View along with the road was awesome.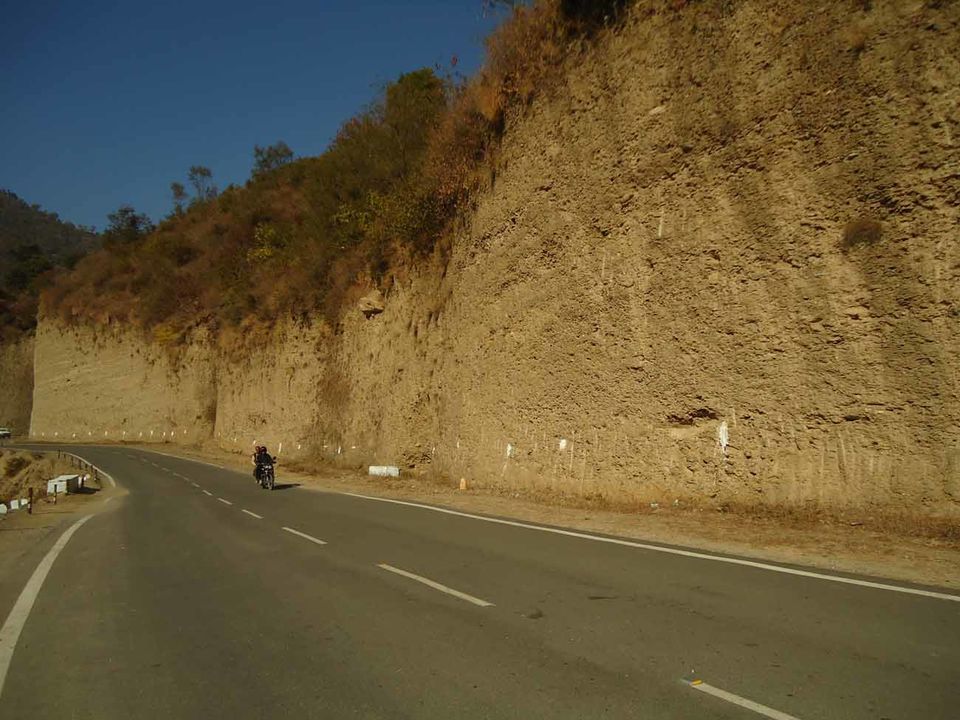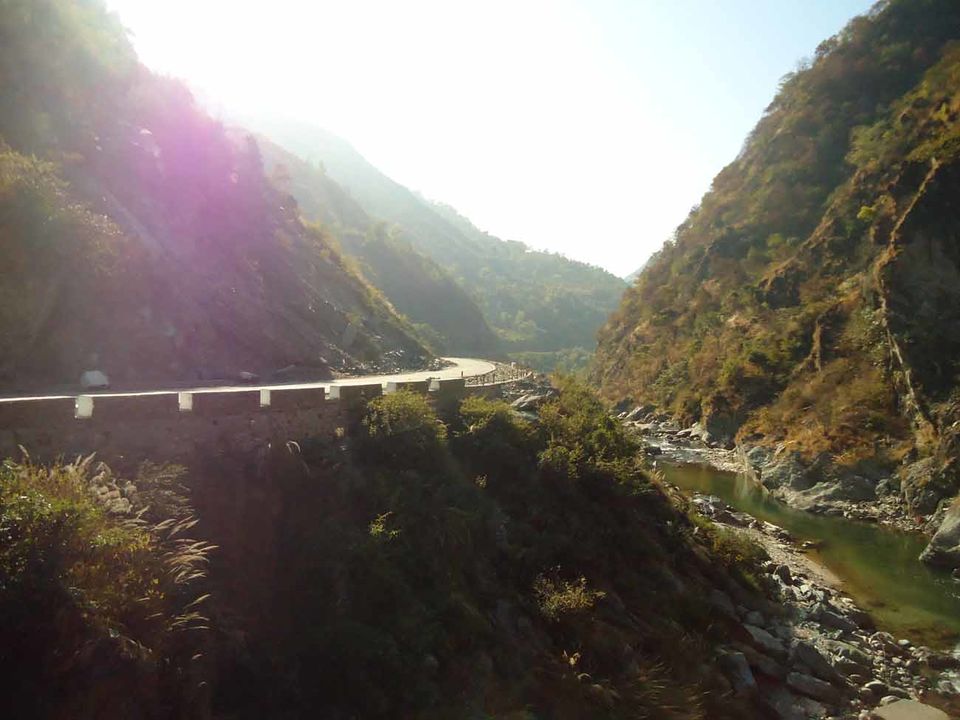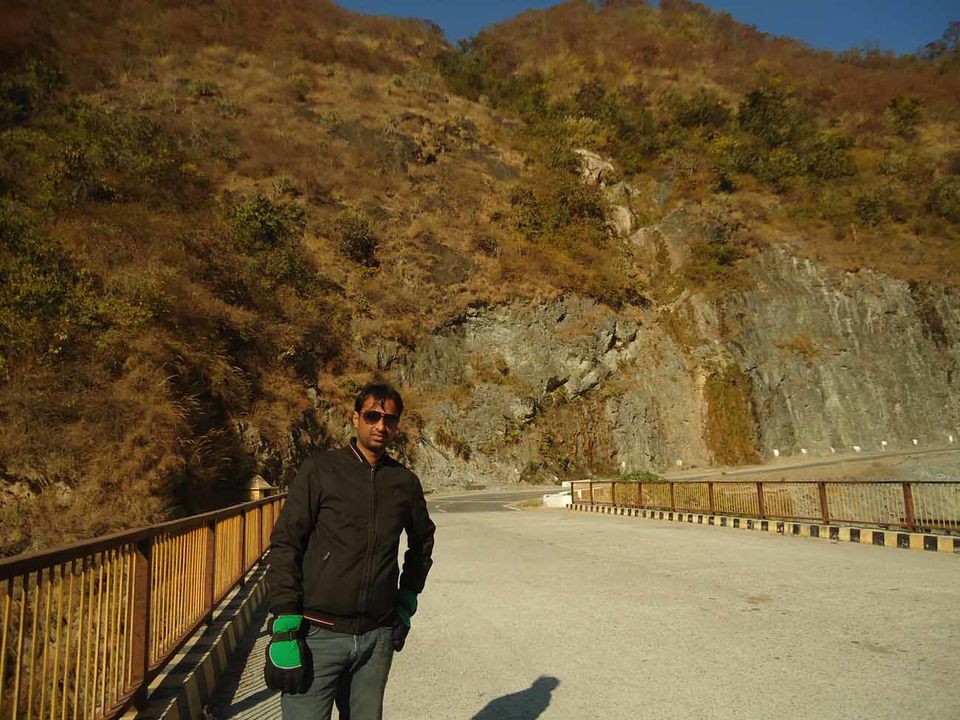 Pic - on the way to pauri
We reached Pauri at 3:30 PM. Pauri is very near to Snow capped mountain so it was shivering cold till that moment. We acheived our second day target. I was now searching for a hotel to stay. There are so many good hotels in pauri, so it didn't take too much time to find a better one. I was surprised as there was hardly any tourist in pauri. I think due to distance very few tourist reach here. I negotaited well and find a super deluxe room in Hotel Devrani(near bus stand) with all facilities at just unbelievable cost (Rs.600). Hotel care personal was such a nice and polite person. I read so many blogs written in, there are very limited options in pauri to stay, but that's not the case. you can get it easily as very little tourist reach here.
Day 3- 26th Nov 2015
Next morning we woke up late at 10:00, got fresh and took parathe in breakfast in one of the Restaurant near by (Himalayan eating point Restaurant). Parathe was so delicious i must say.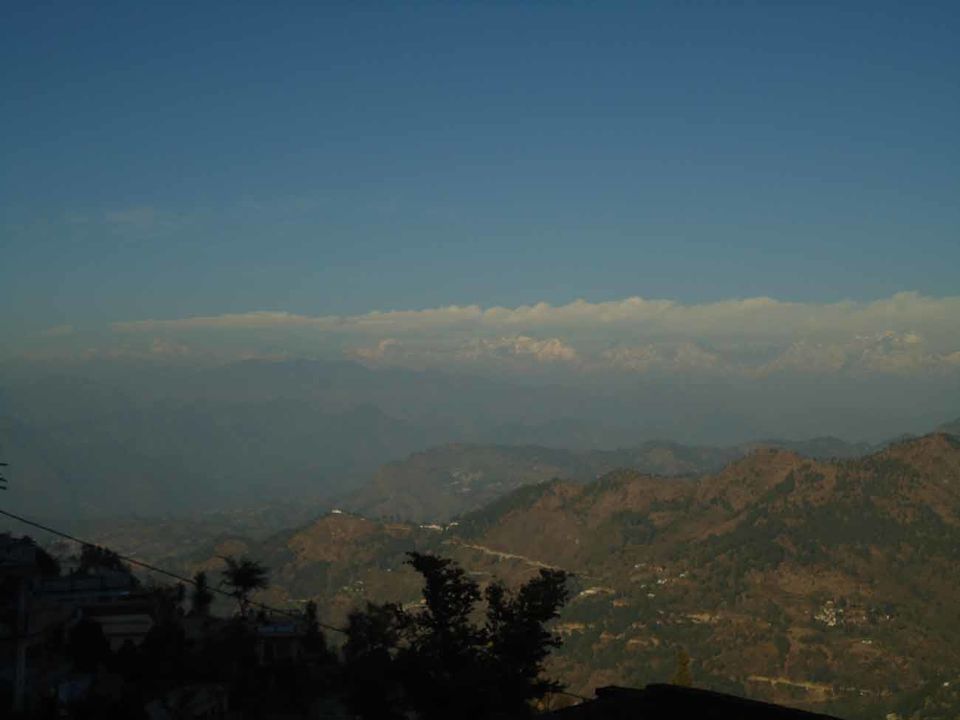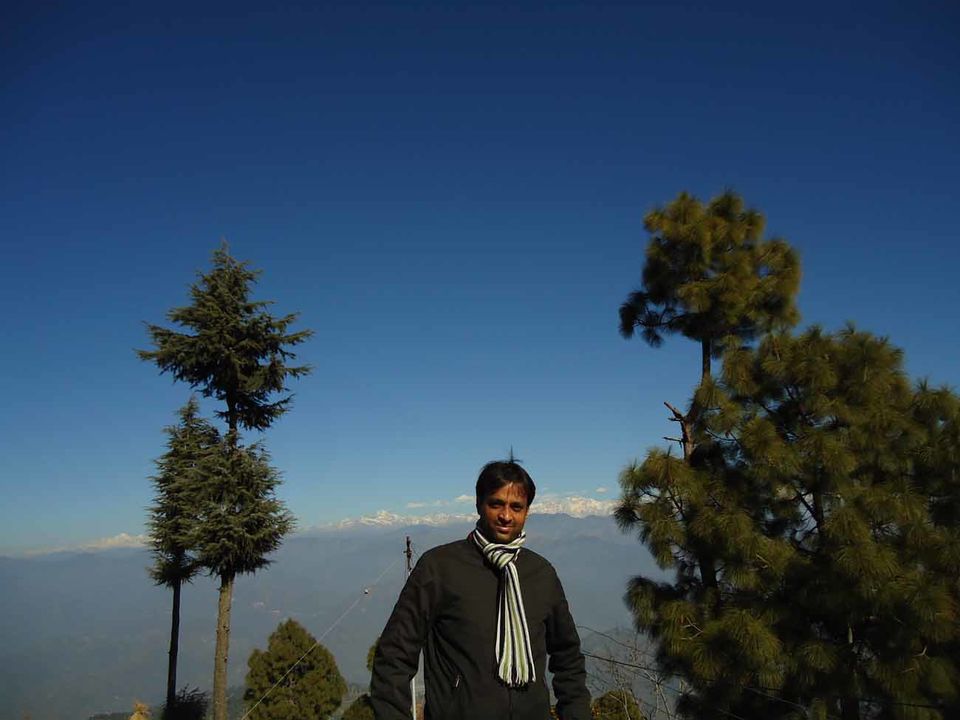 Pic - snow capped mountain in background at pauri
Our next target was Devprayag, so we moved at 11:30 for devprayag. It was 47 km far away from here. This whole route was full of trees sharp turn and breathtaking valley. This is an amazing route and scary as well. When we were about to reach Devprayag main route of rishikesh- Badrinath highway was looking scary but beautiful from other side with breathtaking valley and river ganga flowing at bottom. We stopped at a bridge and took many snaps.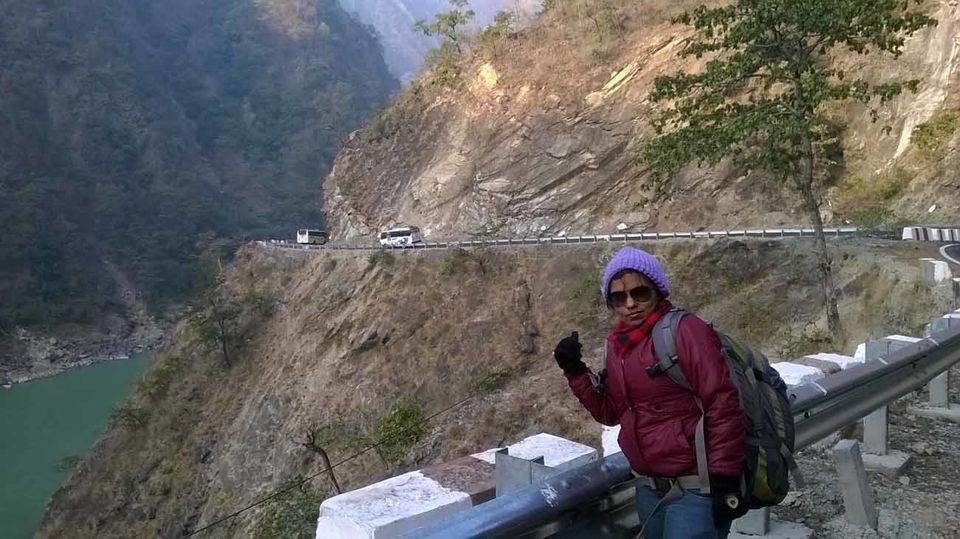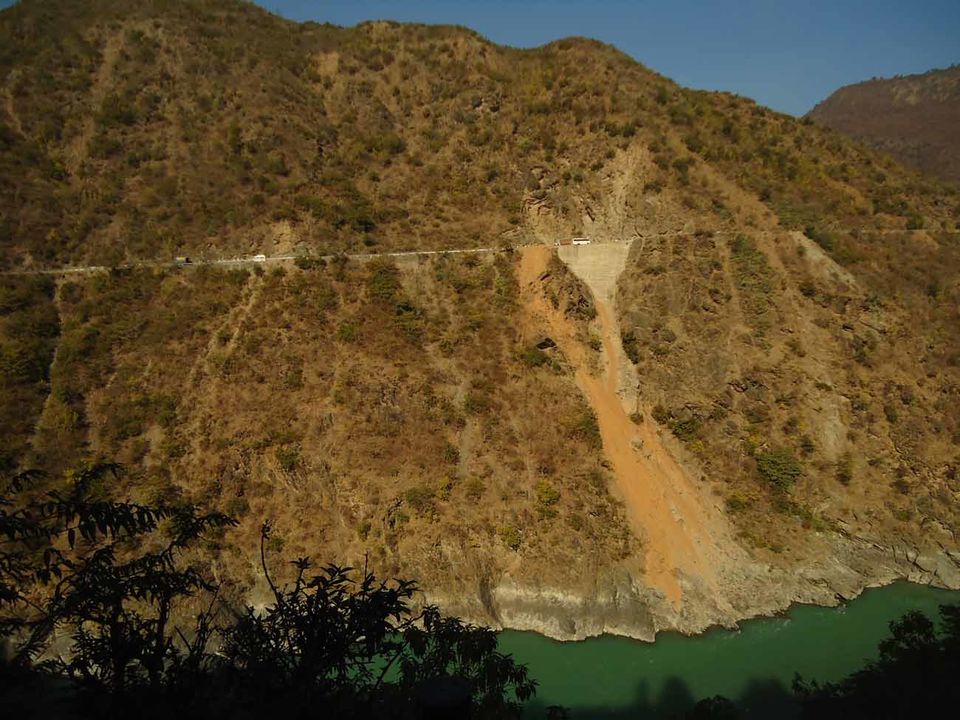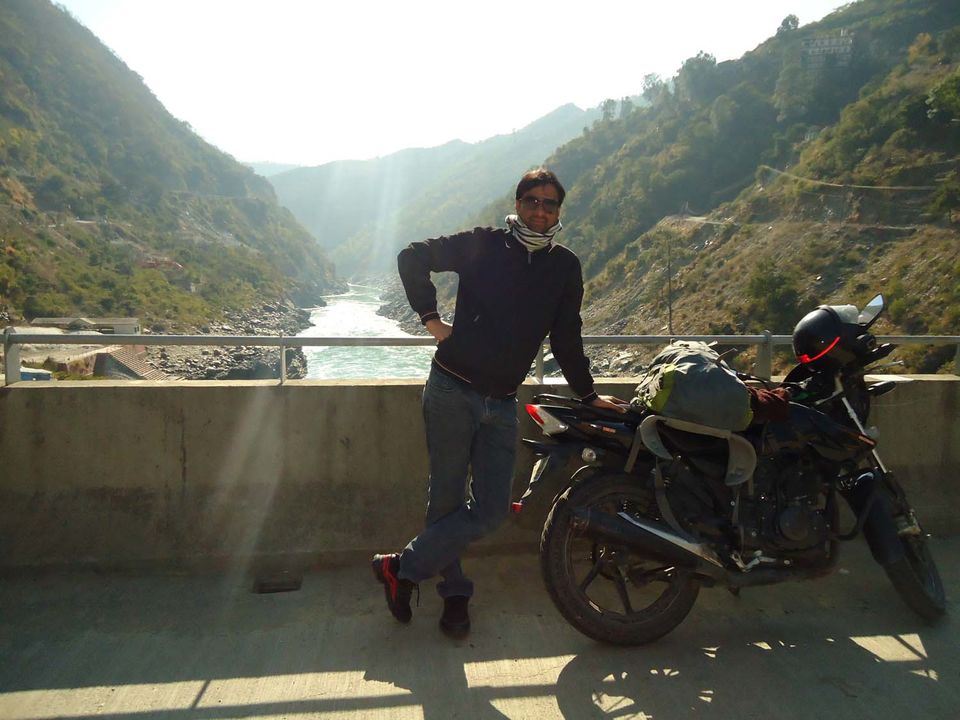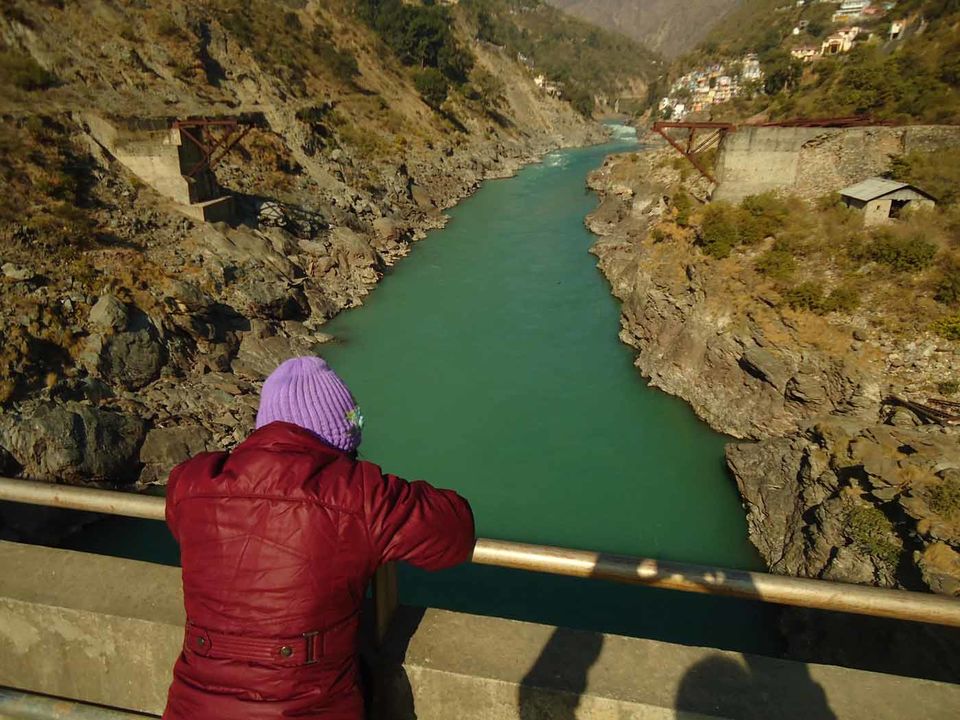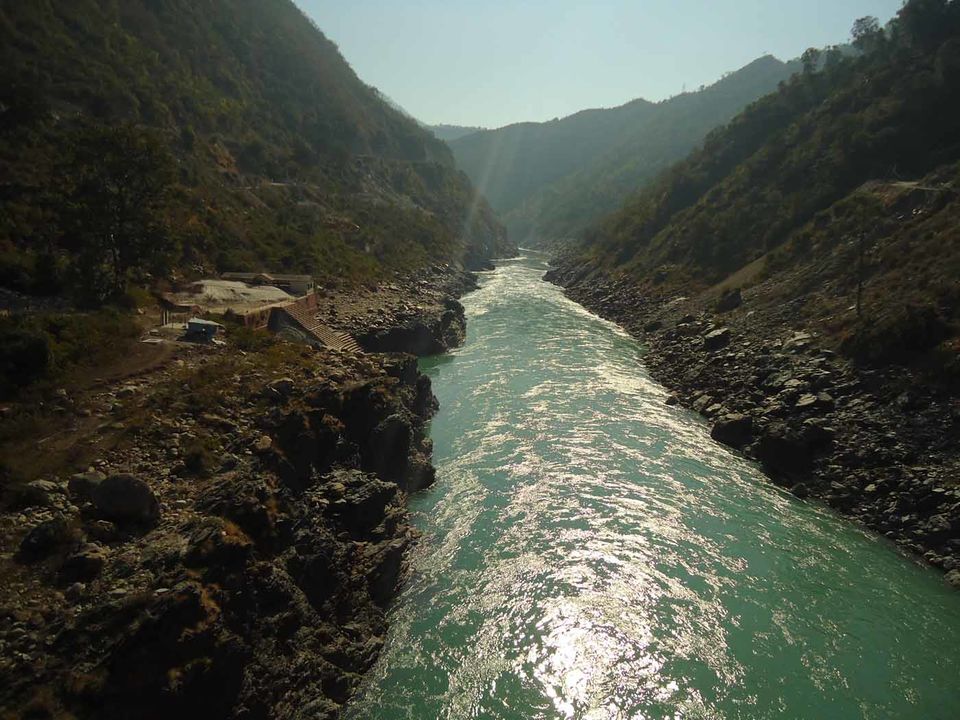 Pic - on the way to Devprayag
We reached Devprayag at 1:30 PM. We moved toward sangam. Its a place where River Alaknanda and Bhagirathi meet together. We were feeling great to reach at this place. It is a scenic place as well. Many lush green mountains all around and river flowing at bottom looks amazing. I have no word to explain it. We spent an hour here and moved towards Rishikesh at 2:30.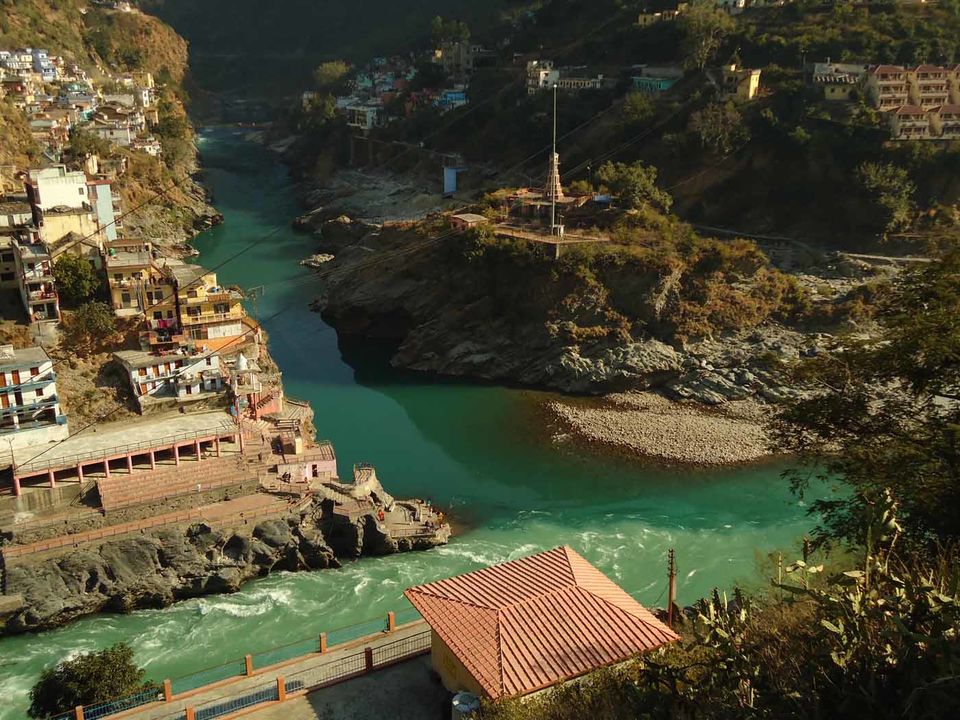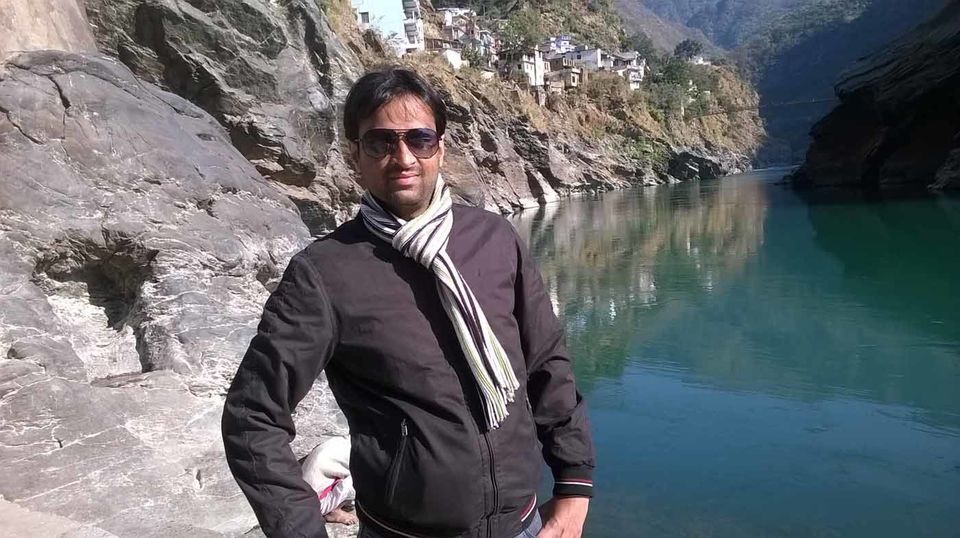 Pic - beautiful view of sangam Devprayag
Devprayg-Rishikesh highway is a very good highway. So my bike was moving at a good speed. There are many picturesque spots at this road where a rare and perfect shot can be taken. But its a very ideal route for landslide, so its very risky. Devprayag to Rishikesh is at 80KM distance.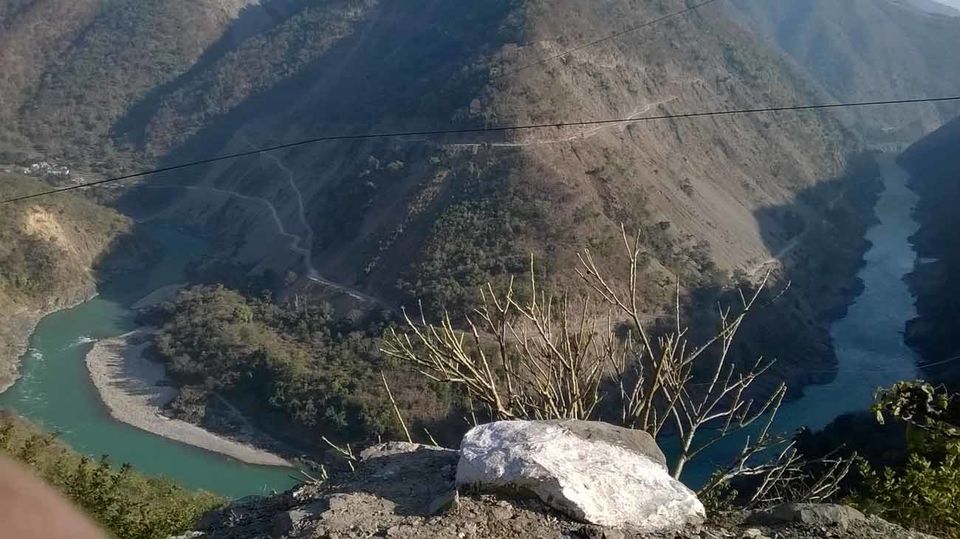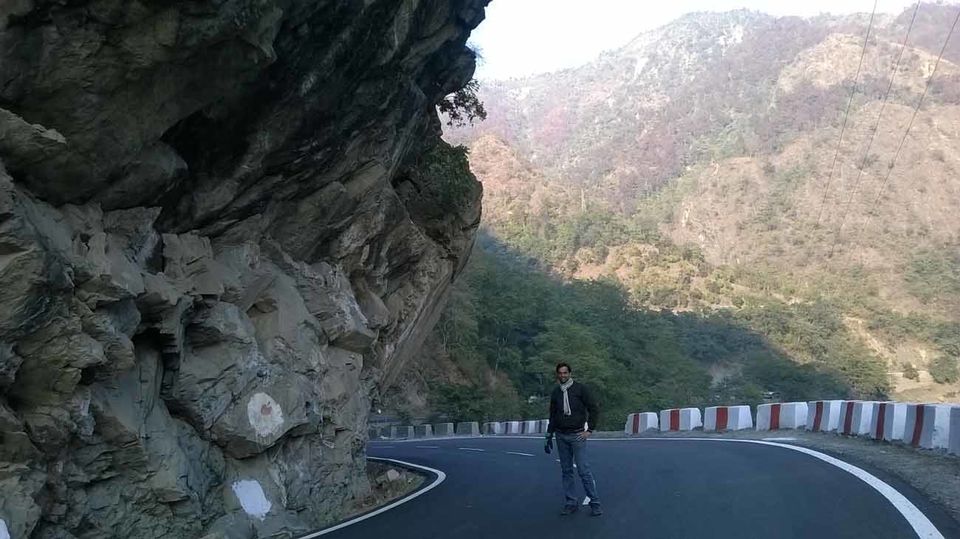 Pic - beautiful view at Rishikesh Badrinath Highway (on the way to Rishikesh)
We reached Rishikesh at 4:45 PM. Suddenly we decided, not to stay at Rishkesh and take a relax at our home . Ghaziabad is approx 214KM from Rishikesh. There was a bit hesitation before starting from Rishikesh because we were travelling by bike and we should avoid bike riding at night. But this is a busy route so we decided to move now. After taking a short break we started at 5:00 PM from Rishikesh. As we were moving at evening we got too much traffic till Roorkee. Also this highway is in under construction, widening work is in progress, so there are many one way and diversions on this route till Muzzafarnagar. After that it was a smooth ride. We reached Ghaziabad at 10:30 PM with one stop at Roorkee. It was a very tired day for us. We covered almost 341 KM in a day. We were happy as well as sad after reaching at home. Happy, because we were safely at home after a long drive with covering many destinations. And sad, because our superb journey had been end. 
Total distance covered – 666KM
Ghaziabad to Kotdwara – 200KM
Kotdwara to Parui – 125KM
Pauri to Ghaziabad  via Devprayag,Rishikesh -  341KM