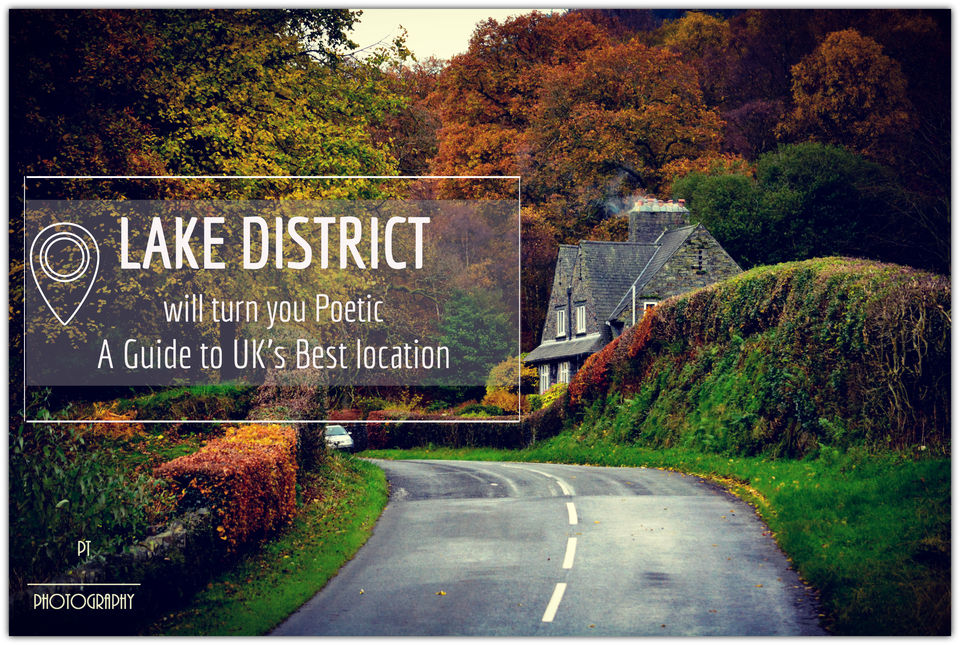 LAKE DISTRICT - As the name suggests its one of the most beautiful place full of splendid lakes and lush green landscapes. I have never missed visiting this place during each of my visit to England. This place is a bliss for nature lovers with lovely cottages, pine trees, beautiful lakes and amazing roads passing through loveliest of the spots around.I have been here 8-9 times and have seen this place in all seasons. It wont be an exaggeration saying, you have missed essence of England if you have not been to Lake district.
It not just amazes nature lovers, it equally fascinates adventure seekers, poets, painters and bikers. Its one of the AONB's of England ( Area of Outstanding Natural beauty - Recognized officially).
I Wandered Lonely As A Cloud - Poem by William Wordsworth
I wandered lonely as a cloud...
That floats on high o'er vales and hills,
When all at once I saw a crowd,
A host, of golden daffodils; Beside the lake,
beneath the trees,Fluttering and dancing in the breeze.
Continuous as the stars that shine
And twinkle on the milky way,
They stretched in never-ending line
Along the margin of a bay:Ten thousand saw I at a glance, T0ssing their heads in sprightly dance....
I really wondered lonely as a cloud, and you too can find out the inspiration of lovely poems written by William Wordsworth, this is the place which can turn anyone poetic. I traveled solo to trek Penrith, with a complete group of strangers and this place was the best experience till date. When i visited England for the first time in 2007, my first trip in England was to Lake district, that too only with two female friends who were equally new in England. We just booked a train ticket and starter without any plan. We had no idea what this place was like, so we visited tourist information center as soon as we got down and inquired few places, hopped on a bus and left it at the first destination only. Though it was a complete foreign land, we were absolutely fearless,this place had cast some spell on us...and we were so amazed that we walked whole area so that we don't miss any trail, lake or landscape.
Here I am recommending few of the famous and must visit places, however every time you visit this county you can explore new landscapes and places. I only repeated few destinations, and every-time you can find something new to explore and admire.
1. Penrith - The attractive town is the hub of the Eden Valley. This is one of the spectacular area and normally visitors who come once don't know about this part. Its a a trekker's paradise I have been there during my first visit with local English people. And still its my best trip till date. A little bit hesitated and unsure about being a sport for this trip to Penrith with a group of total strangers no female, no acquainted males, in a state of perplexity I called up Sardar (my travel buddy in India) to ask whether I should go for this or not. And with his consent I joined them and believe me,walking 8-9 miles a day without food and sufficient water I was loaded just with passion and enthusiasm to explore the beauty of this wonderful place called Penrith following an English Commander was truly an incredible experience. I had a 5 MP camera and its still there are some of my favorite shots from this place.
2. Windermere - This is the largest lake in Britain, and one of the most beautiful sites too, I had explored it several times and its still charms me. Some of the best breathtaking views can be enjoyed on a boat or cruise ride from this lake. This place is well connected to other parts of England from Rail network, best thing is to book a train till Windermere, and hire a car locally to explore places around, however if you don't drive you can still enjoy the place with a daily hop on/off tour bus which shows you amazing spots around and is available in regular intervals.But I would recommend walking the place.
3. Cumbria - Cumbria is predominantly rural and contains the Lake District and Lake District National Park, considered one of England's most outstanding areas of natural beauty, serving as inspiration for artists, writers, and musician
4. Grasmere and Rydal water - These are two twin lakes divided by a hill which is popular among trekkers and walkers alike, whether you are on a walk with your pet or having a family time with your children its the place where you will find yourself talking to nature. This is a rather pleasant, nicely varied, circular of both Grasmere and Rydal Water even with the unavoidable road walking. Part of the route is along the old Coffin road, so called as it was the route used to take the dead of Rydal to the church in Grasmere for burial. It also passes Dove Cottage which was the home of the Lakeland poet William Wordsworth from 1799 to 1808.
5. Ulls water - The drive to Ulls water is absolutely stunning, and you will feel you are in some other planet, its kind of area where you will you are inside a painting or wallpaper. Ullswater is the second largest lake in the English Lake District.
6. Bassenthwaite - Bassenthwaite is a village and civil parish in the Borough of Allerdale in Cumbria. It offers many peaks and summits offering walks for all ranges from easy starting at 3.5 miles to chalenging walks of 8-9 miles exploring area of outstanding beauty on your feet is one of the memorable experience no one can take from you.
Although lake district is always beautiful and one must see it in every season. In Autumn, nothing can beat it, this place is at its peak beauty in this season, I remember how emotional I was leaving this place, I was so desperate to live here that, I was happy to do any petty jobs around for living. So I would say to people visiting England, if you missed visiting this place you missed the heart of UK.