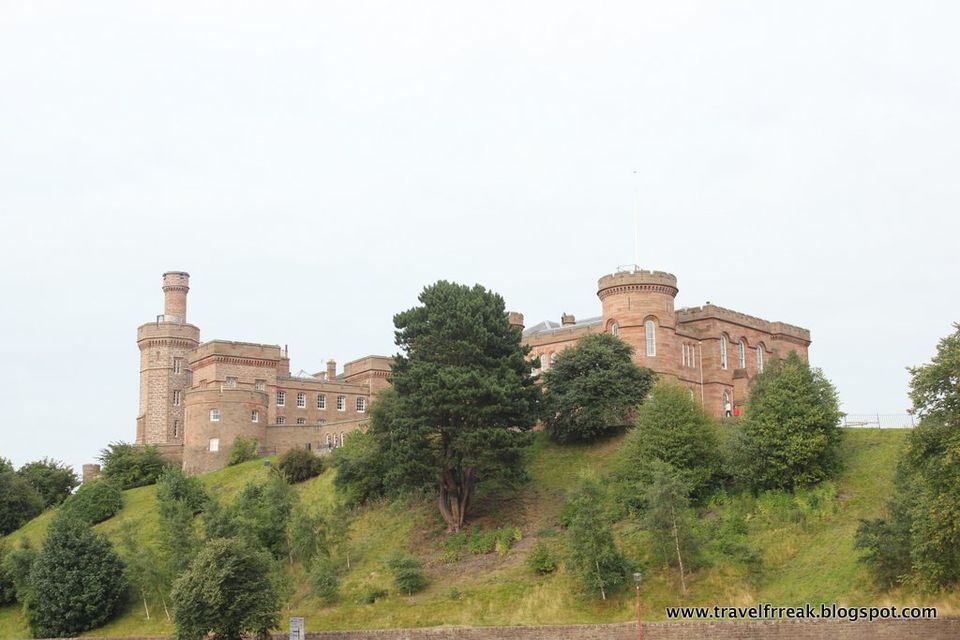 Photos and details on, http://travelfrreak.blogspot.com/2018/08/one-week-road-trip-in-uk-scotland-and.html
Day 6: Spend day at Crieff Highland games; Drive by some of the lakes in Loch Lomond and Trossachs Park
Our first day in Scotland turned out to be a sunny and warm day, perfect to be out in the open. So we drove South towards the town of Crieff to see its Highland Games. The Highland Games are traditional Scottish events which are held at every year across multiple locations all over Scotland. Initially, they provided a platform to identify and recruit strong talent for soldiering duties, but now they have become a national tradition. These events which have been going on for centuries have now become even bigger and international events.
The drive there was grand and imposing. We drove through huge mountains and valleys, all of which were totally covered in purple thistle flowers. And once in Crieff, we followed the crowd to reach the games location. They were being held in a huge ground, and all around we could see high mountains looming above.
There must have been thousands of people there and it felt totally like a mela. In the middle, was a ground where the games were being held. Men in kilts throwing shot puts, races being held, tug-of war between teams and so on. And in between, typical Scottish pipe bands and children's school bands would come into the field and walk around the field playing songs. There was just so much going on everywhere to entertain the crowds. While we were leaving, a Japanese band also came in - I am guessing that may have been the finale performance!
All around the main field, the spectators all sat on the grounds, drinking, eating, talking and enjoying the spectacle. All around there were also many shops from across the world selling local food stuff, handicrafts, leather, warm clothes and anything else you can think of. There was live music playing at a couple of places, sponsored by the local Whiskey - Glenturret. And a Highland spring dance competition also going on. It was a full day affair and everyone there had come with their families and children to spend the whole day walking around and having fun.
The Highland Games are now huge affairs and also talked about in the local and regional news. Also, there is a tradition for each of the games to have its own Chieftains. And that year, it was Ewan McGregor's father at the Crieff games.
We spent a couple of hours there, and then took a detour through Loch Lomond and Trossachs Park to drive back through some scenic routes. We drove next to Loch Earn where lots of people were enjoying water sports. Loch Tay was huge and breathtaking. We drove all along the mountain next to the lake for about 20 kms. We also stopped for a break at a boathouse on the lake which had mesmerizing views of the mountains around, dotted with typical Scottish summer homes. Its so common in Scotland, to just stop somewhere and find majestic views - you will never find their mention in any tourist books.
We also passed by Scottish castles at every turn of the road. As we did whiskey tours in just about every village. We also drove by some very pretty villages on the way, Killin was one of them with a very picturesque bridge overlooking the mountains. Most of the villages were quite grand, located next to a river or lake and were lined with bright flowers at that time of the year. And there were so many holiday homes everywhere on the road, this really seemed like the easier and richer part of Scotland. Unlike the northern part which was colder and more rugged than the South.
Day 7: Drive to Loch Ness through Scottish highlands; Return via stop at Inverness
Today, we spent all our day exploring the Scottish highlands and its lakes. We first drove towards Loch Ness and stopped at a few of the lochs on the way, taking our time to get there. It turns out there are very few roads in the region, given all the lakes and the high mountains. And most of the roads are quite small single lane roads. The mountains are huge and were covered with purple thistles (the national flower of Scotland) with a bit of yellow flowers sometimes.
We stopped at a few of the lakes (lochs) on the way, each of which was picturesque and unique in its own way. Loch Laggan had a dam on it. Loch Lochy had very pretty holiday homes next to it. Loch Oich was connected through the Caledonian canal to other lakes and had a historical Bridge of Oich on it. And passing through each of these, we reached Loch Ness. Honestly, you can spend more and more time at any of these places on the way if you want.
Loch Ness is definitely one of the most popular lake in the highlands. It is 40 kms long and very narrow running all the way between two mountain ranges. It is located on a geological fault, and even though its not the deepest lake, it has the maximum water in the world. There is a lot of peat in the water which affects its colour and quality. And because of that, it has very limited fishes living in it.
All around the Loch Ness (and most of Scotland) was very bright green at that time of the year. As part of the tourism setup, there is an exhibition centre in Loch Ness village dedicated to Nessie, the monster. There is a huge hotel called the Clansman right in the middle along the lake from where you can take cruises to the lake and the castle. And there was also a nice souvenir shop their to buy Nessie, Loch Ness or Scottish souvenirs.
We took a 1 hour cruise from Clansman along the lake, to Castle Urquhart and back. You can sit on top of the ferry and the views from there are majestic. It was a bit cold and windy though for us, so we sat in for a bit. Inside the ferry, they have a sonar radar which is always trying to locate Nessie the monster in the depths of the lake by sending and tracking signals. We however did not spot it in our trip ????. The cruise also takes you very close to the Castle if you want a good view, or you can get off and explore it at leisure. Castle Urquhart has an interesting history. It was occupied by the Jacobites who has one of their most famous battles there which they lost. The Castle was destroyed and it has been in the same ruins state since then. The Castle seemed quite average but its location is definitely envyworthy.
While driving back from Loch Ness, we drove via the town of Inverness and loved our short stop there. Its a nice little old town located right next to the river Ness and quite grand because of all the background hills. It had a lot of old buildings and the riverside was amazing to walk around. You can see the Inverness Castle and a few churches all along the river, providing it an air of a different era.
We walked all along the bridge up to the second bridge and back. It was all so green and empty everywhere, totally refreshing and relaxing. We also tried a bit of shopping for warm clothes. And I learnt that all the clans of Scotland have different kilt designs as well as coats of arms. After spending some time in town, we left for our drive back to Blair Atholl and surprisingly, the drive back felt a bit more plainer than the one we had taken up.
During the day, I also learnt a lot more about Scottish history which I didn't know before. And noticed many differences between Scotland and England. The houses in Scotland are different, most of them are painted white unlike the stone houses of England. I wonder if they were made of wood? There were loads of golf courses on the way. It was almost like every town and village had their own golf course! People were overall friendly and had a very sweet kind of English accent. And a lot of them did dress up in kilts. You could also see how proud they are all of their Scottish heritage.
Tourism was clearly huge everywhere. The place was full of hotels and airbnbs anywhere you look. And there was a lot of traffic at that time of the year. The weather when we were there was very cloudy and felt colder to me than the locals. They were all dressed in summer clothes while we were well covered with warm layers ????.
Also the highland clearances are a big part of their history. When Scotland merged with England, a lot of the large land owners shifted from agriculture to animal husbandry and sheep farming which displaced all the poor farmers who used to farm on the landowners' lands. And as they become redundant, they were all cleared. That is why millions of Scots had to leave their homeland and that is why there are more Scottish people in Canada and US than in Scotland! Reading about it makes you very sad. Also England has also exploited Scots for years. For example, highlands kilts and tartans were banned for many years and no one could wear them. Its things like these which make the Scots so much more proud of their heritage now. And why they want to separate from England.
Day 8: Stay in our Otter Lodge; Shop at House of Bruar
After a week of exploring and driving around, we decided to take a day off when we would just relax at our riverside place and not do any touristy stuff. It was a good move as the day turned out to be rainy and we wouldn't have got to see and do much anyways. Also, the next day was a long driving day, so the break helped.
So we spent time on the riverside, just eating our meals with the sound of the gurgling stream behind us. And in the evening, we went to the House of Bruar for a bit of shopping. It is a huge shopping centre located near Blair Atholl, also known as the Harrods of Scotland and I must say that the prices are definitely similar ????. We ended up shopping a lot and spending the whole day there. I would definitely recommend shopping here as the warm clothes they have are quite unique and worth trying out.
After burning a hole in our wallets, we came back to our Otter Lodge and then went out for a walk around once the rain stopped. We again walked to the Blair Atholl castle, the caravan park within the castle and the nearby golf course. It was all very green and fresh because of the recent rains, and helped us freshen for the long drive the next day. The castle was also getting reading for the horse trials and the impending highland games, so there was a lot of activity around.
I would also here like to mention that our airbnb (the Otter Lodge) was a great place to stay. Very well decorated and right next to the river with beautiful views, especially of the sunset. I would definitely recommend it as a place to stay.
Map of Scotland and around
Day 9: Drive to Peak District at Hathersage; Stop at castle in Penrith
Today turned out to be mostly a driving day. The weather in Scotland was rainy and cloudy when we left. We also noticed a lot of boards about highland games on the way. As we got towards England, the weather got sunnier and temperatures got to 20 degrees. The drive back actually looked prettier than the way up, all because the sun came out. We noticed a lot more windmills on the way back, ran into lots of delays and somehow a lot of bad driving by trucks too.
On the way we stopped in the town of Penrith to have lunch and it turned out there was a castle in that town too. So we sat in the castle ruins in the open to have our lunch. What a setting it was ????. It looked like a nice little town - you keep discovering small gems all across UK all the time! We reached our village of Hathersage in Peak District quite late in the night and checked in to our nice little airbnb in the village. It had been a long day of driving, so we called it a night very soon after a short walk outside. And, although it was August, it was not warm at all which felt a bit quite unlike summer (unlike summer 2018 I must say!).
Day 10: Trail up to John Stone Cavern near Castleton; Stop at the Ladybower reservoir; Explore Hathersage
We spent the day in and around our village of Hathersage in a very leisurely manner. It was all very green and rural everywhere, every stop was worthy of a picnic. Our first stop was the village of Castleton. There were loads of trails around, so we went up the Speedwell cavern all the way up the hill to the Blue John cavern which is famous for its unique Blue John stone. We then walked around it and through Mam Tor, came down the pass to where our car was parked. It was a relaxed walk up around the mountain through green stretches on a sunny day, with panoramic views of Hope valley below and a good way to spend the first half of the day.
Our next stop was a nearby Ladybower dam and reservoir where we stopped for some time to have lunch. We walked through the woods down to the lakeside and had a leisurely lunch there in the open. It was nice to just sit there and enjoy a nice meal. You can also boat in the lake though we didn't do that.
And after the stop, we came back to our village. All the drives in the area were very picturesque and a treat to the eyes, through typical beautiful English villages with green hills in the background. Most of the villages were quite small. Also, most of Peak district seemed to have limited agriculture going on. Even in terms of animals, there were only a few sheep here and there. Wonder how they sustain themselves, especially as tourism doesn't seem to be huge here.
We came back to our Hathersage village before dark and spent the rest of the evening walking around and exploring it. It was a huge village by local standards and had huge big houses everywhere. We walked up one of the hills and got to see quite a few panoramic views of the villages and the bright green grass beyond. Life in the villages is so calm and peaceful.
We noticed there were loads of doctors in the town, more than usual. Wonder why. We also ran into an Indian restaurant with an auto parked outside but as we had already eaten at home by then, we gave it a pass. But it was quite a welcome surprise. The day passed by so soon, we didn't even realise. It was so sunny that day, the day felt totally amazing and the village a place worth having a holiday home at ????.
Day 11: Stop at Bakewell and Stepping Stones; Drive back to London through Birmingham
Today was our last day of our UK road trip and we did a few things in the morning, before heading back to London. We first stopped in the town of Bakewell which was a typical small town. We walked around a bit, visited a couple of small shops, some parks and generally explored around. UK is so much better when the sun is out? As it was that day.
Our next stop was the Stepping Stones of Dovedale. The village was quite remote and tough to find. You have to keep on going much farther than what the GPS suggests. And then we had to trek through some meadows to reach the Stones. To be honest, they were actually nothing great. But still it was full of tourists! Wonder why. We made a quick stop there but left soon enough. And then were on our way to Birmingham and then back to London.
The 10 days passed so quickly, we didn't even realise it. Exploring the countryside of UK is fun and interesting as always. And something we don't do often, but I am glad I took out the time to do that. Its good to see the other side of the country you call home ????.