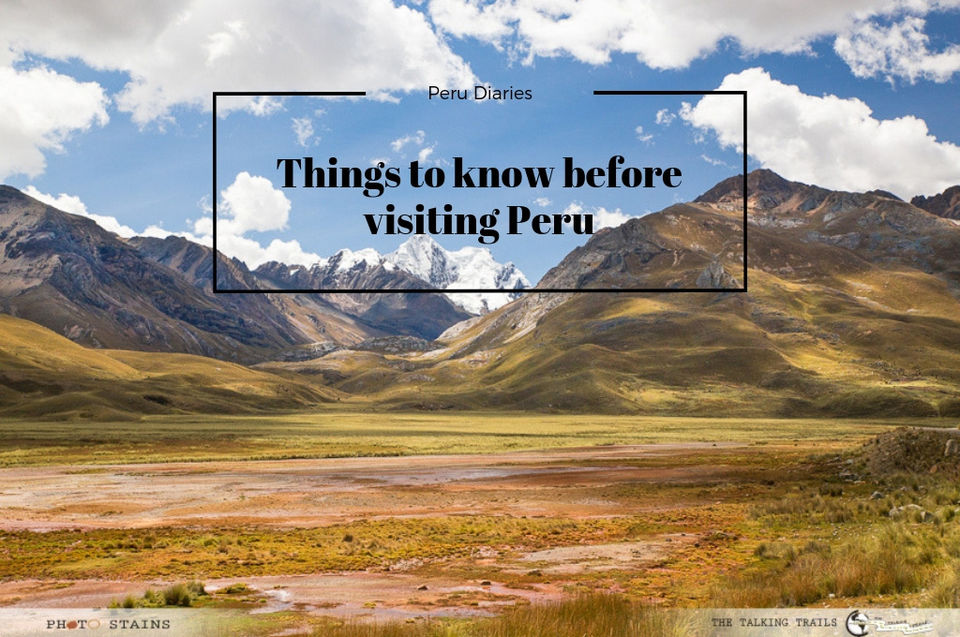 Peru was a breath of fresh air. It was remarkable , surprising and unbelievably beautiful. With a climate that ranges from desert dry to amazon lush to freeze-your-ass-off , Peru offers a diversity with a twist of history. So if you are planning a trip to Peru , I have listed these "Things to know before visiting Peru" that will definitely help in making your stay pleasant. There is no harm in getting prepared for an adventure , isn't it?
There is more to Peru than Machu Pichu:
Returning from Peru , the question I was asked the most - How was Machu Pichu? Apologetic and a bit frustrated , my answer was "I don't know , I did not go there." But i think the perception that Peru is all about Inca ruins is because , that is how it has been marketed. When I was searching for information while planning my trip , there was hardly much info that could make my trip - a trip of the lifetime, something more than just visiting Machu Pichu. It was not until I spent 10 days in Peru that I realized that it is so much more than Sacred Valley. If you want more than the framed shot standing in front of temple of Machu Pichu , head to Huaraz. The hiking capital of Peru - Huaraz is literally gateway to heaven. Home to Huascaran National Park, it lets you enjoy Cordillera Blanca range. For more ancient Inca ruins , Kuelap has pre- incan ruins that are three times older than the magnificent Machu Pichu. If you want buzzing Amazonian gateway, crumbling at the edges, steeped in exciting history- Iquitos is place to be.
Altitude adjustment is must:
Do not take altitude adjustment lightly , it can really make you miserable. Peru is a mountainous land, and big cities like Cuzco are at 3800 mts of elevation. So unavoidably , you have to handle heights. Now as soon as you reach , you may feel fine and tempted to exert yourself as normal. Don't be fooled: you might be benefiting from oxygen brought in your blood from sea level. If you do not acclimatize yourself , you will run into things like - nausea , acute head ache, body ache , fever , breathlessness, loss of appetite etc. So wondering how to cope up ?
Drink plenty of water to avoid dehydration (altitude is a diuretic). Get plenty of sleep. Stay away from alcoholic drinks. Eat light meals, with high carbohydrate and low fat and protein content. Dine early, allowing digestion time pre-sleep. And lastly consume stimulating coca leafs, whether in tea or by chewing them.
Note : Coca tea is great stuff, but it can make you test positive for cocaine. If there's any chance you might undergo a drug test in the weeks after returning home from Peru, it's best to avoid coca tea and chewing coca leaves.
Always have cash with you :
Peru is one of the few places (Costa Rica being the other) I have visited so far, where you need to have cash. There are hardly any places in rural or remote Peru which accept any credit card. The only place where I could use my card was cities like Lima and Cuzco. Also if you plan to shop which I suggest you do, cash will give you more leverage to haggle.
It is also advisable to have small bills handy, specially 1 , 2 sols. Most of the times if you pay by large bills , shopkeepers will say , they do not have any change to give back. SO try paying by exact amount :) .
Toilet paper is to be trashed and not flushed:
In my very first hotel , when I checked -in, right next to the toilet was a paper of Dos and Donts which clearly said - Put used toilet paper in trash can . Please do not flush. For quite some time I thought they mean women hygiene stuff until we were explicitly told about the rule . Yes in Peru, the toilet paper goes in the trash NOT the toilet. It might feel unsanitary and unpleasing, but you would rather remember to put it in the trash than have to clean up a mess after the toilet clogs and overfills. The reason behind this is because the pipes in Peru are very small so a lot of things are not able to pass through. That with a combo of bad pressure really just doesn't help at all.
Don't drink tap water :
Peru tap water is unfiltered. It is advisable that you drink bottled water instead of tap water to avoid any water borne infections. The chances of getting a stomach bug or parasite or bacteria or radioactively-induced superpower( just kidding) are high if you drink the water in Peru. Even in restaurants, avoid taking ice cubes in water. Bottled water is easily available in all convenience stores , grocery stores and even pharmacy stores.
Don't rent to self drive :
My first instinct when planning my trip to Peru was "Why don't we rent the car and drive." I am so glad that Manhar did not let me go with my instinct. For starters , the distances between the destinations in Peru is hu-uuuuu-ge. Unless you love driving specially on zig-zag roads, multiple 10+ hour drives aren't ideal. Secondly , rental cars are expensive and so as the fuel. Peru has comfortable, high - end buses which are economical. The second option is taking the flight. Though it will decrease your travel time drastically , the cost of transportation will go up.
The traffic in Peru is chaotic. The lanes are not really lanes and locals drive quite rashly.Honking is frequent and driving on roads full of sharp dangerous blind turns take a lot of skill. So unless you are skilled enough , do not take the stress of Peruvian roads and traffic. Even when you reach the destination , hire a taxi. Taxis are incredibly cheap.
The voltage is higher in Peru:
The supply voltage in Peru is 220 volts at 60 hertz (in the USA, electricity is supplied at between 110 and 120 volts). Before you plug in any appliance that you've brought from home, make sure it can handle such high voltage. Carry international adapters with you that can support this voltage. For most electronics it probably will not make any difference as they are compatible with a range of voltages, but you might see some differences. Your iPhone will charge a lot faster, but you might also notice it heating up while doing so. To be safe, be sure to charge up your devices when you need to and unplug when you're done.
Brush up on your Spanish :
Language can be a problem in Peru. Only locals involved in tourism industry speak English , beyond that, it is Spanish all the way. So I will highly suggest to learn some key phrases in Spanish which will come super handy while ordering food , hiring taxi , haggling with locals and shopping in the local markets.
Me and Manhar do not speak Spanish neither did we learn any key phrases as a result we had to rely on sign language (self-made) while shopping at local markets. We used google maps to explain the taxi drivers about our destination details and we often seeked help from google translate when things got tough. Overall, I can say that it is not absolutely must to know Spanish but if you know some of it or even the basics , it will be very helpful. Also if you are planning to take group tours or private tours - do not forget to ask for an English speaking guide. It will be a bit expensive but totally worth it.
Peru is not Vegetarian friendly :
As a vegetarian who is actually an eggitarian , I really struggled in Peru with vegetarian food. In cities like Cuzco and Lima , you might get vegetarian options easily but in small backpacking towns like Huaraz , the options for vegetarians were very limited. For most of the restaurants it was either a Margarita Pizza or Caprese Sandwich or pasta with Alfredo. I am not a food complainer in general but after spending 8 - 10 hours of a day hiking , sweating and getting physically exhausted , the body craves for something healthy and nutritious. And I just could not find anything to my liking at-least in Huaraz. There are few good restaurants and they do have vegetarian items in the menu but as I said its mostly pizza and pasta.
Expect Delays
If there is one thing that you must always keep in mind in Peru - Expect delays and accept delays. There is literally no way you can have everything on time and your way. The technology and the infrastructure is not very advance in Peru and there will be things unavoidable like floods, landslides, earthquakes. The day we reached Peru there was earthquake in amazon area with shock-waves till Ecuador and Colombia. Obviously the next day our bus was delayed. But as I said there is nothing we could have done and you will run into similar situations. So just be positive , keep smiling and live life like Peruvians. Take the ups with the downs and try not to let delays and inefficiencies get under your skin; they're all part of the experience.
I will love to know about your experiences in Peru. How did you find this country. Did you run into something quirky or unplanned situations? Share with me in comments below. Coming up next in blog my 8 day itinerary of Peru. Stay Tuned. Thank you so much for stopping by.