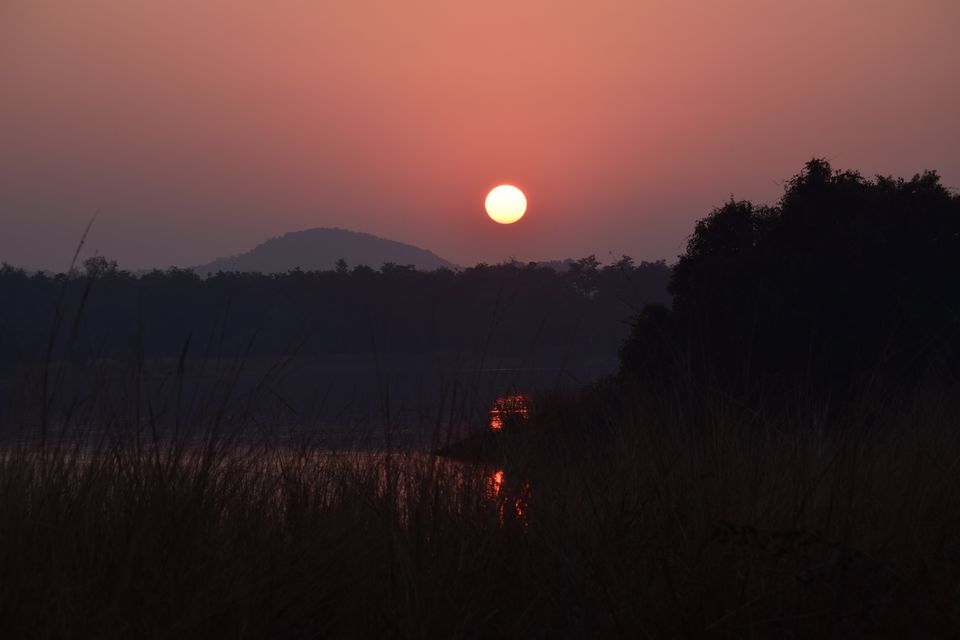 Satpura tiger reserve is situated in hoshangabad district of madhya pradesh. It makes one of the largest forested area in the state of madhya pradesh, as it also comprises nearest bori and pachmari sanctuary. It has 3 major core areas madhai, churna and pachmari, which have different entrances from different part of the state. Madhai is the biggest and most famous which is accessible from bhopal. Winter is the best time to visit the place.
It was a beautiful morning on the Christmas Eve, we left our home town for a perfect weekend gateway in the hearts of nature. We pre-booked our resort and safari as it was a holiday season.
We reached our resort Wildernest by goldmark at around lunch time, checked in and freshen up. The lunch was served hot. We ate and went for a nature walk and explore the property. It was so refreshing to sit under the sun, listen to birds chirping and a light cold breeze in a winter afternoon. We spent the rest of the day just relaxing. The hi-tea and dinner was as delicious as other meals.
Next morning we woke up to darkness,
hot tea, aalo parathas and mayo sandwiches are packed as we went off to our morning safari. 🍃
So, satpura is different than all the other national park in madhya pradesh in alot of ways.
Firstly, the core area is separated from the buffer zone by tawa river. So you have to take a ferry to the entrance gate then a jeep will take you inside the forest.
Secondly, it's the only area around this region where you can see crocodile out in the open. Basically every water body in this area have crocs in it.. So stay away from water. 🚨
Thirdly, it is the only place in madhya pradesh that gives home to indian giant squirrel so look out for the walnut shower from the trees.
And finally, this whole ecosystem is unique with dry deciduous forest and rocky terrains. 🏞
The morning starts with a long queue at the entry day where they check your online permit and IDs. Then starts the blissful ferry ride. We entre the park to misty and cold breeze with our first sighting near the gate, the crocodile just came out of water for a quick sunbath along with it a turtle came too. Up next we saw langurs and deers, they are not that many in numbers as compared to other national parks I've visited, but they are enough to show us those alarm calls when a tiger is nearby. The landscape was very different with long grassland and plateau. As we went into the depth of the forest it became dense with sambhar deer and bison lurking around. Our guide was really knowledgeable and was telling us about the ecosystem. The breezy cold winds with a little sunlight filtering through the trees, the forest looked spectacular. We took a break near a water source with big rocks around it. Just before stopping the jeep we saw a big crocodile lying on the opposite bank. That sight gave us chills, now we were sceptical about having our breakfast there but the guide comfort us that they won't come to this side because of the rocks. The whole landscape was so amazing that I almost forgot about the crocs and enjoyed my breakfast looking into the mountains on one side and jungle on the other. I was sitting on the side of the water source, I saw a big rock half submerged in the water just 50 meter from me, I was so sure it was crocodile but the guide said no. As I walk back to the jeep I look at it again and it was gone. Definitely a croc. 🐊
As we were returning, we saw something black on a slope few meters from us. It was a sloth bear. Yes.. Finally something other than deers. It was scratching the surfaces and trees looking for termites. I couldn't get a picture but got a video of it running. It was so good to witness that. We were just standing there watching it doing the digging and eating.
At last, we went through the fruit forest, and finally saw the indian giant squirrel 🐿
It was big , not like our common squirrel at all. They were red, had huge fluffy tails and always live with a pair. Eating fruits and making their nest on top of a tree.
And that was the end of our morning safari, we had an afternoon safari as well but it wasn't that exciting but we did saw two male bisons fighting. That was scary, I mean they are huge animals. Look like bodybuilders and to look at them up close. God.
Still not a single tiger sighting for me. 😟🐅
Back to our resort, the food and ambience of the place is so good. We had a bonfire at night with music. It was in fact a perfect weekend. ✨