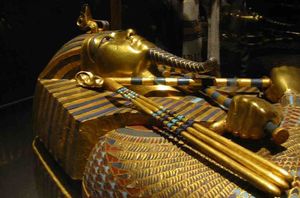 Places to stay near
Egyptian Museum
In front of Egyptian Museum.
Reviews of
Egyptian Museum
•
2
Let ancient Egyptian treasures bedazzle you at the museumThe Cairo Museum is absolutely brimming with treasures. From artefacts found in the pyramids to ancient papyrus scrolls, the beautifully designed sarcophaguses to canopic jars, the jewels of the rulers to their well preserved mummified bodies, it's Christmas come early so history lovers. Don't miss out on the mummy room where Ramses II's body is kept along with many others under temperature control. Also a must-visit is the room which holds King Tutankhamen's famous gold mask. This should definitely be on your things to do in Egypt list.
The Museum of Egyptian Antiquities, known commonly as the Egyptian Museum or Museum of Cairo contains the world's most extensive collection of pharaonic antiquities; no visit to Egypt is complete without a trip through its galleries. The remains of many famous Pharaohs are stored in the Egyptian Museum. One of these is Pharaoh Ramses III, who was an extremely skilled warrior.
Attractions near
Egyptian Museum