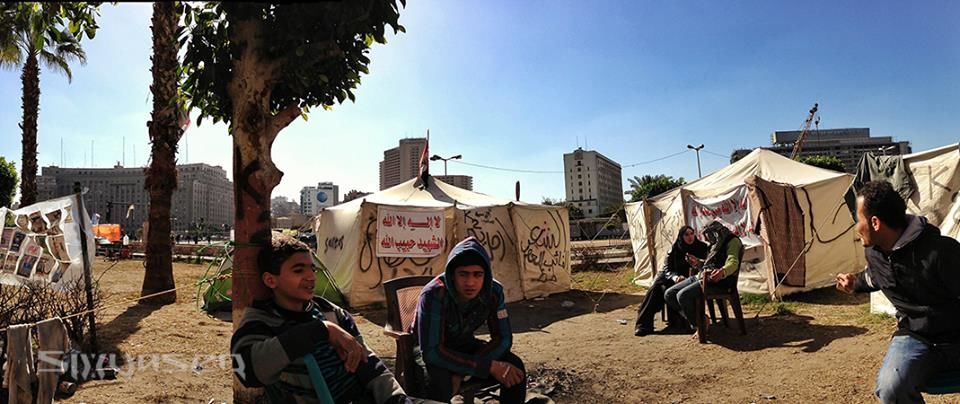 World travel isn't just about specific destinations or the journey there, but the search then wander in the middle of nowhere. This is how I felt in Egypt. On my world travels Egypt was a stopover which would remain etched in memory as it was a bundle of contradictions. On one hand there were amazing pyramids while on the other hand was the Tahrir Square beset with chaotic scenes as the protests were going on back then. Here is the account of my short journey to this exotic country.
DAY 1 // Cairo
Cairo was dirty, unkept, unstable and chaotic like most of Bangkok, although far worse – and I loved it, but hated it all the same. I was expecting this as this is what Cairo is, especially with the daily and sometimes fatal protests that were going on at Tahrir Square which was literally a walk away from my accommodation, Brothers Hostel. Most people probably think downtown Cairo is physically ugly, and I agree somewhat. I see it as ugly-beautiful. The almost uniform color shades of yellow and yellowish grey of the architecture where nearly all buildings are falling apart has a certain character to it, something I have never seen in a big city. Even as a native New Yorker that has travelled to 16 countries , it took me some getting used to. The next day I visited the Egyptian Museum.
DAY 2 // Cairo / Egyptian Museum
The most fun I've had at a museum was at the War Museum on day 86 in Cambodia as we were able to touch and play with all the war machines and weapons, but the most fascinating and breathtaking was what I visited at the famed Egyptian Museum…
The Egyptian Museum. It has been said many times before but the craftsmanship and architecture from the ancient Egyptian civilization from thousands and thousands of years ago was awe inspiring. Almost as much as when I toured Angkor Wat . The small but most impressive exhibition of King Tutankhamun alone is worth the ticket price. Although photography is forbidden inside the museum, this is profound enough for just your natural memory. While walking back from dinner, 2 locals tried to mug me. Intentionally leaving details, my carbon fiber knife saved me and… 1 of the perps must have been sent to the hospital later that day.
DAY 3 // Cairo / Tahrir Square
Anyone who's glimpsed at the news would know about the ongoing protests and recurring violence that happened in Tahrir Square(Martyr Square) last year. As strange as it may sound, this partly intrigued me to visit Cairo and stay just a few blocks from there. I was lucky enough to have a Cairo native friend, Ehad, who has had a tent setup for the past 2 years as part of the protest camp. We went there during the afternoon and while it was busy, it was also peaceful and we enjoyed a cup of tea as I met with all his friends and fellow protesters. I never felt at unease or threatened as every single person I met inside the camp were down to earth and genuinely friendly. As time went by, I was told that I should leave as there were rumours going on that the police were prepping tear gas and things could get violent. I humbly accepted the advice and walked back to my hotel. Sure enough, later that night the protesters were tear gassed.
DAY 4// Giza / Nile River
The next morning I walked across the Giza Bridge and enjoyed viewing the longest river in the world, the Nile. Spanning over 4,000 miles across 10 countries in Africa and I got to see just as far as my eyes can reach from the bridge that connects Cairo and Giza. After returning to Downtown Cairo to get back to my hotel I was starved. Passing on the countless McDonald's and KFC's, I finally found an authentic ma-and-pa Egyptian restaurant and enjoyed an unusual but memorable dish.
DAY 5// Giza / The Great Pyramids
The Great Pyramids are aptly named "Great". I had been travelling around the world for just over 6 months and I had been to plenty of UNESCO World Heritage Sites but never a World Wonder attraction, until the day I visited the great pyramids. It took just a 45 minute taxi ride to Giza where I was welcomed with scammers right in front of the gate entrance, trying to sell me fake tickets to the Pyramids, offering their tour "services" and worthless souvenir(s). I paid the small entrance fee of 60 Egyptian Pounds($9 US Dollars) and even while I was going through the metal detectors, more scammers were trying to sell me sh*t I don't want or need right in front of the staff and security. I instantly got a bad taste but it turned good just as fast as soon as my eyes adjusted to the bright sun once stepping out of the security office when my eyes saw the 3 Pyramids and the Great Sphinx.It was magnificent. The most beautiful man-made site I have ever been to, second only to Angkor Wat .