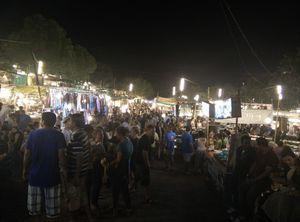 Best Months
December - May
Traveller Types
Couples, Friends
Rank
1 out of 10 attractions in Arpora
The Saturday Night Market
Places to stay near
The Saturday Night Market
Osho Lovers MADhouse - BUDDHAroom
At Assagao,Mapusa, Goa near beaches
"Homestay" Room in Assagao, N. Goa.
A pleasant luxury stay in Assagoa
Reviews of
The Saturday Night Market
•
3
Lower fort Agauda, Saturday night bazaar and Club Cabana.We landed Goa around afternoon. Had to take expensive taxi as Ola and Uber don't work there. After long negotiation one agreed for Rs 1000 from Airport to our hotel in Condolim. We decided to stay at Candolim because it's a best place for travelling extreme south and then extreme north. Also Candolim offers good hotels and good food. Book hotel closer or walking distance from beach so that you can enjoy morning beach walk. After reaching hotel we checked in and relaxed for a bit and then moved out for Lunch. You can try Tuscany Gardens, Inferno, Sunny Side up etc. Or you can check places in google along with ratings and can decide on one. After lunch we went and hire a car for 4 days. Scooty is also a cheaper option if you are okay with scorching heat, dust and long travel in two wheeler. We had to go to South so we decided on car hire. We got the same after lot of negotiation at 1000-1200 per day.After getting into our car we went to lower fort Agauda which is adjacent to Taj Exotica. This is amazing place for Sun Set and relaxation. After sunset we went back to Hotel and changed into our party dress. We then went for Dinner at Calangute. There are numeous places for Dinner at Calungate - Souza Lobo, Tibet Kitchen for Chinese or you can try Brittos at Baga Beach for some mouth licking finger chips and yes cold coffee try for sure. After our Dinner we went straight to Saturday Night Bazaar as this market is set up only on Saturdays. This market was okay. This market offers best rate compared to whole of Goa. You get accessories, decorative items, spices, dresses etc in this market. Since our night Club – Club Cabana was walking from this night bazaar so we decided to explore it a bit. If not interested in shopping you can definitely skip this. We entered Cabana at 12 O clock and stayed there till 3 am. Entry was Rs 2000/ couple with unlimited drinks on few specific brands only like kindfisher beer, absolute vodka. If you want another brand you will have to pay for that.
This night market has everything! Food, entertainment, shopping you name it. This flea market opens at 6 pm to 1 am. This market has various attractions, there are various stalls erected for food wherein the food is prepared and sold by the foreigners so you can expect an international cuisine. For shopping one can expect a lot of artefacts,jewellery, clothes, leather items, bedspreads, spices and so on from all parts of the country and also abroad. Many of the items are overpriced but everyplace is open to bargaining. There is always a local band playing, with entertainers from across the world performing. oh yeah, and theres a bar too! so you can shop, eat, drink, dance all at once!
"Happening" !!! to say the least. Saturday night market near Anjuna is one of its kind. It's huge, it's bright and colorful, it's full with people from all across the globe. Must see. You get all sorts of fare, plus there are live bands playing, plus there is alcohol, plus world food ! This place is a carnival in itself. There's free parking. Go with a lot of time in hand....it starts at around 8 pm and goes uptill early morning. You should know how to haggle, incase you decide to buy.
Attractions near
The Saturday Night Market