After a 6 hour early morning bike ride from Mumbai with a cracked engine pipe, 2 punctured Tyre tubes and a whole lot of oil leak (PS. My ride is an old AVL machine so it tends to have a small tick) I had no idea that within a few hours I would be backstage hanging out with the performers, models and all those stunning Motorcycles. Oh yes, and unlimited beer…
Are you someone whose soul becomes one with the two wheeler machine you ride, while you accelerate down an open road? Then the India Bike Week is exactly the place where you belong. Quite a few groups came together to gear up and ride it out from their respective cities. Imagine a group of Harleys revving through the highways, with pillion riders hoisting flags to represent their clans. Sounds badass, doesn't it? That's the same felling I got when I rode my Royal Enfield Thunderbird 350 to Goa. Only difference, I had my two Flags that were roaring my club Name, "WolfepackIndiaMC" whose official tag line is- Just Cock Up and Ride!
India Bike Week was not what I expected (Since it was my first time), and how could I really expect anything? This is India after all, the land of the unexpected. Expectations in India often lead to stress as things never seem to go as planned. Best to just expect the unexpected and you will exceed your expectations every time. The India Bike Week is a biking festival which acts as a platform for like-minded people to connect and share their enthusiasm while they enjoy a festival that revolves around biking culture.
India's largest festival planners, the Seventy Event Media Group, together with leading Travel and Lifestyle channel FOX Life, in association with Shell Advance, and most importantly the biker within me have seen the best of what is; India Bike Week 2016, India's largest biking festival, off to a rocking two day event. Many thousands of hardcore and casual bikers had crossed National and International borders to gather at Arpora, Goa; on the 19th and 20th of February, 2016, to celebrate an event that has established itself as a cornerstone of India's biking culture.
The 2016 edition of India Bike week had much to offer on so many fronts. The festival had everything from live music performances by bands of various genres and DJs playing groovy music, a National Stunt Championship, the National Custom Bike Build-Offs and much more.
I thought for a while about how I wanted to recap this event, whether I should tell the story word for word. Or, perhaps tell the story in a more PG version, suitable for all audiences.
I thought of putting together a list of sorts of what to expect from India Bike Week 2016, for those looking for some advice.
Networking at India Bike Week
India Bike week is a true fiesta for all those roadies and motor junkies. The festival in Goa is an opportunity for riders to simply join in on a carnival which they can relate to on a spiritual level. You can witness newly launched mean machines and be a part of sessions with International Biking legends. Add to that a Bikini Bike Bash! You must be thinking, 'this festival just can't get any better', right? Wrong!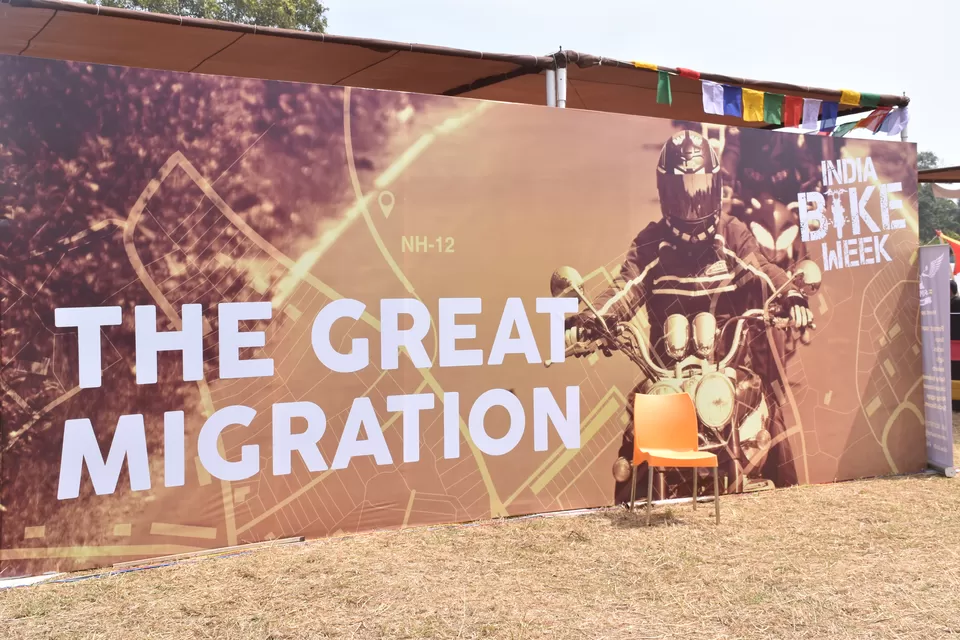 I decided I will tell my story as it happened, for the most part.
Arrival At India Bike Week
As for Day 1, I walked through the dust and dirt to the entrance, the usual madness of any large gathering in Goa pounced on me. There were people, security, hawkers, animals, and everything that you might expect. Finally I was inside the compound, parked my ride. I was immediately shown the box office, handed some coupons for food, and basically left to my own devices. Turns out these coupons could also be used for food & beer.
Eating Dust at India Bike Week
I stand by my choice of coupon use. As I walked around with my heavy equipment, the bikes started to pour in. Engines were roaring and adrenaline, along with red dirt, filled the air. I breathed in both. Dust rose as bikes drove freely around the grounds of the event. Bikes literally drove through the crowds near the stage. I felt the red dust in my eyes, my mouth, and my nose. I saw it settling on top of the foam in my beer, then felt it in my teeth as I drank. I would wake up every morning for the rest of the weekend tasting this dust, and then for a few days after. By now, to be honest, I had a few beers and my enthusiasm was rising. I started to feel the energy of the event as night was falling on this corner of the south of India.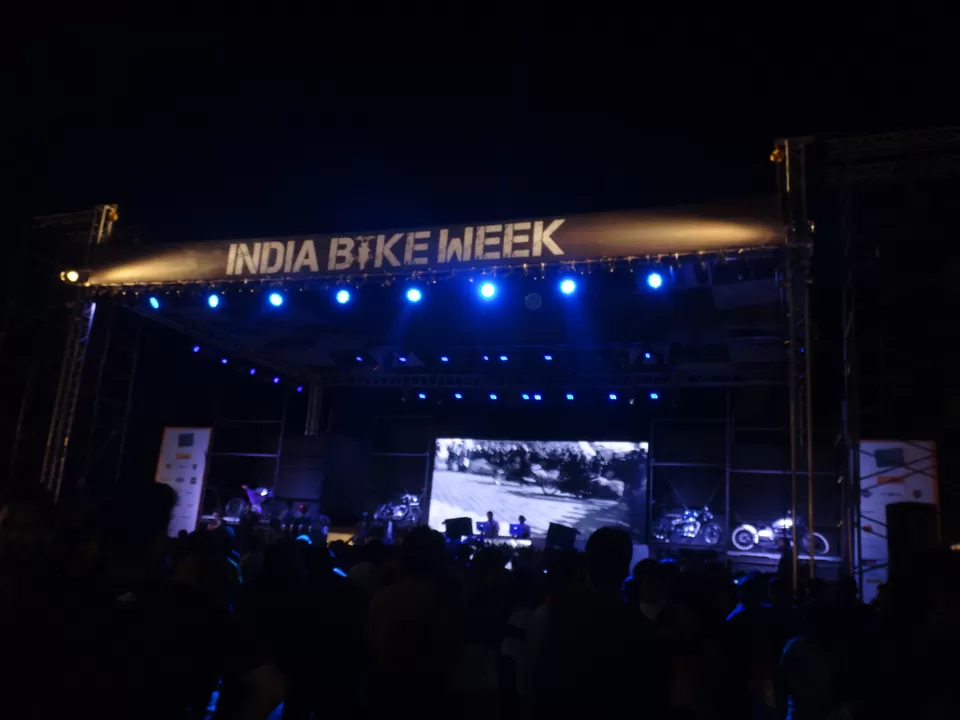 I watched the sun set behind the main stage and had one of those moments you have while travelling, where you take a minute to actually think about where in the world you are, and what you are doing.
I said to myself "I'm at frigging India Bike Week, in Goa, watching a sunset, half intoxicated, and without sleep". "How many people can say that?" I thought. This is why I love travel.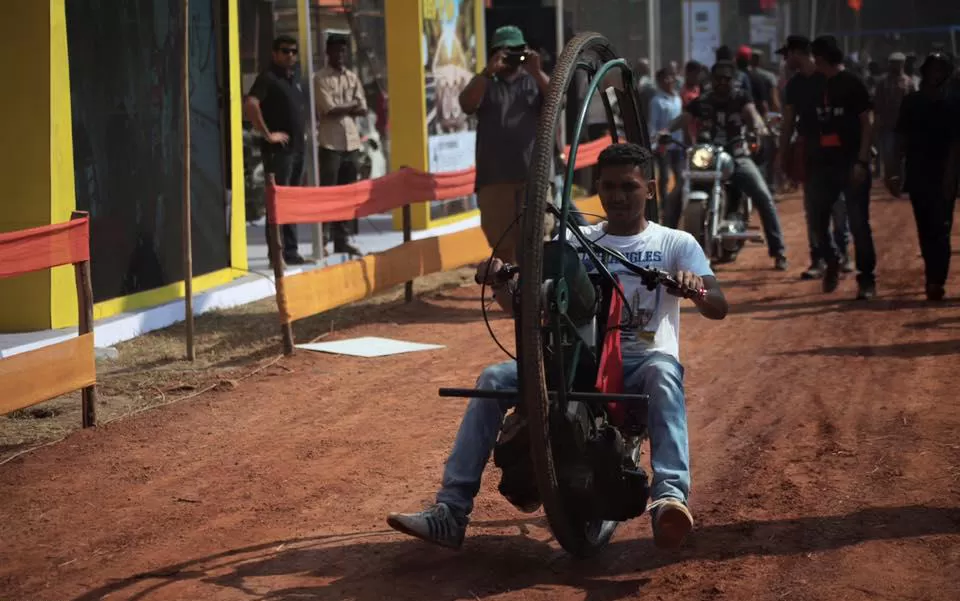 The morning of day 2, or should I say afternoon, was a slow start after such a great but late night. The plan was to take the second day of India Bike Week at a slower pace. It was already over 35 degrees and full sun, there was no need to hurry around.
I spent the daylight hours wandering around and checking out all the exhibitors. There was a huge turnout here, and it was impressive.
They had the likes of GoPro, Harley Davidson, Red Bull, and other top name companies sponsoring the event.
Seeking Refuge in the Big Trip Tent
Stuntmen preformed on a little track in the center of the event, doing tricks like riding while standing on their seats, and fitting many men on one bike (which actually isn't that impressive after seeing what some of the people in India can fit on their bikes!) I was wandering around, getting baked by the hot Goan sun in the afternoon, sweating out last night's adventures, and grinding the red sand in my teeth. It was then I found the Big Trip Tent.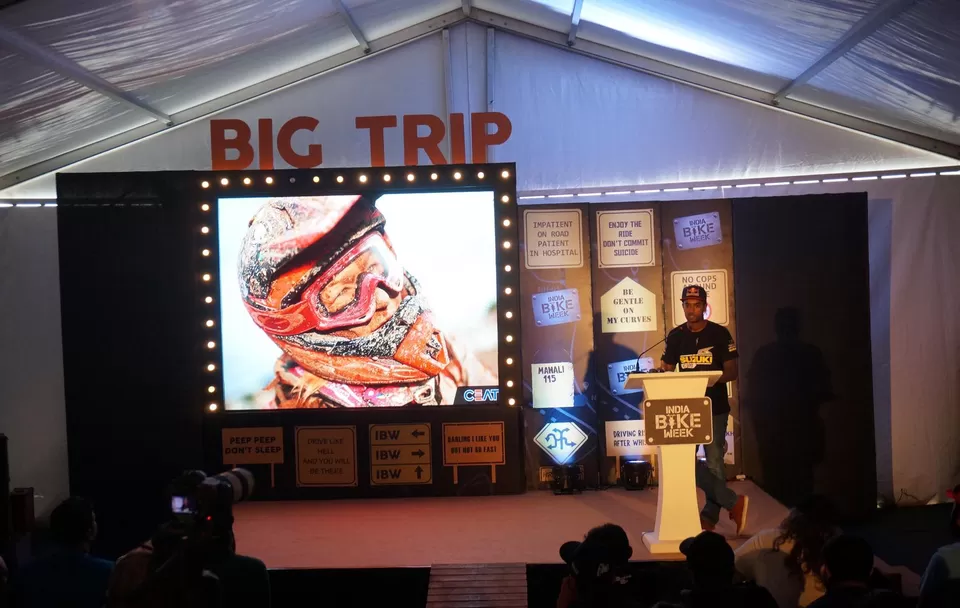 The Big Trip Tent at India Bike Week is an informal gathering of sorts, with a small stage at the front and lay down mats scattered around. Perfect. Those who appeared on the stage, had in one way or another, done something super impressive in the world of motorcycle trips. Most talked about around their world journeys which lasted for months or even years, something super inspiring that I would like to do at one point in the journey. That's where I met my Motorcycle Guru (s), Dougie Lampkin- 12 time Motocross Champion, CS Santosh and Sagar Shednekar- PowerDrift Host.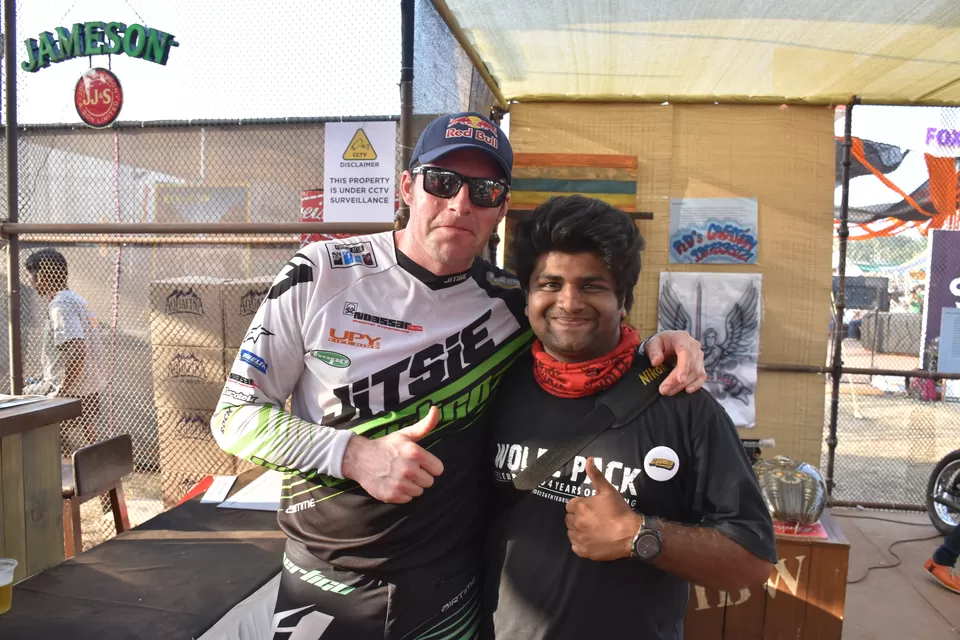 The best part about The Big Trip Tent, besides the speakers of course, was that it was covered and shaded, and was a great escape from the heat. I lay there, on a mat on the floor, listening to some fantastic inspirational speakers talk about trips I have only dreamt of.
Partying at India Bike Week
By now, night was falling, the crowd was growing, the beers were flowing, and the music was blasting. It's no secret that bikers like to party, and India Bike Week would be no exception to this rule. This was only a 2-night event. This was the last night, it was twice as packed as the night before, and my new rockstar friends were headlining. I had no choice.
This is the part in the story where the tale of India Bike Week can go one of two ways.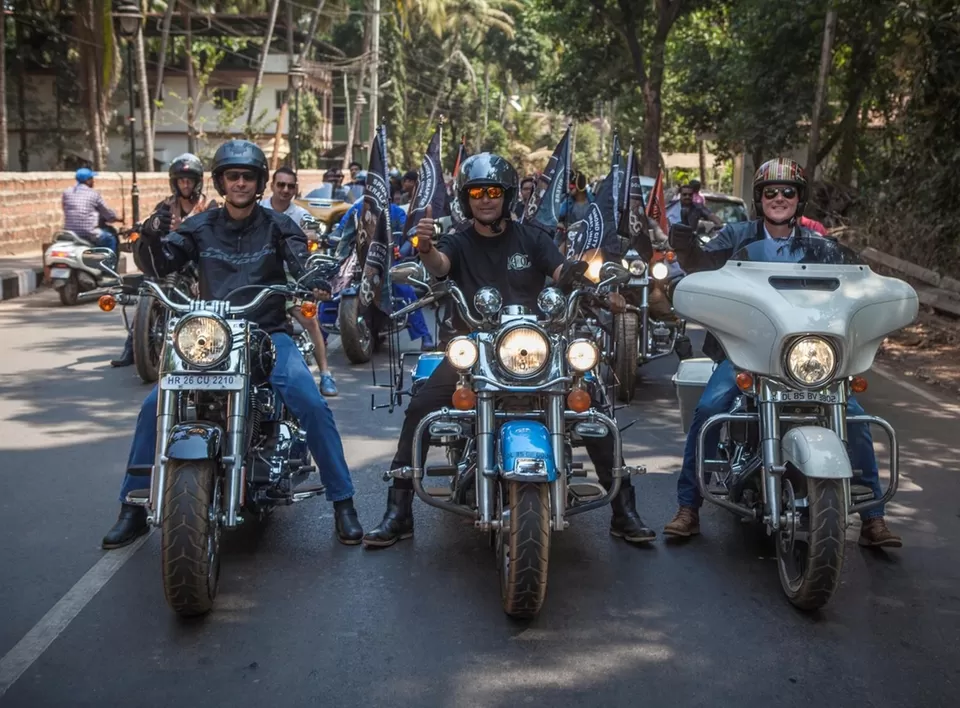 I could bust out another 1000 words about how I explored Goa's unexplored Beach's or Visiting the best food places or staying up all night at the best club enjoying and then getting back to my hotel room at 6am after one of the craziest nights of my life and feeling like a total rock star.
But who wants to hear about that? This is about India Bike Week, not Siddharth does Goa like a champion.
Why you should go to India bike Week
I think I will go with choice number 2 here. Some stories are better left untold and better told over drinks, fires, guesthouse common areas, beach huts, camp sites, and other random places I find myself on this life of travels.
Why should you go to India Bike Week? Hell Yes!
India Bike Week is epic. It's not expensive in comparison to a similar event in a western country, and it's twice as fun simply because there are half the rules and the people you meet are incredibly friendly.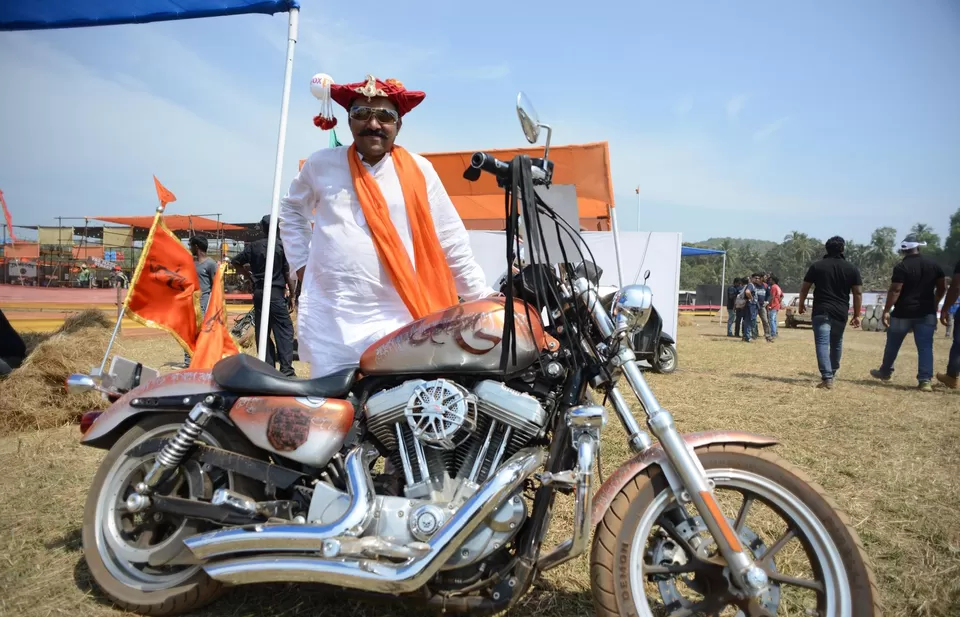 The event is well run and well-managed. They had great sponsors and fantastic shows, great music, and so, so much food, cheap beers that never ran out, and a contagious vibe.
To make the India Bike Week 2016 bigger and better, the festival was hosted at the Arpora sporting ground in Arpora village, North Goa. This ensures that the venue will be open to 12,000 club members and Independent riders who wish to join. The Biking festival introduced some new, interesting and iconic biking experiences to be a part of. India Bike Week showcased the Hard Endure Challenge, a biking film festival and a moto-trail show with the English professional Motorcycle trails and Enduro cross rider, Dougie Lampkin.
The festival has spread its wings to the extent where it even attracts international bikers, residing in India or flying down from their own countries. It is not a surprise that a festival which has all the ingredients needed to make an exciting and adventurous event also attracts people who are not necessarily biking enthusiasts, but travelling and experience seekers. Because let's face it, who wouldn't want to be a part of a festival that has music, art, dance, bike expos and everything that could ever revolve around a motorbike?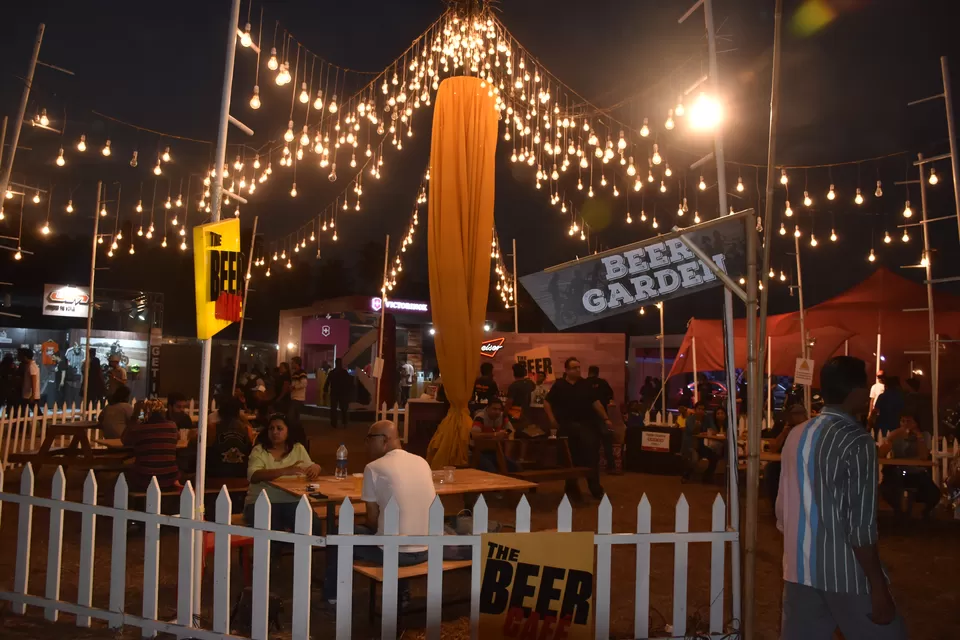 I have no idea where I will be next year, but if I'm in India you will see me at India Bike Week 2017, there's no doubt about it. The India Bike Week takes place around the 20th of every February and this year the festival took place on the 19th and 20th of February. Interested? Hop on a Motorcycle and see you there next year!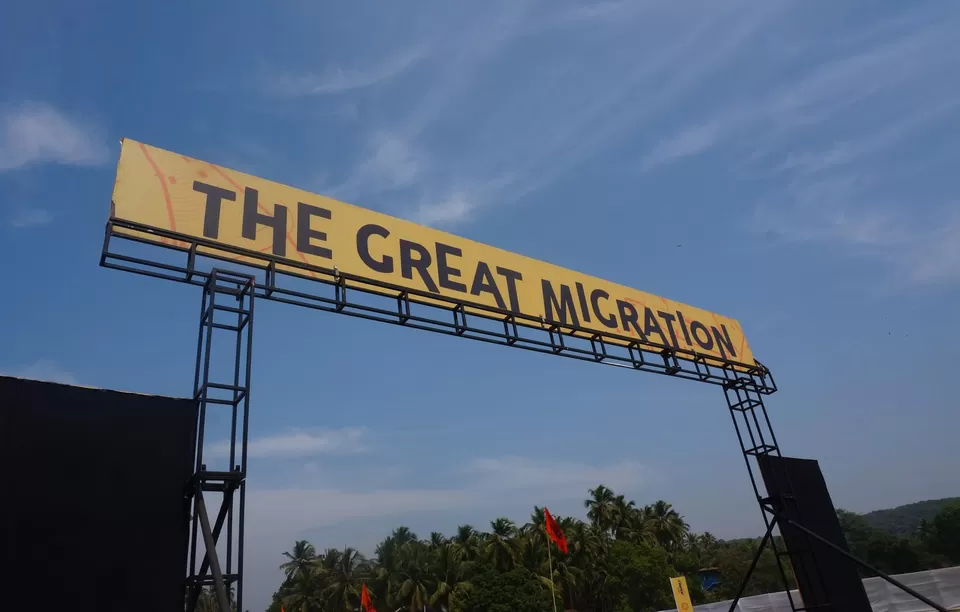 View the full album on my Facebook profile. For information about the event, India bike Week is the page you want to visit!
Cheers!