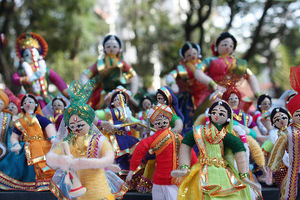 Best time to visit
11:00 AM- 4:00 PM
Open hours
10:00 AM - 6:00 PM
Traveller Types
Families, Friends
Rank
28 out of 274 attractions in Bangalore
Karnataka Chitrakala Parishat
This is an art gallery in Bangalore and is mainly known for the regular exhibitions and public events held here. The main aim of this place is to make people more aware of the art and culture of South India, especially Karnataka. A part of this has been carved into an art college with the same name and this is now a very prominent school of art in the world of contemporary and traditional painting. The Chitra Shante is the annual festival of art and culture organized by the Parishath authorities.
Places to stay near
Karnataka Chitrakala Parishat
Treebo Select Stylotel by Jagadish
Reviews of
Karnataka Chitrakala Parishat
•
3
• Opening Hours: 10.00 am –6.00 pm• Nearest Metro: Mantri Square Station of Green Line (1.4 kms)Chitrakala Parishat is a renowned school of art, a place where you can appreciate art and culture. Established in 1960, KCP is a paradise for art-lovers and hosts a number of art exhibition and shows round the year, most popular being the annual Chitra Santhe during January. Chitrakala Parishat combined with National Gallery of Modern Art consists of around 13 galleries, making them a popular tourist spot.8. Bangalore Palace
One of the largest and beautiful art institutions of Karnataka lies right in the heart of its capital city - Bangalore. The iconic Karnataka Chitrakala Parishath has some of the best art masterpieces of all time and 13 rare museums with some of the best collections of all time making it a must visit tourist place in Karnataka. Some of its best collections include traditional Mysore Paintings, authentic Leather Puppets and works of the famous Russian artist Roerichs.
One of the best premier art galleries in Bangalore having some of the best painting in Karnataka. It houses some of the best Indian and Contemporary art masterpieces along with the beautiful paintings of Mysore architecture. There is a special section specifically devoted to the Russian artist Nicholas Roerich who is famous around the world for his wonderful painting of the Himalayas.
Attractions near
Karnataka Chitrakala Parishat