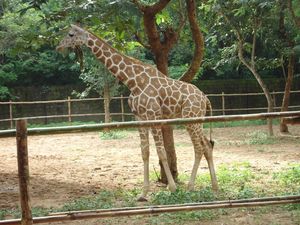 Best time to visit
9:00 AM - 3:00 PM
Open hours
April- September- 7:30 AM to 5:30 PM, October- March- 8:00 AM to 5:00 PM, Monday closed
Things to do
wildlife safaris, photography
Budget
Indians- INR 20, foreigners- INR 100, Chilkdren (3-12 years)- INR 5, Still Camera- INR 5, Digital Camera- INR 10, Handycam- INR 100, Lion safari- INR 10 per person, white tiger safari- INR 15 per person, Bear safari- INR 10 per person, Herbivore Safari- INR 10 per person, Toy train safari- INR 10 per person, 2 seater paddle boat- INR 25, 4 seater paddle boat- INR 40 and family boat- INR 100
Rank
1 out of 69 attractions in Bhubaneswar
Nandankanan Zoological Park
The name of this park means the garden of the heavens. This has been declared as a sanctuary and is spread over the Chandaka Forest. The Kanjia Lake is also a part of this park. This park and sanctuary is mainly known for the variety of tigers here, especially the Royal Bengal Tiger and the white tigers. wildlife safaris are the main attractions here and guides and proper security facilities are also available to take care of all the tourists.
Reviews •
2
We were off to Nandankanan zoo that afternoon visiting the white tigers. It was a long day. And that night, we reached Barkul.
Large variety of animals on display. Well maintained. Situated inside the Chandaka forest, and adjacent to a wildlife sanctuary, this place provides the animals as natural as habitat that is possible.
Attractions near
Nandankanan Zoological Park