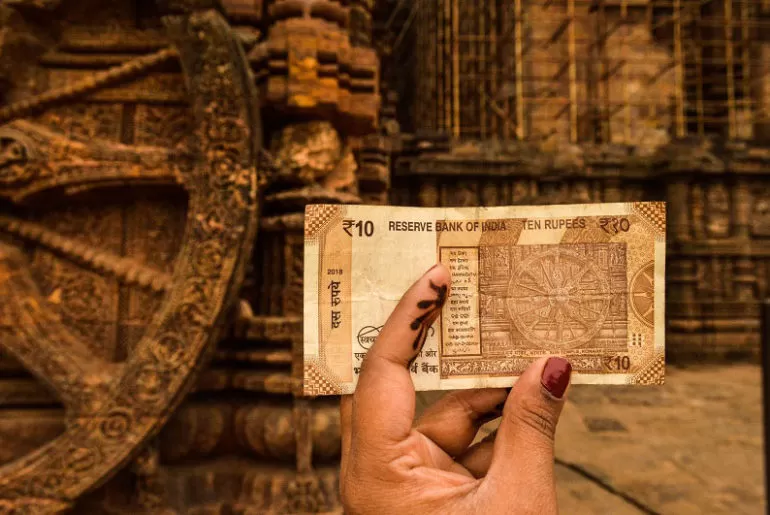 Explore the lesser known Golden Triangle of the East. This tourist circuit comprises of India's most pious and prestigious cities, Bhubaneswar, Puri, and Konark. Here's a 5 days and 4 nights itinerary just for you. You can read a detailed itinerary here.
✈️ Take an early morning flight to Bhubaneswar.
🧳 Drop your luggage at the hotel and freshen up!
🛕 Begin your sightseeing at the Lingaraj Temple. It is one of the most famous temples in town. You can also visit other temples such as Mukteshwar Temple and Parashurameshwara Temple.
🥘 Head to Odisha Hotel or Shohola Ana Odia to have your first Odia meal.
📜 Next visit the State Museum to understand the culture and history of Odisha.
🍝 End your day with delicious street food at Unit 1 & 2 (Detailed list on the blog)
🥘 Start your day with Luchi and Aloo dum, Odia staple breakfast.
⛰ Head to the Udayagiri and Khandagiri Caves, a partly natural and partly artificial caves of archaeological, historical and religious importance.
🥘 Lunch at Dalma, an authentic Odia restaurant where you can try their famous dishes Chingudi Dalma/ Veg Dalma and Chhatu Rai.
🐅 Spend the rest of the day at Nandankanan Zoological Park and the botanical garden. This is also India's first Zoo to join the World Association of Zoos and Aquariums (WAZA). Moreover, a part of it has been declared a sanctuary.
🥘 For dinner, you can either head to Unit 1 or 2 market to try out the remaining street food (as they have a plethora of them) or dine at a restaurant.
🚍 Head to Puri that is merely an hour and a half away from Bhubaneswar. You can either take a Bus or a Taxi or a Zoomcar.
🧳 Pre‑book a beachside resort to make the most of your time. Drop your luggage at the hotel and head to the beach!
🛕 Visit the sacred Shri Jagannath temple that is one of the four original Dhams and also one of the 12 Jyotirlingas of India.
🥘 Head to Mahodadhi Palace for a delectable meal.
🏝 Spend the rest of the day exploring the pristine coastline of Puri.
🍝 Explore the beachside market in the evening and enjoy fresh seafood and other delicious street food by the beach. (Detailed post on the blog)
🐬 Head to Chilika Lake, which is India's largest coastal lagoon and the world's largest brackish water lagoon.
🚤 Book a lake Safari and explore the Sea Mouth, watch Irrawaddy dolphins and much other flora and fauna.
🥘 Have freshwater crabs and shrimp for lunch from any hawker station near the lake.
🌅 Post lunch head back to Puri and spend the rest of the day at the beach. Explore various sand art museums by the coast and watch a mesmerising sunset while sipping tea.
🥘 For dinner, head to Bhojhohari Manna, a famous restaurant chain in the eastern belt.
🚖 Take a taxi/ bus to Konark that is an hour and a half away from Puri.
🏝 Explore the coastline of Konark that is home to many famous beaches like
🛕 Visit the world‑famous heritage site, the Sun Temple that is also known as Black Pagoda. This chariot shaped temple is dedicated to the sun god and is decorated with stone carving.
✈️ Head to Bhuvaneshwar and take an evening flight back to your city.