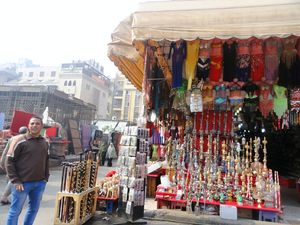 Traveller Types
Friends, Couples, Families
Rank
16 out of 293 attractions in Cairo
Places to stay near
Khan Al-Khalili
In front of Egyptian Museum.
Reviews of
Khan Al-Khalili
•
2
Go hunting for souvenirs in a busy souk
Located in the heart of Islamic Cairo , the Khal al Khalili market dates back as far as 1382. This busy and colorful open-air bazaar has 900 shops filled with unique and exotic items that includes glassware, brassware , perfume and jewellry and souvenirs.
Attractions near
Khan Al-Khalili