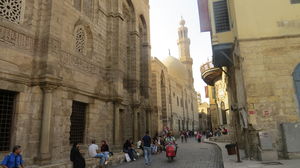 Places to stay near
Khan el-Khalili
In front of Egyptian Museum.
Reviews of
Khan el-Khalili
•
2
After an amazing tour of Pyramid (inside and out) we went to Khan el-Khalili market.Duration - 1-2 hours
This street is a bustling maze of alleys, lanes and narrow gullies lined with shops, restaurants, hustlers and ever persistent shopkeepers. Despite its somewhat touristy vibe, it's still a great place to experience the true flavor of Cairo and Egypt. Everyone is rushing, laughing, screaming and yelling and though it's pretty exhausting to wade through the sea of shops, Khan-El Kalili is the best place to hang and watch life go by. There are some wonderful traditional coffee houses serving Arabic coffee and my favorite Hibiscus tea besides the ever accompanying Sheesha. After some wandering I discovered this old and popular coffeehouse named Fishawi that served up amazing coffee along with free Sheesha, where I also made friends with some jovial minded locals.
Attractions near
Khan el-Khalili