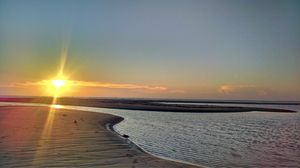 Dhanushkodi Rama Sethu Point
Reviews of
Dhanushkodi Rama Sethu Point
•
3
After lunch, we planned to go to the seventh heaven, Dhanushkodi, an old cyclone hit and abandoned town, which is about half an hour travel from Rameswaram. We hired a jeep for the trip. Along the way, we could see the abandoned railway tracks and buildings which were destroyed due to the cyclone. We came to know from the jeep driver that, only jeeps were used to Dhanushkodi point earlier as there were no proper roads to reach and recently they have laid tar roads, so now the travel is possible in 30 mins.
This is a glimpse of my one month cycling trip from North East to South India. This was the most amazing place of all of them. No crowd, you can be at complete peace here. Just, listening to the sound of the waves will make you cry. Best place to see sunset. Incredible India as people call it, it truly is.I will be posting my complete journey soon.Enjoy. I hope, this pic brings out the wanderer in each and every one of you to visit this enchanting place.
A place beyond vocabulary to explain it's beauty. Endless mighty oceans spreading till horizon. A place where you hear rumbling of Indian Ocean while you are bathing in Bay of Bengal.
Attractions near
Dhanushkodi Rama Sethu Point