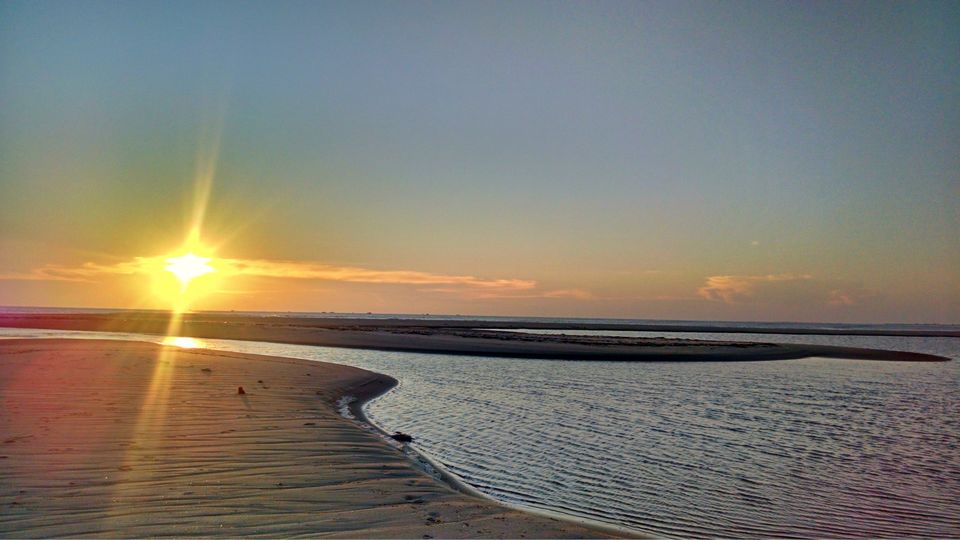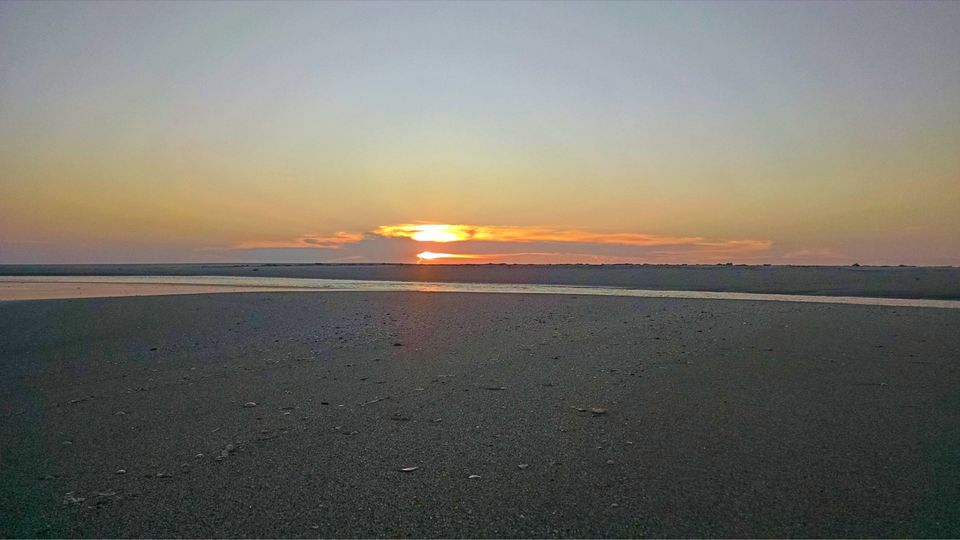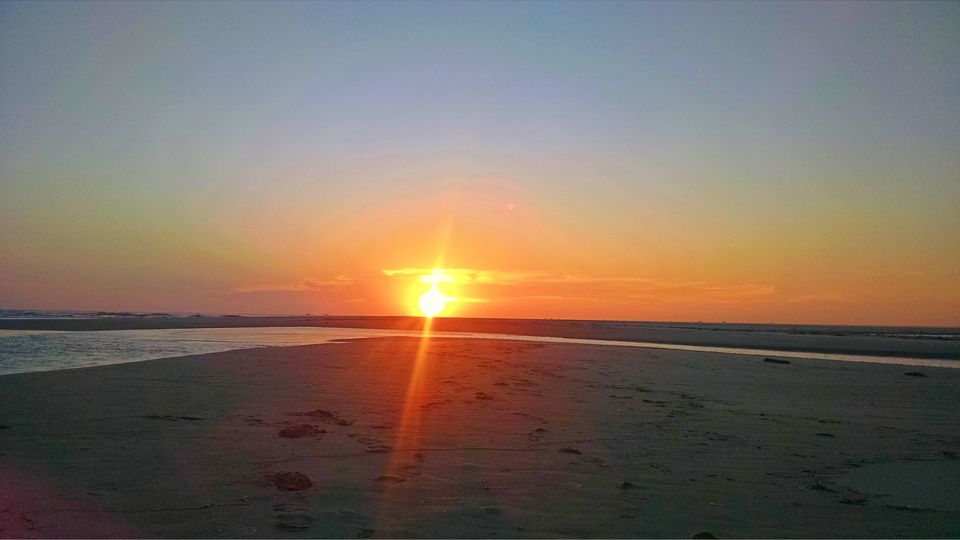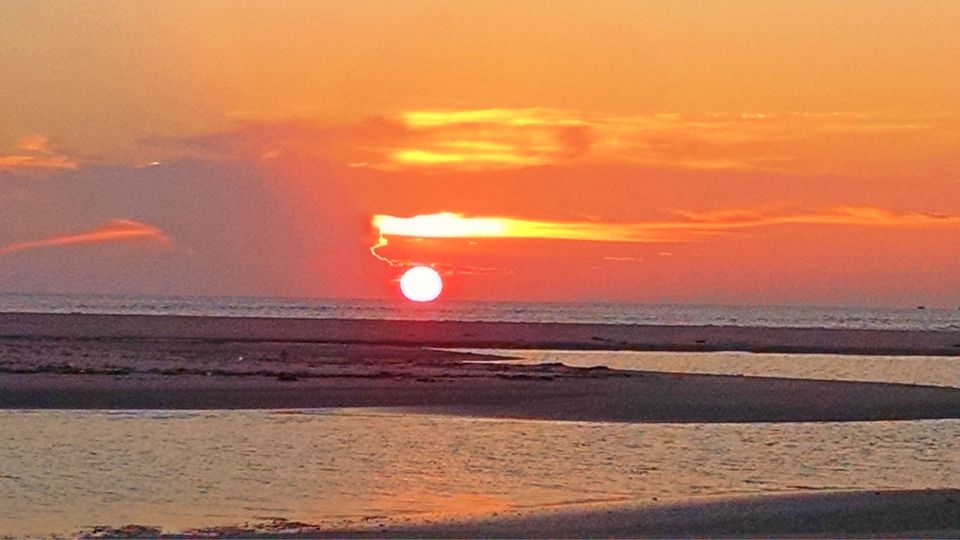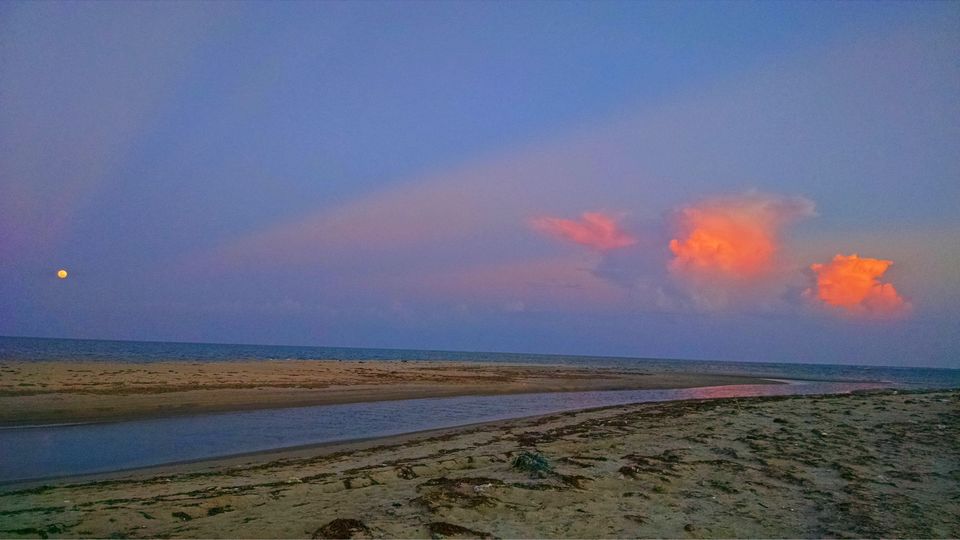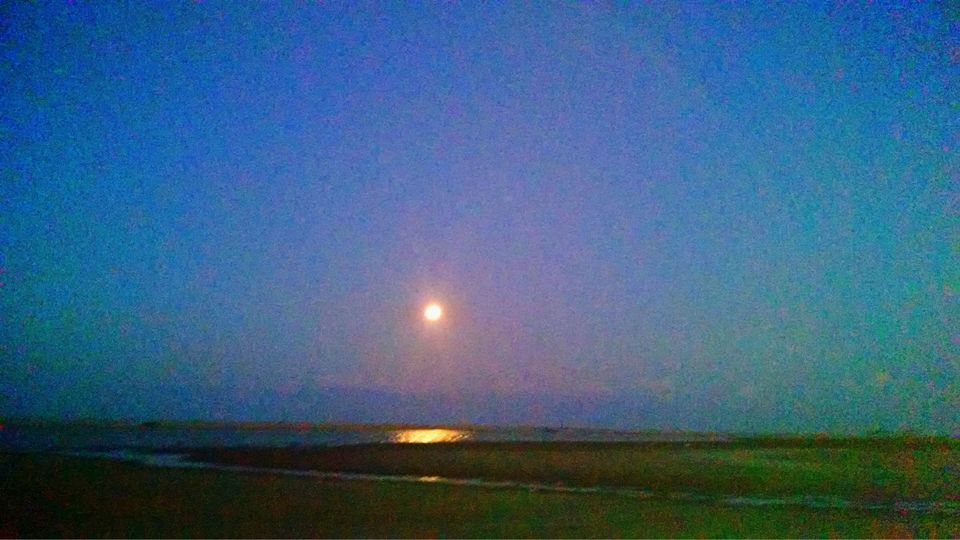 Dhanushkodi is a ghost town at the south-eastern tip of Pamban Island in Tamilnadu, India.
The unique geographical structure of the place has been an attraction to me for long time. It was an amazing experience to visit the place and a 20 km long walk in night to return to Rameswaram, after a stay on the last landpoint till sunset.

I reached Rameswaram by train at around 5 AM. Ramewsaram is an island that is connected to mainland India via a sea bridge. The town is famous for several ancient temples and is a popular pilgrimage spot. Since my main destination was Dhanushkodi, I did not visit any temples and left for Dhanushkodi in a bus. The last reachable point by road was around 17km from Rameswaram. After that, there is no road for the remaining 12km till the last tip of land. Mini trucks carry tourist and fishermen further. They charge 100 rupees for a round trip. They pass through sand dunes since there is no tar road and thereby difficult for big vehicles or cars to cross through.
The mini trucks stop around 2 kms behind the last tip of land and discourage passengers from moving ahead since they try to complete the round trip fast and give only 30 minutes to people for staying there. I reached around 12pm and had plans to stay till sunset, so I paid money to the mini truck and didn't come back. It was scorching sun. The place is a long sword like land filled with sand dunes with Indian Ocean on its right side and Bay of Bengal on its left. Indian ocean side is pretty violent but the Bay of Bengal side is very calm and shallow.
The mini truck guys were discouraging people from going to the last tip of land, saying that navy will arrest etc etc, all false. I proceeded towards that side, reached at the end and spent around 5 hours there, bathing, swimming waiting for sunset.
Sun did set and moon started rising from the other side. I had no prior knowledge that it was going to be full moon night. It was plain luck. :D
I was believing that there will be mini trucks ploying after sunset as well and I will reach back easily, but to my disappointment, when I reached mini truck point, there was no one, not even the loal fishermen. It was scary, given the more than 25 km distance to Rameswaram.
I had no other option than walking, following the trails of the trucks, hoping I will reach the last tar road point soon and will get a bus to Rameswaram. It was around 7pm and it took me around 3.5 hrs to cross the 10 km distance to reach that point. The last bus had passed long ago and I had to call an auto from Rameswaram with help of a policement on duty there. The auto chanrged 500 for coming and picking me. Reached back to Rameswaram, slept and left next morning.
The 10 km walk through the lonely area in full moon night was a thrilling, scary and awesome experience. I can say it was the highlight of the trip. It gave an adeventurous dimension to the trip, which was going to be an ordinary one if I had come back with mini trucks after spending just those 30 minutes in scorching heat.
The walk was accidental, since it was not included in my plans. I just had to make it that way because there was no other option.
The second most awesome experience was the bathing and swimming in the shallow sea at the last tip of the sandland. There was no one other than me for those 5 hrs and it became kinda personal beach for me ;)
Wikipedia says about the place-- "It is advisable to visit Dhanushkodi in groups during the day and return to Rameswaram before sunset as the entire 15-kilometre (9.3 mi) stretch is regarded as very lonely and scary but mystical. Since there is no electricity and means of communication between Rameswaram and Dhanushkodi, and taxis do not work on the stretch after sundown, it is not recommended to stay there after dark. "
But, I did read this only after the trip was over ;)